There is hardly anyone who doesn't love a beach destination holiday. Because beaches have that magic power which heals our stress and gives us delight. That's why, whenever you go in front of seawater it makes your face smile.
And of course, no time is better for a beach vacation than summer. So without wasting more time let's quickly check out the top 9 beaches in Sabah that you can explore this summer.
1. Tanjung Aru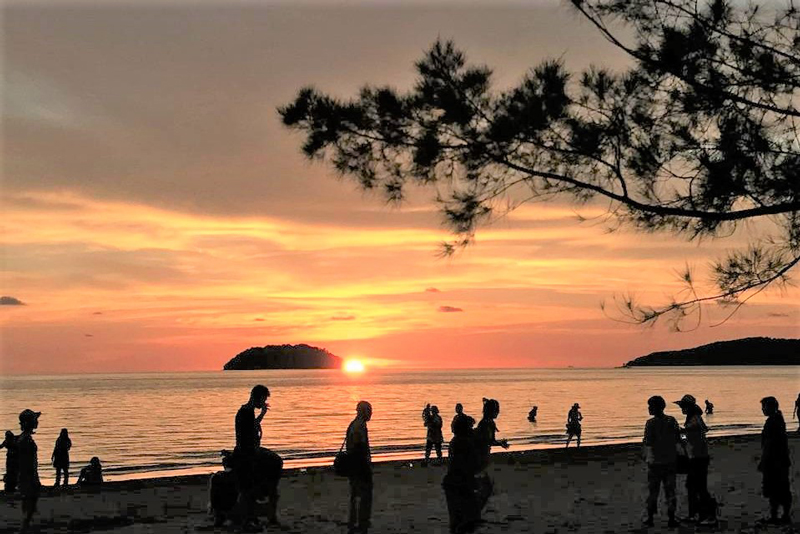 If you're willing to watch the world's most beautiful sunset, then Tanjung Aru is the place for you. This beach is located just 10 minutes away from Kota Kinabalu International Airport and is popular for its orangish golden sands and mild waves.
Tanjung Aru has spectacular tropical coral islands and it's stretched for nearly two kilometres. Besides watching the marvellous sunset, you can do some thrilling activities like Kayaking and parasailing. And if you have no wish to do adrenaline-pumping activities, you can also go kite flying, picnic, or simply enjoy the sunset.
Near the beach, there is a huge park that is ideal for a beachside barbecue. And when you get tired, you can always take a relaxing spa at the nearby Shangri-La Resort, which is one of the most renowned resorts in Tanjung Aru. Tanjung Aru is a public beach so it always remains crowdy.
2. Manukan Island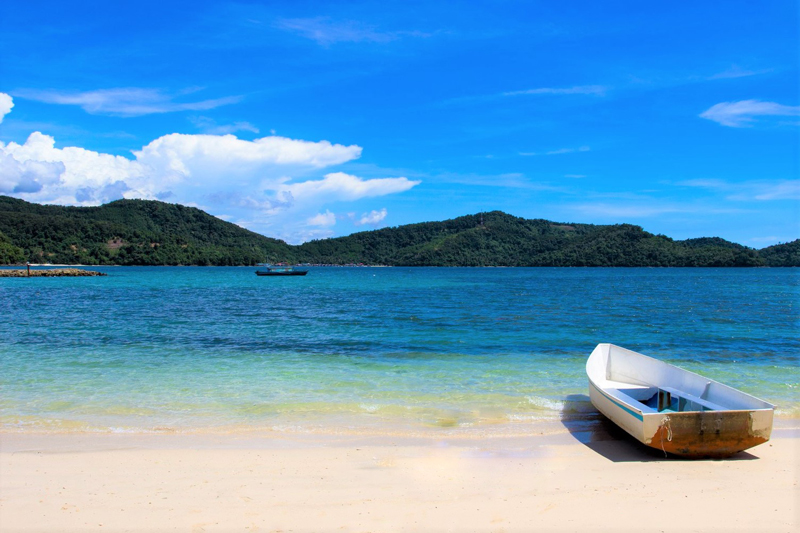 Another beach in Kota Kinabalu is Manukan Island which is comparatively more popular among tourists because it is part of the Tun Sakaran Marine Park. The place is ideal for an island day trip, where you need to go by a 15-minute boat ride.
This 1500 metre stretch island is safe for kids because of its clean and shallow water. So if you have kids and are looking for a safe beach destination, you can opt for Manukan Island.
Moreover, this island has tons of facilities like clean toilets, shower rooms, restaurants, and so on. And if you love water activities, Manukan Island will also fulfil your thirst with activities like Scuba diving, Parasailing, Banana boat ride, Jetski, and many more.
After your day trip, you can take a rest at Manukan Island Resort which has HillSide Chalets and Beach Chalets with spectacular sea views.
Be careful of monkeys, they tend to steal people's belongings.
3. Pulau Sapi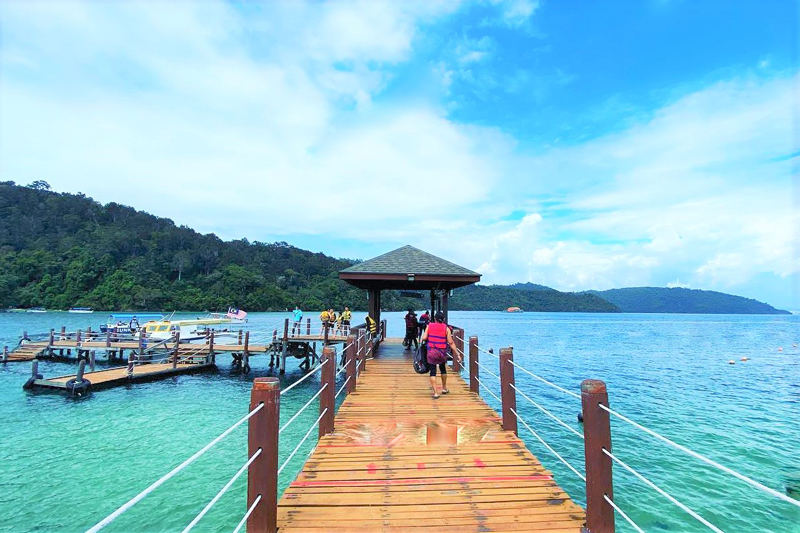 Pulau Sapi is also part of the Tun Sakaran Marine Park. It'sone of the five islands of this park.
If you're planning a Manukan Island day trip, you can pay a visit to Pulau Sapi on the same day because it's the nearest island to Manukan and the second smallest island in Tun Sakaran Marine Park. So you can make your trip more exciting and fun by visiting both the islands.
Though Sapi island is small but never fails to surprise its visitors. The most unique activity on this island is Coral Flying, which is the world's longest island to island zipline. Apart from this, you can do Snorkeling, Scuba diving, Sea walking, and so on.
And if none of these activities suits you, you can just sit around the white sands and enjoy the crystal clear seawater and green surroundings.
4. Pantai Dalit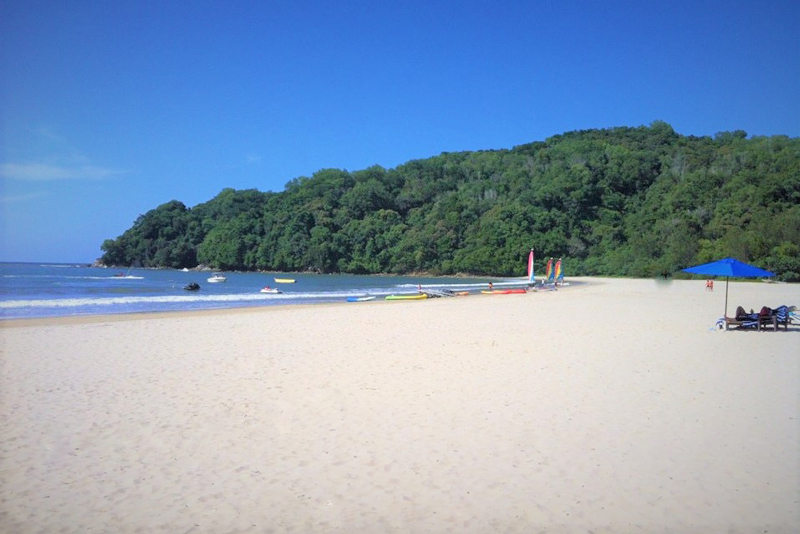 Pantai Dalit is located in Tuaran and it's one of the most charming beach destinations in Sabah. This beach is charming not only because of its gentle water and white sand but its tropical green surroundings.
The beach is surrounded by tropical vegetation and dense jungle which gives visitors an elegant view of nature. Those of you who love horse riding beside the water, should definitely not miss Pantai Dalit.
You will get many nearby resorts for relaxation and have a barbecue night party.
5. Pulau Tiga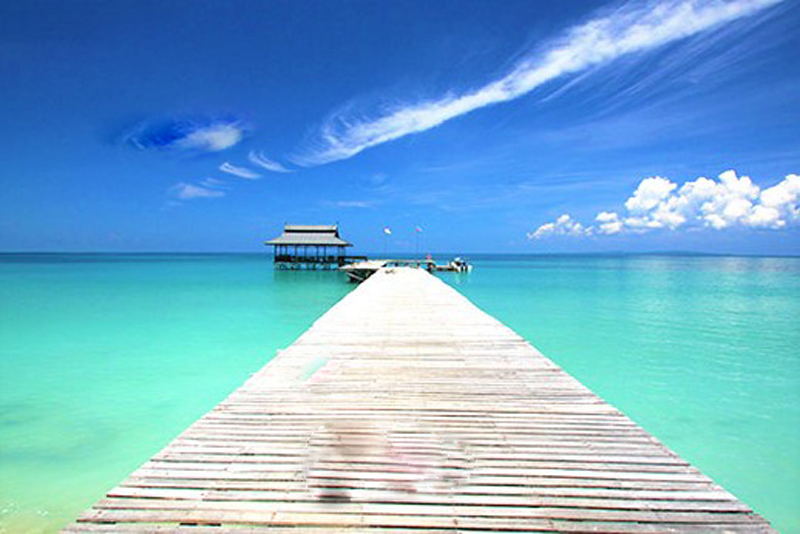 Pulau Tiga has the fame for being in the famous reality TV series called "Survivor". And after featuring in this international US hit reality series, people often call it the "Survivor Island".
In Malay, Pulau Tiga means three islands. So here you'll see three small islands and several isolated beaches like Asmara, Pagong Pagong, and Ramis.
This beach destination is perfect for a weekend getaway or couple's vacation. The pristine sea, picturesque sceneries, and white sand will make your vacation memorable and tranquil.
Activities like Swimming, Scuba diving, Kayaking, and Snorkeling are available here. A day trip from Kota Kinabalu can be a great way to discover this celebrity Island.
6. Tindakon Dazang Beach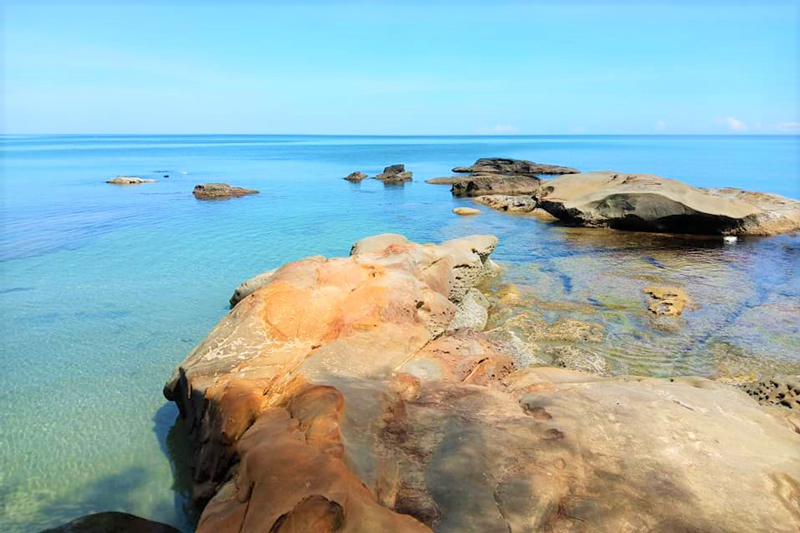 If you don't like crowded beaches and want some privacy, Tindakon Dazang Beach is for you. It is a secluded beach in Kudat, a small town in Sabah.
The only problem is that getting there is quite challenging and that's why the beach has fewer visitors. You have to drive through an estate forest area and zig-zag roads. You should use GPS, so you won't get lost.
After getting to the beach you will be amazed by the divine beauty of its clear water and unique rock formations.
7. Si Amil Beach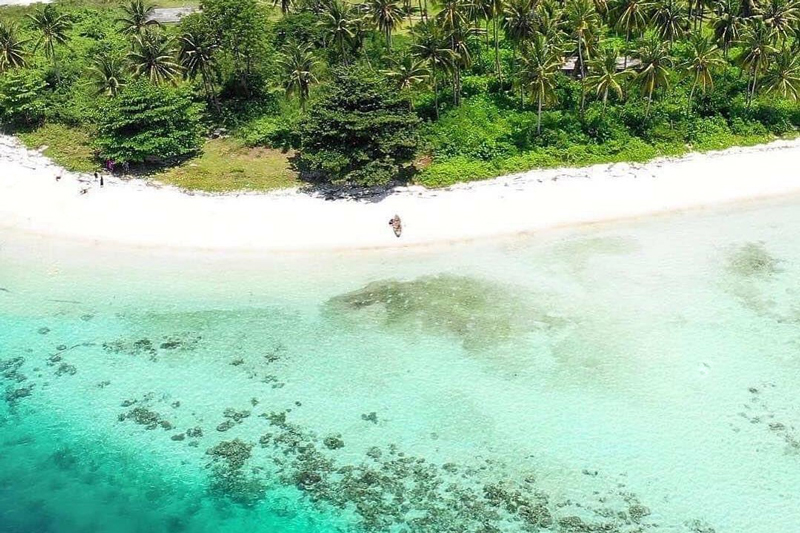 Another isolated beach destination is Si Amil Beach. It's one of the largest Semporna islands and takes nearly 60 minutes to reach this island by boat from Semporna.
Si Amil is an absolutely uninhabited island. But you'll surely meet a bunch of expensive monkeys. They're charming but often annoy visitors on the shoreline.
Diving enthusiasts will certainly love this destination because of its clear and 100-metre depth water. Apart from this, you can't resist the enchanting beauty of white sand and hill covered rainforest.
8. Kelambu Beach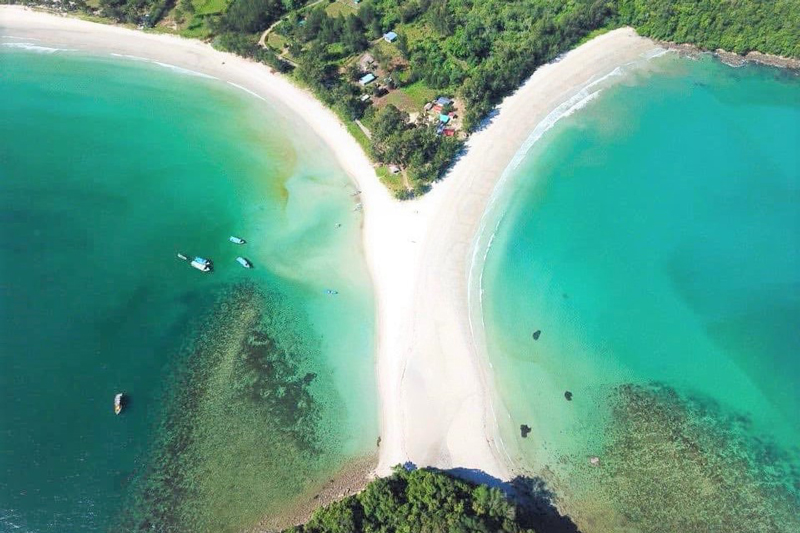 I am sure none of you wants a crowdy beach vacation. Everyone looks for a secluded beach destination but most the secluded beaches have fewer facilities. Kelambu Beach is such a beach destination that is less popular among tourists but has charming beauty.
Kelambu is another beach in Kudat and one of the most beautiful beaches in Sabah. Its crystal clear water will charm you during the day and the sea itself will light up at night.
Yes, that's true it's a luminous sea that leaves a light trail when you touch the water at night. It's a chemical reaction called bioluminescence.
So to watch the true magic of Kelambu Beach you have to stay here for a night. A new moon night is the best time to watch this luminous sea.
9. Bak Bak Beach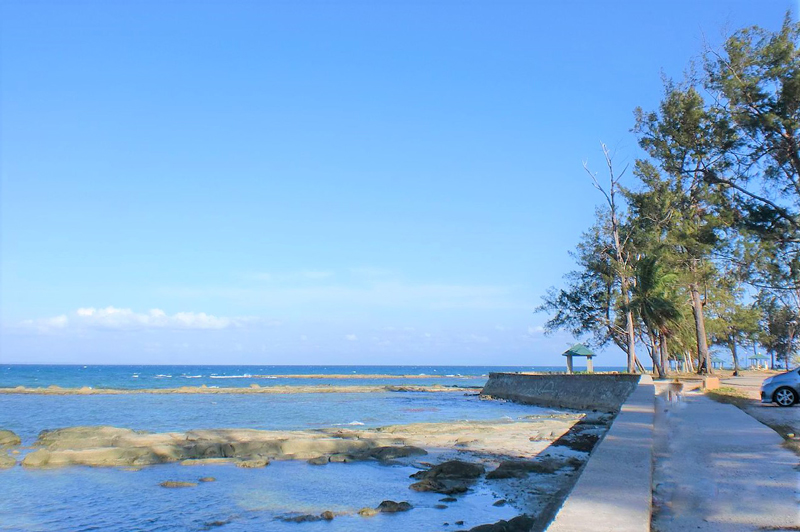 Bak Bak Beach is also located in Kudat and it's popular among locals due to its breathtaking sea view and crystal clear water.
In the Chinese language, Bak Bak means Rock Jetty and the beach is actually rocky. Moreover, it used to be a busy port. So that's how the name Bak Bak has come.
It is the nearest beach destination to Kudat so a day tour or family picnic could be a great way to appreciate its mesmerising beauty.
Here are the top 9 beaches in Sabah where you can have a day trip or short weekend getaway. Or even you can visit more than one beach in a single day because some of them are so close.
And if you have already visited any of these beaches share your story with me, I will post your story on the Simple Travel Facebookpage and Instagram. Thank you in advance.