I have been given opportunities to get popular destinations in Malaysia. And personally, I am a nature lover. I travel a lot only to know the nature and culture of different places.
Malaysia is a country of rainforest, caves, and hills, and at the same time, Malaysia's weather is warm, which makes it the perfect environment for birds. So naturally, I have many experiences of bird watching here.
And this is the story of My Bird Watching Experience in Malaysia to give a glimpse of how beautiful the experience is! Moreover, my story might inspire you as well.
Birdwatchers Rejoice – Here Are the Best Locations for Bird watching in Malaysia.
Paya Indah Wetlands, Selangor
I live in Selangor, so Paya Indah Wetlands is not so far from my home. I often get there with my family to have some family time.
This place is the home of nearly 244 species of residential and migratory birds. The hotspot of bird watching at Paya Indah Wetlands is the Peat Swamp forest. This park doesn't serve binoculars, so I brought my own.
You can watch some everyday common birds such as robins, doves, crows, and bulbuls, as well as some exclusive birds like Purple Herons, Brown Shrike, Purple Swamphen, Peacocks, Red Wattled Lapwing, and so on.
If you're planning a Paya Indah Wetlands trip for bird watching, make your visit between 07:30 am to 07:00 pm. And the good part is you don't have to pay any additional charges for bird watching.
Fraser's Hill, Pahang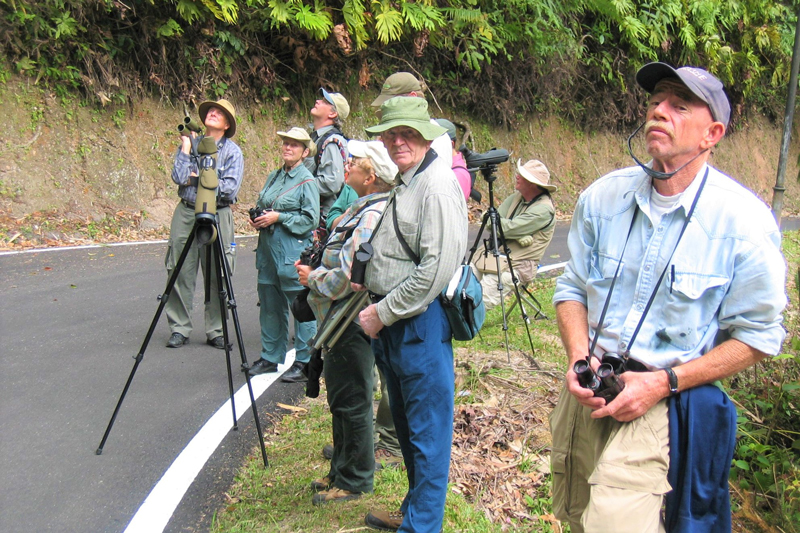 Fraser's Hill is a highland resort that is located in the Titiwangsa mountain. I have been there with my daughter, and it is a mesmerising experience. This hilltop resort has a special section for bird breeding and watching called "Bird Sanctuary".
As it is a highland, the temperature is comparatively lower than the plain land, which is suitable for birds. Here we have seen over 270 species of residential and migratory birds with their utmost beauty.
And if you're a bird photographer, this spot is ideal for you to take pictures. Furthermore, Fraser's Hill arranges the International Bird Race annually, where you can showcase your bird photography.
You can spot here birds like Black Eagle, Silver-eared Mesias, Malayan Whistling Thrush, Reddish Scops Owls, Indian Cuckoos, and many more.
Langkawi Island, Kedah
There is hardly anyone who hasn't visited Langkawi Island yet. And being a beach destination, Langkawi is most suitable for migratory birds. Nearly 250 species of birds live here for its rich ecosystems and mild weather.
My bird watching experience on Langkawi Island was really incredible. If you visit this island from November to April, you can see countless migratory birds that come here for the winter.
Gunung Machinchang Forest Reserve, Kulim Karst, Gunung Raya Forest Reserve, and Pantai Chenang are the hotspots for mangrove and wetland birds. The most viewed birds at Langkawi Island are the Great Hornbills and Wreathed Hornbills.
Kinabatangan River, Sabah
Kinabatangan River is a paradise for bird photographers. The river is located in northeastern Sabah and houses a significant number of exotic birds. 
For bird watching, you have to take a cruise that is available every morning and afternoon. Here you can see over 600 resident and migratory bird species like Storm's Stork, Rhinoceros Hornbill, and many more. And if you're lucky enough, you will get to see a White-fronted falconet.
Don't forget to bring your binoculars and camera. Nevertheless, it is very hot there, so try to bring sunblock lotion, a water bottle, and a hat.
Royal Belum Park, Perak
I was on a day trip to Royal Belum Park, which is known as the premier ecotourism destination in Peninsula Malaysia. I must say the park has extraordinary beauty, maybe because it is a 130 million years old rainforest.
Furthermore, the Royal Belum Park has a special reputation for being the Hornbill Capital of Malaysia. Because at this park you will get to visit all the ten species of Hornbills.
Apart from this, the park houses more than 300 species of rare and exclusive birds, including Mountain Peacock Pheasant, Masked Finfoot, the Blue-banded Kingfisher, and Wallace's Hawk-Eagle. If you're willing to capture these exotic birds on your camera, make your visit between July to October.
Tanjung Tuan Forest Reserve & Wildlife Sanctuary, Melaka
No place is better to visit migratory birds than Tanjung Tuan Forest Reserve & Wildlife Sanctuary in Melaka. This forest becomes heaven to migratory birds between the months of mid-February to mid-April. And that's why this place is well known for sighting migrating raptors.
Every year the Malaysian Nature Society organises a raptor watch event to welcome these migratory birds. The event takes place in March, but it didn't occur for the last two years due to the pandemic. On March 12 and 13, 2022, the Raptor watch event again welcomed the migratory birds in Tanjung Tuan Forest Reserve.
Here you can visit birds like Ospreys, Japanese Sparrowhawks, the Oriental Honey Buzzards, Great Spotted Eagles, Chinese Goshawks, and Black Bazas.
Bako National Park, Sarawak
Sarawak is the home of nearly 500 bird species and is one of the hotspots for migrating birds. Bako National Park has its own beauty, which is perfect for nature lovers and bird photographers. The park hosts more than 100 species of birds.
Within the park is the Bako Buntay Bay, which is the primary reason you'll spot countless waterbirds here, such as Black-backed Kingfishers, Chinese Egrets, Pacific Golden Plovers, and Eurasian Curlews. All you need is a pair of binoculars and a good zoom lens for your camera.
The best time to capture these birds on your camera is from September to November. During this time, they come to this land in search of food and comfort.
My bird-watching experience in Malaysia is exotic, which you can only imagine if you go through this experience. Travelling in nature and capturing these adorable and extraordinary birds gives me a sense of peace and joy.
If you have such experience of bird watching, share your story with us. So that people will get more inspiration through you.