A beautiful blend of multiple cultures with a high standard of living, Singapore is a unique island city-state which you must visit at least once in your lifetime. Although Singapore is also an expensive place to visit and live in, it also offers some amazing things that you can do for free. 
If you are budget travelling or prefer spending money feeding your food and shopping addiction, then I have some fascinating places that you can visit for free and fun things that you can do in Singapore. Here is a list of 30 free things to do in Singapore that you can try out for yourself and save big bucks while still having the time of your life!
Top 30 Things to do in Singapore for Free
1. Take A Stroll at Gardens by The Bay
The first on this list of free things to do in Singapore has to be to visit the Gardens by the Bay. Not only is it one of the most popular tourist attractions and Singapore's Iconic architectural pieces, but Gardens by the Bay also offers a great place to witness the technology and horticultural achievements of Singapore.
Here, you can stroll around the Supertree Groves for free and also enjoy the Garden Rhapsody show that takes place here every evening between 7 pm and 8 pm. At Gardens by the Bay, you can visit the heritage garden, Bay East Garden and Sun Pavillion and click some awesome pictures for memory!
Note: Entry to Gardens by the Bay is free but for its attractions like Cloud Forest and Flower Dome and OCBC Skywalk, you have to purchase a ticket to visit.
Timings: 5 am to 2 am
Address: 18 Marina Gardens Dr, Singapore
2. Watch the Famous Light & Water show at Marina Bay Sands' Spectra
A 15-minute treat to the eyes, Marina Bay Sands Spectra is a popular light and water show that takes place at Marina Bay Sands twice an evening. It is a wonderful activity that you can enjoy with your family and friends. It is also a great place to visit while out on a romantic date with your partner.
The entire show mesmerises you with its beautiful symphony of laser lights and visual projections on up to four-story high water fountain jets dancing amidst lava and mist effects and an orchestral soundtrack!
Marina Bay Sands' Spectra is a must-visit place for free in Singapore and trust me, you will fall in love with this city here if you already were not!
Timings: 8 pm to 8: 15 pm, 9 pm to 9: 15 pm on Weekdays and on Weekends, there is an additional showing from 10 pm to 10: 30 pm.
Address: Marina Bay Sands, 2 Bayfront Ave, Singapore
3. Visit Esplanade and Enjoy Free Shows at Singapore's Famous Performing Arts Centre
If you enjoy watching live music, theatre, concerts and art then you should head to Esplanade to enjoy great performances by both local and international artists for free in Singapore. At the Esplanade Outdoor Theatre, you can go and enjoy a free show every evening and have a great time with your friends and family.
It is a great way to spend your evening in Singapore and free at that too!
Timings: 8 am to 11: 30 pm
Address: Esplanade Mall, 1 Esplanade Dr, Singapore
4. Take a Stroll at Merlion Park
One of the most popular places in Singapore that you can visit for free is the iconic Merlion Park. Merlion Park is home to the World famous mythical statue of Merlion which is a mermaid with the head of a lion, sporting water. It is not only Singapore's prominent landmark but also a great place to click pictures for your Instagram.
Here you can stroll around, visit amazing cafes and restaurants and shop at the souvenir shops afterwards. You can also visit Merlion Park at night and enjoy this national icon shrouded in vibrant, colourful light.
Add visiting Merlion Park to the top of your list of free things to do in Singapore because your trip is incomplete without it!
Timings: 24 hours
Address: 1 Fullerton Rd, Singapore
5. Visit Marina Barrage and Enjoy Quality Time Outdoors
Another place to visit in Singapore for free is Marina Barrage which is a dam built in the southern region of Singapore which has become a hotspot for recreational activities. This dam is one of the biggest achievements of Singapore and in 2009, it was also rewarded with the Superior Achievement Award by the American Academy of Environmental Engineers.
You can come here and enjoy water sports like kayaking, dragon boat racing, etc and kite flying too. It is a wonderful location to go on a picnic and enjoy the sun in luscious green surroundings.
You should visit Marina Barrage because it is the perfect place to spend some quality time with your loved ones in Singapore!
Timings:  24 hours
Address: 8 Marina Gardens Dr, Singapore
6. Visit Hell's Museum at Haw Par Villa
For all the fans of art and museums, Haw Par Villa is the perfect place for you to visit for free in Singapore. This is a unique outdoor gallery that is based on the concept of death and the afterlife beliefs of various Asian cultures, histories, philosophies and religions.
Here, you are going to be dazzled by well-crafted sculptures while strolling through Haw Par Villa's Heritage Trail. You can join a tour and learn about various degrees and popular stories from Asian and Chinese cultures from your tour guide. Trust me, those stories are not like Disney fairytales!
Do visit Haw Par Villa for a meaningful yet enjoyable experience in Singapore!
Timings: From Sunday to Thursday: 9 am to 8 pm with the last entry at 7: 30 pm. On Fridays and Saturdays, the timings are 9 am to 10 pm with the last entry at 9: 30 pm.
Address: 262 Pasir Panjang Rd, Singapore
7. Visit Kampong Glam and Experience the Incredible Malay Heritage of Singapore
Popularly known as Singapore's Muslim Quarter, Kampong Glam is another great place you can visit for free. At Kampong Glam, you get to experience the rich heritage of Singapore, mainly influenced by Arab, Malay, and Bugis communities
Here, you can visit the famous golden-domed Sultan Mosque of Singapore as well as the Malay Heritage Centre and learn more about the local history. You can roam around visiting various amazing Clothing boutiques, and trendy cafes lined on Haji Lane and seeing incredible street art. You can also try out local specialities as well as global delicacies here!
Don't miss out on visiting Kampong Glam because this Arabian world is magical!
Timings of Sultan Mosque:  10  am to 12  pm then, 2 to 4 pm everyday expect on Friday when the timings are 2: 30 pm to 4  pm
Address of Sultan Mosque: Sultan Mosque. 3 Muscat Street, Singapore
8. Enjoy Singapore' Nightlife at Clarke Quay
The next on the list of best free things to do in Singapore is visiting Clarke Quay. Clarke Quay is a popular destination among tourists visiting Singapore and for a good reason too. Here, you can enjoy sightseeing as well as click some fantastic pictures at Clarke Quay Riverside. This area is even more incredible at night when the area is full of vibrant fairy lights and the water reflects it off.
It is also a popular destination to enjoy Singapore Nightlife. There is an abundance of restaurants and bars here to enjoy good food and music. You can also go and see the unique architecture here like Old Hill Street Police Station, Cavenagh Bridge, Raffles House, etc if you decide to visit Clarke Quay during the day.
All in all, a visit to Clarke Quay is worth the visit!
Timings: 10 am to 11 pm
Address: 3 River Valley Rd, Singapore
9. Take a walk across Helix Bridge
Another wonderful thing to do in Singapore for free is to go for a walk on the Helix bridge. This beautiful bridge is shaped like a helix and connects Marina South with Marina Centre in the Marina Bay area.
With a futuristic design and easy access, Helix Bridge is perfect to go for a romantic walk with your partner. Helix bridge looks even more incredible lit up with gorgeous lights at night. It is undoubtedly a great place to get Instagram-worthy pictures of yourself!
Don't forget to take a stroll across Helix bridge because you are going to love it!
Timings: 24 hours
Address: A3-min walk from the ArtScience Museum in Downtown Core
10. Visit Little India to experience the ethnic neighbourhood of the Indian community in Singapore
To experience age-old tradition and rich heritage, visit Little India in Singapore where you can experience the beautiful culture of the Indian community in Singapore. It is a great place to enjoy fanatic food and shop for amazing spices and souvenirs.
Little India is a beloved destination among tourists and an amazing place to enjoy hustle and bustle of a hospitable neighbourhood as well as the gorgeous architecture like the Buddha statue in the Temple of a Thousand Lights and the Abdul Gafoor Mosque
Don't miss out on tons of fun that you get to have in Little India, Singapore for free!
Timings: 24 hours
Address: Little India, across from Chinatown, Singapore
11. Visit Fort Canning Park Aka "Forbidden Hill" Of Singapore
The next on this list of free things to do in Singapore is go exploring Fort Canning Park. A significant milestone in Singapore's history, this iconic park is now a kids-friendly park where you can go and enjoy tons of fun activities like hiking, sightseeing, and clicking amazing photos amidst gorgeous hotspots. It is also a thriving centre for the concert, art and culture scene.
The Main attractions of Fort Canning Park are Fort Gate, Keramat Iskandar Shah, Maritime Corner@Fort Canning, 9-Pound Cannon, Gothic Gates, and 9-Pound Cannon. You can also see the Fort Canning Lighthouse from outside as entry is not allowed.
For all the gardening and horticulture enthusiasts, you must visit the Spice Garden, Artisan's Garden, Farquhar Garden, Raffles Garden and Sang Nila Utama Garden. Also, do visit Pancur Larangan and  First Botanic Garden here.
You must visit Fort Canning Park because it is going to be worth it!
Timings: 24 hours
Address: River Valley Rd, Singapore
12. Hike through the picturesque Southern Ridges Trail
If you are looking for a place to go where you can enjoy nature and some peace, you should go and explore Southern Ridges Trail. It is a ten-kilometre stretch of trees, trails, hills, flora and fauna. Southern Ridges offer great views of the city as well as the Southern Islands and the harbour.
Here, you can go hiking and enjoy nature crossing through stunning ridges, hilltops and pathways. One of the main attractions of Southern Ridges is the Henderson Waves which is just another incredible piece of architecture in Singapore. This unique bridge has a wave-like structure and is known as Singapore's highest pedestrian bridge.  
If you enjoy bird-watching, Southern Ridges Trail is a must-visit for you!
Timings: 24 hours
Address: Near Mount Faber Park, Southern Ridges, Singapore
13. Go Hiking and Biking on Bukit Timah Nature Reserve Biking Trail
If you enjoy cycling and going on adventures through nature's trails on your bike, then you are going to absolutely love biking through the Bukit Timah Nature Reserve Biking Trail. This nature reserve is full of a wide variety of trees, animals and insect species.
You can also go hiking on the four walking trails here if you prefer hiking over biking. But for every mountain biker who enjoys a rugged route, the six-and-a-half kilometres-long Bukit Timah MTB Trail is an absolute dream. It is extremely popular among seasoned riders due to its extended climbs and tricky descents.
Do check out this Bukit Timah Nature Reserve to enjoy nature and adventure for free!
Timings: 7 am to 7 pm
Address: 126F Rifle Range Rd, Singapore
14. Visit MacRitchie Nature Trail for An Adventurous Hike
Another great place to go hiking in Singapore is MacRitchie Nature Trail. Here, you can also enjoy water sports like kayaking in the calm waters of Singapore's largest reservoir. Another amazing thing about this place is that you can enjoy a peaceful treetop walk on the aerial free-standing suspension bridge.
Hikers can enjoy 11 kilometres of lush green foliage of this nature trail loop while also catching sight of forest creatures like monitor lizards, long-tailed macaque monkeys, and squirrels.
If you love nature, you will greatly enjoy hiking through this nature trail!
Timings: MacRitchie Nature Trail is open from 7 am to 7 pm. For Treetop walking, the timings are 9 am to 5 pm from Tuesday to Friday. On Saturdays, Sundays and public holidays, the timings are from 8: 30 am to 5 pm. Except for public holidays, It is usually closed on Mondays.
Address: MacRitchie Nature Trail, Singapore
15. Visit the Seren Buddha Tooth Relic Temple in Chinatown, Singapore
Another great place to visit in Singapore for free is Buddha Tooth Relic Temple. Located in Chinatown, It is a Chinese Buddhist Temple and especially popular among tourists. In this temple, you can see various artefacts and relics revered by Buddhists.
Here you can immerse yourself in Buddhist culture and admire the intricately designed architecture of this temple. You can explore its various exhibits on Buddhist art and history and pay a visit to the theatre and teahouse here.
The main attraction of the Buddha Tooth Relic Temple is the left canine tooth of the Buddha that is displayed here. It is believed to be recovered from Buddha's pyre in Kushinagar, India.
Don't miss out on the beautiful Buddha Tooth Relic Temple while visiting Singapore because it is a truly amazing experience!
Timings: 7 am to 7 pm daily
Timings for Museum and Stupa Chamber: 9 am to 6 pm daily
Address: 288 South Bridge Road, Singapore
16. Visit the Oldest Hindu Temple of Singapore- Sri Mariamman Temple
While visiting Singapore, you must visit its oldest Hindu temple, Sri Mariamman Temple. Designed in the traditional south Indian architectural style, Sri Mariamman Temple is a great place to visit for a spiritual experience while in Singapore.
This temple is dedicated to the Hindu goddess Mariamman who possesses the power of curing any illnesses and diseases. Located in the bustling neighbourhood of Chinatown, you should visit Sri Mariamman Temple and witness the excellent work of Indian craftsmen who were invited from India to see its restoration in 2010. Its majestic grand tower entrance and sculptures of mythological figures and deities that cover the five tiers of this temple are marvelous sights to see.
Do pay a visit to Sri Mariamman Temple and get the blessings of this Hindu goddess for yourself!
Timings: 5 am to 11: 30 am, later in the day from 5 pm to 8: 45 pm Daily
Address: 244 South Bridge Road, Singapore
17. Visit Siloso Beach on Sentosa Island
The next on this list of free things to do in Singapore is to visit  Siloso Beach, Singapore's hippiest beach on Sentosa Island. Away from the bustling city, Siloso Beach is a great getaway to enjoy some sunshine on a clean, sandy cove while taking in the view of a scenic coastline.
Siloso Beach is a man-made beach and even the sand on this beach was imported from Australia. It is kept very clean and people come with their friends and families to have fun here. At night, the atmosphere of the beach takes on a party vibe and everyone has fun dancing and music.
Siloso beach is also close to other tourist attractions like Wings of Time audio-visual show, Sentosa 4D Adventureland and iFly Skydiving (not free) in Singapore so you can plan your day accordingly. On Weekends, you can come and enjoy the mesmerising multisensory show called Magical Shores at Siloso.
Don't forget to visit Siloso Beach and spend an amazing time in the sunshine and clear water!
Timings: 24 hours
Timings of Magical Shores Show: 7: 30 pm to 10: 30 pm
Address: Siloso Beach, Sentosa Island, Singapore
18. Enjoy Time Under the Blue Sky at Changi Beach Park
If you enjoy going to beaches then your next stop should be Changi Beach Park which is the oldest coastal park in Singapore. Still retaining its Kampong Ambiance, Changi Beach Park is the perfect place to spend a lowkey day on pristine white beaches while enjoying great views of coconut palms and blue horizon.
You can come here and enjoy swimming, cycling, photography, barbecues and picnics. You can also opt to enjoy a delish meal at the seafront bistros here while the sounds of rolling waves and gentle breeze accompany you.
Don't skip out on visiting this gorgeous place and make unforgettable memories!
Timings: 24 hours
Address: Nicoll Dr, Singapore
19. Visit the East Coast Park on The Southeastern Coast of Singapore.
The next place that I would recommend that you can visit for free in Singapore is East Coast Park. Known for being one of the most treasured urban getaways of Singapore, You should visit East Coast Park to spend some quality time with family and friends here and partake in various fun activities.
Built with the theme of "Recreation for All", you get to sit back and relax while enjoying the gentle sea breeze with a lovely view of swaying coconut palms, Ketapangs and Casuarinas. There are play gardens, and play towers here as well as space for sports like cycling, cable skiing, and volleyball. You can also try out water sports too and if you enjoy skating then refresh your skills at Xtreme SkatePark here.
When nightfall comes around, you can indulge in tasty food at nearby restaurants and hawker centres or enjoy a barbeque.
You should definitely check out East Coast beach while in Singapore to spend a fun day outdoors!
Timings: 24 hours
Address: E Coast Park Service Rd, Singapore
20. Catch the Sunrise and Sunset at Mount Faber Park
Do you enjoy watching the sunrise or sunset like me? Then head out to hike in Mount Faber Park and catch exquisite sunrise as well as sunset here. You can also get amazing photographs here of the city skyline. Being Singapore's one of the oldest parks, Mount Faber Park is also a major tourist attraction. 
Here, you can enjoy panoramic views of the Southern Islands and the southern region of Singapore using the telescopes available at the various lookout points. You can go and see the first-ever tree that was planted here on the first Tree Planting Day and do some bird sightings too. You can also check out the mural wall at Faber Point which depicts scenes from local historical events.
Don't miss out on this unique sunset/sunrise experience at Mount Faber Park while in Singapore!
Timings: 7:00 pm to 7:00 am daily
Address: A 1 minute's walk from the Singapore Cable Car, Mount Faber Rd, Singapore
21. Attend Free Performances by Singapore Symphony Orchestra
Do you enjoy orchestra but don't get a chance to attend them often because their tickets can be expensive? Well, then you must attend a free performance by the Singapore Symphony Orchestra while visiting Singapore. You can bring your family or come with friends and enjoy soulful classical music while enjoying nice food.
The Orchestra holds performances at different locations and sometimes one of their shows would take place at an institute and then the next in a garden. You can easily track them down online and not miss this experience! The tickets are provided on a first come first basis so you should be there early to ensure you get your hand on one.
22. Watch A Movie Outdoors Under the Night Sky for Free
With the rising prices of everything nowadays, watching movies at the cinema has become a costly affair. That's why if you enjoy watching movies on big screens, you should not miss out on catching a free film at one of Singapore's cinemas which host free and regular screenings fortnightly.
All you have to do is bring a mat to sit on and your favourite snacks to share with your loved ones. You can even vote for which movie you wish to be screened. One of these Cinemas which host such events is MovieMob's and you can follow their Facebook for more details.
Watching a movie on the big screen under the stars with people you care about is one of the most wonderful experiences and you should experience it at least once!
23. Enjoy A Peaceful Walk Around Singapore Botanic Gardens
One of the main tourist attractions of Singapore is Singapore Botanic Gardens and you can visit it for free. A popular UNESCO World Heritage Site and the world's first children's garden, Singapore Botanic Gardens have one of the most magnificent collections of flora and fauna. This place has another title of being Singapore's first and only tropical botanic garden and visiting this garden is an absolute dream for every horticulture enthusiast.
One of a kind, you must visit Singapore Botanic Gardens not only because it's free but also because it's a priceless experience. Strolling around these hundred and fifty years old gardens and seeing some of the rarest plants here is a memorable experience that you shouldn't miss out on!
Timings: 5 am to 12 am
Address: 1 Cluny Rd, Singapore
24. Spent Time Away from City at Chek Jawa Wetlands
If you are tired of spending time in the bustling city life of malls and crowds, you should go and visit the Tanjung Chek Jawa which is usually called just Chek Jawa. A vibrant mix of six diverse habitats, you must come and explore one of the richest ecosystems in the world.
Here, you can get to a coral & seagrass lagoon as well as sandy and rock-filled beaches along with mangrove and coastal forests. This is the reason Chek Jawa is extremely popular among tourists, nature lovers and bird watchers.
You can click incredible photographs here and tuck the bragging rights of having visited such a unique natural wonder!
Timings: 9 am to 5 pm
Address: Chek Jawa Trail, Singapore
25. Visit Singapore's Popular Gardens at Jurong Lake Gardens
If you enjoy visiting gardens and lakes in different-different countries and cities, then you should check out Jurong Lake Garden while in Singapore. Located in the heart of Singapore, you can reach this place easily and spend 1-2 hours having a great walk around. Within Jurong Lake Garden, you get to explore Chinese and Japanese Gardens, Lakeside Garden, and Garden Promenade.
You should visit these gardens because they are perfect to see the beauty of Asian architecture. In the Chinese Garden, you must visit the two majestic lions made of stone that are located at the gates and also the white bridge that resembles the 17-arch bridge of Beijing. You also get to see koi fish ponds here and click amazing pictures for Instagram!
Similarly, in a Japanese Garden, you are greeted by gorgeous floral and aquatic gardens as well as lovely tropical flora that showcase the colours of the tropics. The other attractions of  Jurong Lake Gardens that you should definitely check out are the Jurong Lake boardwalk, Rasau Walk, and Grasslands.
Don't forget to check out Jurong Lake Gardens because you will love it, no doubt!
Timings: 8: 30 am to 6: 30 pm
Address: 104 Yuan Ching Road, Singapore
26. Immerse Yourself in Contemporary Art at Gillman Barracks
If you enjoy visiting art galleries and exploring contemporary art then Gillman Barracks is the perfect place for you to visit next. Gillman Barracks was originally a military quarter but now, it houses multiple art galleries and has become the hotspot for people seeking a dose of contemporary art.
There is always an exciting event taking place here that you should look out for. Not only art but you can also enjoy amazing food here at various eateries, cafes and restaurants which serve various kinds of food that are simply to die for!
For every Art lover, Gillman Barracks is paradise and when delicious food is also available there, what more can we ask for?
Timings: 11 am to 11 pm every day except on Sundays when the timings are 11 am to 12 am
Address: 9 Lock Rd, Singapore
27. Visit Singapore City Gallery and Learn about Singapore's Journey of Urban Development
Another great place to visit in Singapore for free is Singapore City Gallery. Not only is it full of interactive exhibits but it also contains over 50 audiovisuals and more than 10 thematic areas that are amazing to learn about Singapore's transformation from a fishing village to the global financial centre it is today.
Here, you can get a fantastic view of the Central Area of Singapore and truly see how incredible Singapore truly is on an urban scale. It is a three-story building where you get to see a ginormous model replica of the city. Another main attraction of the Singapore City Gallery is the 270-degree panoramic show that shows you daily life scenes in Singapore from dusk to dawn.
Singapore City Gallery is an incredible place that you must include in your itinerary because you will not regret it!
Timings: From Monday to Saturday, the timings are 9 am to 5 pm. On Sundays and public holidays, It is usually closed.
Address: 45 Maxwell Rd, The URA Centre, Singapore
28. Go Star-Gazing At Seletar Rocket Tower
Another wonderful thing to do in Singapore for free is to go stargazing at the Seletar Rocket Tower. Located in the Upper Seletar Reservoir Park, This rocket-shaped tower is the perfect place to see the constellations that shine over Singapore city through the sophisticated telescopes that are available to use for free.
At Seletar Rocket Tower, you have to take a spiral staircase to the top. Through the high glass windows of the tower, you get incredible views of the surrounding areas. At the Top, you are greeted with a panoramic view of the reservoir waters and you can also spot Singapore Zoo and the upper reaches of Central Catchment Nature Reserve.
Timings: 24 hours
Address: Mandai Road Track 7
29. Pay Your Respects at Kranji War Memorial
If you're a history buff, then you should visit the Kranji War Memorial where more than 4,400 white gravestones have been placed in honour of the men and women who died during World War II in the line of duty. There is also a mass grave for 69 Chinese servicemen in plot 44 here. They were killed by the Japanese in 1942 when Singapore fell.
There are also four memorials out of which the largest one is called the Singapore Memorial which is about 24 metres high. Every year, a memorial service is held on a Sunday close to 11 November, Remembrance Day, to pay tributes to all who sacrificed their lives.
Timings: From Monday to Friday, opening timings are 9 am to 4 pm. On Saturdays and Sundays, it is always closed.
Address: 9 Woodlands Rd, Singapore
30. Visit the Instagram-Friendly Japanese Cemetery Park for Fantastic Photos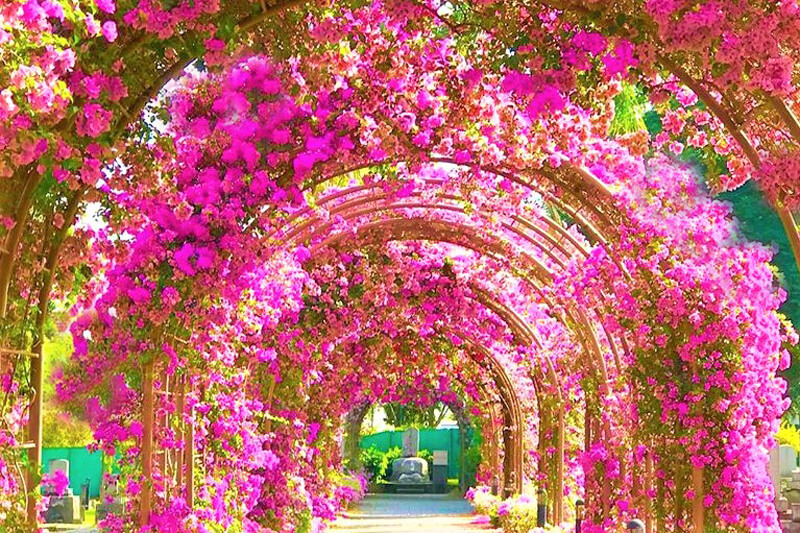 The last place on this list of the top best things to do in Singapore for free is to visit and click amazing pictures at the picturesque Japanese Cemetery Park. Located in Hougang, it is the largest and the most well-preserved Japanese cemetery in Southeast Asia.
It is a serene memorial that used to be the burial ground of Singapore's early Japanese Community. Visitors are welcomed here and are allowed to admire the Prayer Hall and do some photography beneath the gorgeous floral archways here.
Do keep in mind that you are not disrespectful and refrain from touching the tombstones. Don't remove anything from the graves and if you have kids with you, keep an eye on them.
Timings: 7 am to 7 pm
Address: 825B Chuan Hoe Avenue, Singapore
Conclusion
One of the most fascinating places in South-East Asia, Singapore might be a small and pricey country to visit but there are tons of places you can go to see here and partake in fascinating activities for free. From world-class architectural pieces to thrilling hiking trails, serene temples and gorgeous gardens, Singapore has so much to offer and you can experience many of them without having to spend everything in your wallet.
Don't you wish to visit amazing places and not spend a fortune while doing it?
If you enjoyed reading about all the free things you can do in Singapore, do check out our other travel inspiration blogs. If you have some adventurous story to share, do leave a comment because we would love to hear from you!
FAQs
1. Is it illegal to chew gum in Singapore?
Yes, it is against the law to chew gum in Singapore. Unless you are prescribed chewing gum by your medical practitioner and have a prescription detail with you, you will not be allowed to bring chewing gum along with you in the country.
2. Is 1 day in Singapore Enough?
You can visit many Singapore Iconics and prominent landmarks if you only have 1 day in Singapore. Though, if you wish to truly experience Singapore's beauty, I would recommend at least 3 to 4 days here.
3. What colours to avoid in Singapore?
There is no hard and fast rule about avoiding certain colours in Singapore. But in case you are preparing gifts for someone here, try to be mindful of their ethnicity and religion, and avoid wrapping the gift in colours that are negatively associated like black or white.
4. What is forbidden in Singapore?
There are a few things about Singapore's law that you should keep in mind while visiting. Damaging and stealing public property, taking drugs, feeding pigeons, not Flush the toilet, urinating in elevators, walking around naked,  jaywalking, smoking in a certain area, littering, connecting to other person wifi and chewing gums are illegal in Singapore and you can be fined heavily for them.
5. What is considered rude in Singapore?
As Singapore is home to cultures like Indian, Chinese and Malay, their cultural and religious beliefs should be respected and you should never do things like touching other people and even kids', heads, point feet or fingers at someone, raise or wave at someone to call them over, tapping feet, forearm jerk, etc.
6. What can you not buy in Singapore?
You cannot buy items like chewing guns, e-cigarettes, recreational firecrackers, and shisha (flavour-infused tobacco) in Singapore. It is also against law to purchase alcohol after 10: 30 at night here.
7. How much cash can I bring into Singapore?
While entering Singapore, if you are carrying more than S$ 20,000 with you then you need to submit a completed NP727 form to Customs Red Channel. This amount is also applicable to its equivalent amount in foreign currency. There is no limit on how much cash you are carrying but when the amount of cash exceeds the above-mentioned limit, you will have to deal with paperwork and bureaucracy.
8. What is the best area to stay in Singapore?
Some of the best locations in Singapore that I would recommend staying at are Marina Bay, Orchard Road, Historic District, Sentosa Island, The Quays, Bugis & Kampong Glam and Tiong Bahru. Chinatown and Little India are also wonderful locations where you can plan your stay.