Are you planning for a fun day out this weekend? But confused about where to go or what to do?
Then you should definitely read this article! Because we have plans for your weekend, and we will disclose that plan here.
Genting Highlands is the most popular hill station in Malaysia. From hiking and flying to the indoor theme parks, from shopping malls and eateries to staycation, everything is here waiting for you.
So let's jump into the article and check out the 26 best things to do in Genting Highlands Malaysia that will make your weekend special.
Things to Do in Genting Highlands In Malaysia
1. Take a Skyhigh Feeling Through Awana SkyWay
As you know, Genting Highlands is a hill station so you will get so many options to have a sky view. You can start your ride from Awana SkyWay at the state-of-the-art cable car. This gondola gives you a 10-minute ride from Awana SkyWay station to SkyAvenue Shopping Mall.
This cable car is also connected to Chin Wee station, so through the gondola, you can ride to the temple also. Do not forget to keep your ticket with yourself, as that will ensure your free return ride back to awana station.
During the ride, you will see the 130-million-year-old rainforest and the 20th Century Fox world in a different way. Not only that, but with this bird's eye view, you can also see numerous attractions of Genting Highlands.
Here you'll get two types of gondolas: the standard gondola and the glass-floored gondola. The standard gondola can carry up to 10 people at a time, whereas the glass-floored gondola can accommodate 6 people.
Timings: 07:00 am to 12:00 am
Tickets: RM 8.00 for standard gondola & RM 50.00 for glass-floored gondola and can be purchase through online.
2. Explore the Genting SkyWorlds Theme Park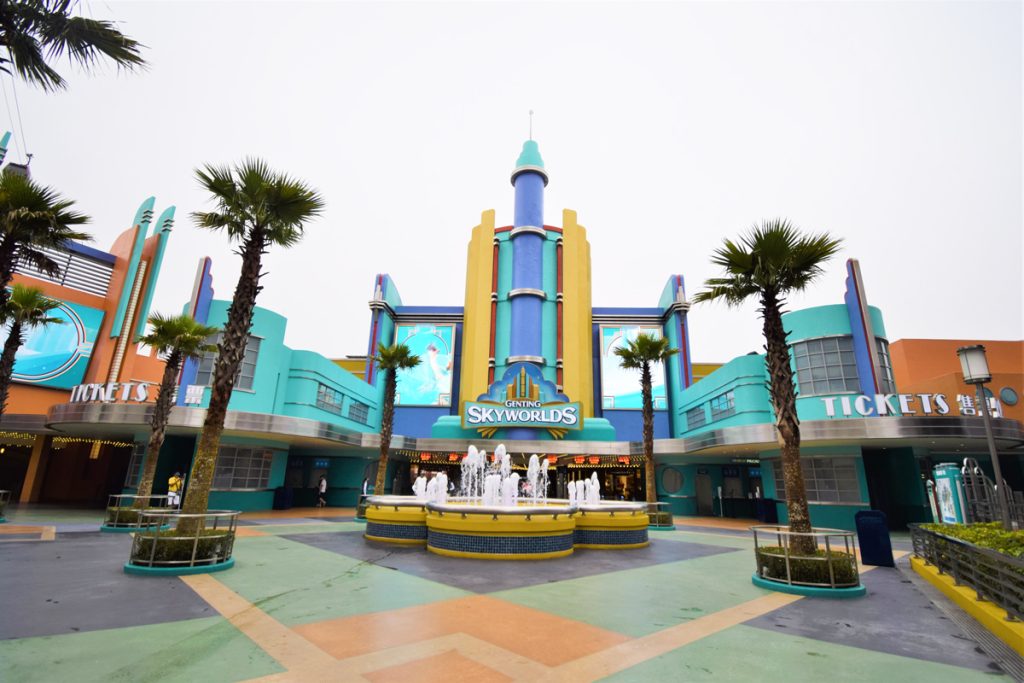 The "20th Century Fox Studio" is no longer available at Genting Highlands. Is this something that makes you sad? If so, then don't be!
Because Genting has come with a new theme park called Genting SkyWorlds Theme Park, which is filled with more amazing attractions and exciting activities. The park is divided into nine themed worlds: Studio Plaza, Eagle Mountain, Central Park, Rio, Andromeda Base, Liberty Lane, Epic, Robots Rivet Town, and Ice Age.
By the names of these themed worlds, you undoubtedly get the idea that they are based on many international animation movies and suitable for all ages. The Genting SkyWorlds Theme Park will allow you to have fun with nearly 26 exciting rides. Moreover, you can take pictures with your favourite animation characters like Mammoth from Ice Age and Rio from Rio. It also offers an amazing dancing show for its visitors to watch.
And when you are done with attractions and activities, you can opt for its numerous eateries that serve many mouthwatering dishes to satisfy your hunger. [Here read more about Genting SkyWorld Theme Park]
Timings: Daily 11:00 am to 06:00 pm
Ticket price: Standard RM 151.00 & Children/Senior citizens RM 128.00
3. Satisfy Your Shopaholic Soul @ The Genting Highlands Premium Outlets
For the shopaholics, the Genting Highlands Premium Outlets is an ideal place. It is an open-air shopping mall with hundreds of branded clothes, fashion accessories, electronics, and so on. Thousands of Malay people and foreigners come here to get branded products at a very reasonable price.
Not only that, inside the shopping complex there is a food section where you'll get a wide range of cafes and restaurants to satisfy your hunger.
The Genting Premium Outlets is placed next to Awana SkyStation, which means you can combine the shopping trip with the cable car ride.
Timings: 10:00 am to 10:00 pm
4. Visit the Iconic Chin Swee Caves Temple
The Chin Swee Caves Temple is a Taoist temple dedicated to the Reverend Master Chin Swee. You'll see a black statue of Chin Swee at the entrance, who is believed to be the master of rain and protector of his devotees from evil spirits.
The star attraction of the temple is a nine-storey Pagoda. You're welcome to climb the Pagoda and visit numerous images of Buddha and thousands of blessing lamps.
The temple also houses huge statues of Buddha, ten chambers of hell, and Chinese inscriptions. The colourful interior and exterior designs are enough to grab your interest.
Timings: 09:00 am to 07:00 pm
5. Have Funtime @ Skytropolis Funland (First World Indoor Theme Park)
Located at Resorts World Genting, Skytropolis Funland is an indoor theme park with a 400,000 sq ft. area. This park has earned the title of the "First World Indoor Theme Park" and has more than 20 fun-filled rides of all ages.
Adventurous junkies opt for this park as it offers rides like balloon race, spin crazy, sky tower, bumper boss, boo-boo bump, copper express and so on. There is also a virtual reality entertainment centre called The Void.
The park has recently upgraded and included some new attractions and fun rides that will surely engage you for more hours.
Timings: 10:00 am to 10:00 pm
Entry fee: Monday to Friday RM 10.00|Saturday, Sunday & Public holidays RM 15.00
6. Play with Snow @ Genting Snow World
Are you tired of the Malaysian heat and want some coldness of the winter season? Then head up to the Genting Snow World. With an area of 22,800 square, this Snow World is a recreational artificial snow village.
The setup of the Snow World is like a winter European village with ancient Roman castles, igloo houses, a tea shop, a pizzeria and a bakery to give you the winter vibe in Malaysia. The most significant part of the Genting Snow World is the Cresta Run Toboggan, an actual snow slide.
You can make snowmen and have a great fun time with your friends and family.
Timings: 10:00 am to 10:00 pm
Entry fee: RM 50.00
7. Enjoy the Musical Concert @ Arena of Stars
Who doesn't love a musical concert? In Genting Highlands, Arena of Stars is the place where you can enjoy musical shows as it hosts several musical concerts and events throughout the year.
The place has seats for approximately 6000 people at one time, and some of the renowned artists like Cliff Richard, Michael Learns to Rock, Guang Liang have performed here. The decoration of Arena of Stars is spectacular because of its huge size and dazzling lighting.
While you're at Resorts World Genting, try to catch up on a show at Arena of Stars so you can enjoy the performance of international artists.
Timings: Daily 08:30 am to 10:30 pm
8. Experience Different World @ SkyAvenue
SkyAvenue is a world of its own. Here you'll get shopping malls, eateries, indoor theme parks, fun activities, spas, clubs, and casinos. You can see all of this when you reach the SkyAvenue station through the gondola.
This futuristic mall is the must-visit place in Genting Highlands. The four-storey shopping complex carries so many wonders that you will not get a single moment to be bored. Once you get to the SkyAvenue, your hours will pass within the blink of an eye.
Timings: 10:00 am to 10:00 pm
9. Expand Your Imagination at Ripley's Believe It Or Not! Adventureland
Bizarre things give us more fun than usual activities. Located in the SkyAvenue, Ripley's Believe It Or Not museum is all about bizarre things, the oddest collectables, and weird arts.
The museum has 11 galleries with 500 hundred different items that take an hour to explore. The giant dinosaurs, zombie outbreak, and 4D trick art are the must-see attractions of this museum.
This Adventureland also has several kid-friendly activities and rides that will make young children happy. Because of its weird and strange collection, the place is also called "Odditorium". Here are some attractions that you can enjoy here.
Jurassic Research Center
Jurassic Research Center is a part of this Adventureland, and it will take you back to dinosaur time.  Here you will see more than one species of dinosaur status. At the same time, you can also learn about these prehistoric creatures.
Zombie Outbreak
By this time, you have experienced the past at the Jurassic Research Center. Now, let's experience the future at the Zombie Outbreak section. This section will give you a thrilling experience with the zombies. Imagine how you will feel if you're the last survivor of the earth surrounded by zombies and you're trying to hide from the undead. Scary right! The Zombie Outbreak section will haunt you with such experience.
4D Trick Art Museum
4D Trick Art Museum is the most suitable place to click some weird pictures. This museum has so many unique 4D arts to capture photos so that you can trick your friend.
Timings: 10:00 am to 10:00 pm
Entry fee: Adult RM 22.00|Child RM 18.00
10. Jungle Gym
If you're looking for a safe place to leave your kids for some time and in the meanwhile, you can take a relaxing coffee, then no place is better than Jungle Gym. It is a place where your children can enjoy their fun land, which is filled with slides, crawling tunnels and lots of fun activities. At the same time, Jungle Gym will also give your kiddos some educational lessons. 
For getting in at the Jungle Gym, you and your kids have to wear socks. If you didn't bring one, you could always buy socks from the counter.
11. Live the Night @ Cloud 9
Genting nightlife is more exciting and dazzling than the daytime because of its nightclubs and many other attractions. Cloud 9 is one of the most popular and trendy nightclubs in Genting Highlands. This club can be easily recognised by its huge enchanting neon pillars, which are so colourful.
Cloud 9 hosts live music shows occasionally, but you can enjoy hip hop and R&B music every night at this club. So people who want to make their nightlife at Genting more exciting and fun can opt for Cloud 9.
12. Enjoy the Light and Sound of SkySymphony
To make your night full of lights and sounds, head into the SkySymphony, Asia's largest performance display. It is placed in the SkyAvenue and offers three types of shows that you can see in this theatre.
The multi-coloured balls and LED screen create many outstanding visuals like animals, flowers, animations, graphics, and so on. The engaging mix of music takes the shows to the next level. So undoubtedly, this display will make your night enchanting and memorable.
Timings: 10:00 am to 06:00 pm (every two hours) & 06:00 to 12:00 am (every hour)
13. Experience Some Horror @ The Haunted Adventure
Warning! If you're not bold enough to have a haunting experience, skip this section of Genting Highlands.
The Haunted Adventure is a section at the First World Plaza of Genting, waiting for those of you who want some thrilling and haunting experience. It will lead you through some dark rooms where some scary occupants are waiting for you to welcome.
It might be scary like a horror movie, but at the end of this journey, the Haunted Adventure will give you an unforgettable memory. Again people who have faint hearts do not come to the Haunted Adventure section.
14. Test Your Luck at SkyCasino Genting
Being the largest casino in Genting Highlands, SkyCasino offers an elegant and exciting entertainment centre to adult visitors. The casino is spread into two floors with 400 electronic tables, a massive LED screen, eight dining venues, and 3000 slot machines. In short, it is a vast world of its own.
You can come here anytime to test your luck as it is located in the SkyAvenue shopping mall and is open 24 hours.
Note: People below 21 years and Muslims are not allowed in the casino. And foreigners need their original passport to get an entry.
Timings: 24 hours
Entry fee: Free
15. Watch Sports and Tournaments @ All Sports Bar
Sometimes on vacation, we miss some important sports and tournaments that we love to watch. But guess what! At Genting Highlands, that won't happen to you. You will not miss a single sport or tournament.
All Sports Bar houses three giant screens, plasma screens, and eight televisions only for you so that you can watch the biggest tournaments and important sports in the world.
Now you don't have to be afraid of missing the English Premier League while you're in Genting Highlands. Make sure you get there as early as possible to have a good seat as the bar gets very crowded during such tournaments.
16. Embarrass Gohtong Jaya Attractions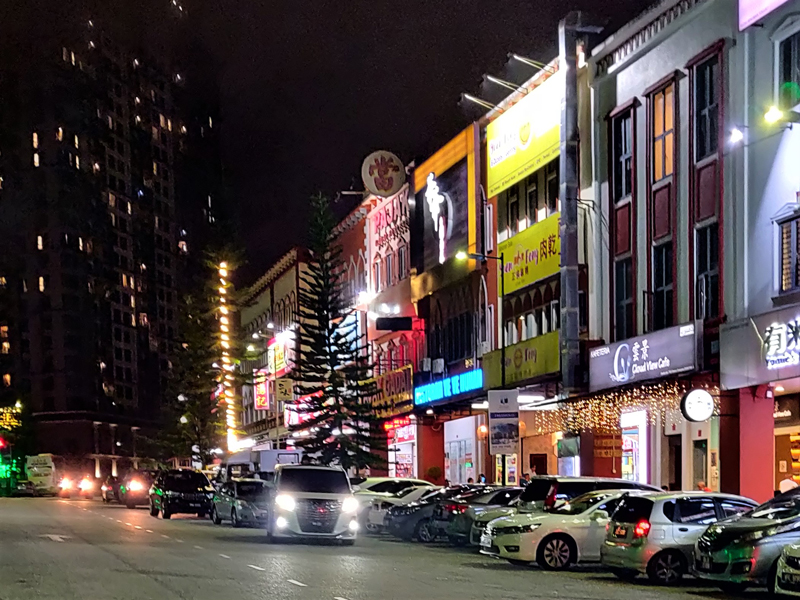 Gohtong Jaya is a town that is located at the heart of Genting Highlands and one of the must-visit attractions here. The town has countless eateries, from local delicacies to Chinese cuisine and tropical fruits. Everything is available here. And for this reason, Gohtong Jaya is also called the food town of Genting Highlands.
If you want to experience the car cable ride, which is the must-do activity in Genting, you have to come to Gohtong Jaya as it has the lower stations of two main gondolas- Awana Skyway and Genting Skyway.
Apart from this, Gohtong Jaya is also the house of some renowned attractions of Genting like Happy Bee Farm, Strawberry Farm, Premium Outlets, and Lim Goh Tong Memorial Hall.
17. Try Strawberries at Genting Strawberry Leisure Farm
To have a unique experience at Genting Highlands, you must visit the Genting Strawberry Leisure Farm. It is the largest strawberry farm in Malaysia and gives visitors a colourful and aromatic vibe. The fountain surrounded by blooming lavenders is the most eye-catching feature of this farm.
This leisure farm is ideal for a stress-free afternoon walk where you can try the fresh strawberries by plucking them from the orchards. The farm also offers a marketplace where you can purchase boxes of strawberries, tins of strawberry juice, strawberry jam, and strawberry candies.
Timing: Monday to Saturday 09:00 am to 06:30 pm|Sunday 09:00 am to 07:00 pm
Entry fee: Adult RM 10.00|Child(below 12) RM 7.00
18. Play Golf @ Genting Highlands Golf & Country Resort
Golf is a sophisticating and renowned game. And this is highly impossible that in Genting Highlands you will not get a chance to play golf. This highland patronises a golf club called Genting Highlands Golf & Country Resort, where you can play golf and visit the beauty of the surroundings.
The golf course is located at the base of the Banjaran Titiwangsa Mountain Range and was designed by Ronald Fream, which makes it one of the most wonderful and prettiest golf courses in the country. So if you have a plan to play golf in this area, Genting Highlands Golf & Country Resort will warmly welcome you.
19. Hike on Genting Highlands Mountains
As Genting Highlands is a mountain hill, there is no better way to explore it than by hiking. The hilly view is entirely different from the Genting resort, and it will give you the countryside landscape experience.
Through hiking the Genting Highlands Mountains, you'll get some prettiest scenery and some lush tropical greenery to explore. Covered with numerous vegetation and layers of clouds, this hill station will give you memories that you would cherish for sure!
20. Taste the Organic Honey @ Happy Bee Farm Genting
We always feel happy when we taste honey. By keeping this in mind, the owner has given the name Happy Bee Farm, and it is the home of several varieties of bees. The farm has the fame of being the first-hand experience of bee farming, and it will also give you information about bees, flies, and many exotic insects that are rare.
If you want to learn about the natural habitats and life-cycle of these insects, the Happy Bee Farm is the perfect place. With the help of experts, the farm exhibits bee farming techniques. Here you can taste authentic and delicious honey. At the same time, you can purchase honey for your home also.
Timings: Daily 09:00 am to 07:00 pm
Entry fee: RM 20.00 per person
21. Visit Exotic Butterflies @ Butterfly Wonderland Genting