When you think of Japan, your mind automatically thinks of a calm and peaceful place. The people of Japan are polite and organized, which adds to the calmness of the place. Even though the place is quite peaceful, Japan is way ahead in terms of technology and smart utilization.
Now, if you want to experience the taste and culture of the place, it will definitely not happen in a day or two. 10 days are the minimum required days to visit the most beautiful and interesting places in Japan and get a proper experience of the culture. 
Planning a trip of 10 days can be a bit overwhelming. Which places to go? Where to stay? What to eat? So many questions! Well, this article is a complete guide to a 10-day Japan itinerary that will give you a detailed explanation of everything you need to do within these 10 days. Let's begin!
When is the best time to visit Japan?
Before starting an entire plan for your trip, you must know when the right time for you is to visit. In general, the tourist season in Japan is during Spring and Autumn, which is from March to May and September to November. Now, you have to decide which time is perfect for you. 
If you ask me, I would definitely suggest that you should plan these 10 days trip around November because the weather during that time is amazing without having to face too many crowds of tourists. During this time, the temperature mostly stays between 12°C to 18°C. The temperature may fluctuate and get colder during the night. 
Since it is the start of the off-peak tourist season, the prices of flights and accommodations are going to be way more affordable! Mild temperatures, less rainfall, and great budget deals are the best reasons to visit Japan during November. 
However, if you are planning to see and experience the beautiful Sakura season (cherry blossoms), it is best to travel by the end of March or the beginning of April. It will be crowded because of other tourists, but the different places painted pink by nature is just worth it!
How much will you spend for 10-Day Japan Itinerary?
In general, it takes around $60 to $80 per day per person if you are looking for a budget-friendly trip to Japan. However, for a luxurious experience, it may take up to $200-$250 per day per person. 
I traveled to Japan with a friend according to this 10 days Japan itinerary, and it was not as expensive as we expected since we shared accommodations. However, it was not the most affordable option either. For two people, it was around $3000, where we spent about $1200 on accommodation and $650 for travel. You can say that it will take you around $150 per day to travel. 
However, if you go for cheaper options in terms of hotels and restaurants, you can save a little bit more. You can also go for tourist hostels, which is going to save a lot in terms of accommodation. The JR pass is going to come in handy if you plan a lot of train rides. 
Day 1: Arrival in Tokyo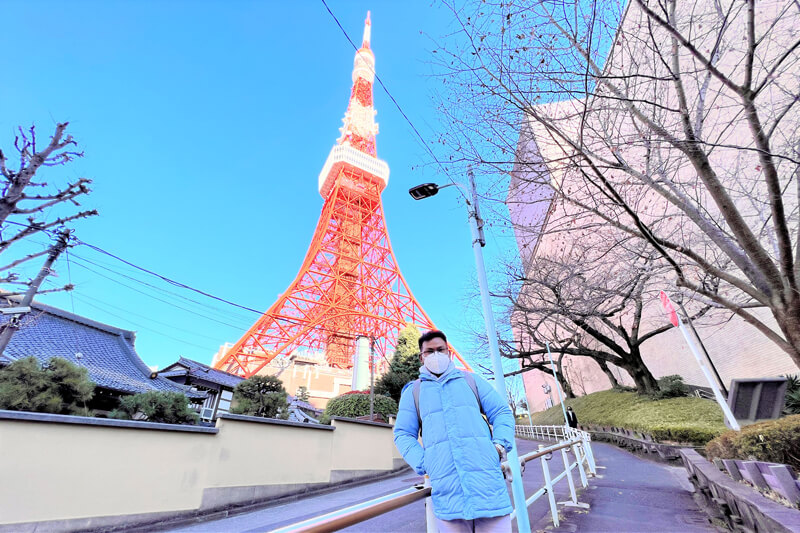 Starting in Tokyo is a great idea for a 10-day trip to Japan. Tokyo is a vibrant city that perfectly represents the energy of Japan. When you arrive, you'll likely land at either Narita Airport or Haneda Airport. You can take the Narita Express to the city center, which takes about an hour from Narita to the city center.
Haneda Airport, also known as Tokyo International Airport, is closer to the city center and is a hub for budget airlines like AirAsia. To get to the city center from Haneda, you can take the Tokyo Monorail, which is covered by the JR pass. Once you're in Tokyo, you can explore the city's many attractions and experience its unique culture.
Since it will be your first day of travel with so much journey, you are most probably going to be jetlagged. It is best to avoid heavy traveling on that day and just relax in your hotel or AirBnB before exploring the area a little. 
If you want to explore the city efficiently, I suggest you stay somewhere in near Shibuya. The place is filled with interesting restaurants and bars where you can explore authentic Japanese cuisine. You can also go shopping around the area and end your day with the most beautiful sunset. 
However, if you are completely determined not to waste a single day, you can try exploring Asakusa. Asakusa is one of the districts of Tokyo that has entertainment all over the place. Temples, shrines, shopping streets, parks – Asakusa has everything for you!
Here are some of the places at Asakusa you can choose to visit after you arrive in Tokyo.
Sensoji Temple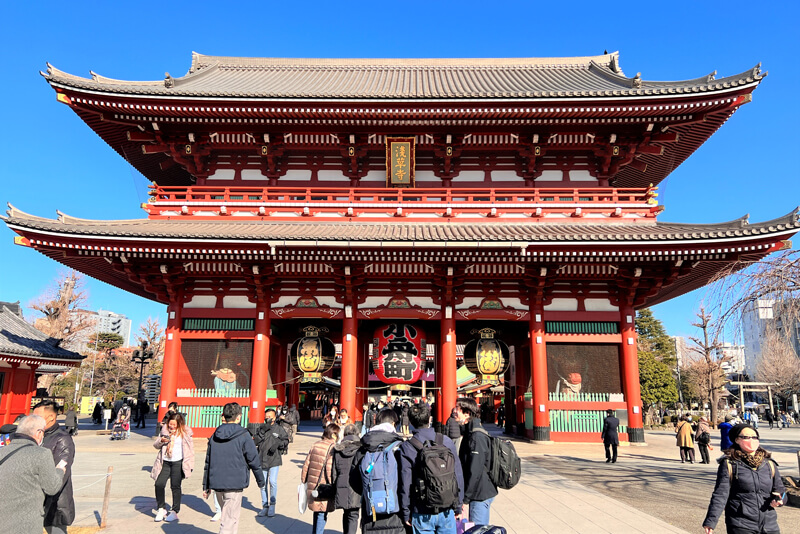 One of the main attractions of Asakusa is the Sensoji Temple. The word "Sensoji" itself means Asakusa Temple. It was built way back in the 7th century and is one of the oldest constructions in Japan. 
Location: 2 Chome-3-1 Asakusa, Taito City, Tokyo 111-0032
Opening hours: 6 AM to 5 PM (6:30 AM from October to March)
Admission: Free
Nakamise Shopping Street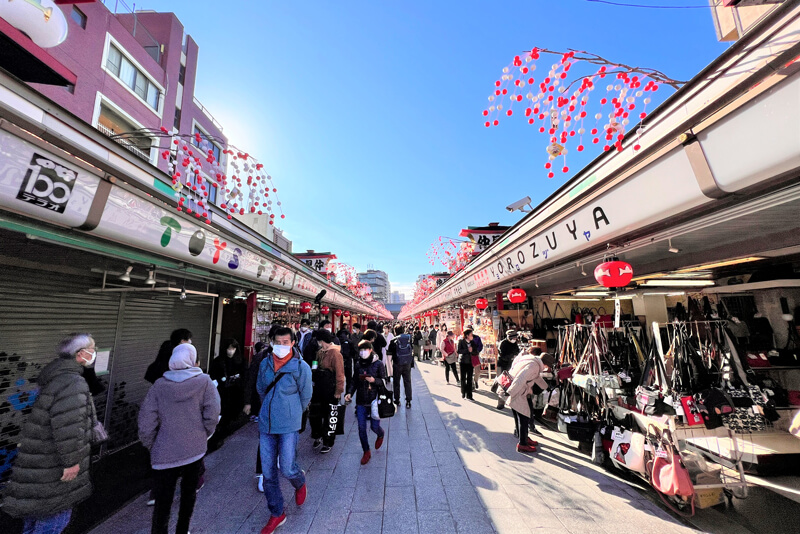 Located on the main approach to Sensoji Temple, the Nakamise Shopping Street is a bustling hub of traditional Japanese souvenirs, snacks, and sweets. With over 50 shops lining the 250-meter street, tourists can find a wide variety of local specialties to take home as souvenirs of their trip.
From unique trinkets to delicious treats, the Nakamise Shopping Street offers something for everyone. Don't miss out on the chance to make your trip to Sensoji Temple even more memorable!
Opening hours: Usually from 9 AM to 6 PM, depending on individual shops 
Admission: Free
Asakusa Culture Tourist Information Center
The Asakusa Culture Tourist Information Center, built in 2012, is a must-see attraction for both tourists and locals due to its impressive architecture. With eight floors, the center offers information desks in multiple languages, providing visitors with the opportunity to learn more about the rich culture of the area.
There is also free Wi-Fi available, along with a nice café and an observation deck. You can enjoy a nice view of Nakamise Shopping Street and Sensoji Temple from the observation deck.
Location: 2 Chome-18-9 Kaminarimon, Taito City, Tokyo 111-0034
Opening hours: Every day from 9 AM to 10 PM
Admission: Free
Where to stay in Tokyo?
Since your flights are going to be based in Tokyo, it's best to stay in the city itself to make the most of your time there. Tokyo offers a variety of accommodation options, including hotels and AirBnBs, which are perfect for short stays. With so many neighborhoods to choose from, you can find a location that suits your preferences and budget.
You can book your hotel in Shibuya in advance to avoid last-minute hassle. You will find different hotels according to your budget and preference with great deals! If you prefer staying near the train station within walking distance of your hotel after a tiring day, you can always look for hotels in Ginza or Tokyo Station. 
Shinjuku is also a great place to stay in Tokyo because of its diverse environment and great access to facilities. You will be close to Shinjuku Station, which is a very busy place for passengers traveling around. You will find some great deals on accommodation at a variety of expense ranges depending on your budget. 
Day 2: Discover Tokyo's Landmarks
Staying for a day in Tokyo will be so unfair! You are going to miss out on a bunch of things. On day 2, it is time for you to explore this amazing city. Here are a few places you can choose to visit during your exploration according to your preference:
Tokyo Skytree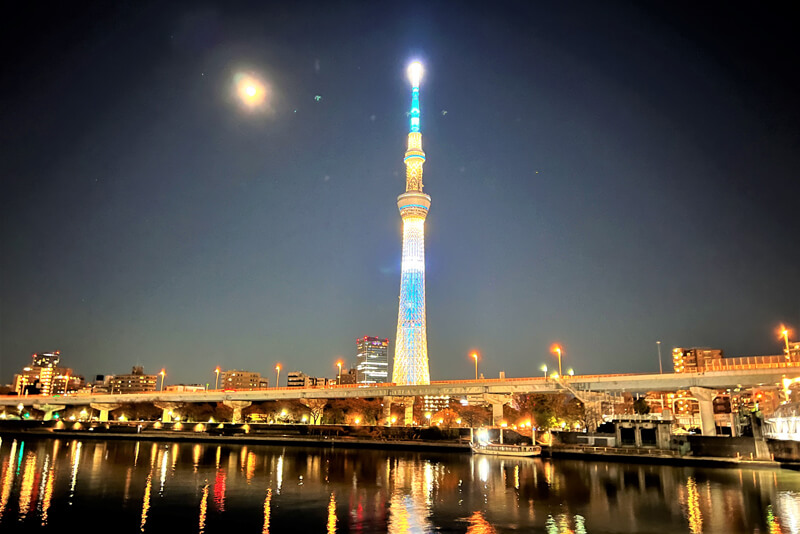 Tokyo Skytree, standing at a height of 634 meters, is one of the tallest towers in the world and a popular tourist destination in Tokyo. Situated just a few kilometers away from the historic Senso-ji temple in Asakusa, the tower boasts a massive shopping mall and an aquarium at its base, making it a must-visit attraction for tourists in Tokyo. 
It is best to take a bus to reach Tokyo Skytree from Asakusa or Ueno Station. If you take a bus from Ueno Station, it is going to take you about 30 minutes to reach there, costing ¥220. From Asakusa, it will take about 16 to 20 minutes, costing ¥160. 
People usually get tickets from the counter, but you can also book tickets in advance, which will cost you less and allow you to be free from the hassle of buying tickets on the spot.
Location: 1 Chome-1-2 Oshiage, Sumida City, Tokyo 131-0045
Opening Hours: Every day from 10 AM to 8 PM (Entry allowed till 7 PM)
Same-day ticket
You can buy same-day tickets directly from the ticket counter on the 4th floor of the structure. You can expect same-day tickets to sell out, so it is best to book your ticket in advance. 
First observatory: ¥2100 on weekdays and ¥2300 on weekends or holidays
Both observatories: ¥3100 on weekdays and ¥3400 on weekends or holidays
Meiji-Jingu Shrine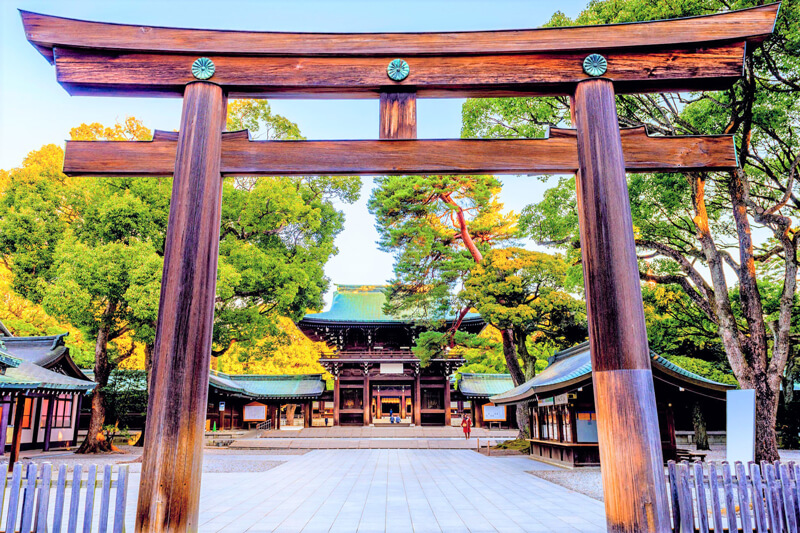 For those seeking a peaceful escape surrounded by nature, the Meiji-Jingu Shrine is a must-visit destination. This serene shrine is nestled within a lush forest, dedicated to the memory of Emperor Meiji and Empress Shoken. Take a stroll through the tranquil grounds and immerse yourself in the beauty of the natural surroundings.
Located conveniently near both Meiji-jingu Station and Harajuku Station, the Meiji-Jingu Shrine is just a short 10-minute walk away from either stop. For visitors looking to explore the area, taking this route is highly recommended.
Location: 1-1 Yoyogikamizonocho, Shibuya City, Tokyo 151-8557
Opening hours: Every day from 5:20 AM to 5:20 PM
Admission: Free
Harajuku and Akihabara
Exploring Harajuku and Akihabara is always a good idea for fashion or anime freaks. Game centers, anime shops, and maid café – all are worth exploring according to your mood!
Ameyoko Shopping District
The Ameyoko Shopping District in Tokyo is a bustling market where visitors can experience traditional Japanese cuisine. With so many options available, it can be overwhelming to decide what to try. However, after sampling a variety of dishes, there are a few standout items that are not to be missed. Here are some of my personal favorites that are sure to delight your taste buds.
Takoyaki at Minatoya 
Grilled Chicken Skewers
Chicken Karaage at Chicken Man
Chinese Street Food at Tentenraku
Sweets at Kimi Noen
Daifuku Mochi at Shimura Candy Shop
Apart from these, you can always try out the fruit stalls for amazing fruity items like salads and juices or visit the interesting pubs and standing bars for a good time. There is something for everyone in this market!
Robot Restaurant
Located in the bustling district of Shinjuku, the Robot Restaurant is a must-visit destination for those seeking a unique and unforgettable dining experience. With its futuristic theme featuring robots, dancers, and lasers, this restaurant promises to deliver an evening of excitement and entertainment like no other. Don't miss out on the chance to add some thrill to your day plan with a visit to the Robot Restaurant!
Location: 〒160-0021 Tokyo, Shinjuku City, Kabukicho, 1 Chome−7−7 B1F
Opening hours: According to show timing from Friday to Wednesday 
Admission: ¥8,000 per person entrance fee and optional meal fee of ¥1,000
Day 3: Day trip to the coastal town of Kamakura
On day 3 of this Japan itinerary, it is time for you to escape the busy vibes of Tokyo and take a day trip to the coastal town of Kamakura. There, you can visit several soothing temples and shrines, or you could also go to beaches and hiking spots. 
From Tokyo Station, JR Yokosuka Line directly connects to Kamakura Station. You can reach Kamakura Station from Tokyo Station within an hour, which will cost you ¥950. Yokohama Station, Shinagawa Station, and Kita-Kamakura Station will be on your way to Kamakura.
Kotoku-in Temple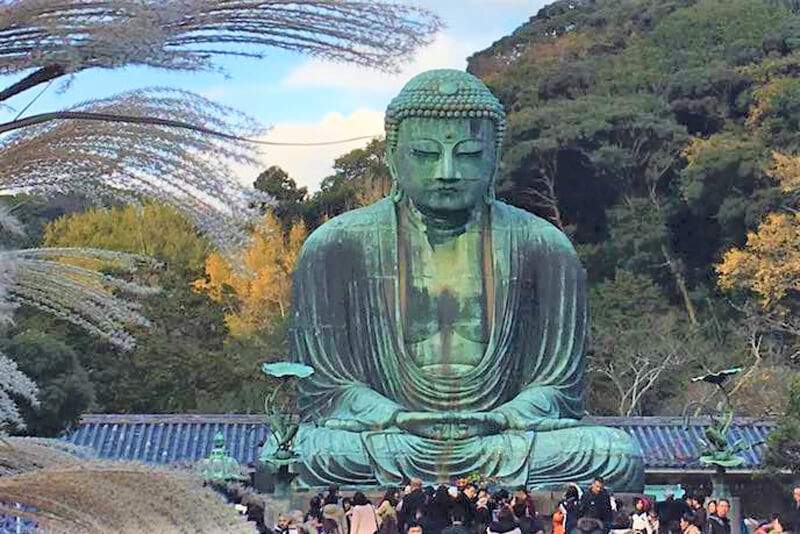 The main attraction of Kotoku-in Temple is the giant Buddha statue. It is about 37ft tall and was constructed way back in 1252. You can just walk around the temple to relax and explore. 
If you start from the Hase Station, this temple is only 450 m away. You can easily walk there within less than 10 minutes. It is located in Kanagawa Prefecture, which is to the south of Tokyo. If you take a JR Yokosuka train from Tokyo Station, you can reach there within an hour.
Location: 4 Chome-2-28 Hase, Kamakura, Kanagawa 248-0016
Opening hours: 8 AM to 5:30 PM (April to September) and 8 AM to 5 PM (October to March)
Admission: ¥200 to the temple grounds (additional 20 yen to enter the statue)
Kamakura Hasedera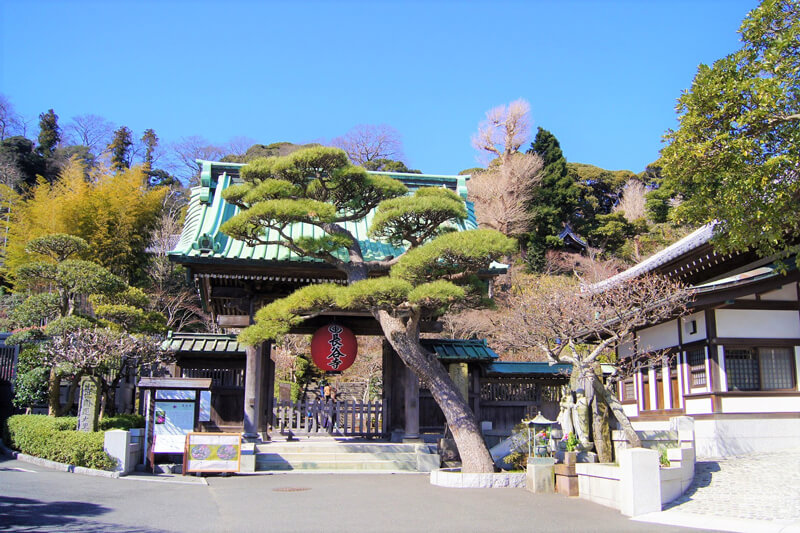 Kamakura Hasedera is famous for its eleven-headed statue of Kannon. The statue is the goddess of mercy. You can take beautiful pictures there and explore the gardens surrounding it 
You can also visit the Kannon Museum next to the temple to explore quite interesting elements, such as picture scrolls, Buddhist statues, bells, etc.
You can end your relaxing day trip by going back to the Kamakura Hasedera and enjoying the most beautiful sunset. I swear, it is worth it!
Kamakura Hasedera is only about 5 minutes' walk from Hase Station (it is the third station from Kamakura, which is on the Enoden railway line). You can easily find its terminal station in Kamakura. It is located right next to the JR Kamakura Station.
Location: 3 Chome-11-2 Hase, Kamakura, Kanagawa 248-0016
Opening hours: 8:00 to 5:00 
8:00 to 5:30 (April to June)
No admission 30 minutes prior to closing
Admission: ¥400 (children from age 6 to 11: 200 yen)
Kannon Museum
Location: 〒248-0016 Kanagawa, Kamakura, Hase, 3 Chome−11−2 長谷寺
Opening hours: 9 AM to 4:30 PM 
Admission: ¥300
Where to stay in Kamakura?
You can either return to your hotel in Tokyo after your day trip to Kamakura, or you can easily book your hotel in Kamakura according to your budget and preferences. Most tourists tend to rush back to Tokyo after their short trip to this historical place, but there is no harm in having some information in advance about the accommodation of Kamakura.
You will find luxurious hotels such as WeBase KAMAKURA Resort Hotel & Hostel, Sotetsu Fresa Inn Kamakura-Ofuna kasamaguchi, etc., or affordable guest houses like Sotetsu Fresa Inn Kamakura-Ofuna Higashiguchi in Kamakura to stay overnight and energize for your next destination!
Day 4: Mount Fuji and Hakone
Mount Fuji is one of the most desired views of Japan for tourists. It is an active volcano, and it last erupted way back in 1707. When the weather is clear, it can be seen from a number of places, such as Fujinomiya, Gotemba, Yokohama, etc. Another amazing way to view this beautiful scenery is while traveling between Osaka and Tokyo on a train. 
During my visit, I traveled to Hakone for a day to view it. It is at the Fuji-Hakone-Izu National Park, where tourists and local people visit to enjoy the natural beauty. Hakone is just a few hours away from Tokyo, and you can go there by bus, train, or car. 
One of my other favorite places to view Mount Fuji is from Oshino Hakkai Village. It is another famous tourist spot that has eight beautiful ponds in Oshino. The ponds are filled with the snow that has melted from Mountain Fuji for over 80 years! The view is spectacular and worth it.
By Train
The JR pass is going to come in handy if you pick the train. You can travel from Tokyo Station or Shinagawa Station, which will be covered by your pass, and reach Odawara Station. From there, you have to reach Hakone-Yumoto station through another train.
If you want to travel directly, you can also take a direct train from Shinjuku Station to Hakone-Yumoto Station, which will probably take you around 80 minutes. 
By Bus
Even though the bus is not the most preferred option, you can choose this option if you don't like trains. You have to start from the Shinjuku stop to Lake Ashi, which is going to take around 2 hours, depending on the roads and traffic. 
By Car
Road trips can be made more special without public transport. Hence, booking a car can be one of the convenient options. You can easily rent a car for a day, which will pick you up from the airport and take you to your destination. It is an expensive option and can cost you more than ¥6000. 
Climbing Mount Fuji
You may also prefer climbing Mount Fuji, which is a super adventurous experience considering it is the tallest mountain in Japan. If you are worried about how many days it can take, you can relax. Climbing Mount Fuji will take around 10 hours or less if you are fit enough. However, people are mostly advised to stay in a hut for the night after climbing and start their return journey the next morning. 
The official season for this activity Is from early July to the middle of September. You will find the weather to be mild and with no snow, which is a great environment for beginners.
During the official climbing season, the cost per person is around ¥1000 which is collected at the station near the base of the mountain. The mountains are divided into 10 stations, with the first one being at the base and the last one being near the peak. 
The overnight staying cost at a hut is around ¥9000 to ¥14000 per person, and you will be provided with two meals. People also rent huts for resting, which cost around ¥1000 to ¥3000, with paid toilets (¥200 to ¥300). 
Day 5: Travel to Osaka
After Tokyo, Osaka is one of the largest metropolitan areas of Japan. It is located in the Kansai region and was initially called Naniwa. Your 10 days Japan itinerary will be incomplete without Osaka! The most attractive elements of Osaka are the super delicious food, vibrant culture, and busy streets.
Osaka is only a short train ride away from popular areas like Kyoto and Nara. You can book your train and plan your trip to Osaka with your choice of transportation and accommodation. 
If you are traveling from Tokyo, you can choose from – flight, bus, or train. The fastest train options such as Shinkansen JR Central can be a little expensive but the cheaper options can take up to 8 hours of journey. Nozomi is one of the fastest train services that can take you from Tokyo Station to Shin-Osaka Station within around 2.5 hours for approximately ¥14000. Busses are available for around ¥4000 but they are super time-consuming!
When I traveled to Osaka, I only stayed in a budget hotel because I mostly stayed out exploring and eating. If you plan to stay in Osaka for longer, I suggest you go for a traditional ryokan for a memorable experience of Japanese culture.