Hokkaido is a region in the northern part of Japan where nature flourishes and is one of the most-visited places by tourists and locals. Hokkaido has snow-covered mountains, hot springs, lush valleys, and coastal towns.
In Hokkaido, you can experience marshlands, mountains, and developed cities with history and culture like Sapporo in one trip. The popular tourist Places to Visit in Hokkaido include national parks, lake Tōya , skiing spots, and art galleries.
You can enjoy many activities in Hokkaido, including skiing, snowshoeing, watching festivals, shopping in the markets, and gaming in the arcades.
Places to visit in Hokkaido Japan.
1. Exploring Lake Tōya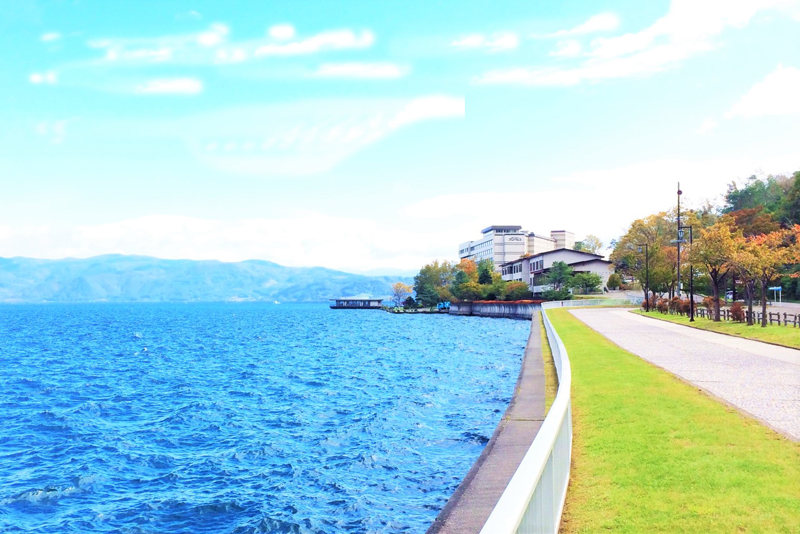 Lake Tōya is one of the foremost tourist attractions in Hokkaido and a must-visit place that is blessed with flora and fauna. The lake is a part of Shikotsu-Toya National Park, and it's a caldera lake that formed from volcanic activity.
The natural surroundings of the lake are so beautiful that it has been selected as one of Japan's 100 Great Views. As the lake is formed from volcanic activity, you will also find an active volcano near Lake Tōya. And the volcano is known as Mount Usu, which last erupted in the year 2000.
Here you will also find a hot spring resort, Toyoko Onsen, where you can relax and enjoy the views of the lake. If you wish to watch the night view of the lake, you can stay overnight at the resort.
Address: 29, Toya-ko Onsen, Toya-ko-cho, Abuta-gun, Hokkaido
2. Shiretoko National Park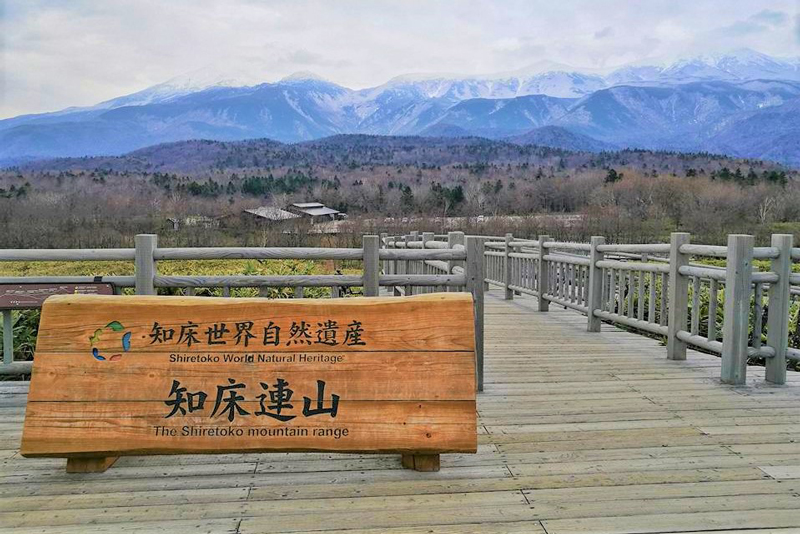 Shiretoko National Park is one of the most beautiful sights in Japan, but it's located on the Shiretoko Peninsula, which is Hokkaido's farthest northeastern cape, so the park is a comparatively less travelled national park. At the same time, it's one of Japan's most pristine national parks and has matchless beauty.
Shiretoko National Park encompasses 390 square kilometres of land and approximately 220 square kilometres of the seashore. So the park covers the ocean, river, and forest as well, and the views of it change dramatically according to the seasons.
And the park is home to wildlife, including brown bears, deer, Blakiston's fish, owls, foxes, and orcas. You can only get access to the peninsula's northern tip by boat ride or a multi-day trekking tour.
The summer offers hiking and cycling activities through meadows and mountain roads in the Shiretoko National Park. During the Winter, you will find ice floating in the Sea of Okhotsk, and you can walk on drifting ice or snowshoe through frozen forests.
Address: Onnebetsumura, Shari, Shari District, Hokkaido
3. Daisetsuzan National Park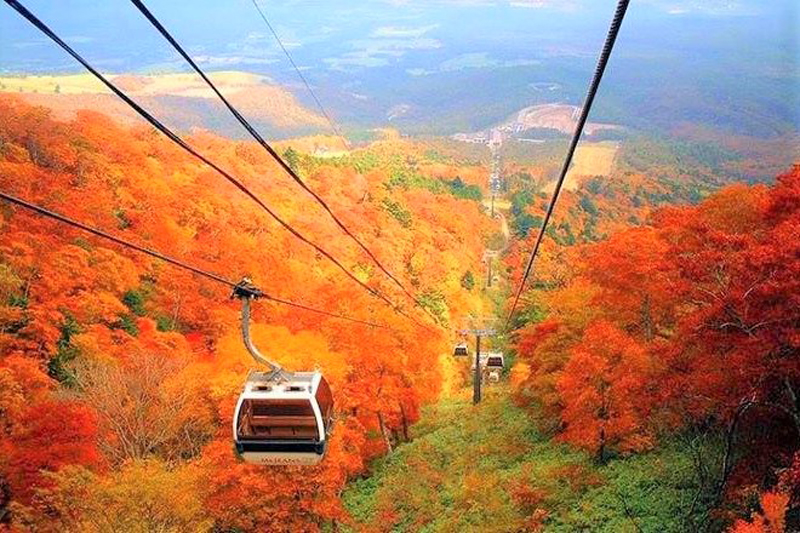 Daisetsuzan National Park is famous for being the largest national park in Japan, with an area of 2,268 square kilometres. At the same time, the park houses the two most important mountains of Hokkaido.
The first one is Mount Asahi-dake (2,291 meters), which is the highest mountain in Hokkaido, and Mount Kurodake (1,984 meters), one of the most easily accessible mountain peaks. Both are significant and give a mesmerizing view of the park.
Hiking and climbing are the must-do activities at Daisetsuzan National Park. Beginners can start their hiking from Mount Kurodake, which has a ropeway and chair lift. And adventure seekers can opt for Mount Asahi-Dake.
After hiking, you can also heal your fatigue at one of the several hot springs that are placed around the mountain range. Apart from this, you will also find a wide variety of flora and fauna at this park, and some of them are rare species like brown bears, pikas, the Ezo red fox, etc.
Address: Sounkyo, Kamikawa, Kamikawa District, Hokkaido 078-1701
Opening hours: Tuesday to Sunday, 8:00 am to 05:30 pm (closed on Monday)
4. Shirogane Blue Pond: A Bustling Adventure Paradise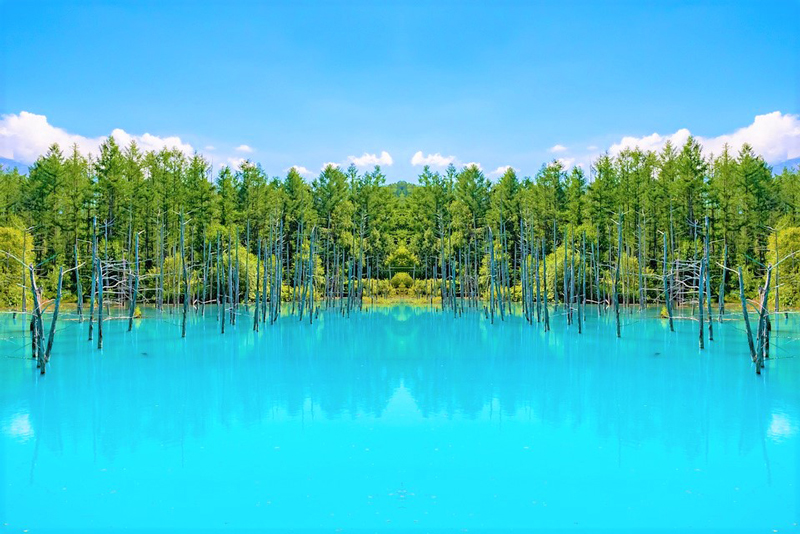 Hardly anyone hasn't seen the photograph of this mystical blue pond, as it was used by Apple for their OS X Mountain Lion. Shirogane Blue Pond is located in Biei, which is also famous for being a member of The Association of the Most Beautiful Villages in Japan.
The Blue Pond is undoubtedly a natural wonder, but it's an artificial lake that was created from a dam in 1988 to prevent mudflow from the Bieigawa River. The unreal blue colour of the lake is the result of aluminium hydroxide, which changes depending on the weather and seasons.
It progresses from a light milky blue to a deep green turquoise. But colour is not the only thing that gives the pond a mystical look. The pond houses Japanese larch and silver birch trees that have grown all around the pond.
But the uniqueness of these trees is that they're dead and haven't shaded any leaves in the middle of the pond, which creates a dark fantasy look.
Address: Shirogane, Biei, Kamikawa District, Hokkaido 071-0235
Opening hours: always open
Fees: Free
5. Otaru Aquarium
Otaru is a beautiful small harbour city in Hokkaido that offers several attractions to its visitors, and Otaru Aquarium is one of the best and must-visit attractions in the city. It's the largest aquarium in Hokkaido and welcomes nearly 350,000 visitors annually.
This aquarium is also one of the world's oldest; it was originally built in 1959 and housed nearly 5,000 cold and warm sea creatures of 250 different species. Though some parts of this aquarium are backdated, you will still find numerous unique aspects here to entertain you.
The highlights of Otaru Aquarium are the amazing shows that are arranged throughout the entire aquarium. You'll get to watch events like the penguin walk, the dolphin show, the sea lion show, the seal show, and the walrus feeding. These shows are arranged three times a day. So it's okay if you miss one show, you can always catch another one.
Address: 3 Chome-303 Shukutsu, Otaru, Hokkaido 047-0047
Opening hours: Daily 09:00 am to 05:00 pm
 6. Mount Hakodate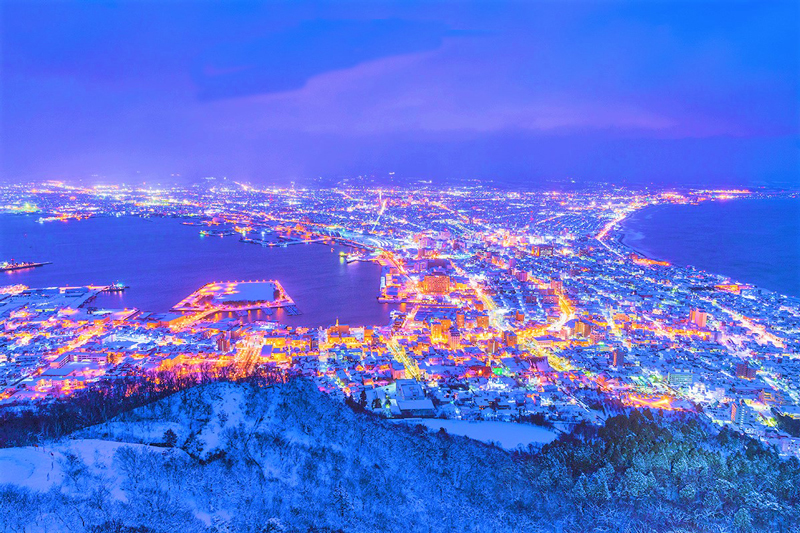 Hakodate is another beautiful city in Hokkaido, and the city's highlight is Mount Hakodate, which is situated at the height of 334 metres above sea level. The mountaintop will give you a panoramic view of the city.
You can reach the top of the mountain tower either by taking an aerial gondola or a bus up to the mountaintop. The night view is more enchanting when the city decorates itself with incredible lights and colours.
If you visit Mount Hakodate in the Winter, you can go for a snow walk along the trail and see a beautiful winter scene. It can be one of the most unforgettable experiences for you.
Address: Hakodateyama, Hakodate, Hokkaido 040-0000
Fees: Adults ¥660 & Children ¥330 (this fee is required if you use the ropeway to get up the mountain).
7. Hokkaido Shrine
Hokkaido Shrine is a popular spring attraction in Hokkaido. If you're in Hokkaido from early to mid-May, you must not miss the Hanami or flower viewing festival, celebrated by the locals at this temple. Because 1,500 cherry blossom trees surround the temple, all of these trees are in full bloom during the spring season. So, nothing can be more romantic than watching this natural splendour.
Apart from Hanami, Japanese New Year's Eve and New Year's Day are two of the biggest festivals celebrated at Hokkaido Shrine. During the New Year festival, people come to the temple with their families to get blessings for the upcoming days.
Hokkaido Shrine was mainly constructed in 1871 to enshrine three deities, Ōkunitama, Okuninushi, and Sukunahikona, under the order of Emperor Meiji. It is also said that the temple holds the soul of Emperor Meiji.
You can walk freely all around the shrine and take pictures of its beauty. And if you're lucky enough, you'll also get to see traditional Japanese weddings.
Address: 474 Miyagaoka, Chuo Ward, Sapporo, Hokkaido 064-8505
Opening hours: Daily 06:00 am to 04:00 pm
 8. Mount Moiwa
One of the best places to have an excellent night view of the city of Sapporo is Mount Moiwa. The mountain is located in the heart of Sapporo and has a height of 531 meters, providing visitors with a panoramic view of the entire city.
From the mountain top, you can get a 360-degree view of the city and the views of Ishikari Plain and Ishikari Bay. The Viewing Point of Mt. Moiwa is ideal for romantic dates. Even the place is also known as the "holy ground for lovers," and there is a belief that if a couple locks up a padlock on the surrounding handrail, they will be together forever.
During your climb to the mountain, you will also get acquainted with several exotic animals like the titmouse, the Hokkaido squirrel, the Ezo red fox, and the Ezo owl.
Address: Moiwayama, Minami Ward, Sapporo, Hokkaido 005-0041
9. Sapporo Beer Museum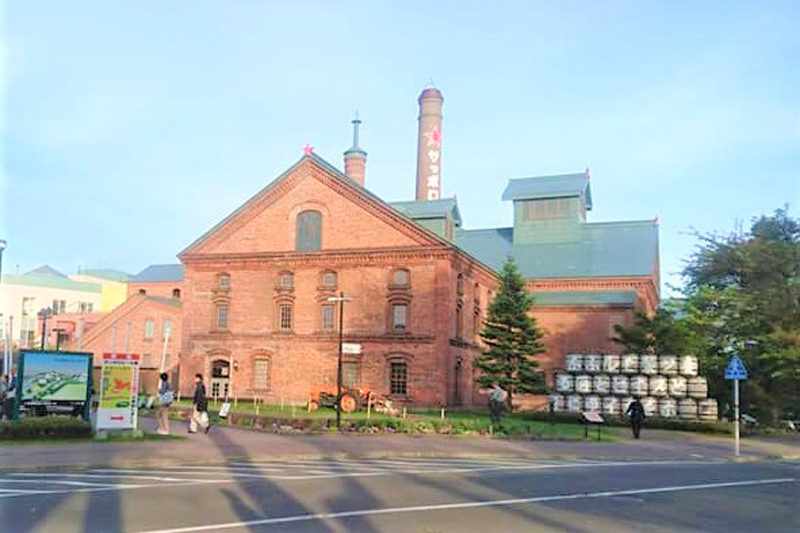 The birthplace of beer in Japan is Hokkaido, and the oldest beer brand in this country is Sapporo Beer. So naturally, no place can tell the history of beer in Japan more accurately than Sapporo Beer Museum.
The museum was opened in 1987 to introduce visitors to the history of beer in Japan and the process of beer making. It was a brewery during the Meiji period, and after the 1980s, it became a beer museum.
Sapporo Beer Museum offers a free tour and a premium tour; you can choose any of them. After the exhibitions of a free tour, you can taste some authentic beer at a small charge.
And if you wish to have more beer, there is the Sapporo Beer Garden, just next to the museum, where you'll get several beer halls to satisfy your beer thirst.
Address: 9 Chome-1-1 Kita 7 Johigashi, Higashi Ward, Hokkaido 065-8633
Opening hours: Tuesday to Sunday, 11:00 am to 06:00 pm (closed on Monday)
10. Asahiyama Zoo
You might think that a zoo is boring to watch animals, but it's also a safe place to watch wildlife. Moreover, Asahiyama Zoo in Hokkaido offers a magnificently well-designed enclosure that allows visitors to watch these animals from a closer distance than usual.
Asahiyama Zoo has the reputation of being one of the best and most popular zoos in Japan because of its rare collection of animals, such as polar bears, wolves, penguins, and foxes. A family tour or half-day trip can be a great way to explore this wildlife.
If you visit the zoo in Winter, you can enjoy the famous "penguin walk", which is the biggest highlight of this zoo. The king penguins go on a parade during these days, and the rest of the penguins follow them. Depending on their health, they walk twice a day.
Address: Kuranuma Higashiasahikawacho, Asahikawa, Hokkaido
Opening hours: Daily 09:30 am to 05:15 pm
Fees: Adults¥820
11. Sapporo Snow Festival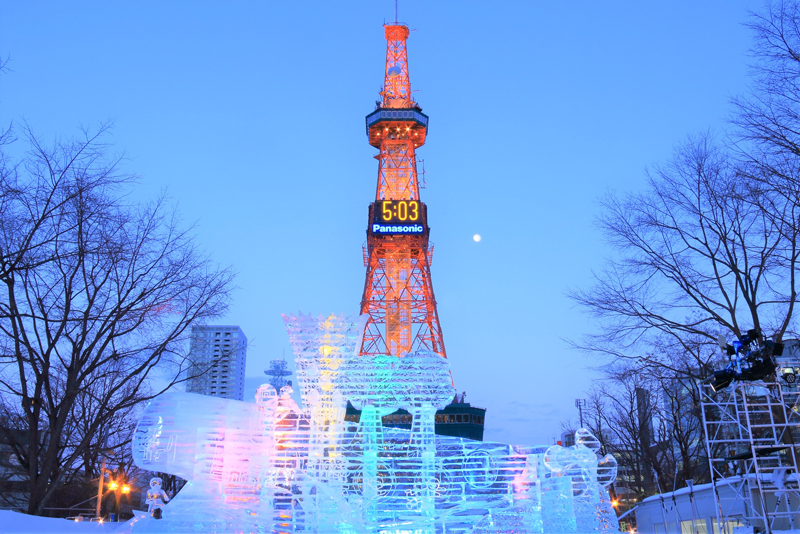 If you wish to watch Hokkaido with a unique view, you should certainly not miss Sapporo Snow Festival. Sapporo, the capital of Hokkaido, hosts this festival for a week every year in February. It's a traditional show festival that started in 1950 and has become one of Japan's most famous winter events.
Every year two million visitors gather here, not only from Japan but from abroad as well. The main highlight of this festival is the gigantic show and ice sculptures. It showcases nearly 200 snow and ice sculptures. From temples to cartoon characters, everything has been depicted through these sculptures.
The event has spread across three sites in the city, including Odori Park, Tsudome, and Susukino. The main venue of this festival is Odori Park, from where you will get the best view of the event. Apart from the sculptures, you will get to enjoy several concerts as well as other events here.
Address: Odori Park, Chuo Ward, Sapporo, Hokkaido
Fees: Free
12. Jigokudani (Hell Valley)
Jigokudani means Hell Valley in English. It's a natural hot spring that is located right next to Noboribetsu Onsen. The surrounding air is hot like hell, which you can feel on your skin, and that's why the place is traditionally known as a gateway to hell.
Jigokudani is surrounded by primaeval forest, creating a spectacular fall view because of its foliage. Though the environment is unusual and filled with sulphur gasses, you can still have a great trip to witness this natural phenomenon.
Moreover, the surrounding mountains are also easy to access, so you'll find no difficulty during the hike. And if you want to have the best shots at Jigokudani (Hell Valley), follow the photo areas that are marked on your trail maps.
Address: 無番地 Noboribetsuonsencho, Noboribetsu, Hokkaido
Opening hours: Daily 08:00 am to 06:00 pm
Fees: Free
13. Farm Tomita
Farm Tomita is the place where I can spend the rest of my life. It's so beautiful that it has become one of the leading tourist spots in Hokkaido, and over 1 million people visit the farm from all over Japan and the world.
The highlight of Farm Tomita is the 15-hectare lavender field and the flowers. But to watch this breathtaking purple carpet, you have to make your visit from late June to early August when lavender blooms. The wonderful view and the scent of lavender attract numerous visitors to this farm, and it's the most popular lavender viewing point in the Furano area.
Apart from enjoying the spectacular view of purple lavenders, you can also taste some lavender-flavoured ice cream and pastries here. These delicacies are available at nearby shops.
Address: 15号 Kisenkita, Nakafurano, Sorachi District, Hokkaido
Opening hours: Daily 09:00 am to 05:00 pm
Fees: Free
14. Rusutsu Amusement Park
Are you searching for an entertainment centre in Hokkaido? Then look no further. Rusutsu Amusement Park is one of the best family entertainment parks here. This amusement park offers so many wonders and attractions that you will need more than a day to explore it.
The park houses roller coasters, thrill rides, a kart & train, kid's land, a safari, a Ferris wheel, a mountain road, and indoor and outdoor facilities. Not only that, here you'll get to explore three mountains as well, namely Mount Isola, East Mountain, and West Mountain. The park will provide trail maps and necessary elements for your hiking.
Rusutsu in summer and Rusutsu in Winter have different looks, and both are super entertaining. In the summer season, you can visit the natural beauty of this park, do many water activities and play golf. On the other hand,  in the Winter, Rusutsu Amusement Park offers many dynamic hospitalities to its visitors.
15. Noboribetsu Onsen
Natural Spring water comes down to Hell Valley. And Nooribetsu Onsen/ Noboribetsu Hotspring is Japan's most famous hot spring resort town. The hospitality of most of the places is unforgettable. To travel, you must get to the Noboribetsu station on the JR Muroran line.
Noboribetsu Onsen resort town has a lot of resorts/ ryokans that open their baths to non-staying guests as well during the daytime. The experience of the bath is rejuvenating. Some of the well-known resorts in Noboribetsu are Daiichi Takimotokan, Noboribetsu Grand Hotel, Noboribetsu Sekisuitei, Saigiriyu Public Bath etc.
The cost of the baths generally ranges between ¥700 to¥1000. Enjoying the indoor or private outdoor open-air bath is a must for tourists. Most of the time, you will get small towels, food and hospitality services in the bathhouse.
Opening Hours:  Varies from hotel to hotel (
Fees: ¥700to ¥2000
16. Shiroi koibito park
A must-visit place in Hokkaido is the one-of-a-kind shiroi koibito park. The park is in Sapporo. It is a chocolate-themed park where young and adult audiences enjoy different chocolate flavours produced by the famous chocolate brand in Japan, Shiroi Koibito. Shiroi Koibito park is made in English architecture.
Visitors can enjoy the chocolate-making shows, chocotopia factory tours, and tasting samples. Also, there are ample activities. Tourists take part in courses like cookie making & chocolate making courses. Shiroi Koibito park has a chocolate lounge where tourists can enjoy drinks and food.
Kids can have a lot of fun in the miniature Gulliver town. Shiroi Koibito park has a Cacao Pod learning centre and Chocolate Cup Shop where visitors can have an immersive experience of their mouth-melting chocolate along with fun activities.
Shiroi Koibito park also offers birthday rewards. You will have free entry upon showing your birth certificate at the ticket centre.
Address: 11-36 Miyanosawa 2-jo 2-chome, Nishi-ku, Sapporo, Hokkaido
Entry Fees: ¥300 to ¥800  ( Varies for local and outside tourists)
17. Lake Mashu
Lake Mashu is a beautiful Caldera Lake in Akan Mashu national park. Lake Mashu is located in the Teshikiga towns and is just a 15–20-minute drive from the Teshikiga town to the reserved National Park. Lake Mashu is often referred to as the clearest lake on this planet, being a picturesque crater lake with a mountain backdrop.
Lake Mashu is created in the caldera of a potentially active volcano. Lake Mashu sits 351m above the lake and has a 21km shoreline. The water is so clear and gets folded within the folds of fog in the morning and reveals its mysterious beauty suddenly. There is no way down to the lake, but the sky above Lake Mashu is generally filled with stars, and the stargazing tour is quite popular among visitors of Lake Mashu.
Address: Teshikaga-cho, Kawakami-gun, Hokkaido
18. The Hokkaido University Museum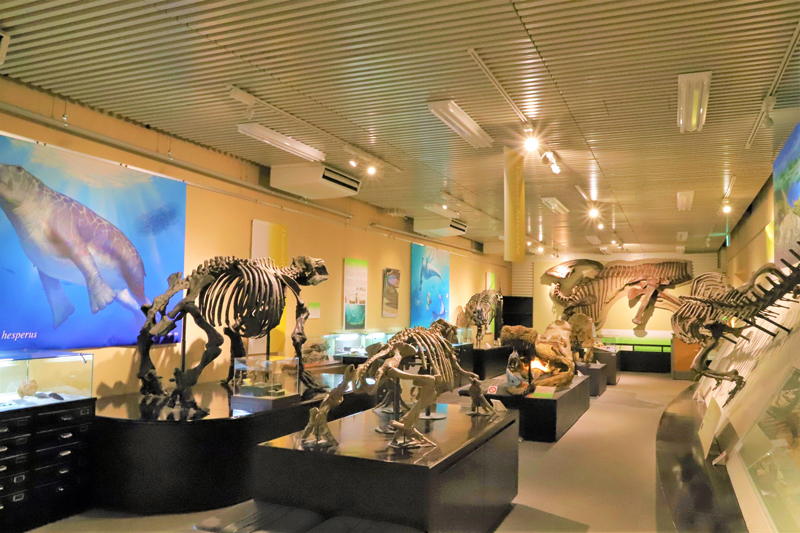 The Hokkaido University Museum is a museum located on the Hokkaido University campus. Hokkaido University museum houses more than four million materials that were collected in the hundred fifty year of its establishment.
Hokkaido University Museum is just a 10-minute walk away from the north of Sapporo station. Hokkaido University Museum has a great collection of 4 million specimens of 13000 species and academic resources. The Hokkaido University Museum collection can be broken up into:
Land plants1,50,000
Fungi 1,70,000
Marine Algae: 1,40,000
Extinct plants & animals: 20,000
30,000 Archeological Specimen
71,350 Rocks/Minerals specimen
12,883 type specimens
The Hokkaido university has a history of Hokkaido University & museum laboratory on the first floor. On the second floor, they have an interactive zone and head unit. On the third floor, the museum's tore unit is located.
Address: 8 Chome Kita 10 Jonishi, Kita Ward, Sapporo, Hokkaido
Opening Hours: 10:00 am to 5:00 pm
Entry Fee: Free
19. Ningle Terrace
The Ningle Terrace is a picturesque cottage where each cottage sets up stalls to sell items to tourists. The picturesque, clean village set up in the woods is a splendid experience for tourists. Ningle Terrace is created using natural materials with timber buildings, and the beautiful waterfall makes the village more charming; the half-day chauffeur tour to the boutique houses and farm tomita is a must.
The village in the woods looks like a fairy village where you can see workshops showing traditional crafts and the owners showcasing the process.
Experience an immersive ex