We are always in a hurry and have very little time for a vacation. In this fast-moving life, if we decide to slow down for a moment, then the first thing that comes to our mind is a day trip. And what can be greater than Pulau Ketam Day Trip?
Pulau Ketam is the Malay language which means "Crab Island". Those of you who are not familiar with the name Pulau Ketam must have heard the name Crab Island. It is a big mud hill area where visitors mostly come to eat its fresh and delicious seafood, especially crabs. Though besides seafood, it has numerous attractions to explore, which makes it worthwhile for a day trip.
If the island is the thing that attracts you most, you can also visit Langkawi Island, one of the most popular beach destinations in Malaysia. 
Pulau Ketam Residential History
Pulau Ketam was not always a residential area or village. It used to be the regular mud hill where Malaysian fishers of Chinese descent came for fishing crabs. In the 19th century, some of these fishers thought that it could be useful if they built some huts on this island so that they could occasionally spend the night.
Within just 30 years, the huts turned into a whole village. Nearly 100 fishermen used to live on the island that was set between the mangrove forests.
When the Second World War happened, many people came to this island to live as Malaysia was taken over by the Japanese. Gradually, Pulau Ketam becomes one of the major seafood centres of Malaysia, and it also has a great impact on the economy.
Pulau Ketam Tour Package
Klook offers the Pulau Ketam Crab Village Rural Adventure Tour as an option for those seeking an exciting and unique experience. This tour takes you to Pulau Ketam, a village known for its delicious crabs and rural charm. Explore the village and indulge in a crab feast while immersing yourself in the local culture.
Here are the 10 best attractions in Pulau Ketam.
1. Pulau Ketam Jetty 
To get to Pulau Ketam or Crab Island, the first attraction that you get to visit is the Pulau Ketam jetty. Taking a speedboat is the only way to reach Pulau Ketam, and you can take speedboats from the terminal at Port Klang, Selangor. 
Here speedboats are available every daylight hour at the weekends, but during weekdays, it is less frequent. You just have to buy a ticket that may cost you RM12.00 for adults and RM6.00 for children one-way or RM 18 with return .
Remember, no speedboats are available after 5:30pm, so make your trip during daylight. The first speedboats goes to Pulau Ketam from Port Klang is about 10:30 am during weekdays and 9:30 am during weekend.
During your boat journey, you can enjoy the beauty of the water and also see many fishing boats on the way to Crab Island. Moreover, you can access the most significant part of this island by boat because it has so much swampland and mangroves.
2. Pulau Ketam Seafood
One of the primary reasons for visiting Pulau Ketam is the Pulau Ketam Seafood. This island is famous for fresh crabs and dried fish, and that's why it is called "Crab Island". Once you arrive at the busy street of Pulau Ketam, you'll see the line of delicious seafood restaurants everywhere. 
The common thing that you'll find in front of nearly every restaurant is a big bucket full of live crabs. But those crabs are available only during lunchtime. And if you stay here for the night, you might not get to eat seafood as it finishes very quickly.
The must-try crab dishes of these restaurants are chilli crab and sweet and sour crab that may cost you RM40.00 and RM50.00, respectively. Besides crab items, you can also try bamboo shells, butter prawns, tea, and coke.
Note: For Muslims please see the Halal food section below
Halal Restaurants
It is a bit hard for Muslim visitors to find a Halal restaurant at Pulau Ketam as no restaurant is Halal certified here. But don't be so upset! We have found three Halal restaurants at Pulau Ketam. Although these three restaurants are not Halal certified, they don't sell pork or non-Halal food here. 
The first restaurant is Poh Seng. It is located near the Balai Bomba and has Muslim-friendly food. But the food at this restaurant is quite expensive. The owner of Poh Seng restaurant is of Chinese descent, as are most of the residents here. Still, Poh Seng doesn't have non-Halal food. So you can eat at Poh Seng without hesitation.
The second restaurant is Remember Me, which is located just opposite the Police Station. The restaurant is not so big and runs by a Muslim woman. Here you can have authentic Malay foods which are purely Halal. But Remember Me restaurant doesn't sell seafood. So if you want Malay Halal food at Pulau Ketam, you can come to this restaurant.
The last restaurant is not really a restaurant. It is pretty similar to a hawker stall. Located behind the Dewan, it is an Indonesian food stall that sells Muslim-friendly foods. If your budget is tight and you want to have Halal food, you can come here.
3. Fishermen's Village
Fishermen's Village in Pulau Ketam is one of the most interesting attractions here. This village is not similar to other fishermen's villages that you may have seen before. The uniqueness of this village is their colourful floating houses. 
Most of the houses are built in such a way that it looks like they are floating in the water. For this reason, the village is also popular as a water village. It is astonishing to see these colourful floating houses on the mud hill.
Most of the fishers of this village are of Chinese descent, and nearly each of them has at least one boat for fishing and moving around. Here you can see dried fish that the villagers kept for drying. 
If you want to have a different experience, you can capture the beauty of this fishermen's village and residences in your camera. At the same time, this area will give you numerous instagrammable pictures.
4. Dykes and Bikes
When you set your foot on the Island, the first thing that will take your attention is the peaceful and tranquil surroundings. Yes, that's quite unexpected, but there's a reason for it! 
Pulau Ketam allows only transport that is rental electric bikes. For this reason, the area has less sound pollution and fewer traffic rules. Even helmets are not available here. 
Just behind the harbour, there are many shops that rent these electric bikes. The cost of them is RM20.00 per hour. But if you're taking for more than two hours, the cost can be reduced by bargaining.
It would be a unique experience to visit this wonderful Island with an electric bicycle. And you can cover most of the area with these Dykes and bikes.
5. Crab Island Mini Market
Whenever you're on vacation or visiting a new place, the local market is the thing that no one wants to miss! Pulau Ketam is the fishers' island, and you certainly don't want to go back without purchasing its local items. 
Crab Island mini market is the busiest area of this island. Here you will find every type of shop, from groceries to delicious seafood restaurants. This one place can fulfil your every need, so it also saves your time. 
The must-buy item of this market is the local dry fish. You can take it home, and the price is also reasonable.
6. Crab Island Town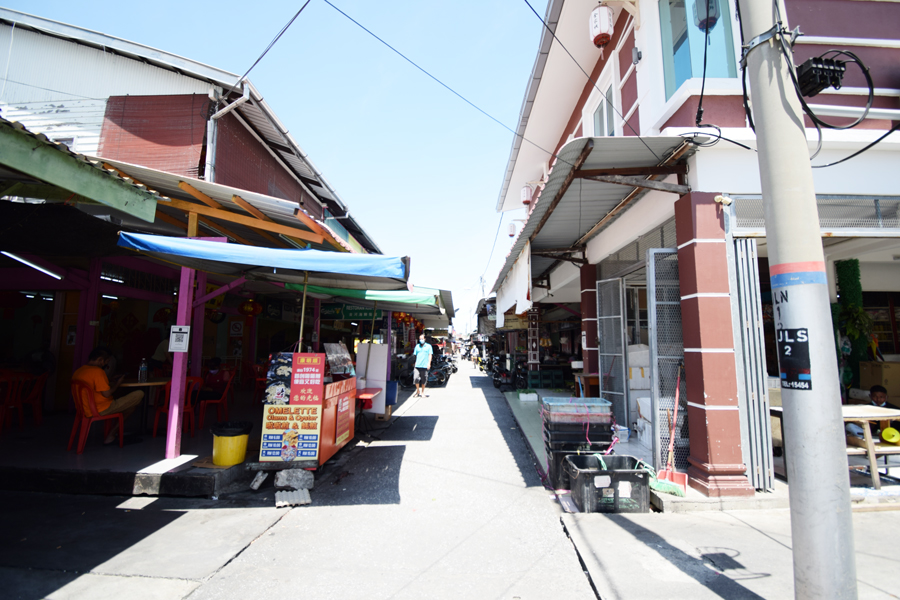 We all dream about a town where we can walk without traffic jams and chaos. Though Pulau Ketam is not an official tourist destination or a big city, it is a small village in an island in Selangor near Klang that makes visitors stop and explore its hidden gems.
The uniqueness of Crab Island town is that it will give you an exceptional viewpoint of the people of this island, their uniqueness and it has less air pollution, no traffic jams as the island has only e-bike, e-scooter bicycle only which makes less sound pollution. 
As I mentioned before, this town allows no vehicle but electric bicycles, that's why it has fewer or no traffic jams at all. A walk around the city is really amusing, and you can have a peaceful visiting experience which is not available in many tourist destinations in Malaysia.
7. Rainbow House
Wherever we go for vacation, we always search for interesting places to click photos to upload on our social media like Instagram, Facebook, or others. In the Pulau Ketam, Rainbow House is that interesting place where you can take your perfect click. 
It is called a rainbow house because of its variety of colours. It could be an amazing background for your Instagram pictures, and it can be more lively if you take group photos. 
8. Jalan Dua Pekan
Jalan Dua Pekan is basically a place in Pulau Ketam that connects the residential area to the main town via a bridge. This place is most suitable for bike riding. With your rental electric bike, you can explore the whole area and capture your moment with a camera. 
The bridge that connects the town and residential area have a stunning colourful look. At the same time, just after crossing the bridge, you will see the colourful and lively houses of fishermen. 
9. Snake Temple
As the majority of this island is of Chinese descent, here, you'll find numerous Chinese temples to visit. Snake Temple is one of the most renowned Chinese temples in Pulau Ketam. The name of the temple suits it best because here you're gonna see a giant snake that is captivated in a cage. Just in front of the temple, you'll get to the cage of this snake. 
Before entering the temple, you need to take off your shoes as they don't allow shoes inside the temple. The Snake temple has a Chinese architecture style, and its interior and exterior designs are very elegant. Here you'll find several Chinese curving on the walls.
10. Infrastructure on Crab Island
It's true that Crab Island is a fishermen's village, but don't think that it doesn't have infrastructure, buildings and facilities. Like any other area of Malaysia, here also you'll find several schools, police stations, markets, community halls, mosques and even a Maybank branch.
Although most of the villagers are Chinese Buddhists here, but there is also a small Chinese population who are Muslim. And for this minor group of people, Pulau Ketam has an Islamic centre that is used as a mosque.
Crab Island has no shortage of shop buildings and seafood restaurants. If you want to stay here for the night, the island also has a number of hotels to stay at. From luxury to budget hotels, tourists will get every kind of amenities.
How to Get There
From Kuala Lumpur, there is no direct transportation to Pulau Ketam. So to get to Pualau Ketam or Crab Island, at first, you need to reach Port Klang jetty from there you can take a speed boat that will lead you to Pulau Ketam or Crab Island.
Take the KTM Komuter train from KL Sentral to reach the Port Klang station. It will take about an hour to arrive at Port Klang, and the ticket price is RM4.30. From the station, you need to walk for 5 to 10 minutes to arrive at the jetty. 
And if you prefer to drive your own car, it may take only 45 minutes to reach Port Klang.  You can park your car near the jetty as there are plenty of parking bays at Port Klang.
You can either purchase the ticket at the jetty or on the boat. Both are available. The one-way ticket price is RM12.00 for adults and RM6.00 for children, whereas the two-way ticket prices are RM18.00 for adults and RM 10.00 for children.
The ferry departs from 10:30 am to 05:30 pm on weekdays and 09:30 am to 05:30 pm on weekends (time can be changed due to COVID situation). Avoid visiting Pulau Ketam during public holidays or weekends as it gets really crowded.
You're welcome to write about your travel story and share your stunning travel pictures with us. We are eager to know about your stories. If you have any suggestions or want to know about a place where you're planning to make a trip, let us know in the comment section. We'll try our best to write blogs about that place with sufficient information.