Taman Botani Negara Shah Alam is only half an hour from my home, and I often take my princess there for morning walks. But I never thought that the Taman Botani Negara Shah Alam day trip could be an excellent short getaway for people who lives near Shah Alam. 
Well, this time, my wife helped me when we were in this pandemic and couldn't travel so far. She told me that we could take our daughter on the Taman Botani Negara day trip, which is pretty amusing and has so many fun activities. 
So we have done as said! 
And now, I am here to share my day trip experience with you, and if you're looking for a place near Shah Alam for your day trip, Taman Botani Negara Shah Alam can be a good option for it.
Visit the Five Different Gardens when visiting Taman Botani Negara Shah Alam
Taman Botani Negara Shah Alam has five different gardens to entertain its visitors. You will not only feel amazed by visiting these gardens but also learn so many facts about the use of flora.
1. Ornamental Garden
The Ornamental Garden is the most beautiful and well-organized garden at Taman Botani Negara. It is said that this garden is the brainchild of a former Agricultural Minister of Malaysia. Here you can see exotic flowers and shrubs that are so amazingly arranged. 
If you're looking for a place for photography, none can be better than the Ornamental Garden. Moreover, there is a viewing tower that offers you the enchanting scenario of beautiful flowers.
2. Cactus Garden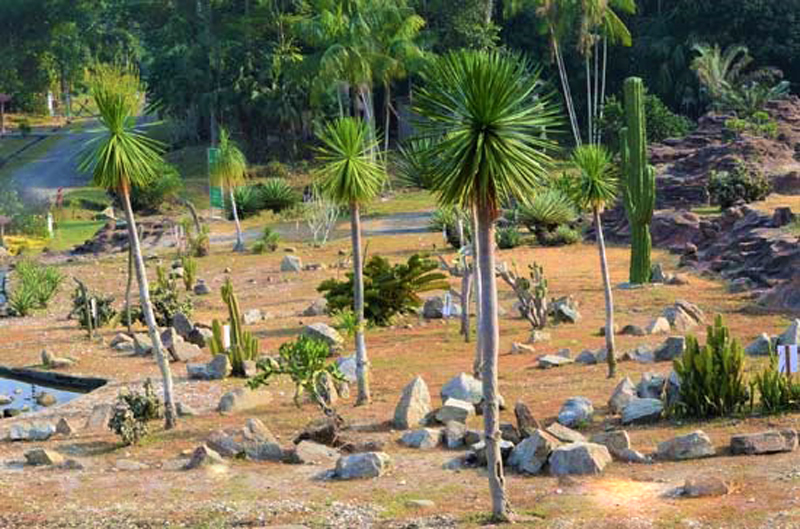 In Malaysia, you can have a rare chance to know what the desert cactus looks like. Well, you will be glad to know that the Taman Botani Negara Shah Alam gives you the chance to see desert cactus with a garden that is designed like a desert. 
It is the Cactus Garden that houses more than 145 species of cactus. Most of these cacti are so rare and do not belong to Malaysia. Even only 15 species of these cacti belong to Malaysia. 
Now, if you want to have a rare collection of cacti as your house souvenir, you can purchase it from here.
3. Spice & Beverage Garden
Spice & Beverage Garden is quite interesting and different from other gardens in Taman Botani Negara. It houses plants like black pepper, coffee, nutmeg, and many more to teach visitors about the health benefits of these plants. 
When we have visited this garden, we pretty much enjoyed our time here. Because at this garden we have learned so many unknown facts and benefits of very known plants.
4. Herbs & Medicinal Garden
Herbs & Medicinal Garden is another educational garden in Taman Botani Negara Shah Alam. But this garden is a bit different from Spice & Beverage Garden. Because at Herb & Medicinal Garden, you will not see many familiar plants. 
This garden is home to herbs and medicinal plants that are pretty rare. Often students from different institutions have come here to learn about these plants and make use of them.
5. Tropical Fruits Garden
Do you wish to have a unique experience? The Tropical Fruits Garden will undoubtedly surprise you with its rare and unique tropical trees that are not available in Malaysia. 
The Taman Botani Negara Shah Alam has adopted some of the finest agricultural technology to cultivate such tropical fruits. You can taste these fruits and take them as souvenirs.
Activities that you can do here
Taman Botani Negara Shah Alam is an agricultural park in Shah Alam. Its five different gardens will teach you numerous exotic uses and benefits of plants and herbs. But besides learning about agriculture, you can do tons of things here to enjoy your day trip.
1. Cycling
You can start your day trip by renting a cycle. The Malaysian weather remains calm in the morning, which is perfect for cycling. 
Cycling around the Botanical park is very popular among locals. Most cyclists come here in the morning for cycling.
And this activity is a great way to visit the other attractions of the park. Those of you who love challenges can cycle on the hills and steeper roads as the park offers both to its visitors.
2. Bird-watching
After cycling, you can enjoy some peaceful moments with birds. At this Botanical Garden, you will see countless different species of birds. Many of them are migratory birds. Watching birds surrounded by lush greenery is something that can give your heart tranquillity.
3. Visiting Adorable Animals @ Animal Park
If you have come to Taman Botani Negara with your kids, then you must bring your kiddos to the Animal Park. The place is full of adorable animals like ponies, squirrels, deers, porcupines, and many species of wild birds.
You and your kids can feed these animals. My daughter has so much enjoyed the company of these happy animals.
4. Fishing
There is a lake at the Taman Botani Negara Shah Alam with a mesmerising view. If you like fishing, take your fishing rods and opt for it. Many visitors come here for fishing and to watch the lakeside view. Furthermore, you can also swim here if you want. 
5. Picnic
From the park's description, attractions, and activities, you certainly have an idea that it is a perfect place for a family picnic. This agricultural park has everything to entertain your day trip with friends or family members. I also have been there with my family and the day trip was so enjoyable. My daughter loves the place so much.
6. Play Paintball
The most fun activity that we get to do there is playing Paintball at the Paintball Valley. So don't think that this park has only nature activities. If you wish to have fun by making mock war with your friends and family, you should definitely play paintball here.
7. Hiking @ Bukit Sapu Tangan
Adventurous souls would certainly not miss the chance of hiking. Bukit Sapu Tangan has an excellent, straightforward hiking trail that makes the journey more enjoyable. 
And the reward of hiking is the enchanting scenario of the hilltop. Once you reach the top of the hill, you will see the entire Taman Botani Negara park with a bird's eye view.
Address, Opening Times & Entrance fees
Address: 40000, Taman Pertanian Malaysia, 40170 Shah Alam, Selangor
Website: tbnsa.gov.my
Opening hours: Tuesday to Sunday 07:30 am to 04:30 pm
Entrance fees: Adults RM3.00|Children RM1.00|Senior citizens RM1.00
Best time to visit
Suppose you are visiting Taman Botani Negara Shah Alam for a day trip like us. In that case, it is better to visit the park as early as possible to cover all its attractions and activities. Morning is the ideal time to come as cycling in the morning is more fun and refreshing.