A walk in the jagged mountains and forests is an arduous task. But some people love to do it because it is a pleasant adventure. This pleasant adventure is known as trekking.
Through trekking, you will see the natural beauty that lies in the mountains and forests. Not everyone is lucky to check out this beauty as they are afraid of the arduous walking through the mountains and forests. But since you are here, I'll assume that you are ready to take up the trekking challenge.
Whether you are a first-time trekker or a repeat trekker, I am here to tell you about the 7 best trekking gears for trekking in Bangladesh.
Trekkers make many mistakes while buying trekking gear and waste a lot of money. But you are lucky that you came across my article, as after reading it, you will be able to save some money by choosing the best trekking gear for your trekking trip. Also, as a bonus to first-time trekkers, I've listed some trekking spots in Bangladesh below.
Where To Go For Trekking in Bangladesh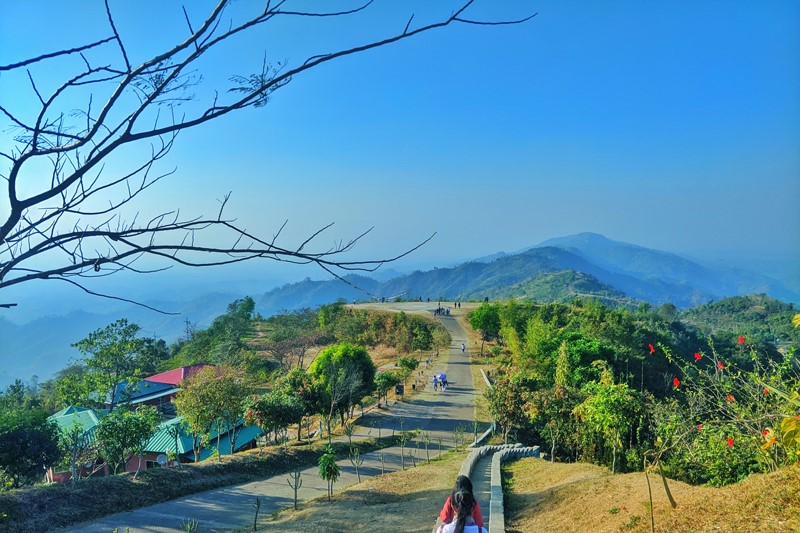 There are several scopes for trekking in Bangladesh. If you are interested in trekking but have no idea where you should go, I will tell you about the areas where you can do trekking in Bangladesh.
Lawachara Trek
Lawachara Trek or Lawachara National Park, in Srimangal of Moulvibazar district, is suitable for a short-trek trip. The undulated terrain of Lawachara will give you the perfect trekking experience that you are looking for as a first-time trekker. Inside the forest, you will introduce yourself to 460 species of plants and animals. There are 18 villages near the forest, so you will also get an idea about the cultural diversity of Bangladesh. Local trekking guides are available in the local Forest Department to help you trek through the forest of Lawachara.
Keokradong Trek
Keokradong Trek, in Bandarban, is one of the most famous treks in Bangladesh due to the magical Boga Lake, steep hills and tribal villages along the way to one of the highest peaks in Bangladesh. The trekking journey to Keokradong Trek starts from Boga Lake and ends at the Keokradong peak. That's why it is also known as the Boga Lake-Keokradong trek. On your journey, you will be astonished by the picturesque view of the Keokradong trek.
Hum Hum Trek
If you are Bangladeshi, you might have heard of the Hum Hum waterfall located in the Moulvibazar district. Everyone would love to trek the Hum Hum waterfall, but it is very risky for first-time trekkers. Even if you are an experienced trekker, take a local guide with you while trekking the Hum Hum waterfall.
Nafakhum and Amiakhum Trek
One of Bangladesh's favourite trekking spots is the Nafakhum and Amiakhum Trek in Bandarban. The two calm and serene waterfalls are worth the long and arduous walks.
The Best 7 Trekking Gears for Trekking In Bangladesh
Read All You Need To Know About Rangamati
1. Backpack
Which gear first comes to your mind when you decide to travel? Be it any trip; you need a backpack. For some trips, you need a suitcase, but when it is about trekking or hiking, there is no alternative to a backpack.
But how do you choose the right kind of backpack for your first trek? Many first-time trekkers only choose backpacks based on assumptions and then suffer during their journey. So, if you are a first-time trekker in Bangladesh, let me help you choose the right backpack for your first trek trip.
If you are going on an extended trekking trip, you should buy a foldable rucksack. Foldable rucksacks generally have low storage capacity(10 L) and two compartments. In such backpacks, you can only carry essential things. Some other trekking backpacks have 20 L or more than 20 L capacity. If your list of essential things is way too long, you should buy such a backpack. But while buying a backpack, keep in mind that the backpack should be lightweight and easy to use.
Decathlon bd offers a variety of backpacks at a reasonable price, starting from Tk. 399($ 4.64) to Tk. 6499($ 75.60).
2. Shoes
A comfortable pair of shoes make your trekking trip easier. But not all shoes come with trekking comfort, which is quite disheartening. Wearing random sneakers, you might do trekking well, but comfortable trekking shoes have criteria different from sneakers.
If you are going on an extended trekking trip, buy a pair of resistant and durable shoes so that you won't have to come back home barefoot. The choice of your trekking shoe also depends on the weight of your backpack. If your backpack is lightweight, your shoes should be lightweight too, and in the other case, shoes must be rigid.
If you plan your trek trip during the rainy season, buy a pair of waterproof shoes and if you are trekking during summer, buy breathable shoes. You can check out the trekking shoes of Decathlon Bangladesh. Their trekking shoe price ranges from Tk. 1899 ($ 22.09) to Taka 5499 ($ 63.97).
3. Socks
Just like a comfortable pair of trekking shoes, a comfortable pair of trekking socks are equally important when trekking in Bangladesh. The socks you will be wearing on your trekking trip should be elastic, quick-drying and comfortable. You will find a range of trekking socks in Decathlon BD, and their price will be from Tk. 299($ 3.48) to Tk. 1499($ 17.44).
4. Trekking Pole
Without a trekking pole, it's impossible to do trekking. If you are a first-timer, you won't be able to relate to what I said just now, but ask your fellow travellers, and you will know that it's impossible to do trekking without a trekking pole.
So, how does a trekking pole help trekkers? It works as a support and reduces pressure on your knees while trekking. Some standard features that you should look for in a trekking pole are adjustability, foldability, shock-resistant, and ultra-light.
Choosing a trekking pole also depends on your height. In other words, your height will determine the length of your trekking pole. If you are less than 5 ft, you should buy a trekking pole of 39-inch length. If your height is somewhere between 5 ft. 1 in. – 5 ft. 7 in, the length of your trekking pole should be 43 inches. And if your height is more than that, choose a trekking pole of 47-51 inch length.
You will be happy to know that Decathlon BD has trekking poles with all these features, and you won't need to worry much about the length as you can adjust the length easily. Their lowest price is Tk. 799($ 9.29), and the highest price is Taka 1999($ 23.25).
5. Head torch
A head torch is very essential if you are going for trekking. Now some of you might be thinking, why not take a hand torch? I'd say that you can take a lightweight hand torch, but most torches are heavyweight, and you won't be able to carry it for a long time. If you take a head torch along, you will just tie it with your head, and you are good to go.
Head torches are generally lightweight, but there are many other features that you should look for while buying a head torch. Check the range of light, number of lumens and durability of the head torch. You can buy a head torch that has all these great features from Decathlon Bangladesh, and the price is very reasonable, which is Tk. 399($ 4.64).
6. Trekking Sandals
An extra pair of sandals other than your trekking shoes will be very helpful while you are trekking in Bangladesh. Here. by sandals, I don't mean the random sandals. There is a particular type of sandals available for trekking.
While buying trekking sandals, look out for shock-resistant, adjustable straps, toe-protecting, waterproof and lightweight sandals. But keep in mind that trekking in rough terrain with sandals is risky and uncomfortable. Only if you are trekking on mild weather and tame trails take trekking sandals with you. Decathlon Bangladesh has trekking sandals for both men and women, and the price starts from Tk. 1899($ 22.09).
7. Bottle
This is something you will be taking with you, even if I tell you or not. Trekking can be tiring, especially when you are trekking in Bangladesh. If you are a local, you understand the weather, so there's no reason not to take a water bottle along. So, for your trekking trip, you can choose to take a simple water bottle or an isothermal one. Other than all other trekking gears in this list, Decathlon BD has water bottles and isothermal bottles too. The price of bottles ranges from Tk. 199($ 2.31) to Tk. 1999($ 23.25).
Now that you know about the 7 best trekking gears, let me tell you more about Decathlon BD so that you can decide whether you want to buy these gears from them or not.
Where you can find good trekking gears?
Decathlon Bangladesh
Decathlon is an international sports accessory brand that started its journey in Bangladesh very recently. So, if you buy the 7 best trekking gears from Decathlon, you can rest assured that you will get good and branded products.
Location: Plot – 16 & 17 (Ground Floor), Road – 12, Sector – 06, Uttara, Dhaka, Bangladesh – 1230
Email : care.dhaka@decathlon.com
Contact no.: +880 1313 084 550
I am sure by now you have decided on the gears that you are going to take with you. Trekking is risky, so before going on a trekking trip, make sure you have travel insurance. And just in case you don't know the importance of travel insurance, please read the Top 10 reasons why travel insurance is important. And if you have already decided to buy it and don't know how to choose the best one, you can read How to Buy The Best Travel Insurance: A beginners guide.
So, are you ready for your trekking trip? After your trip, don't forget to let me know how your trekking trip went. I'll be waiting!