Are you planning a vacation to Malaysia but can't decide which places are the best? After living and travelling around in Malaysia for decades, I have listed down my favourite places to visit in Malaysia that I would love for you to see at least once while vacationing in Malaysia.
There are many amazing places in Malaysia where one can go but what if you have limited time like two weeks at most? That's why you must know the unique places to visit in Malaysia to have an unparalleled experience in this country which is a perfect blend of mixed western, Arab, Chinese & Indian cultures and the rich heritage of Southeast Asia.
There are several tourist attractions in Malaysia worth visiting.  Below, you will find about the top 15 Tourist Attractions in Malaysia where you are guaranteed to have the time of your life. Read on to find out about the best time to visit, how to reach it, the main attraction of that location and much more!
Discover the Best tourist attractions in Malaysia
1. Kuala Lumpur
The national capital of Malaysia, the paradisiacal city of Kuala Lumpur is not only one of the biggest cities in Malaysia, but it is also full of outstanding places to visit in all of Malaysia & one of the best tourist attractions in Kuala Lumpur. KL has grown dramatically over the past few decades with some of the biggest and most important projects like the Petronas Twin Towers being built here.
Petronas Twin Towers
Of course, the very first on this list is the tallest twin buildings in the entire world, Petronas Towers. These majestic buildings are one of the major landmarks in Kuala Lumpur. One building is the headquarters of the Petroleum company it is named after. Its twin building is the one you get to explore with 41-42 floors being the sky bridge and the 86th floor the observation deck.
Ticket Prices: For Malaysians- RM 25 and for foreigners, it is RM 80.
Tip: Always book your ticket online in advance because they are impossible to get on the spot.
Batu Caves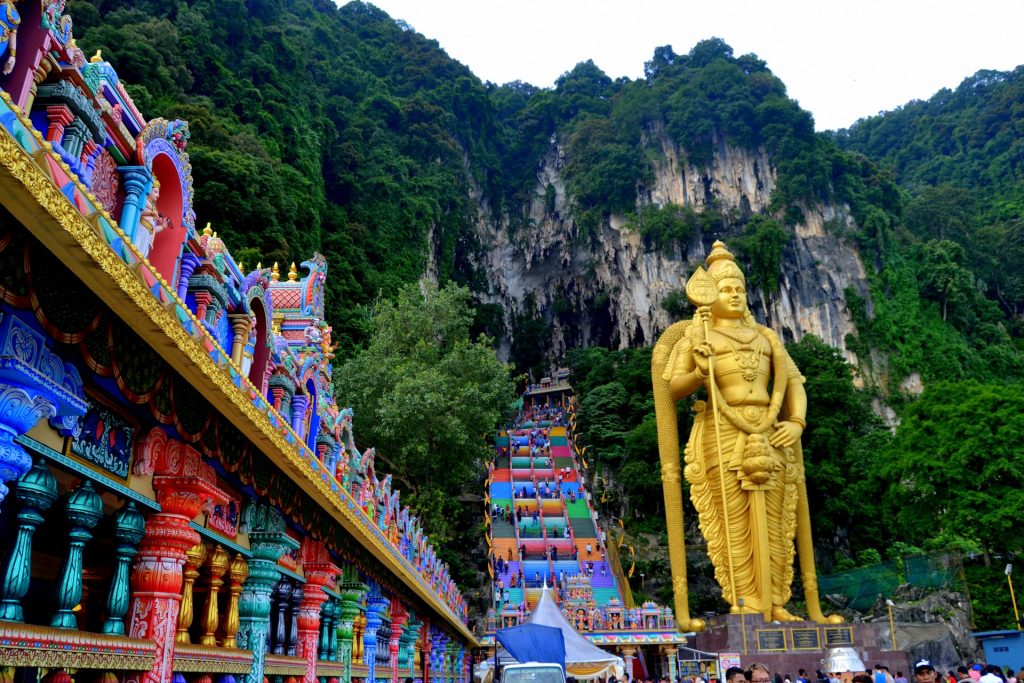 Batu Caves is One of the most popular places to visit in Malaysia has to be the Hindu temple complex located in Gombak, Selangor, Malaysia, a mere 14 kilometres from Kuala Lumpur. The shrine is dedicated to Lord Murugun and consists of 10 caves in total.
There are 272 steps which are painted in different colours. Located at the base of the hill, the Art Gallery Cave and Museum Cave have paintings and statues inspired by Hinduism. This place is honestly a thing of beauty and wonder.
Ticket Price: There is no admission fee required to visit Batu Caves.
How to reach Batu Caves: You can easily reach Batu caves from Kuala Lumpur via train in 1.5 hrs as well as a taxi in 20 minutes.
What is the best time to visit Batu Caves: You should visit Batu caves during the Thaipusam Festival to enjoy the festivities of the Hindu Tamil community.
(Official Jetty) Sky Mirror Kuala Selangor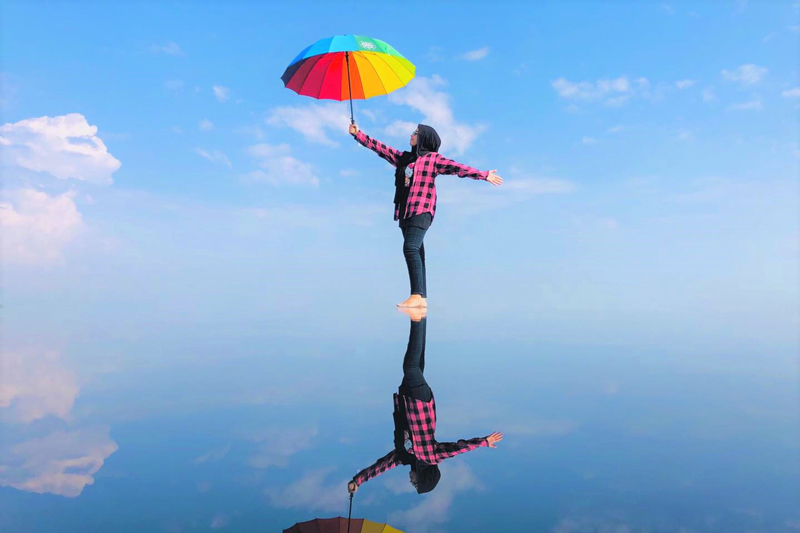 For all photography lovers, this mysterious island that emerges selectively, Sky Mirror is the best place to visit in Malaysia. It is called so because of its mirror-like reflecting surface. You can see the sky so clearly on its surface that it starts seeming like a little piece of heaven fallen on Earth. Also, If you are an anime fan, then you must visit this place because this place is the real-life version of Tanjiro's Soul (Demon Slayer)!
Malaysia tourist package: Sky Mirror Tours
Tour Price: For the Sky Mirror tour, the fee is RM 80 for 2.5 hrs. If you are also going for the Fireflies tour and blue tear tour, you will have to pay RM 30 for 45 minutes.
How to reach Sky Mirror Selangor: Since Sky mirror is located in the middle of the sea, the only way for you to get here is via a boat.  
Address: Jalan Sultan Mahmud, Kuala Selangor, Selangor
Central Market
Located on Foch Avenue, this Art Deco Style market is an extremely popular place among tourists. Originally it used to be a wet market but now with the rapid development of the country, it has been awarded the title of 'Heritage Site'. You can roam around this vibrant and colourful market and soak in the harmonious living of different ethnic groups here.
Timings:  Central Market opens at 10 am and starts closing down around 8 pm.
Pavilion Kuala Lumpur
Another tourist attraction in KL, Malaysia is the Pavilion Kuala Lumpur. Located in the centre of the famous Bukit Bintang district, you must visit this shopping centre to enjoy its eight shopping precincts and boutiques. Some of them are Couture Pavilion, a precinct dedicated to world-famous labels and Japanese street, a precinct dedicated to Japanese culture but with a modern twist.
Address: 168, Bukit Bintang St, Bukit Bintang, Kuala Lumpur
Menara KL
The fourth tourist attraction in KL on this list is Menara Kuala Lumpur. It is a communication tower that was built in 1995. The top portion of this tower is a public observation platform where you can enjoy good food at its revolving restaurant. Also, this single tower provides one of the best views over the sprawling city!
Address: 2 Jalan Punchak, Off, Jalan P. Ramlee, Kuala Lumpur
Aquaria KLCC
This is one of the places to visit in Malaysia with family, located in the Traders Hotel Kuala Lumpur, Aquaria KLCC is an ultra-modern oceanarium that houses around five thousand creatures, both aquatic and land bound. You get to experience and learn about Malaysia's diverse biosphere here!
Ticket Price: The general admission fee starts at RM 75 which is applied for 2hr of exploring!
Timings: It opens at 10 am and starts closing at 7 pm, the last entry is accepted at 6 pm.
Address: Kuala Lumpur Convention Centre, Jalan Pinang, Kuala Lumpur City Centre, Wilayah Persekutuan Kuala Lumpur
KL Bird Park
Another amazing place to visit in Kuala Lumpur is KL Bird Park. With over 200 species of local and exotic birdies in one place, this bird park is the perfect eco-tourism place that is located in the heart of KL. Many exhibits are organised here for people to enjoy and appreciate these lovely creatures.
Ticket Price: A Standard Ticket for an adult will cost you RM 75 and RM 50 for kids. You can book your ticket online but it is redeemable only after 24 hrs, expiring after 30 days of booking.
Timings: It opens at 9 am and closes at 6 pm.
Address: 920, Jalan Cendrawasih, Tasik Perdana, Kuala Lumpur
Sultan Abdul Samad Building and Merdeka Square
One of the most important historical buildings in Malaysia, Sultan Abdul Samad Building is an architectural wonder and beauty, built-in 1894-97 in Indo-Saracenic, Mughal and Moorish styles. It is located just opposite Merdeka Square, the standard venue for the Independence Day Parade held every year.
Merdeka Square has been called Independence Square ever since the Malaysian flag was hoisted here for the first time. Nowadays, Sultan Abdul Samad Building is a government office and backdrops the Independence Day celebration held in Merdeka Square.
Timings: it is open 24 hrs.
Address: Jln Raja, Kuala Lumpur City Center, Kuala Lumpur
National Museum KL
The ninth on this list is the National Museum which is located on Jalan Damansara. This museum houses four galleries displaying everything from free-standing tableaux depicting cultural events to ceramics, flora and fauna and traditional weapons. The overall building is simply amazing and well-maintained and totally worth the visit!
Ticket Price: For Malaysians, the ticket fee is RM 2 and is free for children wearing uniforms. For Foreigners, ticket fees for adults cost RM 5, RM 2 for children between 6-12 years old and free for kids below 6 years of age.
Timings: It is open from 9 am to 5 pm.
Website: muziumnegara.gov
Address: Jabatan Muzium Malaysia, Jln Damansara, Perdana Botanical Gardens, 50566 Kuala Lumpur, Federal Territory of Kuala Lumpur
KUL Art Airport
KUL Art Airport is a unique idea that features the creations of local artists so that they can showcase their artistic talent and cultural essence on an international platform. It is a joint project by National Art Gallery and Malaysia Airports Holding Berhad (MAHB). This modern-style building consists of a main lobby, auditorium and a library, the perfect place for art lovers!
Ticket Price: there are no fees required.
Timings: Opening at 9 am, it closes at 5 pm.
Address: 2, Jalan Temerloh, Titiwangsa, Kuala Lumpur
2. Resorts World Genting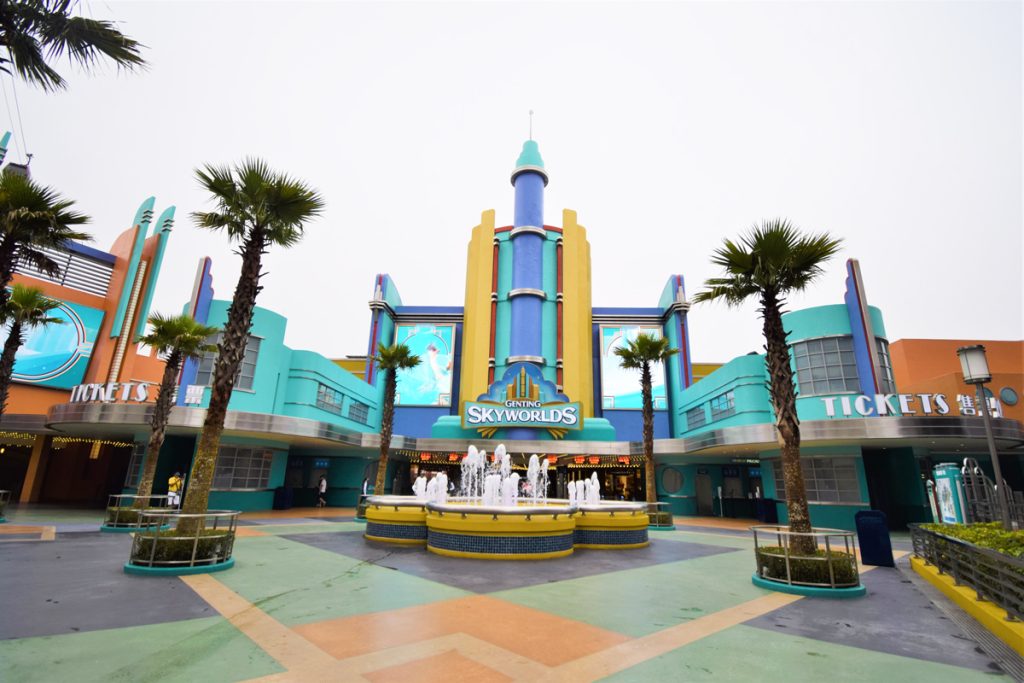 Situated in Genting Highlands, Resorts World Genting is one of the most popular places to visit in Malaysia. There are just so many things to do here that you will find yourself making a checklist first! At Resorts World Genting, you can plan a stay at its amazing hotels, have fun at the theme park and partake in various shows and events that are always happening there.
Moreover, you can go shopping as well as to casinos here. There are even bars, clubs and restaurants for nightlife entertainment!
Tip: For all budget travellers, you have to come and stay at the world's biggest hotel which has 7451 rooms in total! First World Hotel is located at the centre of Resorts World Genting, offering you great views and easy access to some really fun places like Genting International Convention Centre, SkyWorld, SkyAvenue, Indoor Theme Park, First World Plaza and Skytropolis.
Price range: You will have to pay between RM 121 – RM 358 for a Standard Room at First World Hotel. Prices are higher at Theme Park Hotel for families, to the luxurious Crockfords Hotel.
How to reach First World Hotel-Budget travel, Resorts World Genting: You can easily reach Resort World Genting from Kuala Lumpur via both bus and taxi in around 1.5 hrs.
What is the best time to visit Resorts World Genting: this place enjoys cool temperatures throughout the year, but it often finds itself covered in mist too. So, the best time to visit Resort World Genting is all year round, though you should try to avoid the holiday season when this place gets the most visitors.
3. Taman Negara
Taman Negara is known as one of the world's oldest rainforests, encompassing over three states in West Malaysia. This rainforest is abounding with the rarest of flora and fauna like wild grapes, the Malayan Tiger, jewel orchids and the Sumatran Tiger.
Taman Negara is a wonderful eco-tourism destination and a favourite among local and foreign tourists. A popular thing to do here is the canopy walk. It is a long suspension bridge where you get to stroll and enjoy sites of evergreen forests and their exotic birds.
If you are a nature lover who enjoys partaking in activities like hiking, trekking and mountain climbing, Taman Negara is a must-visit place for you. Here, you can climb the highest peak on mainland Malaysia- Gunung Tahan and a hill called Bukit Teresek for an easier trek.
Another thing you can do here is visit Orang Asli, a village inhabited by indigenous people and try out their traditional food, see their traditional hunting, and learn how they live with harmony. You can even go Night trekking here!
Ticket price: There is a compulsory entry fee for all visitors of RM 1 per person. You need to acquire a fishing licence separately, which costs RM 10 per rod and a camera licence, which costs RM 5 per unit.
Timings: it is open for visitors from 9 am to 5:30 pm
Address: 27000 Kuala Tahan, Pahang
How to reach Taman Negara: The best way to reach Taman Negara is to take a bus to Jerantut town, Pahang from Kuala Lumpur. From Jerantut you have the option to get on a boat to sail the river or take a bus to Kuala Tahan Park HQ. You can even get on a train at Merapoh to reach the northern entrance.
4. Penang
Located on the northwest coast of mainland Malaysia, Penang is a Malaysian state that has some of the really amazing places of interest in Malaysia like Leong San Tong Khoo Kongsi and Kek Lok Si Temple. Penang is geographically divided into two parts- mainland Seberang Perai and Penang Island.
George Town
George Town is at the top of the list of places of interest in Penang, Malaysia due to its architecture and food. It is the second largest city in Malaysia with the older part of this town given the title of UNESCO World Heritage. George Town is also quite popular for providing the best street food in Asia.
Penang Hill
Penang hill is a must-visit for its history as the first colonial hill station in peninsular Malaysia and its vibrant atmosphere with chilly climate and fantastic view.
ESCAPE Penang
If you are a fan of zip lines, slides, climbing towers, and high ropes courses, ESCAPE Penang is the perfect theme park for you. Also, they have kid-friendly attractions too.
Entopia by Penang Butterfly Farm
If you are a lover of butterflies, make sure to visit this place at least once while in Penang. This place houses fifteen thousand free butterflies, a true heaven for butterfly enthusiasts.
Penang Little India
When you are done with George Town, Little India in Penang should be your next stop. One of the oldest Hindu temples of Penang is also located here!
How to reach Penang: From Kuala Lumpur, you can easily get to George Town Penang by flight, bus, or taxi and you can even reach here via a ferry! Travelling around the state of Penang can easily be done via local buses and taxis.
What is the best time to visit Penang? For the best weather and to enjoy the festivals, the best time to visit Penang has to be between November to February.
5. Tioman Island
For anybody interested in ecotourism, Tioman island is perfect for you with its awe-inspiring beaches, natural beauty, and wildlife. It is the perfect getaway with its white sandy beaches, coral reefs that provide excellent diving conditions, and a dense jungle with trails for all hiking lovers.
If you are wondering what makes Tioman Island special than any other Island, let me give you the finest reasons to visit Tioman Island. Tioman Island is one of the top diving spots in Malaysia where diving enthusiasts come from all around the world for scuba diving and snorkeling. In fact, in the 1970s, Tioman Island was declared one of the most beautiful islands in the world, which stands true to this day.
How to reach Tioman Island: Tioman Island has two sources of transportation- air and water. At Tioman Airport, you can readily find a flight to Subang. If you wish to travel by water, two ferry companies provide their services to take you back and forth from the Island to the mainland.
What is the best time to visit Tioman Island: Between February and October, you can plan anytime through July, August and September are the best times to visit Tioman Island. Avoid making plans from November to January when it is monsoon season on the island.
6. Ipoh
Situated on the bank of Kinta River, Ipoh is an incredible city that is among the top best places to visit in Malaysia. It used to be a village in the ninth century but after the discovery of tin deposits, it rapidly grew and was declared a city in 1988.
Ipoh's main tourist attraction is its British colonial-era architecture. It is also known for its delish cuisine. You can go exploring its limestone hills, caves and the buddhist temple that are in them. Another thing you must remember is When you are in Ipoh, you must try out their specialty, traditional white hippo coffee.
How to reach Ipoh: being the fourth largest city in Malaysia, Ipoh is well connected to other cities. You can easily reach Ipoh via train as well as bus in 2-4 hrs from Kuala Lumpur.
What is the best time to visit Ipoh: To enjoy the temperature in this tropical region, you should visit Ipoh from December to February. Avoid Monsoon season (August to November) when weather conditions are not great.
7. Langkawi
Langkawi is one of the most famous tourist attractions in Malaysia and is popular by its title as the jewel of Kedah. Langkawi is a group of 99 small islands with Pulau Payar and Pulau Laba being two of the most popular islands here.
Of course, there are many tourist attractions here but here is a compilation of the top best places that you must visit in Langkawi, Malaysia:
Dataran Lang: It is a popular statue of a majestic eagle that is perched over a panoramic waterfront.
Langkawi Skybridge Cable Car: This gondola lift is a popular tourist attraction here.
Langkawi Sky Bridge: It is one of the most panoramic and stunning pedestrian bridges in the entire world, another must-visit place in Malaysia.
Underwater world Langkawi: if you are a fan of water creatures then a gigantic aquarium with over 200 freshwater and marine species is the perfect place for you.
How to reach Langkawi: you can reach Langwaki by flying out from Sultan Abdul Aziz Shah. You can also get on a train too. The budget-friendly option would be to reach here by bus and ferry.
The best time to visit Langkawi: During these months, the West Coast in Malaysia gets the least amount of rain and the most sunshine. From August and October, Langkawi often sees heavy downpours, so try to avoid these months for visiting.
8. Melaka also known as Malacca
Melaka is another popular city in Malaysia which is best known for being one of the oldest and cleanest cities in Malaysia. For all history enthusiasts, Melaka also known as Malacca is heaven for it used to be once renowned as an international trade centre in the East. Here are a few of the places you must visit in Malacca.
Taming Sari Tower (Malacca Tower): when in Malacca, do visit Malacca Tower, the first and tallest gyro tower in Malaysia.
A Famosa: It is a Portuguese fortress that used to be the tallest building till 1641 when the Dutch destroyed it.
Dutch Square (Red Square) Melaka: it is a maroon-coloured structure in the Dutch colonial style in Malacca city.
Melaka Sultanate Palace Museum: it is a reconstruction of the Malacca Sultanate palace that has been converted into a museum.
How to travel to Malacca: To reach Malacca city, the fastest way is to get a taxi. If you are budget-travelling, you can get on a Bus or night bus from Kuala Lumpur. If you wish to travel by train, you can get on one in KL and reach Pulau Sebang from where you will have to take a taxi for a further journey to Malacca city.
What is the best time to visit Malacca: the best time to visit Malacca is in the dry season which means in April and May. You can also come here in October to enjoy the cooler temperature in the tropical country.
9. Cameron Highlands
Located in the Pahang district of Malaysia, Cameron Highlands is one of the biggest tourist attractions in Malaysia. It is a peaceful municipality in Malaysia that has sweeping tea plantations, Cooling resorts and strawberry farms that are just perfect for a relaxing vacation.
Besides these, Cameron Highlands also has a hidden gem- Mossy Forest. The Mossy Forest is a magical forest that is covered with- you guessed it, moss- and mist. It is located in the highlands of Mount Brinchang and if you come here, don't forget to bring a camera.
How to reach Cameron Highlands: you can easily reach Cameron Highlands via train, bus and taxi in 2-4 hrs.
What is the best time to visit Cameron Highlands:  the best time to visit is in November but you can also consider the months of February to April to avoid the monsoon season.
10. Kundasang on of the beautiful places in Malaysia
Popularly known as mini Newzealand and the most beautiful place in Malaysia, Kundasang is a place that you should put down as a must-visit place in your itinerary. Kundasang has tons of popular attractions. One of them is Kundasang War Memorial which is located on a hill at Jalan Kundasang Kauluan.
This place was built as a tribute to all the soldiers who died during WW-II in the infamous death marches to Ranau. The memorial has four gardens, representing four nations. Kundasang is also popular for its Vegetable Stalls where you can purchase high-quality fresh harvest.
How to reach Kundasang: To reach Kundasang, you can easily get a flight to Kota Kinabalu Airport. From there, it is a one and a half hours long drive to Kundasang which you can do via a taxi or town car.
What is the best time to visit Kundasang: As Kundasang faces heavy rainfall from May to December, the best time to visit Kundasang is between December and April.
11. Pulau Perhentian
Just like Tioman Island, another Malaysian Island that is world famous for its natural beauty, the Perhentian Islands or Pulau Perhentian are one of the best places to visit in Malaysia. Pulau Perhentian are basically two Islands. One is Pulau Kecil, a popular destination among backpackers and budget travelers.
The second Island is Pulau Besar, the perfect place for a romantic getaway in luxurious resorts! Pulau Perhentian have the most gorgeous coral reefs, beaches and it is also a great location to go scuba diving.
How to reach Perhentian Island: To reach Perhentian Island, the best way is to reach Kuala Besut. You can get a flight and bus too. In Kuala Besut, ferry services are available to take you to your destination!
What is the best time to go to Perhentian Island? The best time to visit Perhentian Island is in July and August. Avoid Perhentian Island during the months of November to March due to the Monsoon season.
12. Mount Kinabalu
Revered as the world's third-highest peak of an island and a UNESCO World Heritage site, Mount Kinabalu is not a place that you can exclude from your Malaysia itinerary. It is located on the West Coast of Sabah. For all nature lovers, you have to come to Mount Kinabalu to explore it and its surrounding mountains which have abundant animals, plants and some rare species.
For example, the world's largest flower Rafflesia blooms here. You can even go hiking on the lower peaks given you take an accredited guide with you as per the national park regulations. Another thing you should know is that you need to get a climbing permit to climb the mountain and a reservation for this should be done in advance.
How to reach Mount Kinabalu: In order to reach Mount Kinabalu, you can easily grab a flight to Kota Kinabalu International airport. From the airport, you can easily grab a taxi to travel around and to the mountain site.
What is the best time to visit Mount Kinabalu: the best time to visit Mount Kinabalu is between March and September. It is the dry season here during these months and even the locals recommend it.
While in Sabah, there is another place that you should check out:
13. Poring Hot Spring (Kinabalu National Park)
If you want to wind down and relax in spring, come to Poring Hot Spring, a small tourist resort near the Kinabalu National Park Headquarters that has loads of fun things to do. It is situated in the lowland rainforest in the Ranau district of Malaysia. 
This resort has a butterfly farm, Tropical Garden, Kipungit Waterfall at a 30 minutes' walk, and Poring Canopy Walkway where you can trek under the canopy of the King of the Forest, the Menggaris tree.
How to reach Poring Hot Spring: The best way to reach Poring Hot spring is via train from Kuala Lumpur Sentral Station to Terminal Skypark Komuter Station. From here, you have to transfer to fly from Sultan Abdul Aziz Shah Airport to Kota Kinabalu. Now, all you have to do is grab a taxi to the resort.
What is the best time to visit Poring Hot Spring: It is recommended that you visit Poring Hot spring in the evening between 5 pm to 7 pm.
14. Legoland Malaysia
For all the lego lovers, Legoland Malaysia is waiting for you to come and stay here and have the time of your life in Malaysia's first international theme park which is also the first Legoland Park in Asia. Also, you should spend 2 full days here to fully explore it.
Legoland Malaysia has several attractions sharing the common LEGO theme. For example, at 'The Beginning', you will find the ticket booth, their merchandise shop, snack bars and restaurants. The other areas like Imagination, Technic, Water Park, Miniland etc.
Price Range: Day tickets range from RM 189 to RM 313 for adults and RM 149 to RM 259 for kids and the elderly. It is completely free for kids below 3 years.
Address: 7, Persiaran Medini Utara 3, Nusajaya, Johor
How to reach Legoland Malaysia: Located in the city of Iskandar Puteri (formerly Nusajaya) in Johor state, Legoland Malaysia is very easy to reach. You can easily catch a flight to Johor's Senai International Airport from where it is only a 15 minutes' drive to Legoland Malaysia.
15. Mari Mari Culture
Another interesting place to visit in Malaysia is Mari Mari Culture, a village that is dedicated to culinary, craft & dance demonstrations of local ethnic communities' traditional homes. If learning about people with different cultures and traditions, make sure you add this location to your itinerary because it is definitely worth the visit!
Ticket Price: For an adult, the ticket ranges from RM 100 to RM 180. For kids, it is RM 90 to RM 170.
Timings: the tours start from 10 am to 5 pm.
Address: Jalan Kionsom, Inanam, Kota Kinabalu, Sabah
How to reach Mari Mari Culture: you can easily get a flight from Kuala Lumpur International Airport to Kota Kinabalu International airport. From the airport, you can easily grab a taxi to Mari Mari Culture which is only 24 kilometres away.
16. Kampung Budaya Sarawak
Kampung Budaya Sarawak is a living Museum in Sarawak where you will see the main ethnic groups in Sarawak 's traditional lifestyles and residences. Located only 35 km from Kuching, Kampung Budaya Sarawak is a must-visit place in Malaysia where they also organise cultural performances every day!
Ticket Price: For an adult, the ticket ranges from RM 85 (one-day admission without lunch) to RM 117 (one-day admission with lunch). For kids, it is RM 55 (one-day admission without lunch) to RM 80 (one-day admission with lunch).
Timings: the tours start from 9 am to 5 pm.
Address: Jalan Kionsom, Inanam, Kota Kinabalu, Sabah
How to reach Kampung Budaya Sarawak: To reach Kampung Budaya Sarawak, you have to get on a flight from Kuala Lumpur International Airport to Kota Kinabalu International airport. From the airport, you can easily grab a taxi to Kampung Budaya Sarawak.
Top Tips for Travelling in Malaysia
While you are travelling in Malaysia, there are a few things that can make your trip even easier and more wonderful. Here are the top 8 tips you should know to make the most out of your time while visiting Malaysia.
Malaysia is a country that is very serious about the duty-free concession. You can buy certain items for a limited amount only. Travellers need to declare all the dutiable and prohibited items in their possession when they both enter and leave the country.
Learn common words and phrases in Malay, Chinese and Tamil. Even though the majority of locals know English, knowing a little of the local language will get you some precious smiles.
There are extremely strict rules and punishments against drugs, no matter the quantity, being brought into the country in Malaysia. Make sure you double-check your luggage and that there are no suspicious items with you.
Malaysia does not have a tipping culture. Just pay the mentioned amount and if you are very pleased with the service, ask them beforehand.
Don't be scared of the crowds. You have to be a little adventurous while wandering around hawker stalls. They serve amazingly delish but cheap food.
If you are travelling on a budget, you make use of public transportation here. It is going to cost you much less than other modes of transportation like getting a taxi. Moreover, you get to experience the country from a unique perspective.
Malaysia is blessed with tropical hot and humid temperatures, ranging from 28-32 degrees celsius. Make sure you pack your clothes accordingly and always have a backup plan for indoor activities when it rains.
Malaysia sometimes suffers from haze due to the illegal burning of forests in neighboring countries. Try to avoid travelling in Malaysia during this time. Check weather before you are travelling.
It has to be said that Malaysia is a country like no other. If you want to experience a more modern yet in touch with its root's country, Malaysia is the perfect destination for you. All the Tourist Attractions in Malaysia give an unparalleled experience with their architectural treasures, breathtaking islands, religious places and stunning skyscrapers. Also, it is a relatively budget-friendly destination.
Don't you just want to go exploring the amazing cities, towns and islands in a day and then, wind down while enjoying the amazing nightlife in Malaysia?!
Looking for more travel inspiration blogs, make sure to check out our other blogs for more inspiration and start planning for a fantastic vacation!
Are you ready to begin your next adventure? Do leave a comment for us because we would love to know your adventurous stories.
What to pack when you travel to Malaysia?
When you are travelling around Malaysia, there are a few things that you should keep with yourself.
Pack light because both your overhead and carry-on bags should weigh less than 7 kg which is the current weight allowance on most budget airlines.
Lightweight Rain Jacket, dry bag, and an umbrella if you are in Malaysia during the monsoon season.
Purchase a collapsible water bottle to save extra bucks on purchasing water every single day. Plus, a collapsible water bottle will save you luggage space too.
Pack slip-on for our trip to Malaysia because shoes are going to create too much hassle for you here. As there are many religious places you need to visit here, you will be required to take off your shoes frequently.
Malaysia is a country that is blessed with a hot climate, so make sure you pack your cotton, summer-friendly clothes.
Needless to say, pack your sunscreen and prescription medicine. If you are allergic, prepare an extra dose of epi-pen.
Frequently Asked Questions (FAQs)
How much does a Malaysia trip cost?
Although Malaysia is not a cheap destination to visit compared to other budget-friendly places like Thailand, and Cambodia, the trip cost is actually not that high when we look into its quality factor. You will find the price for food, accommodation and even transportation is pretty affordable. So if you are a budget traveller, don't hesitate too much to put Malaysia on your bucket list.
Is Malaysia safe to Travel alone?
Malaysia is actually a really safe country to travel to. However, it is advised for solo travellers to not wander around alone but stay close to a group of other travellers and crowds. The crime rate is low here but make sure you are alert of your surroundings anyway, especially at night in big cities.
What is the best time to visit Malaysia?
Due to its unique geography, the best time to visit the different parts of Malaysia varies.  If you are not a big fan of too-hot summers, plan your trip between the months of December to April. Many popular festivals are also celebrated during January and February here which are like a cherry on top of your trip.
How many days are enough for Malaysia?
You should spend at least two weeks in Malaysia to truly experience the best places and main tourist attractions here. Of course, you can add more days, it would be even better.
What are the famous Mosques in Malaysia?
Among the most beautifully constructed mosques which are a must-visit for all architecture lovers and Muslims are:
National Mosque of Malaysia: It is located in Kuala Lumpur.
Masjid Jamek Sultan Abdul Samad: It is also located in Kuala Lumpur.
Putra Mosque: It is located in Putrajaya.
Masjid Kristal: It is located in Kuala Terengganu.
Melaka Straits Mosque: It is located on Malacca Island in Malacca City.
Masjid Bandaraya Kota Kinabalu: It is located in Kota Kinabalu, Sabah.
What are the famous Temples in Malaysia?
Some of the most popular Buddhist, Hindu and Chinese temples for you to visit while in Malaysia are:
Shri Maha Mariamman Temple: this Hindu temple is located in Kuala Lumpur.
Thean Hou Temple: this Chinese temple is also located in Kuala Lumpur too.
Sam Poh Tong Temple: this Buddhist temple is located in Ipoh.
What are the famous Islands to Visit in Malaysia?
The most popular islands in Malaysia which are well-known for their pristine beaches and rich and diverse aquatic life are:
Perhentian Islands
Tioman Island
Langkawi Islands
Redang Island
What famous tourist attraction is found in Malaysia?
One of the most famous tourist attractions in Malaysia is the Petronas Twin Towers in Kuala Lumpur. Other popular attractions include the Batu Caves, Langkawi Island, and the historical city of Malacca.
What is Malaysia famous for?
Malaysia is famous for its stunning beaches, diverse culture, delicious food, iconic landmarks such as the Petronas Twin Towers, and rich history and heritage. Other popular attractions include the Batu Caves, the Cameron Highlands, and the historical city of Malacca.