Rawang, a beautiful town in Gombak District of Selangor, Malaysia was founded in the early-19th century. Back in those days, the town was explored for tin mining. But now, Rawang has become a popular town for habitations and also for tourism.
There are many beautiful tourist attractions in Rawang, most of them are still unknown to most tourists. However, it is hoped that over time, tourists will discover these hidden gems and Rawang will become one of the most popular tourist spots in Malaysia to both local and international tourists.
The Top 15 Tourist Attractions in Rawang, Selangor
1. Templer Park
Templer Park is a mesmerizing forest reserve in Rawang, Selangor. The park was named in honour of Sir Gerald Templer, a British High Commissioner in Malaysia. As declared by His Highness the Sultan of Selangor, the late Sultan Hishamuddin Alam Shah, Templer Park is dedicated by Selangor to serve as a refuge and a sanctuary for wildlife and a meeting place for all who love and respect the beauty of nature.
The forest reserve is 1,214 hectares in size, consisting of multi-tiered waterfalls, jungle streams and trails. Several amenities like parking lots, public toilets, stalls, picnic grounds and fishing spots are also available in this forest reserve.
The most-spotted wildlife in Templer Park includes the park monkey, the forest wagtail, the hawk-cuckoo, malkohas, the barbet, the crested serpent eagle, the emerald dove, the woodpecker, the flycatcher-shrike, the blue-winged leafbird, the earless agamid, the Malaysian crested lizard, and various kinds of toads, snakes, and serow (goat-antelopes).
Due to the recent architectural developments near the park or in the main parkland, the integrity and natural character of Templer's Park are under major threat. Deforestation is also going on in 50 hectares of parkland for a road and more residences that will impact the quality of the streams in the park. Sadly, this activity has the consent of the local planning authorities. If the authorities remain unconcerned about such matters, Templer Park will lose its beauty.
2. Kanching Falls
Kanching Falls, located in a forest reserve of 500 hectares in Rawang, Selangor is a popular tourist attraction. This forest park is a popular spot for picnics, swimming, camping, and jungle walking especially during weekends. The waterfalls consist of seven tiers, and it is a bit hard to reach the uppermost tier of Kanching Falls.
Most tourists climb up to tier 4. However, the most spectacular falls are at tiers 6 and 7. So, you definitely won't regret climbing up to the topmost tier of Kanching Falls. Up to tier 4, there are cement footpaths and concrete steps. So, it doesn't require much effort to climb up to this point.
The topmost tier is 208 metres from the bottom, so you will need around 1 hour to reach that point. If you don't have the energy for that, you can climb up to tiers 2 and 3 for enjoying a natural power shower under the outpour or swim in the clear fresh pools. You can also climb up to tier 4 for a mesmerizing view. Overall, Kanching Falls is a great place to visit for a bit of hiking, swimming or picnic.
3. Bukit Unyang
On the northeast of Kanching Falls, Bukit Unyang is located in Hutan Rizab Kanching. The trailhead of Bukit Unyang starts after tier 7 of Kanching Falls. From the trailhead to the Bukit Unyang peak the overall distance is about 2.5 km and you will need around 3 hours to reach the peak.
On the RSO map, the stated altitude of the mountain is 730 metres. Upon reaching the peak of the mountain, you will be astonished by the beautiful views of Genting Highlands.
4. Jing Loong Shan Wan Fo Shih
Built with traditional Chinese style architecture, Jing Loong Shan Wan Fo Shih is one of the biggest Buddhist religious centres in Rawang, Selangor. The temple is said to resemble some of the most prominent Buddhist temples in China.
The majestic hall of Jing Loong Shan Wan Fo Shih houses giant Buddha statues, surrounded by green landscapes and statues. On special occasions like the birthday of the Buddha or any other religious ceremony, Buddhist devotees gather here to recite Buddhist prayers and pray for the health and happiness of their family. 
Devotees can also enjoy healthy vegetarian food served at the food hall of the temple. If you want to know more about Buddhism, you can collect CDs, books and brochures in different languages distributed by the temple.
5. Sri Krishna Paramathma Temple
Sri Krishna Paramathma Temple was initially a shrine started by Vaishnavaite devotees in the 1950s. They noticed that 'tulsi' (holy basil) was growing wildly in this area. Moreover, cows were continuously grazing on this plot of land. So, they thought that it was the indication of the land being ideal for the worship of Lord Krishna. So, they built a shrine, placed a small statue of Lord Krishna and started their worship.
Over many years, the number of devotees visiting the shrine began to increase. So, the temple committee decided to renovate the shrine into a temple. Every Saturday, many devotees offer Lord Krishna garlands of Tulsi, bouquets of flowers and varieties of fruit. Devotional singing is also held on the same day.
Other than the statue of Lord Krishna, Sri Krishna Paramathma Temple has a magnificent statue of Lord Hanuman. Devotees seek refuge to him from black magic, sorcery and evil spirits. Every year, on special occasions like the auspicious Krishna Janmasthami and Vaikuntha Ekadasi, the temple holds grand prayers.
The temple committee is also passionate about social activities that makes it a unique temple. It has contributions in Tamil education literature to a Tamil school nearby. The temple also performs a 'Kalvi Yatrai' (prayers for education) for the benefit of the Tamil students.
6. Camping Ground- Taman Eko Rimba Komanwel
Launched in 1993, Taman Eko Rimba Komanwel or the Commonwealth Forest Park commemorates the 14th Commonwealth Forest Conference in Kuala Lumpur. There are four designated camping zones in the park that offer around 51 campsites located near the two rivers and the main entrance. So, it's a great place for kayaking and camping.
Other than camping grounds, Taman Eko Rimba Komanwel is a combination of dense jungle with landscaped gardens, fountains, jogging tracks, lakes, chalets, hiking trails and other interesting amenities. The park is said to be an idyllic choice for a relaxing green getaway. If you plan to stay overnight, a privately-run resort is located at the southeast of the park.
Entrance fees: Adult RM 1.00, Children RM 0.50
Opening Hours: Everyday | 7:00 am – 7:00 pm
7. Tasik Puteri Golf Club & Resorts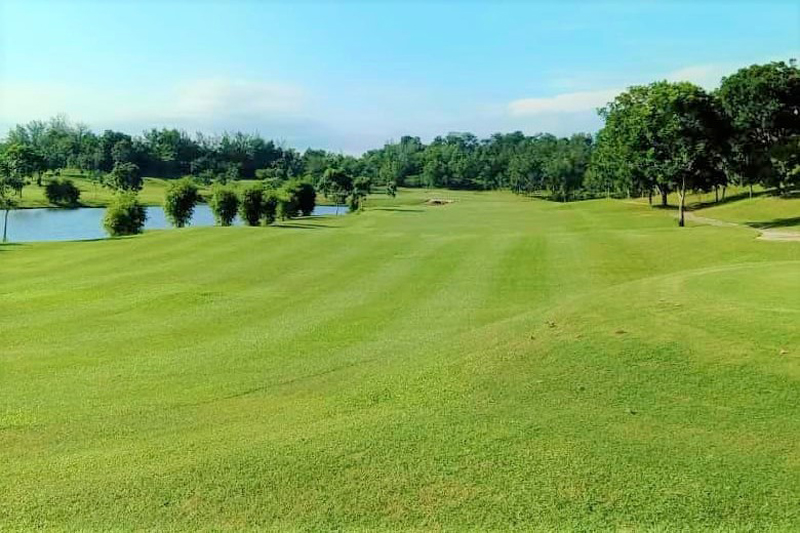 Wanna learn how to play golf? Head to Tasik Puteri Golf Club & Resorts. The club offers a 27-hole golf course that boasts challenging signature holes and spectacular fairways. It is popular as the best public golf course in Malaysia.
The designed golf course amongst serene natural greenery is appealing to professionals, amateurs, families and weekend golfers. The club also has yummy food and beverages available if you feel tired. Other facilities include a changing room, accommodation and a driving range. Tasik Puteri Golf Club & Resorts is also available for hosting meetings, events, and weddings.
8. Gamuda Gardens Waterfront Village
With an enchanting lakeside retail village, known as the Waterfront Village, Gamuda Gardens is a township of around 810 acres. The Waterfront Village is a social hub for the township residents of North Sungai Buloh and KL North. The retail village has various food and beverage outlets, recreational and wellness elements, retail brands, a market hall, a clubhouse and several other amenities for the convenience of Gamuda Gardens' residents.
The village has been named after the waterfalls and lakes fronting the building. There's a 50-acre pet-friendly Central Park near the Waterfront Village. The ground floor of the retail building has a huge balcony that allows people to enjoy scenic views of the green surroundings, especially of the five cascading lakes and the two waterfalls.
During the evening the area is well-lit up. A fountain in the middle of the lake is lighted up to throw an impressive visual feast. So, the Gamuda Gardens Waterfront Village is a great place to spend some quality time alone. You can stroll around the place or ride a bicycle along the lakeside. Moreover, due to the spectacular waterfall and lake, the Central Park of Gamuda Gardens is a great location for wedding shoots.
9. Big Bucket Splash Gamuda Gardens
Big Bucket Splash is a beautiful waterpark located in Gamuda Gardens. The waterpark has an area of approximately 12,700 sq ft and is considered to be the wildest waterplay in Klang Valley. It features shallow pools, towering slides, rainforest animal characters, water guns, and rain buckets.
It remains open on weekends with two separate sessions. One session is from 10 am to 1 pm and the other one is from 2 pm to 5 pm. Big Bucket Splash is an excellent place for hosting birthday parties and other fun celebratory events. Both adults and children can enjoy a fun time in this waterpark.
10. Bukit Dua (2) Ringgit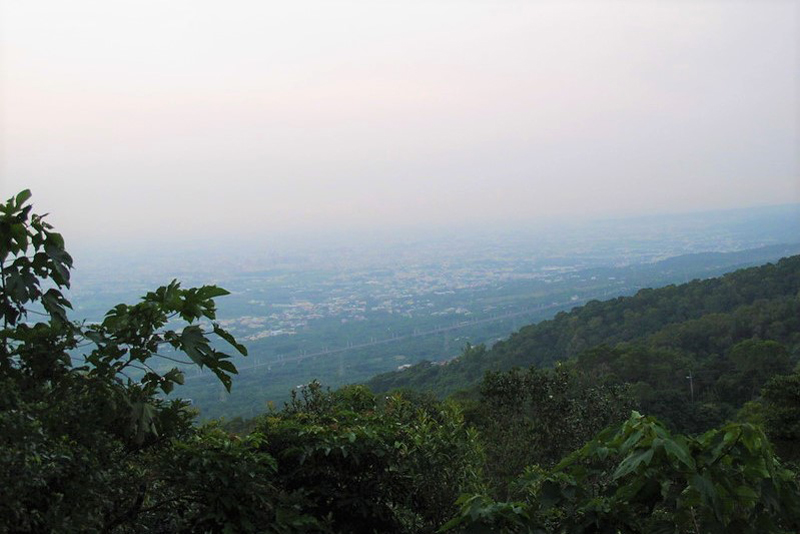 Bukit 2 Ringgit is a popular hiking spot in Rawang, Malaysia. You will reach the top within a matter of 15 minutes and the view from the top is jaw-dropping. It's a great price for beginner hikers and the best place for hiking in Bukit 2 Ringgit is during sunrise.
11. World of Phalaenopsis | Ulu Yam
World of Phalaenopsis is a beautiful, charming, and peaceful orchid nursery. Anyone who pays a visit to the nursery enjoys a really memorable time among the orchids. It is at a half-an-hour driving distance from Rawang so whenever you are in Rawang do leave a visit to this nursery. The nursery was built on a 6-acres land and has Phalaenopsis orchid as their signature product.
Phalaenopsis Orchid is a tropical plant found in the jungles of three Southeast Asian countries namely, Indonesia, Malaysia and the Philippines. These orchids mostly grow in dense forests. However, within 15 to 30 °C temperature, high humidity and low light, they can be grown in home environments.
Other than Phalaenopsis Orchid, around 390 varieties of orchids are grown in the World of Phalaenopsis. You will find them in a number of colours like pink, purple, yellow, and white. Phalaenopsis orchids are great for decoration in hotels, houses, hospitals and commercial buildings.
World of Phalaenopsis also has a wide variety of tropical plants, ferns, flowers, succulents, and even bonsai. All orchids and plants are up for sale. And the prices are also very reasonable. The nursery also has a section of plant pots and professional flower arrangements, all at a reasonable price.
You will also see a pond with ducks and fishes, and other farm animals beside the pond in World of Phalaenopsis. If you wish to feed them, you can buy a packet of feed at a less price.
The beauty of orchids and the surroundings aren't only the key attractions of World of Phalaenopsis. Most people visit this place for the famous cafe- Florescence by World of Phalaenopsis. The cafe setting is right beside the pond, nestled in greeneries and plant decoration enabling you to see the beautiful orchids of the nursery. The cafe itself is decorated with real orchids and natural lighting making it a perfect Instagrammable cafe.
If you are planning a family or friends' gathering or a romantic date, head to World of Phalaenopsis for a pleasant ambience. The home-like interior design facing a beautiful lotus pond is something that you shouldn't miss. Moreover, the cafe serves aesthetically pleasing, delicious, and halal dishes, drinks, and desserts.
12. Bukit Kuari MTB Trail
If you want to enjoy a panoramic view of the tallest highway in Malaysia, you should head to Bukit Kuari MTB Trail. Rawang Bypass, also known as the tallest highway in Malaysia, standing at a height of 60 metres above ground, was built over a span of 12 years. The bridge is a connection between Rawang and Serendah.
Bukit Matt is the viewpoint from where you can get the best views of the Rawang Bypass. It is at an elevation of 200 metres. The Bukit Kuari MTB Trail will lead you to that viewpoint.
At first, you have to drive to the trailhead of the Bukit Kuari Trail in Rawang Perdana. You have to park your car nearby and follow the dirt road for around 5 minutes. From here, you have to turn right and follow the small maintenance road that runs along the highway. Within around 10 minutes you will reach the elevated part of the highway. Then you have to take a left and walk under the elevated highway to get across to the other side.
After reaching the other side, you have to follow the maintenance road along the highway and you will eventually find some steps that will take you up to the peak of Bukit Matt. However, be careful while climbing up the steps and use the guide ropes when necessary.
Once you reach Bukit Matt, you will be astonished by the mesmerizing view of the highway. You can enjoy the views, click some good pictures, and head down using the same trail. It doesn't require much effort to hike through the Bukit Kuari MTB Trail. So, you should try it once.
13. Tasik Biru Seri Kundang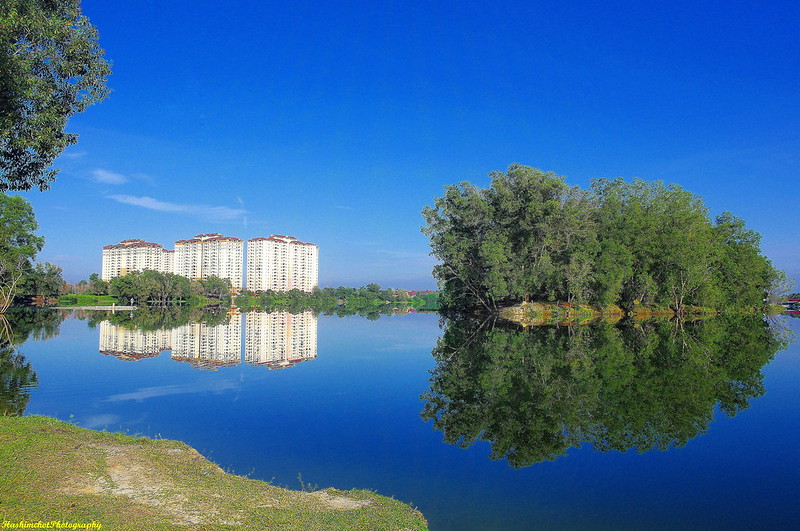 Tasik Biru Seri Kundang is a recreational lake located at Kampung Melayu Sri Kundang, a village near Sungai Buloh in Rawang, Selangor. It was initially an ex-mining lake developed during the British colonial time. During those days, it was the biggest mining area in Rawang district, and also one of the biggest in Selangor.
After the British period, the lake was turned into a water sports and recreation centre for local and foreign tourists. The surrounding area of the lake that is around 32 hectares (80 acres) was upgraded as a recreation area and a jogging track.
The literal meaning of Tasik Biru is "The Blue Lake". It was named such because of the blueish colour caused by the depth of the lake. Some say that the colour is greenish. There's an island in the middle of the lake, which makes it different from any other recreational area in Selangor. According to local folklore, the island is floating by itself. Most people believe that it is supernatural.
Tasik Biru is a perfect location for jet-skiing, picnicking and sometimes canoeing. The lake is also famous for being the shooting site of the Malaysian film Bara, a film by Datuk Yusuf Haslam. People from surrounding areas come to this lake with families for picnics and fishing during weekends.
Though the success rate of fishing is low in the lake, a lot of tourists love to do fishing in this lake. The main target fish is probably the exotic peacock bass (Cichla ocellaris), the rare giant snakehead and the locally called "diamond fish". You need a good amount of luck to catch a fish here.
For anyone looking for a budget-friendly day trip, Tasik Biru is a must-visit location. You have to pay for canoeing and jet-skiing, but picnicking and fishing are completely free. You can also jog around the lake early in the morning to make a fresh start to your day.
14. Moto Maniac Dirt Bike Adventures & Tours
Love trying out bike adventures? Moto Maniac Dirt Bike Adventures & Tours is exactly the once-in-a-lifetime biking adventure that you need. Oftentimes, your trail passes through tiny villages of Orang Asli, wild creatures and magnificent tropical flora & fauna in the world's oldest rainforest. The rainforest that your trail will pass through is around 130 million years old!
Moto Maniac Dirt Bike Adventures & Tours have packages for everyone. People ranging from age 7 to 70 and from beginners to expert bikers, everyone will enjoy thrilling bike adventures. It is a reason why Rawang is known as one of Selangor's secret gems.
Moto Maniac promises to offer unparalleled excursions on dirt bikes throughout Malaysia's best off-road trails passing through hills, mountains, rivers, water crossings, mud lands, sands, waterfalls, rainforest, and every natural beauty you could think of. In this thrilling quest, you will get to see the parts of Malaysia that you never knew existed.
15. Selangor Fruit Valley
Selangor Fruit Valley is a vast tropical fruit farm where you can engage in interactive learning and try fun outdoor activities with your friends and family. The farm has an area of 646 hectares and is a place for great fun. There's also a deer and rabbit park and a tram ride for children.
Location: KM7, Jalan Batang Berjuntai, Batu Arang, Rawang, 45600 Berjuntai Bestari, Selangor, Malaysia.
Opening Hours: Saturday – Thursday | 9:00 am – 4:00 pm (Closed on Friday)
Contact: +60166880792
How To Reach Rawang from KL
The easiest and cheapest way to go to Rawang from Kuala Lumpur is to drive. You will reach Rawang, Selangor within half an hour if you choose to drive. Bus services are also available from KL Sentral to Rawang but it requires more time. You can also get on a commuter train from KL to Rawang, but again it will require more time. So, the best option will be to drive to Rawang, Selangor from KL or to hire a taxi.
Where to Stay in Rawang
Best Time To Visit Rawang
As Rawang is mostly popular for outdoor activities, it's better to visit the place during rainless weather. So, for general outdoor tourist activities in Rawang, you can plan a trip there during late July to mid-August or from mid-December to mid-March. Most activities in Rawang are free of cost so you don't need to worry much about the budget before planning your trip to Rawang.
Best Restaurants to Eat in Rawang
Nasi Ayam Hainan Halal
Location: Unnamed Road, Pusat Bandar Rawang, 48000 Rawang, Selangor, Malaysia.
Opening Hours: Everyday | 10:00 am – 5:00 pm
Eyna Indah Cafe and Bakery (Halal)
Location: Jalan Adenium 2g/12, Bukit Beruntung, 48000 Rawang, Selangor, Malaysia.
Opening Hours: Tuesday – Sunday | 12:00 pm – 8:00 pm (closed on Monday)
Contact: +60192759713
Ram's Bamboo Briyani & Shell Out
Location: No.43, Jalan Bandar Rawang 7, Pusat Bandar Rawang, 48000 Rawang, Selangor, Malaysia.
Opening Hours: Wednesday – Monday | 11:30 am – 6:00 pm (Closed on Tuesday)
Rawang is a great place for discovering some delicious Chinese food items.
Restaurant Peng Nam (non-Halal)
Location: 43, Jalan Welman, 48000 Rawang, Selangor, Malaysia.
Opening Hours: Wednesday – Sunday | 12:00 pm – 7:00 pm
Tuesday | 12:00 pm – 7:30 pm (closed on Monday)
Contact: +60360916948
Kedai Makanan San Minuman Fu Wah (non-Halal)
Location: Kampung Melayu Batu 16, 48000 Rawang, Selangor, Malaysia.
Contact: +60360919912
Ho Ho Food Station (non-Halal)
Location: No, 47, Jalan Setia Rawang 1, Taman Setia Rawang, 48000 Rawang, Selangor, Malaysia.
Opening Hours: Tuesday – Saturday | 10:00 am – 3:00 pm , 5:00 – 8:00 pm
Sunday | 10:30 am – 8:00 pm (closed on Monday)
So, when are you going to Rawang to discover these hidden gems? And do you know about more tourist attractions in Rawang, Selangor? I'd love to know about them from you!