Paris is a majestic city that has been featured in the pages of many books and films. However, when you visit Paris for yourself to experience its beauty firsthand, there are so many more hidden gems worth seeing! I have been to Paris twice and I still don't think that this city has seen all there is.
For every corner of the streets, buildings are hiding some kind of secret with their history or architecture tucked away for your sake-to find them on your own! It's the dream of many to visit Paris–the city of lights, love and romance! But there are so many tips and tricks that will help make your trip more enjoyable.
Here are my The ultimate Paris travel guidelines for first timers | Top attractions & things to do
1. Eifel Tower
The Eiffel Tower is a global landmark. It's one of those things you can't miss when visiting Paris, and it was also the first building to have been built entirely with metal rather than concrete or stone! The reason for this choice? Engineer Gustave Eiffel thought that his structure would be able to withstand an enemy attack since parts could readily come off if necessary, but more importantly–the iron gave him incredible strength in its rusting state after fifty years which made them perfect materials for climbing equipment at night as well (hence all our famous selfies).
The top three levels are home to restaurants alongside some really cool stuff like views into other PARIS buildings from up here, too – not bad, right?
Address: Champ de Mars, 5 Av. Anatole France, 75007 Paris, France
Opening Hours: Daily 9:30 am to 10:30 pm
2. Tour Montparnasse
Have you always dreamt of seeing the Eiffel Tower and all Paris has to offer from a breathtaking perspective? If so, then it doesn't take long for that wish to come true as there is an observation deck in Montparnasse. With views both day or night; no matter what time it was when I went on my trip-I had such unforgettable memories!
Address: 33 Av. du Maine, 75015 Paris, France
Opening Hours: Daily 11:00 am to 10:30 pm
3. The Louvre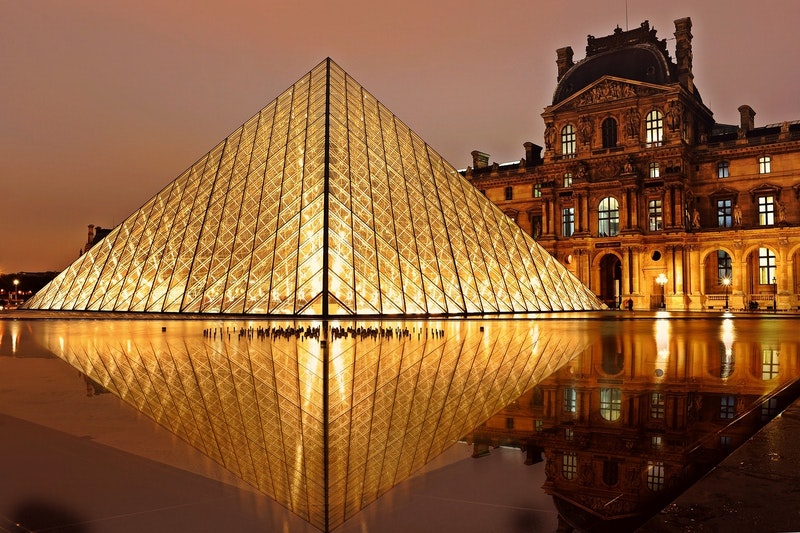 You're sure to have heard of the Louvre, right? It's not just any museum. The EXPO LOUVRE has over 380 thousand works in its collection; however, only a few are on display for visitors at any given time, including Leonardo da Vinci, Vermeer, Michelangelo Rembrandt and Eugène Delacroix. Aside from these famous paintings, there is also one other thing that makes this place worth visiting: The glass pyramid, which serves as their main entrance along with an inverted pyramid built partway through the Grand Louvre plan
Address: Rue de Rivoli, 75001 Paris, France
Opens: Wednesday to Monday 9:00 am to 6:00 pm closed on Tuesday
4. Trocadero viewpoint
One of the most well-known and iconic views of the Eiffel Tower is from the Trocadero. It's a great place to watch the sunrise in Paris. You must arrive before dawn to see the sky change from pink to orange and get a better view!
Be aware, though; many people who come here at sunrise stayed up late last night so they can enjoy this moment firsthand…and get breakfast too if they're hungover (not recommended). The observation deck straight ahead was built by French engineer Monsieur Eiffel himself back when he designed our modern marvel: La Tour de la Défense building.
Address: Pl. du Trocadéro et du 11 Novembre, 75016 Paris, France
Opens: 24 hours
Admission: Access to the premises is free but going up to the observation deck € 17.00
5. Notre Dame
Notre Dame Cathedral is a classic example of French Gothic architecture with a long history. La Cité Cathedral, situated on the Île de la Cité Island, is one of the most famous cathedrals in the world, with a grand interior decorated with stained, rose windows and relics and bells and organs. A devastating fire in April 2019 forced the cathedral to close to the public for renovations. During my visit it's still under renovation.
Address: 6 Parvis Notre-Dame – Pl. Jean-Paul II, 75004 Paris, France
Opens: Daily 8:00 am to 6:30 pm. closing time varies
Admission: Free, but accessing to tower will cost you € 8.50
6. Paris hop-on hop-off bus tour
The large double-decker, open-top buses travel around the city on a predetermined route with multiple stops on these tours. Visitors can choose which attractions to stop at and visit whenever they want, knowing that they can hop back on once they have finished at their current location. Tickets are valid for 24 to 72 hours, depending on the service, and there is no limit to the number of times you may board the bus.
Boarding Location: From both sides of the river, from the Eiffel Tower to Notre Dame and beyond. At any of their boarding locations, you can purchase a ticket and a map. You must walk along the river after descending the stairs to the river to reach the kiosk and boarding point.
7. Sacre-Coeur
The Parisian Basilica of the Sacred Heart, also known as the Sacré-Cur, is a Roman Catholic church and basilica located on Paris' Montmartre hill. It is dedicated to the Sacred Heart of Jesus, which represents the love of Jesus Christ. Because of its location on Montmartre hill, the basilica is the city's second-highest point, after the Eiffel Tower.
Address: 35 Rue du Chevalier de la Barre, 75018 Paris, France
Opening Hours: Daily 6:00 am to 10:30 pm
Admission: Free
8. Seine river cruise
The Seine River passes through the heart of the French capital., cutting it in half from east to west. The Seine River is the birthplace of Paris, and its development is intimately connected to it. Suppose you're visiting Paris for the first time. In that case, I highly recommend taking a Seine River cruise ride to see the city from a unique viewpoint and see some of the city's most famous attractions along the route.
Locations for boarding: You can purchase a ticket from CRUISE station. You must walk along the river after descending the stairs to the river to reach the kiosk and boarding point.
9. Paris Disneyland
For a long time, it was known as the Euro Disney Resort. Walt Disney World Paris is a 4800-acre theme park that offers various entertainment options from thrilling rides to shopping, dining and resorts, and a vast golf course.
There are around 15 million visitors a year to Disneyland Paris, which was opened in 1992. Walt Disney Studios Park and Disneyland Park make up the majority of the resort. As the most visited theme park in Europe, Disneyland Paris is also the largest resort outside the United States.
Address: Bd de Parc, 77700 Coupvray, France
Opening Hours: Daily 9:30 am 8:00 pm
Best time to visit Paris
Paris is a cosmopolitan city with a thriving economy, a proud cultural heritage, and numerous attractions. In Paris, the city of lights, there is always something interesting going on. There are many things to see and do in Paris all year, but the best time to visit is from June to August. The weather is ideal for exploring the outdoors, and the various colours in Paris' squares and gardens are breathtaking during this time of year.
The offseason, which lasts from fall to winter, is a relatively quiet time to visit Paris. Some travellers take advantage of the lower crowds during these months. Travelers have the opportunity to stroll around the Eiffel Tower without feeling rushed or to peacefully admire the painting of the Mona Lisa without having to wait in a long line.
How to get to Paris
By air: For those wishing to fly to Paris, there are two major airports: Charles de Gaulle Airport and Orly Airport. The largest and busiest airport is Charles de Gaulle, with international and domestic flights departing every few minutes. Charles de Gaulle Airport is about 35.6 kilometres from the centre of Paris. It is simple to get to Paris from the airport. Trains and buses depart from the airport regularly, and taxis and rental cars are available.
By Train: In the heart of Paris, there are several large train stations. Both local and international trains arrive regularly throughout the day and evening, with regular departures and arrivals. In Paris, the Gare du Nord is the main train station. From there, it's easy to take the train or the subway to other parts of Paris. Outside the station, you'll find taxis and buses.
By Bus: The Paris-Gallieni bus station in Bagnolet, in the east of Paris, is the most likely destination for international tourists who wish to travel to Paris by bus. To reach the centre of Paris, travellers may need a connecting bus. Many large bus terminals serve the Paris area and can be found all over Paris, as well.
What is Paris pass, and how to get one?
For the short term, visitors like me should get a Paris Pass to save more money on Trains or Buses and get free access to over sixty tourist attraction sites, including River Cruises explore, Hop-On-Hop-Off bus ride and many more. No need to spend extra money on museums or other tourist attraction sites. To see all attractions with Paris Pass.
Get your Paris Pass in Advance
Where to stay?
Paris is divided into 20 arrondissements (districts). In the local language, Central Paris is its first Arrondissements. The remaining 19 districts are clockwise. You don't have to keep these in mind; you have to plan to stay close to any metro station and the tourist places nearby.
I've included a list of some low-cost hotels and hostels below. You can see their rates and other facilities. I visited Paris in 2019, and at that time, a single room for a family could get around 60 to 70 euros. The room was quite spacious with a kitchen and other facilities.
Hotel Paris Voltaire
Hotel de L'Esperance
Le Village Montmartre
Loft Basfour
Audran Hotel
B&B Hôtel Paris Porte des Lilas
What to eat In Paris
Paris is regarded as one of the world's greatest foodie destinations. In Paris, there are more than a hundred Michelin-starred restaurants that serve world-class cuisine. Parisians take great care to make sure that each bite of food is savoured and each meal is celebrated when it comes to food.
A croissant or any other freshly baked pastry is a great way to start the day in Paris. One of the best things to do in Paris is eat. There are so many quaint French bistros, offering up delicious seafood and wines. But how can you know which one is right for you?
Here are some of the best restaurants in Paris.
Things you need before going to France
if you are a country citizen that requires a Schengen visa to enter a Schengen zone, please get it first. Read here How to Apply Schengen Visa From French Embassy
Travel itinerary
a well-planned travel itinerary will save you a lot of time and money, of course. If you don't know where to go and what to see, your time will run out very quickly.
Please bring a copy of the passport size picture
a passport size picture was required for purchasing a NAVIGO DECOUVERTE CARD when I travelled there. You may also get a PARIS PASS for 3 or 5 days without having to any pictures.
Paris scam
The Eiffel Tower, Notre Dame, Montmartre, Disneyland, and the Champs Elysées are hotspots for Paris's tourist scams. Scammers are operating too in markets, in bars, and also in public transport.
A few common Paris scams listed are below.
Pickpockets
Pickpockets target busy areas and places where people are distracted, such as public transit, tourist attractions, pubs, marketplaces, theme parks.
Fake petition scam
The fake petition scam is easy; you will undoubtedly face them in and around Eifel tower and other touristic places. There will be Someone approach you with a clipboard and a ballpoint pen. They want you to sign a petition. If you sign, they'll ask you to donate money to a charity, which they'll keep for themselves. These scammers may be pretty persistent, sometimes following you until you give them a tiny amount of cash to get them to go.
Bracelets scam
At the Sacre Coeur, one of the most common scams happens. When you touch the tower's base, you'll see that there are many people carrying bracelets. They'll come up to you and attempt to sell you one of these wristbands. So far, there is nothing wrong with it; nevertheless, how it is carried out is dubious. They're stubborn, and before you know it, they've wrapped the band around your wrist. The only way to get rid of it now is to cut it, which means there is no other option except to pay for it.