Who doesn't love to visit the world's great destinations? A travel lover always seeks new experiences and places to explore. For those travellers' Manila, the capital of the Philippines is undoubtedly the best gateway.
I have been to the Philippines so many times, and Manila is certainly one of the most incredible destinations in Southeast Asia. Manila is the host of the culture and customs of the Philippines. Some love this buzzing city, and some hate it. But if you ask my advice, I would say embrace the chaos.
If you are a first-time visitor to Manila, it can be overwhelming for you to explore the city. Here, I have listed the 10 Best Things to Do in Manila to make your vacation plan easier.
Trip planning can be stressful, but at least you'll know what you've planned so far if anything changes during your trip. Here are 5 reasons why you need a travel itinerary before you even head out!
1. Travel Back in the Old-World at Intramuros
Are you a history seeker? If you are, then Intramuros is the must-visit place for you. Known as the "Walled City", it carries the history and architectural landmarks of the Spanish Era. A day trip is enough to go sightseeing these historical monuments and sculptures. 
Here are some of the best attractions in Intramuros that you must not miss.
Fort Santiago
Fort Santiago is one of the oldest and most impressive historical sites in Manila. Built-in 1571, this Hispanic stone castle was occupied by the British, Japanese, and Americans. Now it is a museum and the most visited tourist attraction. You can explore the place by sightseeing and walking.
Address: HXVC+M5V, Intramuros, Manila, 1002 Metro Manila
Opening Hour: 08:00 am to 07:00 pm
Entrance Fee: Adult PHP 75.00 (U$1.49)|Student PHP 50.00 (U$0.99)
Manila Cathedral
Manila Cathedral is the religious centre of the Archdiocese of Manila. It is not only famous for its historical importance but its incredible intricate design. Make sure you take photos of this outstanding architecture.
Address: Beaterio St, Cabildo St, Intramuros, Manila, 1002 Metro Manila
Opening Hour: 07:00 am to 05:00 pm
San Agustin Church and Museum
San Agustin Church is the UNESCO World Heritage Site. So you can imagine how much treasure you can explore here. The architecture design has a mixture of Spanish and Chinese styles. The church has been rebuilt many times after World War Ⅱ and the earthquakes.
Address: General Luna St, Manila, 1002 Metro Manila
Opening Hour: 08:00 am to 12:00 pm & 01:00 pm to 06:00 pm
Entrance Fee: Adult PHP 200.00 (U$3.99)|Student PHP 160.00 (U$3.19)
2. Visit the Rizal Park, Dedicated to the Country's National Hero
Located in the heart of Manila, Rizal Park is a tribute to the Philippines national hero, Jose Rizal. You'll get to see several monuments and statues throughout the park, which are the symbols of Manila's history. The park is placed in an outdoor garden, so you'll also see several local flora and fauna here. If you keep your eyes open, you may also notice the Narra tree, the national tree of the Philippines.
Address: Ermita, Manila, 1000 Metro Manila
Opening Hour: Daily 05:00 am to 09:00 pm
Entrance Fee: PHP 50.00 (U$0.99) per person
3. Enjoy the Golden Hour at Manila Bay
Nothing is more beautiful than the breathtaking sunset view of Manila Bay. People come here for relaxation and tranquillity. The crazy shades of the sky will force you to take outstanding pictures. Make sure you bring your camera. There are many restaurants lining the waterfront, so you can have some snacks or drinks while enjoying this scenic view.
4. Try Fresh Seafood at Dampa Seaside Market
After visiting the sunset at Manila Bay, it is worthwhile to have some fresh seafood. Just hit up the Dampa seaside market and take whatever seafood you like. Here you'll get fresh crabs, shrimps, prawns, mussels, lobsters, and all sorts of fishes from tuna to blue marlin at a very reasonable price. Then take this seafood to a nearby restaurant and have it cooked according to your taste. You hardly can forget the taste of these delicious foods.
Address: Diosdado Macapagal Blvd, Pasay, Metro Manila
Opening Hour: Daily 10:00 am to 10:30 pm
5. See the Ocean Life at Manila Ocean Park
One of Manila's best attractions is the Manila Ocean Park. It is an aquarium-themed park that exhibits more than 14,000 aquatic animals, including stingrays, sharks, Jellyfishes, and many more. To have a great view of underwear life, you'll get to walk through its 25-metre curved glass tunnel. The Oceanarium also offers a couple of educational tours to teach you about marine biodiversity and how to protect them.
Address: Quirino Grandstand, 666 Behind, Ermita, Manila, 1000 Metro Manila
Opening Hour: Daily 10:00 am to 06:00 pm
Entrance Fee: PHP 400.00 (U$7.99) per person
6. Do Shopping at Divisoria
If you are good at bargaining, then head down to the Divisoria Market. Situated in the middle of Chinatown in Manila, the market is well-known as a crowded and chaotic place. You'll get anything here from clothes, textiles, bags, accessories and electronics to household stuff, religious items, office supplies, fruits and vegetables, and toys. These products are cheap, but you just need to know how to bargain. And those who do not like crowds and busy streets avoid the place.
Address: 557 M. De Santos St, San Nicolas, Manila, 1010 Metro Manila
Opening Hour: Daily 07:00 am to 09:00 pm
7. Explore the Amazing Architecture, Art, and History at the National Museum
Located next to Rizal Park, the National Museum of the Philippines is a vast area with four main complexes. It offers you a rich collection of art, history, anthropology, biology, and zoology. The museum galleries also contain the cultural heritage of the country.
Here you'll get to see the Fine Arts of renowned Filipino painters of the 19th and 20th centuries. "Spoliarium" by Juan Luna is the largest and most famous painting of this museum.
Address: Padre Burgos Ave, Ermita, Manila, 1000 Metro Manila
Opening Hour: Tuesday to Sunday 09:00 am to 12:00 pm & 01:00 pm to 04:00 pm
Entrance Fee: Free
8. Don't Miss Halo-Halo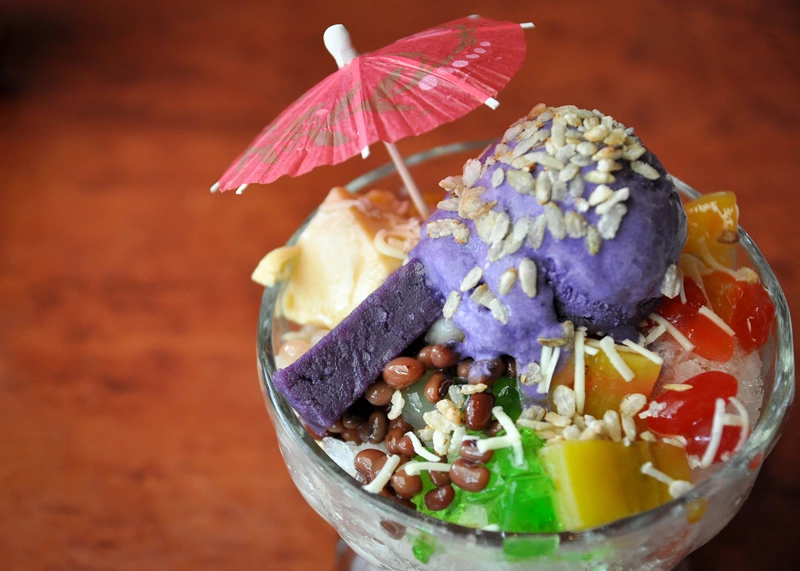 To get acquainted with any place, city or county, you must visit the local food market. And your vacation in Manila would be incomplete if you miss its famous dessert Halo-halo. It is a sweet dish made with ube ice cream, shaved coconut meat, fruit, jelly, sweet beans, sweetcorn, leches flan, and ice. 
You can get Halo-halo anywhere in the city, from street vendors to expensive restaurants. The best places to get Halo-halo in Manila are Milky Way Café, Kabigting's Halo-halo, and Razon's Halo-halo, but if you have a budget problem, head to Chowking.
Address
Milky Way Café: Milkyway, 900 Antonio Arnaiz Ave, Makati, 1200 Metro Manila
Kabigting's Halo-halo: TDK Bldg, Congressional Ave, Bago Bantay, Quezon City, 1105 Metro Manila
Razon's Halo-halo: 790 A Maria Clara St, Quezon City, 1114 Metro Manila
9. Take Pictures with Life-Size Toy Collection at Yexel's Toy Museum
Are you a fan of Star Wars or Marvel heroes?  Yexel's Toy Museum will give you a chance to take pictures with the life-size toys of your favourite heroes. The museum offers an extensive collection of toys, including Barbie Dolls, Disney cartoons, and Movie figures. The most famous life-size toys are Iron man suits, Star Wars, Simpsons, and Optimus Prime.
Address: 52 Sampaguita Rd, Las Pinas, 1740 Metro Manila
Opening Hour: Daily 10:00 am to 05:00 pm
Entrance Fee: PHP 300.00 (U$5.99) per person
10. Visit World's First Chinatown Binondo
Established in 1594 by the Spanish government, Binondo is considered the world's first Chinatown. The actual vibrant and variegated business of Manila is here. Make sure you come to Binondo with an empty stomach because you'll get a lot of mouth-watering Chinese food to eat.
Address: Binondo, Manila, 1006 Metro Manila
Escolta Street
You can't complete your Manila trip without visiting Escolta Street. Escolta is the hotspot of commerce, finance, and trade for all types of businesses. Clothes, foods, or restaurants, no matter what you are searching for, this place contains all of them.
Food Trip
Maybe you come with an empty stomach at Binondo, but surely you have to go back with full. Binondo is the place where you'll find tasty and affordable Chinese eateries at almost every corner. You can't leave Binondo without trying Filipino-Chinese signature dishes, including mami (noodle soup), lumpiang Shanghai (egg roll with meat, fish, and vegetables), and hopia (bean-filled pastry).
Where to Stay in Manila
Being the capital city of the Philippines, Manila offers various options of accommodation with different prices and facilities. Here I have recommended a luxury, a mid-range, and a budget hotel. Choose what suits you best.
To have the comfort and enjoy the luxury, you can book Raffles Makati. Here you will get an outdoor swimming pool, a gym, business centres, and free Wi-Fi in the entire hotel. This accommodation has a 4.5-star rating and provides excellent services.
To check prices and other facilities, visit Booking or Agoda
Not everyone can afford a luxury hotel. For those who are finding mid-range hotels, The Peninsula Manila can be the best option. It has a 5-star rating and offers an outdoor swimming pool, eight dining options, a spa, and free Wi-Fi throughout the hotel. 
To check prices and other facilities, visit Booking or Agoda
A budget hotel with good facilities is not so rare in Manila. Backpackers can easily access DG Budget Hotel, which is situated just a 10-minute walk from the Ninoy Aquino Airport. This accommodation comes with air-conditioned rooms, a tea/coffee maker, a flat-screen TV, and free Wi-Fi access. You can get really good services at a very reasonable price.
To check prices and other facilities, visit Booking or Agoda
With my experience and proper research, I always try to give you valuable and acquired information to make your travel easy. If you find this article helpful, let me know in the comment section and show your support.