Shimla, the capital of Himachal Pradesh in India, is a city steeped in history and surrounded by breathtaking natural beauty. Once the summer capital during British rule, Shimla has its own unique culture, language, and charm.
If you're planning a trip to this stunning destination, this complete travel guide has got you covered. From travel tips and information to must-see places, I'll take you through everything you need to know to make the most of your visit to Shimla.
How to Be Traveling to Shimla?
Reaching Shimla is very easy and convenient. Shimla tourism has made sure that the city is accessible via all means. You can arrive at Shimla by road, railways as well as air. There are mainly two ways you can arrive in Shimla if you are travelling internationally or domestically.
By Air
The Shimla Airport is located about 23 kilometres from the main city in Jubbarhatti. You can easily take a flight from cities like Chandigarh and especially if you are travelling internationally, from Indira Gandhi International Airport, Delhi.
Take a flight to Delhi International airport and then change the flight to Shimla Airport. Shimla airport is a regional airport. Very few flights with a limited number of seats are flying in and out of this route.
You can also opt for a taxi service from the airport of Delhi or Chandigarh city.
Reaching Shimla via Railways
Another route you can take if you are travelling through Chandigarh is the Kalka Shimla toy train. Kalka is just 25 km away from Chandigarh. This route is an enlisted UNESCO heritage site for its mesmerising green hill scenery.
If you get any of the early morning toy trains, you are definitely in for a treat. Shivalik Deluxe and Kalka Shimla Express are some of the best toy train services. You can book the tickets online from IRCTC's official website, and they cost around 4 to 6 USD.
You can also reach Chandigarh by train and opt for a taxi from there.
By Road
Shimla trip by Car or Taxi: You have the option to either hire a taxi service. Taxi services are always readily available to a popular hill station like Shimla. Assuming you are travelling from Delhi, it would take you around 5 hours on National Highway 44 (NH44) to reach Chandigarh.
From Chandigarh, it would take further 2-3 hours to reach Shimla. The entire Shimla distance from Delhi is around 355 Km. The entire route being a national highway, the condition of the road is good all year round with moderate traffic.
Shimla trip by Bus: Another way to reach Shimla by road is using the public bus transportation. Shimla has a very convenient and frequent bus service. Everyday buses from Major cities from all over north India reach her. Travel agencies can also help you book luxurious AC overnight bus seats for your Shimla trip.
Is Shimla the only tourist attraction in Himachal Pradesh?
Shimla has a rich history and architectural institutions in the city with the scenic beauty of the Shivalik Range of Himalayas. Though the city is full of listed and attractive tourist places, there are a few suggested adjacent places to visit if you have an extra few day in your vacation.
Some of these locations are Manali, Kasol, Jibhi, Spiti Valley, Mcleodganj, Dalhousie, Fagu, Tirthan Valley, Kasauli, Sethan Valley and many more.
History of Shimla:
This particular hill station is not only one of the finest tourist attractions of India with long pine trees, snow-capped mountains but also has some crucial historical importance in the history of India. It was mainly covered by dense forest and later inhabited by Gurkhas before the British came to India.
In 1819, the British discovered a dense forest and a temple, and the city was founded. It was initially named after the goddess Shyamla referring to Kali in the native language, but the name became Shimla with the distorted British accent. For its lush greenery and chilly climate, the British made it the Summer Capital in 1864.
After India's independence, the city became the capital of Punjab at first and then turned into the capital of Himachal Pradesh after its formation in 1948. Shimla was a centre of attention for political meetings, accords for a significantly long time before and after India's independence.
Weather in Shimla India: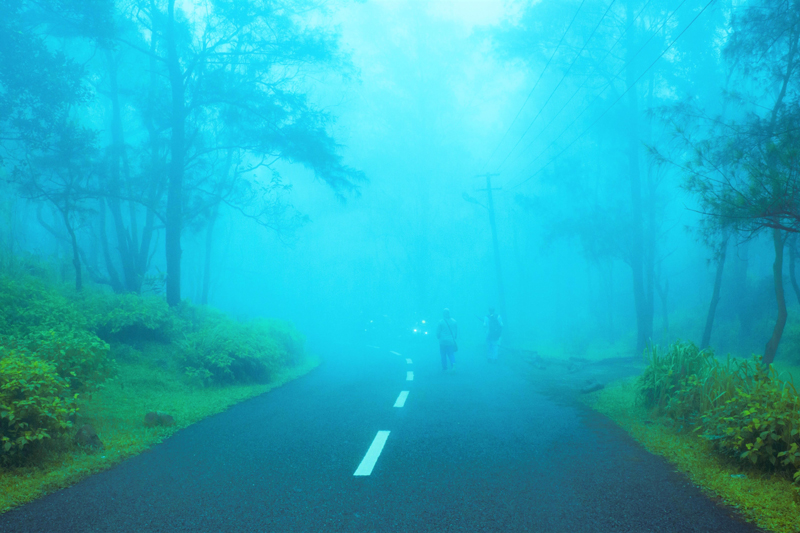 Located in the lower Himalayan range, Shimla enjoys relatively cool weather all around the year. The summer was moderately warm, with temperatures varying in the range of 10 degrees Celsius to 28 degrees celsius.
Though occasionally, the temperature can go higher than 30 degrees celsius. The winters, however, are a different matter. The winters in Shimla are extremely cold, with the temperature dropping as low as negative 12 degrees celsius.
Snowfall in Shimla starts around the month of December, and its snow season all throughout from late December to February. Shimla's snowfall is also one of the main tourist attractions. People travel from far away just to experience that first all of the snow in the gorgeous hills covered with evergreen pine trees.
In the months of July and August, Shimla experiences Monsoon. Though the beauty of the scenery double folds, those hilly roads can become very dangerous to drive during the rainy season. There are often big rocks falling from the high peaks as well as landscapes frequently taking place. It is advised to avoid these months for your Shimla trip.
Beginning from the month of September and all through October, tree leaves start changing their colour from vibrant green from rain to Orange during the fall. The temperature also starts dropping till it nears 10 degrees celsius during November.
How to get around in Shimla?
The best way to get around in Shimla is either on foot or by taking the local Bus service. Buses are available every few minutes from the Main Bus stand, ISBT and the old bus stand to all the popular places in Shimla. The bus fare is also relatively low starting from 
It will be difficult for you to find car services or taxis around central Shimla, but taxis are available from other points in the city. Availing any tour package may provide you with the facility of 24X7 car service. But going on foot to the places on the top of the hill and using public transport will make you more connected to the locals. You can find a daily tourist bus service by HPTDC for sightseeing.
In Shimla, there are mesmerizing places like The Ridge, Kufri, green valley, kali Temple all over the city. You will see British architecture, snow-covered valleys, luscious forests on the trip. Here are some places you must go if you are visiting Shimla for the first time.
Places to visit in Shimla & things to do in Shimla:
The mall road and the Ridge:
On the first day of your tour, you can start with the places that are just inside the main city. The first and most popular destination is the Ridge along the mall road. You will also find the famous Shimla scandal point at the end.
The naming of which sourced from the interesting story of eloping of a British lady and Maharaj Bhupinder Singh. The Ridge is generally open from 8:00 AM to 6:00 PM every day and is free of cost to visit.
Hawa Ghar & Geity Cultural Complex
Adjacent to the Ridge, you will see the Hawa Ghar, a famous viewpoint for the snow-capped mountains and winter- festivals. You will also see the infamous 122-year-old Geity Cultural Complex at the Ridge as well.
It is one of the oldest cultural complexes of India and indeed the centre for art enthusiasts and lovers in Shimla. The entry fee for foreign visitors is 68 cents with a camera and $0.34 without one.
Kali Bari Temple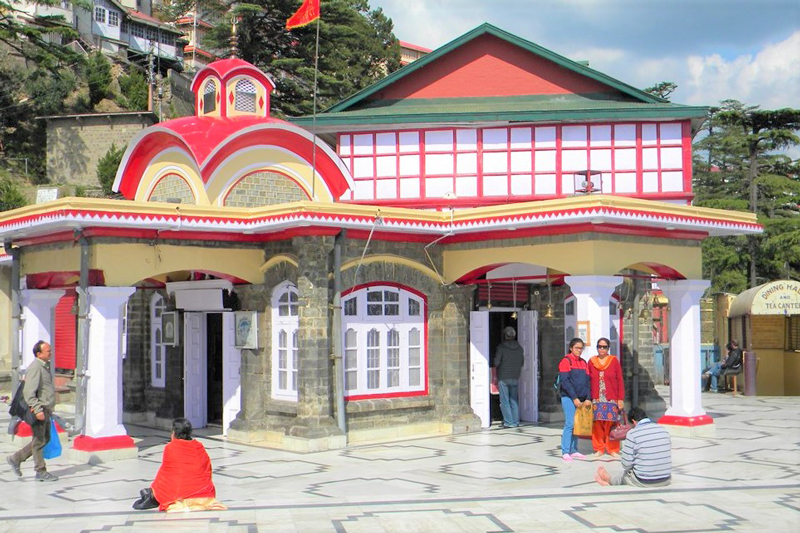 The Queen of Hills Shimla is a city of unmatched architecture, history, and the tourist attraction's beauty enhances thousand-fold with the touch of natural bliss. So, the top two tourist attractions for their beauty and religious beliefs are Kali Bari and the Christ Church. You may have heard of both of these places.
The Kali Bari is the home to the fearsome and lifelike Goddess Kali or Shyamla, after whose name Shimla was initially named.  It is situated on the Botany Hills and opens from 6 AM to 7 PM every day of the week.
The Christ Church
The Christ Church, established in 1857, is situated near the mall in Shimla and is one of the oldest neo-gothic Churches in India. There is no entry fee for entering the church and admiring its beautiful architecture.
The opening hours are 8:00 AM to 6:00 PM every day.
Kalka-Shimla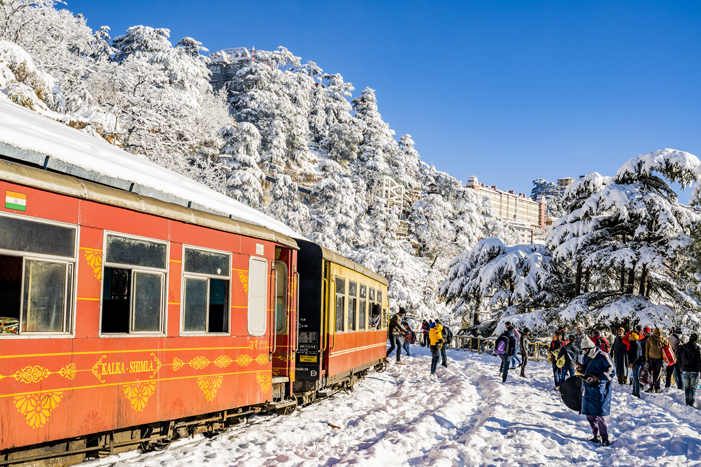 Next on the list of every Shimla visitor, whether first time or second, is the Kalka-Shimla UNESCO heritage railway. The captivating greenery, the snow-capped mountain range and the snow-covered landscape in the winter will take your breath away through the entire 96 km of the journey.
You can prebook your ticket, which costs around $4 to $5 by simply going to the Indian railway's official website.
Jhaku Hanuman temple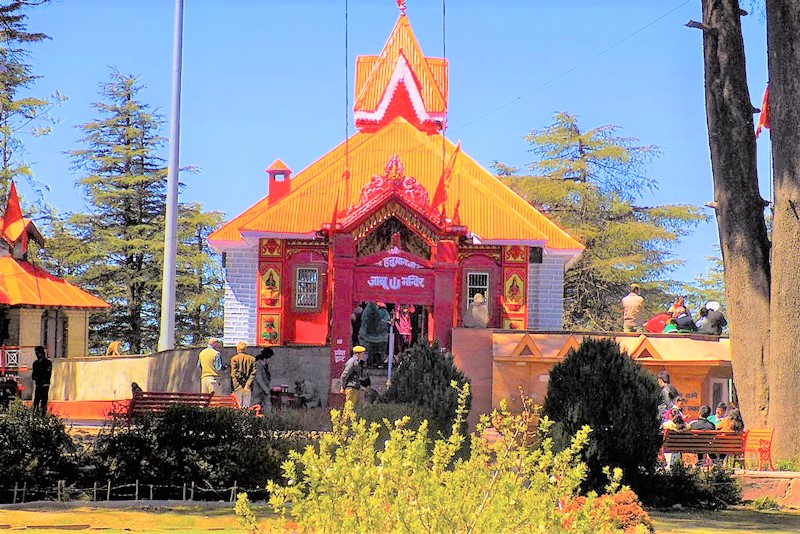 Another enjoyable place near Shimla is the Jhaku Hanuman temple which requires a 30 to 45 minutes climb to reach the top, and there is a huge statue of the Hindu god Hanuman and a temple of Hanuman where the Dashera festival in the fall is celebrated.
Museums in Shimla:
Those of you who are fanatics of history or enjoy the thrill of revisiting the past of a city through its museum will find Shimla's museums quite Enticing. There are top two museums you can visit in Shimla, and they are:
The Himachal State Museum:
The Himachal State Museum near the Doordarshan Kendra in Chaura Maidan has 18 sections and galleries displaying arts, coins, dolls, artefacts of famous people. The museum is open from 10 AM to 5 PM except on Mondays, and the entry fee is $1.36 for foreigners.
Shimla Heritage Museum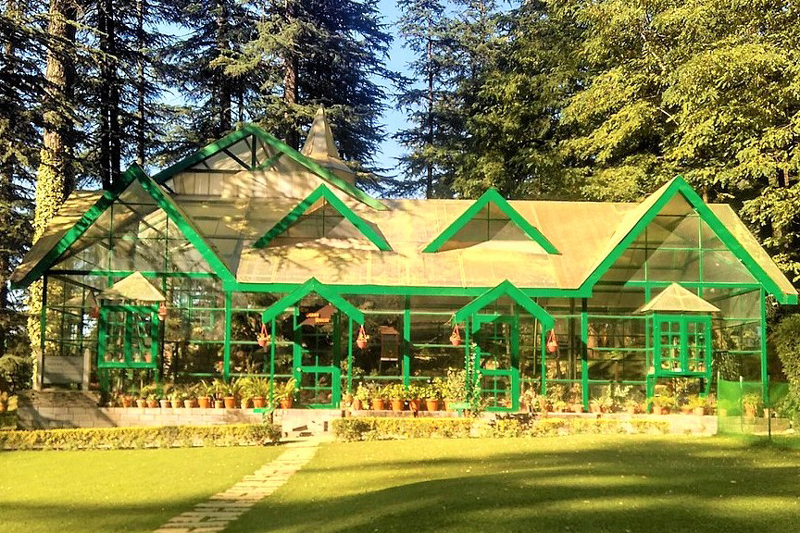 Situated at the Jhakoo Road near the mall Shimla Heritage Museum is a 120 years old, green-roofed widespread English bungalow that tells the tale of British Heritage in the city. The museum is open from 9 AM to 4:30 PM except on Sundays and has an entry fee of $0.68.
Other than these two, few interesting and attractive museums are Jonnie's Wax Museum and Baba Bhalku rail museum which is recommended by the locals.
How to Plan a Budget Trip to Shimla
If you are thinking of planning a trip to Shimla India but with a budget, here is the best guide to plan a Budget trip to Shimla without compromising on the experience. It's okay if you only have a few thousands in your account but wish to go on a vacation to a beautiful and serene destination like the Queen of Hills, Shimla.
The most amazing thing about Shimla tourism is that it comes with a myriad of choice of Budget-friendly tour packages. This guide covers the budget for transportation, accommodations, food and tours with spare money to buy souvenirs!
Budget Travel to Shimla
The best way to save on transportation is to use public transportation like Bus and Train to travel to Shimla. If you are travelling internationally, the cost for your flight can't be cut but it can be reduced significantly by booking your flight tickets months earlier.
The prices of Flight tickets keep rising with the nearing of the date of the flight, that's why make sure you schedule your flight beforehand and on a date you are less likely to face any change of plans.
Budget friendly place to stay in shimla.
It is every tourist's vision to wake up in the morning of their vacation to the sight of lovely green hills with amazing weather. To make this vision come true, you must stay in a reasonable hotel that are located in enchanting areas of the city. Here is a list of beautiful but Budget-friendly Hotels.
This hotel is located on Shoghi Bypass and within close proximity to good restaurants, transit and recreational places. The rooms and bathrooms are well maintained. As this hotel is located at height, you get to enjoy breathtaking views. Previous Customer have left excellent reviews for the staff.
Price: this hostel would cost you within the price range of INR 1200 to INR 1300 per night stay.
This beautiful hotel is located in Kanlog, Shimla. The rooms here are cosy with gorgeous detailing and stunning view of the valley. The staff is hospital and accoumadable. Previous Customers have commended them for excellent service and food.
It is only about 2 km from the mall Road and other tourist attractions, so you must consider staying here for your Shimla Trip.
Price: This hostel would cost you within the price range of INR 1400 to INR 1600 per night stay. 
Although not a hotel, this rental place is perfect if you are travelling in a group travelling together. The rooms, bathroom and kitchen are well furnished and spacious. You get amazing views and the perfect place to stay on a budget.
Price: This place would cost you within the price range of INR 1400 to INR 1600 per night stay. 
Shimla Nature Ville
This beautiful hotel is located in Summer Hills, Shimla. The rooms are cosy and have balconies from where you can enjoy the serene beauty of Shimla in privacy. Previous Customers have praised this hotel for delicious food and the cleanliness. The staff is polite and accommodating. It is however located about 4-5 km away from the city.
Price: This hostel would cost you within the price range of INR 1100 to INR 1300 per night stay.
Caravan River Camps
This place is not a hotel but if you are in the mood for a little camping and adventure, this riverside campground is the perfect place for you. This beautiful camp place is located in Sharong, Shimla. They have man-made pools for you to swim in as well as open space for a bonfire!
The rooms are however the most amazing thing about this place. They have one wall made entirely of glass and it is covered with an insulated net that allows you complete privacy!
Price: This hostel would cost you within the price range of INR 1800 to INR 2200 per night stay.
Things to do During Your Shimla Trip
Shimla tourism has loads of wonderful places to offer to the tourists. But other than visiting the popular tourist attraction in Shimla, you can also go exploring and visit its lovely cafes. These cafes are cosy, warm and come with amazing views and food, all budget friendly.
Don't you just want to sit in a serene place with hot coffee or cocoa in your hand, enjoying delicious cake and pastries while gazing at the breathtaking and alluring views of Shimla Valley?
Here is a list of cafes that you must try at least once when you visit Shimla.
Cafe1873
This fabulous cafe is located in the Lower Bazaar, Shimla. It has a stunning interior, and it gives cosy, happy vibes. Their food is simply delish and affordable! The staff is also polite, and their menu has tons of variety for you to choose from.
CAFE 11:11
Located in the Kalra Commercial Complex, Mall Road, Shimla, you must visit this cafe for amazing food, vibrant ambiance and excellent service. The sitting arrangement is simple, stunning and prices completely budget friendly. They also have Join food on their menu!
Honey hut- Shimla
Located in the Khadi Bhawan, Shimla, you must visit this cafe to taste their unique and utterly delish coffee which they serve with honey. The taste of this combination is mind-blowing and at a good price too!
You have to try their Brownie with Hot chocolate & ice cream. It is a quaint cafe with an amazing view. If you are a coffee lover, mark this place as your bucket list!
Book Cafe
Located in the Ridge, The Mall, Shimla, you must visit this cafe if you are a bookworm and love a great cup of coffee. This design of this place is inspired from traditional himachali homes with their slanted roofs of slate and stone.
They have so many bookshelves filled from top to bottom with books. They have tons of snacks and beverages as well as creative sitting arrangements.
Wake and Bake Cake
Located in the middle bazaar, The Mall, Shimla, you have to visit this quaint cafe which offers you amazing choice from French sweet and Savoru Crepes to Middle eastern cuisine like falafel and Hummus. They also have italian food on their menu and the prise range is totally budget friendly.
It is located on the first floor and its windows show beautiful view of Townhall. Their Waffles with Nutella and Mapple Syrup are to die for!
Local Foods and delicacies of Shimla
On the checklist of your Shimla journey, the foods that can't be avoided are the local specialities of Himachal Pradesh. Along with local cuisine, you will see Tibetan influence in their food.
The Himachali thali or Dhaam should be included in one of your meals, and it is available widely in Shimla. Other snack options like Sidu( Himachali puffed pastry with savoury stuffing), Babru Kachori (small kachoris with a gravy), patore should not be missed.
In the options for the main course, the local delicacies like Madra or special chickpea and veggie curry, chicken anardana or chicken with pomegranate, maash dal and chhaa ghost and Tibetan thupka are recommended.
Best places to shop in Shimla:
Shimla offers you great views, food, culture and hospitable Shimla Tourism. However, those are not the only things Shimla is famous for. Shimla is an utterly delightful city which showcases its rich Indian heritage along with hints from its past as British Summer Capital and the modern influence.
That's why it's markets and malls have tons of variety for shopaholics.
● The Mall: One of the most popular places in Shimla is the Mall. It has dozens of stores of so many kinds. Some are selling handicrafts while some are offering you the best street food ever! It is so much fun to window shop here and you enjoy the hustle and bustle of true Shimla.
● Lower Bazaar: This is a typical vegetable market but of course being a market in Shimla, its old school vibes and little nooks and cranny offering little trinkets are something that one should experience for themselves.
● Lakkar Bazzar: For all the street shopping lovers, this market is a heaven. The alleys are small and congested but that just adds to the charm of this bazaar. You can buy everything from famous Kullu shawls to Wooden handicrafts!
● Himachal Emporium: this is not actually a market, but a shop located in the mall road. It is actually one of the most popular shops in Shimla and it comes under the Himachal government. The main reason behind such hope is its quality. They also provide dazzling handicrafts and pottery with guaranteed authenticity.
● Tibetan Market: This market is famous for the high-quality Tibetan products such as rugs, antiques, jewelry etc. You can get a great bargain on so much stuff and enjoy shopping and exploring the hurly-burly alleys.
What to pack for your Shimla Trip?
Here is a list of everything that you need to pack for your Shimla trip.
Appropriate clothes: Make sure you are packing according to the weather. If you are planning a summer vacation, pack light, cotton clothes. Bring a jacket with you in case temperature drops.
Winters of Shimla are very, very cold so, if you are planning a winter Shimla Trip then make sure you pack heavy jackets, windbreaker, gloves, scarves and woolen caps.
Essentials you must carry: Make sure you are packing up a power bank, sunscreen, torch, earphones/headphones, Umbrella, extra pair of boots, sunglasses and your prescribed medicine as well as prescription.
Government Issued ID: you never know when and how you might come in need of your ID so make sure you have copies of your proper documents. 
What is the best time to visit shimla?
The perfect time to visit Shimla is from March to June and from September to December. During these months, the weather in Shimla is pleasant and comfortable, with temperatures ranging between 15°C to 30°C in the summer months and 0°C to 20°C in the winter months.
March to June is the summer season in Shimla, and it is the perfect time to enjoy outdoor activities like trekking, camping, and paragliding. The monsoon season starts in July and lasts until September, and it is advisable to avoid visiting Shimla during this time as there are chances of landslides and roadblocks due to heavy rainfall.
September to December is the autumn and winter season in Shimla, and it is an excellent time to witness the snowfall and enjoy winter sports like skiing, ice-skating, and snowboarding. The temperature drops during these months, making it a perfect winter getaway destination.
Overall, the suitable time to visit Shimla depends on your preferences and the activities you want to enjoy. If you enjoy summer activities, then March to June is the perfect time to visit, and if you are looking for winter activities, then September to December is the best time to visit.
Do you wish to experience the first snowfall, or do you want to taste the fresh apple? Here is a list of 'best time to visit Shimla India' according to your main motive.
What is the best way to visit Shimla for Snowfall?
Snowfall in Shimla starts in late december, so you can book your ticket for this month. The snow continues till the month of February so you can enjoy snow between December and February.
What is the best way to visit Shimla for Apples?
In between the months of July and August which is the harvesting season for apples.
What is the best way to visit Shimla to ride the Toy Train?
The honest answer to this one is- anytime of the year!
What is the best way to visit Shimla with your partner?
To catch the best weather, plan for the month of September to October and enjoy the fall. If you want to enjoy more cozy weather, come in the months of December to February.
What is the best way to visit Shimla for your family?
The months between March and June are perfect for a family Shimla trip. The weather is nice, and you can go exploring, trekking and camping too!
What is the best month to visit Shimla, India?
October has to be the best month to vacation in Shimla because the fall begins in this month. This means the trees will be changing color, the weather will be cooler and not too cold if you don't enjoy harsh winters. It is after Monsoon season too, so it is much safer to drive on those hilly roads.
And lastly, if you are travelling to Shimla, make sure to check out the locals' eateries, small roadside shops and try to befriend the locals as they are pretty humble and helpful. Your trip to Shimla will become memorable only if you truly endeavour its natural and cultural beauty.
Frequently Asked questions (FAQ)
Why is Shimla so famous?
Shimla is famous for its scenic beauty, pleasant climate, colonial architecture, and historical significance. It is the capital of the Indian state of Himachal Pradesh and was once the summer capital of British India.
How many days is enough for Shimla?
The number of days needed to explore Shimla depends on your travel preferences and the places you would like to visit. Generally, a minimum of two to three days is recommended to explore Shimla and its popular attractions such as the Mall Road, Jakhu Temple, and Christ Church.
Is Shimla part of Kashmir?
No, Shimla is not part of Kashmir. Shimla is a city located in the northern Indian state of Himachal Pradesh. Kashmir, on the other hand, is a region that is administered by three countries: India, Pakistan, and China.
Which language is spoken in Shimla?
The official language of Shimla, which is the capital city of the northern Indian state of Himachal Pradesh, is Hindi. However, many other languages are also spoken there, including English, Punjabi, Pahari, and Tibetan.
What is the Shimla trip cost per person?
One week stay in Shimla with a good travel package for one person can cost in the price range of INR-16,000.00 to INR-25,000.00