In the country of colour, chaos and glamour, there is a scenic hill station with the aroma of tea in the air on the foot of the Himalayas. Darjeeling is much more than just a hill station. It is the heaven for mountain climbers, with a beautiful climate for the seekers of natural splendid.
History, UNESCO sites and a mix of different religions all on the foot of the world's largest mountain range is one of the sought-after destinations that attracts over 45,0000 tourists per year. Here is my Top 27 Places to visit in & from Darjeeling: a travel guide to India for the first timer
Places to visit in & from Darjeeling
1. Soak in the Beauty of Tiger Hill
To start, this is probably the one on every Darjeeling visitor's list. Situated 11km away from Darjeeling, it offers a clear view of sunrise on the Kanchenjunga. The heavenly feeling of feeling the sun rays on your face in the chilly morning with the snow-covered range of mountains standing with pride in your sight is simply enthralling.
You can rent cars or taxis to reach. But, if you are booking a self-driving zoom car, you have to get a permit. If you go to tiger hill on peak season, taxi drivers will insist you reach the summit by 4:15 AM to avoid a long queue of people.
Entry Fee: INR-60 per person
Timing: Sunrise (4:15-4:45 depending on the season)
2. Viewpoints for The Sleeping Buddha
Kanchenjunga often referred to as the sleeping Buddha is best observed from Tiger Hill. From the uppermost tier of Tiger Hill, you get a clear view of sunrise which will mesmerize you.
Kanchenjunga can be seen from all over Darjeeling including all of its four peaks: the Kanchenjunga central, Kanchenjunga west, Kanchenjunga main, Kanchenjunga south. The best views of both the Kanchenjunga and Mt. Everest is visible clearly in the Sandakphu to Phalut trek.
3. Exploring the Amazing Animals of Darjeeling Zoo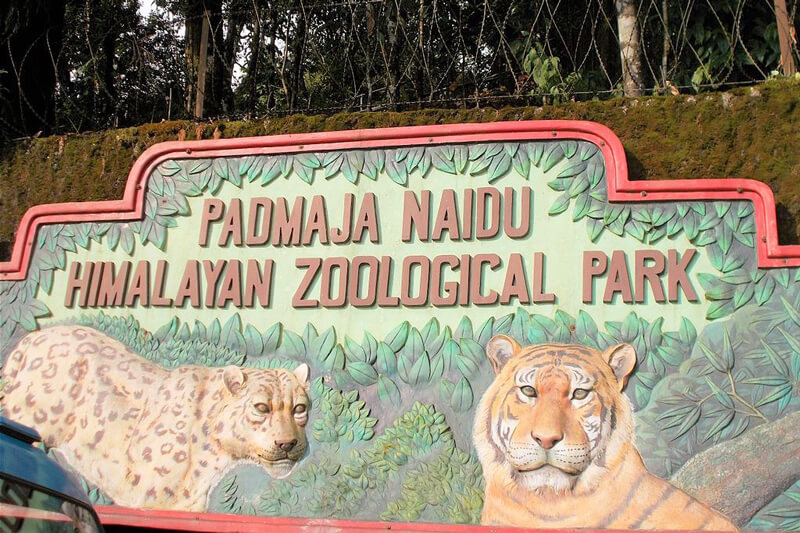 The Darjeeling Zoo, named after Padmaja Naidu, is a unique attraction being an excellent location for alpine animals. It specializes in rescuing and breeding snow leopard, red panda, Himalayan wolves.
You will find different species of snakes in this Zoological Park as well. Did you know that this is also the centre for India's Red Panda program that has been successfully keeping this threatened species alive? The park has a naturally good spot as a high-altitude habitat for animals on an elevation of 7000ft.
Entry Fee: The park will charge you 20 INR as an entry fee.
Timings: 8:30 AM-4:30 PM
Main attractions: Red Panda, Goral, Tahr, Black Leopard, Snow Leopard, Markhor, Blue Sheep
4. Unlock the Wonders at The Rock Garden
The ride to Darjeeling Rock Garden will captivate your senses and will be carved into your memory for a long time. The Rock Garden has located 10 km from the main Hill Cart Road on Bloomfield Road and is also named Barbotey Park.
The road consists of sharp turns and hairpin bends as the road goes down from the elevated surface. The rock garden is named so because of its natural roads made of rock, and there is Chunnu Summer Falls to add to that beauty. You will find yourself in a treat as you get 3km further down in the Ganga Maiya Valley.
Entry Fee: Separately, each park will charge INR 60 per person
Timings:  10:00 AM to 4:00 AM (Ganga Maya Park) 10:00 AM to 5:00 PM (Rock Garden)
Main Attractions: Chunnu waterfall, traditional dance by the tribals during peak season, the rock covered roads
5. Ganga Maiya Park Darjeeling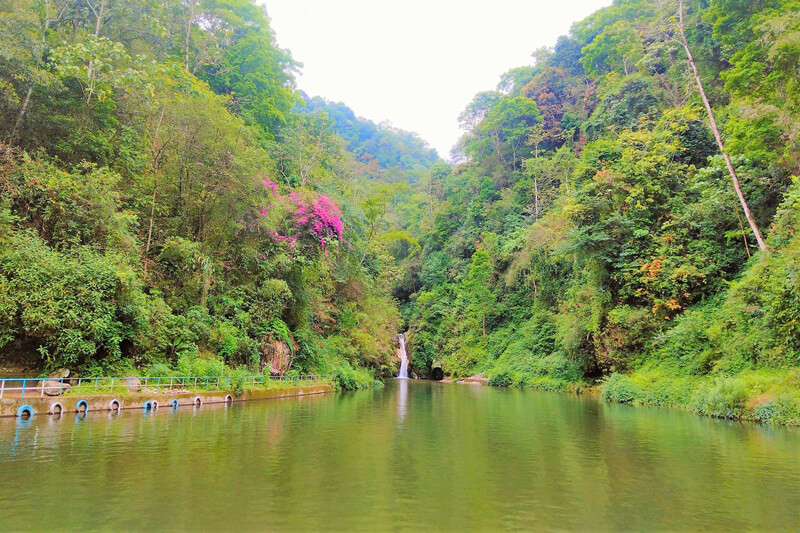 Ganga Maiya Park is one of the best places to visit in Darjeeling which is a new addition to the already scenic valley. It is three kilometres further down below the Rock Garden. The main points of attracts in the park in the beautiful waterfall, its crystal-clear water and the panoramic view attract a lot of tourists.
The Ganga Maiya Park is mostly dedicated to creating a space for the locals to showcase the traditional dances and entertain the visitors. It is open to tourists from 10 AM to 4 PM. It will take you around 45 minutes to an hour to roam around this park and the peak time for visiting is 12 PM to 2 PM.
Opening Hours: 10 AM to 4 PM
Entry Fee: 10 INR for Indians and 50 INR for foreigners
6. Himalayan Mountaineering Institute (HMI)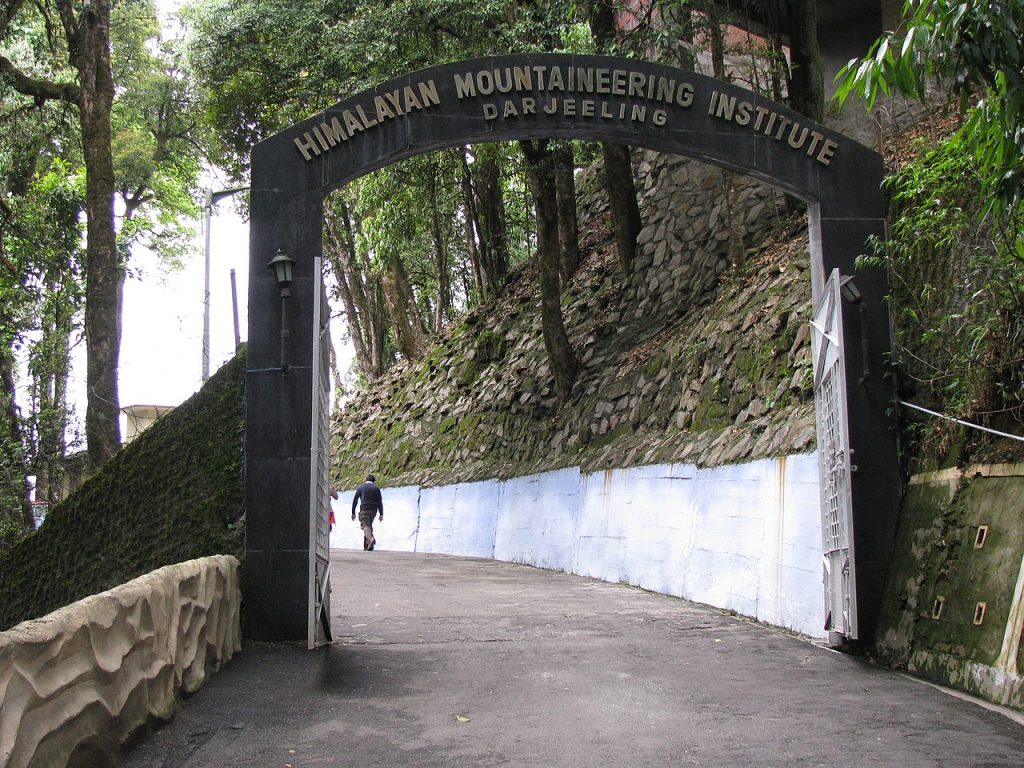 Himalayan Mountaineering Institute is a legacy of its own. It was one of the first and elegant mountaineering institutes established in 1954 after Tenzing Norgay's ascent to Mt. Everest with Edmund Hillary.
It is funded by India's state and central government and is one of the best places to learn mountaineering. Along with the Zoological Park, it is located in the western part of Birch Hill. Swiss-style architecture, a museum filled with mountaineering artefacts, small souvenir shops, and tea parlours will make you feel enchanted.
Entry Fee:  INR 60
Timings: 9 AM to 5 PM
Main Attractions: Museum with mountaineering artefacts
7. Discover the Unique and Exciting Shopping Experience at Darjeeling Mall
The chowrasta of the main Darjeeling will give you a glance at the lifestyle of the locals. It's an open area used by the English for the promenade. The four streets, Dr Zakir Hussain Road, Nehru Road, Mall Road east and west, meet up here.
You can find a market of small local shops on Nehru market, old and heritage shops in the mall area for antique and modern unique items.
Main attractions: Eating places like Keventar's, Dekevas, shopping centres, century-old antique shops, local street markets
8. Observatory hill: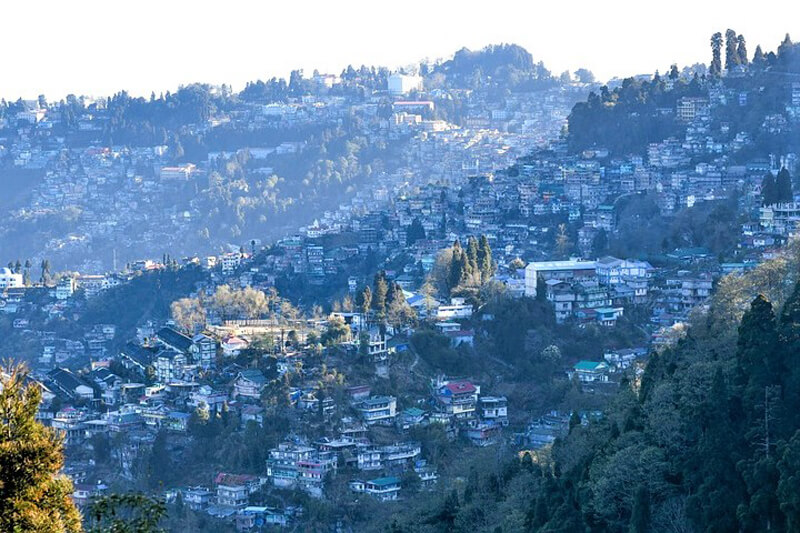 Observatory hill is the endpoint for your walk in the Chowrasta Mall. Observatory Hill is known for snow-clad mountains and as a viewpoint for Kanchenjunga on clear days. Previously, Bhutia Busti Monastery is located in this place. The path to the main viewpoint or summit starts at the eastern mall road.
Colourful prayer flags and chiming bells will welcome you along the way. Co-existence of Hindu priests and Buddhist lamas is a sight to praise. There is a Mahakal Temple (temple of the Hindu god Shiva) at the end of the summit. The panoramic view at the end and the beautiful road makes this spot perfect for viewing Kanchenjunga and evening walks.
Timing: 7 A.M to 7 PM.
No entry fees
9. Dali Monastery: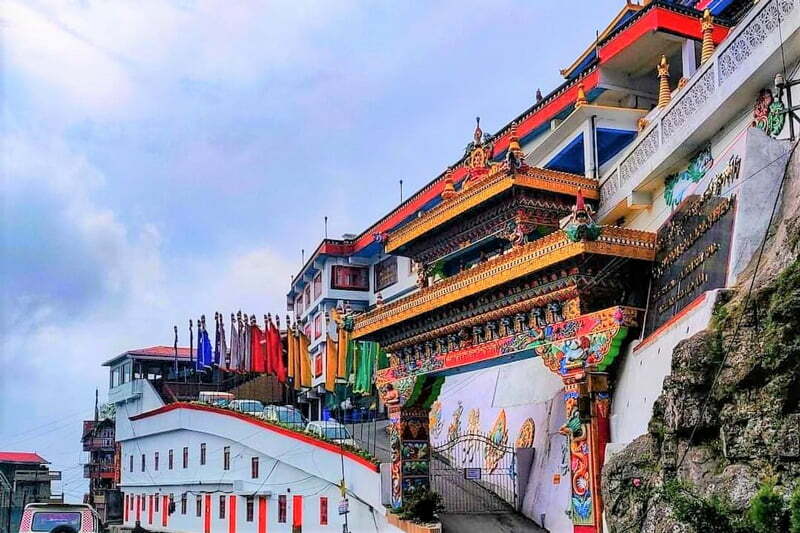 Drukpa Kagyupa Monastery is at an altitude of 7000ft. Between Darjeeling and Ghoom. It's a must-visit place in Darjeeling. Visit the Dali Gompa built by  Kyabje Thuksey Rimpoche in 1971. More than 200 Tibetan Buddhists of the Drukchen sect stay at Dali Gompa.
At the entrance of the Prayer Hall, you will see a giant Buddha statue. The chanting of monks and the use of Tibetan drums with the chanting will make you feel tranquillity and peace. Dali Monastery is definitely one of the places to visit in Darjeeling on the way to Batasia loop.
Timing: 7 AM to 5 PM
10. Ghoom Monastery and Batasia Loop
On the track of the toy train from Darjeeling to Ghoom, the train stops at these two places. Sunrise and sunset are the best times to visit the Monastery; the Buddist Monastery, the colourful bunting banners beside the road reflecting the red and orange rays of sunshine will mesmerize you beyond your imagination.
Along the train track on the way back, you can visit the wonder of mechanical engineering meeting the natural splendour. Batasia means a beautified garden that surrounds airy space and the loop just below the Ghoom Station. This location's beauty will transport you to a peaceful place.
Ghoom Monastery timings: 9:00 AM to 6:00 PM
Charges: INR 60 for carrying cameras, otherwise free entry
11. Darjeeling Ropeway:
Darjeeling Cable car is India's first cable car service. It was started its journey in 1968; currently, the cable car runs from Singamari to Tukvar. The starting station Singamari with an altitude of 7,000ft.
It is 3kms away from Darjeeling Chowkbazar. The whole ropeway course is further spread than Tukvar, and the last station is Sigla Bazar, with an altitude of 800ft.
Cable Car fare: INR 190 per adult and 100 for child
Main attractions: Visiting the scenic view of the Himalayas from a birds view at an elevated altitude.
12. Mirik Lake:
The Sumendu Lake at Mirik, Darjeeling or Mirik Lake, has crystal blue Coloured water.  If there is a clear sky and the sun is out, you can see the Kanchenjunga from here. The breezy lakeside in the hill station is a prominent place for taking walks.
The lake itself is 16.19 ha or 1.25 km long. And the maximum depth of the water is 7.92m. There is a beautiful arched white footbridge 24.38 m long and is a perfect place to do photoshoots. There are no entry fees for this, but the horse rides are charged.
13. Peace Pagoda, Darjeeling
Darjeeling Peace Pagoda is one of the Peace Pagodas built to serve as a focal point for people of all races and creeds in their quest for world peace. It is in the Indian state of West Bengal, in the town of Darjeeling.
It, like the majority of the other Peace Pagodas, was built under the supervision of Nichidatsu Fujii, a Japanese Buddhist monk and the founder of the Nipponzan-Myhji Buddhist Order.
Address: 27H5+2HQ, West Point, Darjeeling, West Bengal
Entrance: Free
14. Singalila National Park: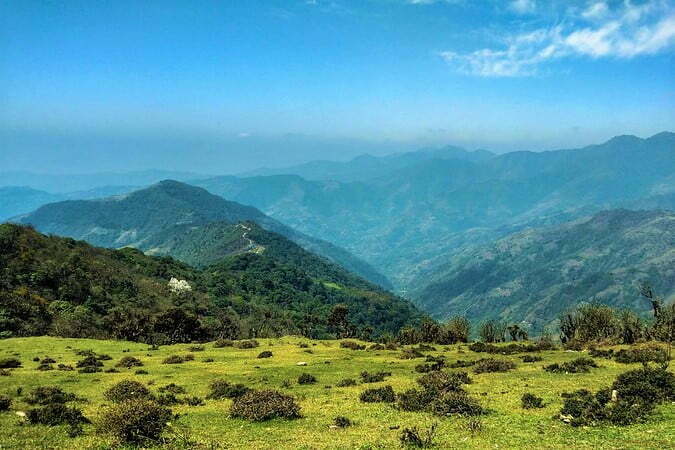 Located along the Singalila ridge, Singalila National Park is home to endangered red pandas and one of the most beautiful Himalayan forests. The trek route to Sandakphu runs within Singalila National Park and the park is well known for it.
Singalila National Park is also home to mammals and birds like the black panther, leopard, barking deer, yellow-throated marten, and blood pheasant. The place is a paradise for bird watching having more than 300 species of birds.
15. Nightingale Shrubbery: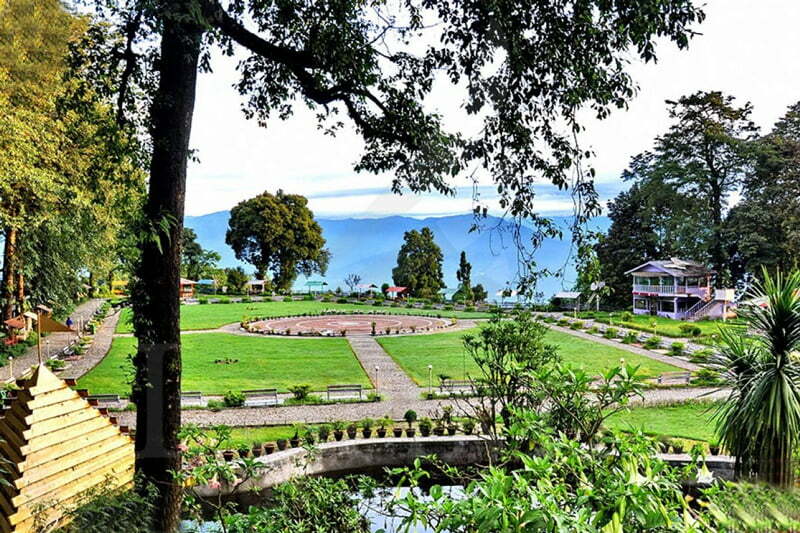 The private courtyard of Sir Thomas Tartan's bungalow was redesigned after the 1934's earthquake and made public as Nightingale Shrubbery. The public spot for visiting snow clas mountains along the beautiful walkway is a memorable place to visit in Darjeeling.
The crisscrossed paths of the park look lovely at the outset, and you can also see the range of Himalayas as snow covers the park in Winter. It's a great place to enjoy snow battle for kids in the winter.
Timing:  9AM to 5 PM
16. Happy Valley Tea Estate: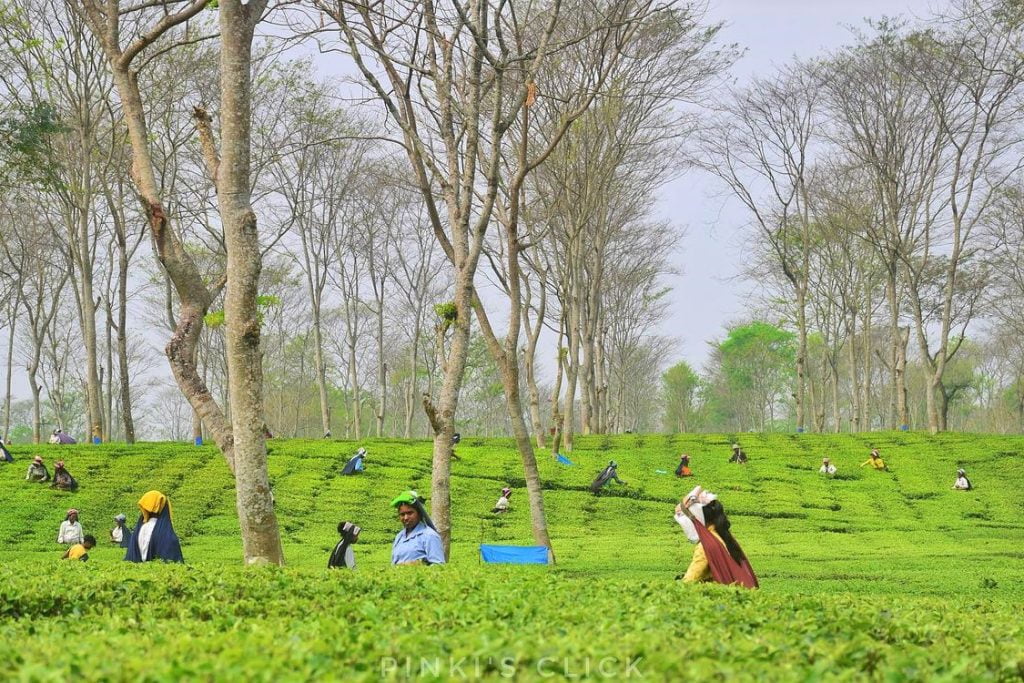 The Happy Valley tea estate is very close to the mall road, and it takes about 20 minutes on foot. Going on a trip to Darjeeling and not visiting a tea estate is not imaginable. Happy Valley is one of the biggest tea gardens and also showcases the whole process of use of equipment and retailing.
The retail outlet also gives you the option to purchase a variety of tea leaves. It's a must-visit place in Darjeeling which will help you experience sensory and olfactory experiences.
Timing: Open from 9 AM to 4:30 PM
Fee for Factory Visit: INR 150 per person
Things to Do in Darjeeling:
There are plenty of amazing and adventurous things to do in Darjeeling. The area is very close to Sandakphu, the Teesta River, and home to old architectural places, natural adventurous roads offering a lot of activities to the tourists.
17. River Rafting in Teesta: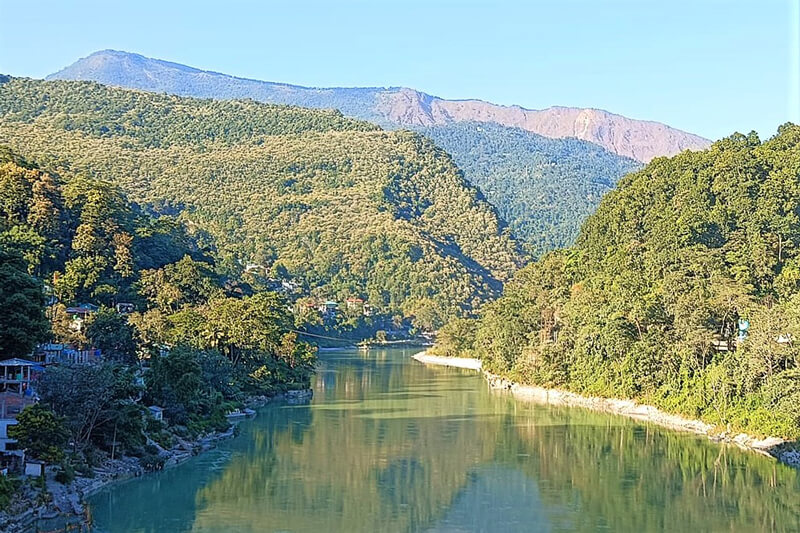 River Rafting is one of the most fun activities to enjoy with friends. Teesta has various rapids, pumping your adrenaline and there are experiences for grade 1 to grade 4 offering one of the best river rafting experiences in India. River rafting in.
Experience 4-5 rapids along the 7km of the rafting stretch. Along with offering thrill to adrenaline junkies the risk level is a little high. Grade 4 is only for trained rafters and previous ones are enjoyable with a rafter on board.
18. Sandakphu Trek:
Sandakphu trek is a moderately difficult trek to climb 12,000ft but the external weather can make it challenging. Sandakphu is considered a mesmerizing wonderland for trekkers. The trek enthusiasts, explorers and hikers will find this trek easy-going while beginners may take a little time to acclimatize to the change.
 Offers the best panoramic view of Mt. Everest and Kanchenjunga. Sandakphu trek is life-changing and should be experienced once in a lifetime. Make a checklist of trek poles, warm clothing, and medications prior to the trek. Also, don't forget to exercise regularly to have a fit body for the trek.
Best time to Trek:  April to May, October to November
19. Mountaineering at HMI:
The mountaineering Institute at Darjeeling offers courses learn mountaineering basic courses, advanced courses and adventure courses. Anybody can enrol for the basic course where all basics of rock, snow and ice climbing are taught.
There is short 3 to 5-day special courses offered for tourists as well. There are final treks to complete the curses. Both the basic and advanced courses are of 28 days. If you want to escape to the mountains while learning something fruitful, try enrolling on the courses at HMI.
Time of the Courses: March, April, May, September
20. Exploring Dooars Tea Garden:
One of the things never to miss in Darjeeling is taking a tour of the tea gardens. You have to rent a car from Darjeeling and move south towards Latagiri, Jalpaiguri to see the sprawling beauty of the tea gardens. Buy some Darjeeling tea as a souvenir and smell the aroma as you drive down green blossoming tea gardens.
21. Buy Woolens at Bhutia Market:
Walk down to Chowk Bazar, Nehru Road where you will visit a lot of stores for woollen goods. Bhutia markets are temporary stalls set up next to Nathmull. Go on a shopping spree to find sweaters, gloves, woollen caps, and jackets at reasonable and high-quality wool. In the Bhutia market, you can also find other goods like seasonal tea leves, Churpi and small souvenir shops.
22. Relish Thupka & Momos:
Mountain and momos are a combination of love.Thupka and momos these two dishes from Tibetan descent are a must-try for Darjeeling goers. Momos are an Indian variation of dumplings made from chicken, or beef or pork and vegetables.
Some of the best places to try momos in Darjeeling are Kunga Restaurant, Nepali Everest Momo, Dekevas, and Hasty-Tasty. Thupka is a noodle dish with a warm broth of meat and vegetables and will warm your soul.
Places to visit near Darjeeling:
West Bengal's district of Darjeeling has hidden gems near its places because of the hill ranges, natural abundance and rustic beauty. If you are planning a visit near Darjeeling, you should visit these places. Here are the top 5 places that you can merge into your tour package near Darjeeling.
23. Nathula Pass: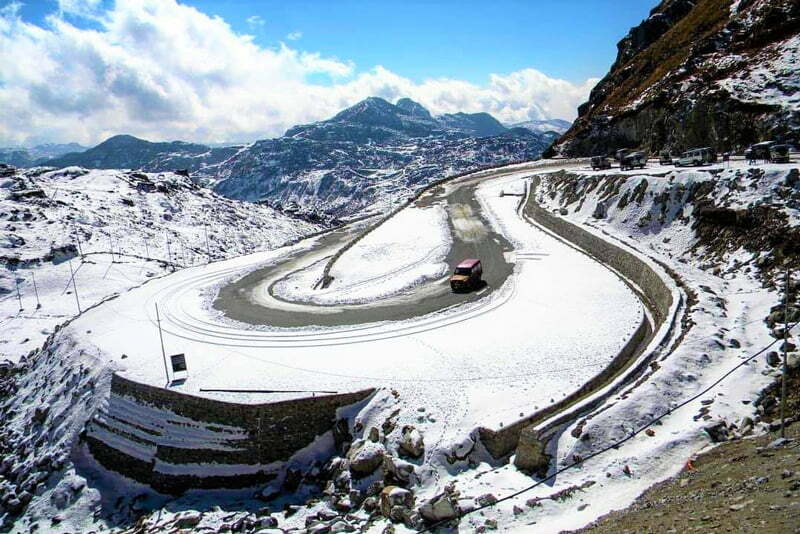 Nathula Pass is a pleasantly surprising alluring passway, Nathula Pass is one of the surreal experiences someone can have. Drive through Nathula Pass to go to Gangtok. Gangtok, the capital of Sikim. is a beautiful place for mountain lovers.
The best time to visit Nathula pass is from March to October. It takes around 6 hours to drive through the pass. You will need a permit to travel through Nathula Pass, offering a prismatic view of the Himalayan mountains through Nathula Pass. If you plan a Darjeeling-Gangtok trip together keep aside 6 to 7 days for the trip alone
Top Attractions: Staircase to Indo-china border, Baba Harbhajan Singh Mandir, Mandakini Waterfalls
Distance from Darjeeling: 150Km
24. Kalimpong: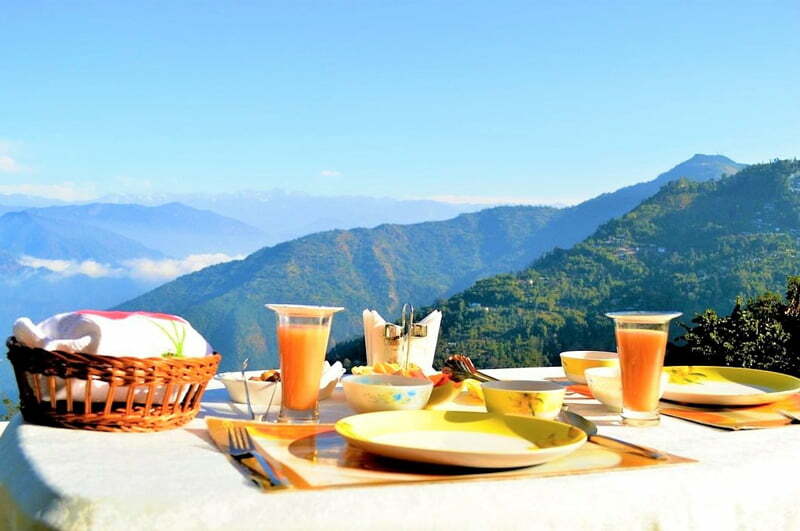 Kalimpong, 51.3 km east of Darjeeling is a hill station known for Buddhist monasteries, Durpin Dara hills, and Tibetan handicrafts. Book a cab from Darjeeling and the trip will take you two and half hours more or less. Extend your stay one or two days if you want to visit Kalimpong.
Kalimpong is situated on the ridge that connects two hills of Durpin Dara. The Deolo hill, Zhang Dhok Polari Monasteryand Teesta river are must-visit while you stay in Kalimpong. There are also temples of Hanuman and Lord Radha Krishna in Kalimpong.
Top Attractions: Durpin Dara hills & monastery, Deolo hill, Pine View Nursery
Distance from Darjeeling: 51km
25. Karseong: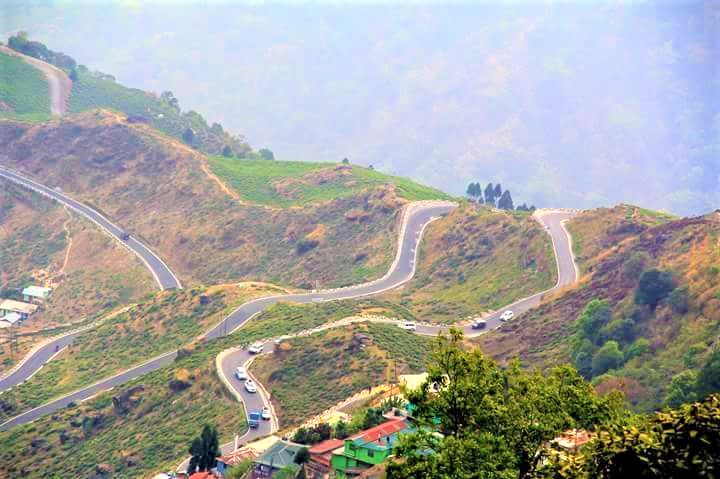 Karseong will definitely take your breath away if you want a short duration of extension to your Darjeeling to stay. Just 30 km south of Darjeeling town, Karseong is often referred to as the land of white orchids. Temples, gompas, museums and apart from Nurseries the view is also worth the visit.
The most famous attractions in Karseong are Netaji Subhas Chandra Bose Museum, Tea Gardens, Ambosia Shiv Mandir, Eagle's Crag and forest museum. You can easily have a trip to Darjeeling-Kalimpong-Karseong if you have a week in your hand.
Top Attractions: Netaji Subhas Chandra Bose Museum, Eagle's Crag, Castleton Tea estate
Distance from Darjeeling:30km
26. Lataguri: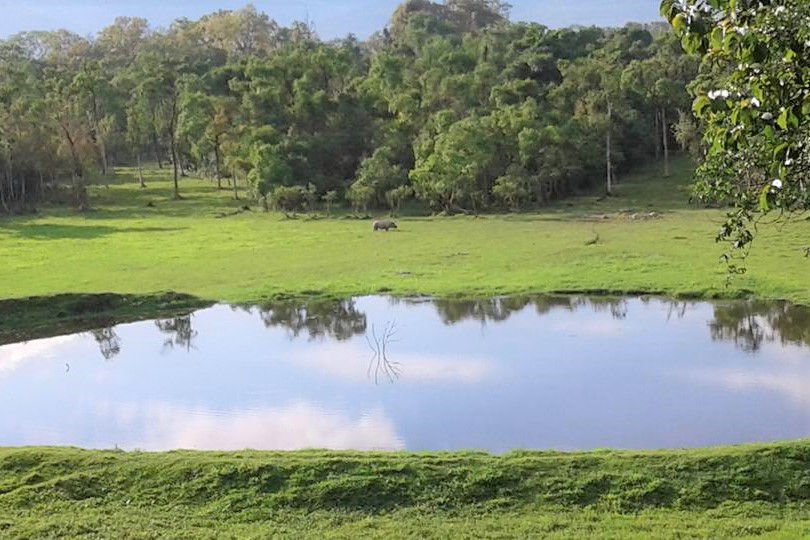 Lataguri is located on the outskirts of the Gourmara National Park. Enjoy your stay in Lataguri with natural wildlife safaris, and a murti river visit and enjoy an amazing time in the forest. Lataguri is 114km from Darjeeling through Peshak road and you can cover the distance within three and a half hours by car.
Go for safari visits in observatory and morning jeep safaris to explore nature in West Bengal at its best. The most Highlighting attractions in Lataguri are Gorumara National Park, Medhla tower, Chapramari Wildlife Sanctuary and Jayanti Mahakal Caves.
Top Attractions: Gorumara safari, Chapramari Sanctuary
27. South Sikkim:
A Sikkim tour with Gangtok and Darjeeling takes you around 6 to 7 days. South Sikkim is surrounded by majestic mountains and forests and the enchanting beauty of Sikkim will surely mesmerize you. South Sikkim has places of Buddhist worshipers, ropeways, and tea gardens. Places to visit in South Sikkim are Namchi, Ravangla, Borong, Char Dham, Tendong Hill, Tami tea garden etc.
Top Attractions: Namchi, Tami Tea Garden, Buddha Park
Distance from Darjeeling (to Namchi): 45km
Things To Do Before Going to Darjeeling
If you are coming to Darjeeling from outside India, please check if you need a visa. Most foreign tourists except citizens of Maldives require Indian visas.
Almost 113 countries can apply for Indian visas online from the official website also Have you arranged travel insurance for your trip to India? Protect yourself against the unexpected by reading How to Buy the Best Travel Insurance: A beginners' guide or requesting a quote from Safetywing.
Planning An Itinerary:
Especially if you are planning on visiting Darjeeling, creating an efficient itinerary is very important to visit and enjoy most places in and out of Darjeeling.
Here is a useful 5-day itinerary if you are visiting the beautiful hill station from Kolkata.
Day1: Sightseeing in the Chowrasta and Mal
Take the train to NJP from Kolkata and sightseeing in the Darjeeling mal, Mahakal Temple and the market in the Chowrasta Mall.
Day 2: TIger Hill, Batasia Loop, 7-point Sightseeing
Visit sunrise at Tiger hill early in the morning and then take the toy train ride to Ghoom monastery and Batasia Loop. For the rest of the day, you can visit the 7-point attraction that is famous in most of the. It will make sure the visit of HMI and Zoological Park, the Happy Valley tea estate, the Racecourse.
Day 3: Trip to Mirik
Take a trip to Mirik, visit Mirik Lake, ride boats and sightseeing in the beautiful scenic crystal-clear lake.
Day 4: Rock Garden & Ganga Maiya Park
Take the Darjeeling Joy ride if you wish and take a trip to Darjeeling Rock Garden and Ganga Maiya Park thereafter.
Day5: Trip to Kalimpong and Sightseeing
The Number of Days & Best Time to Visit Darjeeling:
Anywhere between 3 to 7 days is good enough to visit popular sites and experience scenic beauty. For those who want to experience snow, the summer months of April to June or the dry winter months of October to December are the finest times to visit Darjeeling.
Budget Planning Darjeeling trip:
While planning a Darjeeling trip, you have to remember the accommodation, transport, food costs, and additional costs for sightseeing and shopping. Accommodation in the main town of Darjeeling costs you around INR-1000 per night per person, at its lowest.
Considering you stay at least five days; you will have to keep a budget around INR-5500 to INR- 6000. Some of the nearby attractions are walkable. You can walk around mal road, Chowrasta, and the markets.
For going to tourist attractions such as tiger hill, Darjeeling Zoo, Rock Garden, Ghoom Monastery, and Mirik Lake you will need to rent a car. Public transport services are not that trustable. Renting a car will cost around INR-10 per km. You can put aside INR-5000 to 6000 INR for transport including train tickets.
For food Indian restaurants, small places, and other bakeries and Tibetan restaurants are available. The food cost will be around INR-2000 at least for each person. So, the minimum cost adds up to 12000 to 15000 INR per person. If you include more nearby tourist attractions like Kalimpong and Kurseong it may go up a bit. But this is the rough estimate.
Tips to remember before travelling to Darjeeling:
Before travelling to Darjeeling, there is this whole situation of planning the perfect holiday. And, if you are solo travelling or planner for your group, here are few things you might consider.
Researching hotel ratings: According to your stay duration and budget choose hotels with sufficient number of impressions and good review.
Carry Cash: While being away carrying a little extra cash than initially planned is a no-brainer yet this is for foreigners. Remind to carry indian currency because ther you may not get an exchange agency.
Respect Local Ethics: There might be some traditions that you are not used to or local ethics unseen before. Try to go local and enjoy the process.
Carry medicine kit: For most people it takes a bit of time to acclimatize in the mountains. Carry basic medicine for vomiting, motion sickness, indigestion, cuts and other medicines your intake.
Accommodation In Darjeeling:
In the main Darjeeling town, you will find plenty of accommodation options, from cheap hotels to luxury resorts. There are hotels, staycation resorts, Airbnb, which you can book in advance. Here are some recommended places to stay according to your budget.
Some recommended medium-budget hotels are Pradhan Cottage, and Hotel Tower View. And few luxury heritage hotels in Darjeeling are Elgin Hotels, Darjeeling, Sterling Darjeeling, and Omega Residency.
Budget hotels:
Luxury hotels:
Kolkata To Darjeeling Travel Routes:
1. Kolkata to Bagdogra:
The best route to get to Darjeeling is travelling through domestic flights. You will get cheap flights as low as INR 1681 if you book in advance. The Bagdogra Airport is in Siliguri, which means you have to get to the Central Bus Terminal of Siliguri to catch buses for Darjeeling or rent private cars.
2. Trains:
Every day, you will find trains running from either Howrah, Kolkata or Sealdah Station to New Jalpaiguri Station. Padatik Express, New Jalpaiguri Shatabdi Special, Howrah GHY Special, KOAA HDB special trains are available throughout the week. Still, only Saraighat SF special is available every day of the week from Howrah station.
The train fare is around 2000 to 3000 INR. For example, the Satabdi Special costs you about 2200 INR, including taxes.
After you land at Kolkata airport, you can book an Uber cab through the online app or find taxis that cost you around 300INR to the Howrah Station. And, after arriving in NJP, you have to rent a car or get public buses from Siliguri Central Bus Terminal to reach Darjeeling. The rented cars cost around 2000 INR.
Best Eateries and Halal Foods to Try in Darjeeling
Darjeeling will offer you a mix of Tibetan, Nepalese, international and Bengali Cuisine. Some must-try halal foods at Darjeeling are:
Momos (chicken, vegetarian)
Chicken Thukpa, Wai wai
Nepali Thali
Dalle or hot chilli pickles
Shaphale, Tibetan bread with meat stuffing
Churpee (local cheese) with niguru
Darjeeling Tea
Some snacks like momo, dalle, churpee are widely available in small stalls and established restaurants. Here are the few recommended and renowned restaurants if you want to try:
Keventar's for English breakfast, baked items and Darjeeling tea at
Dekevas for Tibetan specialities like momos, shaphale, thupka
Penang Restuarant for Nepali thali
If you plan to go to Darjeeling, this guide will help you with all the information to chalk out the best plan.
Here is some recommendation for heritage restaurants in Darjeeling:
Glenary's:
Being a name of its own since the British colonial time, Glenary's is an institution of its own. Wood furniture, British architectural ambience makes its a spectacular spot for snacks, drinks and bakeries. The bakery serves delicious english breakfast, and other great snacks like pizza, sandwiches etc. The great interior with a wide array of alcoholic drinks makes it a great place to hang out and enjoy the nightlife in Darjeeling India.
Kunga Restaurant:
Kunga serves quality and quantity at a good price and is known for the amazing Tibetan and Nepalese food it has in Darjeeling. Kunga restaurant is a traditional heritage place serving tasty momos, thupka, noodles, thenthuk. These are the recommended food to must-try in Kunga. Though you may have to wait in the queue during pick-hours the foods are well worth it.
Keventer's:
Keventar is a signature culinary destination in Darjeeling serving English breakfast, baked goods, meat platters, hot chocolate and tasty non-veg platters. The place is a must-try for breakfast, brunch and early evening snacking especially the non-veg platter with sausages, salamis, and poached eggs, with big portions for two people. They also have a rooftop set up. Sip a cup of hot tea or chocolate with an English breakfast at Keventer's.
These were just three of the iconic hotels of Darjeeling. They are quite infamous for the legacy they have created. But other than these you can find a lot of Indian restaurants, quaint hotels, restaurants, and bars like Shangri-La, and Patio. Some honourable mentions are Lunar restaurant, Park restaurants, and Lazeez affair. Also, there are plenty of street food stalls near mall road for you to try out.
FAQ:
1. How to Book Darjeeling Toy Train Ride?
Darjeeling toy train joyrides can be book from the Indian railway website, or you can go there a little early in the morning to secure them to ride later in the day. The Darjeeling heritage toy train ride is the best travel option for Ghoom Monastery and the Batasia Loop.
2. How to Tour Darjeeling in Three Days?
On day one, you can start by going to the Darjeeling Zoo and the mountaineering Institute. From there, you can visit the Rock Garden and Ganga Maiya Valley in the afternoon and roam around the mall in the evening.
3. How much does the Darjeeling trip cost?
Darjeeling trip generally costs around INR 12000 to 15000 just for Darjeeling per head. If you add other places to visit near Darjeeling Gangtok, Sikkim the cost may go up to 28,000 to 30,000 INR for 5 days. Darjeeling trip is generally cheaper if you visit in the off seasons like November.
For travel agencies in India, the cost may be a little higher and there are a lot of packages offered by local companies which you can check out for a rough estimate.
4. Which is the best time to visit Darjeeling?
The best time to visit Darjeeling is during the summer months as the temperature is in a comfortable range of 20 to 25 degrees Celsius. April to June are the best months for visiting Darjeeling for tourism and trekking as well. November is off-season but trekkers do go at that time to experience great trekking.
5. What is famous in Darjeeling for shopping?
Near mall road and Jaharlal Nehru road Darjeeling is famous for shops having various local goods and souvenirs to carry back home. Darjeeling tea and woolen goods are two of the best items to carry back home. Exotic tibetan items, handcarfted items and keychains are some of the best famous items in Darjeeling to go shopping for.
On the second day, you can opt for seeing the sunrise on the tiger hill, and after that, ride the ropeway and finish off with the toy train ride. On the third day, you can take a short trip to Mirik lake and Karsiang.