The UNESCO heritage city, Melaka, also known as Malacca, situated on the west coast of Malaysia, is not just a city with rich history and heritage but also an important trading point in Asia for centuries. The capital of Malacca state, this city is colourful, organized yet chaotic, and one of the most popular tourist attractions and Places to Visit in Melaka, Malaysia and rest of the world.
Culture, good food, and the Dutch and Portuguese influences on Malaysia can all be found here. Malacca is rich with history and attractions. You can never run out of reasons to visit the place. Here we have listed down Places to visit in Melaka that you shouldn't miss.
Melaka main attraction points
This heritage city is one of the busiest cities in Malaysia as it has one of the oldest cultures of trade between the east and the west. As well as with its geographical position between India and China it has monopolized as the trading centre which enabled UNESCO to declare it as UNESCO heritage site in 2008.
1. Jonker's Street Melaka
The night market on Friday and Saturday in Jonker Street Melaka is one of the lively places in the city loved by both the locals and the tourists. This is where the Chinatown of the city is located. Many old heritage buildings, antique shops are nestled along this road.
On Friday and Saturday nights, the streets come alive with the street bars and food stalls opening. You can hear the happiness of weekends, music and satisfactory food along with the array.
2. Cheng Hoon Temple Melaka
Located in the famous Jonker Street, Cheng Hoon Temple is the oldest Chinese Buddhist temple in Malaysia. This temple is unique for its outstanding architecture and enchanting history. Even Cheng Hoon Temple has been awarded by UNESCO for its splendid architectural design and excellent preservation. 
The temple is dedicated to Kuan Yin, the Goddess of Mercy. After entering the temple complex, you'll find several prayer halls here and the black, gold, and red-robed statue of the Goddess of Mercy. 
Cheng Hoon Teng temple is also locally known as "Merciful Cloud Temple" or "The Temple of Green Cloud". Here you'll find not only the doctrine of Buddhism but also Confucianism and Taoism.
This dazzling temple will give you numerous opportunities to click on some iconic pictures. So be the witness of this architectural wonder when you're in Melaka.
Address: 25, Jalan Tokong, Kampung Dua, 75200 Melaka
Opening hour: Daily 07:00 am to 04:00 pm
3. Kampung Kling Mosque
Kampung Kling Mosque is one of the oldest and most traditional mosques in Melaka. But it is not the only thing that is unique about this mosque! Kampung Kling Mosque, built in the 1800s, is an amalgamation of architecture from all over the world.
It was first built by the Indian Muslim traders in 1748, and at that time, the mosque was the main prayer centre of the Indian population of this area. Over time, Kampung Kling Mosque was rebuilt, and now it has the touch of several architecture styles like Chinese, Sumatran, Hindu, and the Melaka Malay.
The mosque is situated in "Harmony street", and this street also houses other worshipping places like Cheng Hoon Temple and Sri Poyyatha Temple. So whenever you come to this Harmony street, you'll see the beauty of multiple cultures of Malaysia and the harmony among them.
You can also visit the shops and finish the day by visiting the night market and eating delicious food in this street.
Address: Jonker Street 75200 Malacca
4. A Famosa Melaka
A Famosa located at the same complex of the St. Paul's Church, you will see the fort built by the Portuguese to run their administration in Melaka. Portuguese invader Alfonso De Albuquerque originally built it to run the forts, hospitals and towers built by the Portuguese.
But only the remains of the fort with the crumbling structure now remains to tell the tale of time, and A Famosa is one of the best sightseeing spots in Melaka. The complex is always open for visitors.
5. St. Paul's Church Melaka
Situated in the Malacca Museum Complex Bandar Hilir, Melaka, St. Paul Church is one of the oldest buildings remaining till now. Built by a Portuguese in the 1500s, this Church was a Roman Catholic church originally and was a Dutch Reformed Church before it became a museum.
This Church became famous after briefly housing the remains of St. Francis Xavier, whose armless statue will be noticed by the Church.
Opening Hours: All-day, best to visit around 10 AM to 12 AM
Entry Fee: None
6. Muzium Samudera (Flor de la Mar)
How many of you have fantasised about making a tour on an ancient ship? If you have, then the Maritime Museum or Muzium Samudera is the place for you. It is a museum where you'll find a vast ship that is 34 metres high, 36 metres long, and 8 metres wide.
It is a replica of the Portuguese ship called "Flor de la Mar". This ship sank off the coast of Melaka due to an unfortunate accident. People used to say that the ship was carrying the loot that the Portuguese had stolen from Melaka.
Besides this mesmerising ship, the museum also showcases several artefacts, documents, and the history of Malacca, which make it a must-see attraction of this city.
Address: Jln Merdeka, Bandar Hilir, 75000 Melaka
Opening hour: Tuesday to Sunday 09:00 am to 05:00 pm (Closed on Monday)
Ticket price: with MyKad Adults RM 5.00; Children RM 3.00|without MyKad Adults RM 10.00; Children RM 6.00
7. Malacca River (Sungai Melaka)
Flowing through the city's heart, the Melaka River is one of the main tourist spots for visitors and the Melaka River cruise for touring. The cruise is available for riding from 9 AM to 11:30 PM, but the cityscape lights can only be enjoyed on the night rides.
For the cruise, you can catch the boat from three jetties, the Murari Jetty, Tamana Rempah Jetty and the Shore Jetty, and all of them take a roundtrip of around 45 minutes, covering 9km.
8. Baba & Nyonya Heritage Museum Melaka
The Baba & Nyonya, UNESCO Heritage Museum, is a three terrace shophouse originally owned by the Chan family and built in the late 1800s. You will find detailed Chinese architecture and a showcase of Peranakan or the mix of Chinese and Malay culture.
From artefacts to used items, Baba &Nyonya will take you through the journey of Peranakan culture and their lifestyle.
Opening Hours:  10:00AM to 1:00PM and 2:00PM to 4:00PM
9. Taming Sari Tower Melaka
Menara Taming Sari or Taming Sari Tower is the first Gyro observation tower in Malaysia. It is an architectural marvel that measures 110 metres in height. You can see the whole city from a 360-degree angle after reaching the top of this tower. It will give you a bird's eye view of Melaka.
The tower is made by using advanced Swiss technology for its rotating platform. At the same time, it can accommodate 80 people at a time on the viewing platform. There is a glass cabin that takes passengers from the ground to the top of the tower.
Address: Jln Merdeka, Bandar Hilir, 75000 Melaka
Opening hour: Daily 10:00 am to 11:00 pm
Ticket price: with MyKad Adults RM 10.00; Children (below 12) RM 5.00|without MyKad Adults RM 20.00; Children RM 10.00
10. Christ Church Melaka (Malacca Christ church)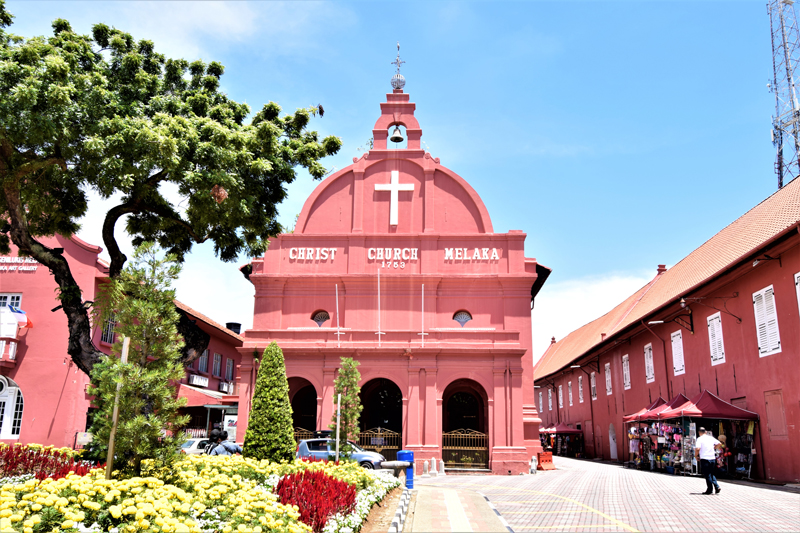 Built-in the 18th century when the Dutch took over Malaysia, the christ church Melaka is a go-to place for tourists. The oldest Anglican Church in Malaysia has simple rectangular Dutch architecture, and the red bricks are its signature.
Located along with the Jalan Geereja Christ Church is a statement tourist spot of the city. The church complex is beautiful, and the inside will showcase simple architecture.
Entry fee: RM 10 (2.39USD) per person
Opening hours: 9 AM to 5:30 PM daily
11. Stadthuys Museum
Your Melaka tour would be fascinating if you pay a visit to its Dutch building, Stadthuys Museum. It is the oldest surviving Dutch building in the East that used to be the official residence of the Dutch governor and officers. The word "Stadthuys" means "city hall", and it is still popular among locals as a very famous city hall. 
The bright terracotta-red building is an amazing example of Dutch architecture. The museum showcases the history and ethnography of Malacca culture and traditions. Here you'll see maps, prints, and photographs of many local legends and also learn the history behind them.
Address: Jalan Gereja,75000 Malacca
Opening hour: Monday to Thursday 09:00 am to 05:00 pm|Friday to Sunday 09:00 am to 08:30 pm
Ticket price: with MyKad Adults RM 5.00; Children RM 2.00|without MyKad Adults RM 10.00; Children RM 4.00
12. Melaka Straits Mosque
Melaka Straits Mosque, located on a man-made island just off the coast, the mosque appears to float in the water when the tide is in. So it's commonly known as the "floating mosque" now. It has a magical appearance with its stunning white facade and golden dome. Visit at sunrise or sunset or at night when the mosque is illuminated for an even better view.
You can enjoy the mosque's view from the outside, but you can also go inside for free. Just make sure to double-check the hours of operation on the day of your visit because they are subject to change.
Also, dress appropriately. Ideally, women's lower legs and shoulders should be covered, but if this is a problem, the mosque will provide free gowns for those who need them.
New attractions in Melaka
13. The Shore Sky Tower
Thrill-seekers surely should not miss the Shore Sky Tower. The tower is justified by its name as being the tallest building in Melaka. The observation deck is situated on the 43rd floor of the tower, which will give you a spectacular breathtaking view not only of this traditional city but as well as of Gunung Ledang and Pulau Besar. This glass floor observation deck will give you a 360-degree view of Melaka and the surroundings.
Apart from this, on the 42nd floor of the tower, you can have residential and commercial hubs like hotels, shopping malls, and eateries.
Don't miss the most beautiful sunset view when the whole city decorates itself with colourful and enchanting lights.
Address: 193, Pinggiran @ Sungai Melaka, Jalan Persisiran Bunga Raya, 75100, Malacca
Opening hour: Daily 11:00 am to 10:00 pm
Ticket price: Adults RM 25.00; Children (3 to 12 years old) RM 18.00 (this price included a pack of souvenir postcards)
14. Kampung Morten Malacca
You must have seen several artificial museums. But have you ever seen a living museum? Yes, that's right, Melaka has a living museum known as Kampung Morten. In the Malay language, "Kampung" means "village", so basically, it is a village that contains Malay culture and traditions. 
Since Malaysia has become one of the modern countries of the world, it is really hard to find out the original Malay culture and lifestyle. The people of Kampung Morten still practice this traditional Malay lifestyle, and it reflects the best in their housing designs.
The star attraction of Kampung Morten is Villa Sentosa. A traditional Malay wooden house that showcases antique furniture, tableware, Malay embroidery, and many historic artefacts. 
Villa Sentosa opens its door for the visitors daily from 9:00 am to 5:00 pm (closed between 1:00 pm to 2:00 pm) except for Friday. On Friday, this private living museum is open from 2:45 pm to 5:00 pm. It takes no entry fee, but there is a donation option.
Address: Kampung Morten, Malacca
Melaka famous food ( Make a list of famous foods in Melaka)
Not only delicious Malay food, but Melaka will also offer you its own unique dishes influenced by the Portuguese culture, and its delectable cuisine evolved over time. Some delicious local food recommendations are:
Satay Celup: Satay Celup is the Malay hotpot with satay gravy and assorted semi-cooked seafood, meat and vegetables. Satay Celup is not like any other hotpot you may have had before and is a signature dish of Melaka.
Nyonya Cuisine: Melaka has a lot of places for you to enjoy the delicacies of this cuisine. The must haves in the peranakan cuisine are Ayam Buah Keluak, Laksa, Sambal Sotong, Ikan Goreng Cili Garam, Rendang, Nyonya Curry. Some best places to have this fusion cuisine in Melaka are Nancy's Kitchen, Restoran Nyonya Makko, Amy Heritage Nyonya Cuisine.
Chicken Rice ball: Have this unique, tasty delicacy of Malacca either at Jonker Street or Ee Ji Ban Chicken Rice ball.
Putu Piring: The chewy, sticky sweet rice balls are traditional treats that you should not miss while in Melaka. You can buy them from a lot of stalls or shops and one of the oldest shops in the city in Putu Piring Melaka, where they are available in their best taste.
Jonker Street snacks: While you hit the night market on the street, you cannot miss out on the few sweet and savoury dishes that only this part of the city offers. Having a barbecue and trying the coconut sherbet are two must-try in Jonker Street. Other than that, chicken rice ball and many fusions and innovative foods like fried ice cream, Chinese burger sambal, and candies are available. The options for exploration are limitless here.
Best Routes to Travel to Melaka
If you are travelling from Kuala Lumpur to Melaka, there are two best ways for the travel guide.
Bus:
If you are travelling from another state or country, this guide begins in Kuala Lumpur. After arrival in Kuala Lumpur, the cheapest, flexible and easiest way is to get the bus. You have to arrive at the Bandar Tasik Selatan or KL Sentral station in the city centre, where buses are available for the southern part of the country.
You can reach there by either by monorail, LRT or KTM commuter from any part of the city. From there, you will find buses departing with an interval of 30 minutes.
The trip takes around 2 and half hours from Bandar Tasik Selatan (TBS), and along the way, you will find beautiful scenery to enjoy. For booking you bus or train tickets in advance we recommend buying through 12go.asia
Bus ticket price: RM 8.40 ($2.50 to $5)
Starting point: Bandar Tasik Selatan or KL Sentral Station
Arrival: Melaka Sentral Station
Car or Taxi
The second-best option for reaching Melaka is drive your car its just about 1 hour 45 minutes drive from Kuala Lumpur or renting a taxi. You can always find taxis nearby all the hotels and prime areas of Kuala Lumpur city, and the taxi charge will be RM 250 to RM 280 Alternatively, you can rent a car for the day with just RM 50 to RM 150 depending on size and number of seats.
However, another option you can take is a train that will take you to Tampin from TBS Terminal, and you have to take another consecutive bus from Tampin to reach Melaka. This route of train and bus will take around 3 hours for the whole trip. Hence, drive your own car or a taxi or bus is the recommended option for the commute.
Best places to stay in Melaka
Melaka has an abundance of wonderful places to stay, regardless of your budget. On the one hand, there are beautiful hostels and charming homestays; on the other hand, there are boutique hotels and luxury resorts.
The best neighbourhood to stay in is near the river, near Jonker Street. This way, you'll be close to the majority of Malacca's top attractions, which is ideal if your stay is only a day or two.
I've included some cheap hotel & hostel recommendations below.
Situated 200 metres from Menara Taming Sari, Wanderer In Melaka features rooms with air conditioning in Melaka. The property is around 2.2 km from Baba & Nyonya Heritage Museum, 2.2 km from The Stadthuys and 2.3 km from Jonker Street. Free WiFi is available and private parking can be arranged at an extra charge.
Atlantis Residence by Harmoni Harbour
Located in Melaka, 2.2 km from Cheng Hoon Teng Temple and 2.3 km from Baba & Nyonya Heritage Museum, Atlantis Residence by Harmoni Harbour provides accommodation with free WiFi, air conditioning, an outdoor swimming pool and a garden. With free private parking, the property is 2.4 km from Jonker Street and 2.5 km from Straits Chinese Jewelry Museum Malacca.
Situated in Melaka, 500 metres from Baba & Nyonya Heritage Museum and 600 metres from Jonker Street, The One Vacation Home features accommodation with free WiFi, air conditioning, free bikes and a shared lounge.
Imperio Res – Quality Comfort Location
Set just 1.9 km from St John's Fort, Imperio, Res – Quality — Comfort — Location offers accommodation in Melaka with access to an outdoor swimming pool, a fitness centre, as well as a 24-hour front desk. The property has lake and river views and is 1.9 km from Porta de Santiago.
Filled with bustling streets, the history of Peranakan and Malay heritage, the capital of Malacca is undoubtedly a place of interest for tourists seeking the taste of Malay culture, history buffs, and those who want to just experience the hot, busy yet colourful culture of the city Melaka. So there you have it, 12 Places to visit in Melaka, Malaysia that will amaze you. Feel free to tell me of other places that should be on this list!