If you're looking for a travel destination that offers a rich cultural experience and a glimpse into history, South Korea is the perfect choice. Despite its small size, this country is packed with diverse attractions and a unique charm that will captivate any traveler.
Whether you're interested in exploring ancient palaces, indulging in delicious street food, or immersing yourself in the vibrant K-pop culture, South Korea has something for everyone. With this ultimate 10-day South Korea itinerary, you'll be able to make the most of your time in this fascinating country.
South Korea will give you the perfect opportunity to create a storming itinerary to explore the bustling cities quiet mountains and countryside. South Korea has a synchronized harmony of traditional culture and modern history.
Tourists can enjoy the cultural heritage through the UNESCO sites and can enjoy the variety of food, local culture, and lifestyles. Along with Korea's Buddhist temples, and UNESCO sites you will find beautiful mountains, hiking trails, and port cities will let you experience the full range of diversity in the country.
Planning a Trip to Korea Preparations
Though you cannot plan to see all there is in 10 days you surely can have the most rejuvenating experience. Planning a trip to Korean districts and there are many cultural sites. Before flying to Korea, it will require that you have ETA (Electronic Travel Authorization) for Korea.
You can apply online on their website and when granted you will be eligible to live in the country for 30 to 90 days. You will also require a valid passport, accommodation, and permit if you were to travel across the country. The required travel duration for most travelers are 10 to 15 days. And it is always recommended to get started on your preparation one or two months ahead.
Documents Required for Visiting South Korea:
To have a hassle-free trip to South Korea there are few more things you can do to prepare. Few of them are using a language translator app, using specialized local maps, downloading cab app, and getting cashless money transfer systems. Here are the top apps for planning South Korea itinerary 10-days you can use to make your journey easy.
10-Day South Korea Itinerary: Provinces, Day to Day
You must start your visit from the capital of South Korea, Seoul and you will get to learn the royal history, Korean cuisine. Then on 3rd Day, you can travel to Suwon to watch the folk village and enjoy the folk village view. Then continue your journey to the South and move to Andong where you will find the beautiful Hahoe folk village, and you should visit the Soju Museum, Bongjeongsa Temple.
After spending a few days in Andong, it's time to visit the cultural and Spiritual heart of Korea, Gyeongju. Visit the attractions like Tumuli Park, Bulguksa Temple, and more. Then for the last days of your trip, you will travel to the bustling fishy port city of Busan where you can roam around the fish markets and taste heavenly fish or go on a fish-catching trip. With this itinerary, you will be able to see the most remarkable culture and attractions of Korea.
Seoul: 2 Days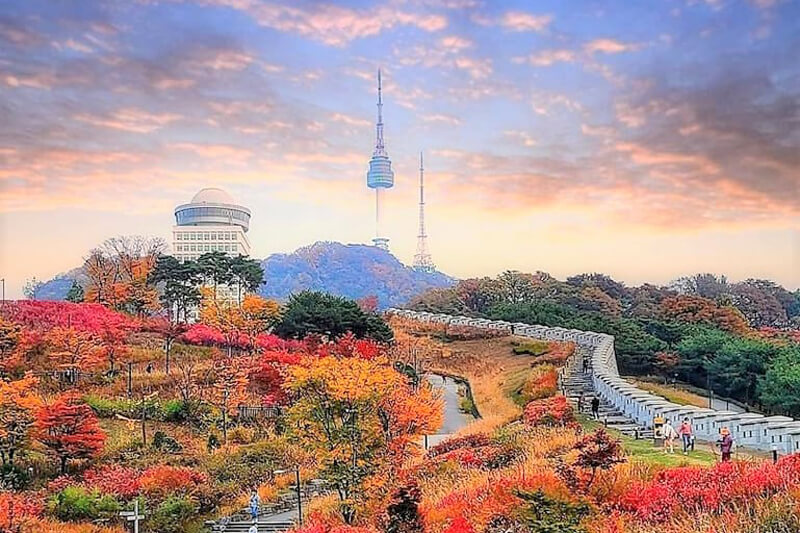 Seoul offering a modern yet traditional lifestyle should be the first place in your south Korea itinerary for 10-days.  The Seoul trip for two days will be your first step in familiarizing yourself with the city's cultural, historical, and traditional sides. Take the first day slow and visit the royal palaces and UNESCO sites. You can start your trip with Gyeongbokgung Palace, and then continue to visit Cheonggyecheon Stream, Gwangju Traditional Market, and Insadong Shopping Street.
Gyeongbokgung is one of the most popular and oldest palaces in Seoul. This served as the main official palace during the Joseon dynasty. The entrance fee to the palace is $2.50 and you can also rent hanboks if you want great pictures in the traditional dresses. After the tour head over to the Cheonggyecheon Stream where you can enjoy a nice walk and enjoy the art murals, greenery, and scenic beauty.
Make your way to Gwangju Market, where you will be enjoying a whole array of foods. Some of the famous foods there as one of the oldest markets in Seoul are bindaetteok, mandu-guk, and bibimbap. From there you can go to visit the traditional Bunchon Hanok village.
For Day 2 in Seoul, start your day with a delicious breakfast in Hongdae. Hongdae is a vibrant area where young people hang out and Hongdae shopping street is also a great area to hang out. From there you can go to museums of the city and during the sunset hike up the N Seoul tower where you will enjoy the beautiful city's nighttime landscape view. You can also have an amazing dinner on the restaurants of N Seoul tower.
Day 3: Trip to DMZ
The DMZ tour from Seoul takes a whole day. You must keep aside a one-full day for this historic area. You can only have guided tours of the DMZ area. The Demilitarized Zone portrays the rich history of the Korean Wars. The DMZ tour packages are available from $25. Visit the freedom bridge, DMZ exhibition hall, and other monuments. You will get a brief recap of the historical moments throughout the trip to DMZ.
Day 4 & Day 5: 2 Days in Andong
By Korean standards, it's a long journey between Seoul and Gyeongju. For this itinerary, there's no better place to break up the trip than Andong. Long known for its traditionalism, Andong is a center of culture and folklore. It's one of the best places to visit in South Korea for a glimpse of its ancient past.
For Day 1: Explore the impressive grounds of the historic Neo-Confucian Academy with a trip to the historic Dosan Seowon and for Day 2: Admire a stunning view of the surrounding natural landscapes from the top of the Buyongdae Observatory.
Also, the Woryeonggyo Bridge, a wooden footbridge crossing the Nakdong River, provides breathtaking views of the surrounding mountains and is a popular spot for photographers and nature enthusiasts.
Day 6: 1 Day in Gyeongju
No place during your 10 days in South Korea will live up to expectation better than Gyeongju. This fascinating city is nothing short of the cultural and spiritual heart of Korea. Gyeongju checks off all the boxes that drove you to visit South Korea in the first place.
Compared to the hubbub of Seoul and brash Busan, Gyeongju is a relaxing respite. And it's as fulfilling as either. The top attractions in Gyeongju are spread far & wide. They encompass some of Korea's finest cultural moments. Tumuli Park is one of the few Gyeongju tourist attractions smack dabs in the middle of town. The park is an ancient burial site. About two dozen Korean royal tombs sprout from the earth here.
Day 7 & Day 8: 2 Days in Jeju Do
Jeju is South Korea's one of the most vibrant islands to experience beautiful braces, local markets, and more. On the first day arriving in Jeju, you can visit the Jeju Folklore and Natural Music and Halla Arboretum. And you can then visit the Jeju five-day folk market and Dongmun Traditional Market.
The next day you can catch the sunrise at Hallasan or at Sarabong Peak early in the morning. Then you can go visit the Hamdeok beach and Manjangul cave. There are a lot of places to explore in the south of Jeju-do and you will have a refreshing experience while travelling here.
Day 9: Busan
Busan is one of those take-it-or-leave-it places. Apparently, suggests that anyone should fall in love with, or even like, this brash Korean port city. And that's usually where the story ends. When you are in Busan, don't leave out the bustling Jagalchi Fish Market.
It's one of the city's top cultural attractions, and an absolute must-see and must-do. This is not just the port city's most significant market; it's the biggest fish market in South Korea. All types of seafood caught around the Korean peninsula find their way to the market stalls of Jagalchi Fish Market.
With your trip coming to close soon, make time to fit one more temple into your Korea itinerary: Beomeosa Temple. This ancient temple is Busan's top tourist attraction. The original temple was founded in AD 678 by Ui Sang, a monk in the Jogye Order of Korean Buddhism. It has since been rebuilt multiple times. Most of the current buildings hail from the 16th and 17th centuries.
From stone pagodas to ornate wooden gates, the beauty of the city entrances you. The temple also benefits from a spectacular location. It sits at the foot of Mount Geumjeongsan. Visiting Beomeosa Temple, it's easy to forget you're in Korea's second-biggest city.
Day 10: Departure
On Day 10 return to Seoul, and get your things packed. On the last day you can visit some famous places in Seoul or have a last traditional meal of Korean cuisine. You will have a lot of memories and an experience of Korean culture by the time you live.
Most Popular Tourist Attractions in South Korea
There are a lot of beautiful places across South Korea where you can experience a diversity of landscapes, culture and food. Taking a trip to South Korea is a phenomenal way to experience the joys of life. Here are the top few tourist attractions and landmarks of South Korea that any first-time traveler must cover.
DMZ:
DMZ is a zone between South Korea and North Korea near the 38th parallel north. And the demilitarized zone is a walk through the history for tourists where you can understand the value of the war history of the country. This area works as a buffer zone between two countries and is a place for maintaining political peace.
Changdeokgung Palace:
One of the most popular UNESCO sites in Seoul is the Changdeokgung Palace. Changdeokng Palace is an official residential building built in the Joseon dynasty. This complex was built as a secondary palace from Gyeongbokgung Palace to have the administrative work done.
Gyeongbokgung Palace:
The Gyeongbokgung palace is a South Korean first palaces for administrative work. It was built in 1935 in Hanyang, currently the heart of Seoul. This is quite famous for taking pictures in hanbok, traditional korean dress and visiting the historical settings, and artefacts. At the entrance, you will also find the historical Gwanghwamun gate located at the three-way intersection.
Hwaseong Fortress:
Hwaseong fortress is a one-of-a-kind brick and pilestone fortress made in Joseon dynasty. It's located in the centre of Suwon, a few kms away from Seoul. It was built by King Jeongjo to honour his father, Prince Sado.
Namsan Tower:
Namsan tower located in Seoul is an observatory tower on the highest hill in Yongsan-gu district of Seoul. It gives undeniably the best view in the city and is worth a visit. The lovelocks there for couples are also quite famous. You can also enjoy the views from the cafe or the restaurant on the N Seoul tower.
Lotte World:
Lotte World is a major theme park in Seoul with indoor and outdoor rides, shows and parades, and an aquarium. If you have come here with children, taking a day to go to Lotte world will really make the trip a lot of fun. The aquariums, ice rink and parades are a true treat to kids.
Jeju Island:
Jeju Island is one of the most peaceful and pleasant natural spaces that you can visit. It is one of the most beautiful volcanic islands on the planet Earth. Top attractions in Jeju-do are the lava tunnels, Hallasan, Cheonjiyon waterfall, and the hiking trails.
Nami Island:
Nami Island has gained popularity as a scenic and romantic spot, and you can go there to enjoy cherry blossoms and the tree-lined pathways are quite romantic during Autumn and Spring. You can also enjoy different types of activities like cycling, zip lining and boating in Han River.
Traditional Villages:
There are a beautiful Korean village like Bukchon Hanok, Yongin-si in Seoul where you can get roam around the beautiful streets, visit artisans and traditional arts.If you travel to Andong during your trip, you must visit Andong folk village to visit the Andong folk museum, thatched house. You can also visit the Jeonju-si for old shrines, Boseon-gun in South Jeolla province for the entrancing beauty.
Dodohaehaesang National Park:
Dodohaehaesang National Park is the largest natural park in South Korea and if you are a nature lover you will have a great time as there are 1500+ plant species and 1200+ animal species. The scenic beauty of the island the park is located on is all the is also an attraction.
 National Museum of Korea:
National Museum of Korea has collections of Korean traditional products, and you will find a lot of art exhibitions going on every day worth visiting. You will see the collection of art, artifacts, and crafts from Korean and international artists at the National Museum.
 South Korea Food Markets
South Korea has a lot of vibrant food markets which are worth visiting for tasting local foods and get immersed in the local lifestyle. A few of the top South Korean food markets are Gwangjang Market, Namdaemun, and Dongdaemun Design Plaza in Seoul for tasting the most famous traditional foods. You may also visit the jagalchi fish market in Busan for fresh fish and seafood and tasty foods.
Budget for South Korea 10-Day Itinerary
Your travel tastes, style, and the time of year you intend to travel all affect how much money you allocate for a 10-day itinerary in South Korea. I can give you a general idea of the expenditures related to a traveler on a medium budget, though. Please be aware that these projections were created using pricing as of my September 2021 update and may have altered since then.
Accommodation: The price of lodging can change based on the area and the type of lodging you select (hotels, hostels, guesthouses, etc.). Budget travelers should budget $30 to $100 per night for a mid-range hotel or guesthouse, on average.
Food: There are numerous culinary alternatives available in South Korea at various pricing brackets. For roughly $5 to $15 each meal, budget-conscious travelers may savour delectable street food and regional cuisine. The price range for meals at mid-range restaurants could be between $15 and $30.
The public transit system in South Korea, which includes buses and subways, is good. Spend between $100 and $150 on transport over the course of ten days, which includes getting around cities and possibly taking the train to various locations.
Activities and Sightseeing: Different attractions and activities have different entrance prices. Budget, on average, $5 to $20 per attraction. You can budget between $100 and $150 for this category if you're going to numerous paid attractions.
Shopping and souvenirs: Depending on your shopping tastes, this expenditure can vary greatly. Budget travelers should set up $100 to $200 for shopping and souvenirs.
Other: It's a good idea to have some extra cash on hand for unanticipated costs like tips, extra snacks or drinks, or any emergency requirements. Set aside between $100 and $200 for other costs.
Without factoring in international flights to and from South Korea, a ballpark estimate for a 10-day moderately priced vacation in South Korea could vary from $800 to $1,000. Remember that this is only a rough estimate, and that the actual cost of the trip may change depending on your choices. It is advised to conduct detailed pricing and expense research for your planned route and travel duration in order to obtain a more precise budget.