The state of Kelantan is the heart of Malay culture, and it would be really disappointing if you missed this place. Not only Malay, but it is also infused with Chinese, Indian, and Thai culture as well. The food, the royal places, the cottage industries -you must go and see these.
Now you might be thinking, what are the attractions in Kelantan that you can enjoy? Well, to help you, we have made an entire list of Kelantan attractions. Read on to know!
You can also make your trip to Pahang on the way to Kelantan. And if you do so, there are the 12 Most Breathtaking Places in Pahang Everyone Should Visit At Least Once
Attractions in Kelantan: Kota Bharu
Kota Bharu (it is also spelt as Kota Baru) is the capital city of Kelantan and the major attraction in Kelantan. Travellers tend to underestimate this place, but if you spend a few days here, you will explore a completely different side of Malaysia.
Though "Kota Bharu" means "New City" in the Malay language, it is actually one of the most traditional and historical cities in Malaysia. Here are some attractions in Kota Bharu that you must visit.
1. Moonlight beach (Pantai Cahaya Bulan)
If you want a perfect day at the beach with the sun lazily shining in the sky and the calm breeze blowing on your face, then Pantai Cahaya Bulan, or more aptly called "Moonlight Beach", is your place. The beach is every lover's dream: the grainy golden sand, clear blue waters, and the serene beauty of the sky. You can go strolling or simply lie down on the sand and bask under the sun and feel its warmth.
Other than these relaxing activities, you can go and check out the cottage industries that produce amazing local items. Batik prints, kain songket, kites. The intricate beauty of these souvenirs will surely coax you to buy them and gift them to family and friends. 
If shopping isn't your idea of fun, then there are other activities that you can enjoy. There are a variety of water sports and horse riding that'll surely help you pass the time. And to fulfil your perfect beach holiday to-do list, you can get barbequed seafood in food stalls and restaurants along the beach. 
Address: Jalan Pantai Cahaya BulanKota Bharu, Kelantan
2. Buluh Kubu Bazar
Buying affordable items while on holiday is a must. Buluh Kubu Bazar, also known as Bamboo Fort Bazar, is a shopping hub that has countless locally made items such as gold and silver songket, batik fabrics, and many more. The market is famous for offering both local and foreign goods at an acceptable rate. 
There are imported Thai goods as well. All the items are affordable. And if you can't afford the given price, you can always bargain with the shopkeepers. Besides shopping, there are also traditional food items sold in the bazaar that you will definitely relish. After all, what's a holiday if you don't get a taste of the local cuisine?
Address: Laluan Pasar Karat Kota Bharu, Bandar Kota Bharu, 15000 Kota Bharu, Kelantan
Opening hours: Daily 09:00 am-09:00 pm
3. Istana Batu
If you're not done fulfilling your curiosity on Kelantan royal history, then maybe a trip to Istana Batu will satisfy your curiosity. It was built as a wedding present to Sultan Yahya Petra and his bride Raja Perempuan Zainab II. 
Although it was converted to a museum in 1991, it continues the feel of a home with displays of personal possessions, among other exhibits. There is a red painted drawing that exhibits cabinets of silverware, glassware, and china that includes Benjarong Thai porcelain. 
And if you want more, there are also souvenirs and gifts that the royal family received—these range from Japanese dolls, Chinese tea sets, handicraft items, plaques, and trophies. You can get to see more when you go and visit. 
Address: Jalan Tengku Puteri, 15300, Kota Bharu, Kelantan
Opening hour: Saturday -Wednesday 08:30 am-04:45 pm|Thursday 08:30 am-03:30 pm (Closed on Friday)
Entry fees: Adult RM1.00 (locals) | Children RM0.50 (locals); Adult RM2.00 (international) | Children RM0.50 (international)
4. Gelanggang Seni
Gelanggang Seni is a traditionally rich cultural centre. The government and tourism board hold events here to promote the traditional forms of art, dance, martial arts, and more. It attracts a lot of visitors due to the rich culture it portrays. There's Rebana Ubi, Seni Silat Tari, Batik Painting, Congkak and more.
One of the most famous shows over there is Wayang Kulit Traditional Show. It's a shadow play that is specially designed for children. The performance involves colourful and intricately designed puppets behind a screen lit up by oil lamps, while a story with moral values is told by the puppet master. The storytelling, with the puppets doing their part, will for sure impress you. 
In the era of technology, here's a form of traditional entertainment that you'll not want to miss. 
Pro tip: bring a camera as you'll love looking back to the show again in memories. You will be surely amazed by the traditions and be more familiar with the authentic art and culture of Malaysia. 
Address: Jalan Mahmood, Bandar Kota Bharu, 15200 Kota Bharu, Kelantan
Opening hours: Sunday-Thursday 08:00 am-05:00 pm|Friday-Saturday Closed
Entry fees: Free
5. Istana Jahar 
If you want to indulge in Kelantan's royal history while you're in Kelantan, maybe you should pay a visit to Istana Jahar. Istana Jahar was built during the reign of Sultan Muhammad II for use as a royal residence by Raja Bendahara Long Kundor. The palace has been converted to a museum so that everyone can get a glimpse of how the Malaysian royalty was. 
The palace hosts traditional handicrafts, woodcarvings, and artefacts that showcase the rich Kelantanese heritage. There's also the Handicraft Village and Craft Museum, where you can get to see a variety of handicrafts, silverware, songkek, and other traditional handicrafts.  
And if the artefacts are not enough to grab your attention, then there is also Malay Weapon Gallery. It has numerous unique weapons such as pisau and keris.
Address: Jalan Sultan, Bandar Kota Bharu, 15000 Kota Bharu, Kelantan
Opening hour: Saturday-Thursday 08:30 am -05:45 pm (Closed on Friday)
Entry fees: Adult RM2.00 (locals) | Children RM1.00 (locals); Adult RM3.00 (international) | Children RM1.50 (international)
Dabong
Though Dabong is a small town, don't think that it doesn't have any attractions to visit. I would say it has the most significant and fascinating places to visit. The highest waterfall, Jelawang Waterfall and the Fish Cave are the most renowned attractions of Dabong city. Don't miss them!
6. Gunung Stong State Park
In the local language, "Gunung" means mountain and Gunung Stong State Park is the home of numerous mountain peaks, rivers, and caves. Managed by the Kelantan State Forestry Department, this State Park is a pristine forest reserve that holds more than 20,000 hectares. 
From the exclusive mountain peaks like Gunung Tera, Gunung Ayam, Gunung Stong, Gunung Saji to the highest waterfalls in the Southeast Asia region, the Jelawang Waterfall, all you can explore here. Moreover, this dense forest also houses wildlife like tigers, bears, and elephants, as well as exotic birds like hornbills. 
Outdoor lovers will feel delightful as the place offers jungle trekking, mountain climbing, and many more exciting things to do.
Address: Dabong Forest Reserve, Kelantan, 18200, Dabong, Kelantan
Entry fees: RM2.00
7. Jelawang Waterfall
Jelawang Waterfall is believed to be the highest waterfall of Southeast Asia that is located in the Gunung Stong State Park. Most travellers come to the State Park only to visit this waterfall, which is also known as Stong Waterfalls. 
The dazzling view of the cascade will surely blow your mind. Jelawang Waterfall is multi-tiered, so you cannot see the upper level of the waterfall without hiking up. Here you can enjoy the serene beauty of the waterfall and take some iconic photos. And if you want more, you can also take a bath in the refreshing water of the cascade.
Address: Kampung Jelawang, 18200, Dabong, Kelantan
Opening hour: Daily 24 hours
8. Gua Ikan
Gua Ikan is one of the most commonly visited caves in Kelantan. It is very famous because the cave's rock formation resembles a fish shape, which is why it earned the name of Fish Cave. Due to the complexity of the cave's geology, it is recommended to hire a guide from the nearby Gunung Stong State Park. 
The cave is made of limestone and hosts spooky animals like bats, whip scorpions, spiders, and lots of mosquitos. Although the cave hods a spooky look, you may want to pay a visit to indulge in the extraordinary archaeological beauty that the site holds. 
Address: Kuala Gris, 18200 Dabong, Kelantan 
Opening hour: Daily 08:00 am -05:00 pm
Entry fees: Free
Gua Musang
Bordered by Pahang to the South and Terengganu to the East, Gua Musang is the largest district and parliamentary constituency of Kelantan. This district is like an entrance to the Taman Negara National Park or a getaway between Kuala Lumpur and Kelantan. But if you spend one day at Gua Musang, then you will see how much mystery and history are consumed by the place.
9. Water and Moon Temple (水月宫)
For history buffs, Water and Moon Temple is the must-visit attention because it contains the history of more than 500 years old. Even the guard of this Chinese temple stated that the temple's statue is nearly 600 years old. 
When the Chinese came here for gold mining, they had built this temple. Till today you can see the spectacular arts and sculptures of China. The elegant design of the Water and Moon Temple will surely give you some Instagram worthy pictures.
It is also believed among locals that the Water and Moon Temple grants the wishes of the needy. The temple hosts many events during the Chinese festival.
Address: 18300 Gua Musang, Kelantan
Opening hour: Daily 07:00 am to 07:00 pm
Entry fees: Free
10. Zi Xia Dong (紫霞洞)Pulai Princess cave
Zi Xia Dong, or Princess cave, is a Chinese cave temple which is located just opposite the Water and Moon Temple. But to reach the temple, you need to cross the metal bridge, a pebbled path, and a rubber plantation. So, the road is quite challenging, especially when you need to climb up about 20m high staircases to reach the peak of the limestone hill. 
Although I can assure you that you would not regret passing such a challenging path as the view up the cave is breathtaking. Inside the cave, you will see a giant figure of the Goddess of Mercy which is worshipped by the locals. 
There are many stories about this cave's existence among the locals. One of which is that there was a Princess who was ferrying a ship through this land with her father and other chew members. When the ship arrived here, the Princess fell in love with the Pulai settlement, and she was reluctant to go back with her father.  So to escape from her father, she hid in the cave and gradually became the guardian of the hill.
Address: Kampung Pulai, 18300 Gua Musang, Kelantan
Opening hour: Opens at 08:00 am and closes at the dusk
Entry fees: Free
11. Taman Tasik Gua Musang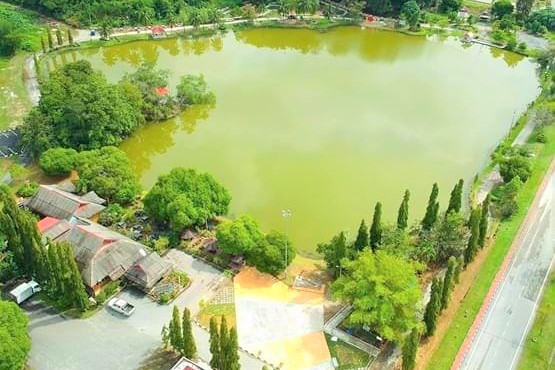 Taman Tasik Gua musang is a relaxing and beautiful lake garden where you can enjoy some quality time with your family. This place is best for morning walks, jogging, and exercise as its refreshing and comfortable air will make you energetic.
But the leading beauty of the lake garden is the lunch greenery and the many species of birds that are nested in the trees around the lake park.
Address: Bandar Baru Gua Musang, 18300 Gua Musang, Kelantan
Opening hour: Daily 24 hours
12. Gua Musang Caves
Gua Musang town is famous for its limestone hills and caves. Even the name "Gua Musang" means "Cave of the Fox". So, you can explore numerous caves here, including Gua Musang, Princess Cave, Gua Batu Hijau, Bombed Cave, and many more. Climbing these caves and exploring hidden gems are really adventurous and exciting.
Make sure you take enough precautions in the time of climbing and exploring those caves, as some of them are filled with insects and bats.
13. Taman Negara Kelantan Kuala Koh
Taman Negara Park is a large national park in east-central Peninsular Malaysia. This park is also known as Kuala Koh National Park and is situated on three borders involving the States Kelantan, Pahang, and Terengganu. So sometimes visitors get confused whether it is part of Kelantan, Pahang, or Terengganu, but actually, the park is located in the district of Gua musang of Kelantan State.
The park is mostly tropical rainforest and is home to Malaysia's highest mountain, Mount Tahan. There is a vast number of exotic birds, animals, insects, and even reptiles and amphibians. 
The exquisite natural beauty of Taman Negara is enough to lure an ardent hiker or an adventure lover. You can go hiking to Gunung Tahan or go and grab a bite at Lia Restaurant, which floats on a raft. Some even like to go for night walks, rapid shooting, and fishing. If you want more exciting hiking ideas, you can go bird watching, go and explore caves like Gua Telingga, Gua Kepayang, and Gua Luas or visit the Orang Asli people in their villages. 
Note: It is suggested to wear mosquito repellant and clothes with long sleeves and long trousers. 
Address: Kuala Koh, 18300, Gua Musang, Kelantan
Opening hours: Monday -Saturday 09:00 am-05:30 pm|Sunday 09:30 am -05:30 pm
Rantau Panjang
Rantau Panjang is the Malaysia-Thailand border town in Kelantan. From Rantau Panjang, you will see people are crossing the Thai border frequently, and many Thai people work at the restaurants and local markets of Rantau Panjang.  Rantau Panjang is not only famous for being a border town but for its mouthwatering Thai food and significantly cheap clothes. For shopaholics, it is a must-visit place.
14. Sultan Ismail Petra Silver Jubilee Mosque
If you want to see the marriage of Chinese and Islamic architecture, you ought to visit the Sultan Ismail Petra Silver Jubilee Mosque. Opened in 2010, it is the first Chinese-style mosque in Malaysia, and because of its pagoda-style architecture, the mosque is also known as the "Beijing Mosque". 
Moreover, the interior design of the mosque has a fascinating mixture of Chinese, Islamic, Indian, and Uzbek styles of architecture and elements. It has a towering minaret where you'll see the names of all 25 Prophets are inscribed in tiles. The mosque has enough space to gather around 1000 people at a time.
Note: As it is a Muslim prayer centre, make sure you have appropriate attire. The mosque welcomes visitors warmly except for the prayer times.
Address: Jalan Kampung Rantau Panjang, 17200 Rantau Panjang, Kelantan
Opening hour: Non-prayer time (only Muslims can enter at prayer time)
Entry fees: Free
15. Rantau Panjang bebas cukai (Tax-Free area)
Rantau Panjang bebas cukai is a renowned duty-free shopping area. Here you will have different varieties of products from clothes, shoes, and accessories to delicious local foods, dry foods, and sweets. Even you can buy kitchen equipment at this shopping area. The best part is they sell every kind of daily necessities at a very cheap price. 
When you're in Kelantan, you must visit this place at least once. You would be overwhelmed by the variety of Thai cuisines as it is a food haven of Kelantan. Among the famous dishes, you must try Maggie Kerabu and Glutinous Mango.
Address: Jln Hilir Pasar, Kampung Rantau Panjang, 17200 Rantau Panjang, Kelantan
Opening hour: Daily 09:00 am to 06:00 pm
Tumpat
Tumpat is another town in Kelantan that has a Thai border, and that's why this region is rich with Thai Buddhist temples. Here you can see a religious harmony between Muslims and Buddhists. Apart from this, the place is famous among shopping lovers as it has Pengkalan Kubor Duty-Free Store. 
16. Wat Phothivihan
Prepare yourself to watch the massive statue of Sleeping Buddha at Wat Phothivihan. It is a Thai temple and one of the most significant temples in Tumpat. The temple is popular for its nearly 40 metres giant statue, though you will see many other statues and murals surrounded by it. 
There is also an intricate Wheel of Dharma in front of that big statue, which has deep symbolic importance in Buddhism. 
Besides the temple trip, you can have a Thai lunch here at the nearby stalls. However, the temperature is quite hot, but there is a serene peace that you will feel in the temple's atmosphere.
Address: Kampung Jambu, 16200, Tumpat, Kelantan
Opening hour: Daily 09:30 am to 06:30 pm
Entry fees: Free
17. Masjid Al-Ismaili
Masjid Al-Ismaili is a significant and beautiful mosque in Kelantan. Even the mosque has a unique story as well. It is said that this majestic mosque was a gift to Sultan Ismail Petra from his son Sultan Muhammad Ⅴ. That's why it is a great testimony of father-son bonding.
The mosque has five minarets and a five-step staircase leading to the entrance, and the number five symbolizes the five pillars of Islam. At the same time, it has six domes symbolizing six pillars of faith. The interior and exterior design are pretty impressive of Masjid Al-Ismaili to any visitors who come here.
Address: Bandar Baru Pasir Pekan, 16250 Wakaf Bharu, Kelantan
Opening hour: Non-prayer time
Entry fees: Free
18. Pengkalan Kubor Duty Free zone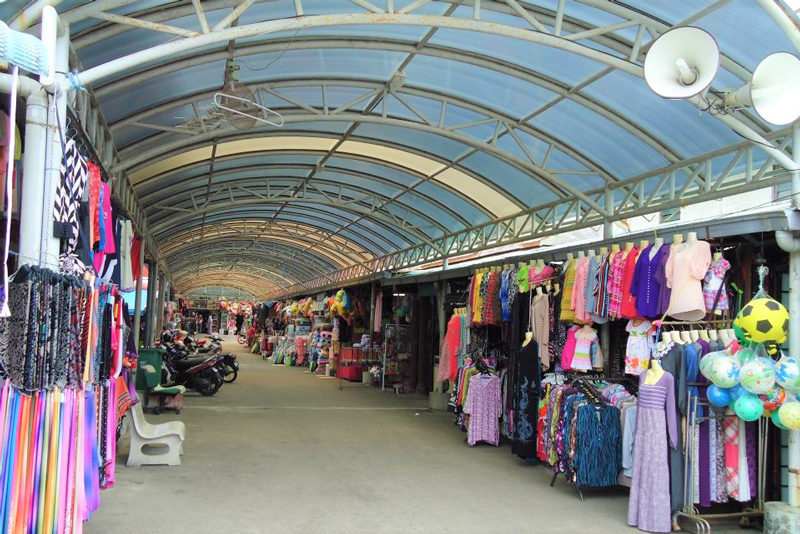 If you are in Kelantan to spend your holiday, you surely will not leave the state without visiting its shopping heaven. Yes, shopping heaven! It is the only word you can use for the Pengkalan Kubor Duty-Free zone. It is a trade free area for shopping, and any woman would not leave this place without buying a ton of items. 
It is another Thai border town where you can buy women's clothes, accessories, pots, handbags, chocolates, and so many items at cheap prices. So prepare yourself to spend an amazing time at Pengkalan Kubor Duty-Free Store.
Address: Tumpat, 16080, Kelantan
Opening hour: Thursday to Tuesday 08:00 am to 05:00 pm (closed on Wednesday)
19. Wat Machimmaram
Wat Machimmaram temple is an amazing Thai Buddhist temple located in the Tumpat district of Kelantan. You might be thinking, what is so special about this Temple? Well, the special part of this temple is its 30m high sitting Buddhist statue. 
Though it is a Thai temple, the architecture of the temple is a mixture of Chinese and Thai styles. Especially the guardian deity statues are in Chinese style. Here you'll also see a turtle pool and many foods and drink stalls.
Address: Kampung Jubakar, 16210 Tumpat, Kelantan
Opening hour: Daily 09:00 am to 05:00 pm
Entry fees: Free
20. Jungle Railway
The Jungle Railway is one of the main attractions of Kota Bharu, Kelantan. The railway runs along the east coast and through the centre of Malaysia and passes through Kelantan, where it stops at the city of Tumpat. 
It is described as the world's one the most picturesque journeys. Throughout the journey, you can get to see the luxuriously green jungle. The best scenery of the journey can be seen once you head north. While you're going from Kuala Lipis to Kuala Krai, you can see huge rivers and limestone hills around the town of Gua Musang. And that, according to tourists, holds the best scenery of the entire journey. 
Address: Pekan Tumpat, 16200 Tumpat, Kelantan
Cost: Tumpat-Kuala Lumpur: First class RM101.00 to RM130.00 | Third class RM31.00    
We all want an excuse to go on holiday and that too to a place that is filled with art and culture. Kelantan is no less when it comes to holiday attractions. And now that you know where to visit and what to visit. Quickly, make a plan with family and friends and head on to Kelantan.