Known as the country of Ice Hockey, Maple, gorgeous mountain ranges, natural wonders and one of the friendliest people in the world, Canada is a highly desirable country, especially among Tourists. However, Canada is a highly developed first-world country and requires visas from citizens of around 148 countries who wish to enter its border for various purposes.
If you are planning on visiting Canada, then read on to learn about everything you need to know how to get a Canada Tourist Visa without a sponsor and Canada Tourist Visa requirements. This way you will know what you should be prepared with and expect at every step for a successful Canada tourist visa application.
The Canadian government has simplified the visa application process and you can do it yourself online from their website IRCC or GC key portal without requiring a consultant or travel agent. Here is a step-by-step guide to submitting a Canada Visitor Visa successfully!
For expert assistance with your visa application, don't hesitate to reach out to our visa application helpline. Our team of professionals is here to help guide you through the process and answer any questions you may have.
Understanding the Canada Tourist Visa
A Canada tourist visa, also known as a Temporary Resident Visa (TRV), allows individuals from foreign countries to visit Canada for leisure, tourism, or to visit family and friends. 
It is a temporary authorization granted by the Canadian government, and obtaining one is crucial for travelers who are not citizens or permanent residents of Canada.
Gather the Required Documents
You will need to gather the necessary documents to support your Canada tourist visa application. These typically include:
Completed application form: Fill out the application form accurately and honestly. Any discrepancies may lead to delays or denial of your Visa.
Passport-sized photographs: Submit recent photographs that meet the specifications outlined by the Canadian government.
Proof of travel arrangements: Present confirmed return tickets, hotel reservations, and an itinerary outlining your planned activities in Canada.
Financial documents: Include bank statements, pay stubs, and other financial records to demonstrate your ability to cover the costs of your trip.
Letter of invitation (if applicable): If you have a host or sponsor in Canada, request a letter of invitation from them outlining the purpose and duration of your visit.
What is GCKey and the New IRCC Portal?
GCKey is the secure way to access the online services of the Canadian Government. In order to apply for a Canada Visa online, you have two options. The first one is to create an account on the GCKey portal and provide the details asked to file a visa application. Another way is to apply through the new IRCC portal. The Canadian government created a new IRCC Portal to make the Canada Visa application processing more efficient, smoother, and more timely.
The new IRCC portal is a web platform that is secure and visa applicants can conduct business with IRCC electronically. The New IRCC portal was created to deal with the increased traffic on the GCKey portal. To access the new IRCC Portal, you need to have an invitation code.
If you are unable to get an invitation code then, you can simply apply through the GCKey portal as I did which is discussed in detail in this article. The visa application process is similar both ways.
Which is better: GCKey or New IRCC portal?
The visa application process is a bit different when you apply through the new IRCC portal rather than the old GCKey. In GCKey, you have to deal with filling out pdf forms and then signing them after printing them out and uploading them again. Whereas, with the new IRCC portal, all you have to do is fill out a long web form which is more convenient.
Tip
If you have access to the new IRCC portal, then you should apply for your visa through it rather than the old GCKey Portal. Although the processing time for both is similar, the new IRCC portal is simply convenient to use.
Application Process for Canadian Tourist Visa
Step 1: Determine Whether You Need to Apply for Canada Tourist Visa or Not
Prior to entering Canada, you need to have either a visa or an eTA, depending on your nationality. That's why it is important to check out the name of your country in the list of countries whose citizens need to obtain either a visa or eTA which is a quicker version of a Visa to enter Canada.
List Of Countries Which Need Visa or eTA to Enter Canada
The travellers visiting Canada can be categorised into three lists according to their eligibility for visa exemption (eTA required), Visa-required travellers and eTA exemption.
There are about 148 nationalities whose citizens have to acquire a visa to enter Canada. The majority of the travellers fall in the category of nations whose people need to go through the entire process of applying for a visa according to their reason for the visit like for visiting, working, studying, etc.
List Of Countries Which Need eTA to Enter Canada
There are some countries that have good relations with Canada and hence, their citizens do not need to apply for a Sticker visa to visit Canada. However, they need to get an Electronic Travel Authorization, also known as eTA, a travel document admissible to Canada for visa-free entry.
An eTA allows you to spend up to 6 months in Canada. It is essentially a quicker version of a visa which doesn't need you to submit as many documents as you would for a visa application. An eTA is best for travellers who qualify for it but you cannot work, study, claim health benefits or stay permanently in Canada with an eTA. You will need to get a visa for long-term stays.
Here is the list of the countries whose citizens need to acquire eTA to enter Canada for the short term:
| | | | |
| --- | --- | --- | --- |
| Finland | Liechtenstein | France | Romania (electronic passport holders only) |
| Germany | Greece | Lithuania | Samoa |
| Hong Kong | Luxembourg | Italy | San Marino |
| Hungary | Malta | Japan | Singapore |
| Iceland | Mexico | New Zealand | Slovakia |
| Ireland | Monaco | Norway | Slovenia |
| Switzerland | Netherlands | Papua New Guinea | Solomon Islands |
| Poland | South Korea | Latvia | Spain |
| Portugal | United Arab Emirates | Taiwan | Sweden |
Note: if you are not going to enter Canada via air, you need to check with the Canadian Consulate first whether you need a visa or an eTA because Canada has different rules based on your means of travel and nationality.
Step 2: Determine the Types of Canada Visa You need to apply for
There are also various types of Canadian visas you can apply for but mainly they are study visas for students, work visas, and temporary visas for a short-term stay of a maximum of six months. There is also the permanent visa which essentially provides you with a permanent residency in Canada in case you are planning to immigrate, work for many years and many other such reasons.
Since we are talking about tourist visas here, the focus of this article is going to be on Canada Tourist visas which fall under the Temporary Residence Visa, specifically Canada Visitor Visa.
With a temporary residence visa, you can stay in Canada for up to 6 months but this time is specified by the Border Services Officers (BSO) or the Canadian Consulate. It can be a single-entry visa or multiple entries which allows multiple enter Canada numerous enter before the expiration date of your Canada tourist visa.
Step 3: Create Your Online Account on GCKey Portal
The next step is to create a GCKey account to actually start filling out the Canada tourist visa application. You can find GCKey on the official webpage of Immigration, Refugees and Citizenship Canada (IRCC) under the category of 'Visit Canada'.
1. First, you will need a username with characters between 8 to 16 and a unique password for the sign-up process. At the final step, you will need to create recovery questions with answers and hints.
You must remember these details because they will be asked later in the application process for security purposes. You will also have to accept the terms and conditions here.
2. After logging in, you will need to fill out details like your name and last name (same as in your passport), email and your language preference. Click continue after going through the details you fill out once again to make sure they are correct.
3. After you click on continue, another page will open. On this page, you will find three main headings which are about the status of your submitted application, continuing to fill out a previous application and lastly, starting a new application.
The part you need to see is the last one- Start an application. Below this heading, you will find the option that says 'Apply to come to Canada' and click on it to proceed.
4. Now, another page will open that will ask if you have a personal reference code or not. In case you don't have one, look for the 'Visitors visa, study and/or work permit' under the heading that says 'I do not have a personal reference code'.
5. On the next page, you will have another set of questions that will determine your eligibility for obtaining a Canada Visa. 
Step 4: Check Out Your Eligibility for Canada Tourist Visa Before Starting the Visa Application
Now you have to check your eligibility to be qualified to travel to Canada. This step is really simple. All you need to do is fill out all the tests that will be asked after the previous step which will evaluate your application's eligibility.
These tests are simple online questionnaires and the type of questions that would be asked are:
Firstly, you will be asked about what you would do in Canada. As a tourist, you have to select 'visit'.
Secondly, you will be asked about the duration of your stay. Here, you have to select the time you are planning to spend in Canada.
Next, you have to select the code that matches your passport.
Next, you will be asked about your current country/territory of residence.
Next comes whether you have a family member who is a Canadian citizen or permanent resident and whether they are 18+ years or not. Depending on your answer, you will ask for relevant information.
The next question is about your date of birth.
You will be asked if you have ever lived in Canada as a PR or landed immigrant.
The next question is about whether you are a lawful permanent resident of the United States or not. You have to have a valid U.S. Citizenship and Immigration Services (USCIS) number for this. If you fill yes here, you will need to provide relevant information too.
Next is about your marital status.
Finally, you will be asked about your province of destination. In case you plan to visit more than one province, you can select the one where you are going to spend the majority of your time.
When finished, you will be given the option to review and edit your answers. Make sure you check out the information you filled in is correct because incorrect information can lead to the rejection of your Canada tourist visa application.
When done, you will receive a message which will verify your eligibility, and which visa you need to apply for. It will further provide you with relevant information and instructions to fulfil all the Canada Tourist visa application requirements.
Step 5: Submit Documents Required for Canada Tourist Visa Application
While applying for a Canada Tourist Visa, you will need to compile and submit some necessary documents while filling out your visa application. There are many documents which you can submit along with your application, but some are optional.
To increase your chances of being approved for a Canadian visa, it is recommended that you submit the required documents as outlined in the application. Providing all necessary documentation will help ensure that your application is complete and meets the requirements for approval.
Visitor Visa Application (IMM 5257): First, you have to fill out the IMM 5257 application form which can easily be downloaded from their official website. You can fill it in on your device using Adobe Reader. For your signature on the application, you have to print it out and then sign it with a pen. Make sure the details you fill in this form are the same as previously mentioned and recheck it for any mistakes. Click on 'Validate' at the bottom when done.
As soon as you click on it, your application will be checked and validated. When it is validated, a unique barcode will be generated that will be scanned by officials during your application's review. After that, all you need to do is save your application and then upload it to the website. Do note that you have use latest adobe acrobat reader.
Identity Proof Document (required): You need to have a valid Passport which can either be a regular passport or an official or diplomatic document, that can prove your identity. Note: they don't accept provisional passports issued by Venezuela, any passport issued by Somalia, non-machine-readable passports issued by the Czech Republic or temporary passports issued by the Republic of South Africa.
Family information (required): You have to submit a completed IMM 5645 form with your visa application. If the applicant is minor, then you need to obtain a letter of authorization for the minor to travel to Canada. Other documents like custody decree or adoption paper and such might also be required depending on whether they will be travelling alone or accompanied by a parent.
Proof of Your ties to Country of Residence: When applying for a visa or entry into a foreign country, you must prove that you have ties to your country of residence and intend to return after your visit. This can include documents such as your own property, rental agreements, mortgages, job offers, financial assets like stocks and bonds, or bank accounts and also good travel history etc.
These documents can help convince immigration officers that you have a strong connection to your home country and are not likely to overstay your visa or attempt to immigrate illegally.
Canada visa photograph (required): You need to provide a photo of yourself which meets the photograph requirements of the Canada temporary visa application. Your photo should be clear, printed on good quality photographic paper with clear light-coloured or simply a white background, and taken within the last 6 months.
Your facial expressions should be neutral, and you should have no accessories like hair clips or glasses except worn for religious purposes like a turban for Sikhs. The size of the photo should be 35 mm with 45 mm at least.
Proof of Identity and Civil Status (required): You also need to include document like birth certificate, marriage certificate, or divorce/annulment certificate that can prove your identity and civil status documents.
Proof of funds/ Account statements (optional): This is optional but i did submitted for 6 months bank statements and I would suggest you need to provide your bank statement too that can verify that you can support yourself in Canada.
Purpose Of Visit/ Itinerary (optional): You can provide your itinerary with your Canada tourist visa application to show how long you plan on staying in the country and what you plan on doing here. You can include documents like your flight details, registration for an event or hotel reservations and such. Here is a sample itinerary which i provided during my application.
Travel history (optional): As part of the visa application process, it is required to provide a detailed travel history for the past ten years. This includes a clear copy of any previous passports or visas that were used during that time period. It is crucial to accurately document all travel to ensure a smooth and successful visa application process.
Cover Letter (optional): While a cover letter is not always required, it can be valuable in explaining your reasons for wanting to visit Canada and why you should be granted entry permission. A well-crafted cover letter can provide additional context and information that may not be included in other application materials and help make a strong case for why you are a deserving candidate for entry into the country. Here is my sample cover letter.
Use of a representative (required if applicable): if you have family or a friend who can sponsor your visit to Canada then you can also include it with your application. For this, you have to fill out the IMM 5476 form.
However, do keep in mind that these requirements can vary depending on your situation and you can be asked for additional documents which might not be mentioned above. Also, you cannot obtain a Temporary Visa after you arrive in Canada. Lastly, submitting all the above-mentioned required documents doesn't guarantee that you will receive a visa.
Step 6: Pay the Canada tourist visa fees
After you are done with submitting the required documents, you will be redirected to the next page. Here you will find details regarding the documents you have submitted and the amount of fee you have to pay.
How Much Is the Canada Tourist Visa Fees?
While applying for a Canada Tourist Visa, you will have to pay the following amounts:
Canada tourist visa application- CAD 100
Biometric fee- CAD 85
Keep in mind that these amounts are liable to change and during the visa application process, you will also need to pay for postal service to submit your passport and it can cost you another CAD 90, depending upon the shipping label of your purchase.
Before making the payment, you will be first asked to agree to the terms and conditions along with providing your signature that consists of both your first and last name and answering the security question.
After you have provided the above-mentioned things, you will be redirected to the payment page where you can select your preferred method of payment. The confirmation of payment will be sent via email and you can check the status of your application back on the official website by clicking on 'full application status'. Make sure you regularly check for any emails from the Embassy.
While navigating the page of your application status, you will find clickable links under the heading of 'Message about your application' at the bottom of the page. This is where you will be receiving the notification on the status of your visa application.
Step 7: Schedule Your Biometrics Appointment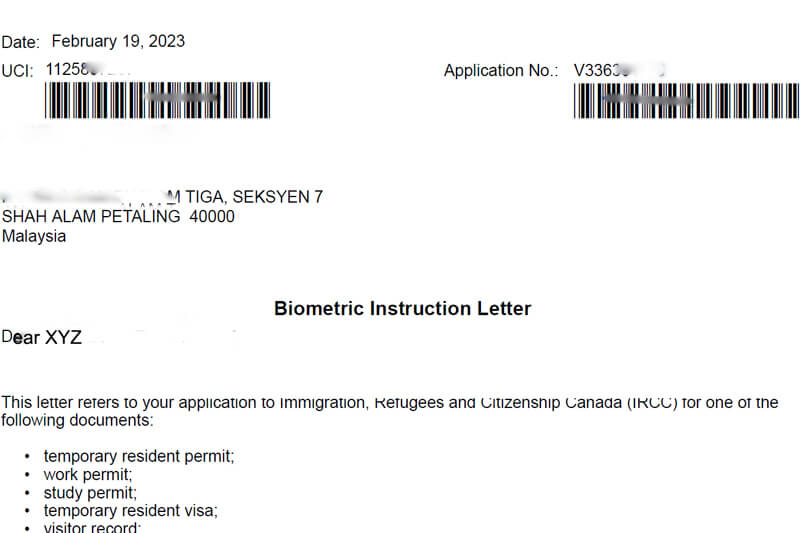 The next important step of the Canada tourist visa application process is to schedule your biometrics appointment. To acquire a Canada Tourist Visa, you are asked to provide your biometric information which is collected by the Canadian Embassy.
After receiving your payment submission confirmation, you will be notified within 2-5 days. Your biometrics instruction letter will include your IRCC number and when you receive this, you can schedule your appointment anytime within 30 days at any Visa Centre nearest to your place of residence such as VFS Global.
On the day of your biometrics appointment, make sure to bring your Biometrics Instruction letter. The barcode on this letter will be scanned and then your biometric information like your fingerprints, digital photos, etc will be collected.
Later you will receive a notification on confirmation of the Embassy receiving your biometrics, known as the Correspondence Letter.
Step 8: Submit Your Passport
Depending on your location, you will receive a notification of an 'Original Passport Request' in which you will be asked to submit your original Passport if your visa application has been approved. You can expect to receive this notification somewhere between 5 to 10 days after getting your correspondence letter and for this, you will need to submit your passport for your new visa within the next 30 days.
You can submit your passport via mail with the proper correct shipping labels. You can obtain a correct shipping label from VFS and not anywhere else because the shipping label you need here is very specific. For this, you have to email VFS requesting a shipping label.
Next, you will receive an Excel template to fill out and then within 3 business days, VFS will send you an invoice. You will need to make payment for your shipping label which would be approximately $90 but it may change.
You should be able to receive your shipping label within 15 days after which you can attach it to your parcel containing your passport and mail it to the same address as the Embassy or Visa Application Centre where you had your biometric appointment.
Make sure that your passport is in good condition and has at least 1 visa page empty. Also, your passport must not be close to its expiration date.
Step 9: Claim your Canada Visa results
After you mail your passport, your part of the Canada Tourist Visa application process is finished. Now you have to wait for the return of your passport with your visa so that you can begin your journey to the land of maple leaf!
How long is the application examination period for Canada Tourist Visa?
It usually takes 1 to 3 months to get a Canada Tourist Visa. This Canada tourist visa processing time starts when your Canada tourist visa application reaches the visa office and ends when your visa application is approved.
The application examination period varies for everyone due to many reasons such as sudden high demand for tourist visas or changes in visa policies. Incorrect documents or unavailability of biometric appointment slots can also further delay this process.
A tip
I highly recommend regularly checking your emails for an update and checking your notifications on the official IRCC website too. This will save you precious time and you can get the necessary information and instruction for your visa applications too!
In Conclusion, Canada is an amazing country where not only will you find wonderful views of nature but you will be welcomed by wonderful people too. Going Hiking and camping with friends and family over Canadian mountain ranges is an experience that one must have. Not just nature but the cities of Canada are not to be missed. That's why I think you should come and visit this incredible country at least once.
For this purpose, you most likely would require to obtain a tourist visa unless your country falls on the list of visa-exempt countries of Canada. The Canada tourist visa application process seems daunting at first but it is actually very simple.
All you need to do is make sure that your information and documents are correct, and verified and that you keep up regularly with the emails from the Embassy and notifications. This way your application process will run smoothly and you have a higher chance of getting approval for a visa!
If you enjoyed reading this article, then you should check out our other Visa guide articles. If you wish to share or add something, do leave us a comment because we would love to hear from you!
Frequently Asked Questions (FAQs)
Is Canada tourist visa easy to get?
Although it depends on various factors like your nationality, travel history and your professions, obtaining a Canadian Tourist Visa is easy enough provided you have filled out your visa application form completely and correctly and also, provided the necessary valid documents.
How long Canada tourist visa takes?
The entire Canada tourist visa processing time can take anywhere from one month to three months. It highly depends on factors like the demand for visas, your nationality, etc.
How much is the Canadian tourist visa fee?
You will need to pay Canada tourist visa fees, Biometric fees and also for shipping labels which add up to 275D.
How much bank balance is required for Canada tourist visa?
You need to have approximately CAD 2000D in your account to spend 30 days in Canada. This amount is for one person and depending upon where you stay and visit, this amount can vary.
Is there an interview for a Canada tourist visa?
Although there is no interview during the visa application submission, you have to go through two screening interviews when you arrive in Canada. During this, you will be asked questions like the purpose of your visit, what and where you plan to stay and visit, who your companions are, how long you are going to stay in the country and such. Make sure that you have all your documents ready and in order and this interview session will be over easily and quickly!
Is a return ticket mandatory for a Canada visitor visa?
No, you are not required to have your return ticket already purchased for a Canada Visitor Visa. However, you need to show documents proving that you can buy one.
Does Canada refuse visitor visas?
Yes, Canada does reject many visitor Visas. The main reason is usually incomplete or incorrect information in your Canada tourist visa application or documents. Other reasons can be your lack of travel history, failure to prove intent or finances, or failure to meet health, or security standards. If you have a criminal history, it can negatively affect your visa application too.
Can I visit Canada without an invitation letter?
Yes, you don't need a sponsor or a letter of invitation to get a Canada Visitor Visa. All you need is to meet the eligibility criteria and provide the required documents.
Can a friend sponsor me to Canada for a visitor visa?
Yes, a friend or a family who is either a permanent resident or a temporary resident with work or study permit can sponsor you for a Canada Visitor Visa. For this, during the Canada tourist visa application process, you will ask for additional documents regarding the information on your sponsor and such.
What is financial proof for a Canada Visitor Visa?
You need to provide your bank statement that shows your average balance for the past 6 months and the transaction history for the past 3 months.
What is the difference between a Visitor Visa and a Tourist Visa in Canada?
In Canada, a Visitor Visa and a Tourist Visa are interchangeable terms. Both refer to a temporary residence visa that allows individuals to visit the country for tourism purposes. The visa permits single or multiple entries, depending on the type issued. It is important to note that this visa applies for stays in Canada that are at most six months.
Who issues a tourist visa in Canada?
A Canada Tourist visa is issued by a Canadian Visa Office which can be either Canada Border Services Agency or Immigration, Refugees and Citizenship Canada.
How long is a Canadian tourist visa valid?
A Canadian tourist visa, also known as a visitor visa, can be valid for up to 10 years (as long as your passport validity), but the actual length of your stay in Canada as a tourist is determined by the border services officer at the port of entry. Typically, visitors are allowed to stay for up to six months at a time.