Travel lovers never stop to seek an excuse to explore new destinations as I do. I was in Kuala Terengganu last week for a business purpose, but my traveller soul dragged me to explore this beautiful capital of Terengganu State. 
And it would be unfair if I don't share my amazing experience and the best things to do in Kuala Terengganu with you. As the city is located along the coast of the South China Sea, it offers a number of idyllic islands and beaches. And water activities are the most things to do in this city. 
Okay, without giving you more suspense, let's check out what are the 19 best things to do in Kuala Terengganu 2023 and how you can make your Kuala Terengganu trip worthwhile. 
The Ultimate Guide to Exploring Kuala Terengganu's Top Attractions
1. Learn Muslim culture at Taman Tamadun Islam
In Malaysia, most people are Muslim and admire the Muslim culture greatly. Taman Tamadun Islam is an Islamic heritage park that teaches visitors Islamic history and culture. At the same time, it is the first Islamic civilisation park in the world. 
The highlight of this park is the congregation of various Islamic historical monuments that have come from all over the world. So if you wish to get a glimpse of Muslim culture and history, it is the place for you.
Not only that, but Taman Tamadun Islam also offers visitors a lot of fun activities and gives some lessons about Islam. The park has two parts namely Zone A and Zone B.
Zone A is the first part and it's free to enter. This part offers you many Islamic attractions, including the Crystal Mosque. 
On the other hand, Zone B is the home of several miniature models of world-famous Islamic buildings like Mecca's Haram Mosque and the Taj Mahal of India. This part requires a charge to enter. 
Location: Pulau Wan Man Losong PanglimaPerang, 21000 Kuala Terengganu
Opening hours: Monday to Thursday 10:00 am to 06:00 pm|Friday to Sunday 09:00 am to 07:00 pm
Entrance fee: Adults RM20.00, Children (aged 7 to 12) & Senior Citizens (aged 60 to above) RM15.00
2. Explore the famous Chinatown Terengganu (Kampung China)
Kuala Terengganu's Chinatown is a place that hardly any travellers would miss. It's a 16th-century Chinatown and is more popularly known as Kampung China. According to the locals, this Chinatown was founded by Chinese traders and it's one of the oldest Chinese settlements in Malaysia.
As Chinatown is located in the heart of Kuala Terengganu city centre, it always remains bustling. More importantly, Kampung China is the home of some extremely beautiful heritage buildings, temples, vibrant street art, and delicious food.
Here you can get acquainted with many Chinese ancestral homes and clan townhouses. If you're a foodie, then undoubtedly it is a gold mine for you. 
Photographers can also get their perfect shot in the laneways of Chinatown which are filled with murals and street art. The ancient and traditional Chinese architectures are also worthwhile to be captured on your camera. 
Location: Jalan Kampung Cina, 20100 Kuala Terengganu
3. Visit the beautiful Tengku Tengah Zaharah Mosque
Located 4.5 kilometres southeast of the centre of Kuala Terengganu, Tengku Tengah Zaharah Mosque is one of the best floating mosques in Malaysia. The construction of the mosque was started in September 1991 and completed in mid-1994. 
It was initially built by the late Sultan of Terengganu to pay respect to the memory of his mother. The design of this mosque is outstanding as it has a blend of Moorish and Malay architectural styles. Meanwhile, due to its exceptional architecture, Tengku Tengah Zaharah Mosque also won the Aga Khan Award in 1994.
The main prayer hall of the mosque is located downstairs and only males are allowed to enter here. The upper hall is reserved for females. The mosque looks more stunning during night time because of its shimmering white marble. 
Location: 1010, Jalan Batu Buruk, 20400 Kuala Terengganu
Opening hours: Daily 05:00 am to 10:00 pm
Entrance fee: free
4. Take your best shots of Murals & Street Art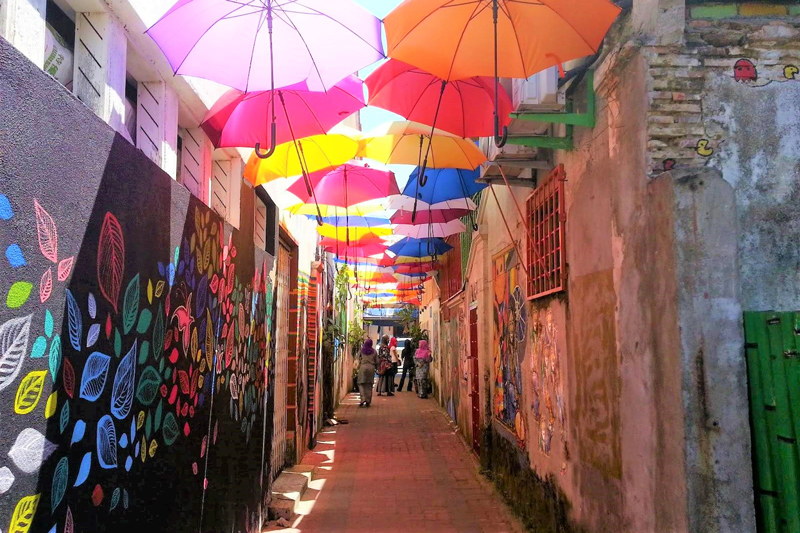 One of the best things to do in Kuala Terengganu is to take your best shots of Murals and street art here. And if you're a photographer, this city can be a paradise for you. As you will find lots of mesmerising pictures of cultural street art and murals.
Most of the street art can be found in Chinatown, which is also the home of many attractions in Kuala Terengganu. Every alley of Chinatown is decorated with vibrant and stunning art murals. I am sure it won't disappoint you. 
5. Make a tour of the Terengganu State Museum
Spreading over 75,000 square metres of massive floor area, Terengganu State Museum is the largest museum in Malaysia. The museum is housed in four interconnected buildings and has 9 exhibition galleries namely: Natural History Gallery, Royal Gallery, Textile Gallery, Craft Gallery, Islamic Gallery, Petroleum Gallery, Historical Gallery, Seafaring & Trade Gallery, and Fisheries & Marine Gallery.
Natural History Gallery: This gallery showcases the history of nature. How nature and the way of life of people were back then a few decades. Here you'll find specimens of flora and fauna of the state, skeletons of them, and many local insects and fish.
But their highlight of this gallery is the exhibition of rocks and minerals like gold, iron, and coal. 
Royal Gallery: This gallery displays a historical family tree of the Sultanate of Terengganu, many royal Krises, medals and gifts that are received by the royals, and household items of the palace. Here you'll also find portraits of former rulers of Terengganu. 
Textile Gallery: Textile Gallery is for those who want to learn the history of textile development in Malaysia. At the same time, this gallery also explains the process of productions that are made locally and displays some examples of traditional garments. Traditional wedding dresses are also on exhibition. 
Craft Gallery: Traditional art and handicrafts reflect the way of life of locals and in this gallery, you can see those amazing crafts such as woven mats, brass wares, weapons, gold and silver ornaments, and many more handmade things. 
Islamic Gallery: This gallery showcases the history of Islam and how Islam came to the Malay Peninsula. Here you are going to see several manuscripts, ceramics, and pictures of various mosques in the state that have remarkable architectural styles. 
Petroleum Gallery: You might know that the first oil rig was located off the coast of Terengganu in the South China Sea and most of Malaysia's oil is found in this state. So the Petroleum Gallery only shows the history of petroleum in Malaysia. You probably find this gallery as a mini version of the Petronas Museum in KLCC. 
Historical Gallery: This gallery will bring you back to prehistoric times and show you the trace of human development. The gallery exhibits pottery, coins, and artefacts that are enriched with history. 
Fisheries & Marine Gallery: This gallery is pretty unique and it is placed away from the main building. The Fisheries & Marine Gallery exhibits many types of boats that were used in the past. The two life-size sailing boats are the highlight of those marine displays. Besides boats, you will also see the equipment that was used to build boats. 
Traditional Houses: Behind the main building of the Terengganu State Museum, there are many traditional houses that were made in the olden days and still carry the beauty of old architecture. Here you are going to see houses like Rumah Limas, Rumah Bujang, Rumah Tele, Rumah Berserambi Besar, and Istana Tengku Long.
Location: 20566 Bukit Losong, Terengganu
Opening hours: Saturday to Thursday 09:00 am to 05:00 pm (closed on Friday)
Entrance fee: With MyKad Adults RM5.00 & Children RM2.00|Without MyKad Adults RM15.00 & Children RM10.00
6. Go for shopping at Pasar Payang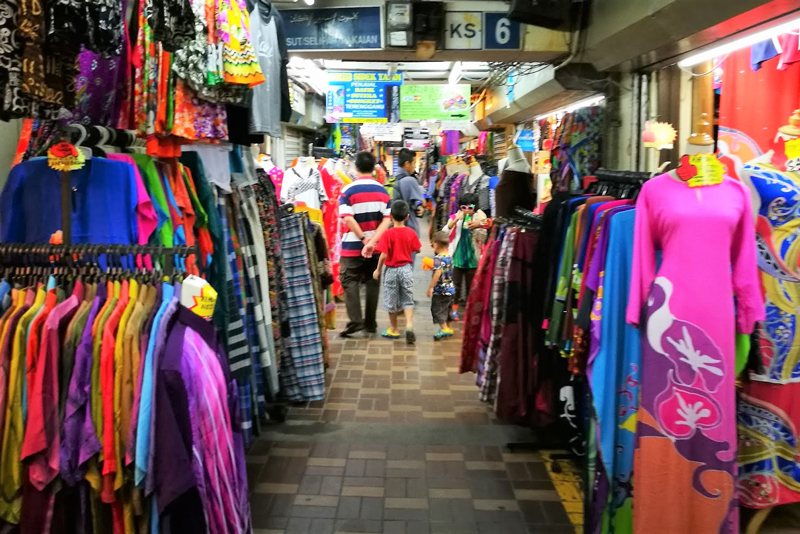 You surely wouldn't go back without having some shopping, would you? And in Kuala Terengganu, one of the most iconic tourist attractions is the Payang Store Market or more popularly known as Pasar Payang.
Since the market is located on the banks of the Terengganu River, it always remains active and bustling with people. At the same time, the modern style building where the market is housed is also built strategically to attract visitors. In this two-floor market building, there are more than one thousand traders, doing their business. 
So basically, there is hardly any product that isn't available at Pasar Payang. On the ground floor, you will find shops that are selling groceries, wet goods, and delicious cakes. On the other hand, stalls that are placed on the first floor, are selling copper products, songket fabrics, batik, clothes, brassware, and brocade. 
Location: Jalan Sultan Zainal Abidin, Kampung Tanjung Kapur, 20200 Kuala Terengganu
Opening hours: Daily 07:00 am to 06:00 pm
Entrance fee: free
7. Climb up to the Bukit Puteri
Bukit Puteri is located close to the Central Market in Kuala Terengganu and it's the highest peak in the city. The height of this hill is 200 metres and gives the utmost beautiful views to visitors who manage to climb up to the top.
The hilltop of Bukit Puteri can give you a magnificent view of the South China Sea and its fishermen who are working on their boats. At the same time, it will give you the opportunity to capture some outstanding pictures. 
Apart from the beautiful view of the hilltop, you will also find some historical elements here like cannons, a royal flagpole, a large bell, and so on. Because Bukit Puteri was used as a defence fort during the civil war by the Sultan, that's why many of the war elements have remained here. 
Location: 20100 Kuala Terengganu, Terengganu
Opening hours: Daily 09:00 am to 05:00 pm
Entrance fee: RM1.00 per person
8. Admire the wonder of Ho Ann Kiong Temple
Ho Ann Kiong Temple is one of the biggest tourist attractions in Kuala Terengganu which is located in Chinatown and is known as the oldest Chinese temple in the area. The highlight of this temple is its wonderful red and golden architectural elements, and spectacular stone carving.
The temple is greatly admired by the local Chinese and Buddhists and got heritage value from UNESCO for its traditional Chinese architectural elements. Apart from this, you will also find a wishing tree here just behind the temple premises. 
Location: 183, Jalan Kampung Cina, Kampung Banggul, 20100 Kuala Terengganu
Opening hours: Daily 24 hours
Entrance fee: free
9. Learn Chinese culture at Teck Soon Heritage House
Another famous Chinatown attraction in Kuala Terengganu is Teck Soon Heritage House. It used to be a shophouse that was owned by the very famous Teck Soon Trading Company. This company had a huge reputation in the olden days and most of the Chinatown shophouses were in their ownership.
At present, Teck Soon Heritage House is a source of learning the history of Chinese culture. Because it has transformed into a museum that represents the old traditional Chinese custom and culture. 
You can hardly ignore Teck Soon Heritage House when you're in Chinatown as the name is painted in three different hues of blue. 
Location: Jalan Kampung Cina, Kampung Banggul, 20100 Kuala Terengganu
Opening hours: Saturday to Thursday 10:30 am to 03:00 pm
Entrance fee: free
10. Go for a cruise at the Terengganu River
The view of the Terengganu River is one of the most beautiful scenes in Kuala Terengganu. And you can enjoy the views best if you go for a cruise at the Terengganu River. The river flows through Kuala Terengganu, leading up to the South China Sea, so clearly you can explore a lot during your cruise. 
Furthermore, the river contains several beautiful bridges such as the Sultan Mahmud Bridge, the Pulau Sekati Bridge, the Kuala Terengganu Drawbridge, and the Manor Bridge, which can also be explored while you're on the cruise. 
A number of cruises operate on the side and all of them provide amazing and enjoyable experiences to visitors. If a cruise seems overrated to you, you can also join a boat ride as it's milder activity to enjoy the views of the river. 
11. Explore Penarik & watch fireflies 
Penarik is a fishing village that offers a ton of things to do in Kuala Terengganu. Being located near the Perhentian Islands like Lang Tengah and Pulau Redang, Penarik possesses a beautiful windswept beach where you can unwind yourself. As the village is less crowded, it can be the best place to have some quality time.
Furthermore, Penarik is the ideal place to get a taste of local Malaysian culture. And when you're in a fishing village, it's foolish if you don't try the fresh seafood.
Apart from this, Penarik is also very popular for firefly sanctuary. All you need to do is to take an evening or night boat ride through the swampy mangrove forests and Sonneratia caseolaris trees to watch thousands of awe-striking fireflies. 
Location: Pantai Penarik, Kampung Penarik, 22120 Permaisuri
12. Visit the Crystal Mosque
Located in the Islamic Heritage Park, Crystal Mosque is one of the most popular tourist attractions not only in Kuala Terengganu but in the whole country. And it's so popular because of its wonderful and unique architecture.
By its name you can guess it is a crystal-made mosque and the main materials in the development of this masterpiece are steel, glass, and crystal. The four minarets of this mosque radiate a golden hue during the daytime. The beauty of Crystal Mosque increases when it reflects on the surrounding river. 
The construction of this mosque started in 2006, so you will see the reflection of modern architecture here, and it took two years to complete. On 8th February 2008, the Crystal Mosque opened its door to the public and it can contain 1,500 people at a time. 
Location: Pulau Wan Man, Losong Panglima P'erang, 21000 Kuala Terengganu
Opening hours: Daily 06:00 am to 11:00 pm
Entrance fee: free
13. Do some adventurous activities at Kapas Island
Located only 18.7 kilometers away from Kuala Terengganu, Kapas Island is the best place for a romantic getaway or a day trip with friends or family. The island is not so big, and it can be explored within a day, but the ambience that it offers to its visitors is exceptionally refreshing and peaceful. 
In the Malay language "Kapas Island" means "cotton island" and it refers to the white-sand beaches of this island. The island is a paradise for several adventurous activities like snorkelling, kayaking, scuba diving, hiking, and jungle trekking.
Apart from this, you can also do camping at Kapas Island. And don't forget to try their local cuisine to get the taste of authentic seafood, though it's a bit pricey. 
Snorkelling
When you're on Kapas Island, snorkelling is a must-do activity as the island is known as a snorkelling paradise. At the same time, it's a fun way to enjoy underwater sights. You can either rent snorkels or join a snorkelling tour, both are available at an affordable price. Renting snorkels may cost you about RM10.00 and a snorkelling tour is available for about RM40.00.
Scuba Diving
Kapas Island also offers a number of excellent scuba diving spots to give visitors an amazing tour of the underwater world. The western shore and shallow coral reefs make the island perfect for scuba diving. Even it has some ideal spots for diving for beginners. 
During your diving, you will get acquainted with several marine species like eels, giant clams, cuttlefish, sea urchins, sea cucumbers, puffer fish, angelfish, damsels, nudibranchs, and turtles
Kayaking
To explore the whole of Kapas Island, nothing is better than kayaking. With a kayak, you can visit all the less accessible bays of this island. And it's also an affordable activity as renting a kayak will cost you only RM20.00 for an hour. 
Hangout on the Beaches
Kapas Island contains some of the most beautiful white-sand beaches in Malaysia. The uniqueness of these beaches is that they're not only quiet and peaceful but also very clean. The tranquillity that you'll receive on these beaches is matchless. Moreover, the sunset and sunrise views are absolutely breathtaking. 
Hiking & jungle trekking 
Hiking & jungle trekking are also activities that you can do here. If you want to explore the other side of the island, these two activities are must-do. Bukit Singa and Gem Island are the two must-visit places that you can explore during your hiking and trekking. 
Location: Pulau Kapas, Terengganu
Pulau Kapas Snorkeling Trip from Kuala Terenganu
14. Take a walk through the Waterfront Area
There are several bridges and walkways in the Waterfront Area near Chinatown. This place is best for an afternoon or evening walk to enjoy the mesmerising view of the Terengganu riverside. Here you will also see a huge sign of "I ❤️ KT". And after walking, you can satisfy your appetite with delicious street food as the place has a number of food stalls. 
15. Buy some souvenirs from Wanisma Craft and Trading
If you want to buy some unique gifts for your family and friends or souvenirs for your home in Kuala Terengganu, Wanisma Craft and Trading is the place where you should go. This shop sells several items of local handicrafts and traditional printed batik and brass. 
At the same time, buying local handicrafts is the ideal way to get acquainted with local culture and support the local community. Here you can also meet the craft men and women. 
Location: 32, Ladang Sekolah, 20000, Kuala Terengganu
Opening hours: Tuesday to Sunday 11:00 am to 06:00 pm|Monday 10:00 am to 06:00 pm
Entrance fee: free
16. Go scuba diving at Tenggol Island
Located off the shore of Terengganu, Tenggol Island is one of the best places for scuba diving as it has nearly 20 dives around the island. Tenggol is a very small island, but it has no shortage of beauty and wonders, especially its underwater world is miraculous which you can explore through diving.
And if you're professional enough, you can go drift diving which is basically diving with currents and it's far more interesting. During your diving, you can discover all the hidden treasures of the underwater world such as soft corals, batfish, turtles, nudibranchs, the famous clownfish, Nemo, and eerie shipwrecks. And if you're lucky enough, there is a chance to see whale sharks. 
Apart from diving, you can also go snorkelling in the shallow sea of the island. And you can watch the incredible beauty of the sea corals and marine life. Spending some quality time at the beach of Tenggol Island and watching the sunset can also be the best things to do here. 
Location: Pulau Tenggul, Terengganu
17. Abidin Mosque
Located in the centre of Kuala Terengganu, Abidin Mosque is one of the oldest mosques in Terengganu as the age of this mosque is more than 200 years.  It was built in 1793 by Sultan Zainal Abidin II and at that time, the mosque was known as Masjid Besar (Grand Mosque) and Masjid Putih (white Mosque). 
At present, Abidin Mosque is one of the prominent prayer centres for local Muslims in Kuala Terengganu and it can accommodate up to 2,500 people at a particular time. The decoration of this mosque is also fascinating as it's designed with nine domes and latticed windows. 
As it's a prayer centre so make sure you dress decently and take off your shoes outside the prayer hall. 
Location: Jalan Masjid Abidin, 20100 Kuala Terengganu
Opening hours: Daily 05:00 am to 10:00 pm
Entrance fee: free
18. Ride on a Cas Ligas Bus
Cas Ligas Bus is one of the unique transportations in Kuala Terengganu and it's also adventurous to get a ride on it. The bus is designed in the model of a traditional house in Kuala Terengganu and gives a heritage tour of the city to the passengers. 
Cas Ligas Bus will take you to the most popular tourist attractions in Kuala Terengganu. And riding on a Cas Ligas Bus is undoubtedly an enjoyable thing to do in this city. 
19. Visit night markets
The true picture of Kuala Terengganu and its local lifestyle reflects in the night markets of Kuala Terengganu. But don't think that it's only a place for locals! The night markets of Kuala Terengganu are also a tourist hotspot as it has shops of local as well as international products. And food stalls are the highlight of these markets. 
Here are some night markets in Kuala Terengganu where you can opt for and taste some local delicacies. 
KT Walk Uptown Market
Address: Jalan Sultan Ismail, 20200 Kuala Terengganu
Business hours: Friday 03:00 pm to 12:00 am
Pasar Malam Gong Badak
Address: 93RJ+65, Kawasan Perindustrian Gong Badak, 21300 Kuala Terengganu
Business hours: Tuesday 03:45 pm to 09:00 pm
Pulau Duyong Night Market
Address: Pulau Duyung Besar, 21200 Kuala Terengganu
Conclusion
Maybe you have been to Kuala Terengganu several times or skipped over Kuala Terengganu on your way elsewhere, but never thought that this city can give you tons of attractions and activities to do. Then it is time to rethink and make Kuala Terengganu your next travel destination. The city does not require much time to explore, within two to four days you can cover all its attractions and activities. And for this reason, it can be the best gateway for weekends.
Thank you for reading! We have more interesting blogs about Malaysia and other countries, you can also visit them. And if you have travel stories, please share them with us.