Milan, Italy may not be the first city that comes to mind when planning a trip to Italy, but it is a must-see destination for those interested in fashion, culture, and history. As a metropolitan city, Milan is home to a thriving fashion and commercial industry, but it also boasts a rich history and culture.
From my personal experience, I highly recommend visiting some of the city's finest and must-see places in Milan, including stunning sights and landmarks that showcase Milan's unique charm and beauty. Don't miss out on these unforgettable experiences when you visit Milan!
Explore Milan Italy: The 27 Must-See Places
1. The Duomo: A Gothic Masterpiece
The Duomo, also known as the Milan Cathedral, is a stunning example of Gothic architecture and a must-see attraction for visitors to Milan. This historic church played a significant role during World War II, serving as a bomb shelter for German soldiers during Allied bombing raids.
The intricate details of the cathedral's facade and the elegance of its interior are a testament to Milan's rich history and architectural prowess. For a truly breathtaking experience, climb to the rooftop for stunning cityscape views. No trip to Milan is complete without a visit to this Gothic masterpiece.
Address:  Piazza del Duomo, 20122 Milano
Opening hours: Every day 9:00 am to 7:00 pm
Entrance: While entrance to the Duomo itself is free, visitors must pay a fee to access certain areas such as the Cathedral Archaeological Area and the Rooftops. These areas offer unique views and insights into the history and architecture of the iconic cathedral.
2. The Last Supper Church: A Lesser-Known Gem
While Leonardo da Vinci's Last Supper is undoubtedly a masterpiece, there is another stunning depiction of this iconic scene that often goes unnoticed by tourists. The Church of San Maurizio al Monastero Maggiore in Milan offers an equally impressive portrayal of the Last Supper, providing a more intimate setting for visitors to admire.
This hidden gem is a lesser-known attraction, but it is definitely worth a visit. In addition to the church's depiction of the Last Supper, Leonardo da Vinci's fresco of the scene in the convent's refectory is also must-see. Both works have been designated as a Unesco World Heritage Site and are owned by the Municipality of Milan.
Address: Piazza di Santa Maria Delle Grazie, 20123 Milano
Opening hour: Weekdays (Mon-Sat) 7.30 – 8.30 – 12.30 – 18.30 Public holidays (Sun) 8.00 – 9.30 – 10.30 – 11.30 – 18.30 – 20.00
3. The Royal Palace: Regal Splendor
The Royal Palace in Milan is a stunning display of regal splendor. With its opulent interiors, exquisite artworks, and lavish furnishings, visitors can witness the grandeur of Italian royalty. Located next to the Duomo in central Milan, the palace has played an important role in the city's history since the middle ages.
Originally serving as the seat of Milan's medieval commune government, it was later transformed into a royal residence during France's early 16th-century rule. Over the centuries, the building's structure and use changed, but it was tragically destroyed during World War II by a British bombing raid in August.
Address: Palazzo Reale, Piazza del Duomo, Milan, Italy
Opening hour: Every day 10:00 am to 7:30 pm
Admission:  Adult €14 and children under six free admission
4. Santa Maria Presso di San Satiro
Santa Maria Delle Grazie is a wonderful painting made with oil and tempera in gypsum preparation. It is 4.6 in length and 8.8 in width. Leonardo's Last Supper painting became famous for its use of painting techniques. In the sustainable period, it was a very unique and worth seeing thing that was not in Milan. 
This is a really ideal place for those historians, researchers who are interested in history. It was designed and built by Renaissance architect Donato Bramante in the 14th century. Tourists come to visit the church of Santa Maria Della Grazi for its famous works of art, and it is well known for its paintings. 
The artistry of "Leonardo da Vinci's Last Supper" is so great that viewers still get a strong and moving experience. Only 25 people are allowed to go to see this painting. And this makes this reservation mandatory for masterpieces and great painting.
Address: 20123 Milan, Metropolitan City of Milan, Italy
Opening hour: Daily 9:00 am to 6:00 pm
Admission: Free
5. Sforza Castle
Sforzesco Castle is one of the oldest landmarks in Milan, where many people flock every day. The castle was first built in the 15th century by Francesco Sforza, Duke of Milan, and named after him. 
Throughout history, the castle has undergone repeated alterations and was one of the largest castles in Europe in the 16th and 17th decades. Today, the fort is known as a cultural institution and tourist destination. 
The castle has now been restored and is ready to entertain guests. If you go outside the castle, these picturesque walls, architectural towers and gates will brighten your eyes. 
Address: Piazza Castello, 20121 Milano MI, Italy
Opening hour: Daily 7:30 am to 7:30 pm
Admission: Free
6. Sempione Park, Milan
Sempione Park is one of the largest parks in Milan. It was built in the late 1900s and attracted a large number of people every day. The park is located on the former parade ground of Castello Sforzesco. This park will be best for you if you want to breathe peace because it is full of greenery. You will see a lake where the ducks live, and you can feed them.
There are secluded roads which are the best for leisure walking. It is also a place of rest for many. Milan's kids come to play there, and there's even a basketball court. There is also a small cafe, and you can enjoy a cup of coffee. 
Mermaid Bridge is known as the first Iron Bridge in Italy. 
The historical monument is the Arch of Peace, and it is one of the first pillars in Milan. 
Torre Branca is a high pillar with an observation deck at the top. Here you will be able to admire the beauty of the city of Milan and its surroundings from the flight of birds by climbing.
There are different species of fish in the aquarium where you can feed them. 
Address: Piazza Sempione, 20154 Milano MI, Italy
Opening hour: Daily 6:30 am to 9:30 pm
Admission: Free
7. Galleria Vittorio Emanuelle II
When you finish visiting the Royal Palace, you will find Galleria Vittorio Emanuele II in contrast. The gallery is known as the oldest shopping centre in Italy. It's even an arcade. Its shops are very popular for luxury boutiques. There are also world-famous clothes and shoes, so no one wants to miss out on luxury shopping in Milan.
Address: P.za del Duomo, 20123 Milano MI, Italy
Opening hour: 24 hours
Admission: Free
8. Teatro Alla Scala
The most luxurious opera house in the world, Milan's was commissioned by King Victor Amadeus II on 400,000 ducats and opened its doors to public for first time ever with an incredible production of Monteverdi's L'incoronata (The Inhabitants) – which translates as 'the coronated'.
The performance featured one hundred singers! A brief history-in 1778 this theatre witnessed it's grand opening during celebrations that would last two months. Today you can enjoy performances from global music legends like Luciano Pavarotti or Andrea Bocelli live onstage thanks to their many sold out shows every year at La Scala Theater; but above all else: if we're talking
Address: Via Filodrammatici, 2, 20121 Milano Milan, Italy
Opening hour: Daily 9:00 am to 5:00 pm
Addmission: Adults: € 7.00 Students and Seniors (above 65): € 5 Children (under 12): free entry.
9. The Museum of Leonardo da Vinci, Milan
The most famous museum in Italy is in Milan, and that is the Leonardo da Vinci National Museum of Science and Technology. The museum is huge in size and is widely known for its world-famous paintings by Leonardo da Vinci. There is also a collection of models made from his paintings. 
Leonardo da Vinci first came to Italy in the 1900s as a court writer. The museum was established in 1953 and has gained a great deal of scientific and technological fame. It is one of the largest museums in Europe. Spread over an area of ​​50,000 m2, the museum has become the largest museum in Italy. The museum has a collection of the best machines made by Leonardo da Vinci. 
The museum also has about 16,000 historical collections, which are tourist attractions. That is why Italy has been a representative of technology, science and industry for centuries. 
Address: Via San Vittore, 21, 20123 Milano Milan, Italy
Opening hour: 10: 00 am to 6:00 pm Closed on Monday
Admission: €7–10
10. A day Trip to Lake Como
In northern Italy's Lombardy region, Como is a popular tourist destination due to its proximity to Lake Como's southern tip, one of the most beautiful lakes in Italy, and its views of the Swiss Alps. Como's historical and cultural highlights include the Basilica of Sant'Abbondio and the Broletto, the city's mediaeval town hall.
The ferry services on Lake Como connect many of the small towns located around the lake. They currently offer motor ships from Colico or Piona to Como town, fast services, and ferries to major villages near the lake's centre.
Places you can visit in lake Como
1. Como Cathedral
The Cathedral of Como is undoubtedly the most impressive structure in the city, and it is famous for its beautiful architecture.
2. Como Archaeological Museum
The delightful Como Archaeological Museum is conveniently located near the Cathedral.
3. Basilica of Saint Addondio
The Basilica of Saint Addondio is located slightly outside of the city centre, but it is a beautiful church that should not be miss.
4. Using the Funicular, climb up to Brunate.
If you travel to the eastern edge of the lake near the city of Como, you can take a fantastic funicular train that scales the mountain and stops at Brunate.
5. Ride a boat on Lake Como.
A boat ride from Como is possibly the best way to explore Lake Como and see the beautiful landscape surrounding this body of water.
6. Villa Balbianello
This promontory is accessible via a beautiful trail that winds from the bay at Lenno through some gorgeous woodland – this walk is a highlight and is ideal for hikers.
7. Visit the town of Menaggio
Menaggio, located on Lake Como's western shore, just above Bellagio, is another lovely town.
How to Travel to Como
Throughout the day, trains frequently run from Milan Central station to Como-san-Giovanni station. The trip takes 1 hour, which is much faster than driving, and the tickets to Como-san-Giovanni station are from € 4.80 ( oneway). The disadvantage of taking this train is that you are not directly on the lake.
You'll need to walk 12 minutes from Como station to the pier, then catch a boat to one of the lakeside towns. Many towns, including Menaggio and Bellagio, can also be reached by bus from the station. But I'd suggest the boats just for the beautiful views.
11. Navigli Lombardi
The canals of Milan were built around the 12th century, the main purpose of which was to facilitate irrigation. 
These works were very useful for the supply of goods in the 1300s, and they were allocated till the 19th century. 
Currently, visitors enjoy a 55-minute cruise along with Lombardy on the remaining canals. 
There are tour boards for tourists from the city's historic port of Darsena to the confluence of Milan's most important canal Navigli Lombardi. If you want to explore the vicinity of Navigli, you can take a walk along this narrow path. 
Address: Grattacielo Pirelli, Via Fabio Filzi, 22, 20124 Milano MI, Italy
Opening Hours: 24 hours
Admission: free
12. The Golden Quadrilateral, Milan
It is known as the Italian Fashion Capital or the Golden Quadrilateral. This is one of Milan's most elite, prestigious and expensive places to shop, so how can anyone miss shopping here? 
It is also on the attractions list of Milan. It is also known not only for its exclusive shopping but also as the world's fashion hub. Most of the Golden Quadrilateral is made up of neo-classical architecture. 
It is known as the best tourist destination at night. Well-known designs have been collected on the streets of the Golden Quadrilateral. 
Address: 20121 Milan, Metropolitan City of Milan, Italy
Opening Hours: 24 hours|the Best time to visit: 10:00 am – 06:00 pm
Admission: free
13. Basilica di Sant'Ambrogio
It is named after the patron saint of the city. The Basilica di Sant'Ambrogio was founded by Ambrose, and his remains are still in the church. 
Although the church dates back to the 11th century, its structure still remains. The church once housed the basilica, but some of it still stands. If you go to see the church, you will see a golden altar there. There is still a marvel pulpit of 10 spectators. And there is a balcony that looks like a tree trunk that is lined by columns. 
Address: Piazza Sant'Ambrogio, 15, 20123 Milano MI Italy
Opening Hours: 10:00 am – 06:00 pm
Admission: free
14. Pinacoteca di Brera
If you want to visit Milan, never forget to visit Pinacoteca di Brera as it is known as an infamous museum. Here is a collection of various amazing and fascinating images. There are more than forty rooms, all with paintings by Napoleon. But to get here, you have to go to Accademia di Belle Arti, and you can find that museum on the ground floor. 
There is still an operating art school here, founded in 1776 by Maria Theresa of Austria. 
If you are a painter or a painting-lover, you must know the famous Italian painters like Veronica, Rafael, Tintoretto and Caravaggio. And there is a collection of paintings by these famous painters. 
Address: Via Brera, 28, 20121 Milano MI, Italy
Opening Hours: 08:30 am to 07:15 pm|Monday: Closed
Admission: €2.00–15.00 ($2.26 to 16.93) per person
15. Piazza Dei Mercanti
If you are looking for a place to visit in Milan but it is a night view then surely it is something to enjoy. The Piazza de Mercanti was very popular as the administrative centre of medieval Milan. 
If you want to get a glimpse of the medieval life of Milan, then this place can give you the best experience. 
The Broletto Nuovo was centred in the piazza in the 1300s but has now moved to the Northeast. However, the buildings are still the same as in previous decades and have become a tourist attraction. 
On the southeast side of the building is the veranda of the Loggia degli Osii, from which the city authorities have been trying to reach people for decades. But now there are markets for Christmas ceremonies during the winter holidays. 
Address: Piazza dei Mercanti, 20123 Milano MI, Italy
Opening Hours: 24 Hours
Admission: €9.00 ($10.16) per person
16. Teatro Dal Verme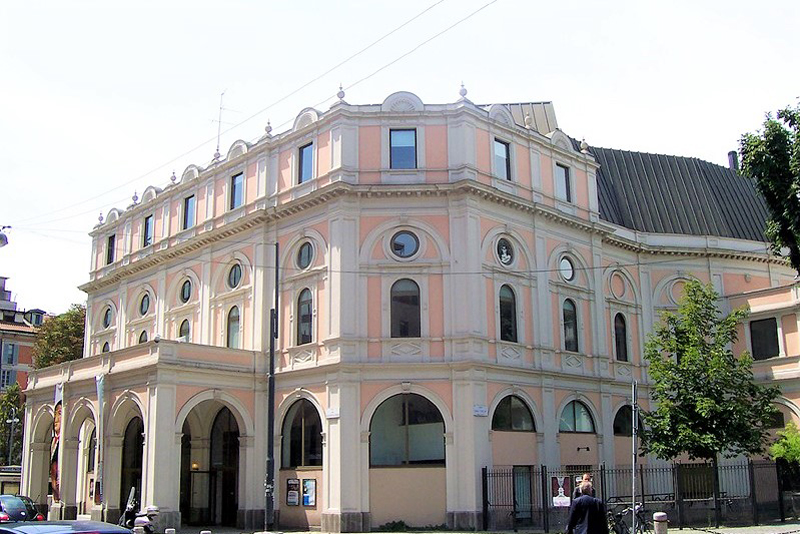 Another interesting and amazing place to visit Milan at night is the Teatro Dal Verme Theater. Giuseppe Pestagalli was the pioneer behind the creation of this famous theatre. It is known as the cultural centre of Milan. Because it is the starting point for live concerts, plays and music which tourists never want to miss out on, it is the oldest and most prestigious place in Milan.
Exhibitions and conferences are held here, and crowds of tourists and visitors flock there. 
Address: Via S. Giovanni sul Muro, 20122 Milano MI, Italy
17. Peck
Everyone knows that Italian food is infamous. And for most international tourists, Italian food is the one and only attraction that drives them to Italy. If you went to visit Milan but missed Italian food, it must be a cause for regret. So you must taste the food of Italian chefs. 
Peck might be best for you if you want to have a romantic dinner or have a delicious meal. 
Peck is one of Milan's finest and most amazing gourmand hubs and has the best Italian cuisine. It is now known as the best restaurant in Milan and a meeting place for tourists. 
Address: 9 Via Spadari, Milano, Lombardia, 20123, Italy
Opening Hours: 10:00 am–07:30 pm|Monday 03:00 pm–7:30 pm
Admission:  free
18. Porta Nuova, Milan
If you look at the attractions of Milan, Porta Nuova is one of them. It has stood as the gate of Milan since 1810. Since the gate is built in the style of neoclassicism, it is still a tourist attraction. This fascinating gate is located 800 meters from Park Guardini. 
These designs are still visible to the naked eye and are living symbols of the old and the new. Not only that, it is located on the border of two worlds. The reason for saying two-worlds is that on one side of the gate is the historical centre of Milan and on the other side is the business centre of Milan. 
Address: Piazzale Principessa Clotilde, 37, 20121 Milano MI, Italy
Opening Hours: 24 hours
Admission: €66.34 (U$74.86) per person
19. The Brera, Milan
If you are interested in historical sites, don't forget to visit Brera as it is one of the oldest cities in Milan. It has been famous and interesting since ancient times because of its bohemian atmosphere. 
Milan's most famous and largest art gallery is located in this area. There are also some more famous places like Pinacoteca di Brera and Brera Botanical Gardens. 
There are also some roads in Brera where tourists are crowded. 
It's part of the same road as Brera. The centre of the Palazzo Brera is home to historic buildings, and the road originates from there. And from there, academy street is connected. The Pontacio on Pinakoteca de Brera street is also there. 
Brera's other famous road is the Fiori Chiari and Madonna narrow roads. There are restaurants and bars where you can have a romantic dinner. There is also an abundance of shops under the old building where you will find some of your historical and authentic things. 
Address: Via Brera, 28, 20011 Milan, Italy
Opening Hours: 08:30 am – 10:15 pm 
Admission: €10.00 (U$11.29) per person
20. Basilica Di San Simpliciano, Milano
The Basilica Di San Simpliciano is famous for its architecture. The Romanesque-style sculptures have remained the same throughout the ages. 
Most of Milan's churches were built by Ambrose in the shape of a Latin cross. The Basilica is named after Saint Simplician, Bishop of Milan. 
Address: Piazza S. Simpliciano, 7, 20100 Milano, Italy
Opening Hours: 07:00 am – 07:00 pm 
Admission: free
21. The Church of the convent of San Maurizio al in Milan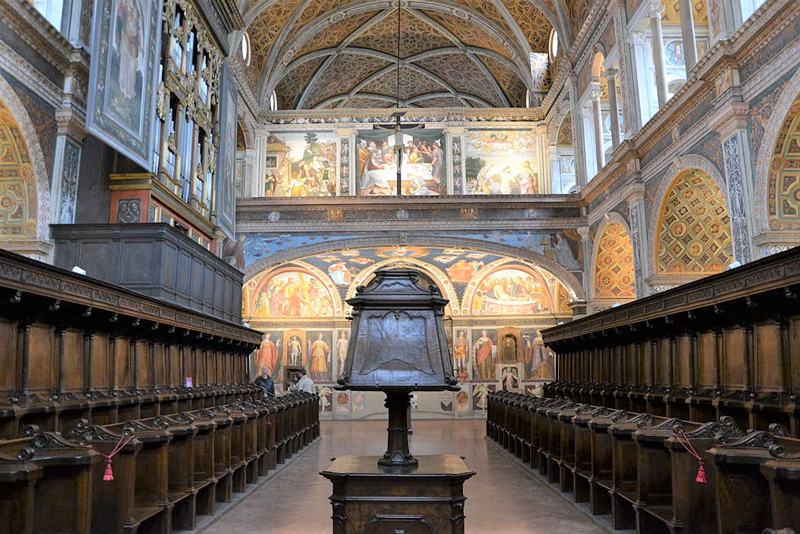 Construction of San Maurizio began in 1503 at the Maggiore Monastery in Milan, but it took 15 years to complete.  
The temple was the site of the Benedictines' most important women's convent. Currently, it is being used as an archaeological museum and is very popular as a place of interest. 
The temple had two separate parts. One part was for the monks, and the other part was for the believers, that is, for the common people. 
And there were strict instructions that these walls could not be crossed which were in force until 1794. 
Address: San Maurizio al Monastero Maggiore, Corso Magenta, 1520123 Milano, MI, Italy
Opening Hours: Friday to Sunday 10:00 am – 5:30 pm
Admission: Free
22. Street Venice, Milan
Milan is famous for its historic sites, and one of its central streets, Street Venice, is one of Milan's top attractions. 
One of the streets has a fountain and sculptures. And the name of this amazing sculpture is Nobility of time. 
At the beginning of the street, you will find a small Catholic church and if you want you can visit it there. You must have heard the name St. Babylon, and he was the 13th Bishop of Antioch. He entered Italy and established this church by preaching the cult of St. 
Address: Street Venice, Milan, Italy
Opening Hours: 24 Hours
Admission: Free
23. Cimitero Monumentale
Cimitero Monumentale is basically a cemetery that was founded in 1866. The main purpose of this cemetery is to unify all the small cemeteries that were scattered all over Milan. Cimitero Monumentale is not an ordinary cemetery, it's so large and legendary that it has been declared an open-air museum.
Spreading over 250,000 square meters, Cimitero Monumentale has hundreds of impressive tombs of Italy's most renowned and powerful persons' such as politicians, musicians, architects, sportsmen, actors, and many others. Some of these tombs are finely decorated with marble and precious stones.
Apart from this, in Cimitero Monumentale, you will also see a large collection of Greek Revival architecture, Italian sculptures, obelisks, and a small version of Trajan's Column. When you enter the cemetery, you will see a photography exhibition on the left side and these photos tell the story of the development of this cemetery. 
Address: Piazzale Cimitero Monumentale, 20154 Milano MI, Italy
Opening hour: Tuesday to Sunday 08:00 am to 06:00 pm (closed on Monday)
Admission: free
24. Poldi-Pezzoli Museum
Built at the end of the nineteenth century, Poldi-Pezzoli Museum is one of the most impressive places to visit in Milan. It is an art museum that was originally created to showcase the private art collection of Gian Giacomo Poldi Pezzoli. In fact, the museum is also housed in the former residence of Poldi Pezzoli.
Each room of this museum echoes the past from medieval to 18th-century decorations and it houses more than 5000 exceptional pieces of sculptures, jewellery, furniture, lace and embroidery, and so on.
The highlights of this museum are the masterpieces of Botticelli, Piero Della Francesca, Mantegna, Guardí, and many other artists. The museum also has a magnificent hall called the armoury to showcase a large variety of weapons and armour. 
Address: Via Alessandro Manzoni, 12, 20121 Milano MI, Italy
Opening hour: Wednesday to Monday 10:00 am to 01:00 pm & 02:00 pm to 06:00 pm (closed on Tuesday)
Admission: Adults €10.00, children (aged 11 to 18) and senior citizens (aged over 65) €7.00
25. Milano Centrale Railway Station
Milano Centrale Railway Station is not only a train station that helps visitors to explore the city, it is also one of the best tourist attractions in Milan. It was launched in the early 1930s to replace the older and smaller central station. And now, Milano Centrale is one of the largest railway stations in Europe.
The gorgeous architecture of the Milano Centrale Railway Station is inspired by early 20th-century Modernism and it showcases the influence of the Fascist regime during Mussolini's reign. The interior design of the station is finely decorated with blue tiles to denote the 24 tracks.
Over 300,000 local and foreign passengers travel each day to some of the leading European cities as well as other cities of Italy via the train of this station. 
Address: Piazza Duca d'Aosta, 1, 20124 Milano MI, Italy
Opening hour: 24 hours
Admission: free
26. Milan Chinatown
Though not as large as the Chinatown of New York or Montreal, Milan Chinatown contains a significant number of shops selling jewellery, Asian groceries, Chinese noodles, and many more things. It is one of the most vibrant and dynamic areas in Milan. If you want some budget-friendly products or to try some Chinese food, you should come to this place. The most popular time to visit the place is 12:00 pm to 01:00 pm. 
Address: 20154 Milan, Metropolitan City of Milan, Italy
Opening hour: 24 hours 
Admission: free
27. Milan Nightlife
When you're in Milan, it is foolish to spend your night in a hotel room with boredom. While you can enjoy Milan nightlife with dazzling lights, drinks, food, music, and dance. Like any metropolitan city, Milan has the best nightlife in Italy, and it's attractive and entertaining for locals as well as tourists. 
Here are some ways to enjoy Milan Nightlife and be a part of it. 
Enjoy the Aperitif Tradition
L'aperitif means Happy hour and that hour starts at 07:00 pm in Milan. There is a tradition among Milanese that they meet up with friends or colleagues after office hours and hang out with them at clubs, bars, and pubs. 
Basically, the Aperitif tradition is having drinks or food after 07:00 pm when the night starts unveiling itself and it lasts till late at night. You'll get aperitif at nearly every bar and club for only €8.
There are also some bars that offer an aperitif buffet including drinks and food dishes. It's an excellent and traditional way to start your nightlife in Milan. 
Watch the city lit up at night
Milan is a beautiful city with so many tourist attractions. But as those attractions are so popular in Italy, they remain crowded all day.
But at night, these iconic Milan sights illuminate with gorgeous lights and get crowd-free. So visiting Milan attractions like Milan Cathedral, Castello Sforzesco and Galleria Vittorio Emanuele at night can be fascinating.
Yes, you cannot enter the inside of these attractions, but you can still enjoy the mesmerising view of them. And it would be the finest way to enjoy Milan nightlife. 
Join a night tour
Milan does not only offer guided tours during day time, it also has night tours. So if you're not comfortable visiting Milan attractions at night by yourself, fear not. You'll always get plenty of night tours in Milan.
You can join walking, eating, or riding tours, whatever suits your mood. The advantage of going on a tour like this is that you'll be provided with a professional guide who will feed you interesting and historical information about attractions and the city.
Best time to visit Milan
Milan is a historic city that is the fashion, design, and art capital of the world. For fashion and festival enthusiasts, the best months to visit Milan are spring (April and May) and fall (September and October). Travellers can look forward to the Fall Fashion Week and the Milano Film Festival in September, while the Milan Jazz Festival kicks off in November.
Visit Milan in spring for a burst of colour and culture; the costume parties, parades, and revelry of Carnevale Ambrosiano – held on the Sunday following Ash Wednesday – will leave you with lasting memories. Milan is a shopper's paradise, lined with beautiful boutiques, high-end fashion outlets, and renowned luxury stores.
While summer is always a good time to vacation with family, summer also brings high temperatures and crowds, which is why April and May are the best months for travelling families. Summer is winding down, which means fewer tourists and more bearable temperatures for children. November through March are the least crowded months, though they are also the coldest. Apart from fashion events and festivals, Milan is never short of attractions thanks to its collection of museums and art galleries.
Getting to Milan
Milan has three international airports: Linate, Orio al Serio, and Malpensa. Linate Airport is the city's oldest and most historic airport. Almost all short-haul international flights, including Air Berlin, British Airways, Air France, Easy Jet, and Swiss Airlines, originate here.
Orio al Serio, on the other hand, only serves Milan's low-cost traffic. Aeroflot, Air India, Cathay Pacific, Air Europa, Jet Airways, and British Airways are among the international airlines that fly into Malpensa International Airport. The airport serves many major cities worldwide, including Toronto, London, Delhi, Beijing, and Moscow.
By Bus: A bus is one of the most convenient ways to get to Milan if you come from another city in Italy or another country in Europe. Intercity bus services, both national and international, connect Milan to other cities in Italy and throughout Europe.
By Train: Milan Centrale, one of Europe's most beautiful stations, is located in Piazza Duca d'Aosta. The terminal is well-connected to Italian cities such as Rome, Milan, Florence, and Padua and other European cities like Austria, Germany, Paris, and London.
Foods in Milan
For a taste of Italy, head to Pescaria in Polignano. While the menu may be limited and prices high for tourists like me who have only just started exploring this region's cuisine today; it still manages an excellent reputation among locals!
Getting Around Milan
Milan is a historic city with many beautiful old buildings to explore while strolling through the city centre. A walking tour should begin in front of the Il Duomo subway station. Step outside the subway station, and you'll find yourself in front of one of Europe's largest places of worship, Duomo. This massive Cathedral is a truly beautiful structure, and you should take the time to explore the interior to appreciate the church's scale and design fully. The Galleria Vittorio Emanuele II, Italy's oldest shopping mall, is located nearby.
Places to stay in Milan
There are plenty of accommodation options to choose from in Milan, which makes it easy for visitors. There is a wide range of budget hostels and hotels available so that you'll have no trouble finding one!
Best five cheapest place to stay in Milan
Common scams in Milan
Milan is an Italian city that houses many of the world's top fashion designers, but it also has a dark side. Tourists can become victims to pickpocketing when visiting one these areas with high concentrations or tourists like Stazione Cadorna Station and popular tourist spots such as Piazza del Duomo, Castello Sforzesco near Castle Hillsides Galleria Vittorio Emanuele II which contains many notable artwork pieces inside.
As more people are around you have higher chances at being targeted by thieves
The city of Milan in Italy is known for its historical architecture and sights. Here are the top 27 attractions in Milan that a tourist should never miss. So if you visit Milan, you must visit these places and share your experience with us. We hope you have a happy and safe journey.