If you enjoy travelling, you understand how every city has its unique story for how it became what it is today. With different cultures, histories, festivals and architecture, you can learn so much about a country by visiting one of its best cities.
That's why I have prepared a list of the most incredible cities around the globe. If you are searching for a new destination, here is a list of the top 50 Best Cities in the World to Visit.
Wanderlust Worthy: The 50 Best Cities in the World to visit.
Caution: The following post is quite lengthy.
1. Paris, France – Visit the City of Love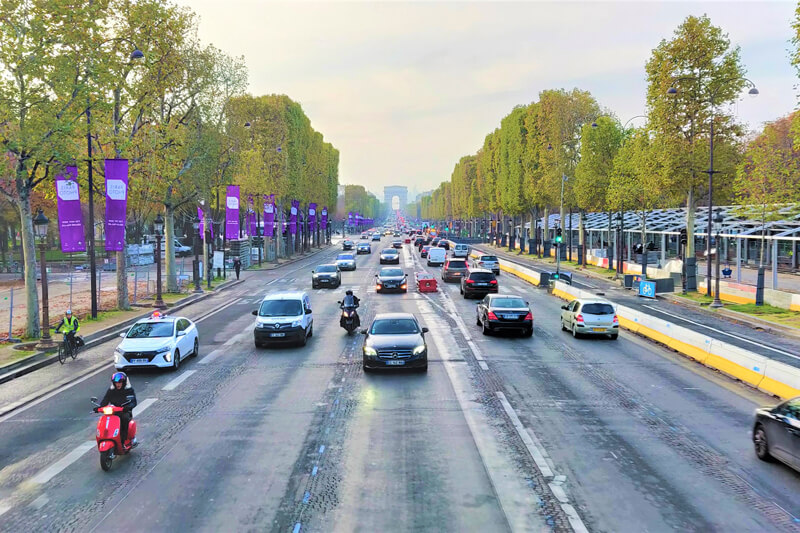 Paris is one of the most beloved cities in the world and everyone dreams of visiting at least once. Located in France, Paris is a magical city where millions of people every year come to see the Eiffel Tower. Not only this, but Paris is also the perfect city to celebrate grand events of life like honeymoons, engagements and milestone vacations.
If you are a fan of visiting Museums and Art Galleries, then Paris is the ultimate destination for you. In Paris, you get to explore the Musee d'Orsay, Louvre Museum and other iconic landmarks like the Arc de Triomphe in person and Notre-Dame Cathedral.
Also, you can go on a romantic cruise down the Seine River and enjoy a croissant with hot chocolate sitting on the chair of a quaint Parisian Cafe which is always wobbly because of the uneven pavement.
Book your Paris adventure now and discover the romance of this captivating city!  
Best Time to Visit Paris: Discover Paris at its finest during summer and Spring when the weather is best for city exploration and vibrant festivals await your arrival!
How Much Time You Need to Explore Paris: 2-4 days are enough to explore Paris' iconic landmarks, and museums, and indulge in its charming atmosphere and culinary delights.
2. New York City, US – Visit the Big Apple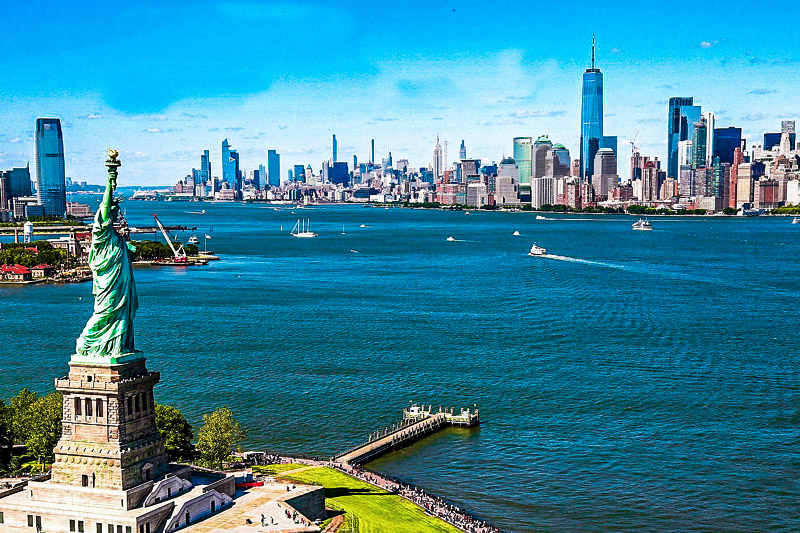 Another great city to visit is New York City, located in the New York State of the US. This incredible city is full of so much diversity, colorful cultures and tons of entertainment that you will be left mesmerized. Full of sky-high buildings along with some of the best restaurants, cafes, and pizza places, New York is the dream city to visit and live for millions of people.
You can come here and enjoy fantastic Broadway shows and visit its iconic landmarks like the Statue of Liberty and the Empire State Building. If you visit NYC during the Christmas season, you can experience this city transformed into an urban winter wonderland.
Make sure that you catch the Thanksgiving Day parade and spend New Year's Eve at Time Square. Trust me, it will be one of your most wonderful memories ever!
Best Time to Visit New York City: Opt for vacationing in NYC in December for a holiday season treat. Another option for you is to come here between January to March when you can enjoy budget-friendly travel with lower hotel and flight costs.
How Much Time You Need to Explore New York City: Plan for at least 4-7 days to explore New York City's iconic landmarks, museums, and neighborhoods, and immerse in its vibrant culture.
3. Tokyo, Japan – Visit the City Of 808 Villages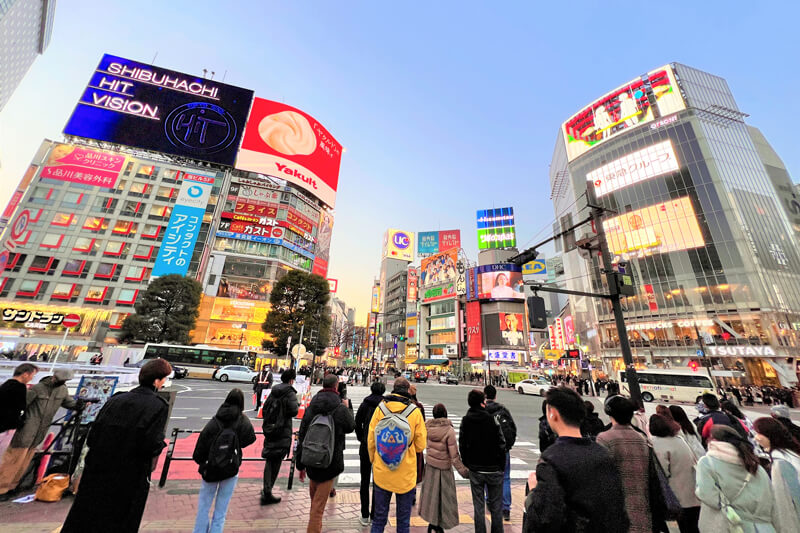 The next on the list of best cities in the World to visit is Tokyo. Located in Japan, Tokyo is a popular tourist destination for so many things. It has tons of awe-inspiring landmarks like Shibuya Crossing, and Tokyo Skytree, and its anime district, Akihabara- the Mecca of all Anime lovers.
Not only this, but you will also find exquisite food, malls, museums and markets here. Tokyo is exceptionally beautiful during the Spring when the Cherry Blossom season comes and the whole city has little cotton-like pink petals flowing all around.
There are also numerous stunning gardens where you can go for a stroll and enjoy cherry blossoms. It is exceptionally fun to try out various Sushi art here as well as put on kimonos, the traditional garment from Japanese culture.
You must visit Tokyo when in Japan because this city is definitely worth the hype!  
Best time to visit Tokyo: Cherry blossom season in spring (March to April) is best to experience stunning blooms and pleasant weather. You can also visit Tokyo in autumn (October to November) for beautiful foliage and mild temperatures.
How Much Time You Need to Explore Tokyo: Plan 4-5 days to fully explore Tokyo's iconic landmarks, and neighborhoods, and indulge in its unique blend of tradition and modernity.
4. Munich, Germany – Visit the City known as the Village of a Million People
Located in Germany, Munich is a gorgeous city full of centuries-old buildings and several museums. Munich is also known for having the largest breweries in the country and its famous annual Oktoberfest celebration.
A popular tourist destination, Munich is ideal for spending a relaxing vacation while strolling its gorgeous streets and enjoying amazing cuisine, shopping in the Viktualienmarkt and tasting beer at the Beer Garden here.
Munich is also a very romantic city to visit with its exquisite architecture, stunning eco-parks, and art museums. While in Munich you must visit Marienplatz, Nymphenburg Palace, Asamkirche, Munich Residenz, English Garden, and Allianz Arena and take a Gondola tour too!
Do explore Munich effortlessly by bike and savor the delightful combo of beer and Weisswurst for an incredible time. Make unforgettable memories in this Bavarian gem!  
Best time to visit Munich: Late spring to early autumn (May to September) is the best time to visit Munich for pleasant weather, outdoor activities, and vibrant festivals.
How Much Time You Need to Explore Munich, Germany: Plan for 2-3 days to truly explore Munich's iconic landmarks along with enjoying its vibrant beer gardens and rich Bavarian culture.
5. London, England – Visit the Big Smoke
It is no wonder that London is considered one of the best cities in the world to visit. With its top attractions like Big Ben, Westminster Abbey, St. Paul's Cathedral, Tower of London, Tower Bridge, etc. one cannot help but fall in love with this city.
You should come to London and discover for yourself London's royal allure at Buckingham Palace. Also, make sure to explore its vibrant neighborhoods like Camden Market and save on taxis with London's excellent public transport. If you are a museum enthusiast, you will adore the British Museum's vast historical collection.
Don't miss the classic double-decker bus ride for stunning city views!
Best Time to Visit London: The spring season (March to May) is the best time to visit London when the temperature is mild, and greenery returns in the gardens and parks.  
How Much Time You Need to Explore London: Plan for at least 1-2 days to explore London's iconic landmarks and indulge in its diverse culture and world-class attractions.
6. Venice, Italy – Visit the City of Canals
Venice is a must-visit city that captures the hearts of all those seeking love and enchantment. A cherished city by romantics worldwide, Venice is located in the beautiful country of Italy.
Venice is a magical city where hundreds of couples visit every day to enjoy a romantic getaway.
Here you can view its captivating Gothic architecture, picturesque piazzas, and charming canals which are adorned with Renaissance and Baroque gems. You must also go on a gondola cruise as well as go to see the sunset views from Bell Tower, and then get Venetian wine at local bars!
Also, don't forget to explore the Basilica of St. Mark's, Palazzo Ducale, Council Hall, Casanova's Prisons, Guggenheim Museum, and the Arsenal for an enriching experience in Venice.
Visit Venice now to experience its magic and splendor before the threat of sinking becomes a reality!
Best Time to Visit Venice: To experience the best weather while exploring the city, you should visit Venice between April and June.
How Much Time You Need to Explore Venice: Plan for 2-3 days to explore Venice's iconic landmarks and enjoy its enchanting canals and romantic ambience.
7. Amsterdam, The Netherlands – Visit the Venice of the North
Next on this list is Amsterdam, a city brimming with rich history and breathtaking beauty. Amsterdam is full of gorgeous cobblestone alleys, and labyrinths of canals along with historic architecture.
Here, you can enjoy trekking along bike-friendly streets and trying out tons of great restaurants and cafes. For all the History geeks, Amsterdam's world-renowned museums – Rijksmuseum, Anne Frank House, Van Gogh Museum, and Stedelijk Museum are like a wonderland.
Make sure that you go and explore the Royal Palace as well as Bloemenmarkt, the only floating flower market. A canal cruise is a must-have experience along with getting cute pictures with the iconic Dutch tulip bouquets which local vendors sell here.
Unforgettable moments await in Amsterdam so, don't let this incredible experience pass you by!
Best Time to Visit Amsterdam: The best time to visit Amsterdam is between June to August. During these months you get to enjoy nice, warm weather along with loads of daylight and daily life activities.
How Much Time You Need to Explore Amsterdam: Plan 1-3 days to explore Amsterdam's iconic canals, museums and indulge in its vibrant nightlife and cultural scene.
8. Prague, Czech Republic – Visit the City of Spires
Known as one of the most beautiful capital cities in the world, Prague is a gorgeous historic city of the Czech Republic. With its Renaissance architecture, numerous Gothic spires and quality dining and beer, Prague has earned itself the title of being the best city in the world effortlessly.
In Prague, you get to enjoy alluring galleries, museums, and affordable delicacies. Make sure to bring a camera along to capture the sights of this photogenic city that offers you beauty, peace, and an alluring quality of life.
Don't forget to check out all of Prague's iconic landmarks like Prague Castle, Old Town Square, Vyšehrad, Obecní dům, St. Nicholas Church, Prague Astronomical Clock and many more.
Plan your trip now and immerse yourself in the enchanting beauty of Prague!  
Prague's Best Time to Visit: April to August is the best time to visit for festivals and events. However, if you visit in September or October. You can enjoy fewer crowds.
How Much Time You Need to Explore Prague: Plan for 3-5 days to explore Prague's historic landmarks and experience its charming Old Town and rich culture.
9. Stockholm, Sweden- Visit the City of World's First Open-Air Museum
Known as one of the oldest cities in Europe, Stockholm city of Sweden is another incredible and popular city in the world. Tourists as well as the residents love this city because they get to have a rich culture here as well as experience a high quality of life, and a sustainable and innovative environment.
You must visit Stockholm because you get to explore a captivating history of 14 islands connected by 57 bridges which are surrounded by water and scenic landscapes. You can explore its renowned museums like the Vasa Museum and the ABBA Museum.
Don't miss out on visiting Stockholm's charming Gamla Stan, the Royal Palace, City Hall, Ericsson Globe, and the stunning archipelago houses. Embark on an unparalleled experience – Visit Stockholm now!
Best Time to Visit Stockholm: Stockholm is pretty much an all-year-round destination, and you can visit here according to your preference for the weather.
How Much Time You Need to Explore Stockholm:  2-4 days are sufficient to explore Stockholm, Sweden.
10. Berlin, Germany- Visit the Popular Grey City
Another amazing city in the world that you must visit is Berlin. The capital city of Germany is a popular tourist destination because of its unique blend of fascinating and tumultuous history, vibrant culture and atmosphere.
You should add Berlin to your itinerary because the thriving art, cultural and culinary diversity and party vibes of this beautiful city are a must-experience. You can also go and view the Berlin Wall and the Holocaust Memorial.
When in Berlin, you have to explore all its renowned institutions like the Pergamon Museum, the Berlin State Opera, and the Berlin Philharmonic. You can also enjoy the numerous festivals hosted here, including the Berlinale aka Berlin International Film Festival.
Add Berlin to your itinerary for an unforgettable adventure!
Best Time to Visit Berlin: The best time to visit Berlin is during late spring to early autumn (May to September) for pleasant weather and numerous outdoor activities.
How Much Time You Need to Explore Berlin: 1-3 days are more than enough for you to fully soak in the beauty of Berlin!
11. Dubai, UAE- Visit the city of Gold
Dubai ranks high among the best cities in the world to visit because it dazzles travelers with its futuristic skyline, luxurious offerings, and cultural experiences.
This global metropolis in the United Arab Emirates is home to some of the most iconic attractions like the Burj Khalifa, the world's tallest building, and the Palm Jumeirah, an artificial island paradise!
You must visit Dubai at least once to fully enjoy the vibrant souks of Deira and experience the desert safari adventures. Also, don't forget to witness the mesmerizing Dubai Fountain show and then, enjoy a luxurious stay at one of Dubai's opulent hotels, enjoy exquisite dining, and go to world-class shopping malls.
With its warm hospitality, diverse cultural experiences, and extravagant lifestyle, Dubai is truly one of the best cities in the world to visit!
Best Time to Visit Dubai: November to March is best if you wish to enjoy pleasantly mild weather. 
How Much Time You Need to Explore Dubai: The ideal duration to explore Dubai is 5-7 days, which will allow you to experience iconic landmarks, cultural sites, shopping, dining, and nearby attractions.
12. Istanbul, Turkey- Visit the City of Happiness
Istanbul is another city that has earned the title of a top destination in the world with its mesmerizing blend of history, culture, and beauty. As one of the best countries in the world, it will captivate you with iconic attractions like Hagia Sophia, the Blue Mosque, and Topkapi Palace, showcasing its rich heritage.
You must visit Istanbul and experience the simple joy of strolling through the vibrant Grand Bazaar. You can enjoy an unforgettable shopping expedition and savor the delectable Turkish cuisine at local eateries.
After that, you can go on a cruise along the Bosphorus Strait which is going to offer you breathtaking views of the city's skyline. With warm hospitality, colorful markets, and the fusion of East and West, Istanbul promises a once-in-a-lifetime adventure that will leave visitors enchanted.
Create unforgettable memories in the magic of this dynamic city- Book your Istanbul adventure today!
Best Time to Visit Istanbul: The best time to visit Istanbul is during the spring (April to May) and autumn (September to November) when the weather is mild, and the city showcases its rich history and culture without the summer crowds.  
How Much Time You Need to Explore Istanbul: To fully explore Istanbul and experience its rich history, culture, and beauty, make plans to spend at least 4-6 days.
13. Rome, Italy- Visit the city of Eternal City
Next on the list is Rome which stands as one of the best cities in the world to visit, captivating travelers with its timeless allure. With a rich and vast history, Rome offers you iconic attractions like the Colosseum, the Roman Forum, and the Pantheon, allowing you to walk in the footsteps of ancient civilizations.
Other popular attractions which offer you a spiritual and artistic marvel in Rome are The Vatican City, with St. Peter's Basilica and the Sistine Chapel. After you are done sight-seeing, you can indulge in mouth-watering Italian cuisine at one of its charming trattorias.
Also, don't forget to toss a coin into the Trevi Fountain for good luck! Rome's romantic ambience, cobblestone streets, and vibrant piazzas create an unforgettable experience.
That's why if you are looking for a place to visit that would offer you artistic treasures, rich heritage, and delectable food, Rome sho