Tokyo is a modern supercity that is super busy and just as efficient. From the dazzling neon
lights of Shibuya and Shinjuku to the peaceful gardens and temples of Asakusa and Ueno,
Tokyo is a city of contrasts that never fails to amaze and inspire visitors from around the world.
When I first visited Tokyo in 2018, I knew I would come back over and over again. I was travelling abroad for the first time, and visiting Tokyo, Japan, as my first solo trip was one of the best decisions ever.
But figuring out which places to see can be overwhelming. That's why I have prepared the ultimate checklist for you that includes the best places to see in Tokyo, go to eat and do fun stuff!
In this blog post, I'll take you on a journey through the sights, sounds, and tastes of Tokyo,
sharing my favorite experiences and insider tips for making the most of your trip to this
incredible city. So put on your walking shoes, grab your camera, and get ready to explore Tokyo
like a local!
Best places to visit in tokyo for first-timers.
There are numerous places to see in Tokyo, but here is a list of the top 24 places you must visit in Tokyo:
1. Tokyo Tower: Visit Japan's Eiffel Tower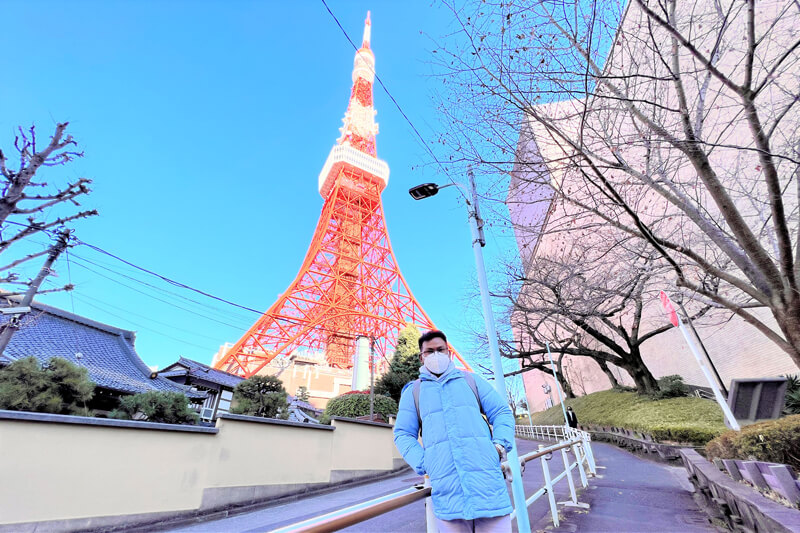 After its completion in 1958, Tokyo Tower became one of the most famous landmarks. At Tokyo Tower, you get a glorious view of the city from its main observation decks. It provides a 360-degree scenic view of hustling and bustling Tokyo, everything from its shopping streets to parks, famous buildings, and shrines, and if the sky is clear, you can even see the Gulf of Tokyo and Mount Fuji in the far distance too!
Tokyo Tower is magnificent at night, too, due to its lighting. It is a great place to visit in Tokyo with your family. The Eiffel Tower in fact, inspires its structure. Another thing, if you are a One-Piece fan, then you must visit Tokyo One Piece Tower, located inside the Tokyo Tower. Don't forget to bring your camera to capture your memories to take home!
Observatory Admission fees:  1200 yen for adults (19+ years old), 1000 yen for high schoolers (16-18 years old), 700 for middle schoolers (7-15 years old) and 500 for children between the age of 4-6 years.
Timings: 9:00 am to 10:30 pm.
Address: 4 Chome-2-8 Shibakoen, Minato, Tokyo
2. Tokyo Skytree: Visit Tokyo's Iconic Tower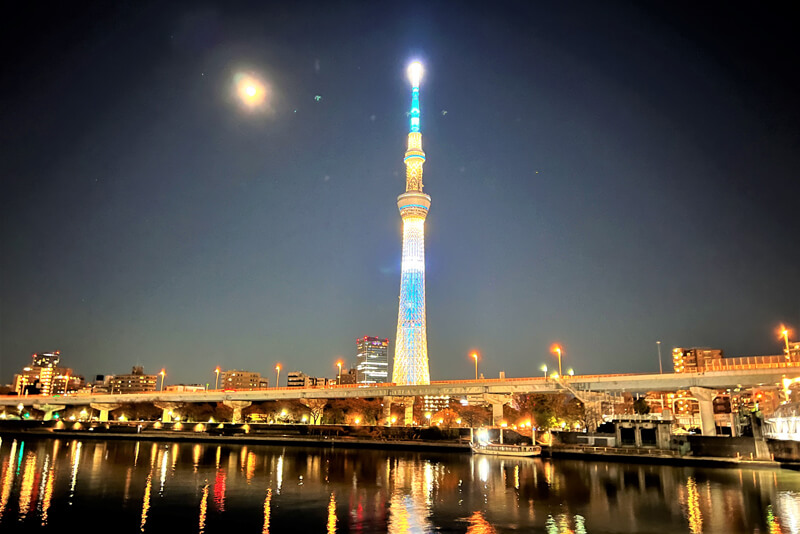 Known as the tallest structure in Japan and third in the World, Tokyo Skytree is another prominent landmark that you just have to add to your list of things to see in Tokyo. It is even taller than Tokyo Tower, and you get another great location to enjoy fantastic views, including Tokyo Bay, Tokyo Tower and even Mount Fuji! Here, you get to enjoy a spiralling skywalk at Tembo Galleria.
While you are here, you can visit the Sumida Aquarium, a public aquarium located on the 5-6th floors of Tokyo Solamachi in Tokyo Skytree. This aquarium also has a penguin tank and with their seasonal digital art show, you can enjoy these cute creatures swimming through gorgeous lights.
To go to the top of the Tower at Tembo Deck and Tembo Galleria, you will need to purchase a ticket, but it is worth every penny for the panoramic view and the chance for photography you get!
Ticket Prices: For adults, it is 2700 Yen for Tembo Galleria and Tembo Deck and 1800 Yen for Tembo Deck.
Timings: 10 am to 9 pm.
Address: 1 Chome-1-2 Oshiage, Sumida City, Tokyo
3. Shibuya Crossing: See Tokyo's Fantastical Scramble Crossing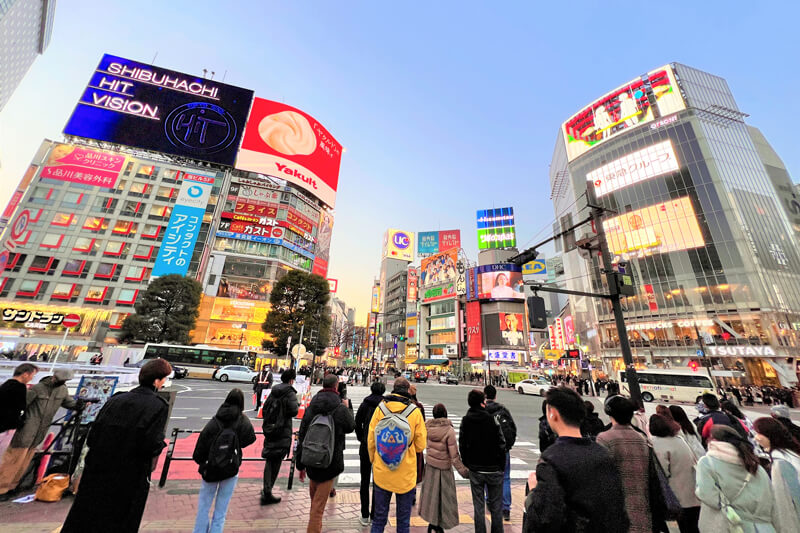 Known as the world's busiest pedestrian crossing, Shibuya Crossing is a popular tourist attraction and one of the best things to see in Tokyo, Japan. To fully understand this place's glory, you must go to the surrounding building at Shibuya Crossing and observe the crossing of a massive crowd at this intersection every time the traffic light stops the vehicles.
The entire scramble happens within a few moments, and it is mesmerising and an incredible site to witness. I recommend that you view this from the 11th floor of the Hikarie Building or Starbucks Shibuya Tsutaya.
Another place that offers a great view of Shibuya crossing is the Shibuya Scramble Square tower, providing a bird's eye view along with an incredible view of Tokyo city.
The best time to visit Shibuya crossing is at dusk when the crowd of people and vehicles here is at its peak, and the lighting is the best for photography!
Address: In front of Shibuya station, Shibuya City, Tokyo
4. Sensō-Ji: Visit Tokyo's Oldest Temple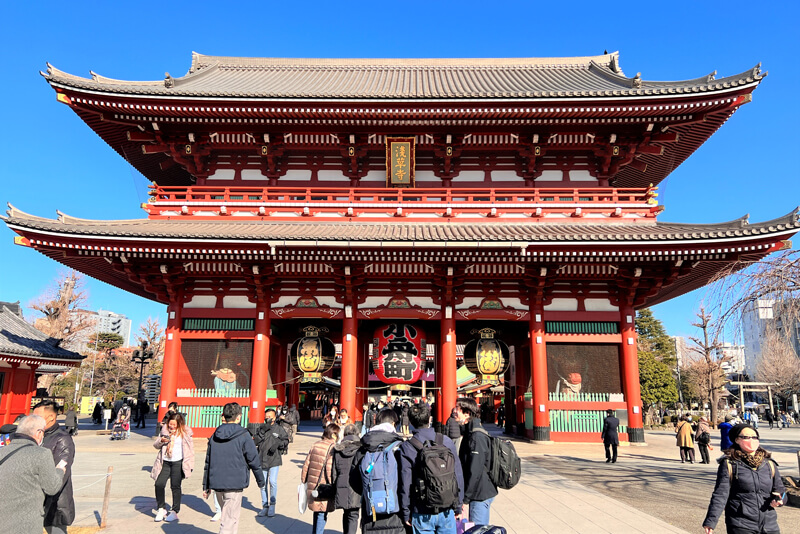 Located in Asakusa, Senso-Ji is another popular place to visit in Tokyo with the family, which has over 30 million visitors yearly. It is the oldest temple in Tokyo and is especially significant too. With its blazing red Kaminarimon Gate, this Buddhist temple is full of the hustle and bustle with its shopping streets.
There is a ginormous cauldron in front of the temple, which has loads of burning incense, which is believed to have many health benefits. 
This is a must-visit place in Tokyo where you get to see the beauty of Japanese culture and traditions. At night, this place gets even more extraordinary. I would recommend visiting during the annual festivals and being a part of the lively vibes! Also, if you want to avoid the tourist crowd, try to come here early.
Ticket Price: Free
Timings: the temple grounds are open day and night. However, the main hall opens at 6 am and closes at 5 pm. From October to March, the opening timing changes to 6:30 am.
Address: 2 Chome-3-1 Asakusa, Taito City, Tokyo 111-0032
5. Shinjuku Gyoen National Garden: Best place for Cherry Blossom in Tokyo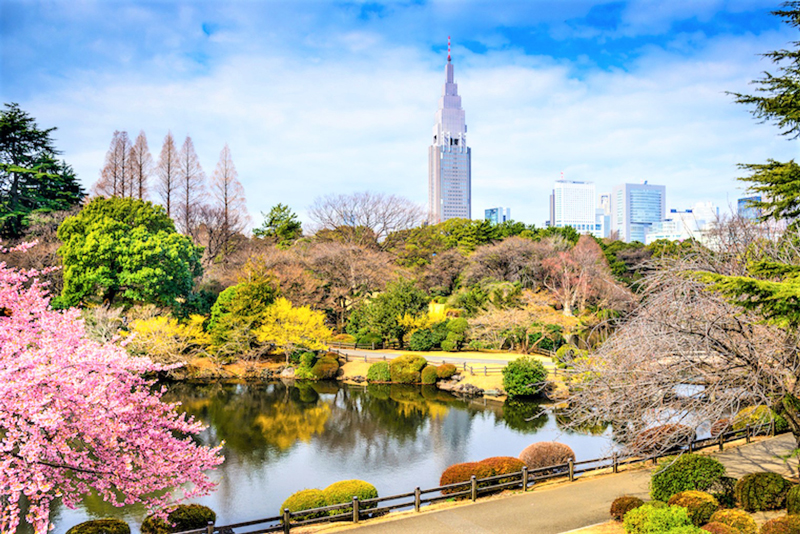 Is your reason for visiting Tokyo to experience the Cherry Blossom season? Then, Shinjuku Gyoen National Garden is the perfect place for you and a great place to visit in Tokyo with your family. Located in Shinjuku and Shibuya, Tokyo, Shinjuku Gyoen National Garden is one of the largest and most famous gardens and parks in Tokyo.
It is also one of the most famous Cherry Blossom sites, with over 1000 cherry blossom trees planted here.  Shinjuku Gyoen has spacious lawns, lovely walking paths and an overall tranquil atmosphere where you can relax away from city life. It is not only a Japanese garden but has French Formal and English Landscape gardens too.
It is also very close to Tokyo Tower, so you can head over there after visiting here or vice-versa. The entire space is well-maintained, and it's a popular place to visit in Tokyo that must not be missed!
Ticket Price: The starting price is 500 yen for an adult, 250 yen for students and free for children under 15.
Timings: It is closed on Monday. Timings from Tuesday to Thursday are 9 am to 4 pm. And on Saturdays and Sundays, the timings are 7 am to 4 am.
Address: 11 Naitomachi, Shinjuku City, Tokyo
6. TeamLab Planet: Experience Art's Futuristic Form
Located right next to Shin-Toyosu Station, teamLab Planet is a digital art museum that has given a new meaning to immersive and sensorial art. If you are searching for things to see in Tokyo, just add this place to the top of your list. This place is full of Instagram-able, breathtaking and surreal collections of many installations.
There is a new addition of a vegan Ramen restaurant here and an indoor/outdoor Garden area. The artworks are in wide-open dazzling spaces and connected by dark, maze-life corridors. You will even have to walk barefoot and through knee-deep water for aquatic imagery.
The art is impossibly fantastic, with some displays like shining mirrored enclaves of limitless crystal lights. If you are an art lover, this place is a must-visit for you because the unique experience with the digital art teamLab Planet provides is sure to become a core memory!
Ticket Price: 3200 yen for adults and 2000 yen for junior high and high school students. For children, it's 1000 yen and free for disabled and kids below 3.
Timings: 10 am to 8 pm, except On Sunday when the timings are 9 am to 9 pm.
Address: 6 Chome-1-16 Toyosu, Koto City, Tokyo
7. Visit Meiji Jingu Shrine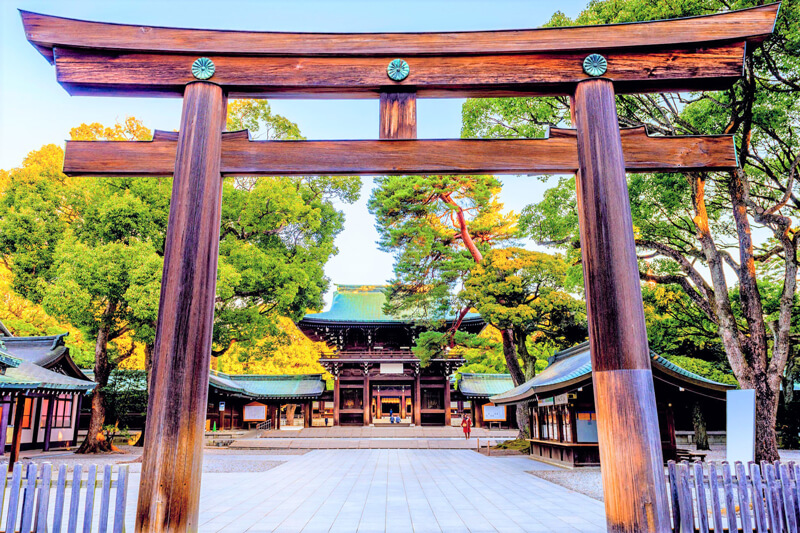 Another excellent best place to visit in Tokyo, Japan, is Meiji Jingu Shrine. It is a famous shrine in Tokyo dedicated to the deity of Emperor Meiji and Empress Shoken, his consort. At Meiji Jingu Shrine, you can enjoy a tranquil walk and feel enlightened and refreshed away from the hustle and bustle of daily life.
This place comes alive at New Year and during festivals hosted by the shrine throughout the year. The main complex of Meiji Jingu is located at a ten-minute walk from its entrances, marked by Torii gate near Harajuku Station and Yoyogi Station. The entire shrine has around 100,000 trees in its forest that were donated from all across the country.
Another place you must visit at Meiji Shrine is the Inner Garden. It is located off the main path to the shrine, and its beauty is at its peak in early summer when the iris blooms. This shrine is definitely among the places to visit in Tokyo with your family to make some amazing memories.
Ticket price: free
Timings: the timings vary from month to month. You can check the opening and closing timings on their website.
Address: 1-1 Yoyogi Kamizono Cho, Shibuya, Tokyo
8. Tokyo National Museum: Visit Tokyo's Biggest Museum
Tokyo National Museum is one of the oldest museums in Japan and another great place to see in Tokyo. In this museum, you will find to see over 110,000 artefacts which include everything from Japanese history like Samurai Swords, Armours, Buddha statues, intricately made kimonos, historical documents, and thousand-year-old ceramics to many other precious artefacts from East Asia and other parts of Asia.
All of these objects have been kept with great professional care. There are a total of six branches that you get to explore, for example, the Heisei Museum and Table Celebration Hall.
Tokyo National Museum also houses a great collection of Japanese art for all art lovers to admire. The management keeps the special exhibitions on constant rotation, which means you will never find this place looking the same, and you will never be bored if you come here over and over again.
If you love visiting museums and learning more about that place's history, Tokyo National Museum is the perfect place to see you when you visit Tokyo.
Ticket Prices: 1000 yen for adults and 500 yen for university students, and for High School, middle school, and elementary school children, it's free.
Timings: 9:30 am to 5 pm
Address: 13-9 Uenokoen, Taito City, Tokyo
9. Ueno Park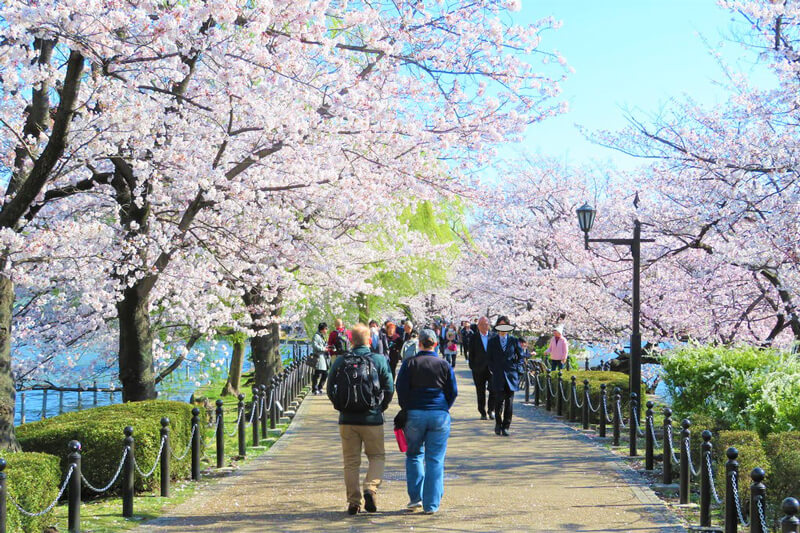 Ueno Park is one of the most beautiful and vibrant parks in Tokyo, Japan! This iconic green space is a must-visit destination for anyone looking to experience the best of the city's natural and cultural offerings. It is a sprawling 133-acre oasis in the heart of Tokyo, featuring picturesque ponds, lush gardens, and historical landmarks that draw tourists and locals alike.
One of the park's most famous attractions is the Ueno Zoo, which is home to more than 400 different species of animals, including giant pandas, elephants, and tigers. Visitors can spend hours exploring the zoo's various exhibits and watching the animals up close. If you wanna know more about this zoo, keep on reading!
Another highlight of Ueno Park is the Shinobazu Pond, a serene body of water surrounded by picturesque lotus plants and beautiful cherry blossom trees. Visitors can take a boat ride on the pond, feed the ducks, or simply relax and take in the beautiful scenery.
For history buffs, Ueno Park is a treasure trove of cultural landmarks and museums. The park is home to several world-class institutions, including the National Museum of Western Art, the National Museum of Nature and Science, and the Tokyo Metropolitan Art Museum. These museums offer visitors an opportunity to learn about Japan's rich cultural heritage and explore a wide range of exhibits and displays.
Finally, no visit to Ueno Park would be complete without experiencing the park's stunning cherry blossom season. During the spring months, the park's cherry blossom trees burst into bloom, creating a spectacular pink and white canopy that draws visitors from all over the world.
Location: Uenokoen, Taito City, Tokyo 110-0007, Japan
Opening Hours: Everyday | 5:00 am – 11:00 pm
10. Ueno Zoo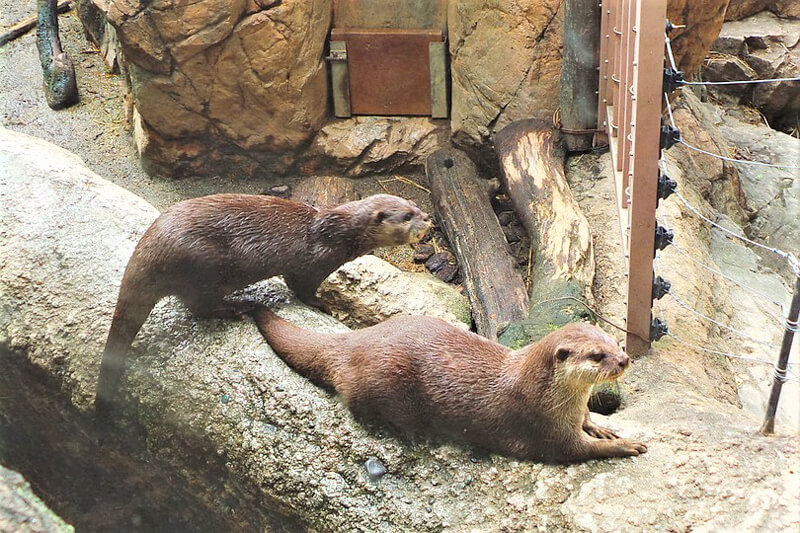 Ueno Zoo is an incredible place to spend a day surrounded by the diverse and exotic animals. One of the most popular attractions in Ueno Zoo is the giant panda exhibit. This zoo is home to several pandas, including a few cubs, and it's always a delight to see them play and eat bamboo.
There are also several other animals that are native to Japan, such as the Japanese macaque, also known as the snow monkey, and the Japanese serow, which is a type of goat-antelope.
Another highlight of the Ueno Zoo is the petting zoo, which is a great place for families with young children. Here, kids can interact with various farm animals like goats, sheep, rabbits, and even donkeys. It's a great way for children to learn about these animals up close and personal.
The Ueno Zoo is also committed to conservation and education. There are informative signs and exhibits throughout the zoo that teach visitors about the animals and the importance of conservation efforts. There are also many conservation programs that the zoo supports to protect endangered species.
Location: 9-83 Uenokoen, Taito City, Tokyo 110-8711, Japan
Opening Hours: Tuesday – Sunday | 9:30 am – 5:00 pm
Closed on Monday
Entrance fee:
Adults (16-64): 600 yen
Seniors (65+): 300 yen
Students (13-15): 200 yen
Children (0-12): Free
11. Kabuki-za Theatre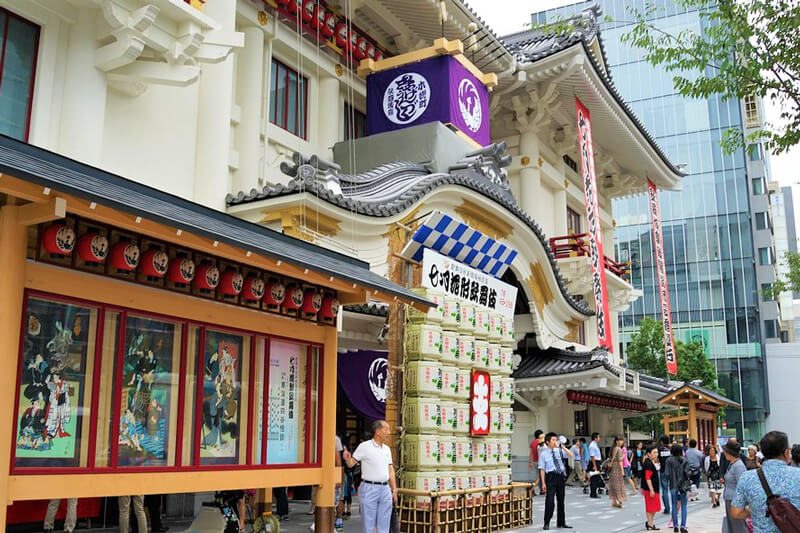 Kabuki-za Theatre is a type of Japanese theatre that has been around for over 400 years. It's known for its elaborate makeup, costumes, and exaggerated movements. The theatre hosts Kabuki performances, which  is a classical form of Japanese dance-drama. Kabuki-za Theatre is the premier venue for Kabuki performances and has been the heart of the Kabuki world since it opened in 1889.
The theatre is located in the bustling Ginza district of Tokyo and has a grand entrance that's hard to miss. Inside, the theatre is adorned with ornate decorations, reflecting the traditional Japanese architecture. The auditorium has a capacity of over 1800 seats, and the seating is arranged in a unique fashion, with the uppermost seating at the back being the most expensive, while the front seating is the cheapest.
Kabuki-za Theatre presents a wide variety of performances throughout the year, with different productions each month. The plays are typically several hours long, with intricate storylines and themes that reflect Japanese culture and history.
The performances are in Japanese, but the theatre provides translation devices for non-Japanese speakers.If you want to witness one of Japan's great performing arts that reflects the tastes and fashions of the townspeople, you must visit the thatre and enjoy a show at least for once.
Location: 4 Chome-12-15 Ginza, Chuo City, Tokyo 104-0061, Japan
12. Mount Takao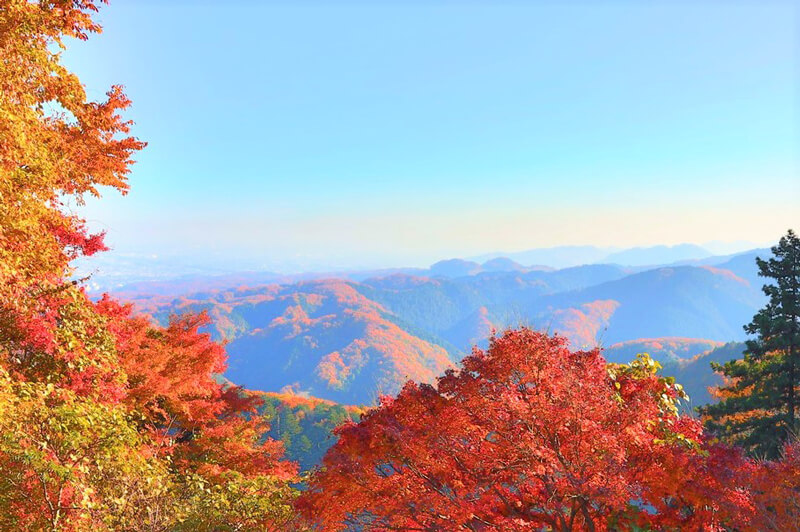 Mount Takao is a beautiful mountain located in the western part of Tokyo, Japan. It's a popular hiking destination and a great escape from the busy city life. The mountain is easily accessible by train, and there are several hiking trails to choose from, each offering a different level of difficulty.