Tokyo is a modern supercity that is super busy and just as efficient. When I first visited Tokyo in 2017, I knew I would come back over and over again. I was travelling abroad for the first time, and visiting Tokyo, Japan, as my first solo trip was one of the best decisions ever.
But figuring out which places to see in Tokyo can be overwhelming. That's why I have prepared the ultimate checklist for you that includes the best places to see in Tokyo, go to eat and do fun stuff!
 Best places to see in Tokyo
There are numerous places to see in Tokyo, but here is a list of the top 24 places you must visit in Tokyo:
1. Tokyo Tower: Visit Japan's Eiffel Tower
After its completion in 1958, Tokyo Tower became one of the most famous landmarks. At Tokyo Tower, you get a glorious view of the city from its main observation decks. It provides a 360-degree scenic view of hustling and bustling Tokyo, everything from its shopping streets to parks, famous buildings, and shrines, and if the sky is clear, you can even see the Gulf of Tokyo and Mount Fuji in the far distance too!
Tokyo Tower is magnificent at night, too, due to its lighting. It is a great place to visit in Tokyo with your family. The Eiffel Tower in fact, inspires its structure. Another thing, if you are a One-Piece fan, then you must visit Tokyo One Piece Tower, located inside the Tokyo Tower. Don't forget to bring your camera to capture your memories to take home!
Observatory Admission fees:  1200 yen for adults (19+ years old), 1000 yen for high schoolers (16-18 years old), 700 for middle schoolers (7-15 years old) and 500 for children between the age of 4-6 years.
Timings: 9:00 am to 10:30 pm.
Address: 4 Chome-2-8 Shibakoen, Minato, Tokyo
2. Tokyo Skytree: Visit Tokyo's Iconic Tower
Known as the tallest structure in Japan and third in the World, Tokyo Skytree is another prominent landmark that you just have to add to your list of things to see in Tokyo. It is even taller than Tokyo Tower, and you get another great location to enjoy fantastic views, including Tokyo Bay, Tokyo Tower and even Mount Fuji! Here, you get to enjoy a spiralling skywalk at Tembo Galleria.
While you are here, you can visit the Sumida Aquarium, a public aquarium located on the 5-6th floors of Tokyo Solamachi in Tokyo Skytree. This aquarium also has a penguin tank and with their seasonal digital art show, you can enjoy these cute creatures swimming through gorgeous lights.
To go to the top of the Tower at Tembo Deck and Tembo Galleria, you will need to purchase a ticket, but it is worth every penny for the panoramic view and the chance for photography you get!
Ticket Prices: For adults, it is 2700 Yen for Tembo Galleria and Tembo Deck and 1800 Yen for Tembo Deck.
Timings: 10 am to 9 pm.
Address: 1 Chome-1-2 Oshiage, Sumida City, Tokyo
3. Shibuya Crossing: See Tokyo's Fantastical Scramble Crossing
Known as the world's busiest pedestrian crossing, Shibuya Crossing is a popular tourist attraction and one of the best things to see in Tokyo, Japan. To fully understand this place's glory, you must go to the surrounding building at Shibuya Crossing and observe the crossing of a massive crowd at this intersection every time the traffic light stops the vehicles.
The entire scramble happens within a few moments, and it is mesmerising and an incredible site to witness. I recommend that you view this from the 11th floor of the Hikarie Building or Starbucks Shibuya Tsutaya.
Another place that offers a great view of Shibuya crossing is the Shibuya Scramble Square tower, providing a bird's eye view along with an incredible view of Tokyo city.
The best time to visit Shibuya crossing is at dusk when the crowd of people and vehicles here is at its peak, and the lighting is the best for photography!
Address: In front of Shibuya station, Shibuya City, Tokyo
4. Sensō-Ji: Visit Tokyo's Oldest Temple
Located in Asakusa, Senso-Ji is another popular place to visit in Tokyo with the family, which has over 30 million visitors yearly. It is the oldest temple in Tokyo and is especially significant too. With its blazing red Kaminarimon Gate, this Buddhist temple is full of the hustle and bustle with its shopping streets.
There is a ginormous cauldron in front of the temple, which has loads of burning incense, which is believed to have many health benefits. 
This is a must-visit place in Tokyo where you get to see the beauty of Japanese culture and traditions. At night, this place gets even more extraordinary. I would recommend visiting during the annual festivals and being a part of the lively vibes! Also, if you want to avoid the tourist crowd, try to come here early.
Ticket Price: Free
Timings: the temple grounds are open day and night. However, the main hall opens at 6 am and closes at 5 pm. From October to March, the opening timing changes to 6:30 am.
Address: 2 Chome-3-1 Asakusa, Taito City, Tokyo 111-0032
5. Shinjuku Gyoen National Garden: Best place for Cherry Blossom in Tokyo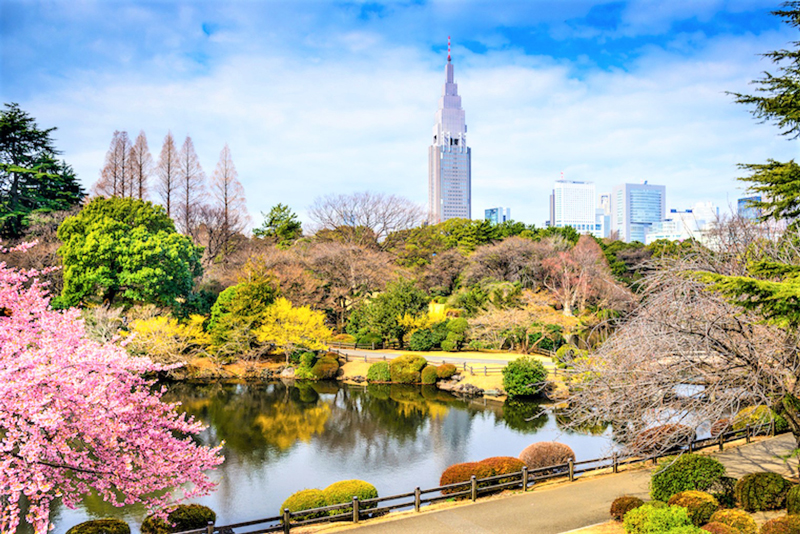 Is your reason for visiting Tokyo to experience the Cherry Blossom season? Then, Shinjuku Gyoen National Garden is the perfect place for you and a great place to visit in Tokyo with your family. Located in Shinjuku and Shibuya, Tokyo, Shinjuku Gyoen National Garden is one of the largest and most famous gardens and parks in Tokyo.
It is also one of the most famous Cherry Blossom sites, with over 1000 cherry blossom trees planted here.  Shinjuku Gyoen has spacious lawns, lovely walking paths and an overall tranquil atmosphere where you can relax away from city life. It is not only a Japanese garden but has French Formal and English Landscape gardens too.
It is also very close to Tokyo Tower, so you can head over there after visiting here or vice-versa. The entire space is well-maintained, and it's a popular place to visit in Tokyo that must not be missed!
Ticket Price: The starting price is 500 yen for an adult, 250 yen for students and free for children under 15.
Timings: It is closed on Monday. Timings from Tuesday to Thursday are 9 am to 4 pm. And on Saturdays and Sundays, the timings are 7 am to 4 am.
Address: 11 Naitomachi, Shinjuku City, Tokyo
6. TeamLab Planet: Experience Art's Futuristic Form
Located right next to Shin-Toyosu Station, teamLab Planet is a digital art museum that has given a new meaning to immersive and sensorial art. If you are searching for things to see in Tokyo, just add this place to the top of your list. This place is full of Instagram-able, breathtaking and surreal collections of many installations.
There is a new addition of a vegan Ramen restaurant here and an indoor/outdoor Garden area. The artworks are in wide-open dazzling spaces and connected by dark, maze-life corridors. You will even have to walk barefoot and through knee-deep water for aquatic imagery.
The art is impossibly fantastic, with some displays like shining mirrored enclaves of limitless crystal lights. If you are an art lover, this place is a must-visit for you because the unique experience with the digital art teamLab Planet provides is sure to become a core memory!
Ticket Price: 3200 yen for adults and 2000 yen for junior high and high school students. For children, it's 1000 yen and free for disabled and kids below 3.
Timings: 10 am to 8 pm, except On Sunday when the timings are 9 am to 9 pm.
Address: 6 Chome-1-16 Toyosu, Koto City, Tokyo
7. Visit Meiji Jingu Shrine
Another excellent best place to visit in Tokyo, Japan, is Meiji Jingu Shrine. It is a famous shrine in Tokyo dedicated to the deity of Emperor Meiji and Empress Shoken, his consort. At Meiji Jingu Shrine, you can enjoy a tranquil walk and feel enlightened and refreshed away from the hustle and bustle of daily life.
This place comes alive at New Year and during festivals hosted by the shrine throughout the year. The main complex of Meiji Jingu is located at a ten-minute walk from its entrances, marked by Torii gate near Harajuku Station and Yoyogi Station. The entire shrine has around 100,000 trees in its forest that were donated from all across the country.
Another place you must visit at Meiji Shrine is the Inner Garden. It is located off the main path to the shrine, and its beauty is at its peak in early summer when the iris blooms. This shrine is definitely among the places to visit in Tokyo with your family to make some amazing memories.
Ticket price: free
Timings: the timings vary from month to month. You can check the opening and closing timings on their website.
Address: 1-1 Yoyogi Kamizono Cho, Shibuya, Tokyo
8. Tokyo National Museum: Visit Tokyo's Biggest Museum
Tokyo National Museum is one of the oldest museums in Japan and another great place to see in Tokyo. In this museum, you will find to see over 110,000 artefacts which include everything from Japanese history like Samurai Swords, Armours, Buddha statues, intricately made kimonos, historical documents, and thousand-year-old ceramics to many other precious artefacts from East Asia and other parts of Asia.
All of these objects have been kept with great professional care. There are a total of six branches that you get to explore, for example, the Heisei Museum and Table Celebration Hall.
Tokyo National Museum also houses a great collection of Japanese art for all art lovers to admire. The management keeps the special exhibitions on constant rotation, which means you will never find this place looking the same, and you will never be bored if you come here over and over again.
If you love visiting museums and learning more about that place's history, Tokyo National Museum is the perfect place to see you when you visit Tokyo.
Ticket Prices: 1000 yen for adults and 500 yen for university students, and for High School, middle school, and elementary school children, it's free.
Timings: 9:30 am to 5 pm
Address: 13-9 Uenokoen, Taito City, Tokyo
Unique things to do in Tokyo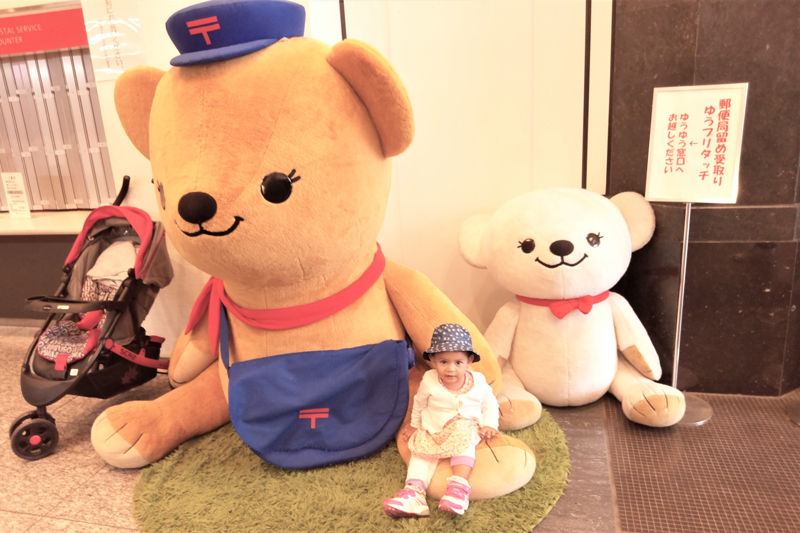 Tokyo is not just the capital of Japan, but it is the most thriving city in the world that uses futuristic technology while staying true to its roots. Provided that Tokyo has come up with some really unique projects that are original and must-visit locations! Here are some of the unique places to see in Tokyo, especially for anime lovers and to have a great time in Tokyo.
Visit a Themed Cafe in Tokyo
One of the best things to do in Tokyo is to visit its uniquely themed cafes. The theme varies from cats to robots, and that's why I have prepared a list of 5 unique themed cafes in Tokyo that have amazing vibes, a cosy atmosphere and great coffee!
9. Maidreamin Akihabara Honten
One of the largest maid cafe chains in Japan, Maidreamin is one of the cutest places in Tokyo where you get a peek at the cosplay scene in Japan. If you are wondering why, you should visit this place in Tokyo, then let me tell you about the way things work here.
At this theme cafe, you are welcomed by maids and get attentive service from them. These waitresses are, of course, dressed in cute maid outfits. You can even take pictures with the cosplaying waitresses. Maidreamin is also known to collaborate for promotions of video games like Shibuya design firm Teamlab and Goddess Masters.
The overall atmosphere of this place is energetic and vibrant, with incredible performances by the maids. So, put Maidreamin cafe on your list of places to see in Tokyo, Japan and have a unique experience at this cosplay cafe!
Timings: 11:30 to 11 pm on weekdays and 10:30 to 11 pm on weekends.
Address: 3 Chome-16-17 Sotokanda, Chiyoda, Tokyo
10. Eorzea Cafe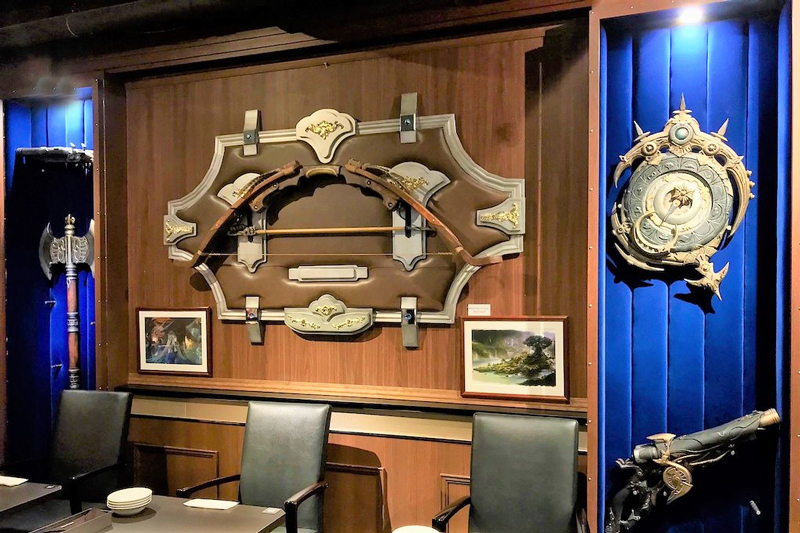 If you are a fan of Final Fantasy video games, then visiting Eorzea cafe should be among the top things to do in Tokyo. Located in Akihabara, this final fantasy-themed cafe makes you feel like you have entered a magical land.
As you enter the cafe, you hand over your ticket to the staff member at the counter, who will provide you with a menu that is available in both Japanese and English. Your ticket will buy you two hours here, along with free drinks.
The decor includes finely crafted weapons with ornate details. Even their menu is Final Fantasy-themed. Also, don't forget to buy Final Fantasy merchandise here!
Timings: The timings vary on weekdays and weekends. On Saturdays, Sundays, and holidays, there are five sessions between 10:00-12:00, 12:30-14:30, 15:00-17:00, 17:30-19:30, 20: 00-22: 00. On Weekdays, there are only four sessions between 12:30-14:30, 15:00-17:00, 17:30-19:30, 20: 00-22: 00.
Address: Pasela Resorts AKIBA Multi Entertainment 2F, 1-1-10 Sotokanda, Chiyoda-ku, Tokyo
11. Vampire Cafe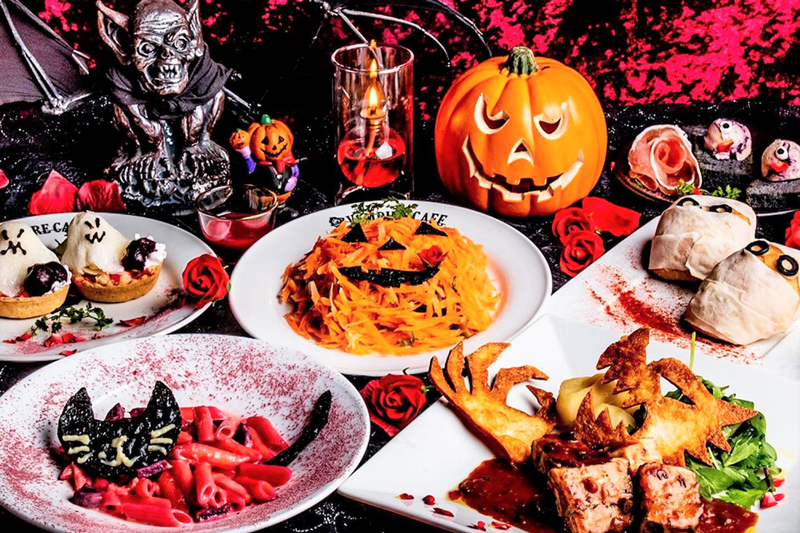 A unique place to see in Tokyo is the cafe located in the Ginza district of Tokyo, Vampire Cafe. As the name suggests, it is a vampire-themed cafe that serves Italian cuisine amid spooky decor. So, if you are a fan of spooky and mysterious places, this place is a no-brainer for you.
The food they serve is Halloween-themed, along with unique cocktails. The entire place is decorated with red curtains, candlelight, chandeliers, and even a coffin! Don't miss out, and make sure to take a break from a chaotic shopping spree in the Ginza district to have delicious food and drinks.
Timings: From Tuesday to Sunday, timings are 17:00-23:00. It is closed on Monday.
Address: 6-7-6 Ginza, Chuo-ku, Tokyo Rape Building 7F
12. Alice in Fantasy Restaurant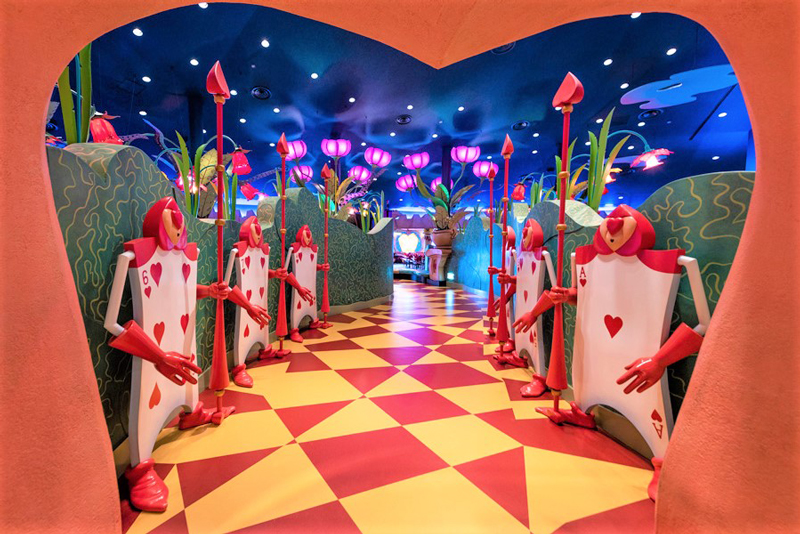 Are you a lover of Alice in Wonderland like me? Because when I heard about an Alice in Wonderland Cafe in Tokyo, I knew I had to visit. When you enter this cafe, you are provided with an Alice or a rabbit-themed hairband to put on when you enter.
The interior perfectly depicts Wonderland with details like the large clock table in the Main Hall's "Never-Ending Tea Party". Their menu is also themed, with their 'cheese fondue' being the most popular dish. Everyone, children or adults, is bound to have the time of their life at this cafe!
Even if you are not familiar with the book, this cafe is still a great place to visit in Tokyo and have a good time with loved ones at this cute place in Tokyo.
Timings: the timings for the lunch session are 11:30-14:30, and for the dinner session, the timings are 17:00-22:00.
Address: 1-6-2 T-wing Building B2F, Kabukicho, Shinjuku-ku, Tokyo
13. Cat Cafe Nyankoto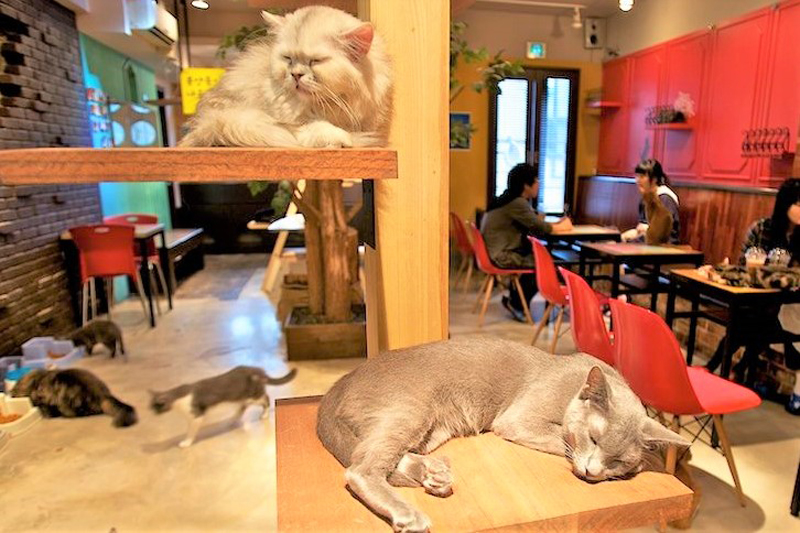 The last one on this list and one of my personal favourite things to do in Tokyo are to visit a cat cafe. If you are a cat lover like me, you must come and have a big cup of coffee with these cute little furry Nekos!
Cat Cafe Nyankoto is a uniquely themed cafe and one of the cutest places in Tokyo that offers you a clean and fresh sitting area. The sitting arrangement is on the floor on fuzzy blankets where cats come to sit on your lap to get their scratches and play with you. These cats are very friendly, and sometimes they even bring out the kittens!
So don't forget to visit this cat cafe when you are in Tokyo!
Timings: The timings on Weekdays are 12:00~21:00, and on weekends and holidays, it's 11:00~21:00.
Address: 2 Chome-14-6 Takadanobaba, Shinjuku City, Tokyo
Go to the Otaku district- Akihabara
Another popular attraction in Tokyo is the Otaku district which is every anime lover's heaven. If you are a fan of Naruto, Pokemon, and Bleach like me, Akihabara is the best place to visit in Tokyo for Anime fans.
Akihabara is the popular otaku district of Tokyo, also popularly known as Akiba. Akihabara is the central hub of all of Japan's Otaku/ anime lovers. This place is full of shops that are devoted to anime merchandise, cosplay essentials and mangas, along with electronic shops.
So, here is a list of things to do in Otaku district, Tokyo.
14. Visit the Ghibli Museum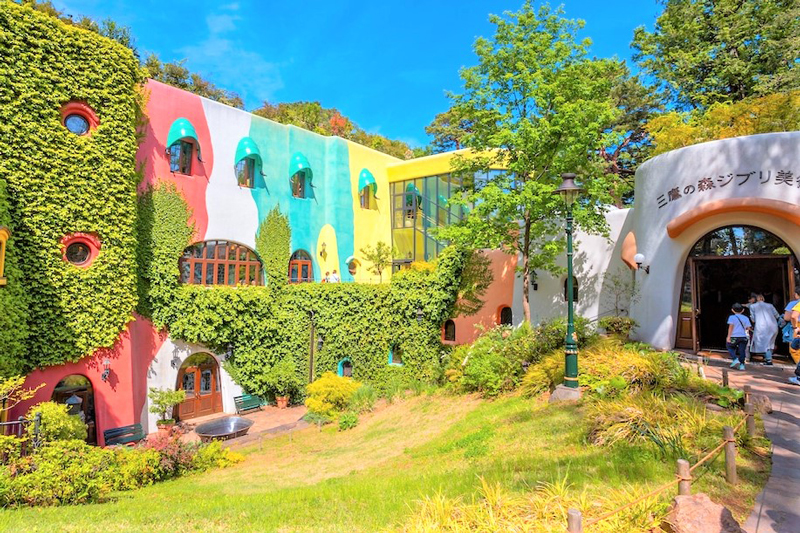 One of the other great places to see in Tokyo for anime lovers is the Ghibli Museum. Hayao Miyazaki has created this incredible Ghibli Museum that is dedicated to the studio that provided all of us with our favourite classic anime like 'Spirited Away' and 'My Neighbour Totoro'.
You will find permanent exhibits here which show the entire journey of the creation of these anime as well as changing exhibits on different topics. There is a cafe called The Straw Hat Museum café here where you can grab a nice cup of coffee afterwards. If you enjoy visiting Museums, especially in other countries, this is a must-visit museum for you! 
Timings: 10am-5.30pm. It is closed on Tuesdays.
Address: 1-1-83 Shimorenjaku, Mitaka-shi, Tokyo
15. Visit the Otaku attractions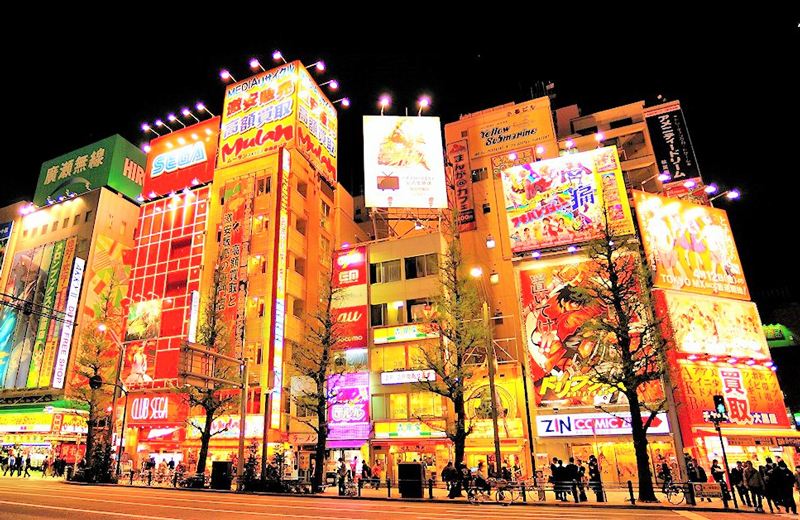 There are many stores in Akihabara that are dedicated to Otaku, and here are the top 5 that I consider the best places to visit in Tokyo for anime fans.
Don Quijote: it is a discount store chain where you can find everything from toys and electronic groceries to high-end fashion goods.
Mandarake: It is a second-hand store where you can find the rare manga, figurines, CDs, toys, dolls, posters, and other manga-related goods.
Radio Kaikan: It is one the most prominent landmarks of Akihabara that has 30 stores which sell anime and electronic goods.
Super Potato: At this store, you can find practically every kind of video game and video game console, along with used game cartridges, discs and other game accessories.
Gamers: this store sells a wide range of video games, character goods, CDs, movies, software and stationery that are related to anime and manga.
16. Stay at the Manga Art Hotel
If you love reading manga, you have to come to the Manga Art hotel, which is essentially a capsule hotel that has a manga library where you can sleep in. It contains around 5000 volumes of manga, out of which 20 per cent are in English. You can even purchase manga. The entire place has a modern and sleek interior design with a minimalist approach to its decor. So, add this Hotel to your list of places to see in Japan.
Address: Kanda Terrace 5F, Kanda Nishikicho, Chiyoda City, Tokyo
Something for you to keep in mind: On Sundays, Akihabara's main street Chuo Dori is officially closed off to all car traffic from 1 pm to 6 pm and 1 pm to 5 pm between October and March.
Unique Experiences in Tokyo
There are some things about Japanese culture that are very intriguing. Their beliefs and myths are some of the really beautiful things that make you fall in love with Japan. Two of my favourite myths and beliefs of Japan include the Japanese belief of the 'red thread of fate according to which the fate of lovers is bound by a red string that is tied to the male's thumb and the female's little finger.
My other favourite thing about Japanese culture is their tradition of Japanese tea Ceremonies.
17. Japanese Tea Ceremony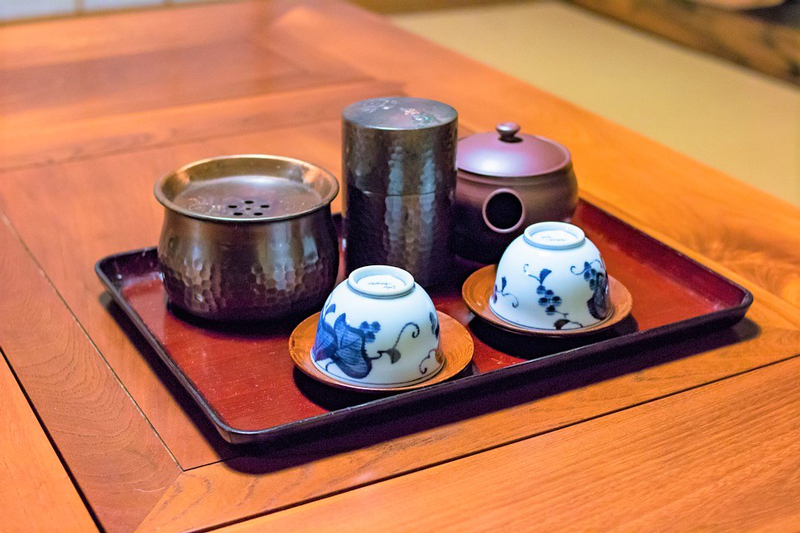 Among other unique places to visit in Tokyo is visiting Tea houses where they perform Tea ceremonies. One of the most unique experiences that you should have in Tokyo, or really any other place in Japan, is attending a Japanese Tea ceremony. The Japanese Tea ceremony is a proper way of preparing and having green tea.
Let me explain why I admire this tea ceremony so much. Japanese Tea Ceremony is done in complete silence; nobody talks on the tatami floor in a traditional tearoom. The entire atmosphere is calm, peaceful, and reflective. You get to experience Japanese hospitality and tradition.
What I really love about this tea ceremony is the motive behind it. The main purpose of the entire ceremony is to spend a few moments in a meditative atmosphere, relaxing away from the fast-paced life, to feel grounded and in touch with yourself, something we don't really get in busy lives.
I definitely recommend that you add the experience of a Japanese Tea Ceremony to your list of unique things to do in Tokyo, Japan. Here are few places to go for Tea Ceremonies are:
Happo-En: it is a traditional tea house located in Minato City.
Maikoya: It is located in the central Shinjuku area, where you get to wear a kimono for a tea ceremony.
Asakusa Jidaiya: This place provides various traditional Japanese experiences along with tea ceremonies.
Toko-An: it is located in the Imperial Hotel, Hibiya, where you can enjoy a traditional tea ceremony.
Another unique experience in Japan has to be Sumo Wrestling.
18. Ryogoku Kokugikan National Sumo Arena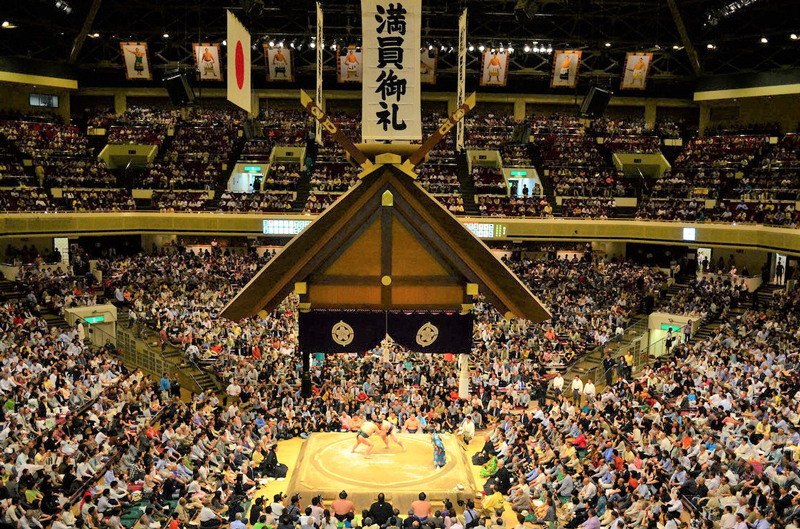 Another unique thing to see in Tokyo, Japan is a Sumo wrestling match. Sumo wrestling is a Japanese sport of heavyweight wrestling in which a Sumo Wrestler has to force his opponent outside a marked circle or make him touch the ground.
So, when you come to visit Tokyo, you have to come and see at least one Smoo Wrestling match at Ryogoku Kokugikan because Sumo Wrestling is another great way to get a unique insight into Japanese culture. The sumo wrestling matches take place only in January, May and September. Try to make your plan to visit Tokyo during these months because most travellers miss one of the most unique experiences of Tokyo due to uncoordinated timings.
Address: 1 Chome-3-28 Yokoami, Sumida City, Tokyo
Best places to go for a Day Trips from Tokyo
After you have visited and seen all these amazing places, it would be a true shame if you return without going to these fantastic places which are just one or two hours away from Tokyo. Here is a small list of the best places to visit near Tokyo for a 1-day trip.
19. Hakone
Known for its numerous Hot springs, Hakone is a beautiful place to see in Japan that you can visit as a 1-day trip from Tokyo. You should definitely visit Hakone if you want to experience Japan's natural beauty as well as see the evidence of its rich history.
One of the popular attractions of Hakone is Lake Ashi, also popularly known as Lake Hakone. Lake Hakone is a beautiful crater lake that provides the perfect view of Mount Fuji. Other than that, there are various historical sites, such as the Hakone Open-Air Museum, Hakone Shrine and Ryokan, where you can visit.
If you find yourself with an extra day at hand while in Tokyo, just grab your JR rail pass and visit this amazing location!
Entrance fee: Free
Best time to visit Hakone: the best time to visit Hakone is in the spring season (March to May), when the entire location becomes even more picturesque with cherry blossoms. The temperature is also mild and slightly cool, which is perfect for strolling around here.
How to get to Hakone: To get here from Tokyo, you can get on a train from Eifukucho Station. The train will take you to Odawara Station in around 3 hrs. From the station, you can quickly grab a taxi to the location of your choice in Hakone.
Location: Kanagawa Prefecture, Honshū
20. Tokyo Disneyland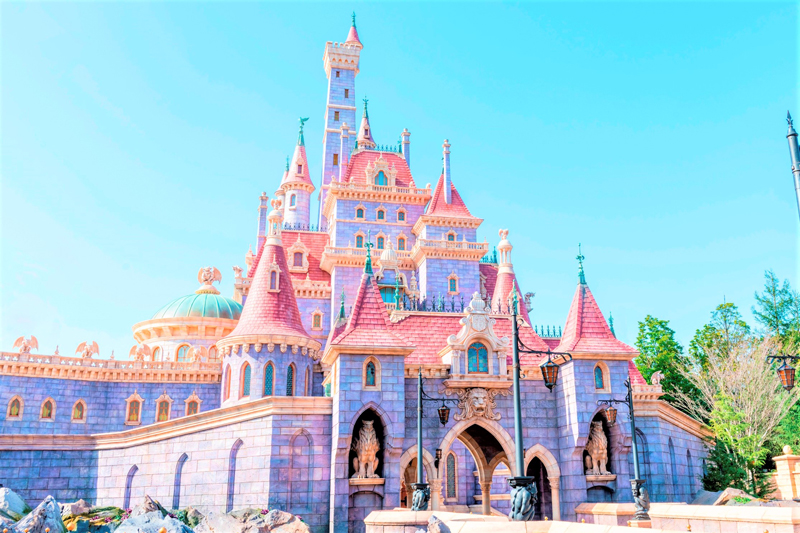 There is something exceptional about Tokyo Disneyland that makes it much better than Disney franchises' other amusement parks. You must consider this place to see in Japan because Tokyo Disneyland has many rides and attractions that are found only in this park.
Come and meet all your favourite Disney Characters and have a wonderful time. Don't cross Tokyo Disneyland out of your list of places to visit if you are not a big Disney fan. This amusement park can provide unforgettable memories despite that!
Fun Fact, This Disneyland is, in fact, their first amusement park that is built outside the US.
Price range: The ticket price for adults for one day is 7900-9400 yen; for middle-aged people, 7800-6600 yen and for children, it is 4700-5600 yen.
Best time to visit Tokyo Disneyland: The best time to visit Tokyo Disneyland has to be during the festivals like Christmas and Halloween when the entire amusement park is decorated in festive themes.
How to get to Tokyo Disneyland: You can reach Tokyo Disneyland from Tokyo station, located in Chiyoda City, Tokyo, in only 15 minutes. The train will take you to Maihama station, from where there are many shuttle services to take you to Tokyo Disneyland.
Timings: 9 am to 9 pm
Address: 1-1 Maihama, Urayasu, Chiba, Japan
21. Tokyo DisneySea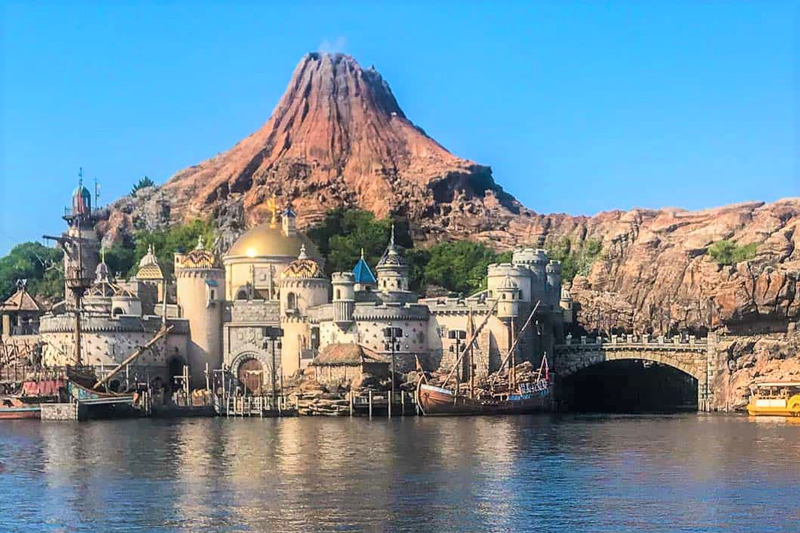 If you are a fan of mermaids, and pirate movies, find seaports fascinating and love nautical stuff in general, Tokyo DisneySea is a must-visit and a place to see in Tokyo with family. Tokyo DisneySea is the sister theme park of Tokyo Disneyland and one of its own kind.
It is located in Tokyo Disney Resort and has more nautical themes, overlooking Tokyo Bay. You are going to have a great time here visiting Its seven theme zones called the Port of calls. Some of these ports are recreations of the world's most famous harbours, while others are created based on fictional works of Mysterious Island, Arabian Coast and Mermaid Lagoon.
There are many rides and other attractions that make this place a must-visit. So, don't forget to visit Tokyo DisneySea to experience this unique place near Tokyo!
Price range: The ticket price for adults for one day is 7900-9400 yen; for middle-aged people, 7800-6600 yen and for children, it is 4700-5600 yen.
How to get to Tokyo DisneySea: as Tokyo DisneySea is located at the Tokyo Disney Resort, all you have to do is reach here via train from Tokyo station. This train will take you to Maihama station in 15 minutes, from where you can get on a shuttle to Tokyo Disneyland Resort.
Timings: 9 am to 9 pm
Address: 1-13 Maihama, Urayasu, Chiba, Japan
22. Kamakura
If you want to spend quality time in a place which would give you some relaxation from the chaos of a big city like Tokyo, then add Kamakura to your itinerary right now. Kamakura is the best place to see in Japan. It's a coastal town in the Kanto region of Japan and is only about a one-hour train journey from Tokyo. It is also popularly known as the Kyoto of Eastern Japan, a top-rated tourist destination.
You are going to love visiting this place because the atmosphere of this entire city is serene, welcoming and relaxing. There are lots of shrines, temples and historical monuments like the Great Buddha of Kamakura- Kotoku-in, Hase-Dera temple, Inamuragasaki, etc. in Kamakura.
If you visit Kamakura in peak Summer, you can also go to its gorgeous beaches!
Best time to visit Kamakura: The best time to visit Kamakura has to be in June, July, September and October. August is one of the hottest months for Kamakura, and it's too cold here in January and February.
How to get to Kamakura: To reach Kamakura from Tokyo, you can get on a train from Shinagawa Station and reach Kanakura Station in an hour.
23. Hitachi Seaside Park
If you enjoy taking long walks in beautiful parks and gardens, then Hitachi Seaside Park is a place that you just cannot skip while visiting Tokyo. Hitachi Seaside Park is one of the best places to see in japan and another great location to visit as a day trip from Tokyo. Located near Mito in Ibaraki Prefecture, this beautiful park is known for its vast expanse of green land where thousands of seasonal flowers bloom.
The most popular flower of this park is the Blue Nemophila which adds beauty to this park during spring. Other flowers like narcissus and lake tulips are grown here. There is also an amusement park here, along with many walking and cycling trails. As the name suggests, this park is situated on the seaside, and you can easily see the Pacific Ocean from the hill.
Make sure that you bring your camera and take some really awesome pictures at Hitachi Seaside Park to post on your Instagram!
Timings: 9:30 am to 5 pm.
How to reach Hitachi Seaside Park: To reach Hitachi Seaside Park from Tokyo, you have to get on a train from Ueno Station to Katsuta Station. Exiting Katsuta Station, you have to grab a taxi to the location of Hitachi Seaside Park.
Best time to visit Hitachi Seaside Park: To see the flowers at their peak, the best time to visit Hitachi Seaside Park is from Late April to mid-May. But you can visit this park at any time of the year. Another time that I would like to visit here is in the fall (October) when green kokia bushes slowly change their colour and turn red.
Address: Mawatari, Hitachinaka, Ibaraki, Japan
24. Capsule Hotel
Cheaper as compared to standard hotels, staying in a capsule hotel is a unique thing to do in Tokyo. They can be found near every major transit hub like Haneda Airport and Tokyo Station and in neighborhoods of major tourist attractions like Shibuya and Akihabara.
The capsule hotels basically consist of capsules instead of a four-wall room. One person occupies one capsule that is essentially a bed size pod with a curtain as a door. Depending on which hostel you choose, you can go either to the budget-friendly capsule hotels, or if you want a more luxurious experience, you can stay at a luxurious Capsule hotel too.
Here is a list of the best Capsule Hotels according to your needs:
Best Capsule Hotel for Couples in Tokyo: Tokyo Kiba hotel
Best luxurious Capsule Hotel in Tokyo: First Cabin Hotel
Best Capsule Hotel for back-packers in Tokyo: Nine Hours Otemachi-Imperial Palace
Something You should know: If you are travelling to Tokyo with your family, Capsule Hotel might not be a viable option for you. This is because Capsule hotels have separate bed areas, washrooms and lockers for men and women. Unless you and your family are comfortable staying divided, you might want to look for other good family-friendly hotels in Tokyo.
Price Ranges: from 2000 yen to 5000 yen per night.
Travel Tips for Tokyo
To make your vacation in Tokyo even more efficient and wonderful, here are some of the best tips for you:
Prepare a Japan Rail Pass to travel around Japan at the cheapest rates.
Have a Portable wifi device and a Japan travel sim prepared beforehand to save time.
Japan has a Travel visa exemption arrangement with over 60 countries. Make sure, with a Japanese diplomatic mission, whether you will need to obtain a visa or not.
While you are visiting the popular tourist locations, why don't you try to take a walk around the back streets of Tokyo and experience Japan from a different perspective? It is another unique thing to do in Tokyo with your family to make unforgettable memories.
While you are in Tokyo, don't forget to try out the delicious snacks, drinks and other food items that are sold in the department stores here.
To encourage shopping, Travel visa holders get an exemption from the 8% consumption tax on all goods. Make sure to check with the shop if you can make a tax-free purchase. For this, all you need to do is bring your passport with you!
Another thing that you should keep in mind while in Tokyo or any other place in Japan is that there is no tipping culture here. Tipping can be seen as a sign of disrespect too. Also, make sure that while paying the bill, you give the money with both hands and inside an envelope.
Conclusion
Among the best places to visit in Japan is its capital city, Tokyo. Tokyo is the perfect blend of old traditions and modern technology. Full of skyscrapers, museums and shrines, you must visit Tokyo to experience a unique culture, traditions, delicious cuisine and efficient lifestyle.
Also, visiting Tokyo will make you realise how much we have come ahead in terms of technology. Also, Tokyo is the best place to start with your solo travel journey, and it is safe for female travellers too!
Don't you also want to visit a place that has efficiently preserved its traditions, language and culture while working on futuristic technology?
Do read our other blogs on travelling through Japan to make the most out of your trip! Please leave a comment and share your travel story with us.
FAQs
1. What do people go to Tokyo for?
The main attraction behind Tokyo among tourists is its ancient history, Japanese culture and futuristic technology, and unique locations like the main cafes and Otaku district.
2. Are seven days enough in Tokyo?
You can visit most tourist attractions in Tokyo in 7 days. But if you can, try to stay longer and explore this city for its hidden gems.
3. Do I need a visa to visit Tokyo, Japan?
Yes, you will need to obtain a visa to visit Tokyo, Japan, if your country is not on the list of countries that have travel visa exemption arrangements with Japan.
4. Is Tokyo cheap for tourists?
Although Tokyo cannot be called a cheap place to visit, it is still relatively cheaper than some other major cities in the world, like London, Paris, New York, etc. The main reason behind this is that Japan places a high value on the quality of products and hence higher prices. If you don't splurge at high-end places, you can still spend a decent amount on rather memorable things in Tokyo.
5. Is Japan friendly to tourists?
One of the best things about visiting Tokyo and other locations in Japan is that people here are very welcoming and friendly towards tourists. They even appreciate it when you try to blend in with their culture.
6. What is the best time to visit Tokyo?
The best time to visit Tokyo is during the spring and fall seasons. This means from March to May to enjoy the spring season in Tokyo when it is also the cherry blossom season here. For fall, come during September, October and November and enjoy leaves changing colours and amazing weather.