Travel lovers are always eager to do interesting and exciting things at some outstanding places. Cameron Highlands is that particular spot where you can do tons of activities, from hiking and trekking to visiting lush hills capes to the sea of green. It's cool, aromatic weather and ancient vibe make this hill station a unique and surreal attraction to visitors.
From numerous activities, we have listed the 29 best things to do in Cameron Highlands that you must not miss on your next trip.
While visiting Cameron Highlands, it is worthwhile to have another tour to Genting Highlands. For that, check out the best things to do in Genting Highlands and plan your next adventure trip.
The 29 Best Things to Do in Malaysia Cameron highlands.
1. Visit the Sea of Green at Cameron Tea Plantation
Cameron Highlands is widely known for Cameron Tea Plantation. Its land is very fertile, and the weather is also mild here, which makes the place best for planting tea. So, you can begin your tour with this sea of green at Cameron Highlands.
From the British period, this region has been popular as a tea estate of Malaysia. Besides planting tea, you'll also get here some delightful tea shops where you can taste a warm cup of tea and take some tea packets as a souvenir of your trip.
BOH Tea Plantation is the most famous tea estate, which offers a tea factory, a tea shop, and a visitors' centre. There are other tea gardens, including Bharat Tea Plantation and Boh Sungai Palas Tea Center.
BOH Tea Plantation Cameron highlands
BOH Tea Plantation is the largest tea plantation in southeast Asia and offers one of the most scenic views in Cameron Highlands. Founded by a British businessman, J A Russel in 1929, this tea plantation is spread over 8,000 acres of land and owns three tea gardens, including the first garden in Habu, Fairlie Tea Garden and Sungai Palas Tea Garden.
Not only that BOH Tea Plantation also has a packaging factory near the main garden so that you would always get fresh tea products. BOH Tea products not only rule the Malaysian markets but international markets as well.
There is a free guided tour that starts at 8:45 am to make your visit better and easy. During this tour, you can learn about the tea plantation and the five steps of tea making. 
Address: Unnamed Road, 39000, Pahang
Entry Time: Tuesday to Sunday 08:00 am to 04:30 pm (closed on Monday)
Entry Fee: free
Cameron Bharat Tea Estate
The second largest tea estate in Cameron Highlands is Cameron Bharat Tea Estate. This tea plantation gets visitors due to its scenic viewpoint, a variety of exquisite teas, and delicious cakes and scones. 
The highlight of this tea plantation is the open-air cafe where you get a picturesque view of nature and have a cup of Cardamom tea or uniquely blended masala chai.
The steep steps of this tea estate are not suitable for elderly and younger children so be careful of that. And the entrance may cost you RM3.00.
Address: 15-16, Jalan Besar, Cameron Highlands, Pahang
Entry Time: Monday to Thursday 08:30 am to 06:00 pm|Friday to Sunday 08:00 am to 07:00 pm
Entry Fee: RM3.00 for walking down to the plantation
2. Enjoy the sunrise at Cameron Highlands
Watching the sunrise and taking a shot of it is one of the best things to do in Cameron Highlands. The view is unforgettable if you watch it from the top of Gunung Brinchang.
If you're not familiar with this place, then you should survey the place a day before going to watch the sunrise. So that you can take your perfect shot.  
Furthermore, you can also go with a sunrise tour as Cameron Highlands offers many sunrise tours.
3. Make a Tour of Cactus Valley
Whether you're a plant lover or not, the colourfully designed cactus of Cactus Valley will certainly impress you. Here you can see numerous varieties of cacti that come in different shapes, sizes, and colours. 
These cacti are not only kept for display, but they're also for sale. You can buy this prickly cactus as a souvenir for your home or give it to your friends as a gift. Like Cactus Valley, you will also see another cactus farm at Cameron Highlands called Cactus Point.
Entry Time: Daily 08:00 am to 07:00 pm
Entry Fee: Adult RM 4.00|Child RM 2.00
4. Pick Fresh Strawberries at a Strawberry Farm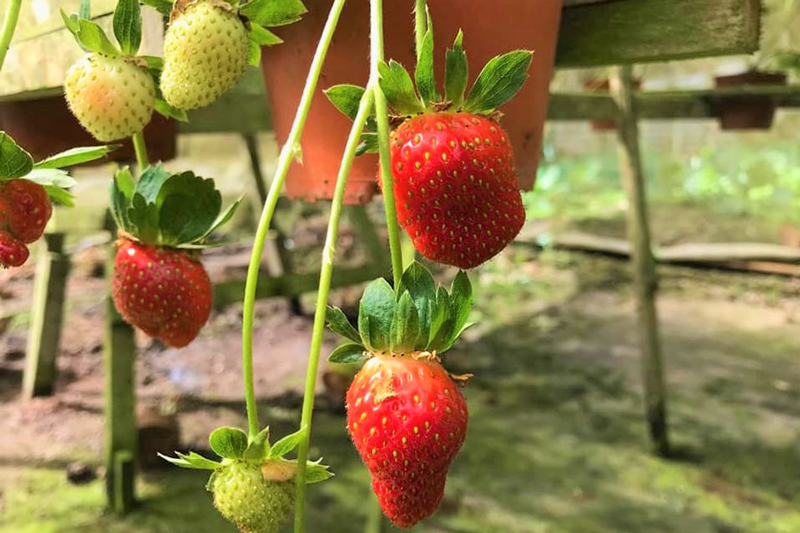 Because of its cooler weather, Cameron Highlands is one of the only places in Malaysia that grows strawberries. Here you're allowed to pick fresh strawberries and taste some mouthwatering items that are made of strawberries like strawberry ice cream, strawberry jam, milkshake, juice, and many more.
Make your visit from May to August, this time known as strawberry season, and you can try them fresh off the farm. 
At Cameron Highlands, you'll get more than one strawberry farm, and all of them are well-known for producing juicy strawberries. The most renowned farms are Big Red Strawberry Farm, Raju Hill Strawberry Farm, and Kok Lim Strawberry Farm.
Entry Time: 08:30 am to 05:30 pm
Entry Fee: Free
5. Enter the Purple World of Lavender @ Lavender Cameron Highland
After entering the Lavender Garden, you'll feel that you have transformed into a different world, a purple world of Lavender. You will not see a lavender garden on a regular basis in Malaysia, so it is a great chance to admire the amazing blooms of lavender as well as other colourful flowers.  This wonderful place has not only pretty purple vistas, but the air is also filled with the enchanting aroma of Lavender. 
You're allowed to walk through the garden and enjoy its charismatic beauty closely. On the other hand, you can learn about the use of lavender and taste lavender ice cream as it is trendy here.
Address: 59, Brinchang, 39000 Tanah Rata, Pahang
Entry Time: Monday to Thursday 09:00 am to 06:00 pm|Friday to Sunday 09:00 am to 07:00 pm
Entry Fee: RM 15.00 per person
6. Admire the Queen of the Flowers @ Mrs Robertson's Rose Garden
Rose is the queen of all flowers for its charming fragrance. At Cameron Highlands, you will get many flower nurseries, but you can't resist the enchanting smell of the roses. Mrs Robertson's Rose Garden, Rose Center, and Rose Valley are the prominent rose nurseries at Cameron Highlands.
These gardens will give you a scenic hilltop view with numerous beautiful roses. All the gardens contain more than 100 types of delightful blossoms that will make you click on some lovely photos.
Address: Brinchang, 39000 Brinchang, Pahang
7. Enjoy the Colourful Species at Cameron Highlands Butterfly Garden
As we mentioned earlier, Cameron Highlands is the home of many types of flowers, so it is not so surprising that you'll get to see butterflies here. 
But do you know Cameron Highlands also hosts two butterfly farms called – the Butterfly Farm and the Butterfly Garden? Both have an impressive collection of tropical butterflies. Here you can see the majestic Raja Brooke butterfly as well as other exotic species.
The butterfly farms are excellent attractions to keep on your list if you're a nature lover. Capture your moment with these beautiful species.
Address: MDCH 3, Batu 43, Green Cow, 39100, Pahang
Entry Time: 08:00 am to 06:00 pm
Entry Fee: Adult RM 7.00|Child RM 4.00
8. Get Acquainted with Natives at Orang Asli Village
If you want to know the true Malaysian natives, you must visit the Orang Asli Village. "Orang Asli" is a Malay word that means "Original People". 
On the road going up to the Highlands, you will see this village. The Orang Asli people have chosen to stay in the jungle and continue practising their ancestors' traditions. Till today they survive by hunting with blowpipe technique and shifting cultivation.
So here, you can learn the tradition, myths, and legends of original Malaysia.
Address: 235, Jalan Masjid, Tanah Rata, 39000 Tanah Rata, Pahang
9. Hike up the Mossy Forest
The Mossy Forest is the highest peak in Cameron Highlands, with a surreal scenic view. The name Moss refers to an area that is covered with a thick layer of moss, lichen, and exotic ferns.
The dense foliage and tall trees will give you a fancy-like environment. The forest is rich with numerous unique plants like pitcher plants, medical herbs, and ferns. The whole forest is dressed with thick moss though you'll get a clear road to hike up. 
Carefully step up when the place gets foggy. As it gets slippy, and you could injure yourself.
Address: Mossy Forest, Gunung Brinchang, 39000 Brinchang, Pahang
Entry Fee: Free
10. Taste Some Honey at Honeybee Farms
The lush garden filled with tropical flowers is a common sight at Cameron Highlands, making it the best place to produce honey. The three major honeybee farms produce delicious honey at Cameron Highlands, including Cameron Tringkap Bee Farm, Ee Feng Gu Bee Farm, and Highlands Apiary Farm. All these farms have kept honey for display as well as for sale. 
Visitors are welcome to taste this honey and enjoy the buzzing sound of bees. Here you'll also see shops selling honey-related souvenirs.
Cameron Tringkap Bee Farm
Address: Bee Farm, Lot F121, Jalan Besar, Tringkap, 39010, Pahang
Entry Time: Everyday 09:30 am to 06:30 pm
Entry Fee: free
Ee Feng Gu Bee Farm
Address: Green Cow, No 75, Batu 43, 39100, Pahang
Entry Time: Everyday 08:00 am to 07:00 pm
Entry Fee: free
Highlands Apiary Farm
Address: Jalan BOH, Tanah Rata, 39000 Ringlet, Pahang
Entry Time: Everyday 09:00 am to 06:00 pm
Entry Fee: free
11. Get Some Knowledge about Agro Technology
Agro Technology Park is one of the must-visit attractions in Cameron Highlands. The park is the brainchild of MARDI (Malaysian Research and Development Institute). It is divided into six different areas: Herb Garden, Rose Garden, English Garden, Orchid Garden, research centre, and an information centre.
From the research and information centre, you can learn the agro technology techniques and get some knowledge about the latest technological and publication details of MARDI. The park is spread over 42 acres and contains 100 citrus fruits, 40 varieties of roses, and 10 varieties of strawberries.
Address: JKR266, Jalan Persiaran Endah, Tanah Rata, Pahang, 39000 Tanah Rata
Entry Time: Weekdays 08:00 am to 12:30 pm, 02:30 pm to 05:00 pm|Weekends 08:00 am to 05:00 pm
Entry Fee: Adult RM 5.00|Child RM 3.00
12. Enjoy the Tranquillity of Thompson Falls
To feel the tranquillity, peacefulness, and serene beauty of nature, you must visit Thompson Falls. The waterfall is one of the crown jewels of Cameron Highlands and will take you away from the buzz of the city.
You have to pass a lush forest through a short trek to get to the waterfall. The place is less crowded and excellent to dip toes in its cool and refreshing water. You can also swim in the pool of the waterfall.
There is a staircase in the mountainside that allows you to climb up and enjoy the extraordinary view of nature.
Address: Pejabat Hutan Daerah Raub Raub, Ulu Bertam Reserve Forest, Pahang
Entry Fee: Free
13. Explore the Rich History of Cameron at Time Tunnel Museum
Time Tunnel Museum is a place that is rich with the history and culture of Cameron Highlands. The museum will take you back to the time through its over 1,000 artefacts, memorabilia, and photographs. 
The museum contains several sections which display artefacts with pictures to show you how the lifestyle was in the early years. On the contrary, it also shows how the lifestyle has changed over the course of time.
The Time Tunnel Museum is educational as well as interactive. Here you're allowed to take photos with the props of the museum, and you can also ride a classic motorcycle. 
Address: Cameron Highland, 39000 Brinchang, Pahang
Entry Time: 09:00 am to 06:00 pm
Entry Fee: Adult RM 6.00|Child RM 4.00
14. Make Jungle Trail
Cameron Highlands is a hill station, so don't think that it doesn't have any adventure to offer to the enthralling souls. Hiking, climbing, and trekking are the most common and the best things to do at Cameron Highlands.
And the best part is during all these activities you can enjoy the breathtaking scenic vista of natural flora and fauna.
15. Visit Ancient Arts at Mah Meri Art Gallery
Knowing about ancient tribes and people is quite interesting. But it is very rare in the present day. At Cameron Highlands, you can get acquainted with the art of the Mah Meri tribe in the Mah Meri Art Gallery.
The art gallery is a prominent and most interesting attraction in Cameron. Here you will see intricate wooden carvings that were made by the Mah Meri people. At the same time, you'll also find some statues, masks, sculptures, and ornaments here, and some of them have been awarded the UNESCO Seal of Excellence.
Address: Pahang, Tanah Rata, No 29 & 30, 1st Floor, Main Road
Entry Time: Daily 10:30 am to 07:30 pm
Entry Fee: Adult RM 37.00|Child RM 21.00
16. Admire the beauty of religion at Sam Poh Temple
Nestled at a small hilltop, Sam Poh Temple is the largest religious construction in Cameron Highlands and the fourth largest Buddhist temple in Malaysia. The temple is highly admirable to visitors because of its Oriental architecture and gorgeous hill view.
Though it's a Buddhist temple and you'll find a giant Buddha structure here, the temple also contains several brass statues of likewise religion inside.
The colourful temple and natural surroundings will give you some stunning pictures here. It's the prominent religious centre in the hill station that's why it always remains crowded. 
Address: Jalan Pecah Batu, Brinchang, 39000 Brinchang, Pahang
Entry Time: Everyday 08:00 am to 05:00 pm
Entry Fee: free
17. Mount Batu Brinchang hiking
The best way to explore nature is hiking and in Cameron Highlands, Mount Batu Brinchang is one of the best places to hike. It's the second highest peak in Cameron Highlands which is also accessible by road.
Mount Batu Brinchang or Gunung Brinchang is rich with a unique variety of flora and fauna. During your hiking to the mountain, you'll be acquainted with amazing flora like orchids, pitcher plants, and shrubs.
The real beauty of nature you'll see when you reach the summit of the mountain. There is a watching tower on top of it and from there you'll watch the tremendous view of the Titiwangsa Mountains. The watching tower is perfect for sunrise and sunset fanatics. 
18. Get a visit to Indian culture in Sri Thendayuthapani Swami Temple
Sri Thendayuthapani Swami Temple is the best place to watch Indian culture and tradition. It's the largest Hindu temple in Cameron Highlands and is greatly appreciated by tourists for its colourful sculptures and luxuriously styled buildings.
The temple is mostly visited by the local Hindu believers such as the strawberry and tea picking community of Cameron Highlands. And they celebrate a festival here called Chithra Powrnami for 3 days.
It's the biggest ceremony that is celebrated in this temple and during this ceremony, the temple offers free community meals. Apart from this festival, many traditional weddings also take place in this temple.
Address: Sri Thendayuthapani Swami Temple, Brinchang, Pahang
Entry Time: Everyday 06:00 am to 10:30 pm
Entry Fee: free
19. Buy some fresh vegetables at Hatiku Organic Farm
Cameron Highlands has the perfect weather to grow vegetables. And that's why Fung Chee Siang found Hatiku Organic Farm, where he cultivates 100 different plants. Mr Fung has been running this farm for more than 20 years and he is very friendly to visitors to this farm.
Here he uses old farming techniques like crop rotation and intercropping of different types of vegetables. Mr Fung also explains these techniques of farming to his visitors. 
The farm is spreading over 20 acres of land where he produces cold-climate European herbs, vegetables, and edible flowers. If you wish to buy some organic vegetables in Cameron Highlands, Hatiku Organic Farm is the place. 
Address: Lot 110, Mukim of Ringlet, Ringlet, Cameron Highlands
Entry Fee: RM10.00
20. Feed the fluffy sheep at the Sheep Sanctuary
Located in the middle of the Kea Farm market, the Sheep Sanctuary is a hidden gem and one of the latest places to visit in Cameron Highlands. Here you'll find 20 Australian woolly sheep.
The entrance of this sanctuary is irresistible as there is huge signage bearing a cartoon sheep. With the entry ticket, you'll be provided with a box of food to feed these adorable, fluffy sheep. I am sure you and your kids will enjoy this activity as my daughter loved it. 
Address: Pasar Malam Kea Farm, Brinchang, 39100 Brinchang, Pahang
Entry Time: Everyday 09:00 am to 05:30 pm
Entry Fee: Adults RM8.00 & Children ( aged 4 to 12) RM4.00
21. Gunung Jasar trekking 
Gunung Jasar is one of the best locations for hiking and trekking in Cameron Highlands and it's marked as trail 10 jungle trekking guide. This trail is quite popular among nature lovers and hikers.
The good part is Gunung Jasar trail is not too challenging to conquer and the top of the mountain gives outstanding views of Tanah Tara and Cameron Highlands. You are recommended to wear suitable shoes for hiking and trekking. 
Address: Tanah Rata, 39000 Tanah Rata, Pahang
22. Playing golf at Sultan Ahmad Shah Golf Club
Playing golf in the chilly atmosphere of Cameron Highlands is quite refreshing. Sultan Ahmad Shah Golf Club is the only place in Cameron Highlands where you can play golf. 
It's an 18-hole golf course which becomes quite challenging with tricky greens, thick rough, undulating fairways, some streams, and sand bunkers. Situated in a valley 5,000 feet above sea level, the golf course provides beautiful fresh mountain air to its visitors. 
This golf club is pretty large as it's spread over 6101 metres of land. And the background of it is spectacular for being surrounded by tree-covered mountains. So if you don't play golf, you can still enjoy the mountain views here. 
Address: Tanah Rata, Cameron Highlands, Pahang, 39000 Tanah Rata
Entry Time: Everyday 07:00 am to 05:00 pm
Entry Fee: The entry fee starts from RM52.50
23. Enjoy the spectacular sight of Robinson Falls
Cameron Highlands is surrounded by beautiful lush mountains, so naturally, waterfalls are a prominent part of this highland.  Robinson Falls is one of the most beautiful waterfalls in Cameron Highlands. But to enjoy the spectacular sight of this waterfall you have to hike through Trail No. 9 which will lead you to some thick jungle.
The path is a bit challenging but I can assure you that the delightful view of the waterfall will make you forget all your struggles. 
Address: Tanah Rata, 39000 Tanah Rata, Pahang
Entry Fee: free
24. Birdwatching
One of the best activities in Cameron Highlands is bird watching. As the highland is surrounded by lush greenery and mountains, you can watch several different species of birds here. According to REACH (Regional Environment Awareness of Cameron Highlands), Cameron Highlands is the home of more than 177 species of birds and most of them are common montane rainforest bird species.
The Brinchang Lookout Tower and a telecommunication tower located near the Mossy Forest are the ideal places for bird watching in Cameron Highlands. Here you'll find birds like Blyth's Hawk-Eagle, Black Wing Flycatcher-shrike, Common Flameback, Fire-tufted Barbet, Golden-throated Barbet, Brown Wood-Owl, Buffy Fish-Owl, Red-headed Trogon, Blue-tailed Bee-Eater, Stork-billed Kingfisher, Little Cuckoo-Dove, Asian Emerald Dove, White-breasted Waterhen, Grey-headed Swamphen, and so on.
25. Ride an ATV or 4WD jeep
Hiking and trekking are not the only activities in Cameron Highlands for thrill lovers. There is another must-do activity that any adventure seeker would not miss. And that is riding an ATV or 4WD jeep.
Cameron Adventurous ATV & Safari offers an opportunity to its visitors to ride ATV through the untouched reserved tea plantation. You will be amazed and thrilled to have the privilege of riding an ATV and enjoying pristine tropical surroundings.
You can choose to ride an ATV or 4WD jeep to ascend the hill. A 4WD jeep is cheaper in comparison to an ATV. At the same time, a 4WD jeep is perfect for a family ride as it's available for RM10.00 only. 
Address: Cameron Adventurous 49th miles Kuala terla, 39010 Tanah Rata, Pahang
Entry Time: Tuesday to Friday 10:00 am to 06:00 pm|Saturday to Monday 09:00 am to 06:00 pm
Entry Fee: an ATV ride is RM60.00 for two persons & 4WD jeep is RM10.00 per person
26. Retreat yourself at the Spa Village Cameron Highlands
Don't make excuses to retreat yourself and get rejuvenating treatment. Especially when you're in Cameron Highlands, do not miss the spa treatment that is inspired by the Orang Asli rituals. This treatment is designed to bring your body and mind back to equilibrium utilising honey, rose, tea, strawberry, and more.
Spa Village Cameron Highlands offers you Spa Village Experience, Ala Carte Experience, and Massage Therapy. In the Spa Village Experience, you can have different treatments namely The Semai, Rose Garden, Fresh Strawberry Escapade, Cameron's Mint, and Chrysanthemum & Avocado Escape.
The price of these spa treatments starts from RM400.00 per person and massage therapy starts from RM300.00 per person. 
Address: Brinchang, 39000 Brinchang, Pahang
Entry Time: Everyday 09:00 am to 09:00 pm
27. Admire the beauty of Rafflesia
Rafflesia is the largest species of flower in the world and it's quite popular in Malaysia. Basically, it is a parasitic plant which does not have external roots. And it grows in limited regions across Borneo and Peninsular Malaysia.
Thankfully, you can see the magnificent sight of this flower in the Blue Valley of Cameron Highlands. Blue Valley is a 40-minute drive away from Tanah Rata. Many tour companies in Cameron Highlands arrange a trip to Blue Valley to give visitors the enchanting view of the Rafflesia flower.
The speciality of this flower is not only its size, it has a notably putrid scent which you probably would not like, and dark red colouration which is pretty unique. 
Address: Blue Valley, 39000 Tanah Rata, Pahang
28. Take some Instagrammable photos at Cameron Flora Park
Cameron Flora Park is the latest attraction in Cameron Highlands and it's most iconic for taking pictures of its fancy-like surroundings featuring all kinds of beautiful blooms.
This picturesque floral garden is located in Kea Farm, an agricultural district in Cameron Highlands. This park goes viral on social media due to its dazzling white stairs which are curved up a hill and the hill is covered with light purple flowers.
Besides taking your perfect Instagram shot, you can do many activities at Cameron Flora Park like a picnic, ride a pick-up truck, walk among beautiful flowers, climb the white stairs, and have Puku ice cream. 
Address: lot 191, 39010 Brinchang, Pahang
Entry Time: Everyday 09:30 am to 07:30 pm
Entry Fee: RM50.00 per person
29. Don't Forget to Visit Markets
Shopping is an inseparable part of any tour, and for some people, it is the most exciting thing to do. So when you visit Cameron Highlands, you undoubtedly don't want to miss its markets. Here you'll have two major markets: "Pasar Pagi", which means morning market and "Pasar Malam", which means night market.
Pasar Pagi Cameron Highland
As mentioned above, Pasar Pagi is a morning market, so it opens every morning at 8 am. The market is located at the Kea Farm town and is the hotspot for those who are looking for fresh vegetables, fruits, and flowers.
Besides fresh produce, in this market, you can have souvenirs and handicrafts items as well. Delicious street food and fresh local breakfast are also waiting here for you.
Pasar Malam Cameron Highland
If you want to enjoy the cool breeze of Cameron Highlands, you must visit the night market. Pasar Malam is located in Brinchang town and sells goods like clothes, souvenirs, and local products. The market starts in the evening at 3 pm and continues till midnight. 
It is the ideal place for those who have good bargaining skills so that you can have all the amazing products at a really cheap price. And don't miss its famous street food barbecued meats.
What to Eat
Cameron Highlands is loaded with cafés and restaurants. Whether you visit tea gardens, lavender gardens, or cactus valleys everywhere, you'll have cafés and souvenirs shops. All these eateries have signature dishes that will give you a yummy feeling! Here are some items you must try while you're in Cameron Highlands.
British Cream Tea
You can't leave Cameron Highlands without trying its famous British cream tea. As you know, this hill station is widely known for tea plantations from the British period. And at almost every corner of this hilltop, you can have fresh tea. So you undoubtedly can't resist it. The elegant British tea comes with British bread, jam, cream and a warm cup of local tea. With this item, you can start your morning, and at the same time, end your evening!
Steamboat
If you ask any local what food you should try at Cameron, you probably get the same answer from all: "Steamboat". This famous dish of Cameron Highlands is greatly inspired by European fondue and comes in a large bowl. Steamboat cuisine allows you to add your own raw ingredients or choose from their opinions: meat, vegetables, noodles, and fish balls. It can be a great dish for your dinner.
where to stay in the cameron highlands
At about 1,500 metres above sea level, Cameron Highlands is a famous tourist spot. So finding a staycation here is not so tough. There are plentiful accommodations that offer many amenities and mesmerising views of lush green valleys, rolling hills, and mystic mountains. Here we have listed a budget and luxury hotel, providing sufficient facilities that you need.
Cameronian Inn is the perfect staycation for those who want to enjoy the cool weather of Cameron Highlands within budget. The accommodation offers you an outdoor garden, free Wi-Fi access, private rooms, modest bathrooms, and a TV room. They also have a café that serves local delights. 
The Strawberry Farm is just a 10-minute drive from the Inn, while to get to the Boh Tea Plantation, you have to drive for 25 minutes. So you can get easy access to Cameron's excellent views and attractions.
The staycation is available on booking.com, and the price starts from RM 68.00.
Luxury lovers can opt for Cameron Highlands Resort which offers world-class services and comfort. The resort is situated just opposite the Golf Course. The accommodation is placed amidst fresh mountain air and cool temperature. 
Here you'll get an award-winning in-house spa, in-house restaurant, free Wi-Fi throughout the property, and lush greenery to see. The elegant rooms are featured with flat-screen TVs, wooden furniture, French doors and balconies, and polished wooden floors.
You can reserve your space from booking.com, and the price starts from RM 1,050.
A full list of budget and luxury hotels in Cameron Highlands here
How to Get to Cameron Highlands
To get to the Cameron Highlands from Kuala Lumpur, you have to pass nearly 200km to 270km, depending on the route you choose. Driving may take 3 to 4 hours, while the bus and train will take 4.5 and 5.5 hours respectively.
By Car
If you choose to drive, you can take the new route, the Simpang Pulai road. This road is less windy and takes nearly 4 hours to reach.
On the contrary, you can take the Tapah toll exit 132 (after North-South Expressway) as this route takes only 3 hours to reach Cameron Highlands.
Use googles maps for the direction. There are private tours available from Kuala Lumpur
By Bus
The bus is the cheapest way to get to Cameron Highlands. It may cost you RM 35.00 to RM 47.00, and you can reach there within 4.5 hours. There are many bus lines available, and all these buses depart from the TBS Bus Station in KL. Check out the bus schedule and buy your ticket from 12GoAsia.
By Train
You will not get any direct train from Kuala Lumpur to Cameron Highlands. You have to catch a train from KL Sentral which will take you to Ipoh or Tapah road. The train ride may cost you RM 25.00 to RM 46.00. From there, take a TBS (Terminal Bersepadu Selatan) bus that will drop you off at the Tanah Rata Bus Terminal. In total, the train and bus ride may cost you from RM 70.00 to RM 90.00. Buy your train ticket from 12goasia with hassle free.
Cameron highlands location
Cameron Highlands is a district and hill station located in the state of Pahang, Malaysia. It is situated in the northwestern corner of Pahang, bordering the states of Perak to the west and Kelantan to the north. The coordinates of Cameron Highlands are approximately 4.4721° N, 101.3801° E.
Cameron Highlands is an excellent place to retreat from the stereotypical busy life. And the site has so many things to offer you that you can't end in one day. So, plan your trip today and explore the wonders of mountains and hillscape!
Frequently asked questions (FAQ)
Which is the best month to visit Cameron Highlands?
The best time to visit Cameron Highlands for cooler temperatures is between December and February, when the temperature can drop to 10 degree Celsius at certain places. However, rain is common all year round, so be prepared for wet weather even during the dry season between February and April.
What is special about Cameron Highlands?
Cameron Highlands is a highland region located in the state of Pahang in Malaysia. It is a popular tourist destination due to its cool climate, picturesque landscapes, and vast tea plantations.
Is it worth going to Cameron Highlands?
Yes, Cameron Highlands is definitely worth visiting if you enjoy nature, scenic landscapes, and a cool climate. The region's picturesque tea plantations, waterfalls, and hiking trails make it a popular destination for nature lovers and outdoor enthusiasts.
In addition to its natural attractions, Cameron Highlands is also known for its fresh produce, including fruits and vegetables that grow in the cool climate.
How many days should I spend in Cameron Highlands?
The length of your stay in Cameron Highlands depends on your interests and the activities you plan to do. However, I would recommend spending at least 2-3 days in Cameron Highlands to fully experience and explore the region.
What are the best cities to stay at in Cameron Highlands?
Here are some of the best cities to stay at in Cameron Highlands:
Tanah Rata: This is the largest town in the Cameron Highlands region and is a popular base for visitors.
Brinchang: This town is located about 3 kilometers from Tanah Rata and is another popular base for visitors. Brinchang is known for its night market, where visitors can sample local food and buy souvenirs.
Kampung Raja: This village is located in the northern part of Cameron Highlands and is known for its fresh produce, including strawberries and vegetables.
What to do in Cameron Highlands on a sunny day?
Cameron Highlands is a beautiful hill station in Malaysia, and there are plenty of things to do on a sunny day. Here are some suggestions:
Visit the Tea Plantations, Trekking and Hiking, Explore the Strawberry Farms, Visit the Waterfalls, Enjoy the Scenic Views, these are just a few of the many things to do in Cameron Highlands on a sunny day.
What can you do in Cameron Highlands for free?
Here are some things you can do in Cameron Highlands for free:
Enjoy the Scenic Views: One of the best things to do in Cameron Highlands for free is to simply enjoy the scenic views.
Visit the Mossy Forest: The Mossy Forest is a unique ecosystem that is home to a variety of flora and fauna.
Walk Around the Towns and Villages: The towns and villages in Cameron Highlands are charming and offer a glimpse into the local culture.
Visit the Temples: Cameron Highlands is home to several temples, including the Sam Poh Temple, which is the fourth largest Buddhist temple in Malaysia.
Trekking and Hiking: The Cameron Highlands is known for its many hiking trails that offer stunning views of the landscape. While some of the trails require a guide or a fee, there are several trails that you can explore on your own for free.
These are just a few of the many things you can do in Cameron Highlands for free. With its beautiful scenery, charming towns, and unique attractions, it is a great destination for budget-conscious travelers.