Located at the meeting point of Straits of Malacca and the Selangor River, Kuala Selangor is a beautiful small town with yummy seafood and mesmerizing tourist attractions. From nature lovers to history diggers, this town has everything for everyone. You can either plan a day trip to Selangor or plan a long vacation.
You shouldn't miss the opportunity of clicking some great pictures in Sky Mirror Island, buying some fresh fish at a cheap price, and tasting the seafood in Kuala Selangor. You don't need to be Chinese to try out the seafood as there are some Muslim restaurants too. Complete justice to Muslims!
Now that you seem already very excited to plan your trip to Kuala Selangor and know more about the place, let me not make you wait any longer.
The Top 30 Tourist Attractions in Kuala Selangor
1. Remis Beach
The peaceful sound of waves crashing on the beach, beautiful sunset, surrounding seafood restaurants and stalls make Pantai Remis a popular beach in Kuala Selangor. Though Remis Beach is not safe for swimming, you can fly a kite on this windy beach or go fishing.
Kuala Selangor Remis Beach becomes crowded with tourists, especially during weekends and public holidays. Many seafood stalls surrounding the beach serve Malay style seafoods, and the most preferred seafood at Remis Beach is broiled fish. 
Pantai Remis or Remis Beach of Kuala Selangor is also popular for fishing. So, if you are a fishing enthusiast, you can try your luck by casting your bait out into the sea. You never know you might catch a fish here!
Location: Jalan Pantai Remis, Kampung Dungun, 45800 Jeram, Selangor, Malaysia
2. Sky Mirror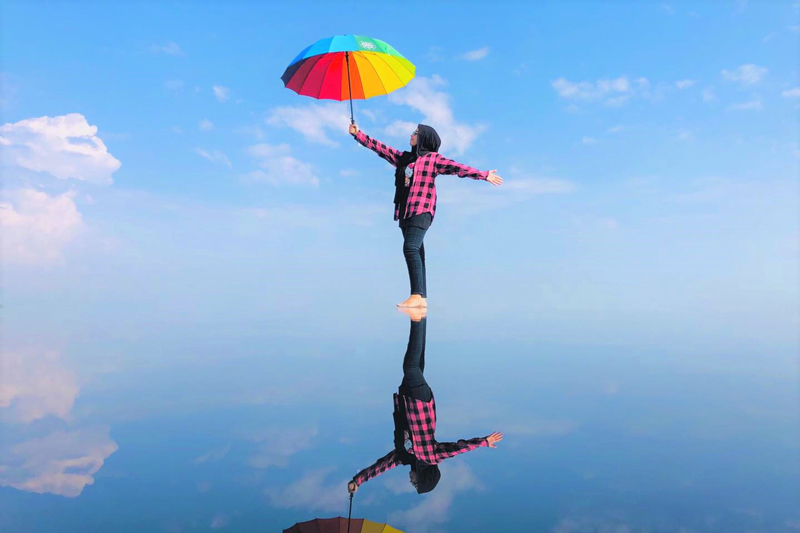 During low tide, the Sky Mirror Island reflects an image of the sky, which makes it one of the most impressive attractions of the country. The island remains submerged during high tide and shows its magic during low tide.
The island has been named so because of the mirror image of the sky that it creates. Not only the sky, but anyone or anything standing above it will also get a mirror image. Because of this magical mirror effect, hundreds to thousands of local tourists gather here to get a glimpse of the magical place and click some epic shots.
Sky Mirror is basically a seabed that appears only for a few hours during low tide. The island is huge, most probably as huge as a hundred football fields. It is also a habitat for sea clams, baby clams, crabs, snails, and a variety of marine agriculture. You will be astonished by the beautiful sight of tiny baby clams glittering like diamonds in the sunlight.
Location: Jalan Sultan Mahmud, 45000 Kuala Selangor, Selangor, Malaysia
Opening Hours: Everyday | 6:00 am – 10:00 pm
Various boat tour agencies provide boat tours to Sky Mirror. One of them is the Rainbow Sky Mirror Jetty. You can also try with Klook arranged skymirror experience tours with discounted price!
Rainbow Sky Mirror Jetty
Location: Jalan Pawang Ghaffar, Kampung Bagan, Sg, Buloh, Sasaran, 45 800 Jeram, Selangor Darul Ehsan, Malaysia.
Contact: +60125551628, +60162660628
Price: Adult (Malaysian) – RM75
Children (Malaysian) – RM60
Adult (Non-Malaysian) – RM90
Children (Non-Malaysian) – RM70
Children = Below 12 Years Old
(Discount is given to group more than 4 persons)
Sky Mirror Jetty Kuala Selangor
Location: Jalan Sultan Mahmud, 45000 Kuala Selangor, Selangor Darul Ehsan, Malaysia
Contact: +60107785555 / +60193809722 / +60105091007
Tour Length: 45 Minutes
Time: 8pm, 9pm & 10pm
Price: Malaysian – Adult: RM25
Malaysian – Children: RM20
Non-Malaysian – Adult: RM50
Non-Malaysian – Children: RM40
3. Bukit Melawati
The relics of the past, the Altingsburgh Lighthouse, a large rock slab named Batu Hampar, and the Poisoned Well are the highlights of the hillfort Bukit Melawati or Melawati Hill. The hillfort was the administrative centre of the Selangor Sultanate in the late 18th and early 19th centuries.
Bukit Melawati was constructed by the local Malays during the 16th century. The Dutch captured the fort during the early 18th century. Later on, in the late 18th century, Sultan Ibrahim recaptured the fort with the help of his two brothers, Penggawa Tua and Bendahara Adb. However, the fort was destroyed during the Klang War (also known as the Selangor Civil War).
For those who are interested in the history of Bukit Melawati, there are several remnants, a few leftover cannons and foundation stones at the location. The main highlights attract several curious tourists every year. Moreover, Kuala Selangor Historical Museum is a few steps away from Melawati Hill. The museum displays ancient weapons, collections of relics, artefacts, specimens of old currencies, dioramas, etc.
If you aren't much interested in historical stuff, let me tell you that Melawati Hill is home to the local long-tailed macaques and silvered leaf monkeys. The silvered leaf monkeys at Melawati Hill are accustomed to human presence but feeding the monkeys is highly discouraged. Another mentionable thing here is that the top of the hill offers an excellent panoramic view of the Straits Of Malacca and a beautiful sunset.
Location: Bukit Melawati 45000 Kuala Selangor, Selangor
4. Tram Ride
When you are in Kuala Selangor, you shouldn't miss a tram ride. Trams go from the bottom of Melawati Hill to the top. You can enjoy the panoramic views of Kuala Selangor as you go uphill on a tram. The price of tickets during weekends is RM 5 for adults and RM 3 for children aged between 3-12 years.
5. Perigi Beracun
Perigi Beracun or the Poisoned Well is a mentionable reason why people visit Bukit Melawati. There's an interesting history behind this well. People say that the water of the well had been contaminated by a watery solution mixed with irritants, such as latex and bamboo shoots, that causes itchiness. 
It was made such to punish the traitors of the sultan. They were dropped into the well and the contaminated water would rise to the height of their chin and cause them great distress. Now, it has been covered with iron grates for health and safety. So, the curious visitors may have a close-range view of the well. 
6. Royal Mausoleum
Royal Mausoleum, the burial ground for the first three Sultans of Selangor, closed to the general public, is also located near Bukit Melawati. Overall, you can learn a lot about the local history of Kuala Selangor from Bukit Melawati and its nearby attractions.
Location: Bukit Melawati, 45000 Kuala Selangor, Selangor, Malaysia.
7. Blue Tears
Blue Tears is an impressive natural nighttime phenomenon formed due to the glowing light produced by clusters of certain marine algae named Dinoflagellates. The phenomenon occurs when the water is disturbed by motion.
Blue Tears is also known as fireflies in the water. Generally, such phenomena are seen on the seashore, but in Kuala Selangor, you can witness it at the meeting point of the Selangor River and the Straits of Malacca.
The best time to enjoy the scenic beauty of Blue Tears is during the 1st, 2nd and 3rd days of the month on the lunar calendar. Also, during warmer months, Blue Tears is in its best state as the algae grow in higher concentrations.
To enjoy the beautiful scenery of Blue Tears, you have to get on a speedboat from the Sky Mirror Jetty. The speedboats for the Blue Tears tour leaves at 8, 9 and 10 pm, and each ride is of 45 minutes.
08. Fireflies
Kuala Selangor, one of the largest firefly colonies in the world, offers beautiful and unique views of fireflies while cruising through the Selangor River. While you board the boat, the thick darkness will make you a bit nervous at first, but in a matter of seconds, you will see the shores well lit up with fireflies.
There are two places in Kuala Selangor where you can enjoy the wonderful natural light from the fireflies. One of them is located in Bukit Belimbing, while the other one is in Kampung Kuantan.
09. Firefly Park Resort Bukit Belimbing
The resort is along the riverbank and provides comfortable and ecologically harmless chalets as accommodation for the tourists. Boats leave from the park a while after sunset, as the beauty of fireflies can only be witnessed during the night.
Location: Jalan Haji Omar, Kampung Bukit Belimbing, 45000 Kuala Selangor, Selangor Darul Ehsan, Malaysia.
Contact: +60133886310
Firefly Trip fees: Adult (Malaysian) – RM16
Children (Malaysian) – RM9
Adult (Non-Malaysian) – RM25
Time: Everyday | 7:00 pm – 10:30 pm
10. Firefly Park Kampung Kuantan
Near the Firefly Park Kampung Kuantan, there is ample parking space for tourists and an information centre to buy some souvenirs.
Location:Kampung Kuantan Firefly Park, Jalan Rawang, 45000 Kuala Selangor, Selangor Darul Ehsan, Malaysia.
Contact: +60332891439
Firefly Boat Trip fees: Malaysian – RM60.00 per boat (Maximum 4 persons)
Non-Malaysian – RM100.00 per boat (Maximum 4 persons)
About 20 minutes per trip
Time: Everyday | 7:45 pm – 10:30 pm
11. Sasaran Art Park
Sasaran Art Park, also known as Sasaran Art Gallery, is famous for organizing a large-scale international art festival every 3 years since 2008. The gallery is managed by Sasaran Arts Association.
It is a two-story art gallery, with the upper floor as an exhibition space and the lower one as an activity centre. The art centre is a venue for both local and international art festivals or exhibitions to promote arts and culture.
The gallery was constructed with the mindset to make Sasaran a well-known art village. After the gallery was set up, the villagers of Sasaran who once used to be ignorant of art are now appreciators of art. The festivals that took place in Sasaran Art Park received an enthusiastic response from artists from all over the world. It is hoped that the art gallery will attract more artists from home and abroad in the upcoming years.
Location: B104, Jalan Sasaran, Sasaran, Jeram 45 800 Jeram, Selangor Darul Ehsan, Malaysia.
Opening Hours: Everyday | 6:00 am – 12:00 am
Contact:  +60 12-257 9057
12. Pasir Penambang Fishing Village
Located along the Selangor River, Pasir Penambang fishing village attracts many tourists from Kuala Lumpur, Klang Valley, and all around the globe. Most tourists visit the village to taste the popular, cheap and fresh seafood and to get an idea of the fishermen living in this area. The local people here are really welcoming and friendly, so you'd enjoy a memorable time in the village.
13. Pasir Penambang Wet Market
Pasir Penambang Wet Market, located near the Pasir Penambang fishing village, is the most popular seafood market in the area. The market is famous for selling fresh seafood at a low price. After around 6 hours of catching the fish from the ocean, they are directly brought to this market for selling. The best time to visit the market is around 2:00 pm as fishing boats return from the ocean during this time.
Location: Pasar Basah Pasir Penambang, Pasir Penambang, 45000 Kuala Selangor, Selangor, Malaysia
Opening Hours: Everyday | 8.00 am – 6.00 pm
14Kuala Selangor Nature Park
With a width of 296 hectares, Kuala Selangor Nature Park is home to a wide variety of flora and fauna. The park is divided into two parts; the major part is Tropical Rain Forest and the minor part Swamp Forest. It is managed by the Malaysian Nature Society (MNS). MNS preserves the park without any habitat damage.
Kuala Selangor Nature Park is a habitat for many wild bird species. It is assumed that there are around 150 species of birds in the park and around 100,000 wading birds of 30 species that visit the park during their annual migration. So, bird watching in this park is a very interesting thing to do.
You can also hike through the four trails to get a perfect view of the wildlife. Egret Trail, Pangolin Trail, Coastal Bund, and Langur Trail require 30 minutes, 50 minutes, 2 hours, and 2.5 hours of hiking, respectively.
Other than bird watching and hiking, there are some other interesting activities to do in Kuala Selangor Nature Park. You can search for snails, watch big iguanas, participate in the nature hunt group activity, or join the environment education package.
Location: Jalan Klinik, Kuala Selangor, 45000 Kuala Selangor, Selangor Darul Ehsan, Malaysia.
Contact: +60332892294
Entry fees: Adult – RM 4.00
Student (below 17 years old) – RM 1.00
MNS Members – RM2.00
Senior Citizen (above 60 years old) – RM 2.00
Children (below 7 years old) – Free
15. Mangrove Boardwalk
There's a beautiful boardwalk in Kuala Selangor Nature Park. However, it's not in a good condition right now. It is actually made of concrete. But as it remains covered in dead leaves most of the time, it becomes quite slippery underfoot.
Also, the wooden railings are broken in places so you must be very careful if you are taking children along. However, a walk over the boardwalk among the green mangrove trees can be very fascinating.
16. Sri Shakti Devasthanam Temple
Sri Shakti Devasthanam Temple is a Hindu Temple that was constructed based on Hindu architectural scriptures. It is located around 9.5 km from Kuala Selangor town centre and is sited on an elevated land of around 1 acre. The temple is considered to be a shining beacon of Hindu architectural excellence.
During the late 19th or early 20th century, Indian immigrants who came to Malaysia built a small wooden shrine in Bukit Rotan. That's how Sri Shakti Devasthanam Temple came into being. Formerly, the temple was known as Sri Maha Mariamman Temple.
The temple was reconstructed in 2001 in adherence to the ancient Aghamas and Hindu scriptures. Before the reconstruction, all preliminary poojas were carried out. Sri Shakti Devasthanam Temple is probably the first and the only temple in Malaysia that was constructed after holding all the preliminary rituals.
10 million bricks, 100 tonnes of granite, 20,000 tonnes of steel bars, 25 tonnes of teakwood, 1,500 cubic metres of concrete, and 1.2 million person-hours were needed to construct the temple. It is encircled by a massive decorative wall, and the magnificent entrance is a multi-tiered shrine soaring 74 feet high. The entrance was sculptured with granite frames weighing up to 4 tonnes. It was carved by skilled craftsmen of Mahabalipuram in Tamilnadu, India.
Annually, around 10 important Hindu festivals and auspicious dates are celebrated in the temple. Monthly, festivals like Sanggadahara Chathurthi, Pournami, Amavasai and Pratyangara Homa are observed in Sri Shakti Devasthanam Temple. On a daily basis, poojas are conducted 5 times to ensure the blessings of Mother Shakti Mari Amman upon her devotees. Other than daily prayers, there are sets of different pooja packages for the devotees to sponsor and participate in.
Overall, Sri Shakti Devasthanam Temple, with its beautiful architectural and sculptural designs, and unique features, is a shining example of the best Indian architecture in Malaysia.
Location: Jalan Kuala Selangor, Bukit Rotan, 45700 Bukit Rotan, Selangor, Malaysia
Opening Hours: Everyday | 7:00 am – 12:00 pm, 5:00 pm – 9 pm(Hours might differ during Prophet's ascension)
Entry fees: Free
17. Eagle Feeding
Eagle feeding is a very interesting thing to do in Kuala Selangor. Around 20-40 eagles fly over Selangor River at Pasir Penembang. Chicken skin is thrown by boatmen into the river by bait. All the eagles start competing with each other to grab the food.
You can enjoy the beautiful eagle feeding scene, which lasts around 20 minutes. Different eagle feeding tours are arranged by various boat tour agencies. The most famous tour agency among tourists for eagle feeding is the Sky Mirror Jetty.
Tour Length: 45 Minutes
Time: 5:00 pm, 6:00pm & 6:30pm
Fees: Malaysian – Adult: RM25
Malaysian – Children: RM20
Non-Malaysian – Adult: RM50
Non-Malaysian – Children: RM40
18. Bukit Jugra
Bukit Jugra is a hill located in the historical town Jugra in Kuala Langat. The hill has an elevation of 120 metres above sea level. Bukit Jugra or Jugra hill is popular among tourists for a variety of reasons. But the undulating terrain and scenic views of the hill popularize it for hiking or paragliding.
Paragliding in Bukit Jugra is conducted off the base of Bukit Jugra lighthouse. The lighthouse was built in 1976 and rises 146 meters above sea level. Each paragliding session lasts for 20 minutes with the help of an instructor.
If you are afraid of paragliding, you can get to the top of the lighthouse to get great views of the