"Sekinchan day trip itinerary" is a way to share my beautiful memories and stories with you. Many people think Sekinchan is not worth visiting, and I was one of them. 
But a day in Sekinchan has changed my whole mindset. It is a hidden gem of Selangor with a peaceful environment and enchanting scenario of paddy fields and fishing village. 
But you can only see its beauty if you pay a visit in particular seasons. Otherwise, Sekinchan will give you nothing but disappointment. 
And that's why I am sharing this article with you so that I can tell you the right time of visiting, what is the convenient way to get there, what things you can do there, and some tips about travelling there. So read until the end to know every detail of the Sekinchan day trip itinerary.
Is It Possible to Visit Sekinchan on a Day Trip?
Sekinchan is a small town village, so it is not very hard to cover the area within one day from Kuala Lumpur. But of course, you have to start your journey as early as possible.
You can visit most attractions and activities of Sekinchan if you ride a car or motorcycle. As Sekinchan is a small fishing village, not much public transports are available there. So a personal car or motorcycle is the most convenient way for a Sekinchan day trip.
If you feel like you want to visit all Sekinchan attractions and Kuala Selangor as well, you have to spend one or two nights there. In that case, Sekinchan homestays are an excellent option to stay in the middle of beautiful paddy field views.
Best Time to Visit Sekinchan
Sekinchan is well known for its paddy fields, so clearly, you want to visit the beautiful scenario of those paddy fields on your day trip. But the beauty of paddy fields depends on particular seasons as it changes its colour very upon different seasons.
Farmers of Sekinchan plant rice twice a year, so you can visit green and golden paddy fields and the harvesting process two times a year.
Sekinchan Day Trip Itinerary: What not to miss.
Green Paddy Field
If you're willing to visit the greenery of paddy fields, you have to make your trip from mid-March to mid-April and from mid-September to mid-October. Usually, farmers plant paddy in early March and early September. So they take their green form by mid-March and mid-September.
Golden Paddy Field
If you want to visit golden paddy fields while they are in full bloom, then your day trip should be between mid-April to mid-May and mid-October to mid-November. At this time, the rice plants are mature and ready for harvesting. 
But it is better to take information about paddy fields before arriving to avoid disappointment as many farmers clean harvest before the predicted time. 
Harvesting process
June and December are harvest times. And it has its own beauty. So, if you're willing to visit the harvesting process, you can come during these times. 
Note: Avoid visiting Sekinchan during January and February and July and August as in these months you will see only muddy plains. 
Things You Can Do on Sekinchan in a Day trip
Sekinchan is the perfect place for you if you want to visit somewhere peaceful yet indulge in some thrilling and fun activities. It has all the activities that you can do in a day.
1. Cycling in the paddy fields
Early morning activities are the best for the mind and the body, especially if it helps you get a tour of the town or city where you're staying. So how does an early morning cycling tour around Sekinchan sound? 
It's not only excellent for the body but also refreshing for the mind. Sekinchan's raw and natural beauty is totally unavoidable. And why only in the morning? You can enjoy it at any time of the day with friends or even on your own. It's definitely going to make you feel energised for the day.  
For the cycling session, you can rent single-seater cycles or even quadricycles if you're in a large group. Such cycling sessions tend to be fun and knowledgeable as you get to explore the rural beauty of Sekinchan. The paddy field, Sekinchan's very own trademark, will for sure steal your heart. 
The long, extending golden fields will soothe your soul and make you feel refreshed and re-energised. You can get to meet locals that'll fill you in on anything you have to know about crops and vegetation. 
And if you're tired from all the cycling, you can always stop by at one of the eateries and have a flavourful local meal. You can rent cycles from AMG Bicycle Renting.
Location: AMG Bicycle-No 8-C, Jalan Menteri 45400 Sekinchan Selangor
Opening hours: Daily 08:30 am to 10:00 pm
Fees: Depending on the bicycle rates
2. Nan Tian Temple (南天宫九皇大帝)
Sekinchan is widely known for fishing and farming. And most people of this area live on these two occupations. So it is important for them to pray for a good harvest and calm ocean as both industries are highly weather dependent.
For this reason, you will notice many temples and churches here and there at Sekinchan. And these temples have spectacular architecture and design, which is worthwhile to visit. Nan Tian Gong is one of the leading Chinese temples in Sekinchan, and it is situated at Site A. The temple is also known as Nine Emperors God Temple. It has great religious importance and, at the same time, offers a fascinating view to its visitors.
The temple has two towers in front of it, and both of them will give you excellent views of the paddy fields.  And if you can make your trip in May or November, you can admire the full bloom of rice fields.
Location: Lorong Tiga, Site A Kampung Kian Sit, 45400 Sekinchan
3. Visit the Sekinchan Paddy Gallery
Sekinchan's pride is their rice paddy field. And it would be an absolute shame if you didn't pay a visit to the museum. You will find yourself marvelling over the raw beauty of Sekinchan. 
Visit the Sekinchan Paddy Gallery. It not only welcomes the visitors to see the museum but gives them the opportunity to learn about paddy processing and plantation. Anyone interested in the rich culture of Malaysia can fill their curiosity at the gallery. 
The gallery is a colossal building in the middle of a rice field. A guide will be there with you throughout the entire tour. Your tour will kick off with a presentation that'll brief you on how the paddy is planted and processed and how its methods have evolved throughout the years. 
You'll also be shown the types of rice that they produce. These range from different varieties of white rice to brown rice. 
Overall, a tour of the Sekinchan Paddy Gallery will result in a fruitful one. You'll learn so much about paddy plantation, and it'll help you in so many ways. You can start a paddy plantation yourself or help others to start one. 
Location: Lot No, Ban 2, 9990, Jalan Tali Air 5, 45400 Sekinchan, Selangor
Opening hours: Daily 09:00 am to 05:30 pm
Fees: RM5.00 per person
4. Learn Swiftlet Farming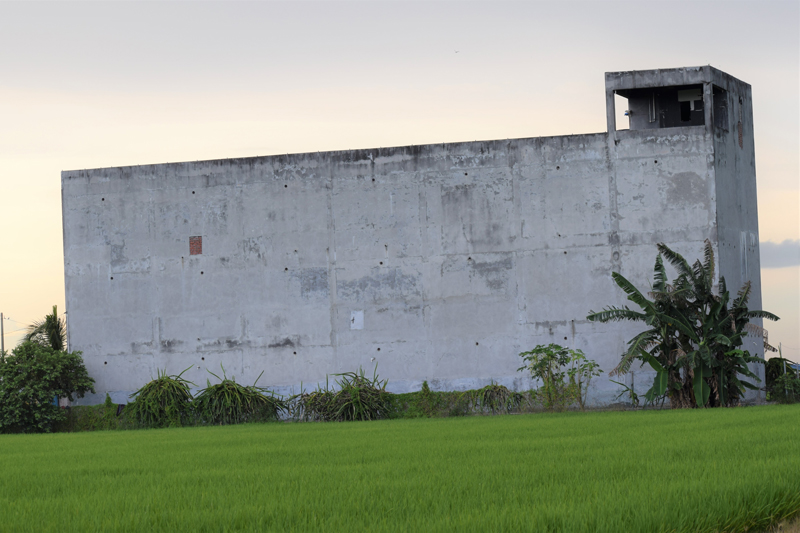 To learn about Swiftlet farming, first, you need to know what Swiftlet is? And why is it important to harvest? 
Well, in the ancient days, birdnest soup was considered a luxurious and healthy food by the Chinese emperors. It was also called the Emperor's soup, and the soup was only served to the elite group in China. But the birdnest was very rare as it could only be harvested in caves. 
Nowadays, people have invented a new technique to harvest birdnest, which is called "Swiftlet farming". And instead of caves, they breed Swiftlet in the houses, which imitate the environment of caves. As a result, birdnest farming is cleaner than before.
In Sekinchan, you will get to see more than 350 Swiftlet houses. These Swiftlet houses are purposefully built in the middle of rice fields as rice attracts birds to come here and breed in these houses.
Though Swiftlet farming is commercial, it entertains tourists by teaching them about farming and Swiftlet breeding.
5. Eagle Feeding
You may have fed fish and even pigeons, but have you ever fed eagles? The recreational activity can sound a bit eccentric, but it sure gives you a huge amount of fun and excitement. 
The Eagle Feeding will start with a boat trip from Pasir Penambang to the estuary of Selangor River. A guide will accompany the visitors. After that, you'll be passing a mangrove forest, and from there, you'll be taken to a small cave. 
After what would seem like an eternity, you'll finally find yourself surrounded by a crowd of eagles. They'll start circling you, and all of it will seem like an exquisite dance. It is right then that the guide will tell to slowly start tossing the chicken entrails to the river. It is an outstanding sight to see when the eagles start eating. 
From nibbling the chicken entrails to screeching and swooping down the water -these eagles will do anything to be fed. 
Eagle Feeding is a really amusing activity. It gives you a jolly good laugh once you see them eating.
Location: 215, Jalan Pasir Penambang, Pasir Penambang, 45000 Kuala Selangor, Selangor
Opening hours: Daily 07:00 am to 09:00 pm
Fees: Adult (Malaysian) RM25.00 | Children (Malaysian) RM15.00 | Adult (Non-Malaysian) RM40.00 | Children (Non-Malaysian) RM30.00 
6. Relive Your Childhood @ Ah Ma House (Grandma's House)
Remember your childhood days when you opt for your grandma's house on any vacation. And your grandma gave you handmade cookies and crackers to eat. Wasn't that nostalgic?
Guess what! Ah Ma House, which literally means Grandma's house, is a special attraction in Sekinchan that will take you back to your childhood days. Here you'll see many antique collections like furniture, old-fashioned TVs, film cameras, clocks, rotary phones, and so on.
Basically, everything that represents the old-time and used to be in grandma's home, you can have here. And the best part of this memory lane trip is that it has a bakery shop that sells homemade cookies and crackers.
Location: Lot 10376, Jalan Tali Air 5, Pekan Sekinchan, 45400 Sekinchan
Opening hours: Daily 10:00 am to 06:00 pm
Fees: Entry is free of charge
7. MSekin Wonderland
You probably thought that the rural Sekinchan would never have an amusement park. Well, you're wrong about that. Sekinchan never fails to amaze you with its entertainment. MSekin Wonderland is a wonderful amusement park in Sekinchan that has gained a ton amount of visitors ever since it opened. 
It has a spectacular waterpark that serves as the main attraction for the park. The waterpark has 10 different pools and slides, and fountains each of them. Because of the waterpark's incredible activities, most visitors show a keen interest in indulging themselves straight in the waterpark. 
Besides its thrilling waterpark, it has many other entertaining activities such as electric bicycles and trampolines. They also have activities for kids, such as ball pits and obstacle courses. Kids can enjoy playing around independently, while adults can indulge themselves in ATVs. 
Location: No 358, Jalan Pantai Redang, Bagan Sekinchan, 45400 Sekinchan, Selangor
Opening hours: Daily 08:00 am-10:00 pm
Fees: Adults RM25.00 | Children RM20.00
8. Bagan Fishing Village
On your day trip itinerary, you can include admiring the calm and busy Fishing Village as your afternoon activity. Sekinchan fishing village is as much renewed as its paddy fields. 
After dining at N16 Cafe, we head down to Bagan, which is the main fishing village of this area. Now let me tell you why I called it the "calm and busy Fishing Village".
The village remains calm and quiet when all the fishers head down to their daily activity catching fish in the morning. It seems like it is an empty village.
And it gets too busy when all fishermen come back from their work and unload their catches. But trust me, both scenarios are elegant and beautiful at their own purpose.
Apart from this, you can have a taste of fresh seafood at any nearby seafood restaurant. And here, you'll get countless seafood restaurants that offer delicious dishes.
9. Redang Beach
Although Redang Beach isn't exactly well-known due to its lack of thrilling activities, it sure does have tons of calming and fun ones. The beach gained more recognition after the famous Hong Kong TVB shot scenes for their show "Outbound Love". 
Sekinchan's main attraction is the Sekinchan Wishing Tree. Visitors come here and make a wish by tying a red ribbon with coins around the tree. Other than the wishing tree, the beach encourages activities such as kite flying and playing with soap bubbles. These activities can be enjoyed by both children and adults. And if you're someone who's not into activities, you can lie down and bask under the sun. 
Location: 25, Jalan Jpt 45400 Sekinchan, Selangor
10. Sekinchan Wishing Tree
I have already mentioned above in the Redang Beach section that the Sekinchan Wishing Tree is the main attraction in Sekinchan. Now let me drive you a bit deeper and tell you how it works and how you can make wishes.
The old wishing tree is loaded with thousands of red ribbons representing people's wishes. After arriving here, not making a wish is quite irresistible. 
All you need to do to make a wish is bring a red ribbon from the adjacent temple in exchange for a small donation. Each of these ribbons is tied with an ancient Chinese coin which gives an elegant and traditional look to these ribbons. 
Then you just have to write your wish on that ribbon and throw it up as high as possible to the tree. It is believed that the higher your ribbon goes, the more your wish is going to come true!
Location: 25, Jalan Jpt, 45400 Sekinchan
Opening hours: Daily 24 hours
11. Hiking at Bukit Melawati
We're talking about activities, and you thought we were going to forget about hiking? Nah. Not happening! If there's any activity that can lighten up your mood, that's hiking. And hiking at Sekinchan's Bukit Melawati is something that you shouldn't skip at all. The hill overlooks at the breezy straits of Malacca. The view is so scenic that it captivates your mind. 
Although the top view may be breathtaking, the hike itself takes a ton amount of hard work. The hiking trail is more of a topsy turvy asphalt curve than a proper trail. The rough trail may be the only hard thing about the hiking trip, but while you're hiking, you can catch a glimpse of some wonderful views. 
And when you've finally reached the top, make sure to click some amazing pictures and stick them on your scrapbook for all the incredible activities that you've done. 
Location: 45000 Kuala Selangor, Selangor
12. Watch Fireflies
If you're not done being amazed by Sekinchan's tranquil beauty, hold your breath as there's more to see and be captivated. After you're done indulging yourself in various activities in the day, there's one more activity that you can enjoy at night-time, and that is a fireflies boat tour. 
You can see fireflies in Sekinchan at nighttime. It's one of the most breathtaking experiences you'll have at Sekinchan. There's a gazillion of fireflies that fly in the enchanting mangroves of Kuala Selangor. It'll be pitch dark, and the flicker of the lights from the fireflies will look absolutely stunning. 
A guide will be with you throughout your tour to the forest. If you want the memory to stay alive, you may want to record it as well. 
Pro tip: Take a mosquito repellant spray with you. 
Location: Jalan Club, Kampung Kuantan, 45000 Kuala Selangor, Selangor
Food You Can Try During Your Sekinchan Day Trip
Dine @ N16 Cafe
Surrounded by the lush greenery of Sekinchan, N16 is a quirky cafe that'll does not fail to stun you. The cafe was established using an old school bus. What's even more bizarre is that it is built on top of a freight container that serves as a kitchen for the cafe. 
The food, no doubt, is scrumptious, but the view from the bus is to die for. The cafe has all the facilities to make you feel comfortable- AC, comfy chairs, the calm breeze. You name it. 
You can visit the cafe and enjoy their delicacies but also spend some time taking pictures with the paddy fields in the background. 
Location: F4V7+7V, Kampung Parit Empat, 45400 Tanjong Karang, Selangor
Opening hours: Friday-Monday 11:30 am to 07:00 pm
Try Mangoes @ Mango King
When you're done with cycling and visiting Paddy Gallery, refresh yourself with an ice-cold mango smoothie at Mango King. It is located in the middle of the rice fields and is widely famous for its huge mangoes.
As Mango King is situated just down the road from the Paddy Gallery, we have included it in our day trip itinerary. And we're grateful that we paid a visit to this place and have tried its refreshing mango smoothie. Because in the Malaysian heat, that smoothie is such a great relief.
You can even purchase these fresh and sweet mangoes as souvenirs.
Location: 248, Lorong Empat, 45400 Sekinchan
Opening hours: Daily 09:00 am to 06:00 pm
Taste the Fresh Seafood
Sekinchan is a fishing village, so you will see seafood restaurants everywhere in this area. It is pretty obvious that you won't leave Sekinchan, especially the fishing village Bagan, without trying the fresh and delicious seafood.
Here you'll find both Halal and non-Halal seafood restaurants that sell popular seafood dishes like Oyster Omelet, Siakap Bakar (grilled fish), Mantis Shrimp, Crab with oyster sauce, and so on.
Refresh Yourself with Coconut Shake @ Sekinchan Coconut Farm
After a hot day trip in Sekinchan, you undoubtedly need a relaxing refreshment. That's what we also feel on our day trip. Then we opt for Sekinchan Coconut Farm.
This coconut farm will not only give you the fragrant coconut drink but also refresh you with its lush coconut trees. After a long day trip in the Malaysian heat, coming to this coconut farm felt like heaven to us.