Having a rich number of mountains, beaches, canyons, and food, Taiwan attracts a massive number of tourists each year. The East Asian Island has it all to capture your attention.
September to November are the best months to lay your foot there. Having chilly, pleasant, and dry surroundings, you will surely enjoy visiting it more than usual.
You can go around enjoying their culture, architects, history and many more. What's more interesting is that you can get a visa-free trip if you stay there for a short period.
The number of places to visit in Taiwan is uncountable. This article will give you information regarding every attractive spot you can find on this Island. So, let's get into it. Why is Taiwan a trip-friendly country? Before knowing where to go, how about knowing why to go? Well, there are so many reasons why your trip to Taiwan won't be disappointing. Here are some of them.
Why Should You Visit Taiwan?
Low crime rate
Having a low crime rate, Taiwan is the second safest country to visit. Although crimes like drugs, vandalism, robbery, bribery, and others exist, the rate is unnoticeable. So, you are not threat-prone when you visit this place.
Friendly people
Taiwanese people are extremely friendly and hospitable. They are polite and help their tourists. These people are honest enough to take your belongings to the nearest police station if they get a grab on them.
Some of them learned English to communicate and guide the tourists.
Captivating Sceneries
Taiwan is rich with scenery that will mesmerize its tourists. The country is green because it consists of forests in every nook and corner. If you are a mountain, hill, and forest lover, your eyes will get blessed by its greenery.
Great transportation system
If you are scared of going east to west or north to south in a new place, don't worry. Taiwan has one of the safest public transportation. Once you get a good idea about it, you can travel all alone. There are plenty of rails and buses for you to hop on.
Lovely festivals
Their colorful festivals around the year will fascinate you a lot.
Around January and February, they hold a lantern festival. On this occasion, they release paper lanterns in the air.
They have an annual folk fest called Matsu Pilgrimage that gets hosted in March. They cover 300 kilometers in only nine days.
The Dragon Boat Festival in June takes place in local rivers.
Delicious foods
Taiwanis famous for its variety of cuisines and food. There are so many street food markets with their unique dishes. The stinky tofu, bubble tea, braised pork rice, and mango shaved ice are a blast to eat. But the highlights are undoubtedly beef noodles and seafood.
Islands
There are so many mysterious outlying Islands in Taiwan. So many tourists visit these every year that they are not damaged.
Ludao (known as the Green Island) is known for saltwater. Lanyu (Orchid Island) is known for its volcanic land. 
The oldest villages on these Islands are historical.
Great place for hiking
You will get top-notch hiking places in Taiwan. It consists of two-thirds of the mountains which makes it a hiking paradise. Jade Mountain and Snow mountains are the tallest ones in Taiwan. If you are a hardcore hiker, you can choose one of these.
Beautiful temples
Taiwan is full of beautiful temples built up to maintain culture and worship. Longshan and Guandu are the famous ones with metro systems.
Besides you can find so many more small, big, attractive temples around there.
Filled with museums
This beautiful land is filled with numerous museums. The National Palace Museum is considered to be the best of all.
Other museums give a variety of religious, cultural, and scientific visuals.
What are the best places to visit in Taiwan? 
There are literally so many places to visit in Taiwan. You can continue to go on visiting one after another yet the list won't come to an end. To make your trip a bit easier, here's a list of the top attractive places to visit in Taiwan.
1. Taipei 
It is the capital of Taiwan. This city is mesmerizing to take a stroll around. It is the center of the economy and politics of Taiwan. However, it is also filled with culture, festivals, architecture, etc. 
The main attraction of this city is Taipei 101. Built in the year 2004, it earned the fame of being the tallest building in the world. You can take a look at the stunning old temples situated amongst the skyscrapers in this building.
Besides, you can find delicious food in restaurants, bars, and shops around the city. Taipei zoo is one of the most attractive tourist places in this area. Moreover, there is a botanical garden for botany lovers.
Not to exclude, the temple of Hsing Tian Kong earned quite a fame from its tourists. And do you know the best part? These captivating places are on offer.
In fact, there are nighttime street markets as well as so many museums. The National palace museum is here. You can get exhausted from taking a tour in Taipei, but it will surely be worth it.
2. Sun moon lake
Located in Nantou, a couple of hours away from Taipei city, Sun moon lake is an extraordinary tourist place. It is said to be the largest water body in Taiwan.
The place is named Sun Moon lake because the west of it depicts the sun, and the east resembles the moon.
You will find parks, forests, hotels, and yachts helping tourists move from one place to the other. Besides, you can go for a cable car ride to see the entire view of the lake. Or you can also take a ferry ride to enjoy the visuals.
As there are hills around it, you can go hiking. But in case you are a lazy person, you can choose to enjoy the boat ride on the lake. Moreover, you can also visit the temples nearby. They are the definition of beauty. The interesting part is that it remains open 24/7, and the entry is absolutely free.
3. Rainbow Village
It is an ex-military village. A former soldier named Huang Yung-Fu decided to paint the neighborhood to give it life. He turned it into an art with paintings of birds, animals, people, and other things. His artistic values turned it into a tourist place.
Although there is nothing mentionable to see here, a stroll around the colorful streets and houses will surely soothe your eyes. If you go to Taiwan, you should at least go once to Rainbow village. You need to reach408, Taiwan, the Taichung City of the Nantun District for a visit here.You require no entry free to go there and the visit hours are 8 in the morning to 6 in the evening.
4. Longshan Temple
Chinese settlers from Fujian built this temple in the 18th century. During world war two, it got away with an air raid. It now has many gods who got demolished with the temples in the neighborhood. It is one of the top-most places to visit in Taiwan.
If you are into religion or need spiritual peace, you must pay a visit here once. Moreover, it serves many religions and sets a unique example of unity.
Are you a weird lover of different kinds of smells? If yes, you will get intoxicated by the smell of incense sticks out there. In fact, the wooden design in the interior is very beautiful.
They have a belief in finding answers. According to them, when you roll two wooden blocks and they reach the ground, you will find the answer to the question you had back then. This place is situated in No. 211, Guangzhou Street, Wanhua District, Taipei City, Taiwan 10853.
5. Tainan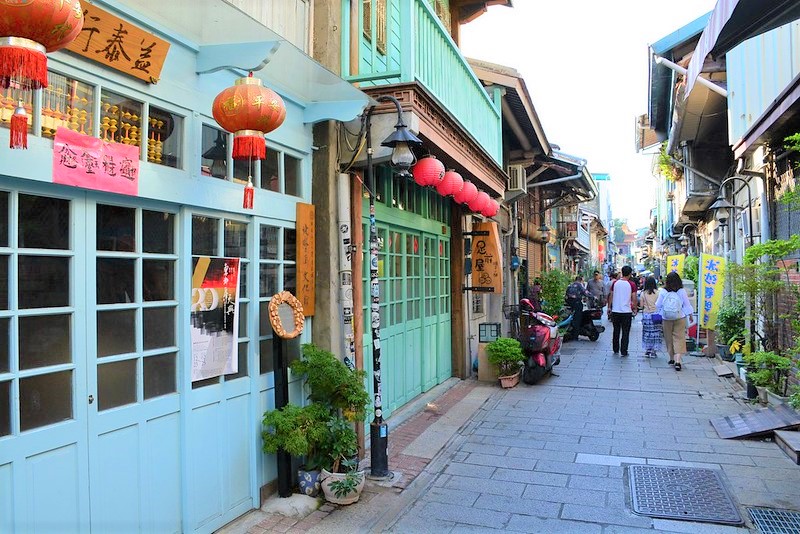 It is the oldest city in Taiwan. The city is full of folk cultures, cuisines, temples, etc. And if you are a music lover, be glad to know that it is filled with pieces of music. The museums and parks around there are amazing to pay a visit to.
You can visit the Taiwan Confucian temple. It protects the values of ancient Confucian values and cultures. They keep the necessary musical instruments in the storeroom and perform rituals there.
Besides, you will find the National Museum of Taiwan history and literature and the national cheng Chung university museum. Fort provinta (also known as chikan tower), built in 1653, is another tourist spot in Tainan. You can have tons of shopping and recreation out there. It has boutiques, stores, and shopping malls all across the city. They hold a firework festival with beehives.
6. Penghu
This place is undoubtedly a national scenic area. The transparent sea water will mesmerize your eyes to its finest. The striking cliffs out there look amazing. You can chill on the pure beaches. Also, what's more, soothing to the eyes than a place with blue water and a beautiful blue sky?
It has many temples worth a visit. There are beautiful Chinese style-homes. And if you are a foodie, the seafood caters will not disappoint you for sure.
7. The high-heel church
This building gives off a striking vibe because of its design and architectural polishing. It was formerly built up with the heel shape for women as a church. However, due to its eye-catching design, it turned into a photoshoot and wedding spot.
Once you go there, you will see the maple leaf and loveseat benches designs. Talking about the location, it's here at Haixing Street, Budai Township, Chiayi County, Taiwan 625.
8. The National Palace Museum
It is one of the biggest museums in the world which flexes Chinese artworks. It has almost 8 lacs of ancient pieces of artworks preserved there for display.
These ancient masterpieces include paintings, statues, jades, calligraphy, and much more. Jadeite Cabbage is the most demanding masterpiece kept on display all the time. Fortunately, they will provide you with an English tour guide.
The museum remains closed on Monday. And it is open from Tuesday to Sunday from 9 in the morning to 5 in the evening. However, you need to pay an entry fee of 350 US dollars per person. This museum is located in No. 221, Sec 2, Zhi Shan Rd, Shilin District, Taipei City, Taiwan 111.
9. Jiufen
The Japanese built this ancient Jiufen town. Earlier, people knew it as a gold mining town. It is located in the east of Taipei in the Ruifang District. This city is filled with a vast history and ancient buildings. Do you remember the famous movie spirited away?
They say the buildings in it were inspired by Jiufen city. You will find many tea houses and narrow alleys out there. There are streetfoods stalls also. The Shengping Theater is a tourist attraction. It was built in the 1990s.
10. Alishan National Scenic Area
If you are a nature lover, this is a must-to-go place for you. Its cloud-ringed peak is a blessing to the eyes. Besides, the green valleys look astonishing.
It is situated in central Taiwan. This place is home to tea trees. They planted the trees around the hill, and you will also see some clearings. This place is perfect for hiking. And the more you will hike through it, the more surprises you will find.
There are many more breathtaking plantations around the valley. On top of that, you will run into the Tsou people. They are friendly and hospitable. They offer tea to their guests. And their tea is delicious as they have their own recipe (sometimes even with fruits).
11. Taroko National park
This place is, of course, the best go-to spot for mountain lover people. Mountains continuously raised their heads and made the place so captivating.
Located in Taroko George, it is not any less beautiful than the six other national parks in the country. The park's name is derived from the George running through it.
You can drive around the place to enjoy the breathtaking view. In fact, cycling around the place might be a better idea. Over the Eternal Spring, there's a shrine worth seeing. It depicts honor to the veterans of world war ii.
You can enjoy outdoor activities like hiking through the canyons or you can go river rafting. Not to skip the highlight, taking a bath in the Baiyang Waterfalls will give you a chill you never asked for. If you want to see the majestic views of this park, lay your feet on the Eternal Spring Shrine and the Swallow Grotto. Also, you can be a part of their Taroko music festivals. Their culture and hospitality will surely make you happy.
12. Yangmingshan National Park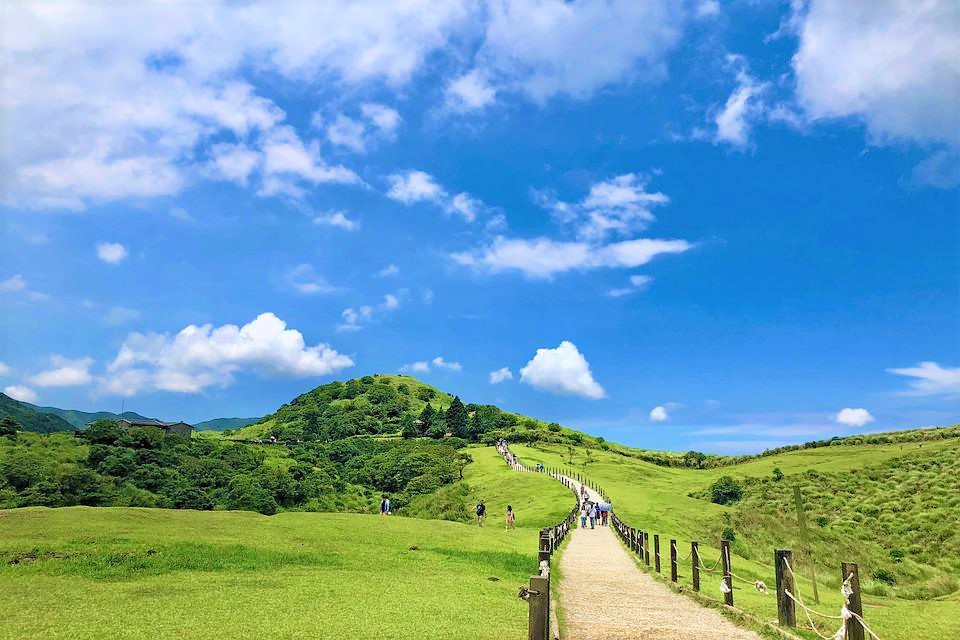 It is situated outside of Taipei and is one of the most beautiful national parks in Taiwan (out of 8 others). This is a natural place with beauty all around it. There are so many beautiful flowers out there. Besides, you will find waterfalls and lakes in Yangmingshan park. There are also ridges and hillocks all over the park.
The dream lake full of serene water is a treat to the eyes. To add, the volcanic Xiaoyoukeng peak is equally attractive. As a tourist, you can go fishing, hiking, or swimming in the park. You can surely explore the place a lot and the experience will be one of the most satisfying.
13. Beitou Hot Springs
This place is one of the extremely relaxing spots in Taiwan. You must visit this scenic area to calm and ease your mind, to take a break from exhaustion.
Situated in North Taipei, this hot spring came into existence by being on the top of two continental plate fault lines.
There are private baths for people who want it their way. But if you run low on budget, there are public baths too. However, you have to wear a swimsuit in public baths, unlike the private ones.
There are a total of six pools there. Out of the six pools, 4 are hot springs and 2 are cold springs. They have flowers all around them.
You have to pay an entry fee of 40 dollars here. It is open every day of the week. However, the timings differ.
14. Kaohsiung
It is one of the most desired tourist places for foreigners and locals. This city always has something to offer to the people which makes it unique.
You will feel lively and energetic in this vibrant city full of peace. This city grabbed third place for being the most populous in Taiwan.
They have indulged in trade and commerce so much that you can see the effect on their mixed culture and cuisines. The good news for food lovers is that there are cuisines on offer.
Kaohsiung offers the most beautiful weather and scenery around the year. You can go hiking and cycling through the city to enjoy its views the most.
This city is full of history. Over time, more and more museums are growing over there.
15. Dragon and Tiger Pagodas
It is also known as Dragon Tiger Tower. These pair of towers are ancient Chinese temples. The buildings look mesmerizing with the mixture of red and yellow color tiles on them. Its interior is designed with paintings related to history. It is located in Zuoying, Kaohsiung, Taiwan. The tower remains open all days of the week starting from 8 in the morning to 5 in the evening.
Top 5 night markets of Taiwan
Night markets are one of the most attractive places to visit in Taiwan offering diversified foods and cuisines to their customers. There are notably more than 70-night markets in Taiwan. However, most of them are in Taipei. If you are a nighttime owl, here are some of the mentionable night markets in Taiwan for you to take a stroll.
1. Shilin Night Market
Situated in the Shilin district of Taipei, it is known as the biggest night market in Taiwan. It opens at 4 PM. This market has many food trucks, small restaurants, and other shops with items inedible for sale. It is famous for bubble tea, oyster omelet, stinky tofu, Taiwanese tempura, and many other dishes.
Address: No. 101, Jihe Rd, Shilin District, Taipei City, Taiwan 111
Phone: +886 2 2881 5557
2. Raohe Night Market
This night market is about 600 meters long. There are like three sections in the market. You will find daily necessary items in the first sections of the carts. You will get a grab on the physical goods( flowers, bouquets, etc.) in the second section.
Finally, in the third section, you will find food with amazing cuisines and fruits.
Their pepper buns, pork sparerib noodle/soup, Japanese steak, and fried milk got the attention of many customers.
Address: Raohe St, Songshan District, Taipei City, Taiwan 105
Mobile: +886 2 2766 8876
3. Ningxia Night Market
Customers get really excited every time they get a grab on the farm animals out there. Though the place is small, their food is delicious. Lemon aiyu, mango shaved ice, and chicken cutlets are the heartthrob of that place. Every food and fruit smells heavenly. The restaurant opens at 5 pm and shuts down at 1 am.
Address: 103, Taiwan, Taipei City, Datong District, Ningxia Rd, 寧夏夜市
Phone: +886 987 456 794
4. Shida Night Market
Located in District, Taipei, Shida Night market has 4-star reviews. It has outstanding foods, restaurants, and clothing stores for its customers. Pork buns, pineapple buns, creepers, etc. are their signature dishes. It opens at 4 pm.
Address: Lane 39, Shida Rd, Da'an District, Taipei City, Taiwan 106
Phone:  +886 901 111 319
5. Guangzhong Street Market
This market is very vibrant with its diversified arrangements for its guests. You can find many kinds of food vendors, shops, restaurants, and game-in in the Guanzhong market. Fried eggs and fish flour mixed with wasabi or red sauce caught the attention of many guests.
Address: Guangzhou St, Wanhua District, Taipei City, Taiwan 108
Phone: +886 2 2550 5220
Hopefully, this article helped you to know which places to visit in Taiwan to enjoy your best.