We all dream about visiting Europe, don't we? And it's highly unlikely to not have Germany as one of your bucket list countries to visit while daydreaming about Europe.
Germany, or as they call it "Deutschland", with its rich history, carries an enormous number of landmarks and landscapes. Be it the sandy plain lands of the North or its tall mountains of the South, its fascinating beauty will undoubtedly charm you. Its unique culture and cuisine makes it one of the most popular countries to visit.
With multiple options to choose from, it sure gets tough when you ponder about places to visit in Germany. Berlin surely comes first to mind every time we think about Places in Germany. Nevertheless, Germany has a wide range of landmarks to tour; from its mesmerizing architectural marvels to its countryside small towns, you have a variety of alternatives to go for.
The Best 14 Places to Visit in Germany
1. Sanssouci Park & Palace,Potsdam
The Single-story Rococo style built Sanssouci Palace is definitely a popular historical site to visit in Potsdam. This Royal Palace was built by Prussian King Frederick the Great as his summer palace. The one-storied building has an elliptical dome just in center with the Palace's name inscribed in bronze letters. The front gardens have been decorated in a lavish approach with atlantes and caryatids. The artistic vineyard terraces are also noteworthy.
The significant attractions in the interior includes the Entrance Hall along with it's Corinthian columns, the white-and-gold oval Marmorsaal (The Marble Hall), the Dining Room, King's Study and Bedrooms, the almost-hidden circular Library, the Rothenburg Room and the Voltaire Room.
Sanssouci also holds a spectacular park surrounding the Palace, which has been listed in UNESCO world heritage since 1990. The main gateway to the Park is the Green Gate which was built as part of construction of the Church of peace which is situated on the grounds of Sanssouci Park.
Various enthralling buildings in the park includes the Chinese House, Picture Gallery, Neptune Grotto, Temple of Friendship, Church of Peace, Roman Bath, Antique Temple, Obelisk, New Palace in the western side of the park and the New Chambers.
You may also choose to visit the neighboring sights and buildings in Sanssouci park such as- Ruinenberg, Belvedere on the Klausberg, Dragon House, Orangery Palace, Charlottenhof Palace.
Location: Zur Historischen Mühle 1, 14469 Potsdam, Germany
Things you should keep in mind while you visit Sanssouci-
The Sanssouci Palace is open for tourists from 10:00 am to 6:00pm, every day of the week except on mondays. (Changes apply during Christmas holidays.)
Various spots in the Sanssouci Park remain closed during winter (November to April). Please make sure to keep an eye on that matter.
Belvedere on the Klausberg and Ruinenberg is open for visitors only during the weekends from 10 am to 6pm. (Sat-Sun)
2. Königssee (Kings Lake), Bavaria
Located in Berchtesgaden Alps, the picturesque lake is a heavenly natural beauty sight. It is one of the top rated places to visit in Germany. The Lake is 7.7 km in length and its width is about 1.7 km across its widest point. It is worth mentioning that Konigssee is the third deepest lake of Germany.
The lake lies in the middle surrounded by sheer mountains which resemble a fiord, a perfect escape from urban-chaos. To explore this riveting lake, you may choose to take a boat ride across the lake. The Boat generally runs every half an hour depending on the season. This lake is notable in Germany for its clear water, and only electric boats are allowed to run in its water. 
The boats have three stops-St. Bartholomew Church; a famous pilgrimage church, Kessel; mostly hikers use this stop and Salet; the farthest stop. It takes almost an hour to reach Salet. The flugelhorn echo played during the boat ride does create a phenomenal and adventurous experience for its passengers.
For hikers the birds-eye view of the Konigssee is an incredible sight to witness. This is why Konigssee is one of the popular places to visit in Germany for hiking lovers. 
To South of Königssee is the Obersee Lake which is separated from Königssee by a moraine. An enchanting sight of Obersee lake is the Röthbachfall; it is the highest waterfall of Germany having a vertical drop of 1540 ft. All in all, Königssee is the perfect place to enjoy the serenity and striking beauty of nature in Germany.
Extra Tips for Tourists-
July to mid-September is the perfect time to visit this lake. But make sure to avoid public holidays as the crowds tend to be larger during this period.
Location: 83471 Schönau am Königssee, Germany
3. Rhine Valley
A breathtaking landscape to view in Germany is the famous Rhine Valley, located near the river Rhine, which flows in between two cities Bingen and Bonn. Some 40 medieval castles and fortresses are present in about 60 scenic medieval towns located in the Rhine Valley.
It's a wonder that the Valley still kept its medieval touch almost intact after several years. This surely is going to make you feel as if you are starring in a Disney movie. Rhine valley is also known as The Romantic Rhine Valley for its picturesque beauty. 
The Upper Middle Rhine Valley or the Rhine Gorge, a section of Rhine between  Koblenz and Bingen has been listed as a UNESCO World Heritage Site. Klpop castle, a popular landmark of Rhine Gorge offers a mesmerizing view and definitely a perfect spot to take inspiration for whether as a painter or a writer, Some other popular castles to visit in Rhine Gorge are-Rheinstein Castle, Stahleck Castle, Maus Castle, Marksburg Castle, Pfalzgrafenstein Castle and many more.
If you wish to hike, Rhine Valley sure has an incredible spot that being the Palatinate forest.
One of the most beautiful medieval towns to visit is Braubach located on the east bank of the river. It is also home to the Marksburg Castle. Another beautiful landmark to see is the Mouse Tower, also famous in German Folktale. It is a 25 meters tall stone Tower which stands on a small island near the Rhine.
Rhine valley is a symbol of history, culture and divine natural beauty making it one of the Picturesque Romantic Valleys in the world. It's undoubtedly a must-see place to visit in Germany.
4. Berlin's Museum Island
At the heart of Berlin, The Museum Island is one of the famous places to visit in Germany. It is home to significant state museums of Germany. The Museum Island is a museum complex which assembles 6 museums namely, The Altes Museum, The Neues Museum, The Alte Nationalgalerie, The Bode Museum, The Pergamon Museum & the newly opened The Humboldt Forum.
The entire complex has been listed as UNESCO World Heritage since 1999.The Museumsinsel was built by Prussian Kings, constructions started in 1830 and ended in 1930. It has been built with the intention of making it more convenient for tourists to visit many state museums in a single city.
Altes Museum is the oldest museum of Berlin and present in the center of Museum Island. It exhibits the Collection of Classical Antiquities. The Neues Museum is famous for its Nefertiti Bust, one of its Egyptian antiquitie.
While the Alte Nationalgalerie preserves a gigantic collection from the time of French Revolution to World War I as well as 19th century art. The world renowned Bode Museum is popular for its 18th century decorative arts and sculptures. Pergamon Museum displays architectural monuments from Greek and Roman periods.
Tips for Tourists:
All the state museums are closed on Mondays.
5. The Black Forest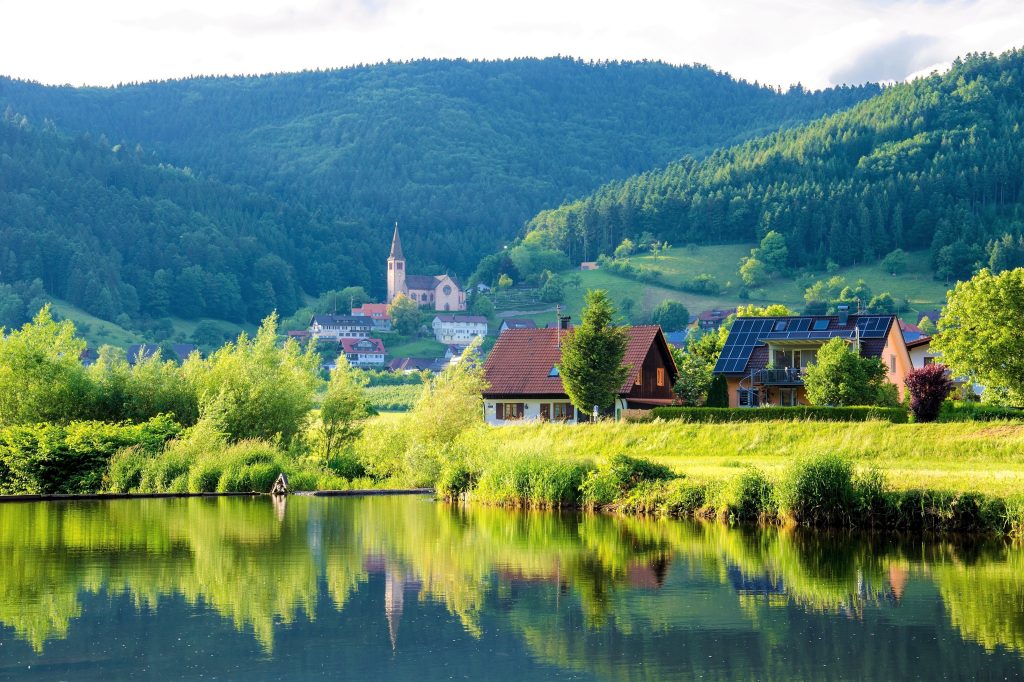 Situated at the southwest of Germany in the state of The Schwarzwald is the mountainous range known as The Black forest. It is the home to numerous classical cuckoo clocks. The Germans call it "The Schwarzwald " and it is also the inspiration for Grimm Fairytales.
Mainly the highland is made up of granite but some northern areas are made of sandstones. The Black forest is best known for its dark pine forests, scenic small villages and waterfalls . It comprises an area of 2,320 sq miles.
There are a variety of popular spots to see in Black Forest of Germany. Triberg Falls located at the nucleus of this Forest, is also the highest waterfall of the whole Black Forest. Another popular site is the Open Air museum which is actually a 17th century Farmhouse.
Lake Titisee is one of the most stunning glacial lakes of Black forest which was formed during the ice-age. If you want a relaxing spa time while on your vacation to the Black Forest, you have it right there, the Spa town of Baden-Baden.
The Fountain of Youth of this place is also a pleasing sight. Baden Wine Road, a wine growing countryside located near Heidelberg and Konstanz, is Germany's longest wine trail which can also be a place worth visiting. You can even go skiing in Black Forest as well if you plan to visit Germany during the winter.
There are so many more things to explore while visiting the Black Forest of Germany from visiting small towns and fairytale villages to planning a trip to Europa Park.
Tip for Tourists:
Triberg Falls is only open for tourists during weekdays(Mon to Fri)
6. The Old Town (Altstadt) in Nuremberg
Altstadt or The Old Town is a historical section of Nuremberg known for its huge number of medieval buildings and museums. The old town is also distinguished for its wide pedestrian streets. Most old wood timbered buildings convey a medieval setting which makes you believe you are across the globe time-traveling.
Located at the Ludwigsplatz Square is the White Tower which is an important landmark and also serves as the gateway to this antiquated town. There are an abundant number of tourist attractions to visit in The Old Town including the Imperial Castle and City Walls; which is a spectacular medieval defense system in the whole of Europe.
The Market square is another popular spot where the Christmas market takes place. At the eastern side of the Market square is The Church of Our Lady, it's the first church of Nuremberg. Other two churches include Saint Sebald Church and Saint Lawrence Church. You can also choose to take a stroll into the picturesque romantic village called Handwerkerhof inside the Old Town.
The Old Town is also home to Germanisches National Museum, one of the oldest museums of Europe, which offers a chance to take a dive into German history, art and culture. There are a number of bridges in this town, some noteworthy ones includes-A wooden bridge called Henkersteg and The Maximilian Bridge (Maxbrücke) that stands over the Pegnitz River.
Old Town, Nuremberg is the perfect place to spend your holidays walking through the wide pedestrian streets seeing beautiful preserved medieval houses along different alleys. All in all The Old Town in Nuremberg is definitely one of the best places to visit in Germany.
7. Gorlitz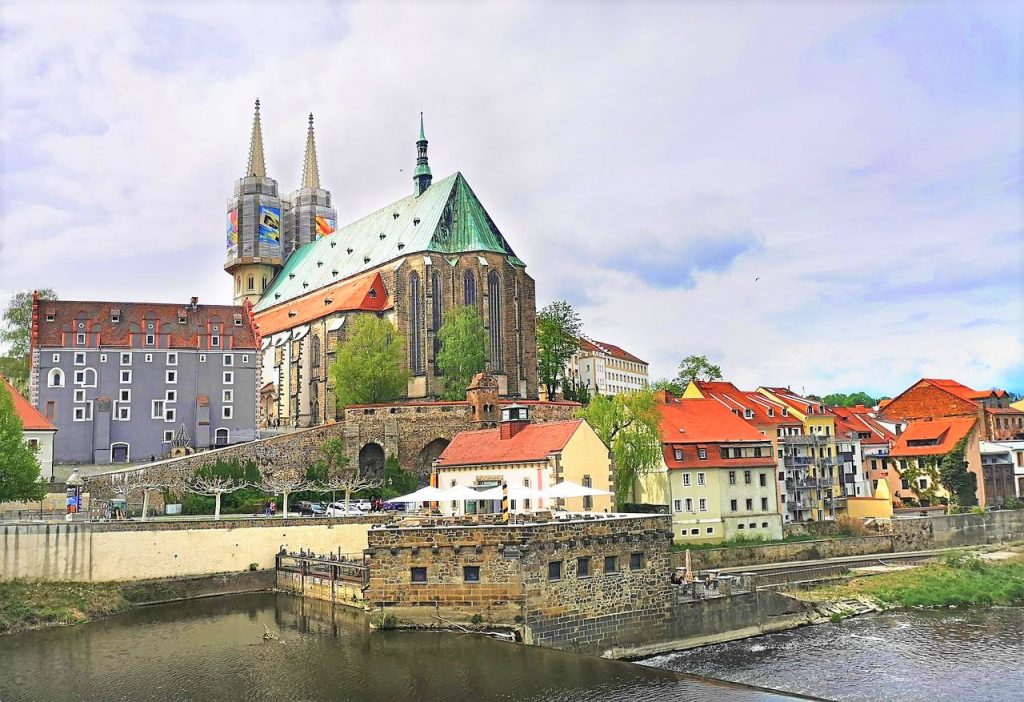 If you wish to experience a fairy-tale setting in a town having beautiful architectural sights to explore, Gorlitz is one of the best places to visit in Germany. This is a well-known favorite city to numerous film-makers. Did you know Gorltiz was the filming location of the 2013 movie "The Book Thief"?
Located on the Polish-German border, this town is filled with a great deal of charming buildings, alleys and towers. It also has a number of hiking spots such as Nonnenfelsen, Lausche, Scharfenstein, Kelchstein and many more to explore. Whether you want to spend your visit roaming around its fascinating corners and check out film settings of different movies or have a well guided tour of the city, you can do anything which suits you the best.
Wandering this beautiful city through its stunning alleys and squares whilst capturing its spectacular beauty does sound wonderful? Doesn't it?
8. The Romantic Road and Rothenburg ob der Tauber
A popular tourist spot in Germany is a theme route scaling 460 km known as The Romantic Road. This route passes charming sights be it green vineyards or the small medieval villages, the mesmerizing beauty will soothe your heart.
Romantic Road, true to its name lets the tourists explore beautiful destinations which may look as if it were sat in fantasy. The road begins from Munich and concludes at Fussen. One of the popular destinations the route passes is the old medieval village named "Rothenburg". It is a Franconian old artistic medieval town bounded by city walls.
The name "Rothenburg ob der Tauber" means "Red castle above the Tauber" in German. Since the 19th century this town has been a part of Bavaria, Germany. One of the popular things to do for tourists is to take down a walking tour and wander around different alleys in this charming town. Main attractions include the Town hall, a renaissance building which served as government sitting during the middle ages.
The other accessible tower is the 200 ft tall Roedertor Tower which offers a scenic view of the whole town. There are many museums to visit while on your trip to Rothenburg. Some of the noteworthy museums include The Criminal Museum,Imperial City Museum,Christmas Museum and The Craft House.
Many tourist friendly hotels, restaurants and stalls are present at different areas with delicious cuisine. Schneeball, a sort of pastry, is a popular item of Rothenburg.
All in all, the Romantic Road and Rothenburg is definitely one of the inevitable places to visit in Germany.
Tips for Visitors:
●     If you're visiting during the Christmas holidays, do not forget to visit the christmas market of Rothenburg.
9. Wurzburg Residence
This 18th Century Baroque Palace is one of the most important tourist places in Wurzburg, Germany. It is a Spectacular Palace which served as a residence to the Prince-Bishops, famous for its splendid and finest baroque style architecture.
There is a beautiful wide courtyard in front of the palace with vivid flowers, perfectly trimmed bushes, majestic sculptures and calmative fountains. A luxuriously decorated facade surrounds the Cour d'honneur. The sumptuous interior comprises baroque style staircases, stucco work decorated The White Hall & The Imperial Hall. The Palace is extremely huge and houses 40 rooms which are accessible to tourists to visit.
You can also visit the Court Chapel which has carving walls and oval domed vaults. Since 1981, Wurzburg Residence has been listed in UNESCO World Heritage for its unique baroque style architecture. If you are a fan of magnificent architectural style royal palaces Wurzubrg is one of the charming places to visit in Germany.
Tips for Visitor:
Opening hours: 9am to 6pm (April to October) and 10am to 4:30pm (November to March)
10. Miniatur Wunderland and the Historic Port of Hamburg
Located at the heart of the Historic Port of Hamburg is the Miniatur Wunderland, the largest model railway system in the world. It is recorded in the Guiness Book of World Record as the largest miniature in the world. It was inaugurated in 2001 with only 3 model sections originally -Central Germany, Knuffingen and Austria.
But currently it has expanded to nine sections. The next section in construction is Monaco. Visitors, especially children, enjoy visiting this museum. They can go back and forth in different rooms guided through a long hallway with the trains running along the walls of the room. In this miniature, day lasts 15 minutes and then when the night comes the LEDs lights up bringing to life a starry-lit evening.
There are different day to day life simulations depicted in the miniature which is definitely a treat to watch. Visitors can control the system with some designated buttons.
Tips for Visitors:
Opens at 9:30 am and Closes at 6:00 pm.
Make sure to buy the tickets online beforehand as the queues tend to be long at the counter in person.
11. Neuschwanstein Castle
Ever imagined how the Sleeping Beauty castle would look in real life? The answer to this is the fairy tale illustrated Castle set in the village of Hohenschwangau, in Southwest Bavaria, Germany. This Majestic Castle looks magnificent with its towers, turrets, frescoes, and throne hall. It looks as if it comes out straight from the pages of a storybook.
The Castle also serves as a witness to a great history, it was the retreat built by King Ludwig II of Bavaria in the honor of Richard Wagner. But Ludwig II didn't live to see the completed castle. The construction started in 1869 and took years to complete. Finally the Castle finished its construction in 1892. But Ludwig II died in 1886 not being able to see his magnificent castle.
The Neuschwanstein Castle is a symbol of romanticism with inspirations captured from German composer Richard Wagner. Even though originally it was a private retreat for King Ludwig II, it now serves as a notable tourist attraction. It is one of the favorite places to visit in Germany for tourists all over the world. It offers a number of spectacular views.
Many tourists have exclaimed that Bridge of Mary is definitely the perfect spot to take instagram-worthy pictures of the exterior of the Castle. To tour the interior it is required to follow a guided tour. About 14 rooms are open to visitors including the magnificent Throne room and the elegantly designed King Bedroom.
Neuschwanstein is perfect to visit in any season. But summer seems to be the peak season to visit so be prepared for the long queues for tickets and the crowd with its chaos.
12. The Moselle Valley
Experience the incredibly beautiful River landscape of Germany known as the Moselle Valley filled with vineyards, forests, castles and picturesque towns which is a breath of fresh air. The Valley is famous for its quality-white wine and spell-binding scenery.
The main tourist attraction town is Cochem, you can explore this beautiful town through a guided wine-tour or walking along its medieval streets. One of the popular sites is the Cochem Castle, situated at the bank of the river on highly raised hills. A 30 minutes car drive from Cochem is Burg castle, a spectacular castle which remains almost hidden from the masses in the woods. 
Apart from Cochem, tourists may also choose to visit 2nd-century fortified Roman gate Porta Nigra, located in the old town called Trier. Cathedral of Saint Peter dates back to the 4th century even though it has been reconstructed over the years it is also a place worth visiting. If you are craving for a natural retreat make sure to explore Beilstein, a tiny medieval town surrounded by steep hills and vineyards. Metternich Castle of Beilstein offers a scenic view of the town and you can even enjoy a hike to reach the castle.
You can also wish to tour the ruins of Grevenburg Castle in the glamorous small town Traben-Trarbach. Kobern Gondorf with its old-timbered buildings in the Moselle Valley is the perfect place to relish a romantic weekend. A 1h Moselle River cruise might be a nice retreat during your vacation and you can even catch a glimpse of Luxembourg and France through the borders. There is so much more you can explore in your trip to the Moselle valley, make sure to plan beforehand which sites you would like to tour according to your taste.
13. Mainau Island and Lake Constance
Lake Constance is the largest lake of Germany and home to 13 islands but among them Mainau is the most-visited. The Flower Island Mainau of Lake Constance holds a magical setting with its palm trees and lakes. Although it covers an area of 45 hectares only, its floral setting is absolutely splendid to look at.
The botanical garden also has a greenhouse with tropical climate and butterflies. Tour through this stunning flower island with its eye-catching vivid flowers and alluring floral scents. Other historic treasures include trees from almost 150 years back.
One significant such is the Viktoria Lime, planted by the Grand Duke marking the birth of his daughter in 1862. Mainau has different paths and gardens designated to certain flowers, few of the noteworthy ones include- Italian Rose Garden, Dahlia Gardens, Peony Garden, Rhododendron Walk, Rose Beds, Palm and Citrus Tree Garden and many more.
The Baroque Palace is also a great attraction in Mainau, some parts of the castle are open for a guided tour. If you want a scenic view of Lake Constance make sure to visit the Mediterranean Terrace.
The Island remains open all year round but the official garden is open for sightseeing from Late-march to Late-October. It is certainly one of the best places to visit in Germany for plant lovers. Children will enjoy visiting this place not just because of the Butterfly House but also since Mainau Island has different playgrounds dedicated for children-"Waterworld," "Blumis Shoreline" and "Dwarf Village"
Tips for Tourists:
Opening hours, Mainau Island- 9am to 8pm
14. Bastei
Sometimes a natural disaster brings out some wonderful landscapes and one such example is Bastei, a rock-formation located in the Elbe Sandstone Mountains of Germany. The rocks raised up to 305 meters above sea level owing to water erosion over 1 million years ago.
Since then the place was remodeled to provide a beautiful integration of architectural and natural stone structured beauty. Bastei has served as a tourist spot for several years. A 76.5 meters sandstone bridge was built to connect the adjacent rocks for tourists now called Bastion Bridge, it reaches 194 meters high above the sea-level.
Bastei is the main attraction in Saxon Switzerland, 40 Kilometers East of Dresden. There are some hiking spots which are linked by the Bastion Bridge. The Bridge offers a majestic view of Elbe River and nearby high mountains including Lilienstein Mountain.
Some ruins of Neurathen castle can be seen while crossing the bridge. Bastei looks like a scene from one of those adventure movies. Hills,mountains,hiking trails featuring a unique rock-structure, What's there to unlove this magical place?
It's naturally one of the favorite places to visit in Germany for hiking lovers. Whether you are a mountain-person or not, the marvelous beauty of Bastei will surely impress you.
Above all, Germany is surely a land of rich heritage, history, culture and customs. Its diversified tourist attractions from the old medieval appeals to its modern-urban glamor or even simply its exquisite natural beauty, makes it one of the favorite destinations to tourists all over the world.