Located in Putrajaya, Taman Saujana Hijau is a park that will give you a European environment. Its surroundings and structure are quite similar to the European-style park. That's why the park is pretty famous for wedding photoshoots and family picnics. 
Now, if you're planning a day trip to Taman Saujana Hijau, read the following blog for better knowledge about this wonderful park. Here you can watch a virtual tour of Taman Saujana Hijau
Taman Saujana Hijau: European-style park
Taman Saujana Hijau is a European-style park that is located in Precinct 11 Putrajaya. It is hard to believe that you can visit a wonderful European Park so near the city centre. But it's true!
The park is different from the usual Putrajaya parks for its pine trees, Cyprus trees, rolling hills, exotic flowers, and wooden fencing. It occupies nearly 47 hectares of land and has three rolling hills and a ridge. The uniqueness of Taman Saujana Hijau is that it has less tropical planting, which makes this park a foreign-like place.
Taman Saujana Hijau is sectioned into three different themed parks. Or you can say it has three hidden parks in its vast area. The names of these three zones are European Garden, Oriental Garden, and English Garden.
European Garden
Among the three sections, the European Garden is the highest hill, and from here, you can have a spectacular view of Putrajaya. There is a small European style pavilion which is pretty ideal for cycling and jogging. The serene beauty of nature makes this garden a Mediterranean atmosphere. If you're willing to spend some private time, you should come to this European Garden hill.
Oriental Garden
Oriental Garden will give you a Chinese vibe in this European style park.  This section has a Chinese style pavilion and is surrounded by tropical vegetation. The stunning look of this garden will give you numerous spots for photography.
English Garden
The English Garden is the most attractive part of Taman Saujana Hijau park. It is the most colourful garden surrounded by exotic flowers. Only the weather is not like England here, but the flower bed, creeper plants, and juniper trees all will give you a European vibe.
Taman Saujana Hijau Activities
Taman Saujana Hijau is a place where you can spend time with your family and friends. It is a nice picnic spot, and nowadays, this park is famous for taking wedding and Instagram pictures. Now have a look at what Taman Saujana Hijau activities you can do here. 
Picnic at Taman Saujana Hijau
Wide-open landscape, sunny weather, and beautiful flowers and plants all make Taman Saujana Hijau an ideal place for a family picnic. The place is only 30 to 45 minutes away from Kuala Lumpur. So, a day trip on the weekend can be a perfect retreat for you and your family. 
A group picnic with friends is also a great option, and here you can take many instagrammable pictures too. You need to bring food and drink by yourself for the trip.
Jogging Trail
Taman Saujana Hijau park is most suitable for morning and evening jogging. This park has a 2.8km jogging Trail. With a refreshing atmosphere and greenery surrounding, you can even do some exercise and meditation here.
Sightseeing
The park has a breathtaking view because of its colourful flowers, foreign-like surroundings, and wide space. Anyone who wants to see nature with its utmost beauty can opt for Taman Saujana Hijau. And if you want to capture the best view of this garden, then you should come at sunrise or sunset time. Taman Saujana Hijau sunrise is the most spectacular view that you can watch here.
Photography Session
We are the photoholic generation! No matter where we go, we always intend to take photos for our Instagram, Facebook, and other social media. Taman Saujana Hijau has become trendy among visitors because of its marvellous views that are ideal for photography sessions.
A number of people come here every day to take wedding photos.  As this park gives a European environment, people can hardly find out that you took photos in Malaysia and not in Europe.
Cycling
Jogging and cycling are the main two activities that you can do at Taman Saujana Hijau. This park is widely spread, and it has several smaller pathways and sections that you can explore by cycling.
Travellers' Tips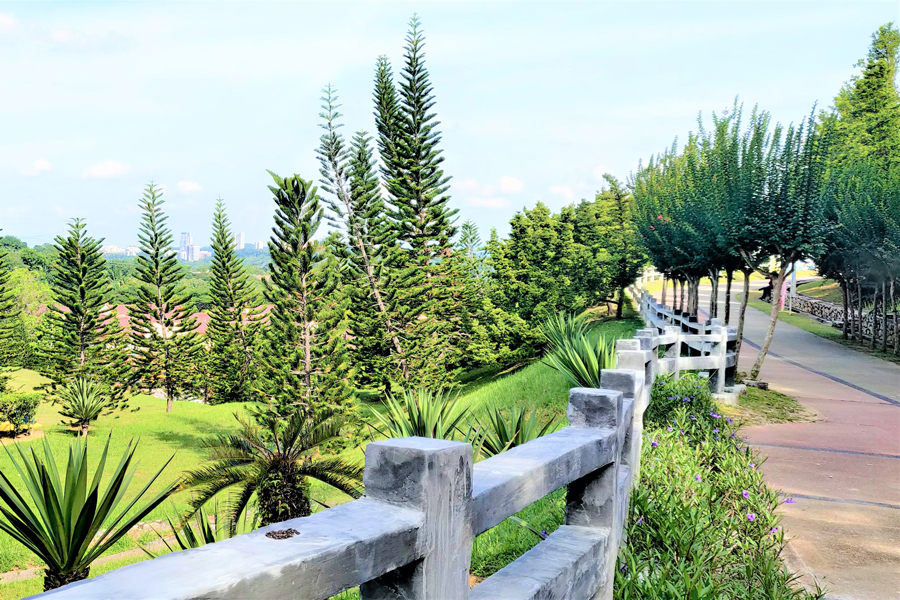 Here are some travellers' tips that might help you to enjoy the beauty of Taman Saujana Hijau.
It's very hot there, don't forget to take your hat and suncream.

To avoid the heat of the sun, try to make a visit in the early morning or late evening.

The area is pretty hilly and it can hurt your feet, try to wear a comfortable pair of shoes.

Those of you who want to come here for a picnic, bring food, drinks, and a picnic blanket and enjoy this prettiest scenery.
Address, Admission fee & Opening hours
Address: Jalan P11, Presint 11, 62000 Putrajaya, Wilayah Persekutuan Putrajaya
Admission fee: Free of charge
Opening hours: Daily 07:00 am to 07:00 pm
An Instagram lover or someone who wants to capture the beauty of nature into a camera will certainly not miss this place. Or, if you're looking for a peaceful place to read your favourite book quietly, then Taman Saujana Hijau will serve you the best.