Being the neighbor of Kuala Lumpur, Selangor offers many enchanting and fanciful sites to explore. It is a large state and a mixture of modern and traditional Malaysia. You will get to see the Places to visit in Selangor that are rich with art, culture, and history, alongside modern architecture, Historical buildings, and tourist spots.
If you love green landscapes, then Selangor has a treasure to offer you. Because it has plenty of green parks and forest reserves to explore and set up camp. Read more about camping places in Selangor.
The Best 25 Places to visit in Selangor.
1. Have a Meeting with Giant Panda @ Zoo Negara
Zoo Negara is the largest zoo in Malaysia with 110 acres and is located in Ulu Klang Gombak. The area is so big that you need an entire day to explore the zoo. It is the home of 5,000-plus creatures and about 500 different species.
The star attraction of the zoo is the pair of Giant Pandas called Fu Wa and Feng Yi. The zoo also offers you a live animal show, butterfly garden, birdhouse, and reptile house. You must not miss this complete package of entertainment.
Address: Jalan Taman Zooview, Taman Zooview, 68000 Ampang, Selangor
Opening Hour: Daily 09:00 am – 05:00 pm
Entry Fee: Malaysians, Adult RM 45.00, Child RM 18.00 |Foreigners, Adult RM 50.00, Child RM 25.00
2. An Escape from City Life @ Pantai Morib
Are you tired of the hustle and bustle of city life and finding an escape from it? Morib Beach is the perfect place to find an escape from urban life. It is also known as Pantai Morib in the Malay language.
During World War Ⅱ, the Battalion of the British Army landed here and protected the land from the Japanese Army. You probably will notice a small monument at one side of the beach, which is built to commemorate the landing of the British Army.
There are many resorts close to the beach that you can choose to relax and enjoy the view.
Address: Morib, Banting, Selangor
Opening Hour: Daily 24 hours
Entry Fee: Free
3. Hike Up to the 272 Rainbow Steps @ Batu Caves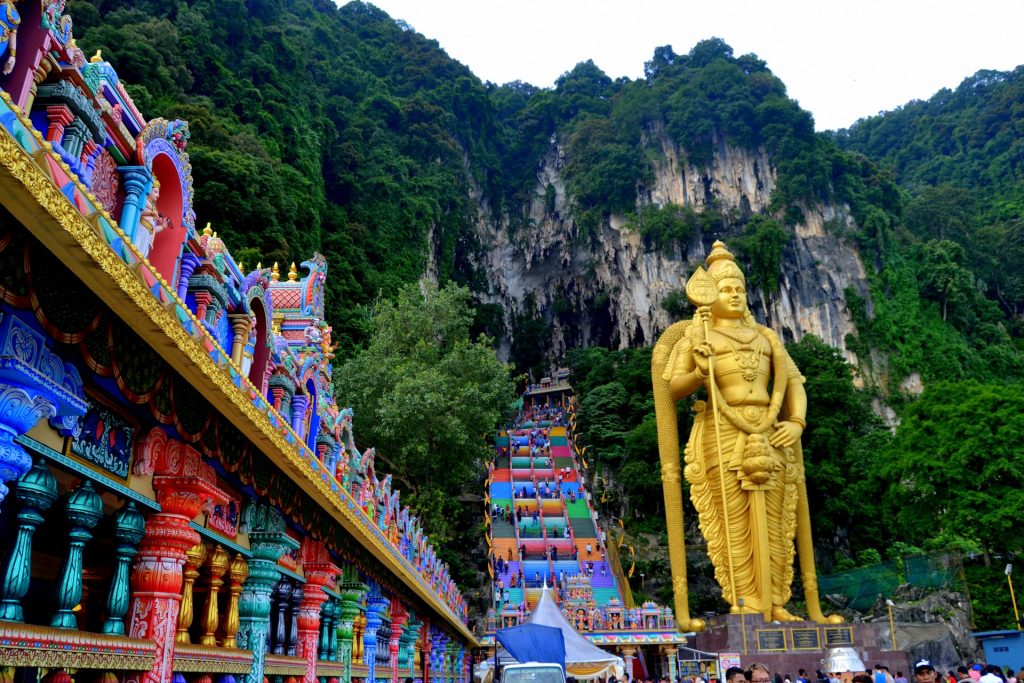 Being one of the most magnificent and oldest attractions of Selangor, Batu Caves is a place of religious faith and pilgrimage for Hindus. The temple of Lord Murugan, who triumphs over demons in Hindu myth, is 100 years old and situated in the caves on top of limestone hills.
At the temple entrance, the vast gold-painted statue of Lord Murugan will surely catch your attention. This figure is reinforced concrete and 140 feet high, standing just near the 272 rainbow steps.
To get into the heart of Batu Cave,  you have to climb the rainbow-coloured stairs. It feels like you are climbing a rainbow. These colourful stairs have made the place so enchanting.
Address: Kawasan industrial Batu Caves, 68100 Batu Caves, Selangor
Opening Hour: Daily 06:00 am – 09:00 pm
Entry Fee: Entrance to the temple ground is free, but if you want to visit the art gallery and dark cave, there are some fees of around RM 5 each only.
4. Put on Your Shoes for Hiking @ Selangor State Park
Famous for hiking and birdwatching, the Selangor State Park has many more things to offer you. It is the second-largest park in Peninsular Malaysia, with over 914.41 square kilometres. Here, you can encounter several recreational sites consisting of forests, streams, waterfalls, and rivers.
This park is undoubtedly best for hiking. During the hiking, you would be overwhelmed by watching the beauty of nature. Make sure you put on an appropriate pair of shoes for hiking. Otherwise, you could injure yourself during climbing.
Moreover, the park is known as a haven for residents and migratory birds. You will get to see various types of birds and other fantastic wildlife. In short, this park is the whole package of entertainment and adventure.
Address: Jalan Sungai Tua, Kampung Pasir Ulu Yam, 48200 Batu Caves, Selangor
Opening Hour: Daily 08:00 am – 06:00 pm
Entry Fee: Separate charges may apply depending on each site
5. Welcome to Blue Garden of Paradise @ The Blue Mosque
After entering Shah Alam city, the first thing that you will notice is Sultan Salahuddin Abdul Aziz Mosque, which is most widely known as the Blue Mosque. The mosque is the second largest mosque in Southeast Asia, just after Jakarta's Istiqlal Mosque. Its minarets are 142 meters tall and the second most towering minarets in the world.
The Blue Mosque is a combination of Malay and Modernist styles in architecture design. It can accommodate up to 24,000 worshippers at a time, and the Garden of Paradise greatly inspires its beautiful landscape park. So you will get to see a bluish-green garden of Paradise.
Address: Persiaran Masjid St., Sekysen 14, 40000 Shah Alam, Selangor
Opening Hour: Daily 24 hours
Entry Fee: Free
6. Take A Flavor of Japan @ Selangor Japan Friendship Garden
Though new, the Selangor Japan Friendship Garden is undoubtedly one of the best Selangor attractions. After the China-Malaysia Friendship Garden, there is another friendship garden called the Selangor Japan Friendship Garden at Shah Alam city.
This garden carries Japanese architecture and landscapes with attractions such as the Zen garden, Torii gateway, and Maze pond. The area of this Japanese-inspired garden is 2.42 hectares large and has five scenic zones. Here, you will get lots of places to take pictures and have a taste of Japan in Selangor.
The best part is that the entry to the park is entirely free and is open every day from 10 am to 6.30 pm. So without wasting your time, grab your camera and head down to this friendship garden.
Address: Persiaran Bandar Raya, Seksyen 14, 40000 Shah Alam, Selangor
Opening Hour: Tuesday to Sunday 10:00 pm – 06:30 pm. Closed on Monday
Entry Fee: Free
7. Enjoy the Mother of Nature @ Taman Botani Negara Shah Alam
If you are a nature lover, we highly encourage you to visit Taman Botani Negara Shah Alam. It was formerly known as Malaysia Agricultural Park. The area of the park is 1,258ha which makes it the largest agroforestry park in the world. The Taman Botani Negara Shah Alam contains samples of almost every agricultural resource, including oil and coconut palms, fruit trees, paddy fields, rubber trees.
Here also, you will enjoy the challenging Bukit Sapu Tangan, the company of animals in the Animal Park. This park has other smaller gardens such as Tropical Fruits Garden, the Cactus Garden, Ornamental Garden, and so on.
Address: 40000, Taman Pertanian Malaysia, 40170 Shah Alam, Selangor
Opening Hour:  Tuesdays – Sundays 08:30 am – 05:00 pm. Closed on Monday
Entry Fee: Adult – RM 3.00 and Child – RM 1.00
8. Get A Bird's Eye View of the Colorful World@ I-City
i-city is situated at the heart of Selangor's Golden Triangle (SGT), which has started a new evolution into the commercial and business centre of Selangor. In this area of Selangor, you will find all the facilities, including resorts, shopping malls, health centres, real estates, theme parks, and so on. In short, you will get all the colours of the world in i-city.
The i-city theme park is the most colourful and bright attraction of Selangor. You can visit the park during the day. But the best time to visit is after nightfall because the whole park is decorated with digital lights.
While the outdoor scenario impresses you with its colours, the indoor environment will cool you off with snow. There is a "Snowalk" park with ice houses, snowmen, and the temperature is below 0 degrees Celsius.
The final star attraction of this theme park is the colourful Ferris wheel. It is located in the middle of the park to give you a bird's eye view of the whole park.
Address: i-Gallery, Jalan Multimedia, I-City, 40000 Shah Alam, Selangor
Opening Hour: Daily 10:00 am – 12:00 am
Entry Fee: Free
9. Take an Adventure Ride @ Sunway Lagoon
Take a day off to have an adventurous trip at Sunway Lagoon theme park. It doesn't matter whether you are 8 or 80 years old. This theme park provides you with multiple options of rides and different adventure zones, including the Water Park, Wildlife Park, Extreme Park, and Nickelodeon Lost Lagoon.
If you are a thrill lover, this park will give you many exhilarating rides to satisfy your hunger for adventure. However, if thrilling is not your thing, don't worry. Sunway Lagoon also offers milder rides for you.
After a thrilling ride, you must be feeling hungry and tired. Don't worry about that, as you will explore various dining options available at this theme park. Moreover, you can take a nap just next door at the Sunway Resort Hotel & Spa. You can book your ticket online to enjoy Asia's first Nickelodeon Themed Land.
Address: 3, Jalan PJS 11/11, Bandar Sunway, 47500 Subang Jaya, Selangor
Opening Hour: Daily 10:00 am – 06:00 pm
Entry Fee: Adult – RM 202.00 and Child – RM 170.00
10. Take A Night Trip with The FireFlies @ Kampung Kuantan Fireflies Park
To experience the magical sight of fireflies, you must spend a night at Kampung Kuantan Fireflies Park. You can be the witness of millions of fireflies twinkling their lights all over the branches of the Berembang trees.
Here, you will get to enjoy a ride on a sampan (a traditional wooden boat) along the curves of the Selangor River. During this boat journey, you can have a close view of the mesmerising show of fireflies.
Address: Kampung Kuantan, 45000 Bestari Jaya, Selangor
Opening Hour: Daily 07:45 pm – 10:30 pm
Entry Fee: RM 50.00 per sampan
11. Have Fun with Monkeys @ Bukit Melawati
Bukit Melawati Hills has historical importance and is also famous for seafood. When you ascend this hill, you will find a lighthouse (though it's not open to visitors) and 18th-century cannons all over the place.
This place is also known as Monkey Hills, as Silver-leafed monkeys and long-tailed macaques surround this place. They hang around the park and often steal snacks from visitors. So you had better take peanuts for them if you are going to visit Bukit Melawati.
Address: Bukit Melawati, 45000, Kuala Selangor
Opening Hour: Daily 09:00 am – 06:00 pm
Entry Fee: Free
12. Take an Iconic Picture for Your Instagram @ Sky Mirror
You can see a live miracle of nature at Kuala Selangor Beach, widely known as Sky Mirror. Yes, it is a miracle. It submerges underneath the sea most of the time and only appears when the tide is ideal. That is why this place is not even charted on the world map.
The shallow waters of this secret island reflect the whole sky, which offers you the opportunity to take unique pictures.
But before you prepare to go, keep in your mind that this island is only visible two times a month during the full moon and new moon period. At Selangor, you must not miss the opportunity to take iconic pictures at Sky Mirror.
Address: Pasir Penambang, 45000 Kuala Selangor, Selangor
Opening Hour: Daily 24 hours
13. Make A Wish @ Sekinchan
Sekinchan is a small town situated 100km away from the city centre and the largest producer of paddy in Malaysia. So if you have a plan to visit Sekinchan, you would certainly want to see the lush paddy fields.
Make sure you come at the right time and not at harvest season. You can come to visit lush paddies in the middle of March to May or September to November. But do not come in December as that is harvest season, and you won't see any paddy in the field.
In the heart of Sekinchan town, there is a wishing tree. People come here to make wishes by tying a red ribbon around the tree. If you want to make a wish, you just have to get your red ribbon and tie it on the tree.
Address: Sekinchan, Selangor
Opening Hour: Daily 24 hours
Entry Fee: Free
14. Dive into The Fresh Water of Nature @ Sungai Congkak Recreational Forest
Sungai Congkak Recreational Forest is one of the best attractions of Selangor. This rainforest is filled with pristine freshwater pools, clear water, and roaring rapids. If you are a water lover, you will adore this recreational forest.
The forest is also best for night camp and BBQ parties. The low landscape and green environment make the place so attractive to the visitors. You will get many facilities here like a camping ground, chalets, picnic spot, and various food and drinks.
Address: Batu 20, Jalan Sungai Congkak, Kampung Padang, 43100 Hulu Langat, Selangor
Opening Hour: Daily 24 hours
Entry Fee: RM 1 (U$ 0.24)
15. Fly with The Birds @ Kuala Kubu Bharu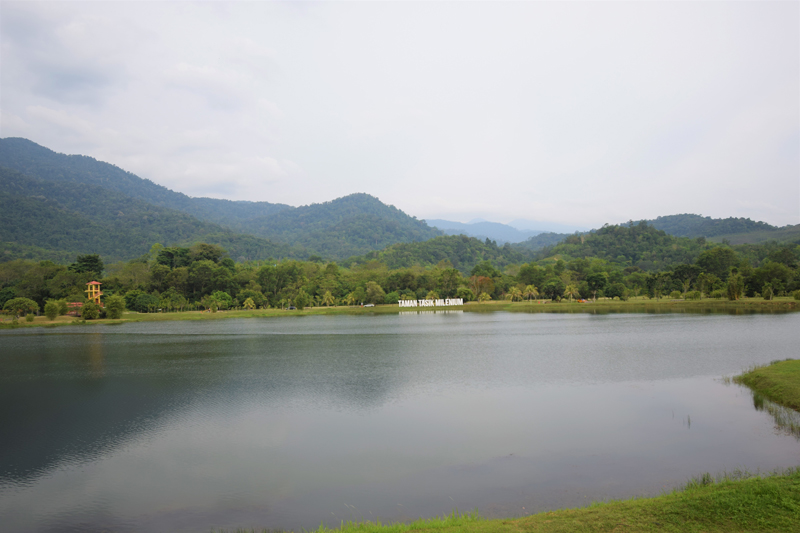 Visit Kuala Kubu Bharu to have adventurous experiences. It is located just an hour's drive away from the city. The place has so many things to offer you. Being an adventure lover, you should try the exhilarating outdoor trip of the river crossing.
You will fly with the birds and enjoy the view of not only one river but six rivers. And don't worry about safety as there are safety ropes to take you from one side to the other of the river. The journey ends with a celestial view of the waterfall.
Address: Hulu Langat, Selangor
Opening Hour: Daily 24 hours
Entry Fee: Free
16. Dip Your Toes into Hot Spring @ Sungai Serai Hot Spring
The hot water bath is the thing that makes us relax. What if you get a chance to have natural hot water amid nature. Sounds good! Well, then Sungai Serai Hot Spring gives you this chance to take a natural hot water bath located in Hulu Langat.
You can dip your toes or take a full bath in this hot spring and enjoy nature. The water is hot but bearable. The water source can be detected by the bubbles floating up from the bottom. Be cautious and avoid the bubble areas as you could burn yourself.
Address: Hulu Langat, Selangor
Opening Hour: Daily 24 hours
Entry Fee: Free
17. Spend Exhilarating Time into The Rapids @ Sungai Selangor
Experience the challenging and thrilling adventure of grade-4 rapids at Sungai Selangor River. This wet and wild place is perfect for white water rafting. The river's steep and technical rapids will give you the ultimate exhilarating adventure at white water rafting.
Of course, some experts will guide you on this journey. The entire trip will take three or four hours, and you will return with a thrilling experience.
Address: Selangor
Opening Hour: Daily, 24 hours
Entry Fee: Free
18. Get Wet in The Waterfall @ Chiling Waterfalls
The Chilling Waterfall is one of the most spectacular and enchanting attractions in Selangor. It can be an adventurous and impressive day out at Chilling Waterfall. To get there, you have to cross the Chilling River six times. You could get wet during the trip.
Keep your eyes out for various exciting flora and fauna when you walk through the forest. You will also see the Mahseer Fish Sanctuary maintained by the Selangor State Fisheries Department. Now, this area has become an essential and natural breeding ground for fish.
Address: Kuala Kubu Bharu, Selangor
Opening Hour: Friday to Sunday 08:00 am – 06:00 pm
Entry Fee: RM 1.00 (U$ 0.24)
19. Explore the Ancient Architecture @ Sri Shakti Devasthanam Temple
The ideal testimony of Hindu temple architecture is Sri Shakti Devasthanam Temple of Bukit Rotan Hill. It is the only temple in the world where you can see the manifestation of all 51 powers. This is the reason that so many Hindu devotees come here to offer their prayers to the Gods.
As you walk around the temple, you can see 96 carved pillars. And in those pillars, you will also get to see 96 universal principles of Hinduism. This temple stands as a prominent Hindu landmark in Malaysia.
Address: Jalan Kuala Selangor, Bukit Rotan, 45700 Bukit Rotan, Selangor
Opening Hour: Daily 05:30 am – 12:30 pm & 04:30 pm – 09:30 pm
Entry Fee: Free
20. Let's Live farm Life for Some time @ Farm in the City
Farm in the City will give you the taste of a village firm within the city. This farm is entirely designed and inspired by a Malaysian village setting. It is a kind of small zoo with over 100 species. There are also some exotic and rare species, including mandarin ducks, fennec foxes, alpacas, giant tortoises, a colourful collection of iguanas, and so on.
Here you will get to ride a pony. Or you can try to catch longkang fish at the farm. Undoubtedly, this is a perfect place for animal lovers and those who want to taste the farm environment.
Address: Lot 40187-40188, Jalan Prima Tropika Barat 1, Pusat Bandar Putra Permai, 43300 Seri Kembangan, Selangor
Opening Hour: Daily 09:30 am – 06:00 pm
Entry Fee: Malaysians Adult – RM 39.00 and Child – RM 32.00 | Foreigners Adult – RM 58.00 and Child – RM 48.00
21. Go Bird Watching @ Paya Indah Wetlands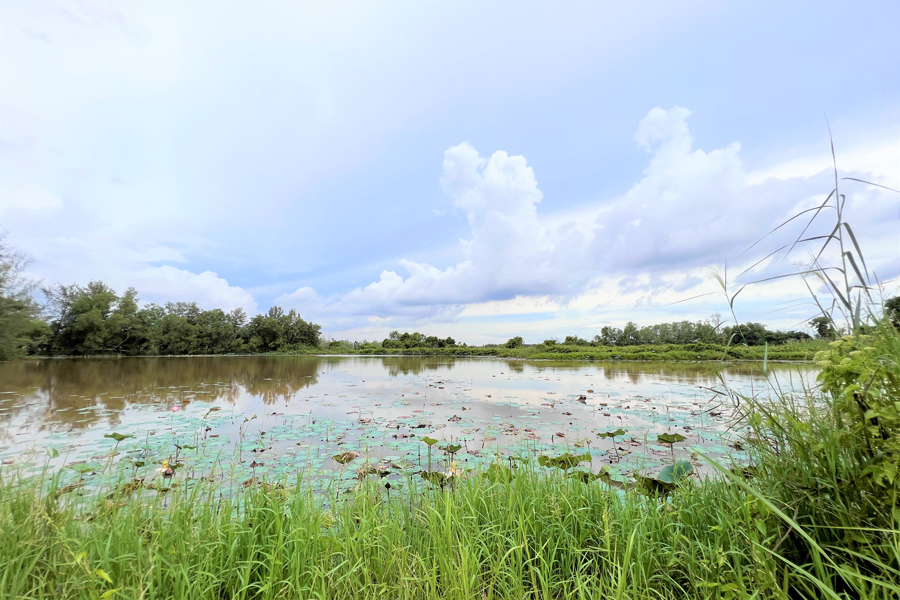 Paya Indah Wetlands is the perfect place to find peace and join nature away from the bustle of urban life. Nature lovers admire this sacred beauty, as it is the place where flora and fauna grow together.
The main attraction of this place is bird-watching. You would be able to watch 210 species of colourful birds as you walk along the nature trails. Besides, this Wetlands also offers you many more activities to do and 220 types of terrestrial planets and herbs to watch.
Address: KM 4, Jalan Dengkil, Banting, 43800 Dengkil, Selangor
Opening Hour: Saturday to Thursday 08:00 am – 06:00 pm and Friday 08:00 am – 12.00 pm & 02:45 pm – 06:00 pm
Entry Fee: Free
22. Explore the Vast Tropical Fruits @ Selangor Fruit Valley
Selangor Fruit Valley is especially for fruit lovers where you will be able to see the vast tropical fruits. In this prominent area of 646 hectares, you will get to see numerous varieties of fruits, including starfruits, guava, papaya, rambutan, durians, and many more, depending on the season, of course.
This place is not only famous for fruits. It also engages you in interactive learning and outdoor activities. There are always many exciting things to see and learn about different trees, herbs, and vegetables planted here. Selangor Fruit Valley is a perfect place to have a fun-filled day out with the whole family.
Address: KM7, Jalan Batang Berjuntai, Batu Arang, Rawang, 45600 Berjuntai Bestari, Selangor
Opening Hour: Daily, 09:00 am – 04:00 pm
Entry Fee: Malaysians Adult – RM 15.00 (U$ 3.60), Child – RM 10.00 (U$ 2.40) |Foreigners Adult – RM 30.00 (U$ 7.20), Child – RM 25.00 (U$ 6.00)
23. Taste the Peace and Serene of Klang Kwan Imm Temple
Klang Kwan Imm Temple is one of the oldest and traditional attractions of Selangor. The temple bears the Chinese architecture style in its carved pillars, roofs, and doors. It is a peaceful and serene place for the Buddhist devotees to pray.
You will feel amazed by the incredible display of Chinese culture, especially during the Chinese New Year and other Chinese festivals.
Address: 30, Jalan Raya Barat, Selangor Darul Ehsan, 41000 Klang, Selangor
Opening Hour: Daily 07:00 am – 05:00 pm
Entry Fee: Free
24. Sink into The World of Chocolate @ Chocolate Museum
By the name of Chocolate Museum, you get the idea that it is the world of mouth-watering chocolate. And if you are a chocolate lover, then you certainly can't resist this place. The word chocolate is enough to make you happy and bring a smile to your face. It is a dreamland for kids and, of course, all chocolate lovers.
Moreover, here you will find out many facts about chocolate that was unknown to you. At first, you will be acquainted with the journey of Cocoa from its birth until the present day. Then you can also see the medical use of chocolate.
Here you will also get to see the process of chocolate making. And at the end of the day, you will probably return with lots of chocolate candies at an attractive price.
Address: 2, Jalan Teknologi 3/5, Kota Damansara, 47810 Petaling Jaya, Selangor
Opening Hour: Daily 10:00 am – 05:00 pm
Entry Fee: Free
25. Welcome to 3D Show @ Kuan Wellness Eco Park
Kuan Wellness Eco Park is a kind of mini zoo that is strategically located at Tanjung Sepat. The owners of this echo park are bird's nest producers, and they wanted to explain bird's nest production to the public. So they have built this Kuan Wellness Eco Park with various attractions such as echo-theatre, shops selling bird's nests, healthy foods, the fruit farm, and a small zoo.
The main attraction of the park is the Swiftlet home used as a visitor centre. Here you can watch the 3D video show that will educate you on the types of bird nests, birdhouse management, swiftlet habitat, and many more.
Temporary closed until further notice
Address: 408, Tanjung Layang, Kampung Batu Lapan, 42800 Tanjong Sepat, Selangor
Opening Hour: 09:00 am – 05:00 pm
Entry Fee: There is no admission fee to Kuan Wellness Eco Park, but there are fees for the mini zoo (RM 5) and the swiftlet home (RM 5). (RM 3). Admission is free for children under the age of five and under the height of 90cm.
The Selangor state has an abundance of treasures to explore. The place offers you so much to see, to do, and a variety of foods to try out as well. So pack your bags and head down to the beautiful Selangor and see Places to visit in Selangor a state of the art, culture, history, and adventure.
Leave your comment if you find this article useful to you.