If you want to explore the colours of the world, you don't need to go further. Located in the heart of Selangor's Golden triangle, i-City Shah Alam is the place of dazzling colours and charming lights.
All of the excitement needs a proper plan, and we're here to help with that. Here are the best 10 fun activities in i-City Shah Alam that you can do to fulfil your passionate fun-loving soul.
i-City Shah Alam is very popular among both local and foreign visitors. The Waterworld where you can be the pool baby that you are, the SnoWalk that is as enchanting as it looks with its icy climate, and so many other things that you can see by yourself once you come and visit. 
If you want to explore more attractions at Selangor, visit our article The Best 25 Attractions in Selangor That You Should Not Miss.
1. The Waterworld
The Waterworld at the i-City is one of its most sought-out attractions. It holds many activities like slides and pools that make it adventurous. The pools, the jacuzzi and the most fun, the ultimate tornado, are available here for you.
It has many rides that are thrilling enough to make your cheeks flush with excitement. Keep on reading to find out the joy that it holds. 
2. The SnoWalk
The SnoWalk serves as an attraction to many. It is the largest indoor snow park in Malaysia. You can make snowmen, have snow fights, or simply enjoy the snow. Decorations such as igloos and mini ice castles await visitors to make the trip more worthwhile.
For those who have never had the opportunity to experience snow, here's SnoWalk with all its delights to offer to its visitors. At the SnoWalk theme park, you can feel winter as the temperature is below five degrees Celcius. 
Note: Infant below 1-year-old and pregnant ladies aren't allowed to visit for safety reasons.
3. Red Carpet Wax Museum
While you're strolling in the i-City, it's impossible not to see the big red building that is the Red-Carpet Wax Museum. It has collections of wax figures ranging from global leaders to celebrities, from martial artists to many more.
The museum also has props alongside the wax figures that make your background look captivating while clicking pictures. The museum can fulfil a few of your dreams of taking pictures with your favourite celebrities' wax figures, if not with them. 
4. Trick Art Museum 
You may not realise, but the Trick Art Museum at the i-City is filled with tricks that deceive the human eye easily. For family entertainment, this place is best.
It has five theme paintings based on illusionism to trick its visitors: Masterpieces, Egyptian, Marine Life, Animal Kingdom, and, lastly, Modern Classics. With its illusions, the museum serves as an attraction to people of all ages. Look out for the tricky images!
5. City of Digital Lights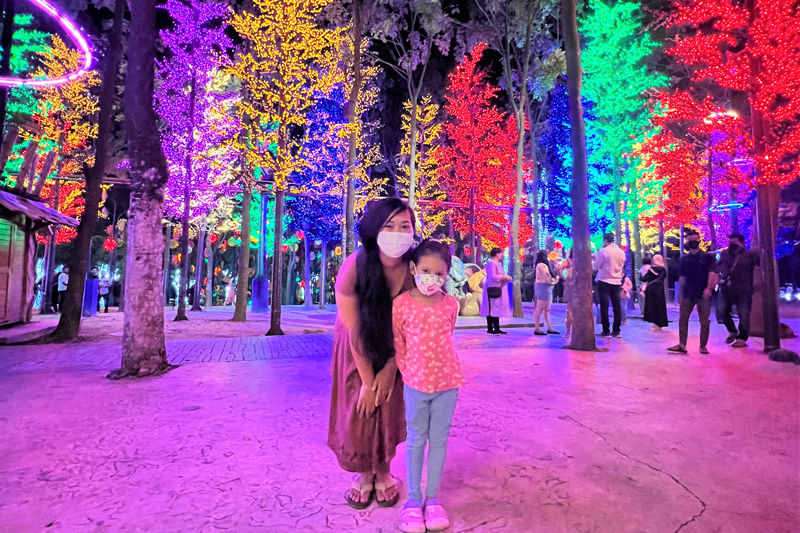 The credit for the beauty of the i-City goes to its City of Digital Lights. Come at nighttime and see yourself captivated by its beauty. The Dancing Waters is sure to blow your mind with its synchronised symphony of lights, water jets, lasers and audio.
The trees, illuminated with all the LED, will take your breath away. Here you will have numerous exciting and thrilling rides to make your visit enjoyable. No entrance fees are charged. 
6. Relax Pool
While there are many rides in i-City, you can also have a relaxing session at the Relax Pool to loosen your tense muscles. The pool is equipped with jet showers, a hot jacuzzi and lounge chairs where you can relax after enjoying a dip at the pool. The pool is the perfect spot to get your mind back together.
7. Kids Play Pool 
No amusement park is complete without enjoyable games for children, so i-City got the Aladdin-themed Kids Play Pool for them. It is filled with colourful decorations and has various fun activities to keep the kids occupied while the adults can enjoy themselves on their own.
8. Ultimate Tornado 
The Ultimate Tornado serves as one of the most action-packed activities in the i-City. It is a funnel-shaped waterslide where you can feel the water gush out the tap and swirl down the hole. You will be amazed to see the scary view from the top of the funnel. For the ride, you will need a 4-seater rubber tube and must have four people in your group.
Note: Minimum weight 35kg and maximum weight 85kg can make the ride.
9. Slippery Slides
The Waterworld has many slides to ensure your fun day out. It has Rainbow Racer Slides with 4-slides where you can lie face down on a rubber mat; you must at least 40kg as riders don't go very fast if they weigh a lot. Next, there's the Family Raft Slide, where you can go with four people on a 4-seater rubber tube.
Then there's the Kiddies Twin Slide, a gentle pair of slides for kids to enjoy with their rubber tubes. Lastly, the Spiral Slides provide a riveting spiral ride on a two-seater tube, and yes, it is safe for both adults and children. 
10. Wave Pool and Lazy River
The Wave Pool in i-City has an artificial pool that springs up and down. You can enjoy yourself at the pool with or without a tube. Nonetheless, you will undoubtedly have fun here. Along with that, the Lazy River has gentle currents, and you can simply relish in the river with tubes.  
Address and Entrance
Address:  i-Gallery, Jalan Multimedia, I-city, 40000 Shah Alam, Selangor
Operating hours 
WaterWorld: Monday, Wednesday to Friday 11:00 am to 06:00 pm| Saturday, Sunday/Public holidays 10:00 am  to 06:00 pm
SnoWalk: Monday to Friday 11:00 am to 12:00 am|Saturday to Sunday/Public holidays  10:00 am to 12:00 am
Trick Art Museum: Monday to Friday 11:00 am to 12:00 am|Saturday and Sunday/Public holidays 11:00 am to 01:00 am
Red Carpet Wax Museum: Daily 11:00 am to 12:00 am
City of Digital Lights: Monday to Thursday 05:00 pm to 12:00 am|Friday & Saturday 05:00 pm to 01:00 am|Sunday 05:00 pm to 12:00 am
Entrance fee 
There is no fee to get entry at the i-City theme park, but rides and other attractions may cost you some Ringgit.
The i-City Shah Alam holds the key to everyone's hearts with its amusing rides and views. The i-City awaits to be visited by every adventure lover. So don't keep it waiting and set aside a day to visit the i-City with your friends and family!