Looking for places to visit in Frankfurt on a tight schedule? Check out our list of the Frankfurt in Half-Day Top Attractions! This historic and culturally rich city has plenty to offer, including some of its most iconic sights. Visit sites like the Romerberg, St. Bartholomew Cathedral, Goethe House and more, all in just a few hours.
From its iconic skyline to its vibrant culture, Frankfurt is a highly recommended destination for travellers looking to experience the best of Germany. With its stunning architecture, historical museums and art galleries, delicious food and diverse nightlife, there's something for everyone to enjoy in this bustling city!
5 Must-See Attractions in Frankfurt in a Half-Day
Frankfurt Top Paid Tours
1. Exploring the Historic Römerberg Square in Frankfurt
When in Frankfurt, you can't miss visiting the iconic Römerberg. This historic square bustles and calls with a host of amazing sights. Stroll through its mediaeval streets to marvel at its gorgeous buildings, or drop by some of the old markets for an unforgettable experience. Located in the very centre of the Altstadt, the Römerberg is no doubt Frankfurt's most popular attraction.
Römerberg has been the centre of Frankfurt's civic life since the 15th century when it served as home to the city hall, the Römer. Even after WWII bombing caused extensive damage to the area, its postcard-perfect architecture from a bygone era was faithfully restored. Visiting this historic site today is like stepping into a movie set – it's an experience you won't soon forget!
Address: Römerberg 67354, Frankfurt
Opening hour: 24hours
Admission: Free
2. Exploring Eiserner Steg: An Iconic Iron Bridge in Frankfurt
The Eiserner Steg (Iron Bridge) is a pedestrian bridge over the Main River that connects Frankfurt's Old Town with the Sachsenhausen district. It is also known as the "Love Lock Bridge" because it is hung with thousands of interconnected locks to form a massive chain, symbolising "eternal love."
Today, the Eiserner Steg is one of the most popular attractions in Sachsenhausen and it connects two popular parks: Roßmarkt- und Schillerpark. This is why many people come here to have a picnic or just to relax near the river Main. The Eiserner Steg offers a beautiful view over Frankfurt's skyline, and you can get there by bicycle, car or on foot – it's only 200 meters away from the nearest subway station.
Address: Eiserner Steg, Frankfurt am Main, 60311 Germany
Opening hour : 24 hours
Admission: Free
3. Discovering the Architectural Marvel of Cathedral of St. Bartholomew
Frankfurt Cathedral is an impressive Gothic-style Roman Catholic church dedicated to Saint Bartholomew. It stands out with its 95-meter-high spire and serves as the main religious site in Frankfurt. Despite its name, it is not formally a cathedral and has never been used as one. Visitors are welcome to explore this grand building and appreciate its architecture and history.
However, it is known as Kaiserdom (Imperial Cathedral) or simply the Dom – because of its historical significance as a former election and coronation church of the Holy Roman Empire.
Address: Frankfurt am Main, Domplatz 1, 60311 Germany
Opening hour : 9:00 am to 1:15 pm then 8:00 pm ( Sunday 1:00pm to 8:00pm
Admission: Free
4. Exploring the Architecture and History of Goethe House
Located in the heart of Frankfurt, Germany, Goethe House is best known as the birthplace of Johann Wolfgang von Goethe, the country's most important and renowned writer. Having been restored to its original glory following WWII damage, the old ocher-coloured home features a range of different interior design styles including baroque, rococo and neoclassical.
Visiting the house is a must for any fan of Goethe or anyone interested in learning more about German culture. The walls are decorated with portraits of friends and family. One of Goethe's most prized childhood possessions, a puppet theatre is displayed next door to the room where Goethe wrote on the second floor.
The glass-fronted Goethe-Museum is attached to the house. Book, manuscript, graphic art, and painting collections associated with Goethe are displayed in the museum for Goethe specialists.
Address: Großer Hirschgraben 23-25, 60311 Frankfurt am Main, Germany
Opening hour : Daily 10:00 am to 6:00 pm
Admission: €5 adults, € 2.50 students, € 1.50 children
5. The Best Views on the Mainkai Promenade in Frankfurt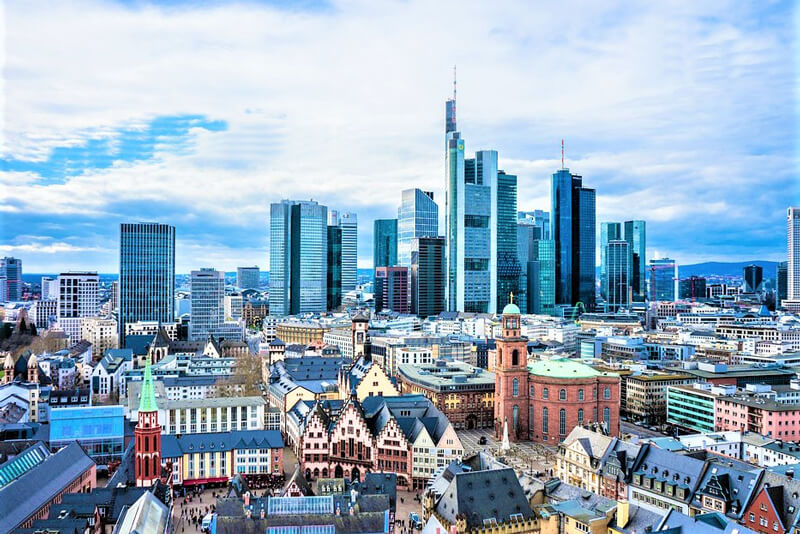 Mankai, a peaceful haven near the city of Frankfurt, is perfect for a stroll and to admire stunning views of the river and Frankfurt's skyline. Along the picturesque riverfront promenade, you'll find plenty of cafes where you can sit down for a delicious meal or simply to enjoy a cup of coffee. Exploring Mankai is an ideal way to escape from the hustle and bustle of city life!
Visiting Mankai is a great experience for bikers, joggers, and those simply looking to relax. The street is an ideal destination for exercising or enjoying a leisurely stroll.
Best time to visit Frankfurt.
Frankfurt is a city of contrasts. On the one hand, it's one of Germany's wealthiest cities and home to the country's financial center. On the other hand, it's also known as a student city, with cheap living costs and plenty of cultural attractions.
The best time to visit Frankfurt is during the summer months when you can enjoy all that the city has to offer without having to deal with the winter weather. Frankfurt has beautiful parks, green spaces and gardens that are not just places for relaxation but also serve as venues for various events such as music festivals and open-air cinema screenings.
The parks are perfect places for strolling in the summer sunshine or enjoying a nice picnic on a warm day.So i guess Visit the city between May and September, when the weather is pleasant.
Getting Around Frankfurt
Frankfurt has a comprehensive and efficient public transportation system including U and S-Bahn trains, trams, buses, and regular night bus routes.
Frankfurt is a bike-friendly city, and rental bikes are available at the mainline station. Parking in the city is difficult, but renting a car allows visitors to explore the German countryside or the Taunus Mountain ranges.
When you visit Frankfurt, we want to give you a few ideas so you can get the most out of your trips. The attractions mentioned are all within few hours journey by foot or taxi.