Are you exhausted by the heat of Malaysia? Do you want a cool holiday without leaving the country? 
Frasers Hill, or should I say in the Malay "Bukit Fraser", is the place where you can experience a cool atmosphere without leaving Malaysia. It is located in Pahang, just two hours driving from the capital city and offers so many attractions and activities to the visitors. 
Bukit Fraser is mostly famous for its cooling weather and interesting activities that will entertain not only you but your whole family. 
Let's see the 18 best things that you can do at Fraser's Hill with your family.
Things to Do in Frasers Hill
Though Fraser's Hill is not as large as Cameron Highlands, still it offers you tons of things to do. This highland is pretty popular for its lush greenery, and most of the visitors come here to watch the Fraser's Hill International Bird Race that occurs yearly.
1. Admire the Fraser's Hill Icon, Clock Tower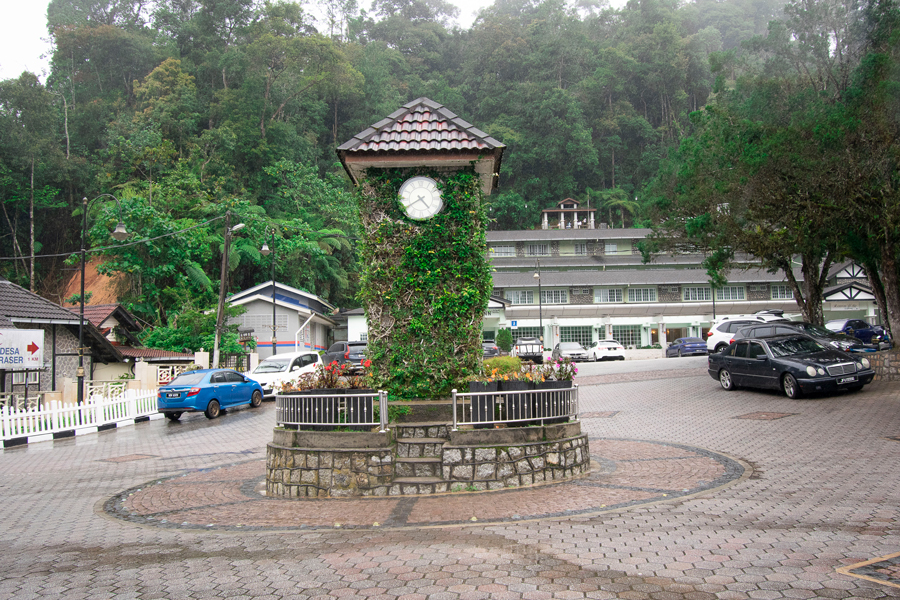 The most remarkable attraction of Fraser's Hill is the Fraser Hill Clock Tower. It is situated in the heart of the Bukit Fraser town as it is greeting you on your arrival. The Clock Tower is one of the must-have places to take memorable pictures. Or should I say, your vacation will be incomplete if you don't take pictures of this iconic monument of Bukit Fraser? 
It is probably the only Mock Tudor designed Clock Tower in Malaysia, which was built in 1989 by the Fraser's Hill Development Corporation. The visibility of this Clock Tower means you have reached your destination already.
2. Hiking & Trekking
Adventure seekers love Fraser's Hill because it is famous for hiking and trekking. The highland has many trails that range from beginner to advanced. You can go hiking with your family as it has family-friendly trails. At the same time, it also entertains those who want extreme adventure and thrill.
Fraser's Hill has eight commercial trails with different lengths and different challenges. Adventure seekers can go hiking and trekking to the following trails.
Pine Tree Trail, Length: 5 km, Time: 5 to 8 hours
Bishop Trail, Length: 1.5 km, Time: 70 minutes
Maxwell Trail, Length: 1.8 km, Time: 70 minutes
Here is the list of trails that are family-friendly and suitable for beginners.
Hemmant Trail, Length: 1 km, Time: 30 minutes
Rompin Trail, Length: 0.5 km, Time: 15 minutes
Abu Suradi Trail, Length: 0.5 km, Time: 20 minutes
Mager Trail, Length: 1 km, Time: 25 minutes
Kindersley Trail, Length: 0.75 km, Time: 25 minutes
Among these eight trails, the most outstanding trails are Pine Tree Trail and Hemmant Trail. If your primary intention is hiking and trekking, you must stay at Fraser's Hill for the night to explore all these trails.
Pine Tree Trail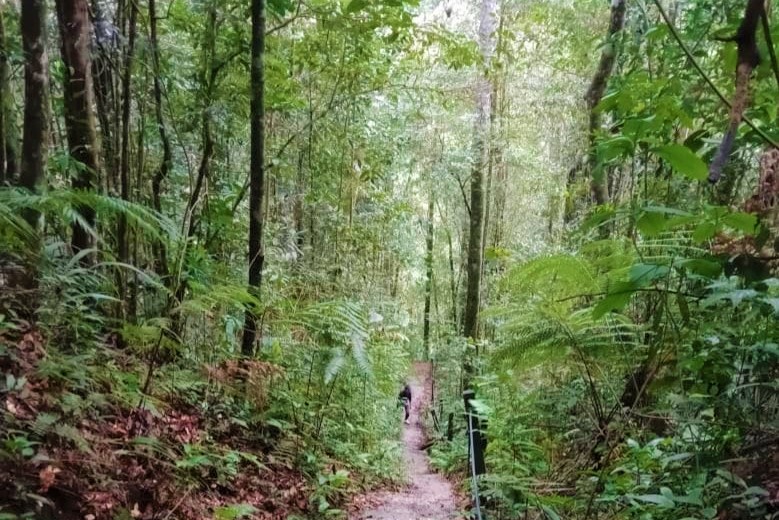 Pine Tree Trail is the longest and most challenging trail of Fraser's Hill. This trail is pretty popular among local hiking enthusiasts. The length of this trail is 5 km above sea level,  and it takes nearly 5 to 8 hours to climb up. 
To reach the top of the Pine Tree Trail, you must face many ups and downs of the hill. This shape of the terrain makes hiking most challenging. However, you will get facilities like stairs and ropes to help you down the track in this forest. 
But the splendid view of the hilltop will make you forget all the hustle. And once you reach the top, you can relax and enjoy the refreshing atmosphere of Pine Tree Trail. The hilltop view also gives you many iconic photos to capture.
Note: You have to get an advance permit from department of forest to hike in Pine Tree Trail
Hemmant Trail
If you're a beginner or you've come with your family and don't want to climb any challenging trail, then Hemmant Trail is best for you. This trail is fit for jungle trekking and much more accessible than any other trail in Fraser's Hill. 
To cover the whole Hemmant Trail, you only need 30 minutes as it has only a distance of 1 kilometre. In this forest area, you can experience the serene beauty of nature. 
3. Bird Watching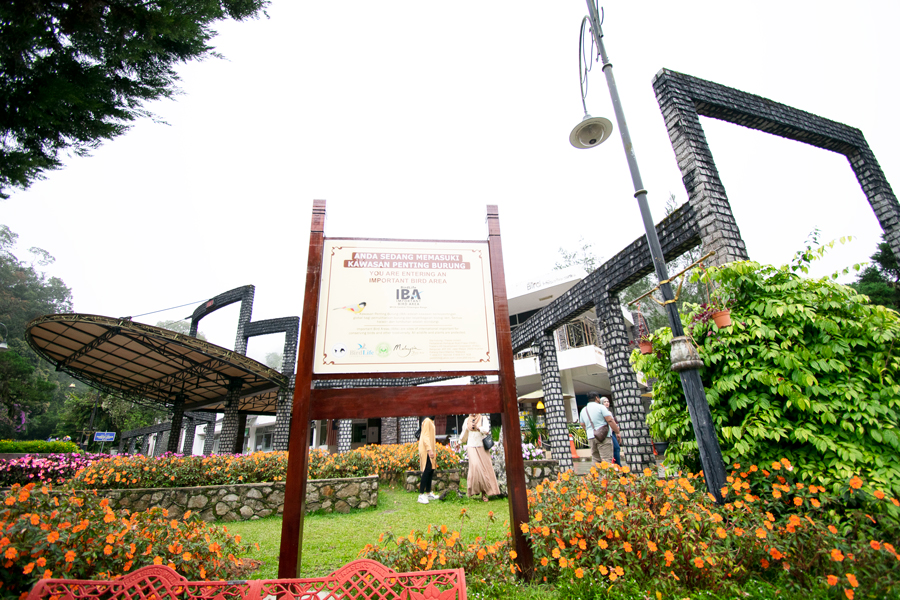 Bird watching is always an incredible activity that you can do on vacation. Malaysia has numerous rainforests and highlands that will give you bird watching experience. But Bukit Fraser is one of the most popular bird-watching destinations among them, especially in Peninsular Malaysia. 
The core reason for being the first-class bird-watching destination is Fraser's Hill International Bird Race and Fraser's Hill Bird Interpretive center. 
Fraser's Hill International Bird Race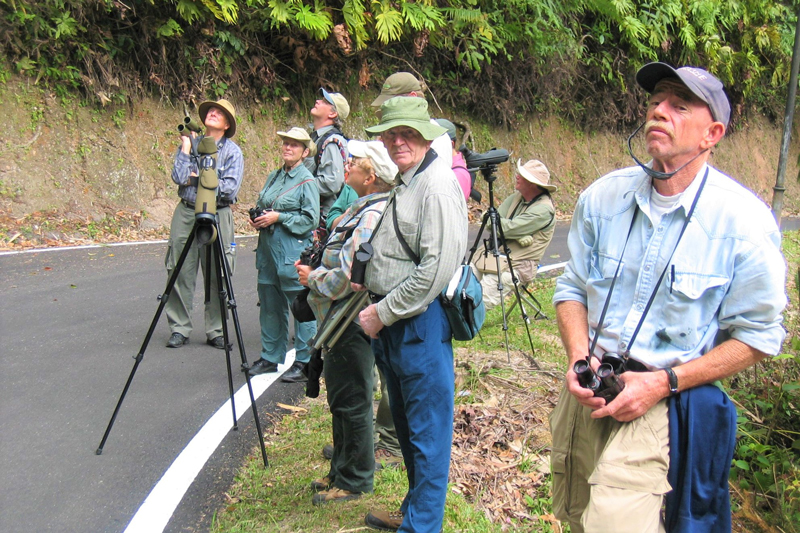 Bukit Fraser hosts the International Bird Race every year, and thousands of visitors come here only to watch this bird race. Even people from the neighbouring countries come to Bukit Fraser to watch the race. It is pretty well known among locals as well as foreigners.
Besides the bird race, people also participate in the bird photography contest and photography exhibition. This program is held for two days in the early part of the year.
Fraser Hill Bird Interpretive Center
Fraser's Hill Bird Interpretive center is the soul of this highland destination. Whenever you take a vacation in Bukit Fraser, you must not miss the Bird center as it is a gallery of local as well as migratory bird species.
You can become acquainted with nearly 250 species of birds, including doves, eagles, hornbills, pheasants, and many other endemic species. A lot of migratory birds from Japan, China, and Russia come to Fraser's Hill during a specific season to escape from the freezing winter and find some pasture. The Bird center allows visitors from 10 am to 7 pm, and you need no extra fee to get entry.
4. Archery & Horse riding @ The Paddock
Horse riding is quite exciting and traditional. Moreover, it is one of the must-do activities in Bukit Fraser. The Paddock Fraser Hill offers opportunities to those who have a craving for equestrian activities. 
Under the supervision of a certified trainer, you can ride a horse in a controlled atmosphere. It will also give you a stunning view of the surroundings. 
Bukit Fraser gives a second chance to the retired racehorses to live their lives in peace. Basically, at the Paddock, all the horses that are used for riding are retired racehorses. And the best part is you can ride those horses at a very cheap price, RM9.00 for adults and RM6.50 for children.
Besides horse riding, the Paddock also entertains with archery for those of you who like mild activities. Because not everyone has enthusiasm for horse riding and people might look for other activities that are less challenging. The charge fee for archery is also very reasonable as you can have ten arrows for only RM11.00.
5. Boating @ Allan's Water
Allan's Water is a small lake that has been converted into a recreational park, and it has opened its door to the visitors to give an experience of paddle boating. It is the only lake in Fraser's Hill that can give you a boating experience with a paddle boat run by two persons. 
During boating, you can also feed the fish that live in this pond. The fish are very calm and friendly. To get a paddle boat for 15 minutes, you need to pay RM10.00. There is a counter where you can book boats, and it also comes with safety jackets.
If you think boating is the only activity that you can do at Allan's Water, then you are wrong! It also has Zorbing, that giant water ball with which you can play. The waterball fee is RM15, and you can play only for 10 minutes at this price.
Meanwhile, many visitors come here to enjoy the enchanting atmosphere of the lakeside. The green trees and the sound of birds add a natural peace to this place. 
6. Play Golf @ Fraser's Hill Golf Club
How about playing golf at 1524 metres above sea level? If you want to have this experience, you must opt for the Royal Fraser's Hill Golf Club. It is situated just opposite the Clock Tower and has the fame of being one of the earliest golf courses in Malaysia.
Although Bukit Fraser Royal Golf Club has only nine holes, don't judge the course by its small size. Compared to other golf courses, this one has pretty challenging sections to engage you. Because of its cool temperature and relatively tough surface, you will find it difficult to play golf.
The best time to come here for golfing is during the weekdays as this place is less crowded on weekdays. The late morning makes the weather most suitable for playing golf. 
The golf club has no buggy service, so you have to walk if you're willing to visit each hole. But I can assure you that the beautiful surrounding forest scenery will not make you tired to walk throughout the golf course.
In case you feel tired and hungry, there is a small café that will offer you tea and snacks with a terrace view.
7. Explore Jeriau Waterfalls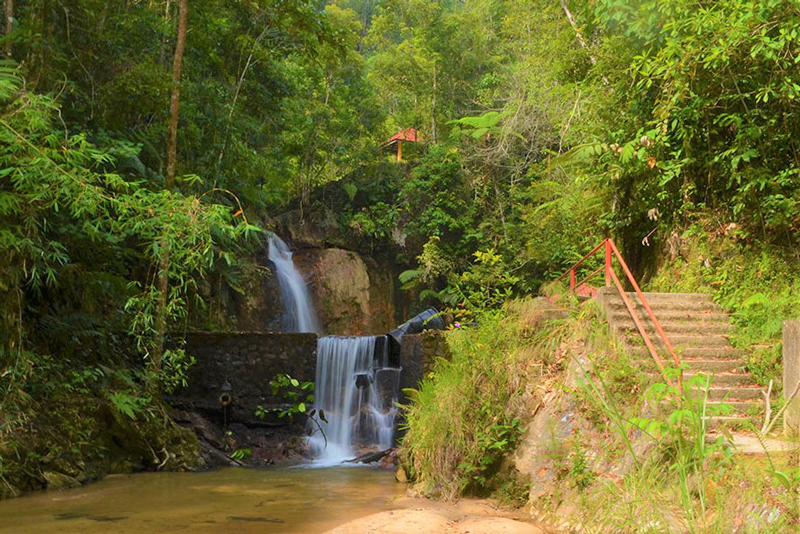 The waterfall is one of the most incredible gifts of nature, and no one of us wants to miss a single chance to admire the enchanting beauty of a waterfall. Here at Bukit Fraser, you can explore the beauty of Jeriau Waterfall though it is 4 km away from the main town. 
Within 30 minutes, you can get to the Jeriau Waterfall by hiking. If you have kids with you and you're anxious about whether it is safe for kids or not? Don't worry! Jeriau Waterfall forms a shallow pool that has just enough quantity of water you need to bathe safely with kids.
Apart from taking a dip into the cool water, you can also get some rest at the nearby bench and set a picnic mat in the picnic area. 
Avoid visiting the waterfall during the monsoon season from November to January. The rain is too heavy that the water turns murky in this season.
Note: Jeriau Waterfalls closed until further notice due to recent landslide
8. Spend a Night @ the Fraser Hill Smokehouse
Fraser Hill Smokehouse or Ye Olde Smokehouse, whatever you call it, is one of the best attractions in Bukit Fraser that will give you the old-world English vibe. It is a boutique hotel and restaurant and probably the earliest hotel available since 1937.
The restaurant serves some traditional and authentic English-Asian cuisine like Beef Wellington, Sunday Roast, Lamb Shank, and many more. But what you must try at the Smokehouse is the English tea and scones. 
During weekends, it is so hard to get a schedule for afternoon tea as this place gets too busy. And if you decide to stay here for the night, try to book the hotel early because it has only 14 rooms and suites available.
9. Be Witness of Fascinating English-Style Bungalows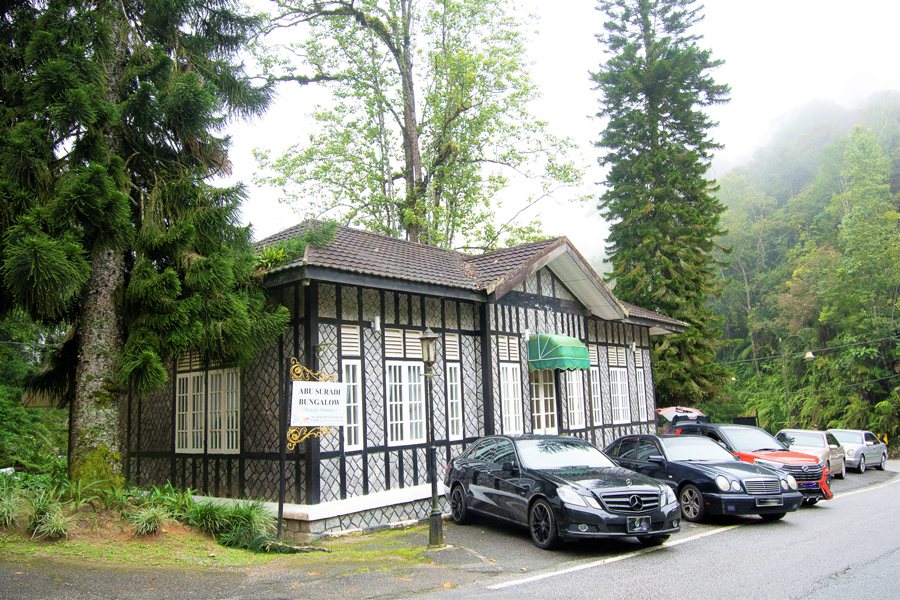 If any highland promises you to show the most English-style homes and bungalows, then it is Fraser's Hill. As the Bukit Fraser was built under the observation of the English administration, the English people had made many bungalows and houses here to have some rest from the heat of Malaysia.
Though the English colonial era ended many years ago, their signature landmarks still remained here. Most of these bungalows are now used as hotels and rest houses. These accommodations will show you British architecture and style with its utmost beauty.
10. Enjoy the View of Taman Awam Park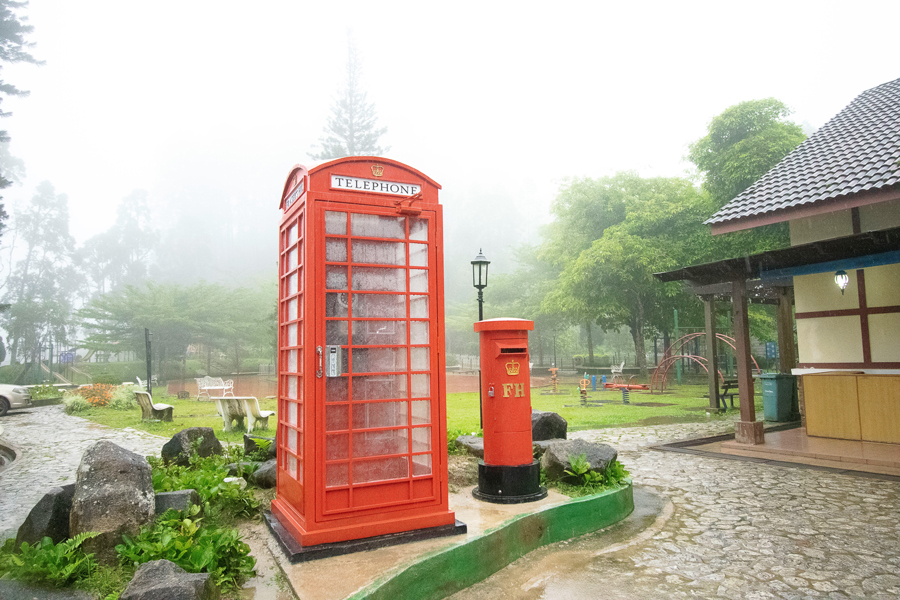 Located on Pine Tree Road, Taman Awam park is a public park that is famous among those who come to Fraser's Hill with family. This kid-friendly park has an open children's playground decorated with slides and swings. So surely your kids will have an amazing time spend at this park. 
The variety of charming flowers increase the beauty of Taman Awam park and make the place ideal for capturing family moments into the camera. The entry is totally free. Moreover, it also has a mini-golf service where you can play golf with your family by paying a small fee, RM8.00 for adults and RM6.00 for children.
11. Make Yourself Full @ Food Garden
On any vacation or trip, the must-do activity is to try its local food, and the Food Garden is the local food heaven of Bukit Fraser. It is a large food counter in this highland and serves the best Malay, Chinese, and Indian local cuisine. 
The Food Garden is situated in Taman Awam park and gets popular because of its size, facilities, and variety of choices. Here you'll find simple rice and noodles served in entirely different ways with local textures. The colourful snacks, delicious cakes, and pastries are must-try items here. And all these dishes come at a very reasonable price, so make yourself full at the Food Garden.
12. Learn Agriculture @ Edible Garden
Located next to Allan's Water, Edible Garden is an agricultural farm where you will get a free gardening workshop to do. This garden is not so big in size, but it houses numerous ornamental plants, flowers, vegetables, and obtained seeds. 
The vegetables that are available here are tomatoes, salads, green leafy and these are grown in the selected area of this compound. On the other hand, there is a large greenhouse to plant strawberries, flowers, and other ornamental plants.
Besides learning about these florae, you can also purchase these fresh vegetables and plants. The Edible Garden welcomes visitors on a daily basis from morning to evening, and the entry is free of charge.
13. Taste Fresh Strawberries @ the Strawberry Farm and Cafe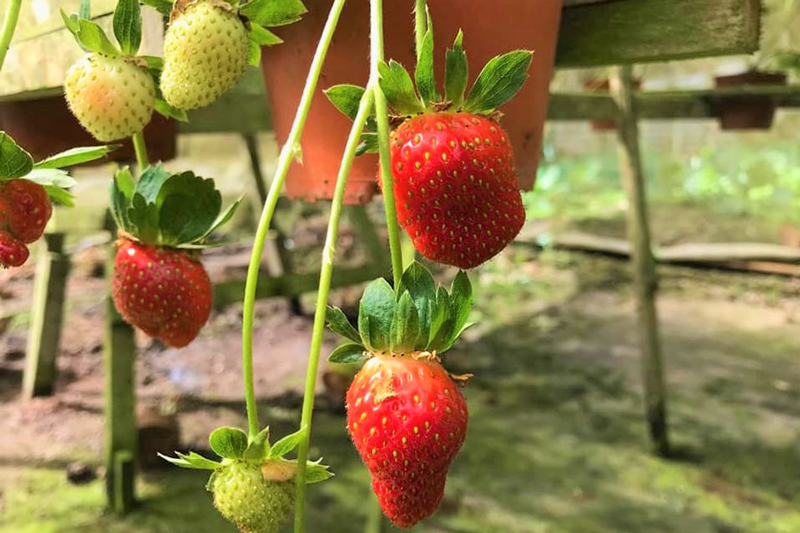 Without tasting the fresh strawberries and the strawberry dishes that Fraser's Hill Strawberry Garden offers, your trip would be incomplete. Just after the Smokehouse, you will see this Strawberry farm and cafe where you can not only taste fresh strawberries but various dishes that are made of strawberries such as scones, cakes, ice cream, and so on. 
This strawberry cafe is purely Halah, so Muslim visitors can opt for it without any hesitation. If you want to have local cuisine, don't worry, it's also available here. Even you can buy strawberry jam from this cafe as a souvenir. The cafe is currently under renovation and once complete it will be operate from 08:00 am to 06:00 pm, and you will get free entry here.
14. Buy Some Souvenir
Whenever we visit a new place, we want to have some memories of it. Yes, pictures are a great way to collect memories. But besides pictures, the other option that we love most is to collect the souvenirs from the local shops. Buying souvenirs for family, friends, or even for yourself is a must-do activity on any trip. 
At Bukit Fraser, you will find these local souvenir shops in the Food Garden. From t-shirts caps to daily necessities, snacks and drinks all are available in those shops. But you have to make your purchases in the daylight as after dark all shops and restaurants get closed.
15. Play Gasing
Playing gasing is a fun activity at Fraser's Hill. It is a traditional game and most famous among local village children. At Bukit Fraser, there is a small complex where visitors can try this easy but interesting game at cheap rates. 
16. Visit the Exotic Orchids @ Sanyi Orchid Garden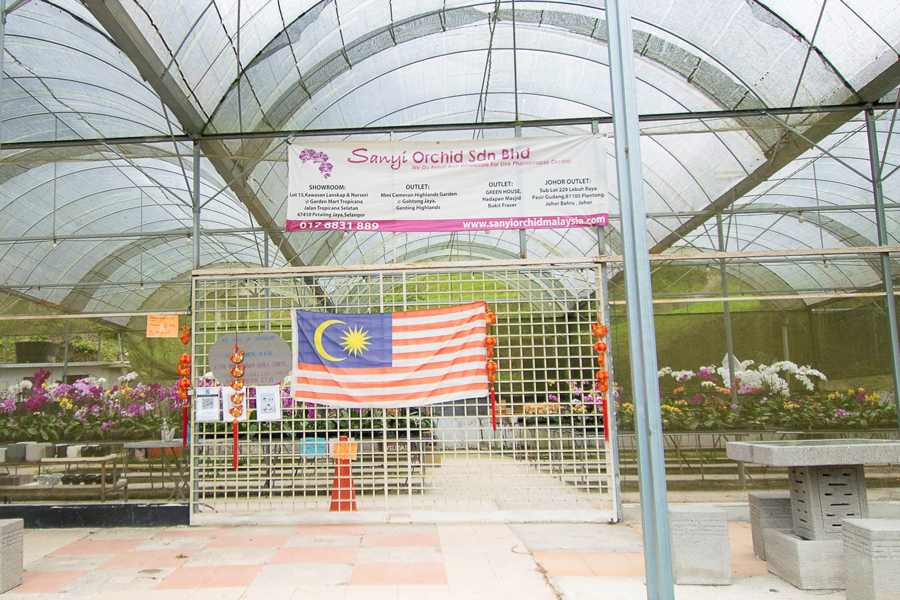 Sanyi Orchid Garden is a flower nursery with a vast collection of exotic orchids. It is incredible to visit such wonderful flowers at a place. Whether you're an orchid lover or not, whether you want to buy an orchid or not, the beautiful scenery of Sanyi Orchid Garden will make your heart happy.
This orchid garden is a branch of Sanyi Orchid Garden that is located in Kuala Lumpur. The owners of this garden are orchid specialists and are well-known exporters of Phalaenopsis orchids. Without paying any entrance fee, you can visit the enchanting scenario of Sanyi Orchid Garden, and it welcomes visitors every day from 09:00 am to 06:00 pm.
17. Try Coffee and Cakes @ the GlassHouse Fraser's Hill
If you have a sweet tooth and are also a coffee lover, you should at least once visit GlassHouse Fraser's Hill. It is a small café that will give you an elegant vibe of a greenhouse. Basically, the cafe is built with the concept of a greenhouse, and here they have a collection of cacti that they kept on display.
With delicious cakes and coffee, you will also get many spots to click photos for your Instagram. The place is only open on weekends from 10:00 am to 06:00 pm.
18. Play Indoor Games @ Sports Complex
The Sports Complex is situated in the same building where the Bird Interpretive Center is and offers visitors so many activities to be fit and have fun. It is also a kind of fitness center where you can have a gym, sauna, and play table tennis, squash, and snooker. 
And if you haven't got enough pictures yet, you can take photos in that small flower garden which is located in front of the Sports Complex.
How to Go to Fraser's Hill
In spite of being one of the most popular holiday destinations, Fraser's Hill has no direct public transport to this highland from Kuala Lumpur. The only way to get to Bukit Fraser from the capital is by car, and it takes only two hours to reach.
The highland is nearly 100 km away north from Kuala Lumpur, and most visitors come here in their personal car, though you can also take a taxi to get there. But the taxi cost is too high.
Booking a trip from a tour company can be helpful to get there. Moreover, they will also guide you on your trip.
Some History about Frasers Hill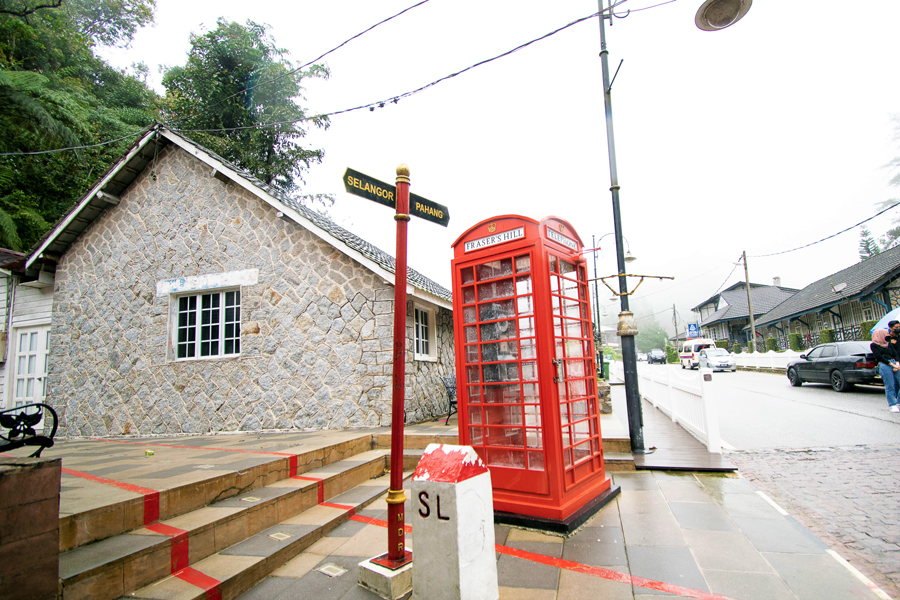 There is an interesting and mysterious history around Fraser's Hill. Louis James Fraser was a Scottish adventurer who came to this land in search of gold. But instead of gold, he found tin and made a tin mine here in the 1890s. 
As this highland was discovered by Louis James Fraser, it was also named after him. Unfortunately, after 25 years, Fraser disappeared without leaving any trace. 
In 1917, a search team came here to search Fraser, but they failed to find him. However, they found this highland has less heat than the other parts of Malaysia and thought that the area was highly suitable for a hill station.
By 1922, this team had built an access road to the top and opened it to the public. Since that time, it has been one of the great highland destinations in Malaysia because of its cool weather and numerous attractions and activities.
Best Time to Visit Frasers Hill
Fraser's Hill is an excellent place for a short-time holiday, and anytime whenever you feel you need some cool atmosphere, you can opt for Bukit Fraser. But the monsoon season from November to January can be a good time to visit this place as the temperature gets cooler and more mist is seen in this time. 
However, the monsoon also comes with heavy rain, which can ruin your vacation, so be careful of that.  If you don't like overcrowding, you should avoid visiting on weekends or public holidays.
This was the overall review of Frasers Hill! We have provided as much information as we can. And if you feel anything is missing, please let us know in the comment section. Have a safe trip!