Paris is one of the most beautiful cities in the world, but it also has a reputation for being expensive. Often budget travellers prefer not to visit the City of Love only because it's expensive. But luckily, there are plenty of free things to do in Paris that won't cost you any money at all! There are many Free things to do in Paris such as museums, gardens, art galleries and a considerable number of public places that are free to visit.
And if you want to enjoy the expensive places in Paris for free, we also have solutions for that. By the end of this article, you will find the three most popular places in Paris that can be visited for free on specific dates and on certain conditions. So, if you are short on money and still want to make the most out of your Paris trip, this article will help you plan your trip. Here are some great ways you can explore this amazing city without spending a cent:
The Best 20 Free Things to do in Paris If You Don't Have a Lot of Money
1. Check out the renowned collections of art at Musée d'Art Moderne de la Ville de Paris
One of the best free things to do in Paris is to visit some of its museums. Paris is home to some of the world's most renowned museums, and the Musée d'Art Moderne de la Ville de Paris is no exception. This museum houses one of the largest collections of modern and contemporary art in Europe and is a must-see for any art lover visiting the city.
The museum is located in the 16th arrondissement, close to the Eiffel Tower, and is easily accessible by public transport. Once inside, visitors can explore the different floors of the museum, which are dedicated to different periods and styles of art.
The museum is home to temporary exhibitions and features a permanent collection of works by renowned artists such as Pablo Picasso, Henri Matisse, and Salvador Dali. There is also a restaurant on-site, where visitors can relax with a coffee or a bite to eat after exploring the museum.
Entry to the permanent collection of Musée d'Art Moderne de la Ville de Paris is free for all visitors, making it a great option for those looking to experience some of Paris' finest art without spending any money.
Location: 11 Avenue du Président Wilson – 75116 Paris
Opening Hours: Tuesday – Sunday | 10:00 am to 6:00 pm (ticket offices close at 5:15 pm) Nights on Thursdays for temporary exhibitions: until 9:30 pm. Closed on Mondays and on January 1st, May 1st and December 25th
2. Visit Basilique du Sacré-Coeur
If you want to experience one of the most beautiful and famous churches in Paris, head to the Basilique du Sacré-Coeur. This Romano-Byzantine style church is located on top of Montmartre hill and offers stunning views of the city below.
Best of all, admission is free! Once inside, take some time to admire the intricate details of the Basilica. The mosaics, stained glass windows, and marble floors are truly breathtaking. Be sure also to visit the crypt, where you can see the tombs of some of France's most famous artists and writers.
There are no guided tours available for the interior of the Basilica to maintain silence for prayer. However, you can simply enjoy the beauty of this Parisian landmark on your own. This beautiful church sitting atop Montmartre hill offers stunning views over the city.
You can explore the inside of the church for free and even take a ride up to the top of the dome for just a few euros. If you're visiting Paris on a budget, make sure to add the Basilique du Sacré-Coeur to your itinerary!
Location: 35 Rue du Chevalier de la Barre, 75018 Paris, France
Opening Hours: Everyday | 6:30 am to 10:30 pm
3. Explore Arènes de Lutèce
The Arènes de Lutèce is a Roman amphitheatre in the 5th arrondissement of Paris, France. The Arena of Lutetia was built around the 1st century AD as a public entertainment venue located in the ancient Celtic settlement known as Lutetia. It is one of the best-preserved Roman ruins in Paris and was used for gladiatorial contests, bullfighting, theatre performances, and public executions up until the 5th century.
In 1896, the arena was rediscovered during construction work and had since been open to the public. Today, it is one of the most popular tourist attractions in Paris. Suppose you want to explore Roman heritage while in Paris; visiting the Arènes de Lutèce is a must. The arena is free to enter and is open every day from 9:00 am to 7:30 pm.
The Arènes de Lutèce is a great place to learn about Roman history and culture. Visitors can explore the well-preserved ruins of the amphitheatre and see how it would have been used in ancient times. It is a great place to visit if you are interested in learning more about the Roman heritage of Paris.
Location: 49, Rue Monge, Latin Quarter, 5th Arrondissement, Paris
Opening Hours: Everyday | 9:00 am – 7:30 pm or 8:30 pm
4. Walk Around the vibrant Belleville neighbourhood
Belleville is one of the most vibrant and interesting neighbourhoods in Paris. There's always something going on, and it's a great place to just wander around and explore. The Marché de Belleville is a great place to get a taste of the neighbourhood. This open-air market has everything from fresh produce to clothes to souvenirs. It's a perfect place for people to watch and soak up the area's atmosphere.
The Parc de Belleville is a beautiful spot to relax or take a stroll. With sweeping views of the city, it's easy to see why this park is so popular. You can even see the Eiffel Tower from here on a clear day! For something really unique, check out the Maison des Métallos.
This former metal foundry has been turned into an arts and culture centre, with exhibitions, concerts, and more. It's definitely worth a visit if you're interested in learning more about the artistic side of Belleville.
Belleville is one of the most vibrant and multicultural neighbourhoods in Paris. It's a great place to explore on foot, and you'll find plenty of interesting shops, cafes, and restaurants to keep you entertained.
Start your tour at the Place de la République, where you'll find a beautiful fountain and plenty of people-watching opportunities. From there, stroll down the Rue de Belleville to get a feel for the neighbourhood's unique atmosphere.
Make sure to stop by the Marché aux Puces de Saint-Ouen, one of the largest flea markets in Europe, where you can browse for antiques and other treasures. Finish your tour with a refreshing drink at one of the many cafes lining the Boulevard de Belleville.
5. Enjoy Charming Artworks at Musée de la Vie Romantique
The Musée de la Vie Romantique is a charming little museum located in the heart of the city's historic district. The museum is housed in an 18th-century townhouse, and its collection includes furniture, paintings, and objets d'art from the Romantic period. The Musée de la Vie Romantique is a museum devoted to the history of romance. It has grown to be one of the most beautiful museums in all of France.
The museum is free to enter, and there are often free temporary exhibitions on display. The ground floor of the museum is given over to a pretty café, where you can enjoy a cup of coffee or tea surrounded by antique furnishings.
The Musée de la Vie Romantique is a must-see for anyone interested in the Romantic period in French history. The museum is housed in a beautiful hôtel particulier, or private mansion, and features an impressive collection of art and artefacts from the era.
The museum also has a lovely garden where you can relax and soak up the atmosphere of this historic district of Paris. The museum's collection is extensive and spans over 200 years, from paintings to sculptures, from books to manuscripts, and even includes a collection of perfume bottles! There are over 3,000 artefacts on display at any given time, including many rare works.
The museum's collections are displayed in gorgeous rooms that will leave you feeling like you have stepped into another world altogether. The architecture itself is stunning—a mix between Gothic style and Art Nouveau/Villonian style—and it makes for an unforgettable experience.
If you're looking for a museum that will make you feel like you are transported to another time, then the Musée de la Vie Romantique is the Place for you.
Location: Hotel Scheffer-Renan 16, rue Chaptal, 75009 Paris
Opening Hours: Tuesday – Sunday | 10:00 am to 6:00 pm Closed on Mondays and on January 1st, May 1st and December 25th
6. Tour the Palais Royal
Palais Royal was a palace in Paris, France, built for Cardinal Richelieu of France by the architect Jacques Lemercier. It was originally known as the Palais Cardinal. Today, it is one of the largest urban parks in Paris. The park takes its name from the former private residence of the kings of France and Navarre (now a museum), which stood at the centre of Paris on what is now the rue de Rivoli. The building's gardens were designed by André Le Nôtre.
The area has been redeveloped many times and turned into a public garden and park that includes an antique carousel house, two theatres (Cirque d'Hiver and Cirque d'été), and a small zoo. Besides its decorative value, this historic building is famous for its art galleries and for hosting major political meetings that led to both world wars. The Palace is huge, so it's easy to get lost. You can use the map on your phone or just follow the crowds of tourists.
The best way to see the Palace is by walking around and taking photos of different parts of it. If you're interested in seeing all the rooms at once, buy tickets online ahead of time or go with someone who has already bought tickets and is familiar with where they're going.
If you want to see as much as possible in one day, book an English-speaking guide (or two!) at least two days before your trip so that they have enough time to plan their tour according to what you want to see! It's OK if you don't know everything about French history!
There are plenty of other things for people who know a little bit about French history to do while visiting Palais Royal—like getting a hot chocolate from one of their cafes or trying out their famous pastries!
Location: 8 Rue de Montpensier, 75001 Paris, France
Opening Hours: Everyday | 8:00 am to 8:30 pm
7. Take a Stroll Along La Promenade Plantée
The history of La Promenade Plantée is full of intrigue, with a couple of major events that have shaped the way it looks today. The Place, also known as Coulée Verte, was turned into a thriving public park from an abandoned railway line. Over the years, La Promenade Plantée gained its reputation as one of Paris' most popular tourist attractions. Today, La Promenade Plantée is still a popular tourist destination—and it's easy to see why!
La Promenade Plantée is the world's first elevated parkway. The promenade is surrounded by diverse vegetation consisting of bamboo, rose bushes, lavender, acanthus etc. A significant portion of the promenade divides modern office buildings and apartment blocks in a beautiful way.
The park has been an inspiration to other cities to turn abandoned rail lines into public parkland. You can enjoy some beautiful views while walking through this park. You can explore the park's gardens and paths, which house flowers and sculptures from all over the world.
8. Wander Around in Parc des Buttes Chaumont
The Parc des Buttes Chaumont is a park in the 19th arrondissement of Paris, France. It is the fifth largest park in Paris. It features some remarkable structures like the Temple de la Sibylle, the grotto and waterfalls, and a 63-meter-long suspension bridge designed by Gustave Eiffel.
Visitors can visit Parc des Buttes-Chaumont for free but must pay for parking or public transportation. There are so many things to do in Parc des Buttes Chaumont it's hard to know where to start!
If you're looking for a place for your kids to run around and have fun, the Parc des Buttes Chaumont is perfect. It has many different areas suitable for both children and adults. You can take a walk through the park on foot without any additional equipment; just make sure you stay on the main paths so as not to get lost (or injured).
You can also check out the architecture of the park and be mesmerized by its ancient Roman architecture. Hundreds of people gather at the park every day, as the entrance is free. If you get tired while walking around the large park, you can grab some food from the cafes located inside the park.
Location: 1 Rue Botzaris, 75019 Paris, France
Opening Hours: Everyday | 7:00 am to 10:00 pm
9. Visit Champs de Mars
The Champs de Mars is a large public green space in Paris that runs through the 7th arrondissement. It is famous as one of the most visited tourist attractions in Paris. Champs-de-Mars is a great place to visit if you want to see some of Paris' most famous landmarks. There are plenty of things to do in this area, including visiting the Eiffel Tower and other important sites.
There are lots of restaurants in Champs-de-Mars as well as plenty of shopping opportunities—you just need to know where to go! There are many great shops near Champ de Mars selling everything from clothing to food items like readymade meals. You can also find stores selling souvenirs and gifts at this location.
You can picnic or relax in Champs de Mars while admiring the beauty of the Eiffel Tower. You can also enjoy the Eiffel Tower light show at night. It's the most peaceful thing to do among all the other free things to do in Paris.
Location: 2 All. Adrienne Lecouvreur, 75007 Paris, France
10. Explore the La Marais neighbourhood
One of the best free things to do in Paris is exploring its neighbourhoods. The La Marais neighbourhood is the most historic part of Paris, and it's a great place to visit if you have a day or two in Paris. You'll find many interesting things to see and do here, including shopping and eating out at bars or restaurants (if you like food).
If you're looking for souvenirs or gifts, there are plenty of shops in this area that sell unique items from across France and beyond. Many are open until late at night on weekends, so check them out if you plan on staying overnight.
There are many restaurants here that serve traditional French cuisine—try one that has been featured on TV shows! Because they're often crowded during peak hours (around lunchtime), I recommend going earlier in the day before getting busy later on, as well as taking advantage of their happy hour specials, which usually run every day from 4:00 pm – 7:00 pm local time.
11. Enjoy the free festivals of Paris
There's no better way to enjoy the festivities of Paris than by enjoying the free festivals of Paris. Different significant festivals take Place in Paris during different months. On July 14th, Paris celebrates Bastille Day. On the night of July 13th, a grand party is held in Place de la Bastille featuring musical performances and dance shows.
On the 14th morning of July, a glorious military parade takes Place at Champs Elysees and ends with a mesmerizing firework show. Moreover, most museums, including the Louvre, remain open for free on this day.
Another notable free festival to enjoy in Paris is the La Fête de la Musique. It takes Place in Paris on June 21st. On this day, Amateur and professional musicians perform in the streets. Everyone gets to witness these performances for free. If you are a lover of art, you wouldn't want to miss the La Nuit Blanche festival in Paris.
It is a night-time arts festival which takes Place in October. Sculptures, paintings, and other pieces of art are displaced around the city during this festival. Moreover, most museums, art galleries, and other cultural institutions remain open for free. Different performances also take Place on this night. Attending the Paris festivals is one of my free things to do in Paris.
12. Walk Along the River Seine
The Seine is one of the most beautiful rivers in the world. It's a great place to spend a day walking, whether you're looking for a quiet spot to relax or you want to explore a new area of Paris. The best part about the Seine?
You can walk along it! There are plenty of ways you can get down and dirty with nature if that's what you're into. You can picnic at one of the many parks along its banks or even just enjoy a relaxing stroll by yourself—the choice is yours!
13. Stroll Around Luxembourg Gardens
Luxembourg Gardens were designed by French engineer Tommaso Francini. It was designed to represent an idealized version of Versailles, a residence built by Marie de' Medici. The Palace sits on top of a hill overlooking the city and contains many famous collections. In addition to being a beautiful place to visit, Luxembourg Gardens offer plenty of things to do!
The gardens cover 25 hectares of land and are split into two parts, namely French gardens and English gardens. Between the two, there is a geometric forest and a large pond. There is also an orchard consisting of a variety of apples, an apiary, and greenhouses with a collection of breathtaking orchids and a rose garden.
106 statues are spread throughout the park. For children, facilities like puppets, rides and slides are available. Adults can play chess, tennis, and different other games at the park. So, Luxembourg Gardens is a great place to stroll around, click some pictures, or play games.
Location: 75006 Paris, France
14. Walk along the Canal St. Martin
Canal St. Martin, located in the heart of Paris, is one of the city's most popular attractions. It is lined with shops selling local products and has a variety of cafés and restaurants for tourists to enjoy. The canal dates back to the 19th century when it was first built to supply the city with fresh water.
Today, it is still considered an important part of Parisian culture and history. The canal has been the site of many famous events over the years. You can take cruises on the canal in passenger boats. You can also watch the barges and other boats navigating the series of locks and passing under the attractive cast-iron footbridges. And lastly, you can dine in any of the cafes and restaurants lined near the canal.
15. Roam Around Cimetière du Père Lachaise
One of the creepiest free things to do in Paris is to visit the Cimetière du Père Lachaise. Cimetière du Père Lachaise is the most visited necropolis in the world with 3.5 million visitors every year. It is located in the 20th arrondissement and was opened in 1804.
The cemetery has been featured in many films and TV shows over the years. It consists of a columbarium and a crematorium designed in Byzantine Revival architecture, a chapel, an ossuary and several monuments.
The winding cobblestone paths, rolling hills, and hauntingly beautiful graves are worth visiting when you are in Paris. And the best part is visiting the Cimitière du Père Lachaise is free. Moreover, you will also get to see the graves of many famous personalities in the cemetery. You can book a guided tour from their website.
Location: 16 Rue du Repos, 75020 Paris, France
Opening Hours: Everyday | 8:00 am to 6:00 pm
16. Enjoy a free Montmartre Walking Tour
Montmartre, home of the Parisian bohemians, the artists who started the art movement known as Impressionism, is a large hill in Paris. It is a district of Paris that is home to many famous landmarks, including the Sacré-Coeur Basilica and La Moulin Rouge.
A walk through this area will give you a glimpse into the history of France and how it changed during this period. You can walk around Montmartre and get a glimpse of Paris from the top. You can download an audio guide and stroll around the hill, and check out the popular tourist attractions for free.
17. Take a self-guided walking tour
If you're in Paris, it's worth taking a self-guided walking tour. You can download one of the many apps that are available and then follow the directions to learn about the history of Paris. It will also give you an opportunity to discover some of its architecture, culture, food and drink.
The app will take you on tour through some of the most beautiful parts of this city, including Notre Dame Cathedral.
Some Other Free Things to Do in Paris (Under Special Conditions)
There are so many free things to do in Paris which are free throughout the year. But if you are looking to visit places that generally require a fee for free, we have got you covered. On specific days the Louvre is free, as are the catacombs and Sainte-Chapelle.
18. Visit the Louvre for free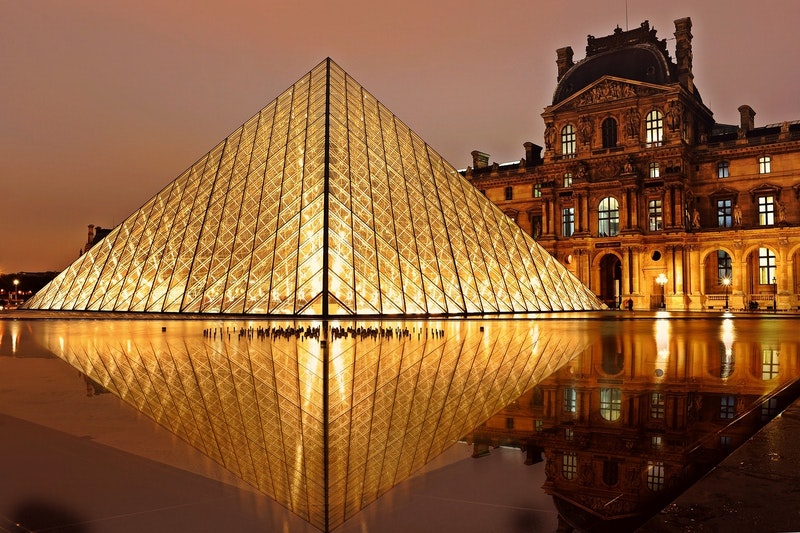 The Louvre is a museum in Paris, France. It's located on the Right Bank of the Seine River and across from the Tuileries Gardens. The museum officially opened in August 1793 under Napoléon Bonaparte, who later donated it to the people of France.
<