Paris is without a doubt one of the most popular tourist destinations in the world. From the Eiffel Tower to Notre Dame Cathedral, there are hundreds of attractions in Paris. So, when planning a weekend break in Paris, where do you begin?
It would be best if you were prepared, as it is a big city, and you will want to see it as much as possible. Here is our guide on Top 11 things to do on a long weekend in Paris. Having a detailed itinerary will also make things easier, especially if you are on a tight schedule.
Here are 5 reasons why you need a travel itinerary to prepare for your long weekend easier and if you are visiting Paris for the first time and want to explore more, read our The ultimate Paris travel guidelines
My best advice for planning a trip to Paris is to do your research before you go. Read blogs like this one and others about the places you want to visit and check out travel sites like Viator or Lonely Planet for tips on things to do and places to stay.
How to reach Paris
By Bus: If you are traveling to Paris by bus, you have several options to choose from. The most popular ones are Eurolines and Flixbus. The two bus companies make use of the same bus terminals in Paris: the one located on Avenue du General de Gaulle and the other one located Bercy Seine located inside the Bercy park. If you prefer to travel by bus, both companies offer great connections across Europe and beyond.

Eurolines has buses to Paris from all over Europe. The journey time can vary between 2 to 12 hours, depending on the stopovers you take. The Eurolines website offers country-wise information on buses. You can also see their bus schedules through their official website.

By Train: There are a number of ways to get a train to Paris, depending on your destination in Europe and your means of transportation. You can take a direct high-speed train from London or one of many cities in Germany, Switzerland, Austria, Italy and Spain to the Gare du Nord station in central Paris. You can also hop aboard a Eurail pass that will take you from most major European cities to Paris.

By Air: Getting to Paris by air is pretty simple. You can take a flight from most major airports in Europe, Asia, US and Canada. You can check available flights through Skyscanner. Your best bet when looking for cheap flights is to book in advance. This will save you a lot of money because airlines usually offer discounted fares for early bookings.
Where to stay
Paris is divided into 20 arrondissements (districts). Central Paris is its first Arrondissements. The remaining 19 districts are clockwise. If you want to be in a central location, stay in the 1st arrondissement. This is the home of the Louvre Museum, with its glass pyramid entrance.
The 1st arrondissement is also home to the historic area of the Latin Quarter and many restaurants and hotels. It's also an easy walk to Notre Dame, the Seine River and the Left Bank area.
If you want a central location but don't mind being a little farther from the main attractions, try staying in the 2nd arrondissement. Highlights of this neighbourhood include a lively cafe and restaurant scene and a large concentration of literary cafes and bookstores.
Start your day early so that you can visit as many places as you want. Many places are all near each other depending on how much time you spend looking at each place.
Things to do on a long weekend in Paris: Day 1:
Arc de Triomphe
The day starts with a visit to the most famous monument in Paris. The Arc de Triomphe is one of the most recognizable monuments in the world. It was built in honor of those who fought in the French Revolution and was dedicated to those who fought and died during the French Revolution. It is located at the center point of the Place Charles de Gaulle which is also known as the "Place de l'Etoile" or "star" due to its roundabout shape.
Rodin Museum
The Rodin Museum is a must-see in Paris. It was opened to the public in 1919. It is a relatively small museum that contains 136 sculptures by Auguste Rodin and works from many artists of different eras, including Claude Monet, Pablo Picasso, Camille Claudel, and so on.
The museum is located not far from the Eiffel Tower and the Musée d'Orsay. It is good to visit this museum before visiting those two museums because Rodin's works are an excellent introduction to impressionism and modern art.
Visiting The Eiffel Tower
The Eiffel Tower is probably the most famous tourist attraction in Paris. It was built for the World Fair in 1889 and it's one of the most incredible pieces of architecture ever built. You can walk up to the second floor or you can buy skip the line tickets online ahead of time which gives you a beautiful view over Paris, especially at night.
There are also three restaurants and a souvenir shop on the top floor. The view from the top provides a breathtaking way to start your trip. If you have enough time, you can do a picnic in front of it too.
If you genuinely want to see Paris, this is the place on your list. Its majestic architecture makes it one of the city's jewels, but what catches the eye is its size. This is the primary symbol of the city, and it will offer even non-climbers an excellent opportunity to get a fantastic view of Paris.
Boat trip & dinner at Bateaux Perisiens
The Paris Dinner Cruise with Bateaux Parisiens is the perfect activity for a romantic night out. On the boat, you will be able to admire the beauty of Paris at night while you enjoy French cuisine and live music. Join this dinner cruise on the Seine River in Paris and let yourself be carried away by the magic of Paris. Not so far from Eifel tower to cruise boarding station, just opposite Eifel tower.
The riverboat ride in Seine River Paris is unlike any other. Taking a boat trip will be a perfect decision because you can see the Eiffel Tower from a different perspective and I recommend all tourists who want to get to know Paris better and want to see more of this beautiful city that they should take a boat tour, and they won't regret it.
You'll get a great view of the city's most exciting landmarks, from Notre-Dame to the Louvre, from the Eiffel Tower to the Arc de Triomphe. Buy your river cruise ticket advance to avoid long que
Day 2
The Louvre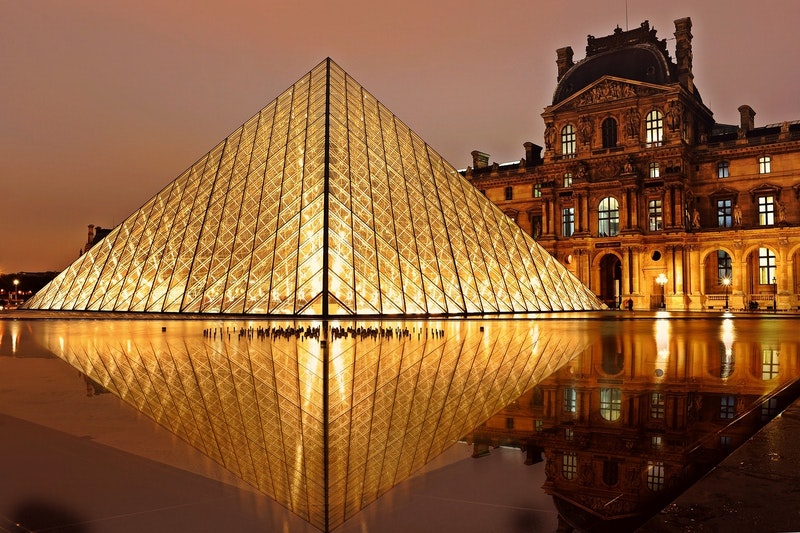 Begin your day with a visit to the Louvre, the world's largest museum. The Louvre is the most visited art museum in the world. If you only have time to visit one museum on your trip, this should be it. The Louvre is home to many of the world's most famous and celebrated pieces of art and artifacts, including the Mona Lisa and the Venus de Milo.
The building itself is an attraction – after all, it's served as a residence for French rulers and emperors, and it's been featured in several movies – but what really matters is what's inside: more than 35,000 priceless works of art by Leonardo da Vinci, Michelangelo, Raphael, Rembrandt and other masters. But don't let all those famous paintings overwhelm you – there are so many more treasures inside this museum that aren't as widely recognized.
Sainte Chapelle
A breathtaking Gothic chapel, Sainte-Chapelle (Holy Chapel), is one of the most beautiful buildings in Paris. The stained glass windows are the main attraction, but in addition to its unique architecture, this gem of a royal chapel offers an interesting history lesson.
Sainte-Chapelle is open from 9:30 a.m. to 4:45 p.m. (closed on Tuesdays), and tickets can be purchased online or at the ticket window on the first floor of the Palais de Justice near Notre Dame. The cost of admission is €10 (about $11). If you're visiting Paris and looking for a new and exciting way to spend a weekend, Sainte-Chapelle is a great place to start.
Notre Dame
Notre Dame de Paris (Our Lady of Paris) was completed in 1345 and became the official cathedral for the Archdiocese of Paris. The cathedral was damaged multiple times by fires and wars, but each time it was rebuilt stronger than before.
The elegant and gracefully built Notre Dame Cathedral is a jaw-dropping place for a visit. The stunning architecture and the surrounding' la Seine 'offer an unforgettable landscape any time of year. Whether you visit this majestic architectural building to witness its history, the religious ceremony or the structure itself, you will not be disappointed.
Latin Quarter
A must-do when visiting Paris is spending time in the Latin Quarter. Many of the world's greatest inventions were made here by famous French scientists like Louis Pasteur and René Descartes. It's also where all of the students, artists, and intellectuals gather to hang out with each other.
The Latin Quarter is home to Notre Dame de Paris, Napoléon's Tomb, and Napoléon's Arc de Triomphe which was built to commemorate his victories. It's also close to Châtelet-Les Halles, Louvre Museum, The Musée d'Orsay, the Sainte Chapelle Church, Palais de Justice de Paris (Paris Law Courts), Saint-Sulpice, Saint Michel Notre-Dame Basilica, Luxembourg Palace, Rue Mouffetard Street Market Street.
The Latin Quarter is a perfect place for a weekend trip because it has so much going on every day of the week. You can find restaurants serving delicious French food at any time of day
Day 3
Luxembourg Gardens
One of the best things about visiting the City of Lights is the beautiful Luxembourg Gardens. Planted in 1612, it's one of the oldest gardens in Paris and is stunningly beautiful. The gardens sat behind the French Senate and were initially built as a private garden for Marie de Medici and later opened to the public under Louis XIV (It was he who gave it its name).
As you wander around, you'll be surprised by how many famous statues and monuments you'll see as well as enjoying the great green space that it is.
visit Sacre Coeur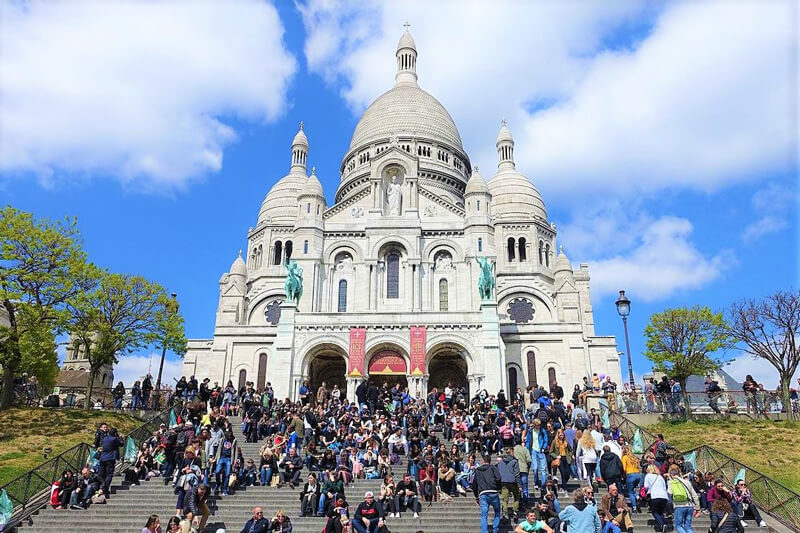 The Sacre Coeur Basilica is a Roman Catholic church in the town of Montmartre. The basilica is located at the top of the hill, and it overlooks Paris. It is considered to be one of the major tourist attractions in Paris.
The Sacre Coeur Basilica was built to establish a shrine outside the city, which would attract people who love magnificent architecture and art. The church is a famous landmark in Paris because of its architectural beauty, and it has been around since 1876.
Place du terte
The Place du Terte is a square in the 4th arrondissement of Paris, France. The Place du Tertre is one of the most famous squares in Paris. It is a UNESCO World Heritage site. The Place du Tertre holds a weekly outdoor market. It features a wide selection of fish and seafood as well as fruits and vegetables from local farmers. There are special events, such as sporting contests or festivals, on Place du Tertre a few times a year. A visit to this place will fulfil your weekend trip to Paris.
If you're looking for a great weekend getaway, I can confidently say that Paris is worth your time. And remember, Paris isn't nearly as expensive as you might think. So save up, pack your bags, and plan one of your own!
A long weekend in Paris can be infinitely more fulfilling than any other city break. If you're looking forward to the city life, the food and the pastries…Paris deserves some serious consideration.
Frequently asked question
Is Paris safe?
Paris is an incredibly safe city. Crime rates are very low, and it is very unlikely that tourists will be targets of violent crime. However, there are some things to be aware of:
Pickpockets are the most common thieves in Paris, especially in the metro stations, so always keep your belongings in front pockets or purses zipped up. The thieves typically work in pairs or groups, so if someone bumps into you, one will try to distract you while another steals your purse or wallet. Be vigilant and watch out for anyone trying to block your path or divert you.
Purse-snatching by motorcycle riders is very common, so avoid carrying anything valuable that you wouldn't want to lose on the back of a motorcycle. If possible, leave your purse at home and just bring credit cards and an ID for identification purposes.
Petty theft can occur anywhere in Paris, but there are certain areas where it is more likely to happen. The area around the Champs-Élysées is well-known for pickpockets and gipsy gangs looking for tourists who have been separated from their hostel or hotel.