Hat Yai, a growing commercial city in southern Thailand, is a popular destination for both Malaysian and international tourists. Things to do in Hat Yai vary from getting fresh noodles, birdwatching, and shopping as well to a vibrant nightlife. 
Hat Yai is 946 km from Bangkok and the largest metropolitan area in southern Thailand. It's the largest city in Songkhla province and is mainly known for the economic growth it has shown. Hat Yai is a city full of sights, sounds and delicious foods.
The top attractions and things to do in Hat Yai are the municipal parks, buddha temples, the night market and nearby attractions just a few km from the city. Whether you are trying to plan a trip to Hat Yai or want a one-day tour, here are the hottest places to visit and things to do in Hat Yai.
1. Visit Hat Yai Municipal Park:
One of the liveliest places in the evening in Hat Yai, Hat Yai Municipal Park lights up in the evenings. 6km away from the city centre, the park is spread across Hat Yai Municipal Park has a Buddha statue of height and a few other small statues and beautifully decorated temples.
The locals enjoy cycling, jogging, and running in the park. You will get a stunning view of the city from the park. You will find Gondola riding (Cable car) to visit the temple. Go up on the hill to see a mesmerizing sunset. 
Attraction: Recreational park
Activities: Seeing the sunset, temples visit, cable car ride, cycling
Address: 2GR3+RQH, Kanjanavanich Rd, Tambon Kho Hong, Hat Yai
2. Visit Kho Hong Mountain Viewpoint: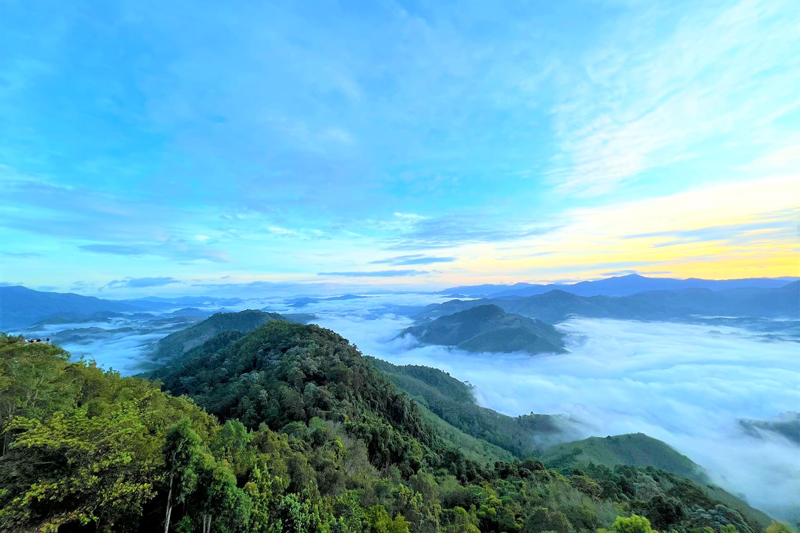 Kho Hong mountain is refreshing green on Kho Hong Mountain, and it's one of the signature mountains. The Kho Hong viewpoint gives a splendid view of the city. And you will see the tallest Buddha or Guan Yin statue.
The view from the hilltop is spectacular, provided in the morning and evening. The best transport you will get to the viewpoint is Tuktuk.
Opening Hours: 6 AM to 7 PM
3. Phra Maha Chedi Tripob Trimongkol Temple:
Located on Poonakan Road, Kho Hong, Phra Maha Chedi Tripob Trimongkol temple is an absolutely gorgeous Buddhist Temple in Hat Yai. The temple is shaped like a pagoda and the night view is stunning. And the temple's upper part is made out of metal circles.
The futuristic structure made of steel makes the temple unique, and the ambience is serene and peaceful. You can rent a car or tuk-tuk for transport to the temple.
Address: 108 Poonnakan Rd, Tambon Kho Hong, Amphoe Hat Yai
4. ASEAN Trade Bazaar Shopping:
ASEAN Trade Bazaar is the place in town to visit to collect some goodies at a low price. ASEAN Trade Bazaar is a night flea market that sells clothing, phone accessories, shoes, and handbags for cheap. Enjoy taking a walk around the market, bargaining and shop some memorable souvenirs, clothing, and shoes for gifting. 
The market is open from evening to late at night. Along with clothing and accessories stalls, you can find a lot of food stalls with cheap menus. Popular food items include Tom Yum soup, fried glass noodles, and iced tea. 
Opening Hours: 5:00 PM to 2:00 AM ( Wednesday to Sunday)
Loacation: Near Hat Yai main bus stand towards the road of Songkhla
5. Greenway Night Market:
Just 5 minutes' walk from the ASEAN Trade Bazar, the Greenway night market is one of the hottest night markets in town, which is a hub for finding lifestyle products for cheap. You will experience the influence of streets on fashion and lifestyle here. There will be street musicians.
The market has four sections and great deals on bundle buying. The clothing sections have a vast collection for men, women, kids and pets.  As you enter the market's food section, you can purchase a card for easier transactions. You will find a huge variety of scrumptious street food with precisely clear halal choices.
Opening Hours: 4 PM to 10 PM
Address: 1406/4 Kanchanawanit Road Tambon Hat Yai
6. Kim Yong Market:
Another night market on this list you must visit is Kim Yong Market. You will find numerous stalls for buying dried foods, local specialities, and snack stalls. At the entrance, you will see a lot of grocery and meat stalls, and as you go deeper, you will see snack stalls. It is like a china town market. So you can expect a lot of narrow lanes and allies. 
You can buy amazing dry fruits, imported snacks, chocolates, souvenirs, and tea blends for lower prices. At the end of the market, there is also a clothing and accessories section to check you. It's a superb market downtown. 
Opening Hours: 6:00 AM to 6:00 PM daily
7. Wat Hat Yai Nai Buddhist Temple: 
Wat Hat Yai Nai has a massive statue of the reclining Buddha. Wat Hat Yai Nai is one of the oldest temples in Hat Yai, and the Buddha Statue is the third largest statue in the world. The statue is 35m long, 15m high, and 10m wide and the god there is named Phra Phutta Hand Mongkhon L.
The temple has traditional Chinese architecture and multi-roof tiers with intricate details. The easiest way to reach the temple is via a tuk-tuk from Kim Yong market.
Location: 2 Wathatyainai Rd, Hat Yai
8. Visit Black Crystal Magic Museum: 
Black Crystal is a famous magician and artist in Thailand. He performs shows daily, including many genres of magic. The Black Crystal Magic Museum is a museum where he demonstrates illusions. If you are a lover of magic, you must visit the museum and also watch the shows.
There are four times for the shows daily. The experience is one of a kind, including comedy magic, closeup magic, and illusion magic. 
Black Crystal Magic Timings: 10:00AM, 12:00PM, 2:00PM, 4:00PM
Address: 414 Kanjanavanich Rd, Hatyai
9. Try Thai Boat Noodles: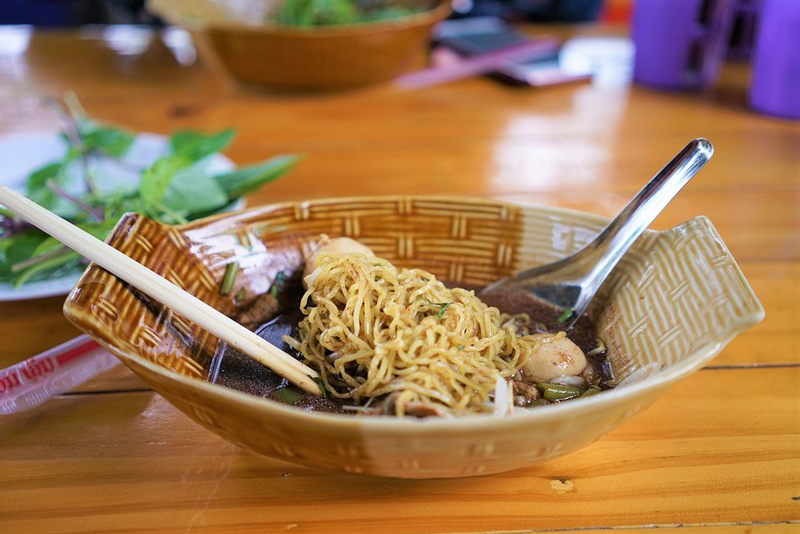 One of the many authentic noodle dishes of Thailand is boat noodles. It's a must-try item in Hat Yai. Thai Boat Noodles contain quite a strong flavour and contain beef, curdled beans, and dark soy sauce mingled with other flavours.
The name of the noodle came from the sellers who originally cooked and sold the noodles on boats on Bangkok canals. The noodles are generally accompanied by meatballs. Some famous restaurants in Hat Yai are Anusawaree Famous Boat Noodles, Chen Loong Boat Noodles (Non-Halal), and Hamid Restaurant Hat Yai (Halal).
10. Visit Central Festival Multiplex Mall: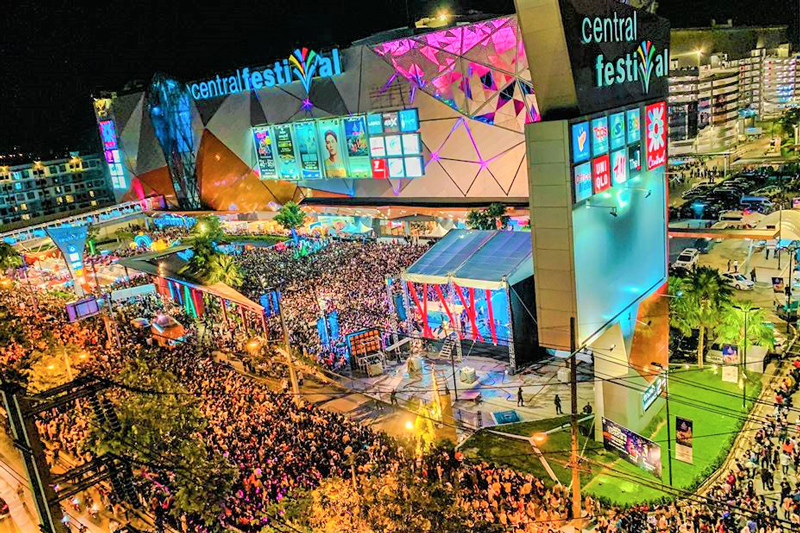 Located just 15 minutes away from the airport, central festival multiplex mall is the ultimate luxurious mall visitors can see. Central festival Multiplex Mall is the first-stop destination for watching movies, enjoying shopping and having a luxurious gastronomic experience in one place.
Central Festival Multiplex Mall has over 250 fashion brand stores, 10 movie theatres including 1 IMAX, ice-skating area, play courts and more. Visit the Central Festival Hat Yai for entertainment and fun things to do in Hat Yai.
Opening Hours: 11:00AM to 9:00PM ( Mon to Thu ) & 10:00AM to 9:30PM ( Fri to Sun) 
11. Khuan Chedi Trekking:
Khuan Chedi in Hat Yai is 900meters above sea level. Uninterrupted sheets of clouds wrap around the mountain. It stands tall on Thao Island, and there is also a temple on top of the mountain. Khuan Chedi is fairly to trek, and the trail is filled with wildlife and vegetation. 
Khuan Chedi Trekking is incredibly rewarding, with floating clouds and stunning scenarios. 
12. Khlong Hae Floating Market:
Khlong Hae is a one-of-its-kind floating market in southern Thailand. Located just opposite Wat Khlong Hae at Tamblon Khong Hae with many local food choices. On their boats, you will find vendors dressed in traditional Thai costumes serving Halal and non-halal options of local foods. You can expect food, drinks, and souvenirs from the boat.
Spend some time experiencing this new kind of shopping. Some foods you must try there are sticky mango rice, takoyaki, pad thai, seafood bbq and more. The market opens at 3 PM onwards and is lively with a crowd of tourists and music. 
Location: Khlong Hae
Opening Hours: 3 PM to 9:00 PM ( closed from Monday to Thursday)
13. Thale Noi Waterbird Park: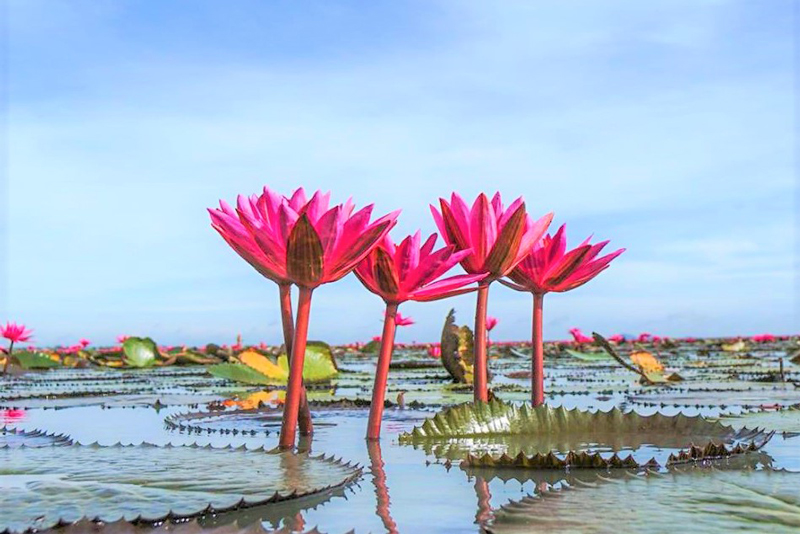 Thale Noi Waterbird Park is Thailand's largest waterpark sanctuary. It's the biggest reserve for waterfowl. The diverse nature and awestruck scenario make the park a dream destination for most tourist and locals. A trip on the boat amidst the lotus-filled water body makes the experience surreal. 
The park has the most amount of birds during migration from December to February. You can either roam around the pavilion area to watch birds or ride boats to explore the birds. The waterpark has 180+ birds, including local & migratory birds. The fixed price for boat riding is 450 baht. Some of the popular bird species are Snowy Egret, Blue Tailed Bee Eater, Common Tern, Indian Cormorant, Little Grebe etc. 
14. Visit Ton Nga Chang Waterfalls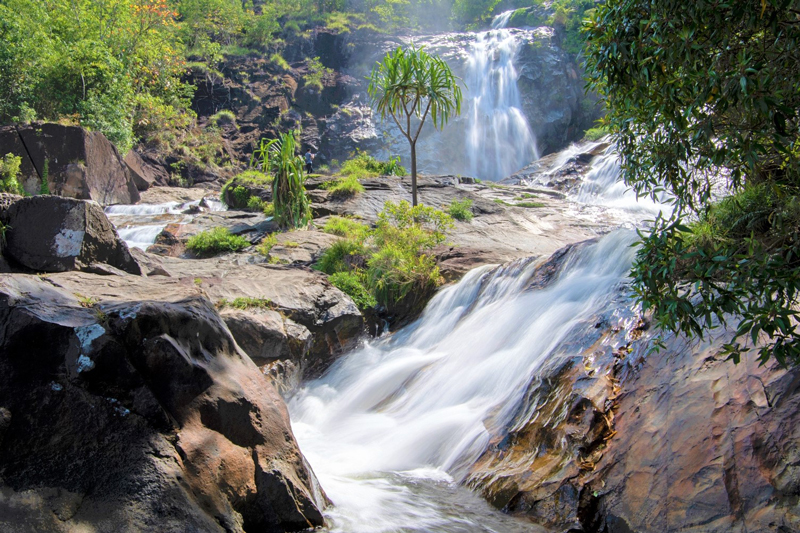 To visit Ton Nga Chang Waterfall, you will have to travel 26km by road from Hat Yai through Phetkasem Road. Ton Nga Chang Waterfall is one of the most beautiful waterfalls in Thailand. The cascade is located in the Ton Naga wildlife sanctuary. Ton Naga Chang Waterfall has total 7 levels, and the 7th level is 1550m in height. 
The stream gets divided into two sections creating a beautiful scenery which resembles elephant's tusks on the third level. Walk up to the third level to enjoy a beautiful cascade scenario. The seven levels are 1. Ton Ba 2.Ton Pliew 3.Ton Nga Chang 4.Ton Dam 5.Ton Nam Ploi 6. Ton Rue Si Koi Bo 7.Ton Med Chun.
 To start the hike, you can go up to the first level just by walking 15-minutes from the parking area. On the second level, you will see a stream falling from a 20m cliff. And, from the third level, the cliff gets steeper. But nature lovers and adventure seekers will definitely enjoy the hike.
15. Exploring Songkhla Old Town:
Exploring the charming Songkhla old town should be on your to-do list if you are visiting Hat Yai. Songkhla Old town has a historical value. The cafes, wooden architecture with a hint of Chinese influence and good food make the Songkhla Old Town trip from Hat Yai valuable.
From Hat Yai, the easiest way is by bus or minivan to the old town, which takes around 40 to 45 minutes through route 414. The must-visit places and things to do in Songkhla are street arts along Nang Nam Road, trying southern Thai foods, seeing the Blue Smile Cafe gallery, and roaming around the street.
16. Songkhla Central Mosque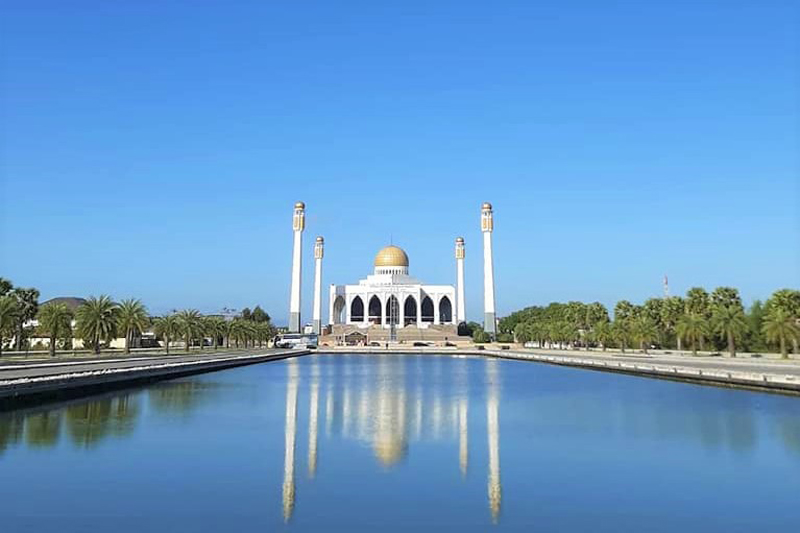 Songkhla Central Mosque is made with an architectural replica of the Taj Mahal. Hat Yai central mosque is on the highway to Songkhla. Hat Yai Central Mosque was established in 2001. The best time to visit the central mosque is in the late afternoon.
Hat Yai central mosque has a beautiful lake outside the mosque and halal restaurants nearby. You can go there for a quick afternoon tour or prayer. 
17. Wat Chue Chang Temple:
The Wat Chue Chan tower symbolizes the Chinese community's presence and influence in Hat Yai city. The temple is just a 15-minute walk from Hat Yai tower centre & lee garden. Wan Chue Chang Temple is situated at 55 Supasarnrangsan Rd, the beautiful architecture, detailing, the green gate makes this temple a landmark. 
The walls of the temple are mostly built with tile and ceramic-like in the old Chinese temples in Malaysia. There is spectacular detailing of animals, dragons and other characters on the wall. Wat Chue Chang temple has Mahayana Bodhisatta like Guan Yin and other Chinese deities. 
Address:55 Supasarnrangsan Rd, Tambon Hat Yai
18. Visit Hat Yai Clock Tower:
The Hat Yai clock tower is a landmark tower with stalls for street foods, markets for clothes, cosmetics and more. It's a great place to visit to pick up some souvenirs, clothes and food for a low price. Enjoy roaming around the market, eating some laksa and buying local clothes and souvenirs. The market is open mostly on Friday & Saturday nights.
Location:  Phetkasem Road, Hat Yai
19. Take a tour of Wat Khok Saman Khun:
Wat Khok Saman Khun is a Buddhist temple located in Tambon, Hat Yai. For about 30 years, Wat Khok Saman Khun was an abandoned temple, and then it was registered by the government. The temple gate has detailed architecture, with Phra Prang Sam Yot in the courtyard.
There are statues of other deities than the main Buddha statue, including Phra Pikanet and statues of LP Thuad and monks. The temple has three main prangs. The old architecture and beautiful details of the temple will enchant you.
Opening Hours: 8:00 AM to 5:00 PM
20. Visit Princess Maha Chakri Sirindhorn Natural Museum:
Visiting Princess Maha Chakri Sirindhorn Natural Museum, which is a natural museum is one of the best things to do in Hat Yai. Maha Chakri Sirindhorn Natural Museum is one of the places where Songkhla University students get educated. There is a great collection of zoological and geological samples, stuffed animals, seashells, exhibits of human evolution, and geological formations. 
The museum has got over 25000 samples of 2500 species. The tour takes around one hour, and the entrance fee is 30 Baht. Maha Chakri Sirindhon natural Museum is one of the great places to learn about flora and fauna and educate yourself about natural history. 
Opening Hours: 9:00 AM to 4:00 PM ( Tuesday to Saturday )
Location: Campus of Prince of Songkhla University
21. Visit Chang Puak Elephant Camp: 
One of the best tourist attractions in Hat Yai, which you can visit on weekends for some fun activities with animals. Chang Puak Elephant camp offers a ride on elephants, and also visitors can enjoy their elephant show, monkey show and crocodile show. The show cot around 200 THB per person.
Chang Puak Elephant Camp is located just 15 minutes outside the city, and the camp operates on large grounds enough for the animals. For touring the ground, you can also do dirt riding with a rental fee of 50 THB. You can feed the animals of 50 THB as well. Along with these animals, Chang Puak camp also has a parakeet enclosure.
Opening Hours: 8:00 AM to 5:00 PM ( hours might differ on Sunday, Monday, and Wednesday)
22. Trip to Samila Beach: 
Samila beach is a hidden gem just 30-minutes from the city of Hat Yai. Samila Beach is known for its golden mermaid statue. The beach is a 3 km stretch of white sand and gives a spectacular view during the sunset. The beautiful golden statue of the golden mermaid is inspired by the earth goddess. 
Samila beach is known for sunbathing, taking a walk during sunset, and swimming. In front of the statue, there is a promenade for tourists and lining the promenade, there are stalls for food, clothes, local handicrafts and more. There are also options for horse riding on the beach. 
While you are going on a trip to Samila, you must try fresh seafood dishes at Sujinda Seafood. Sujinda Seafood is just a few minutes walks away from the beach.
23. Breakfast at Chok Dee Dim Sum: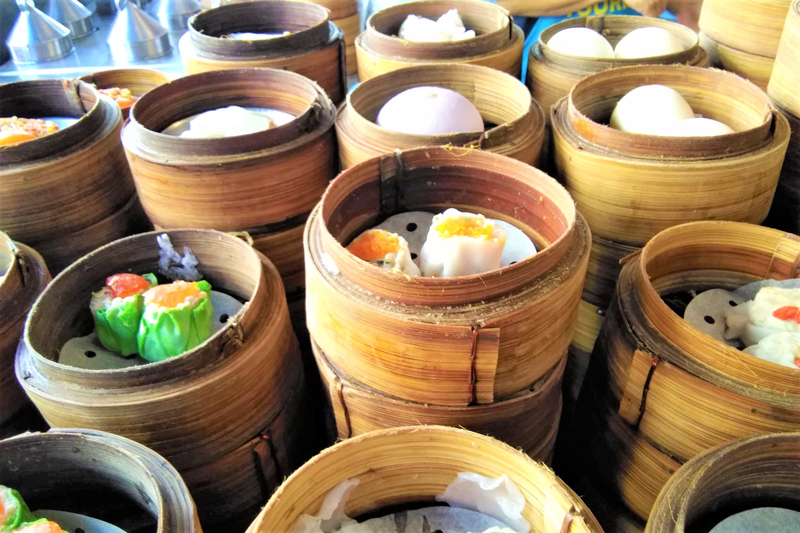 Trying Dim Sum in this famous restaurant in Hat Yai. You can start your breakfast at this restaurant.  Chok Dee Dim Sum is very cheap and one of the most popular places among tourists. Each basket of dim sum starts from THB20. It's recommended to go there as early as possible. By 10 or 11in the morning, their dim sums get sold
. Chok Dee Dim Sum's menu has 30+ varieties of baos, and dim sums, along with drinks, pork rib soup, and a few more side dishes. Some of their most-ordered menu items are stuffed black sesame bun, pork dumplings, crab Chinese dumplings, and steamed gyozas.
Location:  Tambon Hat Yai
Conclusion:
Hat Yai is one of the biggest cities in southern Thailand. Hat Yai is a great destination for a one or two-day tour. People often combine Koh Lipe and Hat Yai trips. Hat Yai's best places are listed here.
Visit the fourth biggest city in Thailand to enjoy the thriving nature of the city and local food and visit landmarks. With Klook, you can personalize your trip or choose a package.