Are you planning to visit the exclusive beauty of Cambodia but don't have a Cambodian visa? And you must be wondering how you can apply for a Cambodian visa, what the processing is, and what documents you might need to apply for a visa.
While all the visa processes are annoying, there's one I wish I could skip — getting a Cambodian e-visa for Cambodia. It was one of the most time-consuming visa processes I've taken. Here's a step-by-step guide on how you can avoid all the hassle of getting a Cambodian visa
What Is the Cambodia e-Visa?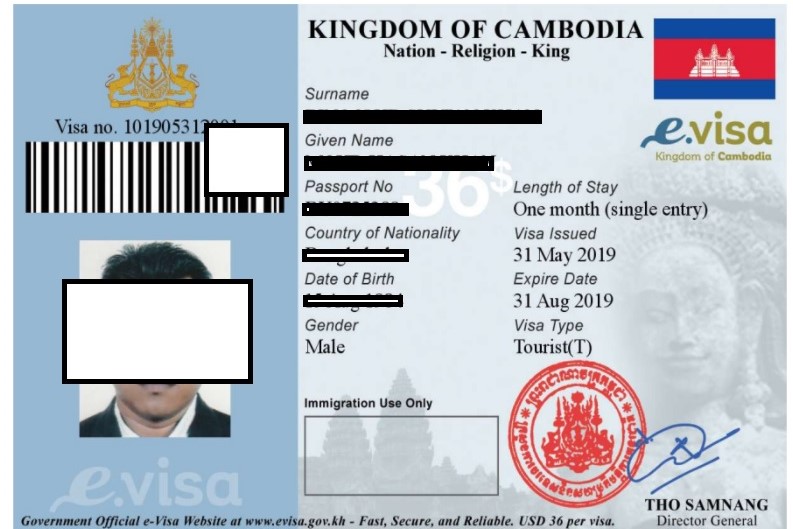 E-Visa is an electronic travel visa for international tourists visiting the Kingdom of Cambodia. It requires no hustle to get the visa. You don't have to go to an embassy or consulate to get a Cambodia e-Visa. Having an electronic visa for Cambodia is a fast and easy process. 
The Cambodia e-Visa is an essential permit for foreigners, and one can visit Cambodia for 30 days with this electronic visa. You must complete an application online in three easy steps and then receive the approved permit within 3 to 4 days.
The Kingdom of Cambodia has made the tourist visa process easy and hustle-free to promote tourism. The e-Visa was officially organised by the Ministry of Foreign Affairs and International Cooperation of Cambodia in April 2006.
What Types of Cambodia Visa Is Available Online?
Two types of visas are available to get to Cambodia: T class and E class.
T-class visa is mainly for tourists, and it is available online. On the contrary, E class visa is an ordinary visa, and it is for those who want to come to Cambodia for study or work purposes. And the E-class visa is not available online. You have to go to an embassy or consulate to get the visa.
For anyone who wants to travel to Cambodia on vacation and enjoy the exotic scenery of this beautiful country, the Cambodia tourist visa (T class) is the right and best option. The tourist visa will be valid for three months.
What Are the Documents Needed
To fill up the e-Visa application, you need these few things on hand.
Your passport is the first essential document that you need for an e-Visa application. Be sure it has validation for at least six months.

A passport-size photo of yours that you have clicked recently. You must send the photo in digital format that means in JPEG or PNG format.

A pdf copy of your health insurance, vaccine card/certificate, hotel reservation documents, and others. You just have to attach those pdf copies with the application form that you'll get to fill up.

A valid credit or debit card is needed so that you can pay your visa fees by sitting on your couch.
How to Get the Cambodia e-Visa?
Getting the Cambodia e-Visa is not a challenging task at all. You just have to follow three easy and quick steps. 
Step-1: Online Application
In the first step, you need to create an account on the Cambodia e-Visa application website. You just need a single account for all your visa applications you may apply for in the future.
Then give sufficient and correct information as the application requires. Make sure you double-check all the information and passport number to avoid worrying about the denial of the visa. And then click the "Next" button for the second step.
Step-2: Review and Confirm Payment
In this step, you must review the information that you have given on your online application. Then choose a payment method to pay your e-Visa fee. You can securely pay for your Cambodia e-Visa by using VISACard or MasterCard. Don't forget to download the pdf copy of your application form.
Step-3: Receive the e-Visa
After the payment, the only step left is receiving your Cambodia e-Visa. But for this final step, you have to wait for 3 to 4 business days. 
Sometimes the processing time only takes one day to verify all your information. But in some cases, it may take more than four days. So have some patience if you don't get your e-Visa within 3 to 4 days.
You will receive your e-Visa by email, and then you can print it. But make sure all copies of your e-Visa should be clear and transparent.
The Cost of e-Visa
The Cambodia e-Visa is U$30.00, and a processing fee may cost you U$6.00. So, in total, you may have to pay for your e-Visa U$36.00. At this price, you will get a 30-days tourist visa valid for 90-days.
Note: This charge is valid only for tourist visas (T class), not for ordinary visas (E class). An ordinary visa may cost more, and the application process differs from a tourist visa.
How to Travel to Cambodia with an e-Visa?
Once your e-Visa gets approved, you will receive an email about your visa. Within three months from the issued date, you must visit Cambodia unless the visa will be invalid after 90 days.
You must show your printed visa at the immigration checkpoint when you enter the Kingdom of Cambodia.
There are three International Airports in Cambodia for foreign travellers with an e-Visa.
Siem Reap International Airport (REP)
Phnom Penh International Airport (PNH)
Sihanoukville International Airport (KOS)
What Are the Benefits of travelling to Cambodia with an e-Visa?
There are numerous benefits that you'll get by applying for a tourist visa online. 
Firstly, you don't have to make any visits to the embassy and wait in a long line to get the visa. You don't even have to leave your home at all. You just can sit on your couch and apply for it.

The process is very simple for everyone as well as quick and secure. There is no third party to consume your extra money.

It saves your time and effort.

You can have your e-Visa before entering Cambodia so your travel would be smooth and tension free.
To get all these advantages, you only need an internet connection and a smartphone or computer, and you can apply anytime from anywhere.
Who Does and Doesn't Need the Cambodian e-Visa?
Most foreign travellers need a visa to enter the Kingdom of Cambodia. Even an infant or child needs the visa, and the cost is the same as for an adult. 
But suppose you're from an ASEAN country and have a passport from Malaysia, Thailand, Indonesia, Laos, Brunei, Vietnam, Philippines, or Singapore. In that case, you don't need any visa to get entry to Cambodia. 
Though the above-listed countries do not need any visas, still more than 200 nationalities need a visa to visit Cambodia. Here, you can check the country list who need a visa to enter Cambodia.
Requirements & Restrictions During COVID-19
Due to the COVID-19 pandemic, Cambodia was closed for tourists. But from 15 November 2021, the country has reopened its door for foreign travellers. Still, there are some requirements and restrictions that must follow if you want to visit Cambodia.
Since October 19, 2021, tourists have been allowed to apply online for a tourist e-Visa for Cambodia. That means the online visa service has restarted under some conditions during COVID-19.
When you fill your e-Visa application for Cambodia, you must attach a pdf file of your vaccine card/ certificate.
A fully vaccinated traveller can get a quarantine-free entry to the Kingdom of Cambodia and can frequently travel around the country.
On the contrary, a partially vaccinated or unvaccinated traveller has to follow the quarantine rules and respective COVID-19 protocol.
Moreover, all the passengers have to go through a rapid COVID-19 test just on arrival. Partially vaccinated or unvaccinated travellers must book an approved hotel, as quarantine is mandatory for them.
FAQs
Q1. How long will the e-Visa be valid?
A1. The Cambodia e-Visa will be valid for three months or 90 days.
Q2. How long can I stay in Cambodia with an e-Visa?
A2. With a tourist e-Visa, you can stay 30 days in Cambodia. After 30 days, you have to return to your country or extend your visa.
Q3. What is the processing charge for the Cambodia e-Visa?
A3. The processing charge for the Cambodia e-visa is U$6.00, whereas the visa fee is U$30.00, so in total, the cost will be U$36.00.
Q4. Is the visa valid for single entry or multiple entries?
A4. The e-visa is valid for a single entry.
Q5. What is the processing time?
A5. The processing time is 3 to 4 business days.
Q6. What should I do after receiving my e-Visa for Cambodia?
A6. Once you receive your e-Visa via email, you must print it out and make at least two copies. Keep this visa all the time with yourself when you're travelling to the Kingdom of Cambodia.
Q7. Should I need a colour print e-Visa or black and white?
A7. Whatever you prefer, colour print or black and white, it doesn't matter. But you have to ensure that your e-Visa is clear and visible.
Q8. What should I do if I make any mistake on my application and realise it only after submitting the form?
A8. If you make any mistake on your application form and you realise that only after submitting your form, then you need to re-apply for a new Cambodia e-Visa application. After applying for a new travel visa, the old one would be cancelled automatically.