Are you looking for some amazing places to explore in Kedah? But don't know where to start! We got your back.
Famed for being the "rice bowl" of Malaysia, Kedah is a state in the north of the country that is also famous for its tourist attractions. As this state is popular for agriculture, it has no shortage of greenery and natural attractions. 
Kedah is host to numerous attractions and activities, and here are the best 24 Kedah attractions that you must not miss.
Langkawi Island is the heart of Kedah. And if you are planning a trip to Langkawi, our article 12 Best Things to Do in Langkawi Island may help you to decide which place you want to visit.
Kota Alor Setar
Being the capital of Kedah, Alor Setar patronizes so many unique and spectacular attractions, which made Kedah richer and more incredible. The most remarkable gift of Alor Setar is the Menara Alor Setar. Apart from this, the capital city has more interesting places that you can't resist.
1. Masjid Zahir, Alor Setar
Masjid Zahir, also known as Masjid Zahrah, is situated at the heart of Alor Setar and is a prominent feature of the state of Kedah. The colonial-styled mosque is an example of architectural excellence and is designed to reflect the traditions of Islamic ruling of Kedah's royalty.
However, that's not the only reason why the mosque is famous. The two mihrabs are the distinctive features of the mosque. The Imam delivers the khutbah (sermons) from the timber minbar positioned on the right side of the inner mihrab on Friday prayers. 
Masjid Zahir is a celebrated historical monument and holds a reputation among history-loving tourists.
Address: Jalan Kampung Perak, Bandar Alor Setar, 05150 Alor Setar, Kedah
Opening hours: 05:00 am – 10:00 pm
Entry fees: Free of cost
2. Menara Alor Setar, Kedah
Menara Alor Setar is a telecommunications tower and a contemporary example of modern architecture. The building is 165.5 meters in height. It is the second-largest tower in Malaysia and holds the rank of the 19th tallest globally. 
It was constructed with a total cost of RM40 million and was inaugurated by the then Prime Minister of Malaysia, YAB Dato 'Seri Dr Mahathir Mohammad (Tun M), on 14th August 1997. Although it was built to develop telecommunications technology, it soon became famous amongst tourists. 
There is also an Observatory that is located 88 meters high from the site to see the moon to mark the beginnings of Muslim months. The tower also has restaurants and souvenir shops.
Address: Darul Aman Highway, Bandar Alor Setar, 05000 Alor Setar, Kedah
Opening hours: 8:30 am – 10:30 pm
3. The Big Clock Tower
The Big Clock Tower is one of the oldest Kedah attractions, and it is an architectural marvel. Though the tower is not so big, and it looks like a lighthouse. The yellow-gold dome shows the richness of Islamic architecture, whereas its white exterior is evidence of colonial architecture. 
In 1912, the clock tower was built to announce prayer times to the residents who live in this area. Even at the present day, the Big Clock Tower works as a timekeeper.
Address: Bandar Alor Setar, 05150 Alor Setar, Kedah
Opening hours: Daily 24 hours
4. Kedah Royal Museum
We all can learn history from books or historical places. But how many of us truly know the personal life of a Sultan or any King, especially how they lived behind closed doors?
Well, if you're interested to know about the living of a king and his personal possessions, you must come to the Kedah Royal Museum. The museum is also locally famous as the Sultan Museum and showcases nearly 2,000 artefacts and possessions of Sultan Abdul Halim, the former Sultan of Kedah, and his wife.
Address: Medan Bandar, Kedah, 05400 Alor Setar
Opening hours: Sunday to Thursday 10:00 am – 05:00 pm (Closed on Friday & Saturday)
Entry fees: Free
5. Alor Setar Chinatown
Alor Setar Chinatown is one of its most visited places. It has restored shops from the 1950s era. The vintage shophouses in its neighborhood are its show stealers. Even today, shopkeepers perform trades as their parents and grandparents did. If shopping isn't your ideal activity of fun, then maybe you can click pictures. 
Address: 5D, Jalan Putra, Bandar Alor Setar, 05150 Alor Setar
Opening hours: Daily 04:00 pm – 08:00 pm
6. Kedah Paddy Museum
Probably the most uncool yet fascinating place to visit at Kedah is Kedah Paddy Museum. Dedicated to the world's staple food –rice –Kedah Paddy Museum is one of the few rice museums in the world. It is designed to symbolize the bushels of harvested rice stalks.  
The museum demonstrates rice cultivation throughout the years, different varieties of rice in various countries, and ways to harvest them. In short, this museum is the most suitable place for agricultural geeks. 
Not only that, but visitors can also get to see and admire a 360-degree diorama and mural, which has been painted on the entire inside wall of the upper level. Do you know that the mural was painted by 60 North Korean artists? Well, make sure to check out Kedah Paddy Museum once you go to Kedah.
Address: Muzium Padi Lot 798 Jalan Gunung Keriang, Mukim Gunung Keriang 06570 Alor Setar, Kedah Darul Aman
Opening hours: 09:00 am – 05:00 pm (Closed between 12:30 pm – 2:30 pm on Fridays)
Entry fees: Adults RM3.00 | Children (ages 7 – 12) RM1.00| Camera Charge RM2.00
7. Aman Central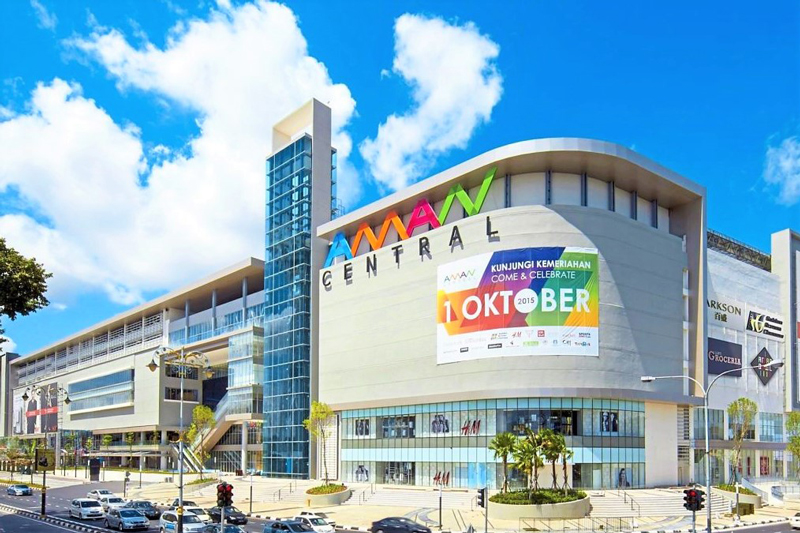 If you're a shopping fanatic, you need to have Aman Central on your to-do list. It is one of the largest malls in Malaysia and is a hub of modern retail and entertainment. It is an 8-story mall with two levels of the basement, 330 retail lots, 1700 parking bays, and a cinema and bowling arcade. 
The design is creative and innovative to make things easier for visitors, such as easy access from the retail to the bowling area without passing through car park floors. With so many stores to shop from, Aman Central isn't just a store; it's a living dream for its visitors.
Address: Aman Central, 1, Darul Aman Highway, Kampung Lubok Peringgi, 05100 Alor Setar, Kedah 
Opening hours: 10:00 am – 10:00 pm
Changlun
Changlun is a small town in Kedah, also known as "Changlon", which means the "fallen elephant". Though this small town has not much attraction to see, still its "MnM Whimsical Houses" is enough to take your attention. Changlun has located only 42 km from Alor Setar, so after visiting the capital city of Kedah, you can opt for this small town.
8. MnM Home Whimsical Houses
Right off from a fairytale, MnM Whimsical Houses is a quirky bunch of houses that attracts visitors of all ages to revisit their childhood fantasies. Surrounded by lush greenery, it's a group of houses that sport a distinctive look (in a good way). 
There's one like the Hobbit's hole, upside-down house, and also the Twin Leaning House. It's ideal for taking pictures when you want a fun background. Besides that, it's also an excellent place to hang out with its amazing scenery and hedgehogs housed in a small room beside the main entrance.
Address: Lot 4424, lorong masjid, kampung changkat setol, Kg Changkat Setol, 06010 Changlun, Kedah
Opening hours: 10:30 am to 05:00 pm
Entry fees: RM35.00 per person
Baling
Though Baling is not as famous as Alor Setar or Langkawi, still it has importance for being an administrative district and has many attractions for you to explore.
10. Baling Mountain (Gunung Baling)
Kedah has attractions to fulfil the needs of every visitor. Baking Mountain is a mountain in Baling and one of the best hiking stops in Kedah. It is 546 meters high, and the trail is pretty challenging. So, this Kedah attraction is perfect for adventure seekers who have a craze for getting a thrilling experience.
The trail is straightforward and has side handles and strings to guide you on your journey. This adventurous journey will take you through the forest as well as some mysterious caves. And the most outstanding part of this journey is the marvelous 360 view which you can enjoy only after reaching the top.
Address: Baling, 09100 Baling, Kedah
Opening hours: Monday to Saturday 08:00 am – 06:00 pm|Sunday 08:00 am -10:00 am
Entry fees: free
11. Ulu Legong Hot Spring
After a crazy busy day of exploring Kedah attractions, a hot springs bath can be a great retreat. Ulu Legong Hot Spring is the most popular place to have a warm bath with family and friends. 
It is a recreational park which is enriched with five pools. Three of them are main pools, and on the other hand, the remaining two are private pools for ladies only. The best time to visit the Ulu Legong Hot Spring is the late evening so that you can fully enjoy the warm bath. Moreover, here you can also book a space for a BBQ party with your group.
Address: Kampung Keda Ulu Legong, 09100 Baling, Kedah
Opening hours: Daily 09:00 am – 05:00 pm
Entry fees: RM2.00 for Adults and RM1.00 for Children
12. Lata Bayu
We always want to get close to nature, and a waterfall is the best way to do so. Lata Bayu is a wonderful waterfall in Kedah and is very famous among locals. The place is decorated with greenery by nature itself. Anyone who wants some refreshment and retreat can opt for Lata Bayu. 
Moreover, the place also gives numerous amenities to visitors who come here. The water of the ponds is very shallow here, which makes it a great place to bring your children with you.
Address: 09100 Baling, Kedah
Opening hours: Daily 24 hours
Entry fees: Free
Langkawi Island
Langkawi Island is a world of its own, which has no comparison. It is one of the most popular beach destinations in Malaysia and offers countless attractions to visit. It is so special that even you can skip other Kedah attractions only to visit Langkawi. [Here read more about Langkawi Island]
13. Dataran Lang (Eagle Square)
Dataran Lang or Eagle Square is one of the most iconic and renowned landmarks of Kedah. It is a must-see attraction that stands at 39.3 feet in height. The giant eagle statue is standing in a posture that seems ready to take its flight. This place is perfect for taking spectacular pictures for your Instagram.
Address: Persiaran Putera Kuah, 07000 Langkawi, Kedah
Opening hours: Daily 24 hours
Entry fees: Free
14. Langkawi Cable Car
The Langkawi Cable Car takes visitors up to Mount Mat Cincang, where visitors can experience the breathtaking view of the entire island. The entire tour is so cool because of its height and how daunting the view is from the cable cars. Once you reach the peak, the view is far from amazing.
You'll want to stay over there and gaze at the view. The serene natural view will make you hold your breath. After you reach the final station, you'll get souvenir shops and stalls to buy souvenirs. 
Address: Jalan Telaga Tujuh Teluk Burau, Langkawi, Kedah
Opening hours: Monday to Thursday 10:00 am – 06:00 pm|Friday to Sunday 09:30 am – 06:00 pm 
Entry fees: Malaysian: RM43.00 (Adults) RM33.00 (Children)|International: RM85.00 (Adults) RM65.00 (children)
15. Langkawi Horses Equestrian Centre
Horse riding is one of the most sophisticated activities around the world. And Kedah also happens to have a place at Langkawi where recreation activities such as horse riding are highly appreciated. 
Langkawi Horses Equestrian Centre is a 10-minute walk from the Oriental Village Langkawi. It has different sessions that offer a tour of the island's villages, beaches, and forests. You'll have a guide to tell you about the island and also to help you out if you're a novice. Not only the ride but you'll also get to more about the local culture. 
Address: The Perdana Stables, Telaga Tujuh Waterfalls, Langkawi, Kedah
Opening hours: Tuesday – Sunday 08:30 am – 12:30 pm & 02:00 pm -06:00 pm (Closed on Monday)
Ride Fee: RM440.00 for a two-hour ride|RM240.00 for a one-hour ride|RM120.00 for a 30-minute ride|RM60.00 for a 15-minute ride
16. Laman Padi Langkawi (Rice Garden Museum)
You surely know Kedah is pretty popular for its paddy fields. Laman Padi Langkawi is one of the most extensive rice gardens in Kedah, with 14 acres of land. It is also known as the Rice Garden Museum, where you can learn about rice cultivation and harvesting.
Laman Padi Langkawi is an eco-tourism attraction and attracts those of you who love agro-tourism. It is an open-air museum with lush greenery, which makes the Paddy field a unique attraction of its own.
Address: Jalan Pantai Cenang, Pantai Cenang, 07000 Langkawi, Kedah
Opening hours: Daily 09:00 am – 05:00 pm
Entry fees: Free
17. Telaga Tujuh Waterfall
Locally known as Telaga Tujuh, the Seven Wells Waterfall is a waterfall with seven pools that flow from Mount Mat Cincang, the second-highest mountain in Langkawi. It has the most mystical view, with water cascading from all over the mountain. It's not the eyes that are only getting a treat but also the soul that can relax and heal by cooling the water. You can go and splash in the water or just simply go hiking over the mountain.
Address: Mukim, Jalan Telaga Tujuh, 07000 Langkawi, Kedah
Opening hours: 08:30 am – 07:30 pm
Entry fees: free of cost
18. Night Market at Pantai Cenang
Locally known as Pasar Malam, Night Market in Langkawi is where local vendors set up makeshift stalls and sell all kinds of local items. It's affordable. You can haggle and also get varieties of items ranging from wallets to painting. 
There's Ulu Melaka Market, Kedawang Market, Padang Matsirat Market, and much more that will make you want to shop more. Other than shopping, you can also get a taste of local delicacies. The streets are full of Malay food such as nasi ayam, fried noodles, Pisang Goreng, and keropok lekor.
You can have a snack on these while you shop. The market is famous among both locals and tourists. 
Address: Jalan Pantai Chenang, Kampung Lubok Buaya, 07000 Langkawi, Kedah
18. Ishan Malaysian Spa
Everybody loves a bit of pampering session, and Ishan Malaysian Spa is the perfect place to get it. Body massages, facials, body scrub treatments, and so much more that will blow your mind. 
The spa is surrounded by nature, and the calming view will help you relax more easily. The serenity of the spa and the amazing treatments from the staff and therapists will help you unknot your muscles. 
Address: Jalan Teluk Baru Pantai Tengah, Kedah, 07000 Langkawi 
Opening hours: Monday – Sunday 11:00 am -08:00 pm 
Entry Fees: Starting from RM127.50 
19. The Els Club Teluk Datai – Rainforest Course
For some people, thrilling activities aren't always fun. They need something as calming as golfing. Ranked amongst the ten best golf courses in the country, Datai Bay's golf course stretches 47-hectares and is surrounded by the tranquillity of nature. The calmness will help you enjoy golfing on a sunny afternoon. While holidaying, you can have a fun golf championship with friends and make the best out of it.
Address: Jln Teluk Datai, 07000 Langkawi, Kedah
Opening hours:  Daily 07:30 am – 05:00 pm
Entry fees: RM600.00 (Monday to Friday); RM675.00 (Friday to Sunday and Public Holidays)
20. Bowling in Ampang Superbowl
Ampang Superbowl is Malaysia's largest bowling chain. It has 20 bowling lanes to host a large crowd and has a safe and friendly environment. You can bring friends and family to play with them and also to cheer for you when you bowl. Even amateurs can bowl there without being shy. Make sure to add Ampang Superbowl to your to-do list when you come in Kedah!! 
Address: Kuah, 07000 Langkawi, Kedah
Opening hour: 02:00 pm -11:00 pm
Entry fees: Monday to Friday: Adult RM8.00 | Member RM6.00; Saturday, Sunday, and Public Holidays: Adult RM10.50 | Member RM7.00
21. Crocodile Adventureland Langkawi