Krabi, a province in Thailand, is a must-visit destination for those who love adventure and natural beauty. With its stunning beaches, limestone cliffs, and lush jungles, Krabi offers visitors a wide range of activities to enjoy.
So, whether you're looking to relax on the beach, hike through the jungle, or kayak through limestone caves, Krabi has something for everyone. As someone who has visited Krabi multiple times, I can attest to its popularity as one of Thailand's top tourist destinations.
In this article, I will share some of the best things to do in Krabi so that you can make the most of your trip to this beautiful province. So, if you're planning a trip to Thailand, be sure to add Krabi to your list of places to visit.
How to get to Krabi
Krabi is a popular destination in Thailand that various modes of transportation can easily access. Here are some ways to get to Krabi:
By Air: Krabi International Airport (KBV) is the main airport in the province and is served by many domestic and international airlines. From Bangkok, there are several daily flights to Krabi, with a flying time of approximately 1 hour and 30 minutes. Direct flights from other Thai cities like Chiang Mai, Phuket, and Koh Samui also exist. International flights from Singapore, Kuala Lumpur, and other nearby cities are also available.
By Bus: Krabi is well-connected by bus to many cities in Thailand, including Bangkok, Phuket, Surat Thani, and Hat Yai. The journey time from Bangkok to Krabi is approximately 10 hours, and both day and night buses are available. The bus station in Krabi is located in the city center and is well-connected to other parts of the province.
By Train: While there is no direct train service to Krabi, the nearest train station is in Surat Thani, approximately 150 kilometers away. You can take a bus or minivan from Surat Thani to Krabi, which takes about 3-4 hours.
By Ferry: Krabi is also accessible by ferry from nearby islands such as Koh Phi Phi, Koh Lanta, and Phuket. Several ferry companies operate regular services to and from Krabi, with journey times ranging from 1 to 3 hours, depending on the destination.
Once you arrive in Krabi, you can easily get around the province by public transportation like tuk-tuks and Songthaews or by renting a car or motorbike. Many hotels and resorts also offer shuttle services for their guests. Overall, getting to Krabi is easy and convenient, with a range of transportation options to choose from.
Best Time to Visit Krabi
Krabi is a popular tourist destination in Thailand, known for its beautiful beaches, limestone cliffs, and clear blue waters. If you're planning a trip to Krabi, it's important to know the best time to visit to make the most of your experience.
The peak season in Krabi is from November to March, when the weather is dry and the temperatures are more relaxed, making it the ideal time for outdoor activities like hiking, rock climbing, and island hopping. During this time, the average temperature is around 25-30°C (77-86°F), and the humidity is lower compared to other months.
The shoulder season in Krabi is from April to May and September to October. These months are considered the transition period from the dry to the rainy season, and the weather can be unpredictable, with occasional rain showers. However, the temperature remains warm, making it possible to enjoy outdoor activities.
The low season in Krabi is from June to August, when the weather is hot and humid, and there is a higher chance of rain. However, this is also when you can find great deals on accommodation and activities, and the tourist crowds are much smaller. Therefore, if you don't mind the heat and occasional rain showers, visiting Krabi during the low season can be a budget-friendly option.
The 30 Best things to do in Krabi Thailand
1. Explore the Clear Blue Water in Phra Nang Cave Beach
Phra Nang Cave Beach offers a plethora of activities for visitors to enjoy. The crystal-clear blue water and pristine white sand beaches are perfect for swimming, sunbathing, and taking in breathtaking scenery. But the fun doesn't stop there. Exploring the cave itself is a must-do activity.
As you make your way to the end of the path, you'll be greeted by a cave surrounded by white sand and a clear sea. Inside, there's a small beach area where you can relax and take in the stunning views. For those who love hiking, plenty of trails are nearby to explore more of the island.
And if you're a birdwatcher, you're in luck. The island is home to many species of birds, making it a perfect spot to observe these beautiful creatures. So, exploring the cave and its surroundings is a must if you're looking for things to do in Phra Nang Cave Beach.
2. Trailing in Tab Kak Hang Nak Hill
If you're looking for an adventure in Krabi, Thailand, consider trailing in Tab Kak Hang Nak Hill. This hike is known for its challenging terrain, breathtaking lush jungle views, and towering limestone cliffs. Don't worry if you're not an experienced hiker; the trail is well-marked and suitable for all levels.
One of the highlights of this hike is the forest shade, which provides a refreshing break from the heat. Just be sure to wear sturdy shoes and bring plenty of water, as the trail can be pretty demanding. But trust us, the stunning scenery at the top makes it all worth it.
3. Cherish the Dao Art Gallery's Unique Art
If you're looking for a one-of-a-kind art experience, look no further than Dao Art Gallery. This unique gallery transports you to another world with its stunning and unconventional art pieces. Every visit is a new adventure as you discover the creativity and imagination of the artists on display.
Best of all, admission is free so that you can explore to your heart's content. Whether you're an art enthusiast or just looking for something different, Dao Art Gallery is a must-visit destination. You'll find pieces that speak to you and leave a lasting impression. Don't miss out on this unforgettable art experience!
4. Hiking in the Railay Viewpoint
Railay Viewpoint is a paradise for hikers and adventure seekers alike. With its breathtaking views and challenging trails, it's no wonder why it's a popular vacation destination. The island boasts a variety of hiking trails, each offering a unique experience and stunning views.
Whether you're a seasoned hiker or a beginner, hiking on Railay Island is an activity that should not be missed. So put on your hiking boots and get ready for an unforgettable adventure!
5. Scuba Diving
Krabi is a scuba diver's dream destination with its stunning limestone cliffs and picturesque islands. The area boasts a variety of dive sites, each with its own unique features and challenges. Whether you're a beginner or an experienced diver, there's something for everyone in Krabi.
Scuba diving is an incredible way to explore the underwater world and gain a new perspective on the beauty of nature. If you're considering taking the plunge, Krabi is the perfect place to start your scuba diving adventure.
6. Explore Underrated Places
While Krabi is already known for its stunning beaches and limestone cliffs, many underrated places in the area are worth exploring. These hidden gems offer a more authentic experience and are often less crowded than popular tourist spots. Whether you enjoy hiking or kayaking, there are plenty of activities to enjoy in Krabi's underrated locations.
One such place is Phi Phi Island, a small island near Krabi that boasts crystal-clear waters and beautiful beaches. By venturing off the beaten path, you can have a unique and memorable experience in Krabi and discover its many hidden treasures.
As someone who loves to explore underrated places, I highly recommend taking the time to discover the beauty and excitement that Krabi has to offer beyond its well-known attractions.
7. Mountain Biking
Mountain biking is a thrilling activity that can be enjoyed in various destinations, including Krabi. During my vacation, I went mountain biking, and it was an unforgettable experience. The rush of adrenaline while riding down a mountain is incomparable.
I highly recommend mountain biking to anyone seeking a unique and exciting travel experience, especially in Krabi. The stunning scenery and exploration opportunities make it a must-try activity. Don't miss out on the chance to experience the thrill of mountain biking!
8. Horse Riding
If you're looking for a thrilling adventure in Thailand, horse riding on the beaches of Krabi is a must-try experience. The stunning beach at Ao Nang is a popular spot for horseback riding, but plenty of other beaches in the area also offer this activity.
Horse riding is an excellent way to explore Krabi's beautiful countryside, whether you go on a guided tour or rent a horse and ride solo. So don't miss out on this unforgettable experience!
9. Fishing
Krabi is a paradise for fishing enthusiasts, offering a variety of fishing activities to suit all levels of experience. If you're looking for a laid-back fishing experience, deep-sea fishing is a great option to enjoy the stunning scenery.
River fishing or sea fishing are also available for those seeking a challenge. With experienced guides to assist you, you'll have everything you need to catch some amazing fish. So, if you're planning a trip to Krabi, why not add fishing to your list of things to do? It's sure to be a memorable experience.
10. Hiking
Krabi is a nature lover's paradise, and hiking is one of the best ways to experience its beauty. With a range of trails available, from easy to challenging, hikers can explore the lush forests and mountains of the region.
Whether you're a seasoned hiker or a beginner, Krabi offers a unique and unforgettable experience. So, it's no wonder that hiking in Krabi has become popular for tourists and locals drawn to the area's stunning views and natural wonders.
11. Bungee Jump
Bungee jumping is an exhilarating experience that can leave you both thrilled and scared simultaneously. Krabi is the perfect place to try it out if you're looking for an adrenaline rush.
With some of the best bungee jumping locations in Thailand, you can experience the feeling of freefalling from a great height while being securely harnessed in. So whether you're a seasoned thrill-seeker or a first-timer, bungee jumping in Krabi is an unforgettable experience you won't want to miss!
If you're looking for a fun and social experience in Krabi, Thailand, head to Ao Nang Beach for one of their famous beach parties. With its picturesque white sand beaches and clear waters, Ao Nang Beach is a popular destination for tourists worldwide.
The beach parties are a great way to immerse yourself in Thai culture and make new friends. Join thousands of party-goers as you dance the night away under the stars and create unforgettable memories. Don't miss out on the opportunity to experience an Ao Nang beach party – it's sure to be a highlight of your trip.
13. Shopping at Local Night Market
Experience the vibrant atmosphere of the local night market and discover a treasure trove of unique items, from clothing to souvenirs.
Don't be afraid to bargain with friendly vendors for the best price! So whether you're looking for a unique gift for a loved one or a memento of your travels, the night market is the perfect place to find something truly one-of-a-kind.
14. Visit Elephant Sanctuary
For those who love animals and want to learn more about these majestic creatures, a visit to the Elephant Sanctuary in Krabi is a must. This sanctuary provides a safe haven for elephants that have been rescued from abusive situations, and visitors can interact with them and hear their individual stories.
There are various activities to choose from, including elephant rides, painting with elephants, and feeding them. Additionally, the on-site museum offers insight into the history of elephants in Thailand and their cultural significance.
So whether you're seeking education or want to spend time with these incredible animals, the Elephant Sanctuary in Krabi is the perfect destination.
15. Enjoy the Thai Food
Krabi is a food lover's paradise, especially for those who enjoy Thai cuisine. The food here is always fresh, and the spices used in Thai cooking are expertly blended to create complex and delicious flavors. Another great thing about Thai food in Krabi is the generous portion sizes, perfect for sharing with friends and family.
For an authentic Thai dining experience, Krabi is the place to be. With a wide variety of dishes to choose from, all made with the freshest ingredients, you're sure to find something you love. And if you're a fan of spicy food, you're in for a real treat – Thai cuisine is known for its use of strong spices and herbs that give it its unique flavor. So don't wait any longer. Come and enjoy the delicious Thai food in Krabi today!
16. Visiting Tiger Cave Temple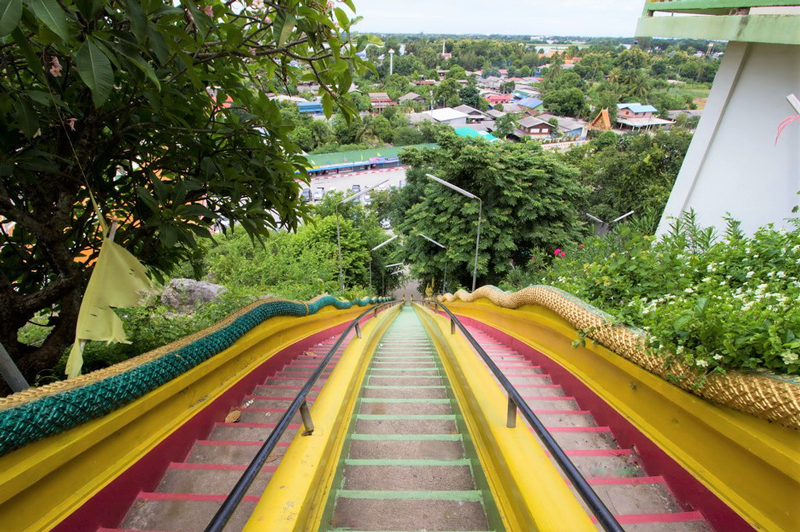 The Tiger Cave Temple in Krabi, Thailand, is a must-visit destination for those seeking a physical challenge and breathtaking views. With 1260 steps to climb, the journey to the temple is not for the faint of heart, but the stunning views from the top make it all worth it.
Along the way, visitors can explore the surrounding jungle and caves, adding to the adventure. Bringing plenty of fresh water to stay hydrated during the climb is important, but the sense of accomplishment upon reaching the top is unbeatable. Don't miss out on this unique and rewarding experience during your visit to Krabi.
Things To Do in Krabi for Couples
Krabi, a beautiful destination in Thailand, is perfect for couples looking for a romantic getaway. With its stunning temples, picturesque beaches, and lush jungles, Krabi offers a variety of activities for couples to enjoy together.
So whether you're looking for adventure or relaxation, there's something for everyone in Krabi. Here are some of the top things to do in Krabi for couples.
17. Island-Hopping in Krabi
Krabi, with its 150 islands, is a paradise for island-hopping enthusiasts. This activity is a great way to explore the area's diverse offerings, from pristine beaches to nature reserves and exciting sites.
With so many islands to choose from, you can customize your trip to suit your preferences, whether you're seeking a romantic escape or an adrenaline-fueled adventure. Whatever your interests, Krabi has something for everyone.
18. Bathing in the Emerald Pool
For a romantic escape surrounded by nature's beauty, the Emerald Pool is the perfect destination. This natural mineral pool offers a peaceful and secluded spot for couples to unwind and reconnect. With breathtaking views and birdwatching opportunities, you and your loved one can relax and enjoy the tranquility of this hidden gem. Keep your eyes peeled for exotic birds that may appear while you soak in the emerald waters.
19. Railay Beach Activities for Couples
Railay Beach is the perfect destination for couples seeking an active and adventurous getaway. With its breathtaking scenery and diverse range of activities, this beach offers something for everyone.
From swimming and snorkeling in crystal clear waters to rock climbing and cave exploration, there's no shortage of exciting experiences to share with your partner. And when you're ready to unwind, relax on the sandy shore and soak up the sun. A romantic and unforgettable trip awaits you at Railay Beach.
20. Couples' Spa
For couples visiting Krabi, a spa day is a must-do activity. It's the perfect way to unwind and recharge after a day of exploring the town's many adventures. Krabi boasts some of the best spas in Thailand, offering a range of treatments from traditional Thai massages to facials and manicures.
With most spas located within walking distance of each other, it's easy to try out multiple locations. So whether you're looking to spoil yourself or your partner with something special, a couples' spa day in Krabi is the ultimate relaxation experience.
21. Bathing in Krabi Hot Spring