Who doesn't love a good vacation? A break from everyday life can be refreshing. But it is not always easy on the wallet. In that case, Asia can be the perfect place for budget travellers! It is a fascinating continent with so many countries to explore.
This article lists the top 15 cheapest countries to visit in Asia that fit into any budget! If you wanted to read about world Best Cities to Visit read here
Asia, in general, is a culturally rich region of the world. There are so many countries with different cultures to explore. It can be challenging to know where you should start when planning your trip! If you are looking for the cheapest way, the below discussion will help you make the decision!
When travelling all over Asia, it is best to have travel insurance for your safe journey. Find out How to Buy The Best Travel Insurance here.
Disclaimer: Please note that the countries mentioned in this article as being affordable travel destinations were based on factors such as budget accommodations and street food options. However, individual experiences may vary, and it is important to research and plan accordingly before traveling to any destination.
The Most Affordable & Cheapest Countries to Visit in Asia
1. Cambodia
To start your backpacker tour or Simply just visiting in Asia, you can head down first in Cambodia. As it is placed at the centre of Southeast Asia, Cambodia is the easiest and cheapest option to start your journey. U$10.00 to U$20.00 is enough for a day in Cambodia.
Though Cambodia is one of the cheapest countries in Asia, that doesn't mean it's not unique! Travelers visit Cambodia for its temples and warm locals. Siem Reap is the most visited and budget-friendly place in Cambodia. Some other places to visit in Cambodia are Angkor Wat, Bayon Temple, Royal Palace, and a ton more. Don't forget to explore Phnom Penh, the bustling metropolis capital of Cambodia.
Street food in Cambodia includes seafood, meat skewers, fried chicken, vegetables and more. The most popular dishes are Amok (fish in banana leaf), Fish Amok (fish curry), Samlor (soup) and many more. Within U$5.00, you can have a full belly meal.
2. Laos
Laos is another cheapest country in Asia to visit. You can expect to spend less than U$15.00 a day. As with other affordable destinations, Laos is getting more popular each year thanks to its jungles, waterfalls and rustic charm – not to mention amiable locals! 
Moreover, adventurous travelers are heading here to enjoy the thrill of white-water rafting, hiking, kayaking, and exploring Laos' dense forests. Kuang Si Waterfall, Phousi Hill, Golden Temple and more are popular attractions in Laos.
Laos is famous for its cheap but delicious street food. Popular dishes include Khao Jee (fried rice), Khao Tom (soup), Lab Pib(spicy grilled skewers), Sai Our (spicy sausage) and many more. All these items come at a very affordable price.
3. Myanmar (Burma)
Burma is rich in natural beauty and Buddhist art, architecture and culture. It has a lot of historical sites to explore, but people travel to Burma for its friendly locals rather than the attractions. 
Its ancient city Bagan is recognized as a UNESCO world heritage site which can be the sole reason to visit Myanmar. Despite its recent history, Burma remains a beautiful country with many attractions, such as gorgeous temples and palaces, awe-inspiring landscapes and, most notably, it's incredibly kind people. 
Burmese food is generally very spicy, but it's delicious as well. The most popular dishes are Mohinga (rice noodles), Ohn No (coconut milk soup), Lahpet (pickled tea leaves) and many more. You can have food for less than U$1.00 But the transportation and accommodation can be a bit expensive than in other countries in Asia. It may cost you U$20.00 to U$35.00 a day to live on in Myanmar.
4. Malaysia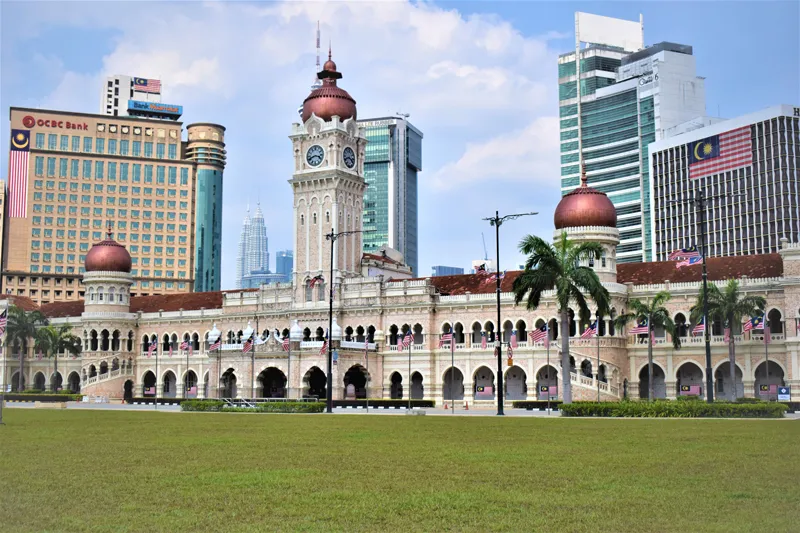 Malaysia has uncountable gems for tourists. Your Asia tour would be incomplete without visiting the historical, cultural, and natural beauty of Malaysia. Its capital state Kuala Lumpur contains so many histories and architectural landmarks that you can explore. And there are more incredible states and cities like Selangor, Pahang, Perak, Putrajaya, Melaka and many others, which have numerous underrated jewels.
Malaysia is a budget-friendly country, and it is cheaper than its neighbouring country Singapore or even Thailand. You can get by on under U$25.00 a day. Food, transport, and accommodation are all very affordable here. You can book a Klook Pass for all the best places in Kuala Lumpur at a reasonable price.
Malaysia is also very safe for solo female travellers. The locals are generally amiable, which makes Malaysia one of the best countries in Southeast Asia to visit. Batu Caves, i-City, Matang Mangrove Forest Reserve, Mount Kinabalu, Langkawi, Kinabalu Park and many more are the most exciting attractions in Malaysia. 
SEE ALL TOP ATTRACTIONS AND PLACES TO VISIT IN MALAYSIA HERE
5. Thailand
Whenever we plan to have a tour of Asia, Thailand is the top-listed country that comes to our mind. From its vibrant city of Bangkok to the fascinating beaches in Phuket, all turn the country into a must-visit destination. 
Thailand is well-known worldwide to be a budget tourist spot. The country used to be more expensive than it is today. From U$25.00 to U$30.00, you can spend a day in Thailand.
Thailand has become one of the cheapest places in Southeast Asia to visit – especially if you travel on a shoestring budget! The Grand Palace, Railay Beach, Wat Phra Kaew are the most-visited tourist destinations in Thailand.
Thailand is famous for its delicious, spicy food. If you love seafood, Thai cuisine may be for you since it uses so much fresh fish! You don't have to spend more than U$3.00 on food in this country. 
6. The Philippines
The Philippines is known for its beautiful beaches, tropical climate, delicious food, and friendly locals who are always keen to chat with you or play music for you! The country offers you so many places to visit and things to do that are beyond imagination. Especially its capital Manila is a vibrant city which so many hidden gems.
If you're going to the Philippines, expect to spend about U$25.00 a day. Chocolate Hills, Malapascua Island, Boracay Island, Siquijor Island are the must-visit tourist attractions in the Philippines. 
Most popular dishes include Adobo (meat or vegetables cooked in soy sauce), Pancit Palabok (noodles), Inihaw na Manok (grilled chicken) and many more that can satisfy your appetite. If you eat street foods, your food cost would be less than U$5.00, which is quite affordable.
Accommodation can be expensive here. Try to find a dorm room that will cost you between U$10.00 to U$15.00
7. Indonesia
Indonesia has plenty of diversity with thousands of islands to explore, each with its own unique culture and beauty. The budget of the country is significantly different from Island to Island. So, it is pretty challenging to say a day's budget, but within $15 to $25, you can make your day.
It's a cheap country to visit, and it's also a great way for solo female travelers to meet new friends! Borobudur Temple, Uluwatu Temple, Tanah Lot Temple and many more historical sites are the popular tourist destinations of this country.
Food in Indonesia is generally cheap and delicious, with popular Indonesian dishes including Nasi Goreng (fried rice), Rendang (spicy meat stew), Mi Goreng (fried noodles) and so on. Try to spend $3 to $5 on food so that you can balance your budget.
8. Vietnam
Vietnam is one of the most beautiful countries in Southeast Asia. The divine sights, waterfall, islands, and hills make this country the top destination to visit in Asia.
Ho Chi Minh City, also known as Saigon, is a paradise for city lovers. From iconic buildings to golden temples, modern skyscrapers, to quaint cafes, there is so much to see and do here that you will not get bored! 
Cu Chi Tunnel, Temple of Literature, Notre-Dame Cathedral are the top tourist attractions in Vietnam. Some of their most popular dishes are pho, banh mi, and bun cha that you must try. There are many more delicious foods found in this great country so find your next favourite!
The best part about this country is how cheap it can be. With a daily budget of just $15 per person, including accommodations, food, transportation, and activities, you can have a very affordable trip to Vietnam.
9. India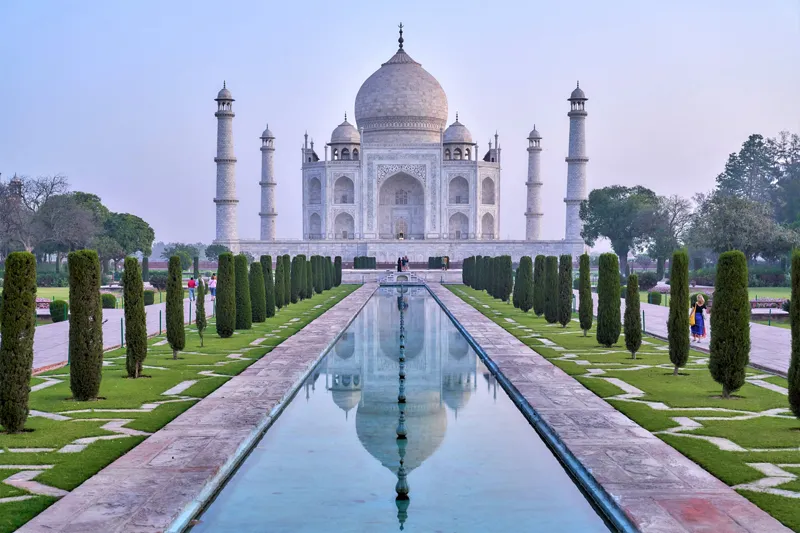 India is the third-largest country in Asia, just after China. But according to the budget, you can't imagine how cheap and affordable this country is! 
India has a mixture of attractions, from religious sites to natural scenery – and fast-developing modern cities. Not in every country of Asia, you'll see the combination of desert, beaches, mountains, jungle, and cities. From Darjeeling to Kashmir, every part of India has a touch of beauty.
India is the top destination for backpackers because it offers many wonders at less than $15 a day. Accommodations are cheap, especially if you opt for a good hotel not in the touristy areas. It may cost you $2 to $5. India's famous historical places are the Taj Mahal, Red Fort, Amber Palace, Guwahati, etc.
Make yourself comfortable to have street food because it comes less than $3. The transportations are also very reasonable in price. 12GoAsia can help you to check the right price and book transportations such as buses and trains.
10. Nepal
Nepal is not as cheap as it once was, but it's still more affordable than many other countries in the world. You can still get by on less than $30 a day. Nepal has always been famous for its mountains and incredible mountain views everywhere you go – especially around Pokhara! 
Travellers come here to enjoy the fresh air and tranquillity or experience the famous Mustang district near the Himalayas – one of the last untouched areas in Asia (and maybe even in the world!). Boudha Stupa, Chitwan National Park, Bhaktapur Durbar Square are the must-visit destinations in Nepal. 
The country is famous for hiking, but to save your budget, avoid organised guided trips. Other expenses like food or transportation come by $3 and $1.5 respectively.
11. Sri Lanka
Sri Lanka might not be the first place you think of visiting, but it's becoming more popular with budget travellers. While Sri Lanka is still developing as a tourist destination, its neighbouring countries are already very developed and expensive. That makes Sri Lanka an ideal alternative for those on smaller budgets who want to explore South Asia! 
Yala National Park Safari, Sri Pada, Sri Dalada Maligawa and many more are the most interesting attractions in Sri Lanka. You can expect to live on $20 a day, which is remarkably cheap and affordable.
Accommodations start from as cheap as $7 a night, while food will set you back at less than $5 for a tasty meal. Seafood is plentiful and cheap, while Sri Lanka's delicious street food is also very affordable.
12. Bangladesh
Bangladesh may not be the top tourist destination in Asia, but backpackers find it an incredible place to visit. Often tourists skip this country, but the country offers a lot of history and culture that you can explore. 
The star attraction of Bangladesh is Sundarban, the most extensive mangrove forest in the world. Not only that, but the country is also the home of the world's largest sea-beach, Cox's Bazar. Rangamati is a city with endless beauty, which you can only explore by visiting Bangladesh. And the good news is you can explore all of these places with a daily budget of $20. 
13. Pakistan
Often travellers avoid Pakistan because of its political problem. But now, the country has overcome this problem and increased its security system. So, for budget travellers, Pakistan is a great destination.
It is said that "if there is heaven on earth, then it is in Kashmir, Pakistan". The old-style streets and buildings and Islamic culture make the country fascinating.
You can expect to spend less than $15 a day in Pakistan. Badshahi Mosque, Lahore Fort, Margalla Hills National Park, Thatta Kedona are the most-visited tourist attractions.
14. Azerbaijan
Azerbaijan is famous and widely known as " The Land of Fire" because of its natural gas reserve. And as the country is rich in both petrol and gas, the transportation cost is meagre here. 
Azerbaijan is a country worth exploring if you're looking for some great architecture. It has many gorgeous buildings, especially in Baku. You are welcome to head down to the city for its photo opportunities and quaintness. 
There are also amazing places to visit like Sheki, Gebele, Nakhchivan, Quba and Khinalig. Travellers can visit Azerbaijan for $22 to $30 a day.
The cuisine that connects Azerbaijan is famous noodles called Khingal. Although it is thought
that the origin of Khingal is Armenia, it is actually an Azerbaijani cuisine. The exquisite dish is
served with browned onions and ground lamb as toppings.
You can also choose mushrooms as
toppings instead of lamb if you are a vegetarian. The dish is served in almost every restaurant
and cafe of Azerbaijan. You can also buy the ingredients and try the recipe yourself.
. The food price starts from $3 to $10.
15. Armenia
Placed in the middle of two continents of Asia and Europe, Armenia is a country that has a unique history. This country contains cultures of both continents, Europe and Asia. 
Despite being a small country, Armenian offers you stunning architecture, rich history, thrilling adventure, delicious food, and warm hospitality. And all of these come with budgets that fit you.
Travellers, especially history buffs, are drawn to the ancient temples and Churches in Armenia. You can explore its vibrant capital Yerevan, along with Lake Sevan, Lake Arpi, and several other places without breaking the bank.
Food available at Armenian takeaways are usually delicacies such as Lavash (bread), Khorovats (Armenian BBQ) or Kebab. You are expected to spend $4 to $6 on food in Armenia. 
Moreover, hostels and transport are also affordable and come in $4 and $2, respectively. So, within $15 to $20 a day, you can enjoy this prettiest country with all that it offers.
A Few Things to Keep in Mind:
Although all these countries offer highly affordable prices, keeping a few things in mind is still essential. The first thing you should check before booking or arriving at your destination is the current exchange rates for U.S. dollars and the local currency. That can help you make a proper budget for what things cost and how much money you will get back when you leave.
Another vital thing is that the cheapest time to go to these countries is during their monsoon seasons, which usually fall between June and September. It is more difficult for tourists to get around due to bad weather, but prices become cheaper and more manageable.
The same goes for their winter seasons (December to February) but keep in mind that some activities and transportation may be difficult to do during this time of year.
Make sure you check out these beautiful countries because they are the perfect destination for backpackers! And share your story with us.