Travelling is expensive- it is a myth. If you have held yourself back from travelling because you think you don't have enough money for it, you have done wrong to yourself. If you are one of those people who have no idea about the cheapest countries to visit, I'm here for your rescue!
I don't travel because I don't have enough money to fulfil such a luxurious dream- sounds funny to me. And when you reach the end of this article, you'll find it funny too. People who say this don't travel for two reasons- 1) They don't like travelling, or 2) They don't know about the cheapest countries to visit.
If you are one of these people, I can't magically ignite your love for travelling, but I can tell you about the cheapest countries to visit in 2023 and help you choose your next best travel destination(within a budget!).
Where To Vacation for Less: 15 Budget-Friendly Destinations
1. India
The buzz of Mumbai, the pompousness of Delhi, or the beautiful culture of Kolkata, in short, the varying qualities of Indian cities, make travelling to the country impressive. And most importantly, India is one of the cheapest countries to visit in Southeast Asia.
From visiting the epitome of love, the Taj Mahal, to The Red Fort of New Delhi, you won't be bored on your journey in India. And the extra spicy and extra oily food might be a bit odd for health-conscious people, but the taste and smell will pull you, and you won't be able to resist the Indian street food.
It's been difficult for me to name only a few attractions of India as there is so much to see on this 812.3 million acre of land. Yet I'm mentioning three of them(in detail) so that you know from where to start-
The Taj Mahal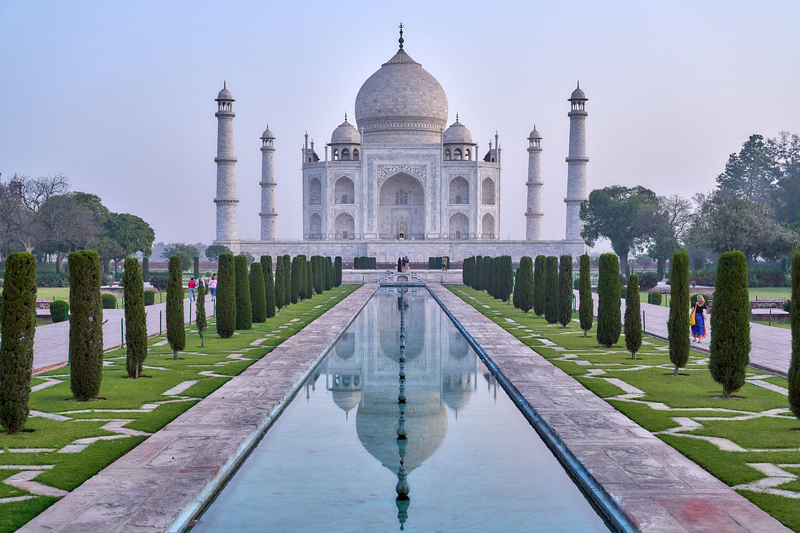 The epitome of love, the Taj Mahal, was built by Emperor Shahjahan as the sign of love for his wife, Mumtaz Mahal. The monument attracts around 7-8 million tourists from different parts of the globe every year. The entire monument is made of white marble and other precious stones. If you visit the Taj Mahal during the dawn or dusk, you will get to see the change of colours of the building due to the effect of sunlight.
The Red Fort
Location: Netaji Subhash Marg, Chandni Chowk, New Delhi, Delhi 110006
Shah Jahan also built the magnificent crescent-shaped Red Fort in 1648. Red sandstones were used in the construction of this fort which makes it pleasing to the eyes.
The Beaches of Goa
At least for a moment, the beaches of Goa will make you feel like you are somewhere in the Maldives. There are around six famous beaches in Goa and an Island. There's also a wildlife sanctuary in Goa. So, when you are in Goa, you will get to see the calm and serene beauty of India.
Some other popular tourist attractions in India are-
Golden Temple
Amber Palace
Botanical Gardens
Backwaters of Kerala
Shimla
Tawang
Gadi Sagar
Darjeeling
Nohkalikai Falls
Hawa Mahal
Accommodation in India
You can stay in a decent Indian hotel for a minimum of $5 per night. You can even stay in an ashram for free. If you stay in an ashram you'll get to enjoy the best hospitality and gather an idea about Indian culture.
Foods in India
In India, there's a beautiful saying that the road to a person's heart is through his stomach. It means that if you serve a person with good food, you'll win that person's heart. It's not any sort of black magic or something, but India does have some magical touch in its cuisines.
The taste of paratha, puri, rice, biriyani and different sorts of curries will make you want to travel to India again. A full-course meal in India will cost you less than $2. You should also try Indian street foods like- bhelpuri, panipuri, vada pav, lemon juice which will cost you a few cents.
Transportation in India
The traffic of India might make you regret your decision of travelling to India, but there are so many travel attractions that this much tiredness is worth it. You can travel by bus or hire a cab inside the city. You can take a train from one city to another. Inside the city, the fare of a bus or taxi will be around $5, and the fare of the train will be around $10.
Best Time to Visit India
The best time to travel to India on a budget is during May-November. Even though it rains in India during these months, the weather remains hot. But during this time there aren't many foreign tourists so you'll enjoy without much crowd (there will always be a bit of crowd as India is highly populated). During winter, prices of accommodation and transportation rise, and the tourist attractions remain highly crowded, so avoid visiting India during winter.
Travel Restrictions in India
As part of Covid-19 travel restrictions, for international traveller to India, you must have either been vaccinated against COVID-19 or provide a negative PCR test result taken within 72 hours of your departure.
Travellers from certain countries planning to visit India will soon require a negative RT-PCR test result in order to travel. Effective January 1st, 2023, citizens of China, Hong Kong, Japan, South Korea, Singapore and Thailand will need to show proof of a negative pre-departure RT-PCR test taken within 72 hours of their departure.
As for the visa, to travel to India, you will need a valid passport with at least 6 months of remaining validity and at least two blank pages. You will also need to obtain a visa from the Indian government before traveling. You can apply for a visa through the Indian embassy or consulate in your home country, or through an online application process.
2. Indonesia
White sand beaches, surfing and scuba diving- that's all that comes to my mind when I hear the word Indonesia. And you might already be imagining Bali.
Major Tourist Attractions in Indonesia
White sand beaches, that's the number one attraction that Indonesia has to offer. But Indonesia is definitely not limited to the sea and beaches. It has so much more! So, let me name three top tourist attractions in Indonesia in detail for you-
Mount Bromo
The white smoke coming out of the mountain and the picturesque view seen standing over the caldera at sunrise makes Mount Bromo a significant tourist attraction in Indonesia. Near the mountain, there is Bromo Tengger Semeru National Park and Mount Semeru, the highest peak in Java.
Gili Islands
Gili Islands are an archipelago consisting of 3 tiny islands – Gili Trawangan, Gili Meno and Gili Air. You can dive, kayak, or join yoga classes in the Gili Islands. Whether you are travelling solo or as a couple, Gili Islands has enough to offer in both cases.
Bali
Beach and Bali are synonymous. But other than beaches, Bali has verdant rice fields that most people don't know of. The Jatiluwih Rice Fields in Bali are worth visiting when you are in Indonesia. And as far as the beaches in Bali are concerned, you are sure to visit the beaches as these beaches are popular with tourists globally.
Already decided to visit Indonesia? Then don't forget to check out these tourist attractions too-
Sacred Monkey Forest
Borobudur
Tana Toraja
Orangutans of Borneo
Komodo National Park
Banda Islands
Kalimantan
Mount Krakatau
Gunung Rinjani
Lake Toba
Accommodation in Indonesia
You can stay in a hostel for $10 per night and in a basic hotel for $15 per night. You can even get a private pool villa for $50 per night in Bali.
Food in Indonesia
Local seafood meals in Indonesia cost less than $3. So, your food cost for an entire day will be around $10! Imported alcohol and beer have a high price in Indonesia, so don't even think of buying alcohol and beer if you are on a tight budget.
Transportation in Indonesia
You can hop on public transport while going from one place to another in Indonesia. You can also rent a bike or a car for $10-$15 per day.
Best Time to Visit Indonesia
Indonesia during October-April is the cheapest. Most tourists visit the country during Christmas and New Year, so the prices rocket. Also, avoid a trip to Bali during July-August as Bali is most crowded and expensive then.
Travel Restrictions in Indonesia
Indonesia is now open to international tourists, Travellers to Indonesia who are fully vaccinated with an approved COVID-19 vaccine no longer need to take a PCR test prior to entry. This is in accordance with the new travel requirements issued by the Indonesian Government.
If you plan to travel to Indonesia, it is recommended that you register your Covid-19 vaccine certificate at the PeduliLindungi app. By doing so, you will be able to safely access indoor public places within the country.
Travellers to Indonesia no longer need to provide any insurance statement for Covid-19 treatment, but it may be a good idea to purchase travel insurance for peace of mind. If you are unsure about which travel insurance to choose that will include the best health package, you can read the best long term travel insurance.
As for the visa, Indonesia requires all foreign visitors to have a valid passport with at least six months of validity. Some nationalities also need a visa in advance, while others can obtain a visa upon arrival in Indonesia. It is a good idea to check the visa requirements for your country before you travel to Indonesia, as they can change.
3. Romania
The origin of Dracula is known to many, but the country remains underrated as a travel destination. Impressive castles and colourful villages definitely count as a reason to visit the country. From the Carpathian Mountains to the beaches of the Black Sea, Romania has so much to offer that I fail to understand why Romania isn't very famous to tourists.
Maybe this country goes unseen to tourists because Europe is filled with many other travel destinations. Europe is costly; Romania, even after being a part of Europe, is not. So, if you are in search of a hidden gem within your budget, Romania is just for you.
Major Tourist Attractions in Romania
Castles
Romania has so many castles that if I name one then it'd be an injustice to the others. So, I'm writing a bit about all the Romanian castles here.
Bran Castle: Also known as Dracula's castle, Bran Castle is the number one tourist destination in the country, located in Transylvania. To most tourists, Romania is only about this castle so this is also the most crowded tourist destination of Romania. The castle consists of four floors and 57 rooms filled with ancient furniture and clothing.
Peleș Castle: You'll come across the royal heritage of Romania in this castle. There are 2 floors and 160 rooms inside the castle consisting of thousands of artefacts of the 15th century.
Corvin Castle: Corvin castle is a fairytale-like castle popular for its architecture and dark history.
Jidvei Castle: Other than the 45 beautiful watches of the main hall of Jidvei Castle, the myths and legends surrounding the location make the castle a remarkable tourist attraction.
Some other castles of Romania are Cantacuzino Castle, Rasnov Citadel, Banffy Castle and the Fagaras Citadel.
Carpathian Mountains
Known for the largest habitat of brown bears, wolves, chamois, and lynxes, the Carpathian Mountains are a great place for camping, hiking, and trekking.
Haunted Forest
Whether you believe in ghosts or not, the Romanian haunted forest might be exciting to you.
Haunted-Forest Romania is a haunted forest that's been featured in the news for years. It's a popular destination for tourists, who come from all over the world to see the spooky sights and sounds of this forest.
The woods are known for their haunted quality, and many visitors report seeing ghosts and other paranormal activity. Whether you believe in the supernatural or not, there's no denying that this forest has its own unique energy.
There are so many myths and stories about the forest that work as an attraction to tourists.
Some other tourist attractions in Romania are-
Danube Delta
Palace of Parliament
Merry Cemetery
Bucharest
Berca Mud Volcanoes
Herăstrau Park
Wooden Churches of Maramures
Cluj-Napoca
Sinaia
Vaser Valley Forestry Railway
Accommodation in Romania
In Romania, you can stay in a hostel or a local guesthouse for $10-$15 per night.
Food in Romania
Other than beautiful and exciting tourist attractions, Romania offers the most refined taste of vegetables. The food in Romania is made from home-grown vegetable and animal products, which makes their food different from westernised food. A full-day meal will cost you around $10-$15.
Transportation in Romania
You can roam around the country on a bus or a train for $5-10 per day.
Best Time to Visit Romania
During September-June, accommodation, food and transportation costs are comparatively lower. Also, you are most likely to get cheaper flights to Romania during these months. From June to August, the prices remain high, all the hotels and hostels are booked, and there's high traffic on the roads.
Travel Restrictions in Romania
If you're planning to visit Romania, you won't be required to present proof of vaccination or a negative RT-PCR test upon arrival. The requirement of submitting a Passenger Locator Form / Declaration has also been lifted. So, whether you're a resident or a visitor from any country, you don't have to worry about presenting additional documents for travel purposes!
4. Greece
Living a fairytale life is expensive, but living in the fairytale country Greece, is not. Yes, you heard it right! It doesn't cost you much to walk through the picturesque lanes of Greece and try the yummy seafood.
Major Tourist Attractions in Greece
Santorini
Whether you are planning to propose to your partner, planning to get married, planning a honeymoon or wanting to spend some time with yourself, the volcanic island Santorini is the perfect destination. The architectural beauty of the place made it a popular tourist spot for decades.
Beaches of Crete
There are so many beaches in Crete that I couldn't just name one here. All of these beaches have so many things in common so you can visit anyone that you like. But if you are looking for something different, you can visit the Glyka Nera beach. It is mostly famous because of its stunning setting, isolated nature, and azure blue freshwater.
Acropolis
If you want to dive into the history of Greece, Acropolis will give you a taste of it. Acropolis is mainly popular for the Partheon, but there are many other architectures to see there.
Some other beautiful tourist attractions in Greece are-
Delphi
Mount Athos
Myrtos Beach
Mystras
The medieval town of Rhodes
Palace of Knossos
Lindos
Temple of Apollo
Elafonisi Beach
Balos Lagoon
Accommodation in Greece
You can stay in a hostel for $10-$15 per night. You can even rent an apartment in Greece for $20 per night!
Food in Greece
Greece is primarily popular for its seafood meals which cost less than $8. But Greece is obviously not limited to seafood meals, and there are meals for everyone! In Greece, your per day food cost will be around $10-$15. But in a few places in Greece, restaurants are expensive, so you can buy produce from the market and make your own meal.
Transportation in Greece
Ferry costs around the islands in Greece cost around $10-$20. You can even rent a boat, including gas, for $95 per day. And obviously, you can't roam around the city in a boat, so in that case, you can rent a car for $10-$15 per person(the rent splits between 4 people).
Best Time to Visit Greece
Greece is the cheapest during October-April. During this time, you can easily find accommodation at a discounted rate. The weather in Greece is good all year round, and every weather has so much to offer, so there isn't any best time to visit the country based on weather.
Travel Restrictions in Greece
Greek authorities have removed all restrictions on travel to the country, meaning that anyone can now enter Greece without having to meet any specific COVID-19 requirements.
5. Turkey
Turkish dramas and Turkish food- what else do you need in life? If you aren't a fan of Turkish dramas or haven't tasted Turkish food yet, the Blue Mosque of Istanbul and the white travertines of Pamukkale will turn you into a fan of Turkey.
Major Tourist Attractions in Turkey
Blue Mosque
Blue Mosque, located in Istanbul, popular for the history of the Ottoman Empire, offers a picturesque view that can please every tourist. The interior decoration, lightning and the six minarets make it a famous tourist attraction in Istanbul. It is known as Blue Mosque because of the blue tiles of the interior.
Pamukkale
The mineral-rich thermal water flowing down the white terraces make Pamukkale(also known as the cotton castle) a visit-worthy destination. The white stuff that you can see in the pictures isn't snow (you definitely won't believe me until you visit the place)! Due to the deposition of calcium carbonate from the mineral water, the terraces look white (You'll believe me now if you were good in chemistry).
It is safe to bathe in the pools, but if you are too afraid to bathe in those pools, you can at least visit Pamukkale for some great pictures.
Pro tip: The pools at the top are boiling, and the ones at the bottom have lukewarm water. So, don't jump at the first pool that you see. Check the temperature of the water with your hand and then jump.
Cappadocia
A ride on a hot-air balloon during sunrise can't be missed when you're in Turkey. Cappadocia, the region of distinctive rock formation and historical heritage, is mostly famous for the scenic hot air balloon rides.
Some other major tourist attractions in Turkey are-
Topkapı Palace
Hagia Sophia Mosque
Antalya
Mount Nemrut
Ephesus
Aspendos Theatre
Oludeniz
Bodrum Castle
Patara Beach
Sumela Monastery
Pro tip: Some tourist attractions in Turkey, mainly the mosques, have an entrance fee. But most of them are free to enter.
Accommodation in Turkey
You can stay in a hostel for as low as $5-10 per night. And in the major cities of Turkey, you can get guest house rooms for $20 per night.
Food in Turkey
Whether you have a sweet tooth or are a street food lover, Turkey has delicious traditional foods for every tastebud under $5. As the food costs are low, you should try every Turkish traditional food item. And the main amazing thing is that a single meal has a massive quantity that is enough for two people!
Transportation in Turkey
Transportation in Turkey is super cheap as a taxi ride will cost you around $1-$3, and an intercity bus ride will cost around $50-$60 per day.
Best Time to Visit Turkey
Summer in Turkey is too hot to handle, and during this time, prices are high too. So, you should visit Turkey during the Winter(November-March) as the hotel and flight prices are the lowest then. 
Travel Restrictions in Turkey
Travellers from all nationalities who wish to visit Turkey can do so without any restrictions related to Covid-19. However, masks are still required in some public places, so travellers should ensure they bring a suitable face covering with them when travelling to Turkey.
6. Mexico
The intoxicating vibe, diverse culture, and delicious cuisine of Mexico come within a budget, and thus Mexico made it to this list of cheapest countries to visit.
Major Tourist Attractions in Mexico
Mexico City
The culinary and nightlife of Mexico City is so vibrant that it attracts many local and foreign tourists every year. If you are a foodie or you love to party, the city is a must-go destination for you. The street food, restaurants, bars and clubs(especially during the night) make the city worth a visit.
Tulum
You shouldn't miss checking out the beaches of Tulum when you're in Mexico. You might have seen turquoise water and white sand beaches in many other countries, but there's something special about the Playa Paraiso beach (there must be a reason that it won TripAdvisor's Traveler's Choice award for being the best beach in Mexico).
Guanajuato
The cultural and architectural richness of Guanajuato makes it one of the most vibrant places in the country. If seen from the top, the colourful buildings look mesmerising. This cultural city is filled with museums, theatres, and festivals.
Some other tourist attractions in Mexico-
La Paz
Puebla
Lake Chapala
Mazatlan
Merida
Monterrey
Los Cabos
Puerto Vallarta
San Miguel de Allende
Guadalajara
Accommodation in Mexico
You can stay in an Airbnb house or in a hostel for $8-$15 per night. If you stay in the most popular destinations in Mexico, the cost will be higher.
Food in Mexico
Food items cost less than $4 in Mexico. Mexican street foods like tacos, quesadillas, and tortillas only cost a few cents. And if you are looking for something cheaper than this, you can buy your own groceries and cook your meal.
Transportation in Mexico
As Mexico is a big country, transportation inside the country from one city to another can cost you a lot. In such a case, the best thing to do would be to rent a cab for a day and split the rent among 4 people. The fare of a car per day is around $30-$50. Intercity bus rides cost the same for a single person, so it is better to avoid bus rides in Mexico.
Best Time to Visit Mexico
If you want to save money while visiting Mexico, you should plan your trip during April-October. But during November-March the country has the best weather conditions. Most tourists visit Mexico during this time, so the prices are usually high. And in the most popular tourist destinations in Mexico, the prices are a bit higher for budget travellers year-round, so aim for the less popular destinations.
Travel Restrictions in Mexico
Are there any special travel requirements to visit Mexico? No, Mexico does not require travellers to present any proof of vaccination before entering the country. Therefore, visitors from all countries do not need to provide proof of immunization when arriving in Mexico.
7. Nepal
Nepal is one of the cheapest countries to visit and a great place of adventure for explorers. If you love trekking and other outdoor activities, Nepal is right there for you and that too within a budget.
Major Tourist Attractions in Nepal
Boudhanath
Being listed in the UNESCO World Heritage Site, Boudhanath is the largest stupa in Nepal. Thousands of local and foreign devotees of Lord Buddha come here to perform rituals. Even if you are not a Buddhist, you can still visit the Boudhanath to see the beautiful view of the massive dome. There's an entry fee of 84 cents for SAARC nationals and $3.36 for other tourists.
Read Travel to Nepal from India by Road
Sundarijal
The word 'Sundar' means beautiful, and Sundarijal was named such primarily because of its beautiful waterfalls. There are many exciting things to do in this place like climbing, hiking, camping, swimming, etc. And if you aren't a fan of such adventurous activities, you can soothe your eyes with the mesmerising view of the waterfalls.
Bhaktapur
Bhaktapur is famous for its exquisite architecture, various temples and locally handcrafted goods. No cars are allowed inside the town, which makes it a calm and quiet place. To enter the town, you need to pay $15 as an entry fee.
Nepal isn't limited to these three tourist attractions; some other tourist attractions in Nepal are-
Kopan Monastery
Mt. Everest Basecamp
Durbar Square
Pokhara
Annapurna Region
Pashupatinath Temple
Royal Botanical Gardens
Langtang National Park
Patan
Chitwan National Park
Accommodation in Nepal
You can stay in a hostel or local guesthouse for $5-$10 per night. If you stay in Bhaktapur town, the accommodation cost will be around $15 per night. Most tourists prefer to stay in Bhaktapur due to its calm environment.
Food in Nepal
Street food in Nepal is cheap, but it isn't the best option because of the low quality. You can try local food in the cafes and restaurants that are cheap. In Nepal, meals will cost you around $5-$10 per day.
Transportation in Nepal
Intercity bus rides are available in Nepal, which will cost around $10-$20. You can also hire a private car and split the fare among 4, so the fare will be $10-$15 per person for a day.
Best Time to Visit Nepal
To make the most out of your budget, you should visit Nepal during January-March or August-October. And if you want to enjoy the spectacular weather of the country, you should visit during October-December.
No matter whenever you visit Nepal, it'll always be within your budget as it is one of the cheapest countries to visit in Asia. But if you visit the country during January-March or August-October, you can explore the country more within your budget compared to other months of the year.
Travel Restrictions in Nepal
Travelling to Nepal requires either a full vaccination at least 14 days prior to arriving or a negative COVID-19 test (RT-PCR, Gene Expert, True NAAT or WHO accredited) report taken within the last 72 hours of boarding from the first airport. If entering Nepal through land borders, the test must have been taken within 72 hours before entering.
8. Georgia
Just like Romania, Georgia is another underrated tourist destination in Europe. But as entrance to the country is possible without a visa, Georgia is gradually becoming popular with digital nomads and travellers.
Major Tourist Attractions in Georgia
Juta
Greenery and Juta have one thing in common, and that is peace. If you are looking for a break from the hustles and bustles of city life, Juta can be a great and peaceful escape. You can do climbing, trekking, camping or you can simply have a pleasant walk around the village.
Batumi
The combination of European and Asian architecture makes the entire city mesmerising. The city attracts visitors mainly through its casinos. However, if casinos aren't your thing, you can still pay a visit to sightsee the beautiful architecture and glamour, especially during the night.
Martvili
Martvili is a place of natural wonders like the canyon, caves and waterfalls that were formed over time. By taking a boat ride in the Abasha river, you'll get to see the scenic beauty of the dark green canyon. Renting a small boat for a day will cost around $10-$15.
Some other famous tourist attractions in Georgia are-
Chiatura
Tbilisi
Bakhmaro
Katskhi Pillar
Vardzia
Sighnagi
Mtskheta
Kazbegi
Gudauri
Tusheti National Park
Accommodation in Georgia
You can stay in a hostel in Georgia for $5-$15 per night. If you live in Juta or any other village or mountain area, you will find many guest houses there. The best thing about living in a mountain area is that you can do hitchhiking, so there will be no transportation cost at all.
Food in Georgia
In local cafes and restaurants, a single meal will cost you around $3. You won't find much street food in Georgia as most parts of the country are mountainous and rural.
Transportation in Georgia
An intercity bus or train ride will only cost you around $5-$10, and inside the city, bus and train rides will cost $3-$5 per day. I think this is the lowest transportation cost on this list!
Best Time to Visit Georgia
Georgia has pleasant weather during November-May, and the accommodation costs are low too. Avoid staying in expensive areas like Gudauri or Lopota Lake. And if you plan to visit Georgia solely with the intention of hiking, June-September will be a perfect time.
Travel Restrictions in Georgia
Are you planning to take a trip to Georgia? There are no restrictions in place for travel from anywhere. No documentation of vaccination or testing for COVID-19 is needed. So go ahead, pack your bags and get ready to explore all that Georgia has to offer!
9. Argentina
As of now, in January 2022, the official exchange rate of the Argentine Peso is $1 = 104.48 Pesos, due to which Argentina is one of the cheapest countries to visit this year. The country is mostly popular for its wide variety of landscapes, Patagonia mountains, waterfalls, Fitz Roy and Cerro Torre peaks, and fly fishing.
Most people don't know about the current economic struggle of Argentina, so they think that it is an expensive destination. Argentina once used to be expensive for travellers, but in the last 1-2 years, it has become one of the cheapest countries to visit. 
Major Tourist Attractions in Argentina
Patagonia Mountains
The jagged mountain top glaciers and landscapes of Patagonia are most likely to blow away your mind. 90% of Patagonia is in Argentina, and the rest 10% is in Chile. You can trek in the mountains of Patagonia and check out the Torres del Paine National Park, Carretera Austral, Ruta de Los Siete Lagos, etc.
Iguazu Falls
Stretching along the border of Argentina and Brazil, the Iguazu Falls is the most extensive waterfall system in the world. The most dramatic part of the falls is the Devil's throat. Walking in the walkaway that runs exactly over the Devil's throat will give you a thrilling experience. 
Buenos Aires
A trip to Argentina is incomplete if you don't visit the country's capital. The rich historical sites, renowned architecture, vibrant entertainment, world-class cuisine, and world-class shopping are the main reasons for the fame of Buenos Aires. La Boca, the city's colourful neighbourhood, is a must-see for tourists.
Tourist attractions in Argentina are not limited to the above three. Some other popular tourist attractions in Argentina are-
San Carlos de Bariloche
Los Glaciares National Park
Recoleta Cemetery
Volcan Lanin
Fitz Roy
Quebrada de Humahuaca
Nahuel Huapi National Park
Puerto Madryn
Ibera Wetlands 
Mar del Plata 
Accommodation in Argentina
There are a variety of budget-friendly accommodations to choose from in Argentina. The lowest accommodation price in a hostel is $2.28. And if you choose to stay in a hotel, the cost will be around $22-$50 per night. 
Food in Argentina
The prices of street food in Argentina are lower than restaurant food prices. Breakfast is also cheap compared to lunch and dinner. In Argentina, your daily food cost will be around $10-$15. If I break it down a bit more, your breakfast cost will be around $5, lunch and dinner costs will be around $5-$8. If you want an expensive lunch or dinner, the cost will be around $10-$20. Beverages in Argentina cost around $1-$3. 
Transportation in Argentina
In Argentina, an hour of bus ride will cost you around $5. Hiring a taxi will cost you around $15 per day.
Best Time to Visit Argentina 
If you want to avoid crowds and peak prices, you should visit Argentina during September-December or April-June. The country also is the most beautiful during these months of the year.
Travel Restrictions in Argentina
Travellers to Argentina currently do not have any restrictions due to COVID-19. There is no need for certificates of vaccination or testing, and no Passenger Locator Form needs to be completed.
10. Morocco
Morocco, the country mainly known for the Sahara Desert, is a great mix of architecture, culture, history and natural beauty. And this country that holds so much variety is one of my favourite cheapest countries to visit.
Major Tourist Attractions in Morocco
Essaouira 
The old coastal fortress in Essaouira featured in the Game of Thrones is the most famous sight in Essaouira. Essaouira is a coastal city in Morocco that is an excellent place for sightseeing. There are many hotels, hostels, restaurants and local markets in this city. By exploring the city, you can have an extensive idea about the lifestyle of Moroccan people. 
Sahara Desert
You can't miss a visit to the Sahara Desert when you are in Morocco. Watching the sunrise, sunset and riding the camel are entirely different adventures. The red dunes of the Sahara Desert are worth walking over. It would be best if you camped by the fire in the Sahara Desert at night. 
Fes
If you want to enjoy the culture of Morocco, visit the cultural capital of the country, Fes. The local markets in Fes are always buzzing with people; hand-pulled carts and donkeys are the only transportation methods in the city.
The city's medieval architecture will give you an insight into Moroccan culture. When you are in Fes, you can visit the Mausoleum of Moulay Idriss, Royal Palace, Najjarine Square, etc.
Some other tourist attractions in Morocco are-
Draa Valley
Meknes 
Legzira Beach
Hercules Cave
Jardin Majorelle
Agdal Gardens
The high Atlas Mountains
Hassan II Mosque
El Badi Palace
Plage d'Agadir
Accommodation in Morocco
There is accommodation in Morocco for every price range. The cost of staying in a hostel will be $5-$10 per night. The cost in hotels will be more than that.
Food in Morocco
Most hostels and hotels in Morocco offer complimentary breakfast. As Morocco is a Muslim country, alcohols and beers are only available in high-end hotels and restaurants that serve international tourists. Lunch and dinner in Morocco will cost you $5-$15. Tap water is not eligible for drinking, so you'll need to buy bottled water. To sum it up, your meal cost for a day in Morocco will be around $20-$25.
Transportation in Morocco
You can travel inside Morocco by train or bus. Intercity train and bus tickets will cost around $15-$20. Taxi rides inside the city will cost around $5-$10.
Best Time to Visit Morocco 
The cheapest time to visit Morocco is January-February. During this time, there are fewer tourists in Morocco, and you can get a better idea of the life of the Moroccan people. The country changes its beauty during different seasons. But tourists mostly prefer March-May and September-October as the weather is warm and pleasant. 
Travel Restrictions in Morocco 
Travellers to Morocco are no longer required to present a negative PCR or Vaccinal Pass upon entry. However, all visitors must still complete and submit the Moroccan health form before arriving in the country
11. Cambodia
Cambodia is another cheapest country to visit in Southeast Asia. Famous with backpackers and fun-loving tourists, Cambodia is a great country to visit in 2022.
Major Tourist Attractions in Cambodia
Otres Beach
If you are looking for a relaxing travel experience, head for Otres Beach in Cambodia. Tourists mostly prefer Sihanoukville over Otres because it's a great place for parties and gambling. So, there are fewer tourists in Otres. And that makes Otres a peaceful destination for those who don't like to party.
Angkor Wat
Angkor Wat is a famous Buddhist temple located in the capital city of Cambodia, Siem Reap. The temple consists of the classical style of Khmer architecture. A lot of Buddhists from around the world come here for pilgrimage. There's an entrance fee to the Angkor Wat, which is $37 for a day. It's a bit high for a tourist on a budget but checking out this place is really worth it. 
Tonlé Sap
Tonlé Sap, a freshwater lake in Cambodia, is home to many fish and bird species. It is the largest freshwater lake in Southeast Asia. It is also said to have one of the world's most vibrant ecosystems. There are around four floating villages nearby, giving you an idea of Cambodia's village life. 
Some other popular tourist attractions in Cambodia are-
Bokor Hill Station
Banteay Srei 
Battambang Bat Caves
Phnom Kulen National Park
The Bayon
Koh Rong
Preah Vihear
Phnom Penh Royal Palace
Silver Pagoda
Sihanoukville Beaches
Accommodation in Cambodia
Dorms in Cambodia are the cheapest to stay in. There are no special facilities in dorm rooms like air conditioning or hot water. The price of hostels in Cambodia will range from $3-$10 per night. 
Food in Cambodia
You can easily find street food that will cost you a few cents. A standard western meal will cost anything from $2-$6 in Cambodia. As the food prices are really reasonable, don't forget to try some of the popular food items of Cambodia like- fish amok, Cambodian curry, Khmer noodles, etc. 
Transportation in Cambodia
Taxi rides in Cambodia for short distances cost below $5. The cheapest mode of transportation is a tuk-tuk or bike. For a day, the total fare of a tuk-tuk or bike will be around $5-$15. An intercity bus ticket for 10 hours of travelling will cost around $10.
Best Time to Visit Cambodia
You can visit Cambodia any time of the year. But if you want to walk around the tourist attractions of the country without much crowd, you should go there during November-February. And this is also an excellent time to visit if you are looking for pleasant weather. During these months the temperatures are lower, and it doesn't rain much, so you can spend enough time outdoors. 
Travel Restrictions in Cambodia
Cambodia no longer requires international travellers to submit health declarations or proof of vaccination to enter the country. Instead, Cambodia is implementing temperature checks at entry and exit gates. Therefore, all travellers wishing to visit Cambodia can now do so without providing any additional paperwork.
12. Colombia
Colombia, famous for its landscapes, culturally rich heritage, and specialised coffee, is the last one of the cheapest countries to visit on this list. But it doesn't make this country any less unique than the other countries on this list.
Major Tourist Attractions in Colombia
Rosario Islands
The famous archipelago in Colombia, Rosario Islands, is excellent for snorkelling, diving, or relaxing on the beach. It is a 45-minute boat ride from Cartagena, making it easily accessible to tourists. The picture-perfect Caribbean beaches, cool breeze, delicious seafood, and spectacular sunsets are some of the notable reasons to visit this place.
Caño Cristales
The colourful Caño Cristales river is an exciting tourist attraction in Colombia. A mixture of 4-5 colours is seen below the transparent river water. The water of Caño Cristales is actually transparent, and the colours are seen due to river weed species named Macarenia clavigera. Different colours can be seen in different seasons. Around 200 people are allowed to swim in Caño Cristales to ensure the safety of the plants. 
Barichara
Barichara, a town in Colombia, consists of whitewashed buildings with orange roofs, cobbled streets, and beautiful natural surroundings. These reasons are enough to visit the place. The town has colonial architecture, ancient churches, parks, etc. The local markets sell handmade goods. Overall, you can find tranquillity walking around the town, and it is a fantastic place for clicking some good pictures.
Wanna know more about Colombia? Here are a few other tourist attractions in Colombia that you might want to check out-
Tayrona National Park
Ciudad Perdida
Leticia
Mount Monserrate
Museo del Oro
Zoologico de Cali
Medellin 
Bogotá La Candelaria
Cartagena
Valle de Cocora
Accommodation in Colombia
The per-night cost in a dorm room of a hostel in Colombia is $8-$12. The cost for a double room will be much higher than that, which is $30-$40. You can also stay in an apartment for $50 per night.
Food in Colombia
You can get a complimentary breakfast in the hostel you are staying in. Your per day food cost will be anything between $10-$15. You can switch between trying out street food and restaurant food. Groceries in Colombia have a reasonable price, so you can even cook your own meal. Beer and alcohol in Cambodia are cheap; a bottle of beer or alcohol will be $5-$10.
Transportation in Colombia
A full day bus ride within the city will cost around $1-$3. Tickets for intercity bus rides range from $10-$15. Domestic flights are also available, which sometimes cost less than buses. 
Best Time to Visit Colombia
If you want to avoid crowds and get accommodation and food at better prices, you should visit Colombia during November-March. The weather is also dry and warm, making these months the perfect time to visit the cities and beaches.
Travel Restrictions in Colombia
In order to travel to Colombia, people aged 18 and up must present proof of completed vaccination for entry or a negative COVID test taken within 48 hours for an antigen test or 72 hours for a PCR test before departure.
13. Nicaragua
One of the most fascinating and cheapest countries to visit in Central America is Nicaragua. Here, you can do a lot with a few dollars in hand. The country is packed with mesmerizing beaches, making it an excellent destination to learn surfing.
Other than that, the colonial cities, jungle and volcanoes, are reasons to visit this natural paradise. So, for a backpacker who wants to do a lot with less money, Nicaragua is that one place to visit.
Major Tourist Attractions in Nicaragua
Islets of Granada
A group of 365 small islands located in Lake Nicaragua, just southeast of the city of Granada, scattered about the Asese peninsula are the islets. They were formed when the Mombacho volcano blew and formed hills into the lake thousands of years ago. 
Out of these 365 islands, most of them are occupied and some are privately owned. There are hotels, shops, boating tours and various facilities that are available for residents and tourists. There's also a fort located on the islets of Granada that was built in the 18th century. 
San Juan del Sur
For anyone looking for a perfect location to surf, San Juan del Sur has an excellent surf beach for them. It is a vibrant town in southwest Nicaragua. Specifically, it is on the Emerald Coast, near the border of Nicaragua with Costa Rica. You can surf on the Playa Maderas beach that is located 20 minutes from the town.
If you don't want to surf, you can enjoy the long and drawn-out sunsets from the beach. The sunsets are said to be an amazing display of bright and shifting colours.
Bosawas Biosphere Reserve
Located in the northern part of the state Jinotega, Bosawas Biosphere Reserve is a popular hilly tropical forest that was designated in 1997. It is a UNESCO biosphere reserve. 
The forest has a high botanical diversity with tracheophytes(vascular plants) numbered in thousand. There are around 100,000 to 200,000 insect species and 700 Nicaraguan bird species potentially found in the forest. You will also find Quetzals, Macaws, Harpy eagles, Cougars, Jaguars, Tapirs and a significant number of mammal species. 
Masaya Volcano
Masaya volcano is one of the most active volcanoes in Nicaragua. It is located in the first and the largest national park in the country. The volcano erupted at least 19 times. The last eruption of Masaya volcano occurred in 2008. If you have never seen a volcano before or want to do something exciting on your Nicaragua trip, you should pay a visit to Masaya Volcano.
Some other popular tourist attractions in Nicaragua are-
Corn Islands
Cerro Negro 
Somoto Canyon
Apoyo Lagoon Natural Reserve 
Reserva Natural Miraflor
Isla Ometepe
Lake Nicaragua
Granada
Leon
Mombacho Volcano Nature Preserve
Accommodation in Nicaragua
In Nicaragua, there are comfortable accommodation places for every budget. Most budget travellers stay in a Nicaraguan hospedaje. Hospedajes are small and basic pension-type hotels owned and managed by families. 
The cost of accommodation in such places will be around $5-$15, without any complimentary breakfast and a private bathroom. It means that you only get a bed and fan, and you might have to share a bathroom with other tourists. However, you might find some hospedajes with private bathrooms which is rare.
Hostels charge around $5-$10 for a dorm bed in Leon and Granada. In other cities, finding hostels is tough. Luxurious hotels can be found in big towns with a cost of a minimum of $20 per night. You can do camping in San Juan del Sur and some other beach spots. But with such a low rate of accommodation, camping is quite rare in Nicaragua.
Food in Nicaragua
Local food in Nicaragua is fresh, organic and inexpensive. However, as expected, the cost of imported food is higher. You can cook your meal by buying organic produce from the market. The best quality meat costs $4 per pound, rice costs $.30-$.40 cents per pound, a dozen eggs cost around $2.40, and chicken costs $1.20 per pound. Vegetables and fruits are the least expensive food in the country. 
If you don't want to toil through the cooking process, you can have your meal in any low or mid-range restaurant. The cost of a meal in such a restaurant will range between $5-$10. But food is quite expensive in good restaurants. So, I think, cooking your own meal is better and more cost-effective when you are in Nicaragua. 
Transportation in Nicaragua
Chicken buses are the most fun and exciting transportation method in the country. These are old and decommissioned American school buses, crowded, hot and favoured by pickpockets. Moreover, there's added risk of falling from the edge of a cliff due to the recklessness of drivers. That's why not everyone dares enough to get on the vehicle. 
You can also get on a high-quality taxi or bus. You can also self-drive. But the cheapest method of transportation is a chicken bus, and the maximum fare will be $7.
Best Time to Visit Nicaragua
The dry season is considered to be the best time to visit Nicaragua. It is during the months November-April when the weather is dry and uncomfortable! But still, travellers prefer to visit the country during these months so that the trip isn't disrupted by rain or extreme winter. Most travellers visit Nicaragua during the dry season, but the prices don't do up much high and still remain within a backpacker's budget.
Travel Restrictions in Nicaragua
Nicaragua has country-specific travel restrictions which can be found here. However, you have to be fully vaccinated and maintain the safety rules while travelling to the country. 
14. Czech Republic
Filled with castles, beautiful mountains, historical towns, and ancient ruins, the Czech Republic, also known as Czechia, has gained many travellers' attention over the last couple of years. The Czech Republic is a great place to head to, especially for someone who wants to travel without breaking the bank. That's why this country has gained a place in this list of cheapest countries to visit in 2022.
Major Tourist Attractions in the Czech Republic
Prague Castle
Most people like me who were unaware of the Czech Republic might've heard of Prague at least once in their lifetime. And if you're reading this article from the Indian subcontinent, I'm pretty sure that you heard about Prague and saw a bit of it in the Bollywood movie "Rockstar". Honestly, I didn't know which country Prague belonged to until I started writing this article. 
Now that you know where Prague belongs, I should inform you that this beautiful castle in Prague is around 1000 years old. The Prague castle is renowned as the largest coherent castle complex in the world. With an area of around 70,000 m², the castle has gained the title of UNESCO World Heritage Site because of the large-scale composition of its palaces and the various architectural styles of its ecclesiastical buildings.
The view of Prague castle is said to be one of the most spectacular views in the world, so thousands of tourists flock there every year. Art lovers and tourists visit the Prague Castle to explore the historic palaces, buildings, gardens, offices, churches and other architectural foundations in this castle complex. 
Diana Observation Tower
Imagine enjoying a panoramic view up to a distance of 70 kilometres from the height of 35 metres, exciting! Diana Observation Tower offers this mesmerizing view for over 100 years. It is said that a visit to Karlovy Vary is incomplete without watching the breathtaking view of the spa town from the Diana Observation Tower.
With a total height of 40 metres, the tower has its lookout gallery at 35 metres height. You can reach the gallery after climbing 150 wooden stairs or a lift. The tetragonal brick structure, bevel corners set on a prismatic stone base, and the wooden lookout gallery complement each other perfectly. From the tower, you can get a sight of almost every notable corner of the city.
St. Vitus Cathedral
St. Vitus Cathedral is the largest, most important and most visited temple in the Czech Republic. Coronations of Czech kings and queens, the burial of several patron saints, noblemen, sovereigns and archbishops, and religious services took place here. The medieval architecture and history of the Cathedral attract several tourists every year.
The Cathedral has five notable attractions that you must check out- St Wenceslaus' Chapel, South Tower viewing point, Art Nouveau stained-glass windows by Alphonse Mucha, Last Judgement, and the tomb of St John Nepomuk. You will be awed by the use of semi-precious stones and silver on the walls of St Wenceslaus' Chapel and the tomb of St John Nepomuk.
The three major tourist attractions that I mentioned above cannot be missed. But the Czech Republic has some other notable tourist attractions, they are-
Prague's Charles Bridge
Bohemian Switzerland National Park
Villa Tugendhat
Cesky Krumlov
Tyn Church
Dancing House
Adrspach-Teplice Rocks
Old Town Square
Bohemian Paradise
Prague Astronomical Clock
Accommodation in the Czech Republic
If you are tight on budget, I'd suggest you to stay in a hostel dorm of 8-10 beds per dorm room that might cost you around $ 10-13. It'd cost you more if the bed numbers are less. In every hostel, there are kitchens and free Wi-Fi available. If you want a private hostel room the cost will be $ 44 per night. The most basic hotel room would cost the same. You can also book your stay in an Airbnb house for $13-30 per night. Prague is the most famous tourist spot in the country, so prices might be higher there. However, if you have a mid-range budget, you can manage to stay there as well.
Food in the Czech Republic
You'll find a combination of Poland's and Germany's food in the Czech cuisine. You can enjoy a fulfilling meal of traditional Czech food for only $9. Fast foods and Asian foods will cost around $ 6-10. Expect to pay $ 2-3 for any kind of drink. A week's groceries will require around $40, so I think cooking your own meal will be a very good option. 
Transportation in the Czech Republic
The cheapest way to travel inside the Czech Republic is by bus or renting a car. Bus ticket costs differ based on time. For example, a 2-2.5 hour interstate ride can cost you around $ 6-8. Train rides will cost a bit higher, like $ 10-15 for train journeys of more than 3 hours. You can rent a car for $ 20-25 per day which I think is a budget-friendly option for a whole day. Avoid Air Travel as its the costliest transportation method in the Czech Republic.
Best Time to Visit the Czech Republic
If you want to enjoy the beauty of the Czech Republic during the best weather and without any crowd, you should go there in September-October. During these months, the weather isn't much hot or much cold, the prices aren't high, and fewer tourists visit the country. You can also pay a visit during May, but during this month there'll be crowds and high prices for accommodation, transportation and food. 
Travel Restrictions in the Czech Republic
Starting from 9th April 2022, there are no Covid-19 related travel restrictions in the Czech Republic. Anyone can enter the country without even showing an infection-free status.
15. Ecuador
Mountains, hospitable people and delicious food- I think these three reasons are enough for a backpacker to plan a relaxing trip to Ecuador, one of the cheapest countries to visit in South America. 
Major Tourist Attractions in Ecuador
The Galápagos Islands
The Galápagos Islands is a closely guarded natural treasure that has 19 islands and a marine reserve surrounding it. It is located around 600 miles from the Ecuadorian coast. Darwin's theory of evolution bought the Galápagos Islands under every one's observation in the 19th century. The islands were less known before then. 
Around 0.3 million people visit the islands every year to check out the diverse animal species and beautiful landscapes. There are many animal species that can only be found in the Galápagos Islands. So, if you're a nature lover, you might not want to miss a visit to the islands. 
Middle Of the World City
I guess the name of the city has already made you include it as a must-visit on your Ecuador trip. The equatorial line connecting Southern Hemisphere and the Northern Hemisphere crosses this small city named La Mitad del Mundo in Spanish.
There's a yellow line on the ground diving the two hemispheres and a 100-foot tall monument. The monument highlights the exact location of the Equator because of which many visitors are attracted to Ecuador. In fact, Middle Of The World City might be counted as the main reason why tourists visit Ecuador, especially Quito. 
Otavalo Market
Otavalo Market is an indigenous market selling diverse products. It is the largest and the most touristy market in Ecuador. Moreover, the countryside surroundings, hospitable people and picturesque views make it an interesting place to visit.
You'll find many textile products in the market and you can negotiate the prices. If you visit the market too early before tourist buses arrive, you might buy a lot of stuff with very less money. But don't be aggressive and try to set a price that'd do justice to you and the seller.
Some other major tourist attractions in Ecuador are-
The Devil's Nose
Cuyabeno Wildlife Reserve
Cloud Forest
Quilotoa Loop
La Compania de Jesus
Museo Templo del Sol Pintor Ortega Maila
Cotopaxi Volcano
Santa Cruz Fish Market
The Amazon Rainforest
The Devil's Cauldron
Accommodation in Ecuador
Accommodation in Ecuador is cheaper than in the Czech Republic. Here you can stay in a hostel dorm room for $ 5-6 per night. If you want a private room in a hostel, it will cost you something between $ 10-20. Room prices in budget hostels range from $ 25-40 per night. You can also stay in an Airbnb with shared accommodation for $ 15-20 per night.
Food in Ecuador
The traditional food in Ecuador is really cheap. A traditional meal prices around $ 3-5. You'll find many streetside food stalls that cost around $ 1-2. If you want to enjoy your meal seating at a mid-range restaurant, you might have to pay around $ 20 for a meal. 
Western cuisines cost around $ 10-12. Prices of drinks range from $ 1-3. You can also buy groceries for one week for only $ 20-30. So, cooking your meal can be the cheapest option, and you can even cook anything you wish to eat that might not be available in restaurants. 
Transportation in Ecuador
Buses are available throughout Ecuador and it is the cheapest mode of transportation in the country. A bus ticket costs as low as $ 0.25 within the city, and $ 1-2 per hour for long rides. Taxi rides for short-distances cost as low as $ 5. 
Unlike in other countries, air travel is affordable in Ecuador. However, flying to the Galápagos Islands is a bit costly as it's the most touristy spot in the country. Car rentals are also available at a low price, which is $ 25 per day. But the poor conditions of roads make it an unsafe transportation option. I'd suggest travelling by bus or taxi in Ecuador, both are cheap and reliable.
Best Time to Visit Ecuador
According to me, January-May is the best time to visit Ecuador. During these months, the temperatures are cool for most parts of the country. However, you can't visit the Amazon due to flooding and road closures. But temperates in the Galápagos are milder, ocean waters warm and calm making these months a great time to visit the country. 
June-December is a really busy time in Ecuador. The temperatures are high and the weather is dry. So, the price for flights and accommodations will be higher than normal. Especially during the last months of the year, the Galápagos Islands remain the busiest. 
Travel Restrictions in Ecuador
As of October 20, 2022, Ecuador has lifted all its COVID-19 entry requirements for travellers, making it easier for people to visit and enjoy its many beautiful sights.
I only named the 13 best cheapest countries to visit but the actual number of cheapest countries to visit in the world is way more than that. There are 193 countries in the world, and I think every country has something to offer. Maybe there are so many countries that have some great attractions, but we don't even know about these countries.
So, as a Bonus, I am naming some more cheapest countries to visit from around the world:
Asia
Europe
Poland
Czech Republic
Lithuania
Croatia
Albania
The Americas
Africa
F.A.Q on The Cheapest Countries to Visit
When you are thinking about travelling on a budget, there must be so many questions running in your mind as you can't afford to go beyond your budget. So, below I'm answering some questions that I think you might have in your mind-
What should be the total budget to travel to any of the cheapest destinations?
Talking about the budget, I think it depends. I have mentioned food costs, transportation costs and accommodation costs of some of the cheapest countries but there are some other costs too. For example, there are entry fees, shopping costs, etc.
But if you decide to do camping and hiking, there won't be any transportation or accommodation costs. So, it is you who has to choose your activities, tourist attractions you want to visit and then sum up the cost along with food, transportation and accommodation costs.
Are these countries cheapest only during the best time to visit and expensive at other times of the year?
No! These countries are always cheap to visit. You can visit these countries any time of the year, but you can make the most out of your money only during the best times to visit that I've mentioned. And during these times there are fewer tourists so you can enjoy the tourist attractions all by yourself.
And during other times of the year, it'll be hard for you to find any accommodation at all as all places remain filled with tourists. To sum it up, these countries are the cheapest countries to visit compared to other countries all year round. The prices just change a bit during different seasons (but don't go beyond a backpacker's budget).
Are these countries safe?
You won't find a single country that is entirely safe. Every country is unsafe in some way or the other, even the most expensive ones. A few thieves and robbers are everywhere, but a regular traveller knows how to tackle such situations. Other than this, it is safe to travel to these countries, and the local people of every single country that I've mentioned above are really welcoming.
Is trekking riskier in these countries?
Trekking is an adventurous activity. And any kind of adventure includes a bit of risk, so does trekking. Whether you are trekking in any of the cheapest countries or in an expensive country, the risk will be there.
The risk of trekking doesn't depend on whether the country is a cheap or an expensive travel destination. It depends on your experience and the right use of trekking gear. If you have never done trekking before, let me tell you that choosing the right trekking gear is really important.
Well, this is a question that I get asked every time. And my answer always remains the same, and that is- yes! Accidents are unpredictable. By buying travel insurance, you can at least make sure that if any mishaps happen in an unknown country, your costs will be covered by the insurance company.
And travel insurance is a prerequisite whether you visit an expensive country or any of the cheapest countries. If you aren't much satisfied with my answer, you can read in detail about travel insurance here and here.
(These are the questions that I could think of as of now. But if you have any more questions, feel free to ask them in the comments.)
So, out of the 15 best cheapest countries to visit, which one did you choose as your next travel destination? Travelling is fun, and not always expensive. If you can't afford to travel to any expensive country, you can always travel to one of the cheapest countries.
Have you already visited any of the countries listed above? How was your experience? Or have you visited any country cheaper than the ones on this list? Let me know by dropping a comment below.