Travelling is expensive- it is a myth. If you have held yourself back from traveling because you think you don't have enough money for it, you have done wrong to yourself. If you are one of those people who have no idea about the cheapest countries to visit, I'm here for your rescue!
I don't travel because I don't have enough money to fulfil such a luxurious dream- sounds funny to me. And when you reach the end of this article, you'll find it funny too. People who say this don't travel for two reasons– 1) They don't like traveling, or 2) They don't know about the cheapest countries to visit.
If you are one of these people, I can't magically ignite your love for travelling, but I can tell you about the cheapest countries to visit in 2023 and help you choose your next best travel destination (within a budget!). Also, you may check out our article World Best Cities to visit.
Where To Vacation for Less: 15 Budget-Friendly Destinations
1. India
The buzz of Mumbai, the pompousness of Delhi, or the beautiful culture of Kolkata, in short, the varying qualities of Indian cities, make travelling to the country impressive. And most importantly, India is one of the cheapest countries to visit in Southeast Asia.
From visiting the epitome of love, the Taj Mahal, to The Red Fort of New Delhi, you won't be bored on your journey in India. And the extra spicy and extra oily food might be a bit odd for health-conscious people, but the taste and smell will pull you, and you won't be able to resist the Indian street food.
It's been difficult for me to name only a few attractions of India as there is so much to see on these 812.3 million acres of land. Yet I'm mentioning three of them (in detail) so that you know from where to start-
The Taj Mahal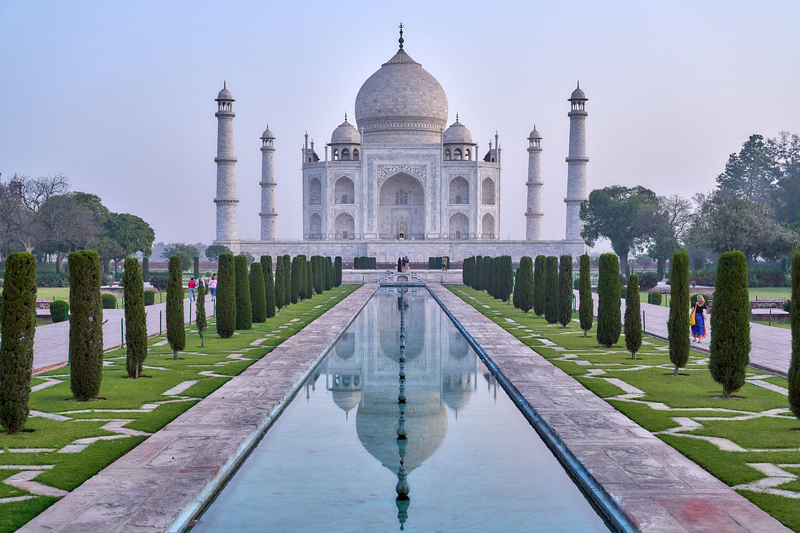 The epitome of love, the Taj Mahal, was built by Emperor Shahjahan as the sign of love for his wife, Mumtaz Mahal. The monument attracts around 7-8 million tourists from different parts of the globe every year.
The entire monument is made of white marble and other precious stones. If you visit the Taj Mahal during the dawn or dusk, you will get to see the change of colors of the building due to the effect of sunlight.
The Red Fort
Location: Netaji Subhash Marg, Chandni Chowk, New Delhi, Delhi 110006
Shah Jahan also built the magnificent crescent-shaped Red Fort in 1648. Red sandstones were used in the construction of this fort which makes it pleasing to the eyes.
The Beaches of Goa
At least for a moment, the beaches of Goa will make you feel like you are somewhere in the Maldives. There are around six famous beaches in Goa and an Island. There's also a wildlife sanctuary in Goa. So, when you are in Goa, you will get to see the calm and serene beauty of India.
Some other popular tourist attractions in India are-
Golden Temple
Amber Palace
Botanical Gardens
Backwaters of Kerala
Shimla
Tawang
Gadi Sagar
Darjeeling
Nohkalikai Falls
Hawa Mahal
Accommodation in India
You can stay in a decent Indian hotel for a minimum of $5 per night. You can even stay in an ashram for free. If you stay in an ashram, you'll get to enjoy the best hospitality and gather an idea about Indian culture.
Foods in India
In India, there's a beautiful saying that the road to a person's heart is through his stomach. It means that if you serve a person with good food, you'll win that person's heart. It's not any sort of black magic or something, but India does have some magical touch in its cuisines.
The taste of paratha, puri, rice, biriyani and different sorts of curries will make you want to travel to India again. A full-course meal in India will cost you less than $2. You should also try Indian street foods like- bhelpuri, panipuri, vada pav, lemon juice which will cost you a few cents.
Transportation in India
The traffic of India might make you regret your decision of travelling to India, but there are so many travel attractions that this much tiredness is worth it. You can travel by bus or hire a cab inside the city. You can take a train from one city to another. Inside the city, the fare of a bus or taxi will be around $5, and the fare of the train will be around $10.
Best Time to Visit India
The best time to travel to India on a budget is during May-November. Even though it rains in India during these months, the weather remains hot. But during this time there aren't many foreign tourists so you'll enjoy without much crowd (there will always be a bit of crowd as India is highly populated). During winter, prices of accommodation and transportation rise, and the tourist attractions remain highly crowded, so avoid visiting India during winter.
Travel Restrictions in India
As part of Covid-19 travel restrictions, for international traveler to India, you must have either been vaccinated against COVID-19 or provide a negative PCR test result taken within 72 hours of your departure.
Travellers from certain countries planning to visit India will soon require a negative RT-PCR test result in order to travel. Effective January 1st, 2023, citizens of China, Hong Kong, Japan, South Korea, Singapore and Thailand will need to show proof of a negative pre-departure RT-PCR test taken within 72 hours of their departure.
Update: As of August 2023, the COVID-19 vaccine certification or PCR test is no longer required
As for the visa, to travel to India, you will need a valid passport with at least 6 months of remaining validity and at least two blank pages. You will also need to obtain a visa from the Indian government before traveling. You can apply for a visa through the Indian embassy or consulate in your home country, or through an online application process.
2. Indonesia
White sand beaches, surfing and scuba diving- that's all that comes to my mind when I hear the word Indonesia. And you might already be imagining Bali.
Major Tourist Attractions in Indonesia
White sand beaches, that's the number one attraction that Indonesia has to offer. But Indonesia is definitely not limited to the sea and beaches. It has so much more! So, let me name three top tourist attractions in Indonesia in detail for you-
Mount Bromo
The white smoke coming out of the mountain and the picturesque view seen standing over the caldera at sunrise makes Mount Bromo a significant tourist attraction in Indonesia. Near the mountain, there is Bromo Tengger Semeru National Park and Mount Semeru, the highest peak in Java.
Gili Islands
Gili Islands are an archipelago consisting of 3 tiny islands – Gili Trawangan, Gili Meno and Gili Air. You can dive, kayak, or join yoga classes in the Gili Islands. Whether you are travelling solo or as a couple, Gili Islands has enough to offer in both cases.
Bali
Beach and Bali are synonymous. But other than beaches, Bali has verdant rice fields that most people don't know of. The Jatiluwih Rice Fields in Bali are worth visiting when you are in Indonesia. And as far as the beaches in Bali are concerned, you are sure to visit the beaches as these beaches are popular with tourists globally.
Already decided to visit Indonesia. Then don't forget to check out these tourist attractions too-
Sacred Monkey Forest
Borobudur
Tana Toraja
Orangutans of Borneo
Komodo National Park
Banda Islands
Kalimantan
Mount Krakatau
Gunung Rinjani
Lake Toba
Accommodation in Indonesia
You can stay in a hostel for $10 per night and in a basic hotel for $15 per night. You can even get a private pool villa for $50 per night in Bali.
Food in Indonesia
Local seafood meals in Indonesia cost less than $3. So, your food cost for an entire day will be around $10! Imported alcohol and beer have a high price in Indonesia, so don't even think of buying alcohol and beer if you are on a tight budget.
Transportation in Indonesia
You can hop on public transport while going from one place to another in Indonesia. You can also rent a bike or a car for $10-$15 per day.
Best Time to Visit Indonesia
Indonesia during October-April is the cheapest. Most tourists visit the country during Christmas and New Year, so the prices rocket. Also, avoid a trip to Bali during July-August as Bali is most crowded and expensive then.
Travel Restrictions in Indonesia
Indonesia is now open to international tourists, Travellers to Indonesia who are fully vaccinated with an approved COVID-19 vaccine no longer need to take a PCR test prior to entry. This is in accordance with the new travel requirements issued by the Indonesian Government.
If you plan to travel to Indonesia, it is recommended that you register your Covid-19 vaccine certificate at the PeduliLindungi app. By doing so, you will be able to safely access indoor public places within the country.
Travellers to Indonesia no longer need to provide any insurance statement for Covid-19 treatment, but it may be a good idea to purchase travel insurance for peace of mind. If you are unsure about which travel insurance to choose that will include the best health package, you can read the best long term travel insurance.
As for the visa, Indonesia requires all foreign visitors to have a valid passport with at least six months of validity. Some nationalities also need a visa in advance, while others can obtain a visa upon arrival in Indonesia. It is a good idea to check the visa requirements for your country before you travel to Indonesia, as they can change.
3. Romania
The origin of Dracula is known to many, but the country remains underrated as a travel destination. Impressive castles and colourful villages definitely count as a reason to visit the country. From the Carpathian Mountains to the beaches of the Black Sea, Romania has so much to offer that I fail to understand why Romania isn't very famous to tourists.
Maybe this country goes unseen to tourists because Europe is filled with many other travel destinations. Europe is costly; Romania, even after being a part of Europe, is not. So, if you are in search of a hidden gem within your budget, Romania is just for you.
Major Tourist Attractions in Romania
Castles
Romania has so many castles that if I name one then it'd be an injustice to the others. So, I'm writing a bit about all the Romanian castles here.
Bran Castle: Also known as Dracula's castle, Bran Castle is the number one tourist destination in the country, located in Transylvania. To most tourists, Romania is only about this castle, so this is also the most crowded tourist destination of Romania. The castle consists of four floors and 57 rooms filled with ancient furniture and clothing.
Peleș Castle: You'll come across the royal heritage of Romania in this castle. There are 2 floors and 160 rooms inside the castle consisting of thousands of artefacts of the 15th century.
Corvin Castle: Corvin castle is a fairytale-like castle popular for its architecture and dark history.
Jidvei Castle: Other than the 45 beautiful watches of the main hall of Jidvei Castle, the myths and legends surrounding the location make the castle a remarkable tourist attraction.
Some other castles of Romania are Cantacuzino Castle, Rasnov Citadel, Banffy Castle and the Fagaras Citadel.
Carpathian Mountains
Known for the largest habitat of brown bears, wolves, chamois, and lynxes, the Carpathian Mountains are a great place for camping, hiking, and trekking.
Haunted Forest
Whether you believe in ghosts or not, the Romanian haunted forest might be exciting to you.
Haunted-Forest Romania is a haunted forest that's been featured in the news for years. It's a popular destination for tourists, who come from all over the world to see the spooky sights and sounds of this forest.
The woods are known for their haunted quality, and many visitors report seeing ghosts and other paranormal activity. Whether you believe in the supernatural or not, there's no denying that this forest has its own unique energy.
There are so many myths and stories about the forest that work as an attraction to tourists.
Some other tourist attractions in Romania are-
Danube Delta
Palace of Parliament
Merry Cemetery
Bucharest
Berca Mud Volcanoes
Herăstrau Park
Wooden Churches of Maramures
Cluj-Napoca
Sinaia
Vaser Valley Forestry Railway
Accommodation in Romania
In Romania, you can stay in a hostel or a local guesthouse for $10-$15 per night.
Food in Romania
Other than beautiful and exciting tourist attractions, Romania offers the most refined taste of vegetables. The food in Romania is made from home-grown vegetable and animal products, which makes their food different from westernized food. A full-day meal will cost you around $10-$15.
Transportation in Romania
You can roam around the country on a bus or a train for $5-10 per day.
Best Time to Visit Romania
During September-June, accommodation, food and transportation costs are comparatively lower. Also, you are most likely to get cheaper flights to Romania during these months. From June to August, the prices remain high, all the hotels and hostels are booked, and there's high traffic on the roads.
Travel Restrictions in Romania
If you're planning to visit Romania, you won't be required to present proof of vaccination or a negative RT-PCR test upon arrival. The requirement of submitting a Passenger Locator Form / Declaration has also been lifted. So, whether you're a resident or a visitor from any country, you don't have to worry about presenting additional documents for travel purposes!
4. Greece
Living a fairytale life is expensive, but living in the fairytale country Greece, is not. Yes, you heard it right! It doesn't cost you much to walk through the picturesque lanes of Greece and try the yummy seafood.
Major Tourist Attractions in Greece
Santorini
Whether you are planning to propose to your partner, planning to get married, planning a honeymoon or wanting to spend some time with yourself, the volcanic island Santorini is the perfect destination. The architectural beauty of the place made it a popular tourist spot for decades.
Beaches of Crete
There are so many beaches in Crete that I couldn't just name one here. All of these beaches have so many things in common so you can visit anyone that you like. But if you are looking for something different, you can visit the Glyka Nera beach. It is mostly famous because of its stunning setting, isolated nature, and azure blue freshwater.
Acropolis
If you want to dive into the history of Greece, Acropolis will give you a taste of it. Acropolis is mainly popular for the Partheon, but there are many other architectures to see there.
Some other beautiful tourist attractions in Greece are-
Delphi
Mount Athos
Myrtos Beach
Mystras
The medieval town of Rhodes
Palace of Knossos
Lindos
Temple of Apollo
Elafonisi Beach
Balos Lagoon
Accommodation in Greece
You can stay in a hostel for $10-$15 per night. You can even rent an apartment in Greece for $20 per night!
Food in Greece
Greece is primarily popular for its seafood meals which cost less than $8. But Greece is obviously not limited to seafood meals, and there are meals for everyone! In Greece, your per day food cost will be around $10-$15. But in a few places in Greece, restaurants are expensive, so you can buy produce from the market and make your own meal.
Transportation in Greece
Ferry costs around the islands in Greece cost around $10-$20. You can even rent a boat, including gas, for $95 per day. And obviously, you can't roam around the city in a boat, so in that case, you can rent a car for $10-$15 per person (the rent splits between 4 people).
Best Time to Visit Greece
Greece is the cheapest during October-April. During this time, you can easily find accommodation at a discounted rate. The weather in Greece is good all year round, and every weather has so much to offer, so there isn't any best time to visit the country based on weather.
Travel Restrictions in Greece
Greek authorities have removed all restrictions on travel to the country, meaning that anyone can now enter Greece without having to meet any specific COVID-19 requirements.
5. Turkey
Turkish dramas and Turkish food- what else do you need in life? If you aren't a fan of Turkish dramas or haven't tasted Turkish food yet, the Blue Mosque of Istanbul and the white travertines of Pamukkale will turn you into a fan of Turkey.
Major Tourist Attractions in Turkey
Blue Mosque
Blue Mosque, located in Istanbul, popular for the history of the Ottoman Empire, offers a picturesque view that can please every tourist. The interior decoration, lightning and the six minarets make it a famous tourist attraction in Istanbul. It is known as Blue Mosque because of the blue tiles of the interior.