Kuala Kubu Bharu may be the usual way that you pass by. But have you ever thought that Kuala Kubu Bharu could be a worthy place for a day trip anywhere from Selangor or Kuala Lumpur? 
Like myself, my five years old daughter is also a travel lover. That's why most of the weekends, we have to take her on a day trip or weekend trip. And this time, we opt for Kuala Kubu Bharu as it is only one and half hours from my home (Shah Alam) and offers countless activities to do for kids and adults.
So, a day trip to Kuala Kubu Bharu is pretty much enjoyable, and this article will only give you a short review and some suggestions that you can do there.
Things to Do in a Day Trip to Kuala Kubu Bharu
It is the district capital of Hulu Selangor, (a district of Selangor) and has emerged after the destroyer of Kuala Kubu during the severe flood.
Kuala Kubu Bharu may not be filled with the chaos and the dazzling lights of the city, but it sure does have everything else to make up for it. It has many places that offer daunting activities that'll make you breathless with excitement.
1. Take Pictures @ Sungai Selangor Dam
A day trip without amazing pictures is not going to happen! Sungai Selangor Dam is the place where you'll get that remarkable view for your iconic pictures. It is the tallest dam in the country, and you might know it by the name "Pertak Dam". 
Though to enjoy such an outstanding view of Sungai Selangor Dam, you have to take a 15-minute drive challenge through crooked trails, but I can assure you that the place is worthy of it.
Address: 44000 Kuala Kubu Bharu, Selangor
Opening hours: Daily 24 hours
2. Learn Some History @ Kuala Kubu Bharu Art And History Gallery
If you want to know more about Kuala Kubu Bharu and its history, you must come to the Kuala Kubu Bharu Art and History Gallery. It is a museum where you can learn the history of Kuala Kubu Bharu, how the city emerged and got its name. All the behind stories of the city and underneath the city is locked in this history gallery. 
Moreover, you will get to see many remarkable paintings and artefacts here, which is pretty exciting. Those of you who have a good taste of history should certainly keep this place on your itinerary.
Address: alan Syed Masyor, Kampung Tun Abdul Razak, 44000 Kuala Kubu Baru
3. Ziplining and Bridge Rope Swing 
Looking for a daunting activity that'll make you go giddy with excitement? You can opt for ziplining and bridge rope swing. Kuala Kubu Bharu offers one of the most amazing zip lining and bridge rope swing experiences. 
You can jump 60 metres off a bridge that is right above the Selangor River that'll swing back and forth once it comes close to the bottom. With the scenic view of the Selangor River and the blood rushing bridge rope swing, you're for sure going to have the best time of your life. 
Now, if you're someone who's been a kitten about the bridge rope swing activity and still want to try out an activity, don't fret. The zip-lining activity is the perfect match for you. You can zip line back and forth from the bridge to the top of the mountain.
Just imagine. You get to zipline across the breathtaking Selangor River, and if you want, you can also take a small hike towards the hill. To get the most out of it, you can do both ziplining and bridge rope swing activities. 
Address: Yellow Cabin, Jalan 55, KKB – Fraser, 44000 Kuala Kubu Baru, Selangor
Opening hours: Saturday-Sunday 09:00 am-07:00 pm|Friday 02:30 pm-07:00 pm
Fees: RM210.00 per person (local)|RM240.00 per person (non-Malaysian)  
4. Entertain Your Kiddos @ Taman Tasik Millennium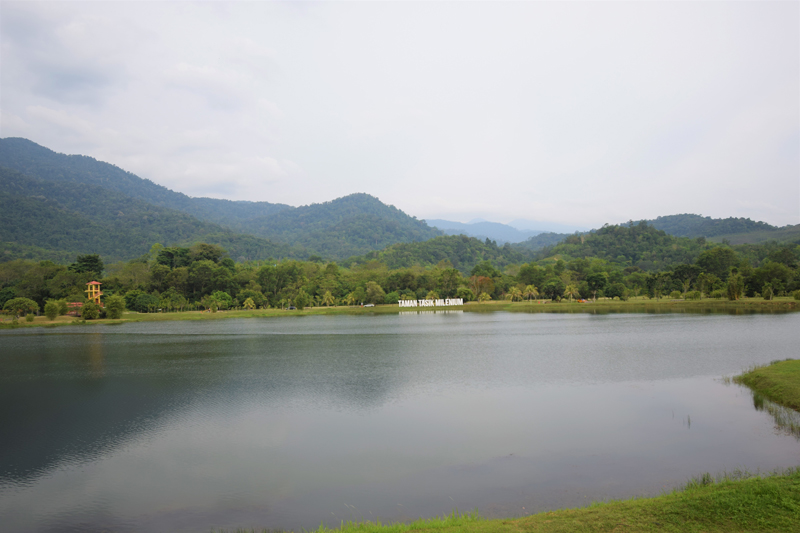 If you're on the day trip with your kiddos, then you should definitely take them to the Taman Tasik Milennium. It is one of the most popular recreational parks in Kuala Kubu Bharu and offers many activities for kids.
The park has a playground, mini-stadium, and Dinosaur sliders for children. Moreover, the Millennium Park is surrounded by lakes and hills, which makes it attractive and perfect for a family picnic. 
Address: Taman Milenium, 44000 Kuala Kubu Baru
Opening hours: Daily 06:00 am – 07:00 pm
Fees: Entry is free of charge
5. Visit the Rainbow Staircase @ Tokong Kuan Yik Kerk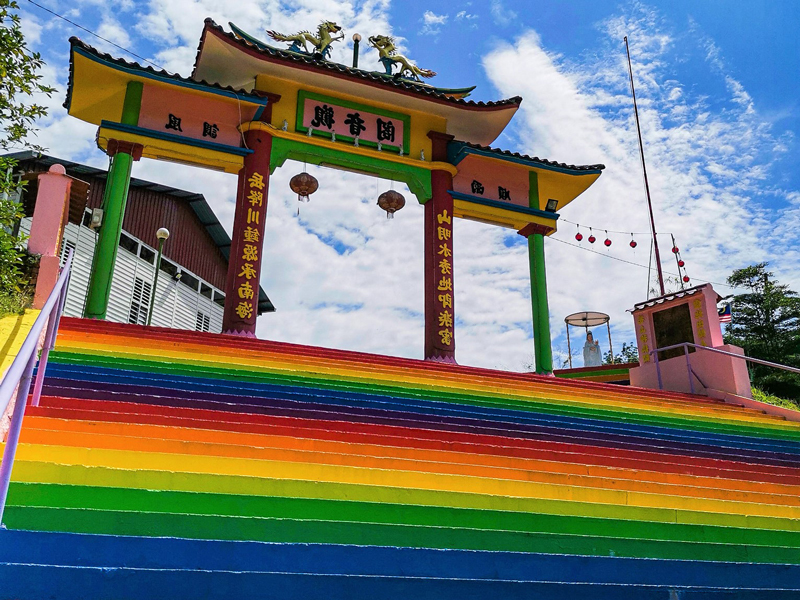 Tokong Kuan Yik Kerk is a Chinese temple dedicated to "Guan Yin", the goddess of mercy. It is a typical temple, but the star attraction is its rainbow steps that you'll see just after entering through the temple's main gate. Here you will also see many colourful statues and carvings at the gate and walls of the temple.
The temple has a place at a corner that is decorated with a wedding background to take photos.
Address: Kg Baru Asam Kumbang KKB, 44000 Kuala Kubu Baru
Opening hours: Daily 09:00 am – 04:00 pm
6. Hiking at Sungai Chiling Waterfall
Looking for an activity that's fun but also relaxing to the soul? You can always take a hike at Sungai Chiling Waterfall. The waterfall is considered to be an exquisite beauty of Selangor by the locals and also the visitors. To get to the waterfall, it apparently takes one and half an hour to get to the waterfall. 
If you're not too keen on hiking, you can feed the fish swimming in the river water. You can buy their food from the entrance and later enjoy your time feeding them. 
The hike requires you to paddle through the Chiling river multiple times. While hiking, you'll get to see signs to direct you to the top. As a precaution, it is best to take a rope to help you stay balanced. 
Opening hours: Daily 08:00 am -06:00 pm
Fees: RM1.00 per person | RM2.00 for parking fees
7. White Water Rafting
White Water Rafting is one of the favorite activities among tourists. And why shouldn't it be? It's fun, it's gritty, and mostly, it's nerve-wracking. You'll be rafting at the Selangor River, which is very clear and cool but can offer the most adventurous white water rafting that you can ever get. 
The river rapid ranges from Grade 2 to Grade 4. It is an 8km river, and for rafting, it can take from 3 to 4 hours. But it depends on the size of the group and also the water level as well. 
However, it is definitely guaranteed that you'll have fun. You'll enjoy the challenge that the white-water rapids have for you. And if you're someone who's never rafted before, don't you worry as they provide a guide that'll mentor you through the paddling commands and will also be there while you're rafting. 
The rafts can hold up to 60 people. You can also raft with your family, even children, as long as they are good swimmers and are accompanied by reliable adults. And why only family? You can enjoy this activity with a group of friends on a weekend getaway.
Address: Jalan Ampang Pechah, 44000 Kuala Kubu Baru, Selangor
Opening hours: Daily 09:00 am-07:00 pm
Fees:  RM180.00
8. Golfing at Kuala Kubu Bharu Golf & Country Club
Kuala Kubu Bharu isn't only well-known for its daring outdoor activities. There are also outdoor activities that don't require you to sweat a lot, and one of them is golfing. Kuala Kubu Bharu has one of the most massive golf clubs that you'll ever get to see.
The club has 18 holes to play with. It offers a really well-maintained service to its members. You can also go and play there for a day. It is the perfect not-so-tiring activity that you can enjoy with a group of friends.
Address: 48, Jalan Padang Golf, Kampung Tun Razak, 44000 Kuala Kubu Baru, Selangor
Opening hours: Daily 07:30 am-12:30 pm
Fees: Differs with membership
9. Camping at Ampang Pecah
Holidays, or even weekend getaways, are the perfect time to go camping. It's a good way to bond with family and friends. Fortunately, Ampang Pecah has one of the best camping facilities. It has the most magnificent waterfall that you'll ever see. The waterfall, located along the Selangor River, is flanked by lush greenery and makes the view absolutely scenic. 
You can camp by the riverside and enjoy the picturesque view. The surrounding is perfect for a picnic and camping. And if you want a closer view of the waterfall, there's a small islet in the middle of the river from where you can get the view.
Now, while the serene atmosphere will melt your romantic heart, you'll have to be prepared for several things. For instance, there are no public toilets in Ampang Pecah. So, if you're going to camp there for one night, you might have to take a portable washroom. Moreover, since this place is famous among tourists, it'll be completely flocked by them, and you may miss out on the good picnic spots. So, you'll have to get there as early as possible. 
10. Hiking at Bukit Kutu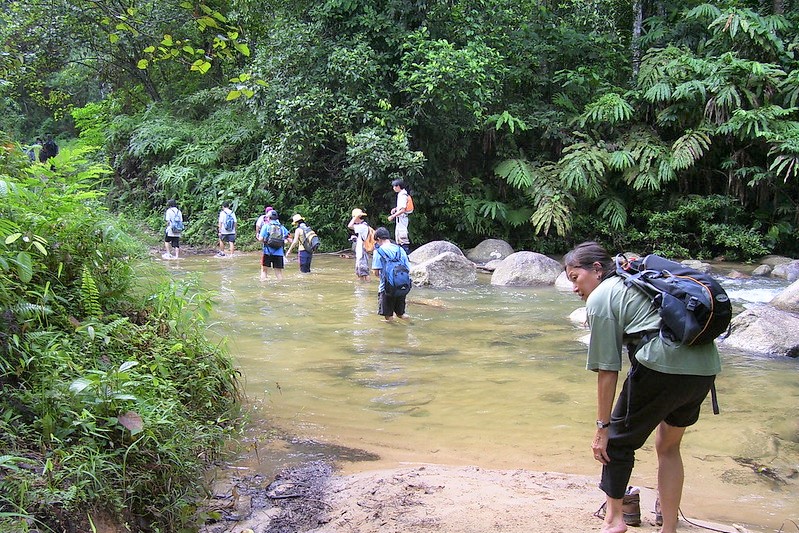 Thought we were done talking about hiking? Well, no. We got another place where you can enjoy an adventurous yet fun hiking session. Bukit Kutu is a mountain near Kuala Kubu Bharu. It is dense with vegetation and wildlife. It has had a rough history during a war but still managed to survive and grow into lush foliage. 
As of today, the mountain is popular among both tourists and locals as a well-known hiking spot. It is 1,050 meters and is loved among hikers for the challenge that it offers. Hikers are usually seen there for a weekend getaway.
It takes approximately 2-4 hours to climb up to the top. Once you reach the top of the hill, you'll be in awe of beautiful views of the Titiwangsa mountain range and the Kuala Kubu Bharu dam at the top. The view itself will calm your mind and soul. 
11. Hot Water Spring at Taman Arif Spring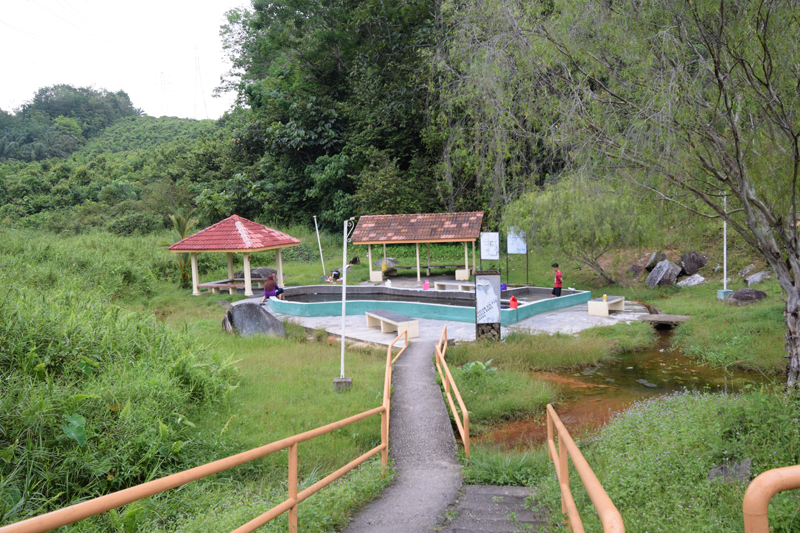 If you're looking for an activity that'll loosen up your tense muscles, then taking a bath in Taman Arif spring is an ideal activity.  The hot spring was initially kept a secret by the locals as they didn't want tourists to swarm over there. But word spread, and here we are, sharing one of nature's warmest gifts. 
At present, the place has been set up as an attraction, and a significant number of visitors visit every day. The spring is free of charge so that everybody can have an opportunity to relax here. The pool is divided into two parts. One has natural hot spring water. While the other has cool water where you can swim or paddle. 
Locals suggest that the best time to be there is at night, when you can gaze at the stars while loosening up your knotted muscles at the hot spring.
Address: 110, Jalan Arif 6, Taman Arif Utama, 44000 Kuala Kubu Baru, Selangor
Opening hours: Daily 24 hours
Fees: Free of charge
12. Tandem Parachute
Ziplining and bridge rope swing aren't Kuala Kubu Bharu's only bold activities. A tandem parachute at Kuala Kubu Bharu is an extremely daring sport. You'll be flying across the mountains like a bird. Those that are scared about the activity will be guided through the entire process.
They'll be taught everything from the basics. The entire activity takes around 15 minutes. There will be an instructor with you throughout the jump. You'll be jumping from a height of 2000 to 3000 feet. 
How to Get There
The amount of time it takes to reach Kuala Kubu Bharu from Kuala Lumpur differs depending on the type of transportation. I made my trip by car, and if you don't have one, you can always get there by train or taxi.
Car
As not many public transports are available on the route between Kuala Lumpur and Kuala Kubu Bharu, the car is the most convenient and accessible way to get there. Driving a car to Kuala Kubu Bharu takes approximately 52 minutes.
On the other hand, you can also take a taxi if you don't have a personal vehicle. In that case, a taxi will cost you between RM125.00 to RM167.00, which is really high. However, it also takes nearly 1 hour to reach Kuala Kubu Bharu from Kuala Lumpur. 
Train 
The train is the cheapest way to get to Kuala Kubu Bharu. It takes approximately one and a half an hour by train to reach Kuala Kubu Bharu. The train journey will cost you between RM14.00 to RM16.00. You can take the train from K L Sentral.
What to Eat in Kuala Kubu Bharu
A day trip requires getting a taste of local eateries. Here is the list of my favorite eateries that will give you an authentic taste of local food.
Dataran Kuala Kubu Bharu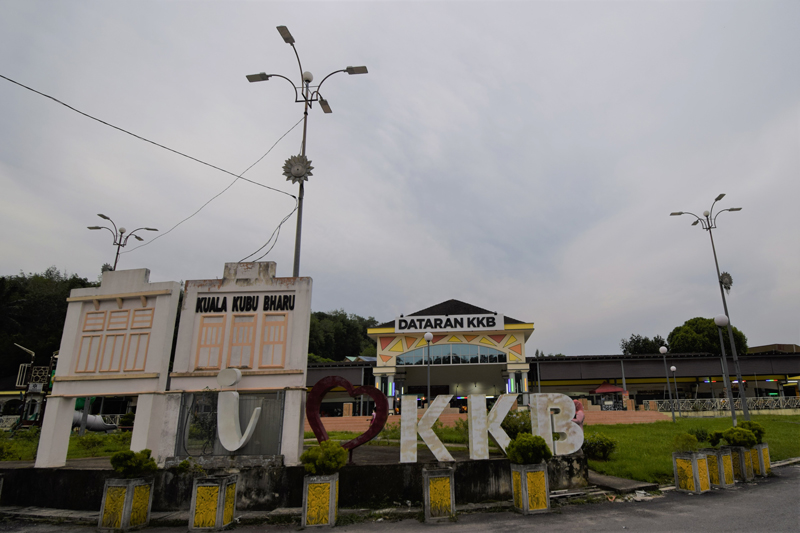 There is a saying if you want to know any place or culture better, try the local cuisine. And it is the truth. When you try the local food of any place, you get close to it. 
In Kuala Kubu Bharu, Dataran Kuala Kubu Bharu is the must-visit restaurant that offers you the authentic local food of the city. The place is open for visitors daily from 12:00 pm to 08:00 pm, except for Monday. You can have delicious lunch and dinner here at an affordable price.
Address: 55, 44000 Kuala Kubu Bharu, Selangor
Opening hours: Tuesday to Sunday 12:00 pm – 08:00 pm (Closed on Monday)
Sun Sun Nam Cheong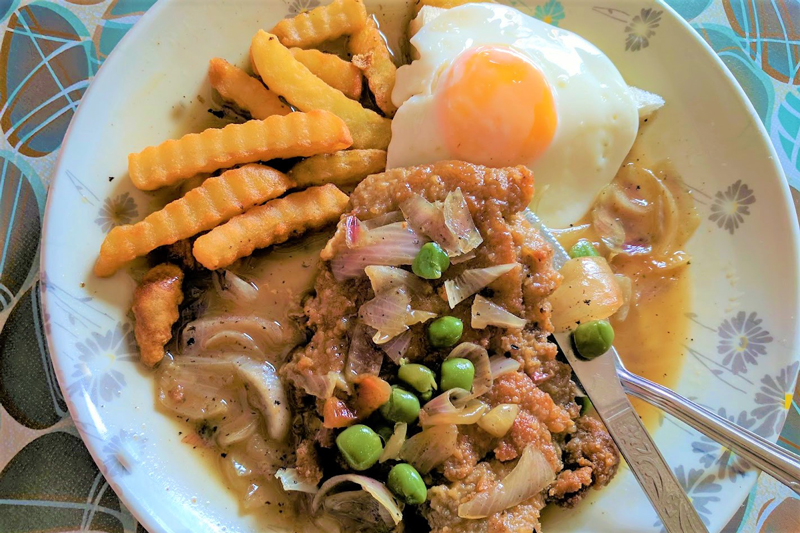 Whether you're coming for a Kuala Kubu Bharu day trip or on the way to Fraser's Hill, Sun Sun Nam Cheong is the must-stop eatery for every traveler. It is a family-run restaurant that has been giving its service for over 80 years.
Sun Sun Nam Cheong is a favorite eatery among locals where they come for a hangout. Among the special items of this restaurant, you must not miss the Hailam noodles and Hainanese coffee with milk. You can also try the half-boiled eggs and toasted kaya with butter bread.
Whether you're looking for breakfast, lunch or brunch, Sun Sun Nam Cheong always has delicious dishes to offer you. And the most important thing is that the restaurant is Halal certified. 
Address: 8, Jalan Mat Kilau, Pekan Kuala Kubu Bharu, 44000 Kuala Kubu Baru
Opening hours: Tuesday to Sunday 07:00 am – 03:00 pm (Closed on Monday)
Teng Wun Bakery and Confectionery
You surely cannot leave Kuala Kubu Bharu without trying Kaya Puffs at the famous bakery Teng Wun Bakery and Confectionery. Since 1979, this bakery has been serving the best Kaya Puffs at only RM1.00 per piece.
Besides Kaya Puffs, Teng Wun Bakery and Confectionery also sells one of the best cakes and pastries in the town.
Address: 15, Jalan Dato Muda Jaafar, Pekan Kuala Kubu Bharu, 44000 Kuala Kubu Baru
Opening hours: Wednesday to Monday 09:00 am – 05:00 pm (Closed on Tuesday)
In conclusion, Kuala Kubu Bharu doesn't lack when it comes to its sports and activities. Every single activity of theirs is worth trying. Tandem parachute, ziplining, golfing -you name it. 
By this time, I am pretty sure that you want to make a day trip to Kuala Kubu Bharu with your friends or family. And if you have already been there, let me know how your experience was there.
Places to Stay in Kuala Kubu Bharu
If you're planning to extend your visit to Kuala Kubu Bharu beyond a day trip, there are a few accommodations worth considering.
Here are some options to check out:
Rooms only @KKB: Rooms Only @KKB, situated in Kuala Kubu Baharu, provides guests with complimentary WiFi access. The property is strictly non-smoking and is conveniently located just 45 km away from First World Plaza.
Kuala Kubu Bharu Homestay: If you prefer a more personal touch, consider staying at a homestay. The Kuala Kubu Bharu Homestay offers comfortable rooms in a traditional Malaysian house. The host family is friendly and welcoming, and they can provide you with tips on what to see and do in the area.
Overall, the choice of where to stay in Kuala Kubu Bharu will depend on your budget, preferences, and travel style.
Frequently Asked Questions (FAQs)
What is Kuala Kubu Bharu known for?
Kuala Kubu Bharu is known for its scenic beauty, outdoor activities, and historical landmarks. It is a popular destination for hiking, camping, and water sports, with attractions such as the Chilling Waterfall and the Sungai Selangor Dam. The town also has a rich history, with landmarks such as the Masjid Jamek Mosque and the Old Police Station Museum.
What is the history of Kuala Kubu?
Kuala Kubu Bharu was originally a small village inhabited by the Temuan tribe. In the late 1800s, it was chosen as the site for a dam to supply water to the nearby tin mines. However, the dam was poorly constructed and in 1883, it collapsed, causing a devastating flood that killed over 30 people. The town was rebuilt and today, it is a popular destination for outdoor activities such as hiking and fishing.
Which mountain is in Kuala Kubu Bharu?
Kuala Kubu Bharu is a town located in the state of Selangor, Malaysia. It is surrounded by beautiful mountains such as Gunung Nuang and Gunung Rajah, which are popular hiking destinations for outdoor enthusiasts.