Kyoto is known for its wooden architecture, temples, and imperial palaces, and for showcasing the traditional cultures of Japan. If you want to go for a day trip to Kyoto from Osaka as a traveler, you will only get eight hours.
The Day Trip to Kyoto from Osaka need good planning and a well-thought itinerary that showcases the long-standing attractions of Kyoto. Kyoto is also considered the cultural capital of Japan. Attractions of Kyoto include bamboo forests, UNESCO temples, geisha performances, and more.
If you're planning a trip to Japan, it's important to consider purchasing travel insurance to protect yourself in case of unexpected events. One option to consider is SafetyWing insurance, which offers comprehensive coverage for medical emergencies, trip interruptions, and more.
Recommended tours & tickets
Ways to Travel for a one-day trip to kyoto from osaka
You can travel to Kyoto from Osaka via the Shinkansen train line which is the fastest way to Shin-Osaka station to Kyoto. The total travel time is around 15 minutes. The JR-pass covers the train route; without that, the ticket costs 1420 yen each. The day trip to Kyoto from Osaka, Kyoto. Apart from the bullet train, you can also choose to ride the Special Rapid train for 560 yen and the travel time will be 30 minutes.
Buses: There are also a few bus services from Kyoto to Osaka. From Osaka to Kyoto there are a lot of bus services available.
Train Routes:
JR Tokaido Shinkansen Line:  Passengers can get up on the JR bullet train from JR Osaka station and JR- Shin-kaiso station. The descending station will be JR Kyoto station. The total traveling time from Kyoto to Osaka by Shinkansen train takes only 15 minutes to cover the distance of 56.4km. 
JR Kyoto Line: The JR Kyoto line's fastest train is the Special Rapid train, and they take around 25 minutes to 30 minutes to depart from Kyoto.
There are two other train routes you can take which do not come under the JR pass. The two lines are the Hankyu railway and the Keihan mainline.
Hankyu Railway:  For the Hankyu route, get on the train from Hankyu Umeda Station and descend on central Kyoto and the one-way ticket costs 400 yen.
Keihan Main Line: The Keihan Main line runs from Sanjo station to Yodoyabashi station and takes approximately 45 minutes. The one-way trip from Osaka to Kyoto or Kyoto to Osaka costs 410 yen. 
Bus Routes:
Though bus routes are not the fastest way from Osaka to Kyoto, the Osaka to Kyoto Bus Routes with timetables. The price of the bus tickets are around 1000 to 1500 Yen.
| | | | |
| --- | --- | --- | --- |
| Bus Company | Arriving Station  | Descending Stop | Time of travel |
| Fukuchiyama Express New Star | Ayabe Station | Fukuchiyama I.C.Station | Around 45 minutes |
| Fukuchiyama Express New Star | Ayabe Station | Osaka  | Around 2 hours |
| Doctom Liner | Kyoto | Namba | Around 2 hours |
Transport Pass in Kyoto
To roam around freely, as a tourist, you can access a one-day subway pass for easy and quicker travel. The Kyoto transport pass lets the users use it for different types of transportation. The Kyoto transport passes like Kansai Miyako card, Traffic Kyoto card is usable for both the subway and buses. 
One day Kyoto itinerary
By 9 AM: Arrive in Arashiyama District by traveling through the JR Sango/Sagano line.
9 AM to 11 AM: Visit the Arashiyama bamboo grove and kinkakuji temple.
Arrive at the Ginkakuji temple by the 204 bus.
Afterward, walk down the path of philosophy to Nanzengi-temple, south of the Ginkaku-ji.
Tour the Nanzenji temple, and next, head to the nearby ancient temples like Shoren-in temple and shion-in temple. 
The next destination on the list is Kiyomizu-Dera temple is about 4.5 km. You can walk the distance or take buses from Nenzangi, Sakyo Ward. If you are on foot, head towards the Maruyama-Koen Park and then towards Nene-no-michi and Ninen-zaka. The walk will take about 25 minutes. Visit the spectacular Kiyomizu-Dera temple which is a part of the UNESCO heritage sites.
After visiting Kiyomizu-dera, the next destination is Fushimi-Inari-Taisha Shrine. You can reach there via the Keihan line. You will find a train on regular intervals from Kiyomizu-gojo station to Fushimi-inari station.
You can use this itinerary, for visiting all the shrines and UNESCO-listed temples in Kyoto. After finishing the tour, you can return by train from Fushimi-Inari station to Sanjo, Sihijo and other major stations.
Places you must Visit During Kyoto Day Trip (Kyoto things to do)
Kyoto Tower: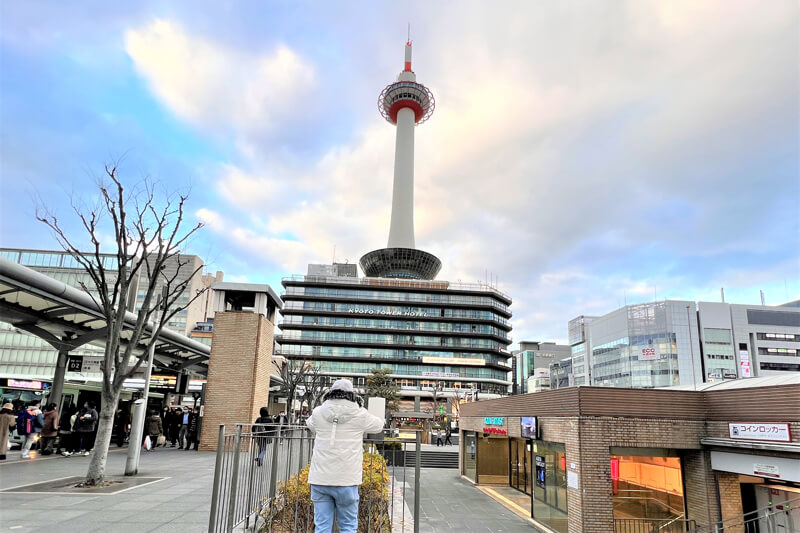 The Kyoto tower is one of the tallest standing 36 peaks of Higashiyama. From the Kyoto tower, you can see the 36 peaks of Higashiyama from the watchtower. Enjoy the panoramic view from the Kyoto tower as well as enjoy delicious food at the restaurant and night views from the Sandos. 
Opening hours: The business hours for the observation deck are generally 10:30 PM to 21:00 PM. The Kyoto tower restaurants are generally open from 11:00 AM to 11:00 PM. The Kyoto tower sandos are generally open from 10:30 AM to 8:30 PM. 
Toji Temple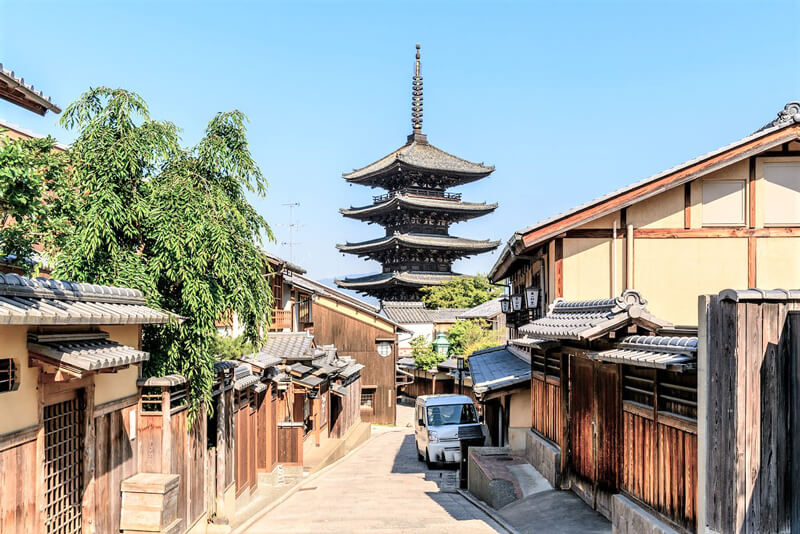 The Toji temple is located in Minami-ku ward. The Toji temple is a Shing-on buddhist temple. The temple was built in the Heian period with a long history and was one of the three Buddhist temples allowed at that time.
The Toji temple was located on the side of the capital gates along with Sai-ji. The Toji Temple has a five-storied pagoda, several halls like the Golden Hall, Kanchiin Guest Hall etc. The shrine is enlisted as a UNESCO heritage site. The Toji temple is located quite close to the Kyoto rail station. 
Fushimi Inari Taisha Shrine
The Fushimi Inari Taisha shrine is one of the Shinto shrines located in southern Kyoto. The Fushimi Inari shrine's unique attraction points are the numerous vermilion Torii gates. The shrine is mainly. The trails lead to the forest of Mount Inari.
The Fushimi Inari Taisha Shrine is dedicated to the god of rice, and hence, foxes are the bearers of the rice, you will see a lot of fox statues in the shrine. The shrine is more ancient than the Heian era. At the entrance of the Fushimi Inari Taisha shrine, you will see the Romon gate behind which is the main hall.
At the back of the shrine, there are two parallel Senton Tori gates present. While visiting the temple, visitors are encouraged to make a small offering to the deity. The Mount Inari Forest and the quiet peaceful environment of the Taisha shrine, make the attraction one of the best in Japan.  
Hike Timings for the Shrine: The total hike takes about 2 to 3 hours to and from the summit.
Opening hours of the Shrine:  The shrine is open for the tourists for 24 hours.
Nishi Honganji Temple
The Nishi Honganji temple is the head temple for the subsect Honganji-ha. The temple is located in the Shimogyo ward. The temple was built around in1591 and is a great example of 17th and 18th-century architecture. The temple is huge and its main entrance is to the east of Horikawa dori.
There are three main segments that you must visit while seeing the temple: Karamon, Goeidō, Amidadō. You will see a lot of carvings of old Chinese tales and Chinese dragons. The Karamon gate is one of its kind in architecture and has been announced as one of Japan's national treasures. 
Opening Hours: The entry to the temple is free and the temple gates remain open between 5:30AM to 5:00PM.
The Kyoto Railway Museum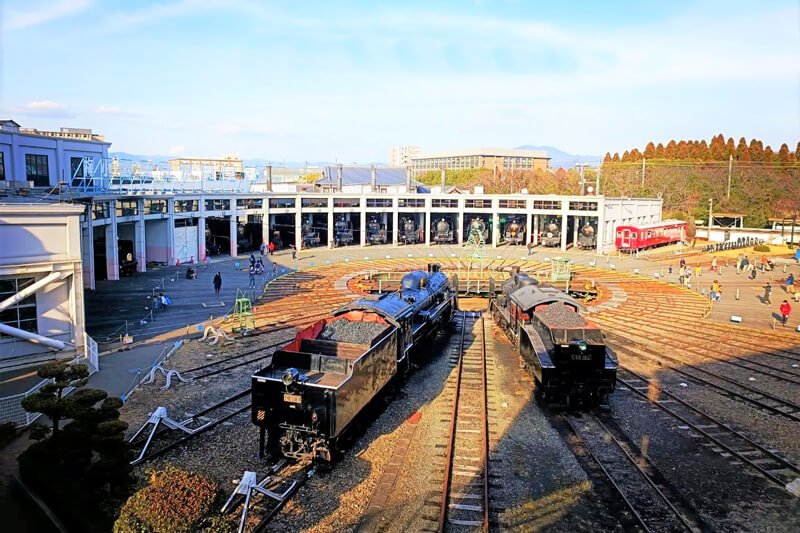 The Kyoto railway museum showcases the history of modernization with futuristic technologies in Japan's railway system. The Kyoto Railway Museum was opened in 2016. The Kyoto railway museum was built with the concept of " discover, touch and experience" through the visualisation of the evolution of the railway in Kyoto city. 
The museum collaborated with academic scholars to create informative and intriguing shows. See the antique rail parts, engineering technologies of Japan and take part in various activities offered by the museum.
Location:Kankijicho, Shimogyo Ward, Kyoto
Opening Hours: The museum is open on weekdays from 10 AM to 5 PM.
Kyoto National Museum:
One of the oldest and historic museums of Japan is Kyoto National Museum. The Kyoto National Museum is one of the prominent art museums in Japan. Before you visit the museum, make sure to check if there are any art exhibitions going on. 
While visiting the museum make sure to see the stunning collection. The Kyoto National Museum  organises indoor and outdoor exhibitions throughout the year to showcase historical events and different art styles like Buddhist art, Pre-modern Japanese art and more. 
Location:527 Chayacho, Higashiyama Ward, Kyoto
Opening Hours: The Museum is open all days of the week from 9:30 in the morning to 5:00 in the afternoon.
Kiyomizu-Dera Temple
The Kiyomizu-dera Buddhist temple is located in the east side of Kyoto and the temple is also one of the most historic monuments as well as a part of Kyoto's UNESCO heritage sites. The Kiyomizu dera temple has a 1200-years+ history.
The Misu Shrine is located behind the main hall of Kiyomizu-Dera temple. While visiting the Kiyomizu-Dera temple, also visit the Otowa waterfall nearby. The main structures of Kiyomizu-Dera temple include Okunoin-hal, and Koyasu-pagoda. The temple holds special illuminations during Springtime. 
Location: Kiyomizu, Higashiyama Ward, Kyoto
Opening Hours: The Kiyomizu-Dera temple is open for visitors every day from 6 AM to 6 PM. During Spring and Summer illumination, the closing time is extended till 9 PM.
Entrance Fee:  To visit the temple premises the entry fee for each adult is 400 yen.
Explore Kyoto with a local guide
Kimono and Yukata Rental at Kimono Miyabi Kyoto
Where & What to Eat During a Kyoto Day Trip?
During the Kyoto Day trip, you cannot miss some of the dishes that represent Kyoto like soba noodles, saba sushi, matcha, and green tea desserts. Kyoto cuisine is mostly based on traditional Japanese ingredients as their Kaiseki dining style is also old and traditional. Here is the ultimate checklist of foods in Kyoto that you must experience.
Kyoto Yudofu: It's a warm healthy tofu dish served in kombu broth and soy sauce. It is served in many temples and is one of the oldest dishes of Kyoto.
Nishin Soba: Soba Noodles are served with warm herring soup and herring atop. The Nishin Soba noodles.
Nishiki market: Nishiki market is often referred to as Kyoto's kitchen. Kyoto's Nishiki market's seafood, tako-tamago, beef sushi, and matcha sweets are some of the must-try items. Also, you will find, a lot of fresh produces and good-quality cookware in this market.
Otanfuku Cafe: This quaint and aesthetic retro cafe is a place where you can enjoy your evening and take a quick snack break during the tour. Their house blend Kissaten is one of the must-try items.
Matcha Desserts: Kyoto offers great desserts of Matcha including matcha parfaits, matcha mochi, matcha cakes, and more. 
Where to stay in Kyoto
Kyoto has a variety of options for accommodation ranging from traditional Japanese ryokans to modern hotels.
Some popular areas to stay in Kyoto include:
Downtown Kyoto: This area is well-connected by public transport and offers a range of options from budget to luxury hotels. Being close to the city's shopping and entertainment areas is a great option.
Gion: The historic Gion district is known for its traditional architecture, geishas, and tea houses. Staying in this area allows you to experience the traditional side of Kyoto.
Arashiyama: Located on the outskirts of Kyoto, Arashiyama offers a quieter and more relaxed atmosphere. This area is known for its beautiful bamboo forest and scenic views.
Higashiyama: Higashiyama is located in eastern Kyoto and is known for its narrow streets and traditional buildings. It's a great area to stay if you want to experience the traditional side of Kyoto.
Kyoto Station Area: This area is convenient if you are arriving in Kyoto by train as it's located near the main train station. It offers a range of options from budget to luxury hotels.
Ultimately, the best area to stay in Kyoto depends on your preferences and interests.
Kyoto half day itinerary
If you only have half a day in Kyoto, here is a suggested itinerary:
Kinkaku-ji (Golden Pavilion): This iconic temple is a must-see attraction in Kyoto. It is a UNESCO World Heritage site and features a stunning gold-leaf-covered pavilion surrounded by a tranquil garden.
Nishiki Market: After visiting Kinkaku-ji, head to Nishiki Market to experience the local food scene. This narrow shopping street is lined with vendors selling a variety of Kyoto specialities, such as pickles, tofu, and sweets.
Gion District: End your half day in Kyoto by exploring the historic Gion District, which is famous for its traditional tea houses, geisha culture, and preserved traditional architecture. You can stroll along the charming streets and alleys of Gion, and if you're lucky, you might spot a geisha or maiko (apprentice geisha) on their way to work.
Note that the above itinerary assumes you have a mode of transportation (e.g., taxi, rental car) to get around quickly. Alternatively, you could opt to use public transportation, such as buses or trains, but this may require more time and planning.
Ways to do a Day trip to Kyoto from Tokyo
Kyoto is a beautiful city with historical landmarks and cultural attractions that make for a perfect day trip from Tokyo. Here are some suggestions on how to plan your day trip to Kyoto from Tokyo:
Take the Shinkansen (bullet train) from Tokyo to Kyoto, which takes approximately 2 hours and 15 minutes. You can purchase your tickets in advance to avoid long lines at the station.
Once you arrive in Kyoto, head to the Kiyomizu-Dera temple, one of Kyoto's most famous temples. The temple is situated on a hill and provides stunning city views.
From there, you can walk along the Philosopher's Path, a scenic route that follows a canal lined with cherry blossom trees and historic temples.
Stop for lunch at Nishiki Market, a food lover's paradise filled with street food and traditional Kyoto dishes.
After lunch, head to the Fushimi Inari Shrine, famous for its thousands of torii gates that create a stunning tunnel-like effect.
End your day with a visit to the Golden Pavilion, also known as Kinkaku-ji Temple, famous for its golden exterior and beautiful garden.
Finally, return to the train station and take the Shinkansen back to Tokyo.
Remember that there is a lot to see and do in Kyoto, so, if possible, it is recommended to spend more than just a day there to fully experience all the city has to offer.
Finally
Kyoto is a city in Japan rich in history, culture, and natural beauty. It is famous for its numerous temples, shrines, gardens, and traditional neighbourhoods. A day trip to Kyoto can be a great way to explore some of its highlights, although there might need to be more to see everything.
It is also important to consider transportation options, as Kyoto can be crowded and navigating public transport might be challenging. Consider purchasing a one-day bus pass or using a taxi service to make the most of your trip.
Overall, a day trip to Kyoto can be an amazing experience, offering a glimpse into Japan's rich culture and history. Therefore, it is important to plan well, prioritize your itinerary, and enjoy the beauty and serenity of this wonderful city.
One day trip to Kyoto from Osaka FAQs:
Is it better to visit Kyoto or Osaka?
Kyoto and Osaka have unique charms and attractions, so it ultimately depends on your preferences. Kyoto is known for its traditional temples, shrines, and gardens, while Osaka is known for its modern cityscape, food scene, and nightlife.
If you're interested in history and culture, Kyoto may be the better choice, but Osaka may be the way to go if you're looking for a more lively and urban experience.
What destinations can you visit on a day trip from Kyoto?
Some popular day-trip destinations from Kyoto include Nara, Osaka, Hiroshima, and Himeji. You can also visit the scenic Arashiyama district, the historic city of Uji, or the picturesque village of Ohara.
Can you do a day trip in Kyoto?
Yes, it is possible to do a day trip in Kyoto and still see some of the city's highlights. Some recommended activities include visiting the Fushimi Inari Shrine, exploring the historic district of Gion, and taking a stroll through the beautiful Arashiyama Bamboo Grove. However, if you have more time, spending at least a few days in Kyoto is recommended to experience all it has to offer fully.
Can you do a day trip to Kyoto from Osaka?
Yes, it is possible to do a day trip to Kyoto from Osaka. The best way to do this is by taking the shinkansen (bullet train) from Shin-Osaka Station to Kyoto Station, which takes about 15-30 minutes, depending on the train.
How long does it take to go from Osaka to Kyoto?
If you take the ShinSaken line from Shin-Osaka station to Kyoto, you will reach within 15 min and on other train routes it will take around 30 to 50 minutes. If you are traveling by bus or taxi, it will take around one and a half hours.
Is 1 day enough for Kyoto?
The heritage city of Kyoto is full of attractions, and you can only visit the main attraction, and if you want to see all the sites, two to three days are required.
What destinations can you visit on a day trip from Kyoto?
The top sixteen destinations of Kyoto are Kurashiki Bikan historical quarter. Nagahama. Himeji. Enryukuji. Hiroshima. Miyajima.
Is Kyoto cheaper than Tokyo?
Kyoto is not cheaper than Tokyo. The daily living cost in Kyoto is $78 and the living cost in Tokyo is $149.
Is Kyoto foreigner friendly?