If you want a pleasant combination of green hills and beaches, Pahang on the east coast of Malaysia is the perfect destination for your dream vacation. Geographically, one of the largest states in Peninsular Malaysia, Pahang is home to Cameron and Genting highlands to the white-floored ocean, primaeval rain forests, wetlands, refreshing freshwater lakes and beautiful mountains. 
One of the most geographically diverse, bounded on the north by Kelantan and Terengganu, on the west by Perak, Selangor, and Negeri Sembilan, on the south by Johor, and on the east by the South China Sea and one of the most visited states of Malaysia, Pahang will take away your breath. You will never regret visiting these Top 12 Must-visit places in Pahang.
1. Genting Highlands Theme Park and Skyway: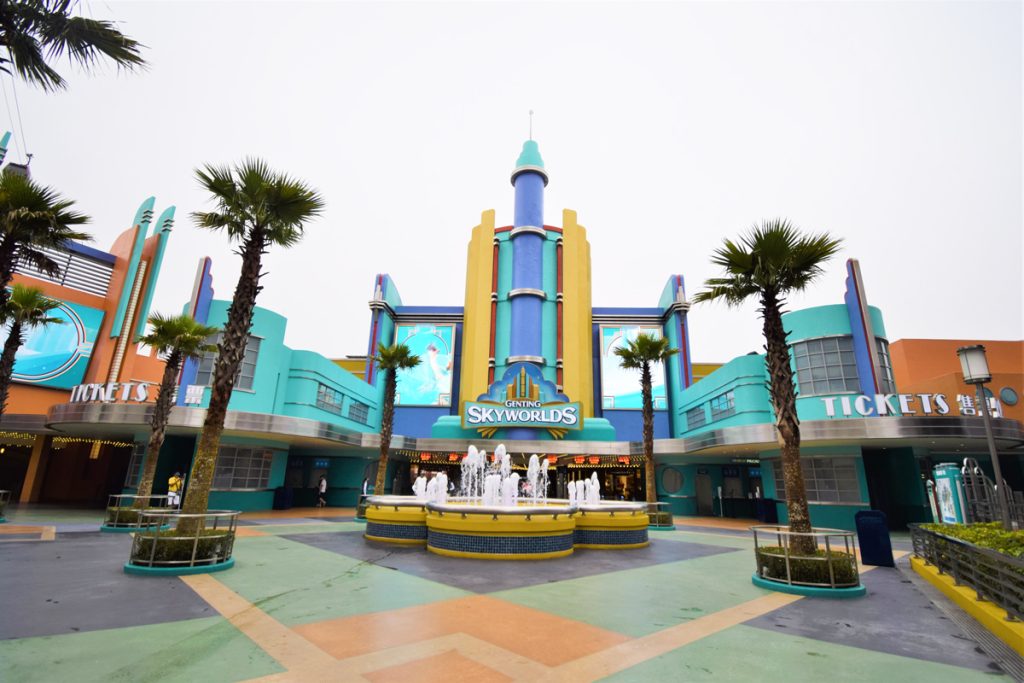 How to travel to Genting Highland?
Genting highlands itself is a great weekend getaway for the locals as well as international tourists. Genting Highland is a 55 km drive from Kula Lumpur, driving is the best option among locals. There are other options to reaching Genting from Kuala Lumpur is to take the express bus from Kuala Lumpur Sentral station to Awana station and ride the renowned Genting Skyway or Awana from Gohtong Jaya to Genting Highlands Resorts. A group tour from Kuala Lumpur to Genting Island is another option.
Read more: 26 Best Things to Do in Genting Highlands
The gondola ride will show you the awe-striking 130-year-old rainforest in Malaysia. The greenery, the sunrays, the canopy will make you feel thrilled and mesmerize you at the same time. You can visit the Chin Wee Caves Temple at the midpoint and the total tour takes about 10 minutes. You can board the skyway from level 4 of the Awana skyway building.
Genting Highland Main Attractions:
1. Visiting the rainforest through a gondola ride
2. Spending time in the famous Genting indoor theme park
3. Shopping in the high-end fun shopping complex
4. Explore the Genting SkyWorlds Theme Park
2. Colmar Tropicale
Colmar Tropicale is an enchanting French-themed resort located deep within the lush greenery of Pahang's Berjaya Hills. Sitting at the height of 2,700 feet, this destination feels like another world and allows visitors to step into a mini-French landscape without having to leave Malaysia. Here, you'll be surrounded by rolling tropical rainforest and can explore traditional French villas, cobbled pathways and chic restaurants – all at your fingertips!
The resort is perfect for a short weekend retreat from your busy life and offers you tons of things to do. Though it seems like a village, Colmar Tropicale is actually a hotel in Berjaya Hill Resort. But it houses numerous attractions and activities for those who come here to visit and stay.
How to Get to Colmar Tropicale, Berjaya Hill
Within just a 45-minute drive from KL city centre, you will reach Bukit Tinggi. Or, if you don't have a personal vehicle, you can opt for public transport that runs from Kuala Lumpur to Berjaya Hill.
From Berjaya Times Square Kuala Lumpur, you'll get a shuttle service that will directly lead you to Colmar Tropicale. The ticket may cost RM 55.00 (U$13.05) for adults and RM 50.00 (U$11.86) for children.
Things to do at Colmar Tropicale
1. Experience the Old French in Malaysia
2. Enjoy Fun Activities at Adventure Park
3. Have a Taste of Japanese Village
4. Visit Over 200 Rabbits of Various Species
6. Enrich Your Holidays with Indoor and Outdoor Sports
3. Frasers Hill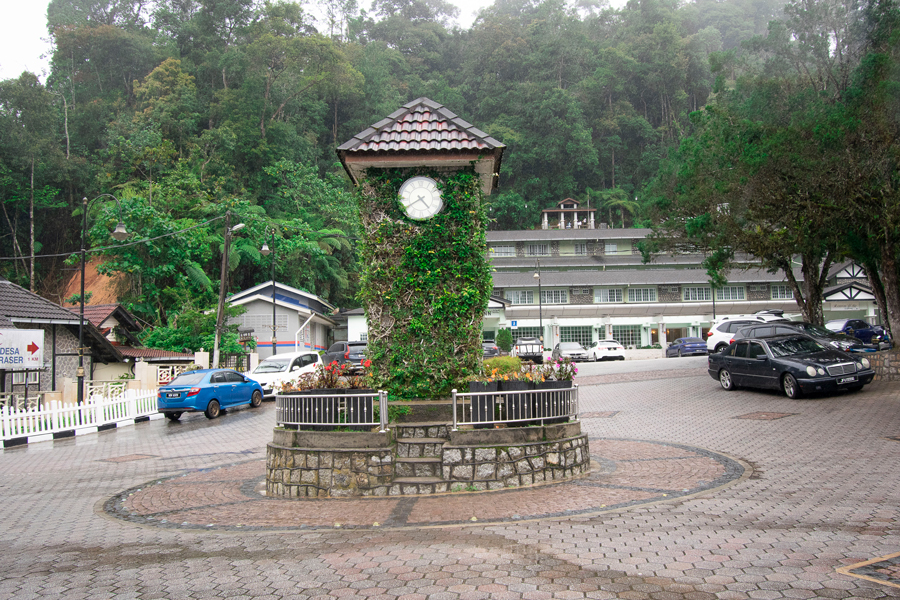 Fraser's Hill in the Pahang district is a perfect location to enjoy chilly hills and take a rest and recover. It is a great hill resort to escape from the tropical hot weather of other parts of Malaysia. Fraser's hill is the place where you will find migratory birds, get lost in the beauty of trails, and have a great time with your family while learning its history. You can reach Fraser's Hill from Kuala Lumpur simply by driving through routes 1 and 55.
Bukit Fraser is mostly famous for its cooling weather and interesting activities that will entertain not only you but your whole family. Though Fraser's Hill is not as large as Cameron Highlands, still it offers you tons of things to do. This highland is pretty popular for its lush greenery, and most of the visitors come here to watch the Fraser's Hill International Bird Race that occurs yearly.
How to Go to Fraser's Hill
In spite of being one of the most popular holiday destinations, Fraser's Hill has no direct public transport to this highland from Kuala Lumpur. The only way to get to Bukit Fraser from the capital is by car, and it takes only two hours to reach.
The highland is nearly 100 km away north from Kuala Lumpur, and most visitors come here in their personal car, though you can also take a taxi to get there. But the taxi cost is too high.
Booking a trip from a tour company can be helpful to get there. Moreover, they will also guide you on your trip.
Things to Do in Frasers Hill
Birdwatching
Visiting the Clock Tower
Trekking along Bishop trail, pine tree trail
Enjoying Jeraiu waterfall and Allan's waterfall
Visiting the luscious flora and fauna of the rainforest
Eateries and foods to try:
Fraser's Hill has few restaurants that are actually worth visiting. While it is not known for any particular delicacy here are few recommendations for you to try: Tea House restaurant for scones and tea and basic Malay cuisine food, Ye Olde Smokehouse for steak.
4. Cameron Highlands
Travel lovers are always eager to do interesting and exciting things at some outstanding places. Cameron Highlands is that particular spot where you can do tons of activities, from hiking and trekking to visiting lush hillscapes to the sea of green. Its cool, aromatic weather and ancient vibe make this hill station a unique and surreal attraction to visitors.
How to get to Cameron Highlands
To get to the Cameron Highlands from Kuala Lumpur, you have to pass nearly 200km to 270km, depending on the route you choose. Driving may take 3 to 4 hours, while the bus and train will take 4.5 and 5.5 hours respectively.
By Car
If you choose to drive, you can take the new route, the Simpang Pulai road. This road is less windy and takes nearly 4 hours to reach.
On the contrary, you can take the Tapah toll exit 132 (after North-South Expressway) as this route takes only 3 hours to reach Cameron Highlands.
Use google maps for the direction.
By Bus
The bus is the cheapest way to get to Cameron Highlands. It may cost you RM 35.00 to RM 47.00, and you can reach there within 4.5 hours. There are many bus lines available, and all these buses depart from the TBS Bus Station in KL. Check out the bus schedule and buy your ticket from 12GoAsia.
Read Bus to Cameron Highland from kl details: Plan the perfect Weekend Gateway
By Train
You will not get any direct train from Kuala Lumpur to Cameron Highlands. You have to catch a train from KL Sentral which will take you to Ipoh or Tapah road. The train ride may cost you RM 25.00 to RM 46.00. From there, take a TBS (Terminal Bersepadu Selatan) bus that will drop you off at the Tanah Rata Bus Terminal. In total, the train and bus ride may cost you from RM 70.00 to RM 90.00. Buy your train ticket from 12goasia with hassle free.
Things to do in Cameron Highlands
To occupy your tour days Cameron Highlands has to offer a lot of things. Touring the tea plantation like the oldest plantations such as Boh tea plantations, trekking or driving up to the mountain Brinchang while unwinding its thrilling beauty. At the higher elevation of the Cameron Highlands, you will see beautiful large species of roses at Mrs Robertson's Rose Garden. The garden at the hillside is filled with the sweet aroma and the sight of beautiful valleys.
If you want to get lost in the wonders of nature for some time Cameron Highland has a lot of places for jungle trekking. The other attractions include Tanah Rata and Ringlet. Visiting farms, beautiful villages, buying locally cultivated honey is simple yet enjoyable activities to do Cameron Highlands.
Visiting Cameron Tea Plantation
Tour of Cactus Valley
Picking Fresh Strawberries
Visiting the Purple World of Lavender
Visiting Cameron Highlands Butterfly Garden
Get Acquainted with Natives at Orang Asli Village
5. Kuantan:
The capital of Pahang, Kuantan will offer you the mix of the cityscape as well as white sand beaches just outside the city. Sightseeing of Kuantan and the places just outside the city will take one to two days.
How to reach Kuantan?
There are three ways to travel to Kuantan from Kuala Lumpur: by bus, car, or train. You can take a bus from anywhere in Peninsular Malaysia to anywhere in Pahang, including Kuantan.
You will find frequent buses from Bersepadu Selatan Terminal (TBS) leaving on an interval of 30 minutes from 10:30 AM.  The whole journey takes around 2 and a half to 3 hours, and the ticket price varies from RM 19.5 to RM 25. If you want to buy bus ticket in advance you can do that with bus12go.asia
There are also trains available from Bersepadu Selatan Terminal (TBS) to Kuantan but you have to change the route and break the journey into several connecting routes to reach there by train.
The second best option after the bus is renting a car service. You can either find taxis from the streets and talk to them about rental cars or book online rental car services like Pacific, Sixt, Sunnycars online for booking.
The legendary Lao Zi temple is where the record-breaking 823m long golden dragon is the main attraction along with the Lao Zi scriptures and the book Tao Te Ching, the statue of Tao Zi himself. You may need to pay RM 5.00 to walk inside the temple to visit the whole premise.
5 km away from the main city The white sand with the breeze of the sea and a beautiful sight of green jungles. Palm Beach will welcome you with refreshing sights. It's a must-visit place while in Pahang and you can just rent a car to visit the beach.
And, the next must-visit place while in Kuantan is the Sungai Padan Waterfall which is the largest multi-level waterfall in Malaysia. It's grand, cold and gorgeous and best for playing with the children or having a barbeque party. The opening hours are 9 AM to 5 PM.
Best Places to visit in Kuantan: Lao Zi temple, parks like Taman Gelora, Taman Negara, The Palm Beach, Sungai Pandan Waterfall.
6. National Elephant Conservation Centre:
The Kuala Gandah National Elephant Conservation centre is situated in Temorloh in Pahang and started the elephant conservation programme in 1974. You can reach there by taking bus service from anywhere in Pahang. From Kuantan Bus Terminal to Temerloh Sentral Terminal it takes about two hours and the cost is around RM 8.00 ($4.00)
You will see the conservation centre has few injured or disabled elephants as permanent residents who couldn't be relocated in the wild. You can get up close to them and give them baths and feed them to make them feel your love.
Opening hours: 10 AM to 5 PM
Things to remember: You have to book quotas before going to the sanctuary to give the elephant bath. For more information visit wildlife Malaysia portal
7. Tioman Island:
Hands down, Tioman Island on the east coast of Malaysia in the Pahang state is one of the most heavenly tropical beaches in the world. Blessed with nature's boundless beauty and as well as resources, Tioman island is one of the finest places for scuba diving, snorkelling and heaven for regular divers.
How to get to Tioman Island from Kuala Lumpur?
 If you are travelling to Tioman from there is obviously no directly connecting route to Tioman island to Kuala Lumpur but you can find a bus from KL Sentral Station to Tanjung Gemok Jetty or rental cars which are the best available option.
You can reach Tioman Island from Tanjung Gemok jetty if you are in Pahang state or from Mersing Jetty if you are travelling from Johor state and you have to take a ferry service to Kampung Tekek Jetty and you will find there are seven villages on the island
Sun basking in the Paya Beach
 Surfing in Juara Beach
Snorkelling at Salang
 Visiting Asha Falls near Kampung Mukut
Trekking to Air Batang
Foods to try in Tioman Island:
Tioman has a great range of foods to offer including Malay and Chinese cuisine. While you are there the few obvious foods to try are Nasi goreng, barbequed chicken and seafood from Salang Complex, delicious drinks and snacks from Air Batang, delicious breakfast from Santai Bistro in Juara Village. The foods are as satisfying, insta-worthy and as satiating for each meal on this island.
8. Bentong
In the western part of Pahang Bentong may not be on the top of the list while visiting places in Pahang but is worth the visit. Beautiful peaks, with waterfalls, botanical garden and scenic villages Bentong, is quiet yet charming.
You can visit all the visiting places of Bentong in one day by starting off with the Bentong Historic Gallery and then by spending time in the Bentong Botanical Garden and finish off by visiting Mount Nuang or go to the Bentong Kolam Air Panas for soaking in the hot spring.
9. Taman Negara
Taman Negara is the largest national park in Peninsular Malaysia. It protects a 130-million-year-old deciduous rainforest that is home to endangered species like the Binturong (bearcat) and Malayan Sun Bear. The park also features caves and waterfalls and plenty of opportunities for hiking, swimming and jungle exploration.
Taman Negara was established in 1938 by the British colonial government to protect the area's rich biodiversity. It has since been expanded from its original 500 square kilometres (193 sq miles) to 1,367 square kilometres (525 sq miles).
The park is divided into two areas: Taman Negara National Park and Gunung Tahan National Park. Taman Negara National Park is located in Pahang state; Gunung Tahan National Park is located in Kelantan state but also has a small section within Pahang state close to Gua Tempurung cave.
How to reach Taman Negara?
From Kuala Lumpur: From Kuala Lumpur to Taman Negara, it takes around 4 to 5 hours by road and almost 7.5 to 8 hours by train. The options are plenty when it comes to travelling from the capital. Public buses are available from Titiwangsa's Perkeliling Bus Terminal to Jerantut, and you have to change buses from Jerantut to Taman Negara, costing you a total of 28MYR. You can also rent a cab or a minivan. The minivan route from Kuala Lumpur to Taman Negara takes around 8.5 hours and costs around 120 MYR.
From Penang:  Public buses are the most common option in Penang. There are routes through Cameron Highland and through Temerloh but no direct buses. Another option is renting a cab. All the option take you around 8 to 9 hours. The bus fare ranges from around 74 to 90 MYR.
From Johor: From JB Sentral, you have to take a train to Jerantut, which takes around 1 to 1.5 hours. You must get a bus to Kuala Tahan or Kuala Templing jetty from there. There you can avail of ferry service to Johor.
10. Pekan
Pekan is known for its historical culture, architectural buildings, and beautiful lakes. After reaching Pekan, you must visit Sultan Abu Bakar Museum, Sultan Abdullah Mosque Museum, and Istana Abu Bakar. Start the trip with the residence of the current Sultan of Pekan, Istan Abu Bakar. Then, also visit the Royal Polo field just beside the palace. Then travel to Sultan Abdullah Mosque. This historical mosque has an art museum inside it.
After the historical trip, pay a visit to the centre of Royal Pahang silk weaving centre. Spend some time along Chini Lake. The lake, the 2nd large freshwater lake, is majestic and mythical.
Things to Do in Pekang
Taking a historical trip to the museums and mosque.
Unwind and enjoy a slow walk along the Pekan riverfront.
Visit Istana Abu Bakar & royal polo club to enjoy a game
Take a tour of Windcraft galley and silk weaving gallery.
Visit Lata Mentagan Waterfall.
11. Raub
One of the quintessential and old towns of Pahang. Raub is known for colonial architecture, gold mining, beautiful waterfalls and durian farming. There are a lot of unique activities to try and places to visit in the district of Raub.
Things to Do in Raub
Try archery in Bilut Extreme Park; visit it with your friends and family for the best ATV adventure. Also, there is a rabbit farm in the park which you can see.
Trek the Gunung Ulu Semanko mountain to have a beautiful bird's eye
view of the city.
Try and buy fresh and tasty durians at Raub Durian Orchard- Sejati or YES Durian Orchard.
For a perfect chill-out spot, visit Taman Tasik in Raub. Children's parks, lakes, and nature walk paths are there to refresh.
Visit the Tras Road Guan Ying temple and Muzium Felda Lurah Bilut.
 Raub is just a half-hour drive from Kuala Lumpur city. Transport options included taxi or rented car. Public buses from the Perkelling bus terminal are also available.
12. Bera
Bera is a small district, perfect for a weekend gateway and can be explored within a day. Spend some time within nature near Bera lake and the adjacent forest is the best way to refresh yourself. Visit the local communities' temples like Guanyin temple kemayan. In the middle of Kamaiyan and Teriang, there is a spectacular temple in Menkuang.
Seng Huat Temple's architecture and local community will make you feel happy. Also, while in Bera don't miss the scenic Bera waterfront. Bera is a small district but definitely a beautiful one. So, if you got one or two days in your holiday schedule, visit Bera.
Pahang is one of those destinations in Malaysia which offers a diverse range of geographical, regional and cultural aspects that attract millions of tourists each year. If you are thinking of taking a trip to Malaysia put Pahang on your bucket list and have your dream tour.